UK and EU impose sanctions on six Russian officials over Navalny poisoning | UK News
The UK and the European Union have imposed sanctions on several individuals and one organisation following the novichok poisoning of Alexei Navalny.
Six members of Russian government, including the first deputy chief of staff to President Vladimir Putin, Sergei Kiriyenko, and deputy ministers to the ministry of defence, Alexei Krivoruchko and Pavel Popov, have been handed EU and UK travel bans and asset freezes for the foreseeable future.
The sanctions also target the State Scientific Research Institute for Organic Chemistry and Technology in Russia, as well as the director of the federal security service Aleksandr Bortnikov, chief of the presidential domestic policy directorate Andrei Yarin, and Sergei Menyailo, the plenipotentiary representative of the President of the Russian Federation in the Siberian federal district.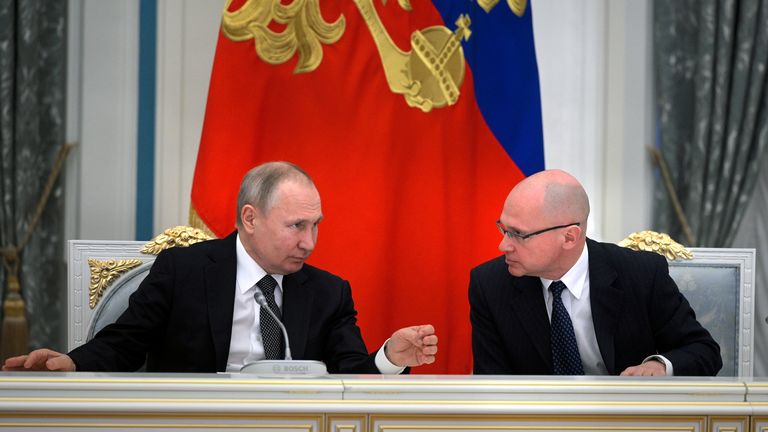 EU foreign ministers agreed on Monday to impose the sanctions after a push by France and Germany to freeze the assets and ban the men, who are suspected of being involved in the poisoning, from travelling in Europe to prevent any spread of the toxic nerve agent.
UK foreign secretary Dominic Raab said: "Together with our international partners, we are sanctioning those responsible for the criminal poisoning of Alexei Navalny.
"Any use of chemical weapons by the Russian state violates international law. We are determined to hold those responsible to account."
Mr Navalny, who is a political opponent to President Putin, became ill during a domestic flight in Russia on 20 August.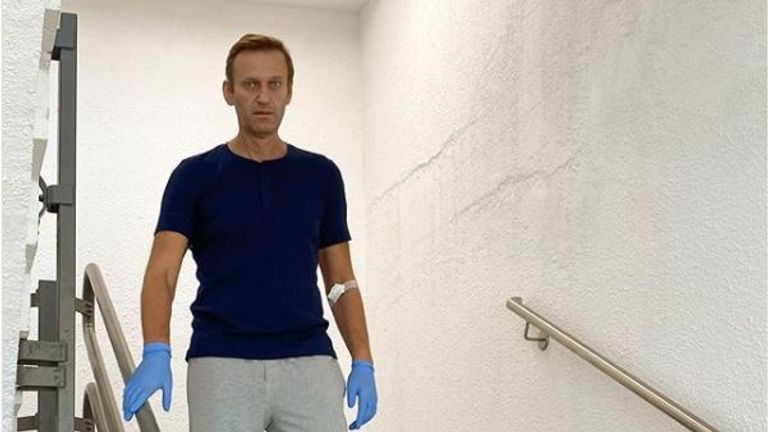 He was taken to Germany to be treated and is continuing his recovery there.
After tests by the Organisation for the Prohibition of Chemical Weapons confirmed the nerve agent novichok was used in the poisoning, Russian foreign minister Sergey Lavrov accused Germany of "not planning to provide any facts, despite all international and legal obligations."
He added: "We respond in kind. This is diplomatic practice."
The day before, Mr Lavrov hinted Moscow was considering to sever ties with countries in the West.
He said: "We probably simply have to temporarily stop talking to those people in the West who are responsible for foreign policy and don't understand the need for mutually respectful dialogue."
Coronavirus: Yodellers reject blame for 'one of Europe's worst COVID outbreaks' | World News
The cast of a yodelling musical have rejected blame for a COVID-19 outbreak dubbed one of the worst in Europe.
The performances in Schwyz, Switzerland, were attended by 600 fans at the end of September – and coronavirus cases there have more than doubled to 1,238 since the middle of that month.
With an infection rate of 408 cases per 100,000 people, it is now the worst-hit region in Switzerland.
But a cast member from "Forever and Always", which enforced social distancing but did not require attendees to wear face masks, has dismissed the idea that the yodellers are responsible as "pure slander".
Live coronavirus updates from the UK and around the world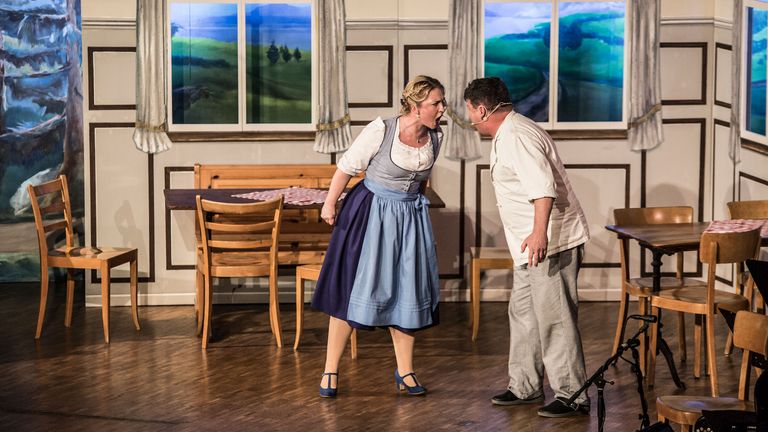 Erwin Bertschy admitted three other performers had tested positive for COVID-19 five days after the shows, but said the organisers had a "protection concept that was adhered to".
"At the same time, the restaurants were open all night and they were full to the brim," he told Sky News. "But it's easier to blame an external organiser."
Fellow cast member Maja Keller-Roth agreed, saying there were other events during that weekend in Schwyz where people could have caught the virus.
"We think it's a shame and sad that the media are now dragging us through the mud," she told Sky News.
Beat Hegner, the managing director of the venue that hosted the performances, appeared to accept some responsibility when he told a Swiss TV channel: "We couldn't help what happened with this yodelling group.
"We learned nine days after the performances that several people in the troupe were infected. From there, we couldn't control the chain of infection."
Some scientists have suggested singing could spread the virus via airborne droplets.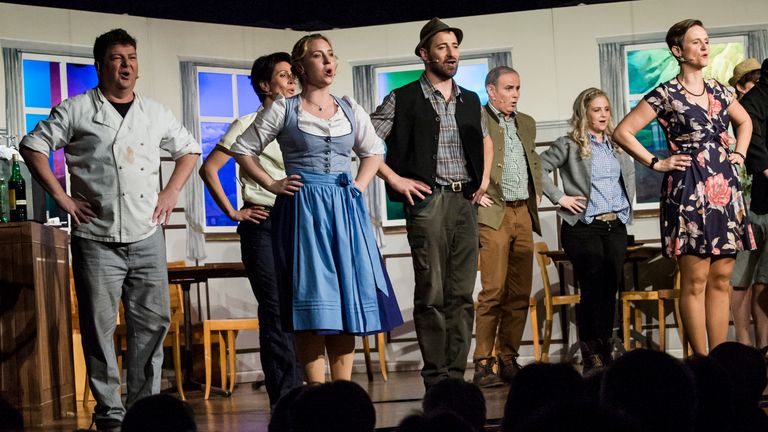 Intensive care wards are filling up at Schwyz hospital, prompting one of its directors, Franziska Follmi, to warn that the hospital "can't manage" if the rise in cases continues.
"The explosion in the number of cases in Schwyz is one of the worst in all of Europe," said Reto Nuesch in a video appealing to the public.
"It is time for you, the population, to react. Wear masks, stop partying."
He took aim at the local government, saying that "the measures were not formulated clearly enough until now".
The local government only announced on Monday that masks would become compulsory for all public and private events of more than 50 people.
Switzerland's federal system gives leeway to its regions – known as cantons – to set health policy.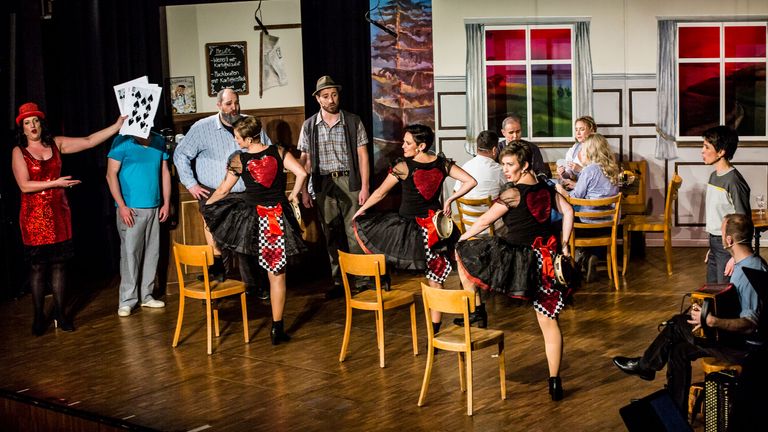 In a sign of a second wave, the country reported another daily record of 3,105 new coronavirus cases on Friday.
The Alpine nation has confirmed more than 71,000 cases in total and over 1,800 deaths.
Geneva this week limited public gatherings to 100 people, and now requires contact details to be taken for events of more than 15 people.
"If we don't get a handle on this, we run the risk of getting into a situation that's harder to control," said Bertrand Levrat, general director of Geneva Hospitals.
"We are really at a turning point – things can go both ways."
France terror attack: Beheading of teacher heightens debate about Islamist terrorism and freedom of speech | World News
Conflans-Saint-Honorine is a place like many others. In the outer suburbs of Paris, it is a pleasant but unremarkable grid of homes and amenities. 
And yet now, it finds itself at the very heart of the French national debate after a truly horrific murder on its streets.
Samuel Paty, 47, a well-respected teacher, was attacked and beheaded as he walked along the street at 5pm. His killer, aged just 18, was then shot dead by police as he walked along a neighbouring road.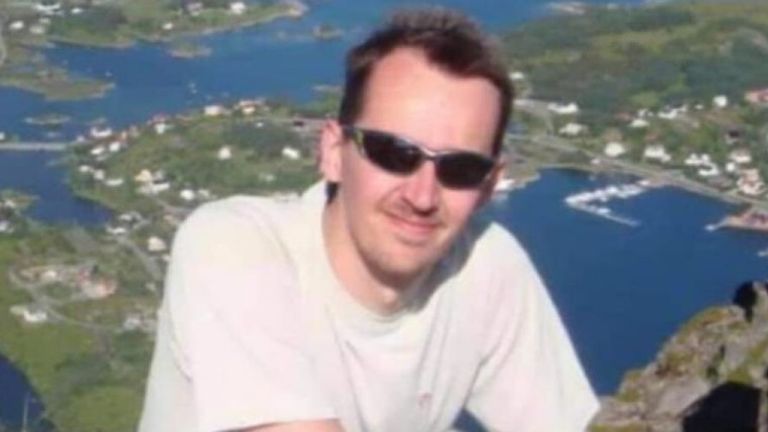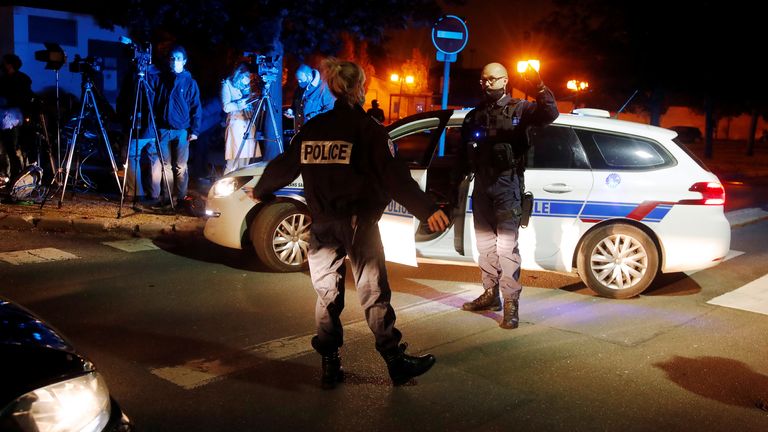 Within hours, President Emmanuel Macron was on the scene, visiting the school where Mr Paty taught history and geography.
Macron normally likes to deliver long, impassioned speeches, but here his address was briefer and more restrained. He looked stunned but called for unity, while describing the murder as an act of "Islamist terror". The education minister, Jean-Michael Blanquer, described the killing as an attack on the French Republic.
At the school where Mr Paty taught, there was a long line of teachers, parents and students on Saturday, coming to pay respects, laying flowers and leaving notes. The school, which was ringed by a line of French CRS riot police, also provided psychological support for those affected by what had happened.
Some carried signs saying "Je Suis Enseignant" (I am a teacher) in tribute to Mr Paty. Online, the similar expression "Je Suis Prof" was being widely shared.
The impact of this upon the school community will be great. But it is also affecting France, a country that has struggled enormously to cope with the effects of Islamist terrorism in recent years.
It is five years since gunmen broke into the offices of the satirical magazine Charlie Hebdo and killed 12 people. More died in the following days, the precursor to a wave of terrorist attacks across France that killed hundreds.
In Paris, the trial is now under way of men and women accused of being accomplices in those first attacks. As the trial started, Charlie Hebdo republished cartoons of the Prophet Muhammad as an exercise in free speech.
Others called it inflammatory, even reckless. Not long after, the magazine's existing head of human resources was moved out of her home on police advice.
Last month, a man attacked two people outside the former offices of Charlie Hebdo; both suffered serious but not life-threatening injuries. And all the while, the trial continues.
Now, this murder will heighten again the question of Islamist terrorism, and its causes. It seems quite clear that there is a link between the killing of the teacher, and Mr Paty's decision to launch a classroom discussion over the cartoons of the Prophet Muhammad.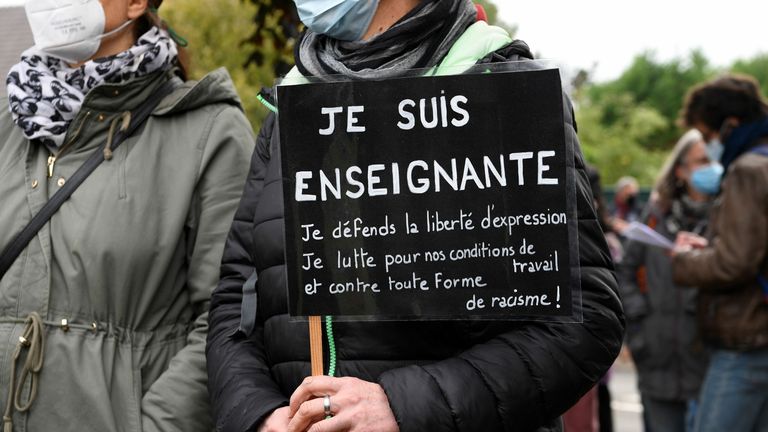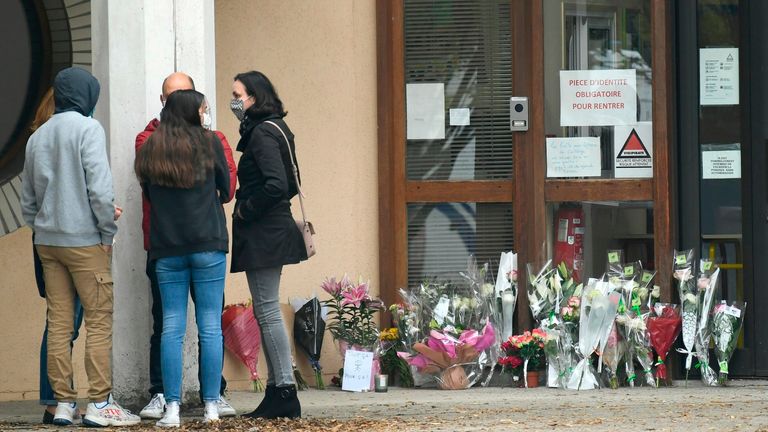 So what to do? In a country that puts such a value on free speech and secular government, the right to insult is entrenched. But the fury sparked by these cartoons has now cost many lives, and heightened tensions dangerously.
Into this quandary walked the local mayor, Laurent Brosse. He was born and bred in this town.
"I want to tell the locals that we will recover," he said. "We will all rise together. We will rise again thanks to our spirit of solidarity which makes the uniqueness of Conflans-Sainte-Honorine.
"It is by debating, exchanging opinions and listening that we will be able to overcome this dramatic test."
But there has been a lot of talking in France over recent years in search of an answer, to work out how to preserve the fundamental tenets of French society while also stemming the rise of Islamist terrorism.
Judging by this horrific attack, the puzzle has not been solved.
Nagorno-Karabakh conflict: Armenia accused of killing 13 people with missile strike on Azerbaijan | World News
At least 13 people are said to have been killed in a missile strike on the second-largest city in Azerbaijan, as the conflict with Armenia continues.
Azerbaijani officials said Armenia was responsible for the deaths and the wounding of 50 others in Ganja, in an escalation of their conflict over the disputed Nagorno-Karabakh region.
Armenia's defence ministry denied launching the strike and separatist authorities in Nagorno-Karabakh stopped short of claiming responsibility, but alleged they were "legitimate" military facilities.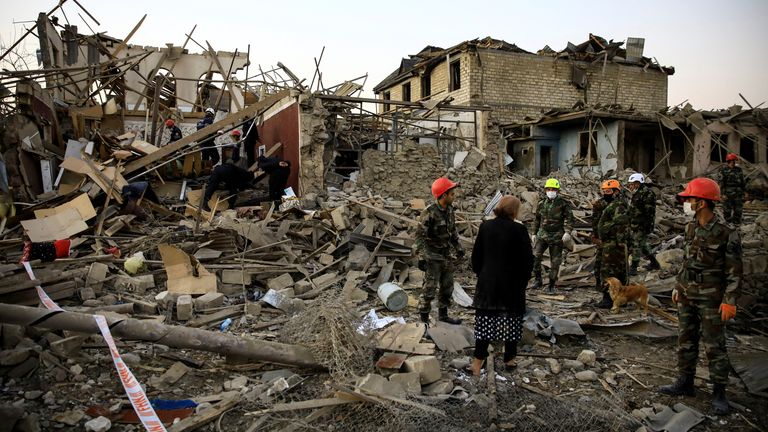 Azerbaijani officials said about 20 residential buildings were damaged or destroyed by a Soviet-made Scud missile, and emergency workers spent hours searching in the rubble.
Scud missiles date back to the 1960s and carry a large warhead of explosives, but are known for their lack of precision.
Azerbaijan's president, Ilham Aliyev, said the missile strike was a war crime and warned Armenia it would face responsibility for it, having already condemned another apparent strike on Ganja this month.
"Azerbaijan will give its response and it will do so exclusively on the battlefield," Mr Aliyev said.
While authorities in both Azerbaijan and Armenia have denied targeting civilians, residential areas have increasingly come under attack during a conflict thought to have killed upwards of 600 people as of earlier this week.
Stepanakert – the regional capital of Nagorno-Karabakh – was shelled overnight, with three civilians wounded, according to separatist authorities.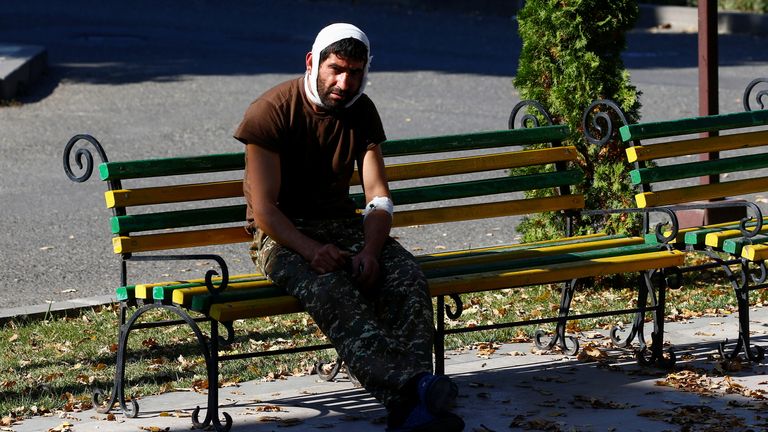 Nagorno-Karabakh lies within Azerbaijan, but has been under the control of ethnic Armenian forces backed by Armenia since a war there ended in 1994.
Mr Aliyev announced that Azerbaijani forces had captured the town of Fizuli and seven other villages, gaining a "strategic edge".
Fizuli is one of the seven Azerbaijani areas outside Nagorno-Karabakh seized by Armenian forces in the early 1990s.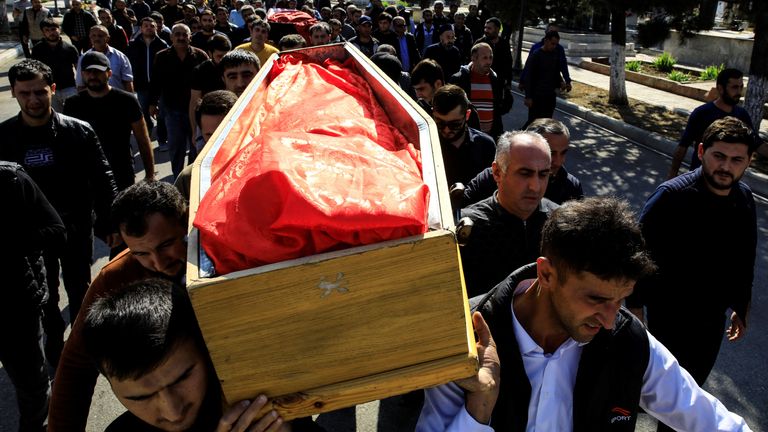 Armenia and Azerbaijan were both within the Soviet Union until its break-up at the start of the 1990s, and both have remained on friendly terms with Russia.
More than 10 hours of talks brokered by Russia ended with a ceasefire, but the agreement immediately failed, with both sides blaming each other.
Turkish support for the Azerbaijani military has given it an edge on the battlefield, helping them outgun the Armenian forces that rely mostly on outdated Soviet-era weapons.