Great white shark seen swimming within inches of unsuspecting surfer in chilling drone footage | World News
Chilling drone footage befitting of a scene from Jaws has shown a great white shark swimming inches away from a swimmer who was unaware the creature was circling around him.
Matt Wilkinson, 32, did not see the shark while paddling his board off Ballina, Australia, and only realised how close it had come when he saw the video afterwards.
The 1.5 metre-long shark may have been deterred from attacking the surfer by the overhead noise of the drone or the touch of the man's leg rope on its snout, officials said.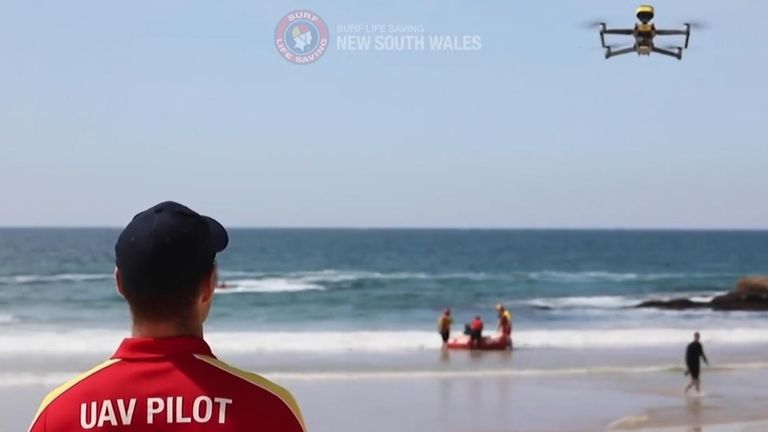 Mr Wilkinson told Nine Network Television: "I heard, like, the sound of its tail and I kinda looked back and I was like, 'no, there's nothing there,' and I had some weird vibes and just convinced myself that it was all good, as you always do when you're out in the surf."
Moments later, a recorded warning from the overhead drone signalled there was a dangerous shark nearby and that everyone must leave the water.
The surfer later saw the footage on the beach and said "my heart just sank" when he watched his close encounter.
"It actually, like, went to have a bite and then my stinking little toe must've made it change its mind," he said.
Drone operator Beau Monks, from Surf Life Saving NSW, said he felt fear as he watched the shark appear from the deep ocean and begin circling Mr Wilkinson.
"I'm not entirely sure why the shark decided to turn away at the last minute. It could be something as simple as bumping into his leg rope or it might have been the drone," he said.
Mr Monks added that marine creatures sometimes dart away when a drone comes over.
Numerous shark attacks have been recorded in New South Wales over recent years and drones have been patrolling Ballina beaches every day of the current school holiday period.
Sharm el Sheikh: 12-year-old boy and tour guide lose limbs after shark attack in Egypt | World News
A tourist has lost an arm and a tour guide has lost their leg after a shark attack off the coast of Sharm el Sheikh.
The incident happened over the weekend when two tourists – a Ukrainian mother and son – were snorkelling with the tour guide in Ras Mohammed national park.
The injured were taken to a local hospital and an initial investigation indicated that a 2m (6ft) long Oceanic Whitetip shark was involved.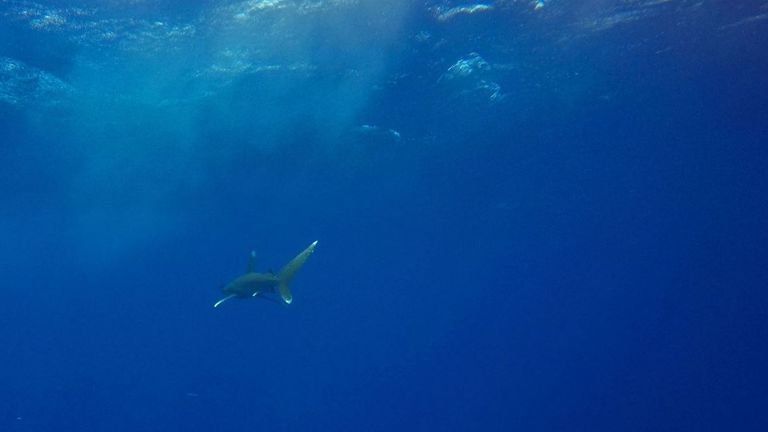 Ukrainian officials say the 12-year-old boy is now in critical care – and despite surgery, his arm could not be saved.
The Egyptian guide has lost a leg and the mother suffered minor injuries, according to an anonymous local health official.
The area where the attack took place has been closed off.
Shark attacks are rare in the Red Sea area of Egypt – especially in the past few years.
In 2010 however, there were a number of shark attacks that killed one European tourist and seriously injured several others off Sharm el Sheikh.
Coronavirus: South Africa's COVID lockdown may have created 'herd immunity' | World News
Leading scientists in South Africa believe the country has established a form of collective or herd immunity to COVID-19 after the number of infections unexpectedly plummeted following a major outbreak in June and July of this year.
Commenting on a series of studies revealing the existence of high infection rates in the provinces of Western Cape and Gauteng, the country's leading vaccinologist, Professor Shabir Mahdi, told Sky News that he believed the coronavirus had stimulated a level of immunity in approximately 12 to 15 million people.
"What has happened in SA today, the only way to explain it, the only plausible way to explain it is that some sort of herd immunity has been reached when combined with the use of non-pharmaceutical interventions… like the wearing of masks, physical distancing, ensuring ventilation when indoors and so on."
At the height of the pandemic, South Africa was ranked as the world's fifth most-effected country, behind the United States, India, Brazil and Russia – all of which have much larger populations.
It was at this point that researchers based in Cape Town began testing for traces of the virus in blood samples provided at local clinics by pregnant woman and HIV patients.
Virologists like Dr Marvin Hsiao were surprised to find that on average 40% of respondents had developed coronavirus antibodies with the majority being unaware that they had been infected.
Preliminary indications from a similar study in Gauteng, which contains the country's largest city, Johannesburg, reveal that approximately one third of those tested had been infected.
"Inexplicably, the numbers (of those infected with COVID-19) started dropping off at the end of July, and at the time I couldn't explain why," said Dr Hsiao.
"But when we analysed the data it become clear, this immunity within the population level (linked to) the big surge infections is probably the main reason why we've seen the decrease of numbers of infected."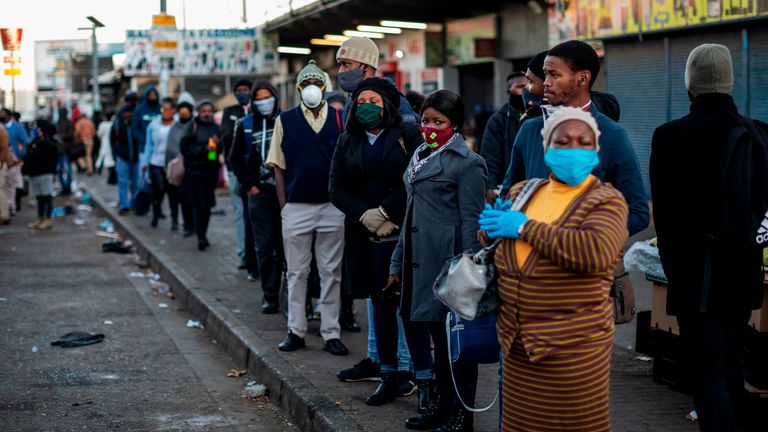 The understanding that South African scientists have reached on the attainment of a level of collective immunity in their country seems to contradict a study by researchers at Imperial College, London, who found that the number of people with COVID-19 antibodies in the UK declined from 6% of the population in June to 4.4% in September.
Their 'React-2' study suggests that immunity to COVID-19 may be short-lived, but Professor Mahdi challenges the importance of antibody analysis, pointing out that it only evaluates one part of the human body's immune system.
"This waning of antibodies does not really inform what to expect without adequate interrogation of other components of the immune system. Experience with common cold and SARS coronavirus is that T-cell immunity likely lasts for 2-3 years."
South African researchers believe that South Africa's strict level five lockdown – which was imposed back in March – worked inadvertently to kickstart a massive wave of infection.
In the densely packed townships that surround the major cities, residents were forced to cue for essentials like food and social security payments, creating what Dr Hsiao described as "new networks for the spread of the disease". Social distancing was practically impossible on plots where 20 or more to people are often forced to live at close quarters.
Dr Mahdi says the lockdown's failure to suppress COVID-19 provided the country with the unintended benefit of temporary – or longer-lasting immunization – for many South Africans.
"This inadequacy in terms of adherence of the lockdown, where inadvertently we've had transmission taking place, has resulted in a high percentage in densely populated areas becoming immune.
"There might be a question in terms of the duration of immunity… based on our experience with other coronaviruses, a mild infection is probably going to (generate immunity) for two to three years but that places us in a really good position."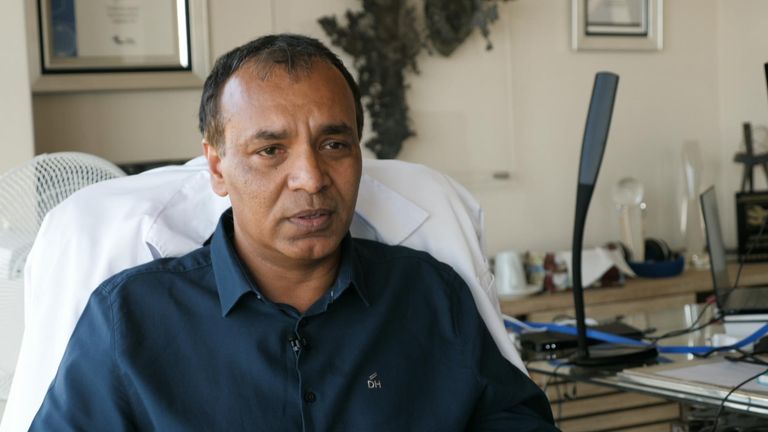 For the scientists – and the policy makers – there is a great deal of work to be done and additional studies will be commissioned over the next few weeks with the aim of better understanding the numbers of those infected and how the virus has spread.
But the vaccinology professor clearly believes that the development of some immunity in the population to COVID-19 was not only inevitable – but a necessary development in the South African context.
"It is not denying that COVID is the most important cause of death this year, superseding HIV, TB and everything else but the response needs to be much more nuanced than simply believing that a highly restrictive lockdown is going to get rid of the virus.
"Under no circumstances is a lockdown on its own going to achieve elimination of the virus."
High intake of vitamins A, E and D linked to fewer respiratory illnesses, says study | Science & Tech News
High intakes of vitamins A, E and D are linked to fewer respiratory illnesses, according to a study, with experts calling for more research into their effect on COVID-19.
It comes soon after a separate study found 82% of 216 coronavirus patients in a Spanish hospital had a vitamin D deficiency.
UK Health Secretary Matt Hancock has ordered a review into vitamin D's effect on the disease, after previously saying it appeared to have no effect.
The latest study involved 6,115 adults, with people self-reporting their vitamin intake and any respiratory problems.
Illnesses included chesty coughs, as well as long-term conditions such as asthma and pulmonary disease.
Overall, there were 33 cases of respiratory complaints, and researchers found vitamin A and E from both diet and supplements was associated with a lower likelihood of them being reported.
Vitamin A can be fund in food such as whole milk, cheese, carrots and dark leafy veg.
Vitamin E is found in nuts, seeds and vegetable oils.
Meanwhile, vitamin D intake from supplements was also associated with fewer respiratory complaints, the study found.
Most people's bodies make enough of the vitamin from sunlight, but in the winter the NHS advises supplements for some groups.
It is also present in some foods such as salmon, mackerel, herring and sardines, red meat and eggs.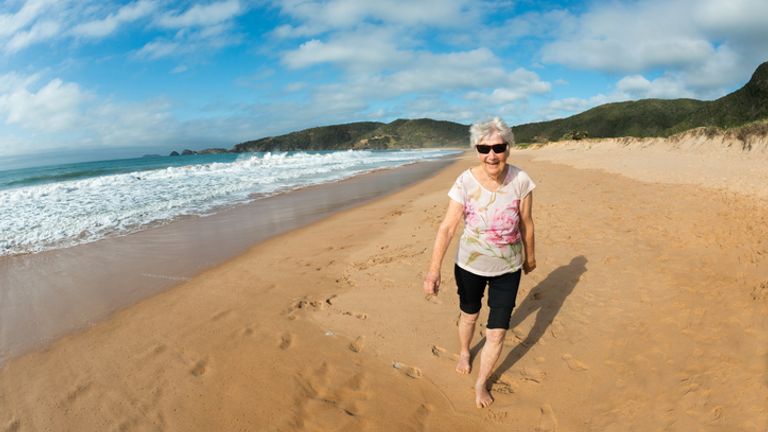 Vitamin D deficiency is more common in older people, overweight people, and in black and Asian people – all groups at increased risk of becoming seriously ill with coronavirus.
The researchers in the latest study, including from Imperial College London, said their work supported the hypothesis that supplementation is "critical" for some, and that diet alone is often not enough.
They recommended further work "to assess the implications of the current study in the context of the current coronavirus disease" pandemic.
Shane McAuliffe, from the NNEdPro Nutrition and Covid-19 Taskforce, which includes University of Cambridge experts, said: "While acknowledging the limitations of this data, it does add further to a growing body of interest and evidence for the role of vitamin D in respiratory health.
He said the low cost and low risk of adverse effects made it "sensible" to provide supplementation to people most likely to be deficient.
Experts from Queen Mary University of London are also studying whether correcting people's vitamin D can reduce the risk and/or severity of COVID-19 and other infections.
Lead researcher Professor Adrian Martineau said: "There is mounting evidence that vitamin D might reduce the risk of respiratory infections, with some recent studies suggesting that people with lower vitamin D levels may be more susceptible to coronavirus."
A study in Boston last month also found that people with sufficient vitamin D were less likely to experience complications and die from COVID-19.
However, in June, five studies on coronavirus and vitamin D were reviewed by the UK's National Institute for Health and Care Excellence, which concluded there was currently no evidence to support supplementation reducing the risk or severity of the virus.