Joe Montana: Ex-NFL star and wife grab grandchild from arms of intruder | US News
Former NFL quarterback Joe Montana and his wife confronted a home intruder who attempted to kidnap their nine-month-old grandchild over the weekend, law enforcement officials say.
Montana told officers his grandchild was sleeping in a playpen on Saturday when an unknown woman entered their home in Malibu and grabbed the child.
According to the Los Angeles County Sheriff's Department, the former San Francisco 49ers star and his wife, Jennifer, confronted the woman, tried to "de-escalate the situation" and asked her to give back their grandchild.
After a tussle, officials said Jennifer Montana removed the child from the intruder who was later identified as Sodsai Dalzell.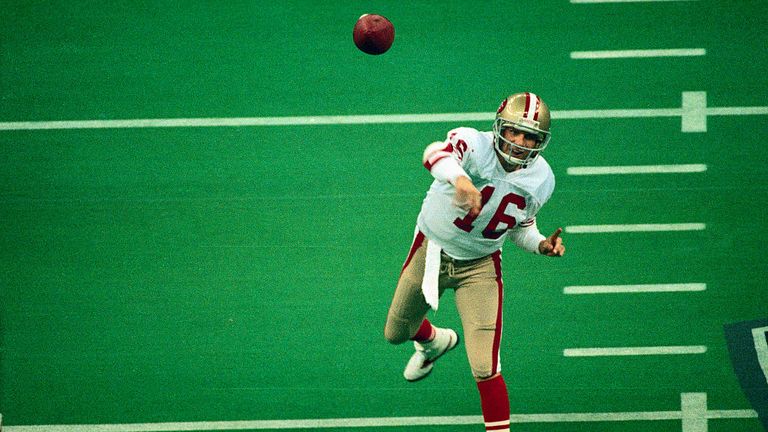 "Thank you to everyone who has reached out," Montana tweeted.
"Scary situation, but thankful that everybody is doing well. We appreciate respect for our privacy at this time."
The sheriff's office said Dalzell fled the home but was later arrested. She faces kidnapping and burglary charges.
Montana, 64, retired after the 1994 season, playing 13 years of his 15-year career with the San Francisco 49ers, who won four Super Bowls with him as starting quarterback.
Burna Boy: End SARS protests are 'the most important moment in Nigeria's history' | World News
Nigeria's protests against police brutality are "the most important moment" in the country's history, music star Burna Boy has told Sky News.
His words come two weeks after protests began, sparked by a video showing a man being beaten, apparently by police officers from SARS (Special Anti-Robbery Squad).
Since then, the End SARS movement has spread across Nigeria and at least 56 people have died – 38 of them on Tuesday alone, Amnesty International claims.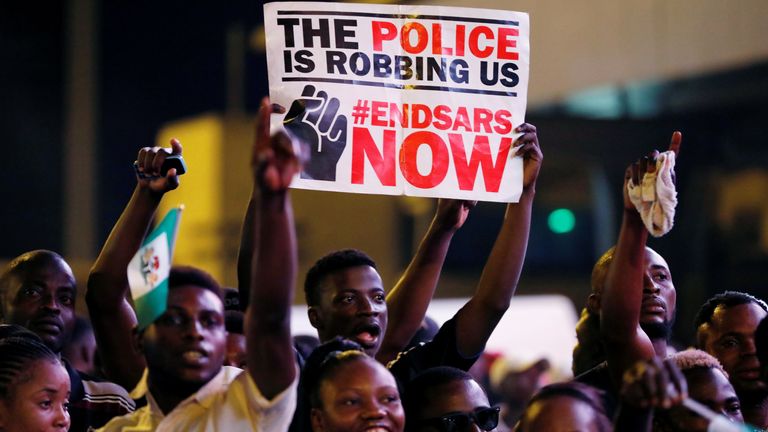 Amnesty International said it has evidence of multiple fatalities after armed men used live rounds at a protest against police brutality at the Lekki Toll Gate in Lagos, Africa's most populous city.
Burna Boy, who spoke to Sky News from London, said: "It is shocking when you see it happen in that place, in such a place, that was the landmark of everything.
"The Lekki Toll Gate, that was the most peaceful place to protest, the most peaceful venue in the whole country and then that is the place where (the shootings) happen. It is not something that you can just wrap your head around."
The best-selling Afrobeats artist, who has mixed rap, funk and dancehall influences on international hits like On The Low and Ye, said nationwide protests against SARS have changed the nature of politics in his homeland.
"This is the most important moment in Nigeria's history… that is what we are witnessing right now because if nothing changes after this, if this doesn't work, then it is over."
When asked what he meant by this, he replied: "Look at what is going on right now: the youth have come together, like something unexplainable (sic), something that no one man could have possibly organised or led, the youth of the largest black nation in the world came together, said enough is enough and this was triggered by police brutality.
"It's not like it was triggered by all the other things that it should have been triggered by all these years."
Burna Boy said Nigerians had a right to know who ordered the shooting at Lekki Gate – and which branch of the security services carried it out.
These questions have not been addressed by the President of Nigeria, Muhammadu Buhari, who did not mention the violence at the Lekki Toll Gate in a nationally televised address.
"You just can't kill all these people in this place, whose only crime is asking for a better future and not have any explanation of how it happened.
"How can you, the governor (of Lagos State, Babajide Sanwo-Olu), wake up next day and say nobody died and just say all this s*** you said? This is what people want to hear. Who is responsible? Who exactly gave the order?"
President Buhari said he has met the demands of the demonstrators, including ordering the disbandment of SARS and the creation of compensation funds for the unit's victims.
The time has come, Mr Buhari added, for the protesters to desist.
But Burna Boy became angry at the suggestion Nigeria's policing problems had been solved.
"They have said that before, haven't they? They've said that two or three times, haven't they? So what makes this time different? So we should go home, everyone should go home because you say it again?
"So far all you have showed me is the blood of my people."
The West African musician, who has worked with artists such as Drake, Stormzy and Ed Sheeran, said he has little time for his profession as members of his generation fight for a future they can believe in.
"I don't care about no music right now, it doesn't matter to me right now, none of that matters to me right now, you know? I don't want to hear about no music right now."
Russian 'Fancy Bear' unit hit with sanctions by UK over cyber attack on German parliament | Politics News
Britain has imposed travel bans and asset freezes on a Russian unit over a cyber attack on Germany's parliament.
The sanctions, part of European Union action, will be enforced on two Russian GRU officers and a hacking unit – judged to be part of the GRU – known as APT28 or Fancy Bear.
Germany has found Russia responsible for the 2015 hack of its parliament, the Bundestag, which was said to have caused the theft of more than 16 gigabytes of data, including MPs' confidential emails.
The Foreign Office announced the sanctions would come into force immediately
"The UK stands shoulder to shoulder with Germany and our European partners to hold Russia to account for cyber attacks designed to undermine Western democracies," said Foreign Secretary Dominic Raab.
"This criminal behaviour brings the Russian government into further disrepute."
Britain is continuing to coordinate with the EU's sanctions regime during the Brexit transition period, after which the UK will have its own regime.
UK security chiefs have previously judged APT28 to be part of the GRU, the Russian military intelligence services.
The group have also been blamed for the hacking of the Democratic National Committee (DNC) servers during the 2016 US election campaign, as well as the hacking of the World Anti-Doping Agency's database in the same year.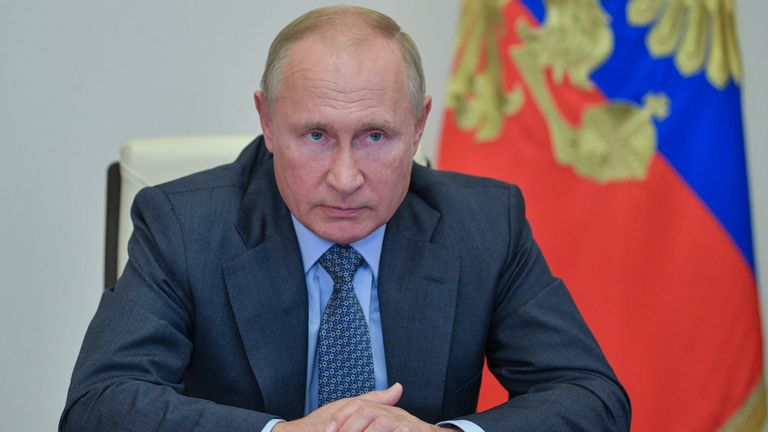 The action against the unit over the Bundestag attack came as Russian President Vladimir Putin claimed Germany and China are now heading for superpower status while the influence of America, along with that of Britain and France, wanes.
Addressing a meeting of the Valdai Discussion Club via video link, Mr Putin was reported to have said the era when the US and Russia decided the world's most important questions was in the past.
If the US was not prepared to discuss global problems with Moscow, Russia stood ready to have that discussion with other nations, the Russian president was said to have added.
Gulf Livestock 1 sunken ship: Pope Francis gives money to families of crew missing at sea | World News
Pope Francis has gifted money to the families of the crew members who were on board a ship that sank off the Japanese coast last month, 40 of whom are still missing.
The Gulf Livestock 1 was carrying 43 men and 6,000 cattle when it capsized on 2 September in the East China Sea after suffering an engine failure during Typhoon Maysak.
Families of the crew, which included 39 Filipinos, two Australians and two New Zealanders, have raised over £93,000 for an international search effort which recently found a potential life raft and life ring from the ship.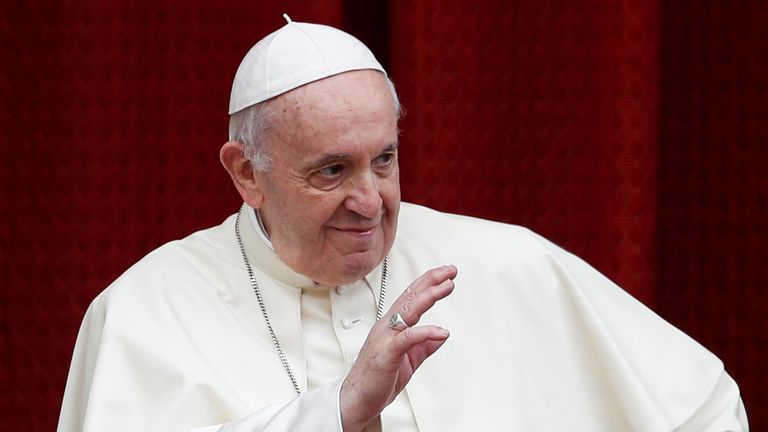 In a statement, the Vatican confirmed it will provide financial aid to "be given personally to the families of the missing persons and the two survivors, along with a small personal gift from Pope Francis, to express his closeness and solidarity".
"This contribution has been accompanied, since the very first days of the disaster, by spiritual, psychological and personalised support, offered to the Filipino families by a team of professionals, chaplains and religious sisters from the Stella Maris Centres of the nation," the statement continued.
"The support, which in view of the COVID-19 restrictions has so far been implemented through the use of social media and a digital platform, will continue for several months."
The full amount and duration of the support from the Vatican's Dicastery for Promoting Integral Human Development is not clear.
Loved ones of the 40 crew members still lost at sea remain hopeful that there are more survivors after three Filipino men were pulled from a life raft in the days following the capsizing.
One of the men died.
The two who survived told an investigation into the sinking they saw the deployment of four life rafts before the ship sunk and that everyone was wearing a life jacket.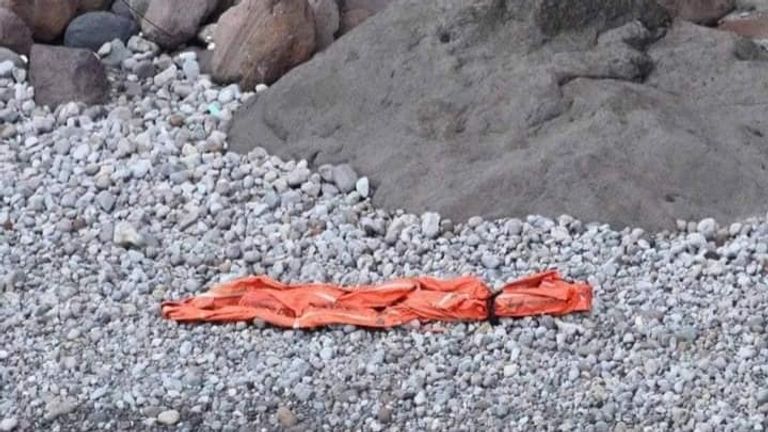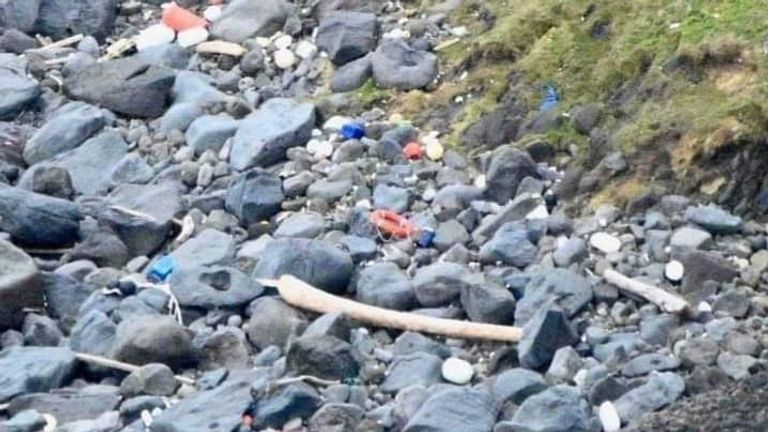 On 10 October, images from crew and pilots found what appeared to be a canopy from the same life raft used on the Gulf Livestock 1 on the Japanese island of Kuchinoshima – about 160 miles from the ship's last-known location.
On the same day, a life ring and blue boot were spotted 21 miles away on another island.
Three men have been rescued and two survived

The Viking life rafts from Gulf Livestock 1 carry enough rations to feed 20 people for 30 days.
But an Australian legal report recently concluded the prospect of more survivors remained possible while life rafts and jackets were still missing.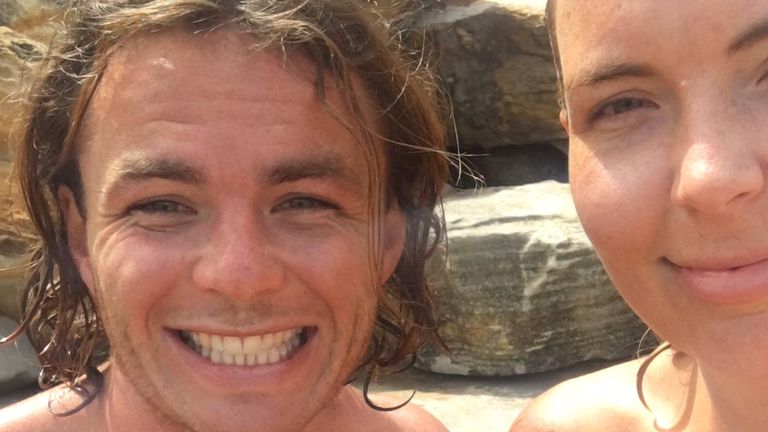 The sister of Australian stockman and missing crew member Will Mainprize recently described her brother as a "survivalist" who led rescue and adventure missions in his home country.
"He is just so kind and compassionate," she told Sky News.
"This beautiful, young 27-year-old man. I'm 18 months older than him and we were like twins growing up. If you spend time with him you feel like a better person."