The hellish fight to keep children alive in a Yemeni hospital | World News
Warning: This report contains distressing images of seriously malnourished children.
If there is a hell, it could well be in a small hospital in north Yemen. There is misery and desperation in every corner you look.
They thought in Yemen, it couldn't get any worse after six years of civil war. They were wrong. A collision of factors has created what charity workers are calling the 'perfect storm'.
War, malnutrition and now a global deadly pandemic have created a torment from which many Yemenis simply will not recover.
Even the tough medics of the Abs Children's Hospital struggle to maintain their composure in the avalanche of unrelenting wretchedness here.
We watch as the teams work on baby after baby. The other mothers crowd round as word got out about the struggle to save a tiny little new born, little more than a month old.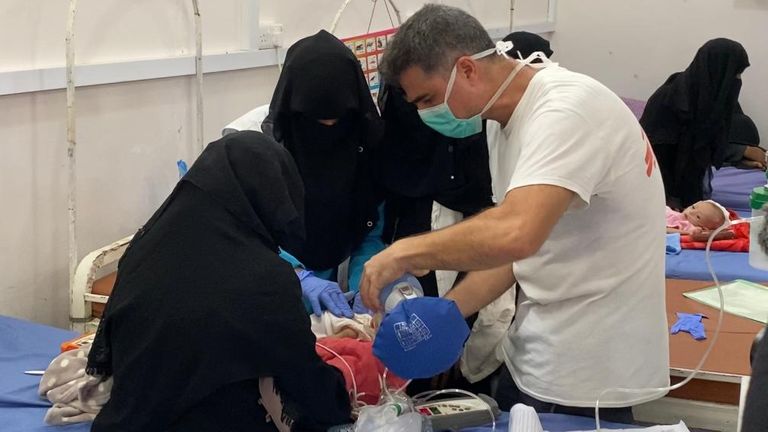 One doctor whose name I only know as Javier, cradles the baby's head in one hand.
The mask he is using to try to pump oxygen into little Taif's small lungs almost covers her entire face. He holds the baby's right hand, her fingers curled around his whilst he uses two digits from his other hand to push gently on her heart to keep it beating.
"It's a very low heartbeat," he tells us. We could see the heart monitor flickering between numbers, signalling life – death – life again – death.
Javier's constant pushing keeps nudging Taif into this world, this world where her four siblings go to sleep hungry every night and where her mother Randah struggles to produce enough breast milk to feed her little one because she's so undernourished.
The doctors keep working on her, determined not to give up. Nurses flutter round with injections of stimulants and fresh machines to suck mucus out of her lungs.
But everyone present knows it is a hopeless battle. They shine the light from a mobile phone across her eyes. There's no response. There's no heartbeat either.
They knew this before they even checked but seem reluctant to accept what seems obvious to everyone witnessing this titanic struggle to save this minuscule human.
Javier silently packs up his stethoscope and heart cables. "She's passed away," he says matter-of-factly but his eyes betray much more turmoil than is immediately apparent.
Dr Izzedine Mohammed is struggling to hold back his emotions. "I have to deal with this every day…this is my life…every day. And this is what is disturbing us the most…because it's a preventable death. It's not an inevitable death…it's something we can prevent by only giving food."
The rest of the hospital quietly disperses. The mothers return to their own babies, struggling against the odds to survive here. Everyone of them must be thinking that could be their baby next.
Hunger is ravaging the country like never before. It should shame the world community that in the year 2020, babies and toddlers are dying from starvation here.
Take a moment to process that. There are children with so little food that they're susceptible to every single infection or disease going. Children with so little nutrition, that from the moment they're born, they're struggling to survive a mountain of disadvantages including what many believe is an entirely preventable conflict.
Children in Yemen are so weak from hunger, a bout of diarrhoea will kill them within days. And these same children are so fragile they stand little chance in the midst of a global pandemic which is wiping out richer, stronger, much more privileged human beings around the planet.
Everywhere we look we see tiny, skeletal bodies laying on every bed in the main children's hospital in Abs, in Hajjah Governorate. And there's not a bed that doesn't contain a tragic tale.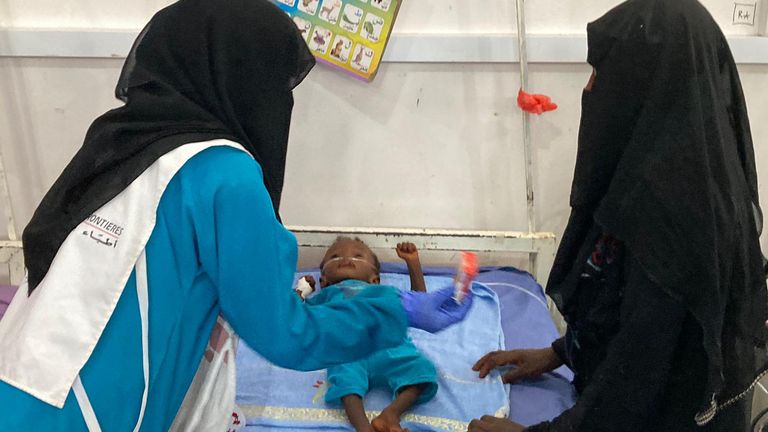 They are scraps of humanity, wriggling in pain. Most are too weak to even cry. Those who do yelp or cry out in agony are the healthier ones.
Yet make no mistake, no-one but no-one is healthy in here. There are even some children hanging from hammocks underneath the beds.
The medics from Medecins Sans Frontieres buzz around, moving briskly from bed to bed and critical case to critical case.
These are dedicated people, the guardian angels of this area, desperately trying their best to save lives in the most horrendous of circumstances and fighting a tide of despair every hour and every day.
Many of the people they are caring for have moved several times to escape the fighting. Nearly all the country is dependent on aid.
The United Nations believes 80 per cent of the country needs help just to make it through the day. Whole families, whole communities, whole villages have moved several times – exchanging one set of desperate circumstances and abject poverty for another.
"This is malnutrition (which has caused this)," Dr Ali Mohammed, the hospital supervisor tells us, his voice filled with frustration whilst pointing to a small boy with a wizened, scrunched up body which makes him look so much older than his two years.
Zaid Mohammed was born with cerebral palsy to his young, twenty-something year-old mother (many Yemenis just don't know their exact age) whilst they were living in a rough makeshift camp filled with hundreds of displaced people from their village.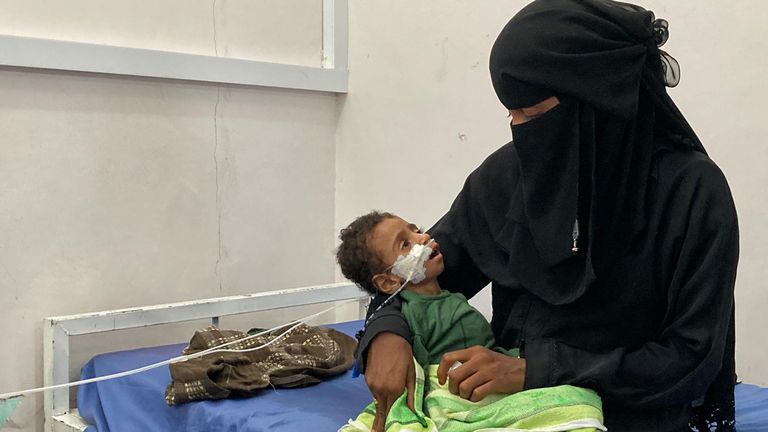 His father, Mohammed Ali took three days to build the mud and straw room that the family normally sleeps in. The simple structure is held together by discarded bits of plastic. The family have to queue up outside a charity water tank where they, like everyone else in this camp, have water rationed to three cartons per family.
Zaid has spent most of his 24 months in and out of hospital but his condition is the worst it's ever been, brought on by malnutrition which has led to infections and weakened his already feeble body.
His mother, Zahra, is beside herself. She looks exhausted. Her eyes are red. "I haven't slept for two years," she says, "And until now we haven't had any help – no bread or tents from anyone. Our life is very difficult."
Zaid's father is sleeping outside on the hospital pavement until his son can leave hospital. They are still optimistic he will leave hospital but nothing is certain. Each child is hovering between life and death. Survival – or not – can turn in an instant.
The little boy's every breath looks painful as flies gather at his mouth. His body has been craving food for so long without getting enough, it is finally rejecting it. "He can't keep anything down," his exasperated mother tells us. Sustenance is administered via a nose drip.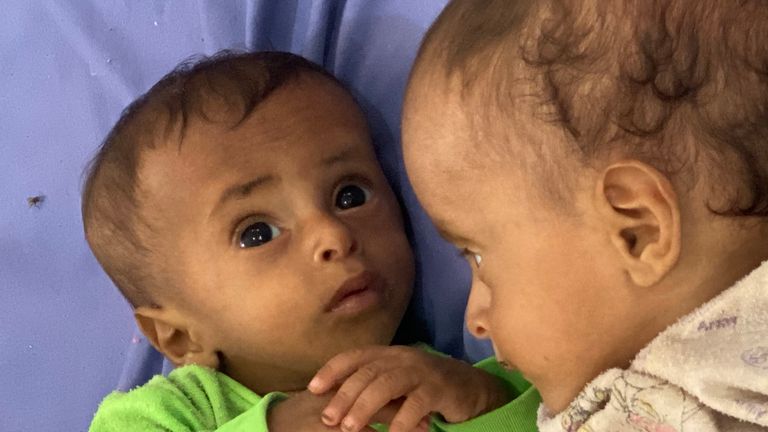 Yemen, now one of the world's poorest countries, is strategically important, sitting on the Bab al-Mandeb strait which links the Red Sea with the Gulf of Aden and through which much of the world's oil supplies pass.
But it's been devastated by a protracted war which has its roots in the Arab Spring uprising which saw the toppling of the country's long-time authoritarian leader Ali Abdullah Saleh.
Yemen's most recent history is as bloody and brutal as it is complex. In brief, the Arab Spring rebellion saw Saleh forced to hand over power to his deputy Abdrabbuh Mansour Hadi whose Government continues to be internationally-recognised and is supported by a coalition of powerful countries headed by Saudi Arabia and backed by Britain, America and the United Arab Emirates. But from the onset, President Hadi struggled to contain a range of problems including al Qaeda and ISIS attacks, widespread poverty and corruption.
These weaknesses were exploited by the rebel Zaidi-Shia Houthi movement which took control of swathes of the north including the capital Sana'a, setting up its own rival authority, multiple checkpoints and quickly winning military and logistical support from Iran.
Despite the Saudi-led coalition establishing air dominance and delivering a blistering number of attacks over the past five years killing thousands of civilians killed and mounting a siege of the north restricting aid to the territory, neither side has secured victory.
Both sides are accused of war crimes and crimes against humanity with the Houthis regularly accused of recruiting and coercing children into the conflict, laying landmines in civilian areas and carrying out indiscriminate shelling of civilians and residential areas.
Yemen was already broken but the coronavirus pandemic has only added further misery and seen international donations plummet amid the global economic uncertainty.
The tighter restrictions on vital food imports has led to high increases in prices and further exacerbated the severe hunger suffered by millions of families.
Little baby Taif is now one of Yemen's many dead. Her family joins the thousands grieving for lost loved ones. And there will be many who believe her death – and so many others – is only because of political inaction.
Alex Crawford's team: Middle East editor Zein Jafar, producer Ahmed Baider and cameraman Kevin Sheppard
Yemen: 'Choices have been made to abandon these people', says UN official | World News
The "distressing" situation in Yemen is a result of choices made by "powerful countries and powerful people", according to a UN official.
Sir Mark Lowcock told Sky News "choices have been made to abandon these people".
He added that deciding not to fund the relief operation has been "one of the worst choices" made this year.
The country has been devastated by a conflict between Abdrabbuh Mansur Hadi's administration and the Houthi armed movement since 2014 – both claim to form the official government.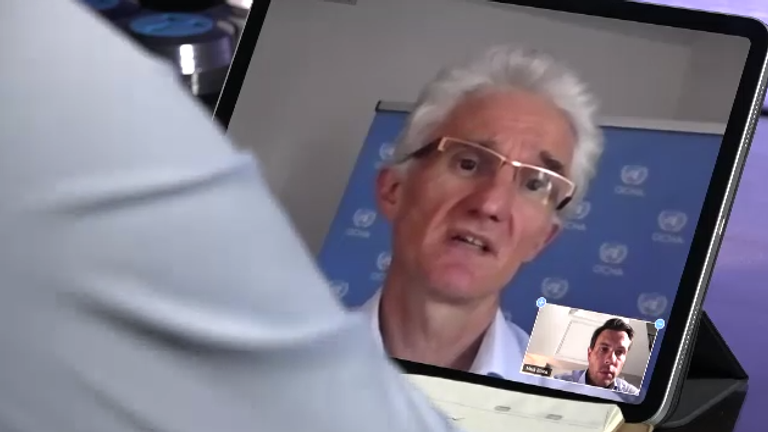 Mr Hadi's government is supported by powerful countries, headed by Saudi Arabia, but also backed by the US, Britain and the United Arab Emirates.
The crisis has worsened due to coronavirus, with the UN saying more than 20 million people require urgent humanitarian assistance because of the ongoing conflict – almost half of them children.
The UK government has said that famine in Yemen "has never looked more likely".
The UN under secretary general for humanitarian affairs and emergency relief co-ordinator said the situation in Yemen is "very distressing and upsetting", and one which is "very important" for the world to see.
In the past, relief efforts have helped avoid suffering and death. However, without these in place Sir Lowcock said "half the people we were reaching, we're barely able to give any food to anymore".
This has also led to the closure of clinics and water stations.
He said countries in the Gulf typically pledge a lot of money but "have not pledged as much this year and have paid almost nothing", adding that "every country actually needs to step up to do more".
Last year, Saudi Arabia gave $750m to the appeal – this year they pledged $500m, before decreasing the amount to $300m.
Sir Lowcock said even this amount isn't "going to be enough, it's not going to turn the corner, it's not going to save all of those millions of children", adding that the relief operation needs to get back to where it was in 2019.
David Milliband, president of the International Rescue Committee, emphasised this is not a tragedy, telling Sky News: "This is a crisis of diplomacy because there's a war going on. It's a crisis of politics because the UN is stuck unable to bring the waring parties to heel.
"It's a crisis of the humanitarian system too because only 30% of the UN appeal is funded."
He added: "The threat of famine and the reality of malnutrition is daily life in Yemen today and it is preventable, and that's what makes this an absolute scandal. We need the governments of the world to fulfil their responsibilities."
Commenting on the crisis, Sir Lowcock added that what has been seen so far is "just the tip of the iceberg" as those unable to get to the hospital are in a much worse situation.
He said: "They're in a tiny shelter covered by a piece of plastic with no food, no water, no power.
"They have nothing except the care and the support of their families as they breathe their last."
Sir Lowcock spoke about how "heartbreaking" the closure of the "life saving" programmes has been, but highlighted that the UN can "only keep them going if people pay for them" due to its reliance on voluntary contributions.
Foreign Secretary, Dominic Raab, said the UK would provide a further £5.8m in UK aid to help avoid famine in the country.
The UK support is said to be able to help at least 500,000 vulnerable people each month with buying food and household essentials, including soap and medicine.
Speaking in New York at a meeting of permanent UN Security Council members, Mr Raab said: "The humanitarian situation in Yemen is now the worst it has ever been, and compounded with the threat of coronavirus, the country has never looked more likely to slide into famine.
"Unless donors urgently act now and follow through on their pledges, hundreds of thousands of people are at risk of dying simply from starvation."
He also called for "unwavering support" for plans to secure a ceasefire that ends the suffering.
Coronavirus: European countries impose new restrictions as infections tick upwards | World News
Several countries across Europe have announced new coronavirus restrictions in some of their largest cities after recent surges in infections. 
Spain, Greece, Denmark and France imposed further measures in virus hotspots, while health authorities in Italy have warned the average age of coronavirus patients is creeping up – risking more hospital admissions and deaths.
Infections have been climbing steadily across most of Europe over the last two months, with more than half of European countries seeing an increase of over 10% in the past two weeks.
On Friday, Madrid residents were told they will need a reason to leave their neighbourhoods, parks will be closed and shops and restaurants will have to work at half capacity.
Cases have continued to rise in the Spanish capital, despite curbs on nightlife and limiting group interactions to a maximum of 10 people.
Spain has the highest number of new coronavirus infections in Europe and Madrid's rate of transmission is more than double the national average.
The country recorded 239 coronavirus-related deaths on Thursday, the highest single-day toll since cases began to rise again at the start of July.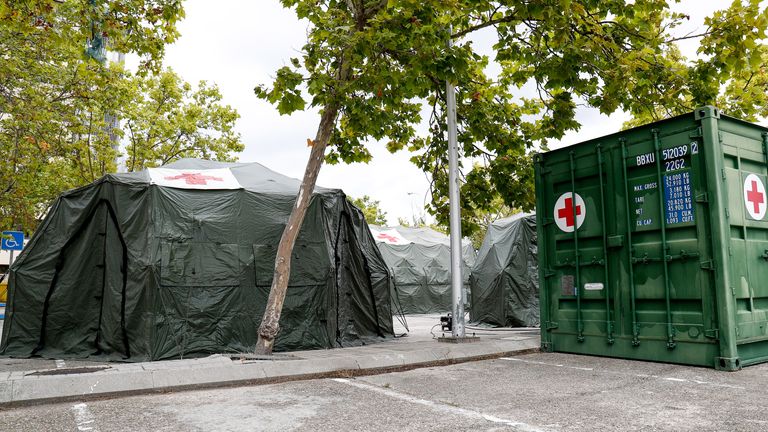 In France, which has also seen a recent spike in infections, further restrictions have been introduced in the southern city of Nice.
Gatherings of more than 10 people have been banned in public spaces and bars are having their opening hours restricted.
More than 13,200 new cases were registered on Friday, France's highest daily count since the start of the pandemic.
Greece is introducing tougher restrictions in the greater Athens region, while also stepping up testing and creating quarantine hotels.
From 21 September until 4 October, gatherings of more than nine people will be banned in the capital, with the exception of restaurants, bars and coffee shops.
Some 339 new infections were reported in Greece on Friday, with almost half of these in the greater Athens area.
In total, there have been 14,000 confirmed cases and 327 deaths nationwide.
Denmark has lowered the limit on public gatherings to 50 people from 100 and ordered bars and restaurants to close early, after the country recorded 454 new infections on Friday.
Meanwhile, Iceland has ordered entertainment venues and pubs in the capital area to close for four days from 18 September.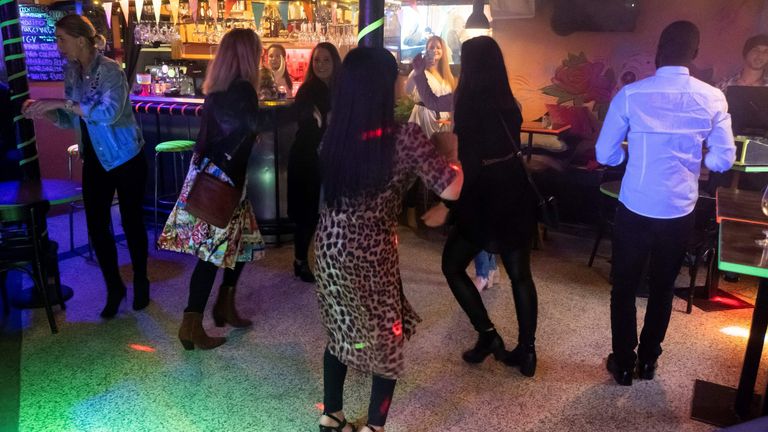 Italy, which was once the epicentre of the virus in Europe, is not experiencing the huge increases in infections seen in some of its neighbouring countries.
But health officials have warned that young people are starting to infect older family members in home settings, with the average age of positive cases last week at 41 versus the low 30s in August.
Earlier this week, the World Health Organisation (WHO) said the number of COVID-19 cases in Europe are now exceeding those reported in March.
The WHO's regional director for Europe, Dr Hans Kluge, told a news briefing: "The September case numbers… should serve as a wake-up call for all of us.
"Although these numbers reflect more comprehensive testing, it also shows alarming rates of transmission across the region."
Storm Ianos: Two dead after 'medicane' lashes Greece and sparks islands emergency | World News
At least two people have been killed after a "medicane" – a rare Mediterranean hurricane – toppled trees, cut power and flooded streets in Greece.
Storm Ianos hit the Ionian islands and the western Peloponnese on Friday before lashing the centre of the country on Saturday.
Greece's weather agency warned of damage and threat to life as it issued alerts for many areas.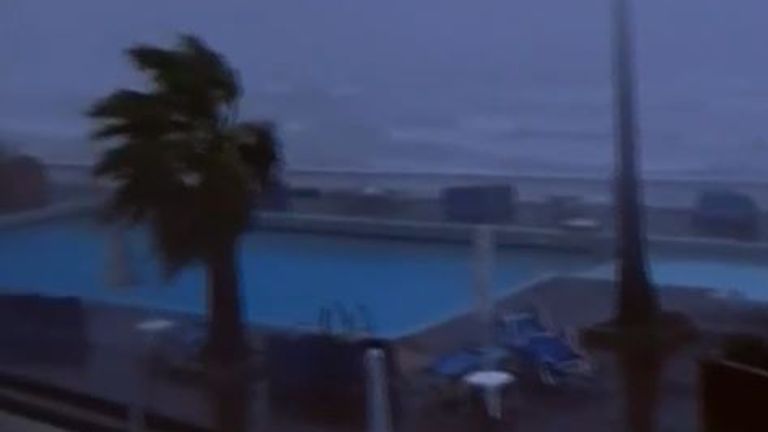 An elderly woman was found dead in a flooded house in Farsala and the body of 63-year-old man was discovered near a hospital in Karditsa.
"We're dealing with a total catastrophe," one Farsala resident told state television.
Areas of Karditsa, one of Greece's biggest plains – around 125 miles (200km) north of Athens, were swamped with water and a bridge collapsed.
The fire service said it had received more than 2,450 calls since the storm began – to rescue people, cut down trees and pump water from houses and businesses.
Five boats also sank off the holiday islands of Zakynthos (also known as Zante) and Lefkada on Friday, said the coastguard.
Greece's civil protection agency declared a state of emergency on Kefalonia, Ithaca and Zakynthos as power was cut in many areas.
Kefalonia's mayor, Theofilos Michalatos, said no one was hurt but that homes, roads and water facilities had been damaged.
The storm reached the Athens area on Saturday but there have so far been no reports of damage. Trains between the capital and the second city of Thessaloniki were suspended.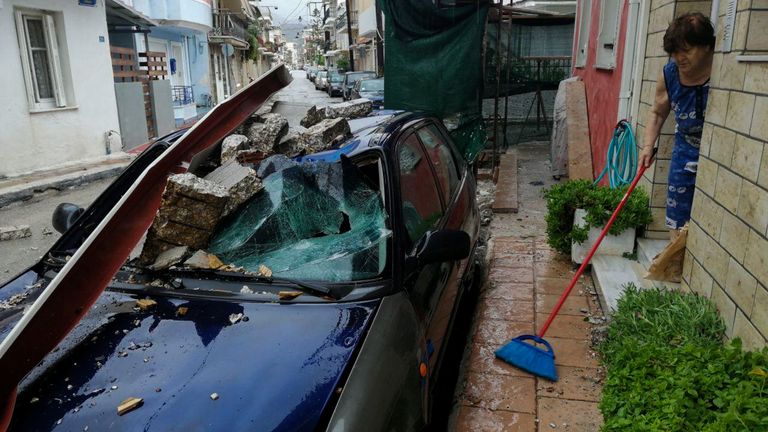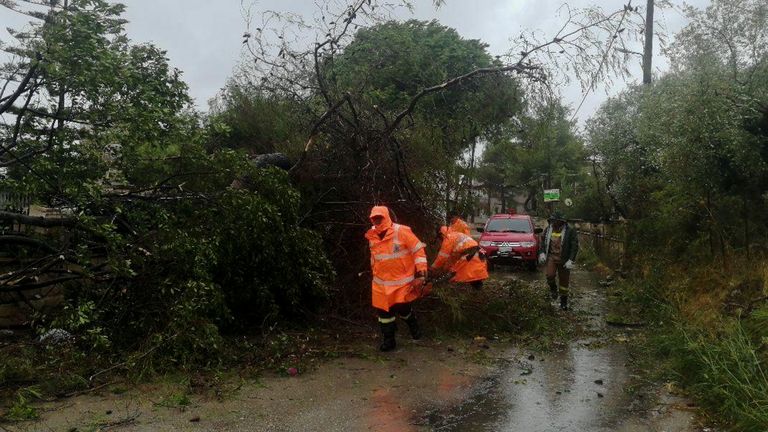 A medicane is a hybrid phenomenon with "some characteristics of a tropical cyclone and others of a mid-latitude storm", according to the UN's World Meteorological Organization.
They have strong winds spinning around a central core and torrential rain, but are smaller in diameter than hurricanes and don't last as long – typically 24 to 48 hours.
Such storms first appeared in Greece in 1995 and, while far less common than hurricanes, have become more frequent in recent years.