Trump's UAE – Israel deal has shifted Middle East politics, but the core conflict remains | World News
At the White House today, Donald Trump is trying to get as close as he can to emulating a moment that happened 27 years this week.
On 13 September 1993 President Bill Clinton brought together two foes. On the White House lawn, Israeli Prime Minister Yitzhak Rabin and Yasser Arafat, the chairman of the Palestinian Liberation Organisation, shook hands.
It was seen, at the time, as an irreversible moment in peacemaking; the first face-to-face meeting between the Israelis and the Palestinians and an agreement on a framework that would lead to the resolution of the conflict between Israel and the Palestinians.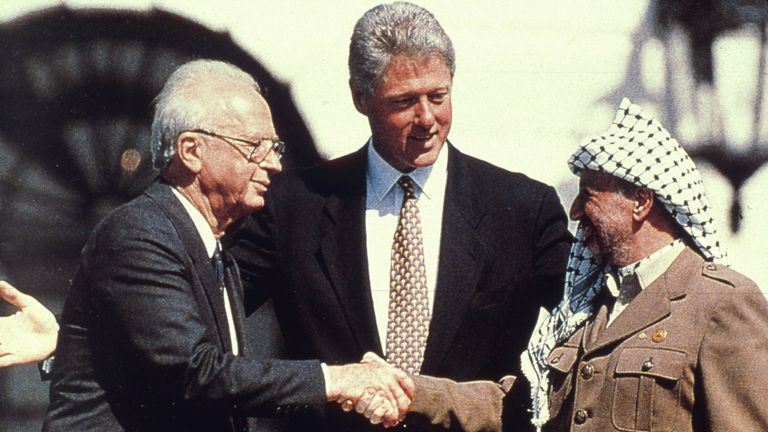 It didn't work. Years of renewed bloodshed followed which have morphed into low-intensity conflict, a dire equality imbalance and a political stalemate that endures to this day.
The Palestinians continue their struggle for a nation state – a largely peaceful struggle in the West Bank, less so in Gaza. The Israelis manage a status quo which, some argue, suits them just fine.
Enter Donald Trump. With no prospect of getting the Israelis and the Palestinians to repeat that historic handshake, but eager to be seen as the ultimate deal maker, he has pulled off a different feat. It's not one to be dismissed.
With his son-in-law Jared Kushner as the broker, he has persuaded two Gulf Arab countries to recognise the Jewish State of Israel.
Context is vital here. Until last month, only two Arab countries recognised Israel. Egypt signed a deal in 1979 and Jordan signed one in 1994.
However, the Arab Peace Initiative of 2002 was explicit that no other Arab countries would recognise Israel unless it withdrew fully from the Occupied Palestinian Territories (Gaza and the West Bank) and allowed the establishment of a Palestinian State with East Jerusalem as its capital.
That initiative held until last month when the United Arab Emirates agreed a normalisation deal with Israel.
In return, the Israeli Prime Minister, Benjamin Netanyahu promised to put on hold his plan to annex parts of the West Bank.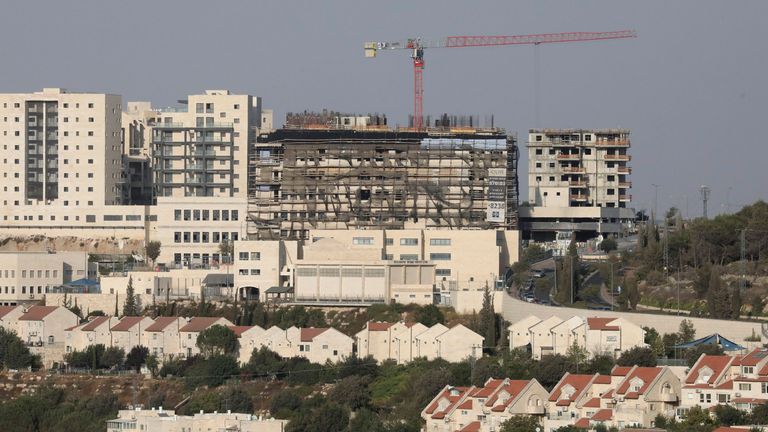 So, rather than demanding Israel reverse a fact on the ground in exchange for diplomatic ties, the UAE flipped the offer -if you don't follow through on annexation, we'll recognise you.
Bahrain then followed and other Arab countries may do too. It represents a paradigm shift in the geopolitics of the region and it strengthens the alliance against Iran – a common enemy for Israel and many gulf Arab nations.
The prospects for trade and tourism are huge. There'll be flights between the countries; embassies and ambassadors too.
It is a coup for President Trump. His administration has overseen a process in which the regional dial has moved. That is much more than his predecessor, Barack Obama, can claim.
He has brought Israeli-Arab hands together this week and it makes the perfect re-election image. Donald Trump the deal maker.
But peacemaker? What about the issue at the core of all this? The one that was supposed to be solved with that handshake in 1993?
Well, for the political protégés of Yasser Arafat, the deals amount to a deep betrayal by their Arab brethren. It represents the biggest crisis in the history of the Palestinian Authority.
The Palestinians have been left out. The Americans and the Israelis openly say they are fed up with waiting for the Palestinians to accept their vision for peace – one in which Israel does not need to withdraw from the West Bank and one in which the Palestinians don't get their own capital in East Jerusalem.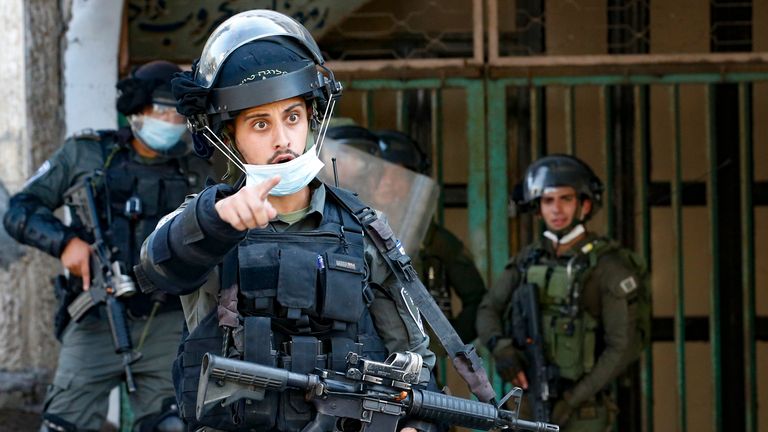 A drive though the West Bank, and it's extremely hard to see how, at the moment at least, an Israeli-Gulf accord does anything to bring resolution to the Palestinian issue.
Look at it through the hardened eyes of those living there – both Palestinians and Israeli Jewish settlers.
Khairi Hannoun is in his sixties. I met him a day after he was wrestled to the ground by an Israeli soldier.
With a flag and a walking stick, but nothing more, he had been protesting the continued expansion of illegal Israeli settlements into the West Bank.
He refused to move on and faced the consequences.
"They don't want to keep a single [Palestinian] citizen in this land," he told me when we met.
"The Israeli occupation differs from any other occupation worldwide. It is an occupation of substitution. This means they want to take over where you are and kick you out of this land. They don't have solutions. If they tell you they have a solution, they are lying."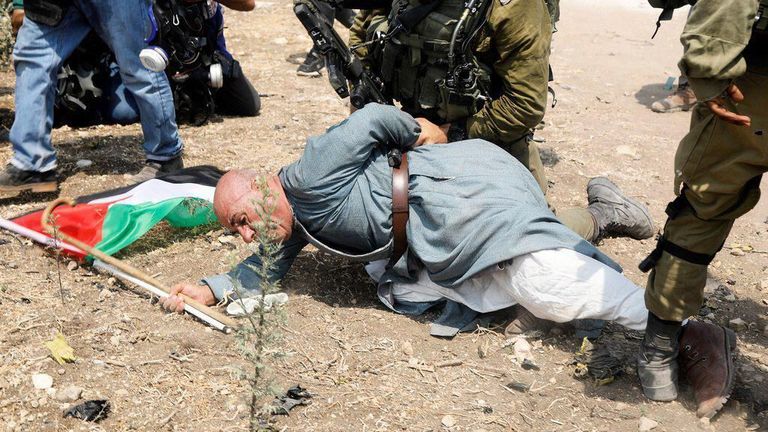 When I told the Israeli military I was interviewing Mr Hannoun they said they would send me a statement.
"Khairi Hannoun is known as an inciter. He has been a regular and reoccurring provocateur in the Judea and Samaria region [the Israeli name for the West Bank], regularly attacking soldiers and using violence against IDF troops, and has been incarcerated in Israeli prison over the years on at least seven occasions due to violence against IDF troops. Since 1979, he was incarcerated for a number of years in Israeli prison."
The Israeli security forces control over 60% of the West Bank and three quarters of a million Israeli Jewish settlers live in the area.
That is more than triple the number who were in the West Bank in 1993 when that White House handshake promised a peace which never came.
At a bus stop for the exclusive use of Israelis settlers, not Palestinians, I met Rachel Gordon, from London originally.
"When we moved here about 20 years ago, that Arab town was very very small and it's grown exponentially." she said, pointing to a nearby Palestinian town.
"But do you not see that you are being a bit hypocritical in the sense that you're saying the Arab town has grown, but your town wasn't here at all?" I asked, referring to the Israeli settlement she lives in.
"As far as I am concerned, it's Israeli territory and the whole of Israel belongs to the Jewish people," she said.
For decades the Palestinian quest has been their own state – with East Jerusalem as their capital and with Jewish settlers moving back out of the West Bank.
But is that still achievable? Or should Israel's deal with Gulf Arabs prompt a new Palestinian strategy?
"I think what we have to do as Palestinians is recognise that there is an apartheid one state reality. Accept that as a starting point but not accept that as our future," Dr Yara Hawari, a policy analyst at Al Shabaka, the Palestinian Policy Network told me.
"[The deal with the Gulf Arabs] really stresses the need for a recalibration of the Palestinian struggle… that we can't rely on people that we thought were allies, that we have to sort of seek out allyship, friendship, interconnectedness with other struggles, other peoples around the world."
There are hints of that with parallels drawn between injustices here and elsewhere. 'Palestinian Lives Matter' is a slogan you hear more and more.
Donald Trump's deal should not be dismissed. It represents a characteristic coach and horses through convention. It's changing the relationship between Israeli Jews and (some) Arabs and it has focused minds among Palestinians.
And so, one day we may be able to draw a line from this moment to peace in the Holy Land. But I can't quite see its outline yet.
Peter Madsen: Police surround Danish inventor who killed journalist after prison escape attempt | World News
A convicted murderer, who killed a journalist on board his submarine, has been surrounded by police and arrested after trying to escape from prison.
Peter Madsen, 49, tried to flee Herstedvester Prison, where he is serving a life sentence for the murder of Kim Wall in 2017.
Danish police have said a man has been arrested after an attempted escape and the area has been cordoned off.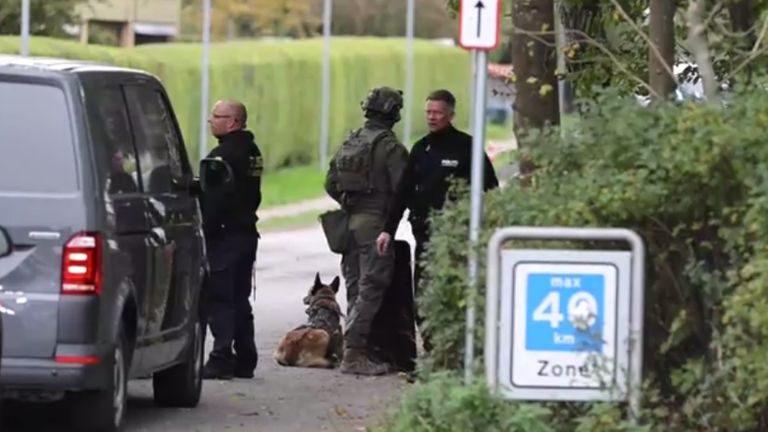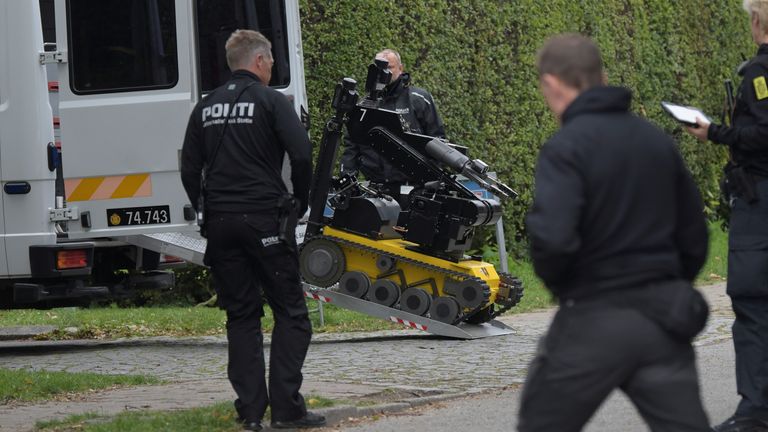 Local media reported the situation continued for at least an hour but the convict has now been driven away by officers.
Photos from the scene in Albertslund, Copenhagen, show Madsen sitting against a fence surrounded by armed police.
Two officers lie on their stomachs on the ground in front of him and it looks like he is wearing a belt-like object around his stomach.
Madsen had threatened prison guards with a "pistol-like object" and also claimed to have a bomb, according to Danish newspaper Ekstra Bladet.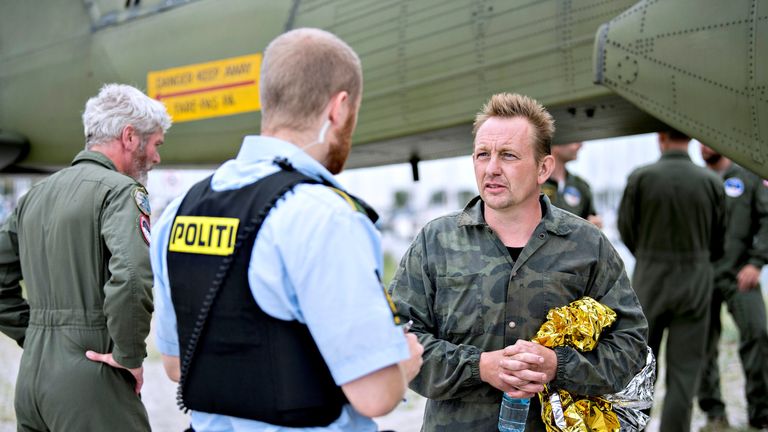 A witness, Frank Jensen, told the newspaper that police suddenly surrounded a white van, opened the door and pulled Madsen out of it.
Later pictures from the scene, which is a few hundred metres from the prison, show vehicles attempting to block the situation from view.
Madsen, who was a minor celebrity in Denmark, was convicted of Ms Wall's murder in 2018.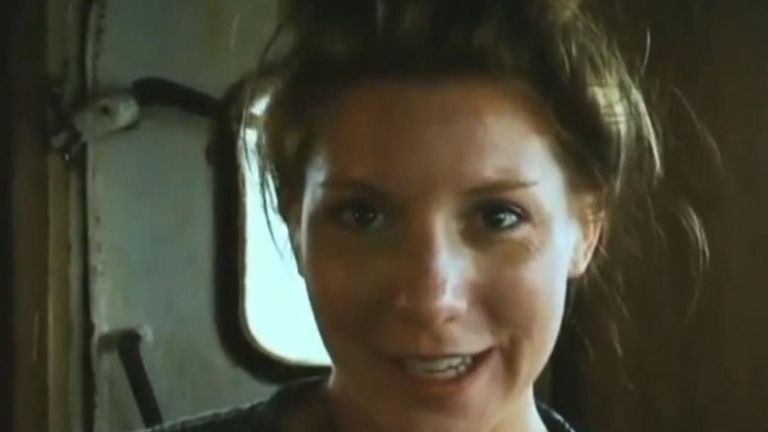 The 30-year-old Swedish journalist had been writing an article about his inventions and was travelling on his submarine when she was killed.
The inventor initially claimed he had dropped her off on shore and did not know what happened to her, but later insisted she had died accidentally after her remains were found.
Madsen admitted dismembering her body and dumping her in the Baltic Sea.
After a 12-day trial that received worldwide attention, he was convicted of the "especially brutal" murder that prosecutors said was sexually motivated.
Coronavirus: Student returning to the UK has unproven £50 COVID vaccine | World News
When Evelyn Wu heard she could get a COVID-19 vaccine, she jumped at the chance – even though it hasn't been scientifically proven. 
"I felt excited actually," she told Sky News. "It's just like a normal vaccine."
The 20-year-old is an economics student at the University of Birmingham and wants to return there in January.
So, as soon as she heard a coronavirus vaccine was available, she went to the hospital in Yongkang, eastern China, last Monday to register. Two days later, she had her appointment.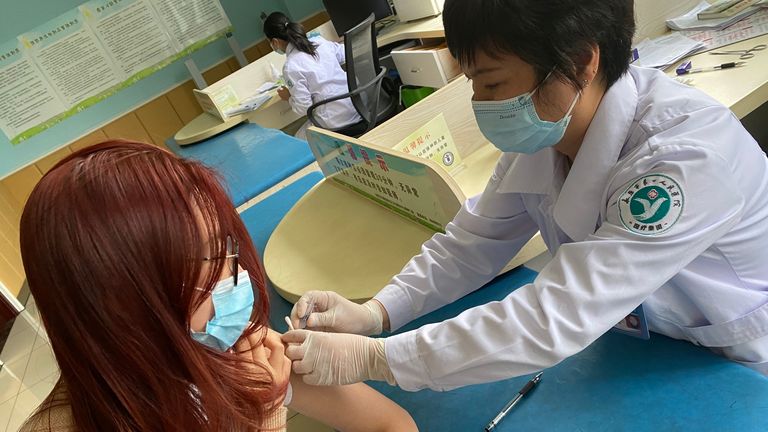 "I needed to sign some contract. It has the details about COVID-19. And it told me that it's very safe, even though it's only stage 3."
Ms Wu signed the form acknowledging that she might experience some mild symptoms and promptly received the first of two doses of the vaccine. In total she will pay 456 RMB – about £52.
The vaccine is made by Sinovac, a Beijing-based biotech company. The company is still carrying out late stage trials in Brazil, Turkey and Indonesia, and has said it could publish preliminary phase 3 trial data in November.
That means it hasn't met the typical safety and efficacy standard for vaccine development – but China has still cleared it for emergency use, saying it had support from the WHO.
"Yes, I'm a little worried about [it being] experimental stage 3," Ms Wu told Sky News.
"And I think I was the one who was the test subject, the one who was treated like a little mouse."
Ms Wu said she felt no side effects, apart from a little sleepiness. The hospital will not monitor her directly but she has been told to visit immediately if she develops any symptoms.
And for Ms Wu, government approval is more important than scientific.
"I trust China and I think it's totally safe to get vaccinated. I trust the government."
Others have been less trusting, according to Ms Wu. She says that, last month, the government asked doctors and teachers whether they would like to take the vaccine too.
"But some doctors and some teachers refused to make the vaccination. They think it's dangerous because they think they are being tested, " she told Sky News.
"They don't want to be the volunteer to get the experimental vaccine."
Starting in July, thousands of employees from Chinese state-owned enterprises have already received the vaccine ahead of foreign travel.
But this new campaign is extending that offer to the general public, in a handful of cities and towns, with some restrictions. Volunteers must be aged 18-59 and be a local resident.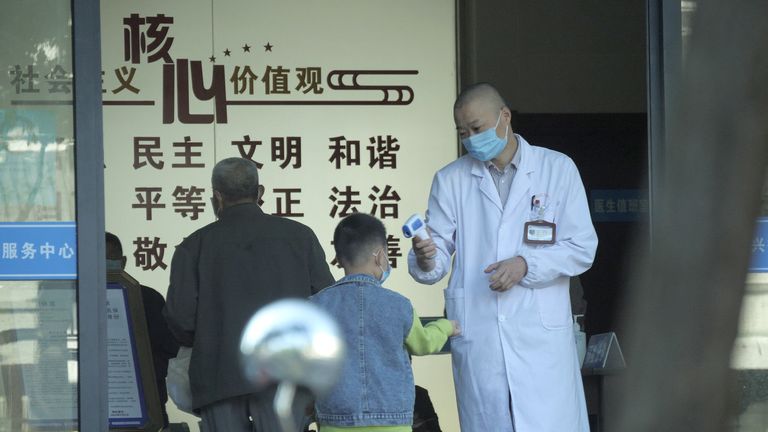 Health authorities in Zhejiang province, in east China, have published notices advertising the vaccine. Priority is given to medical workers, people working at border and quarantine centres, public sector workers travelling to mid to high risk COVID-19 areas, and then those who want to take the vaccine. Ms Wu had to show her university identity documents as proof of her intention to travel.
It is not quite a full roll-out yet. One health clinic in Jiaxing, a city in the same province which has advertised the vaccine, told Sky News it was waiting for doses to arrive but that people could sign up in the meantime.
But taking an experimental vaccine brings risk. Phase 3 trials of competing UK and US vaccines, by AstraZeneca and Johnson & Johnson, were temporarily halted after participants fell seriously ill. No such incidents have been publicly recorded by Chinese companies.
And Ms Wu isn't put off by those interruptions to testing. "I don't think we'll have the same problem," she said. "Because they're totally different experiments I think. China uses different ways to treat the pandemic."
She will have her second dose of the vaccine in November – the hospital recommended a gap of 14-28 days between doses. On her return to the UK, she says she will still wear a face mask, observe social distancing and wash her hands thoroughly.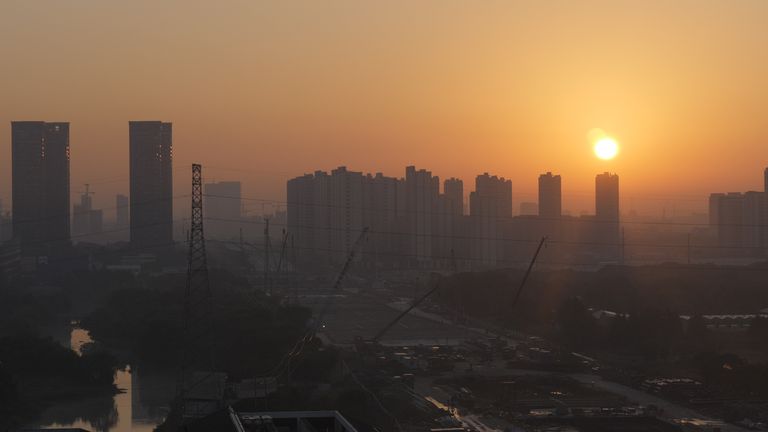 But the vaccination has brought her mother, who insisted she escape the UK back in March, some peace of mind.
"She is happy for me to have the vaccination," she told Sky News. "Because she thinks I am brave. I make an example for others.
"Because there is an old saying, the first one to eat the crabs is the most brave, right?"
A million tonnes of 'lethal' ghost gear left in the seas each year, WWF report claims | World News

Up to a million tonnes of fishing gear is left in the ocean each year, creating "deadly" marine debris for wildlife, WWF has warned.
A report by the conservation organisation said "ghost gear" of lost, abandoned or broken nets, lines and ropes makes up at least 10% of marine litter with fishers unable to locate or retrieve it or discarding it to conceal illegal fishing activities.
It claimed marine debris affects two-thirds of marine mammals, such as porpoises, half of seabirds and all species of sea turtles.
Across all species, ghost gear is the most likely to prove lethal – with many creatures dying slow, painful deaths tangled up in old nets or lines, the conservation group warned.
And when it is made of plastic, it takes decades to break down, with its harmful effects lasting long after it has been lost from the fishing vessel.
The WWF is calling for more governments to join leaders from 40 countries who are supporting a new UN treaty on marine plastic pollution, and for it to include effective measures to control ghost gear.
Sarah Young, head of marine policy at WWF, said: "Our ocean is the unsung hero in the fight against the climate crisis. The planet would today already be 35C hotter without the ocean to protect us.
"But the ocean cannot protect us if we do not protect it in turn, and currently nature is in freefall.
"By polluting our waters with plastic such as ghost gear, we are destroying wildlife and vital marine habitats that could help us tackle climate change.
"To truly protect both marine life and human life we must put ocean recovery into action, and ensure fishing practices are climate- and nature-positive."
A Defra spokesperson said: "Lost, abandoned or discarded fishing gear can cause tremendous damage to some of our most precious and fragile marine life.
"As an active member of the Global Ghost Gear Initiative, we encourage other nations to join and are working internationally to address the problem of ghost gear."