Coronavirus: Portugal added to England's travel quarantine list | Politics News
Portugal is being added to England's quarantine list, meaning any travellers arriving from 4am on Saturday will have to isolate for two weeks.
The restriction will not apply to travellers returning from Madeira and the Azores.
Hungary, French Polynesia and Reunion have also been added to the list of countries from which travellers to England will have to quarantine for 14 days, which will also be enforced from early Saturday morning.
Live coverage of the latest coronavirus news and updates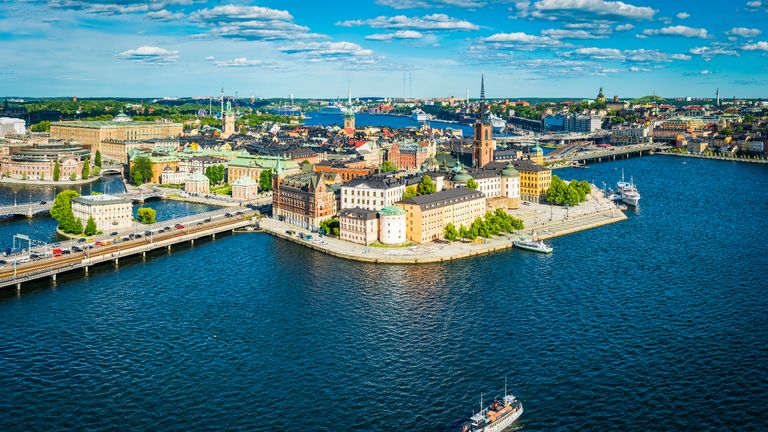 However, those arriving in England from Sweden from Saturday morning will no longer need to isolate after a so-called "travel corridor" was established.
Transport Secretary Grant Shapps announced the latest changes to England's quarantine measures as he hailed how "enhanced data" meant the government now has "the capability to assess islands separate to their mainland countries".
He also reminded all travellers to the UK they must complete a Passenger Locator Form prior to entry.
"This is vital in protecting public health and ensuring those who need to are complying with self-isolation rules," he posted on Twitter.
"It is a criminal offence not to complete the form and spot checks will be taking place."
It comes a week after the government made no changes to the travel corridors – but Wales and Scotland both took different approaches, sparking anger and confusion from some holidaymakers.
Last Thursday, Wales added Portugal to its quarantine list – but excluded the Azores and Madeira islands – while Scotland took a blanket approach to the whole country.
Some tourists had been expecting England to do the same, cutting short holidays and forking out hundreds of pounds for early flights home, given the coronavirus infection rate was as high as 23 per 100,000 people.
Ministers say countries where the figure is higher than 20 per 100,000 are at risk of being added to the list – but at the start of this week the UK tipped over that threshold itself.
The biggest restrictions since the first COVID-19 lockdown have been announced in response, significantly cutting the maximum number of people able to gather legally.
Changes have been made to England's quarantine system too, so now islands can be treated separately from whole countries.
Mr Shapps made the announcement on Monday, and at the same time added seven Greek islands popular with sun-seeking Britons to the quarantine list.
Venezuela goes to court over £800m of gold held by Bank of England | UK News
Nearly a billion pounds' worth of Venezuela's gold being held by the Bank of England will be the subject of a landmark legal case over who the UK government recognises as the country's leader.
Ownership of the horde will be decided at the Court of Appeal in a case brought by Banco Central de Venezuela (BCV), the Socialist-run country's central bank.
BCV's board, which was appointed by Venezuelan president Nicolas Maduro, launched legal action earlier this year in an effort to release the gold held on its behalf.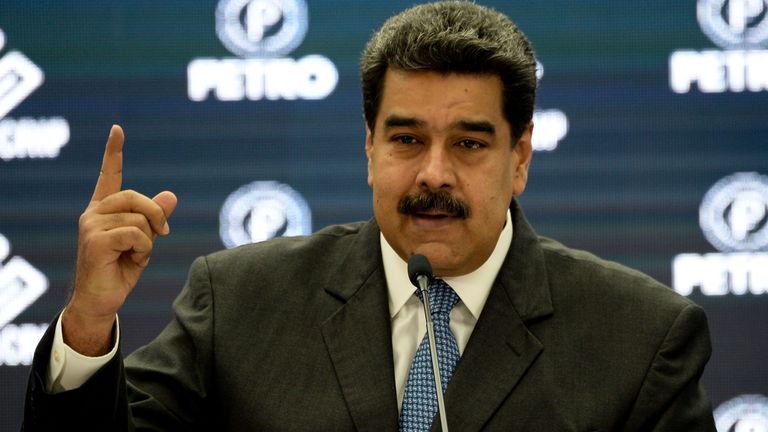 The hearing starting on Tuesday will see it challenging a High Court ruling in July that the UK government has "unequivocally recognised" opposition leader Juan Guaido as the interim president.
The bank has pledged to sell the bullion to buy "healthcare equipment, medicines and basic foodstuffs" from the United Nations Development programme (UNDP) to help tackle the South American nation's coronavirus outbreak, it says.
BCV board solicitor Sarosh Zaiwalla said in a statement: "This case raises a number of issues of public international law, which forbids the interference by any country in the internal affairs of another sovereign nation.
"The outcome in this case could present a further threat to the international perception of English institutions as being free from political interference, as well as the Bank of England's reputation abroad as a safe repository for sovereign assets.
"Mr Maduro's government remains in sole, undisputed control of Venezuela's instruments of state and health system."
The Bank of England said it is "caught in the middle" of rival claims to the gold, from the BCV board appointed by Mr Maduro and an "ad hoc" board appointed by Mr Guaido.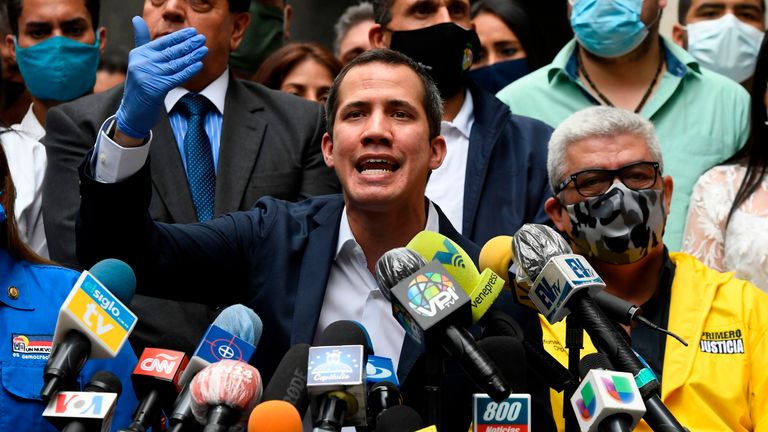 At a three-day hearing, lawyers representing the "Maduro board" of the BCV will attempt to overturn the High Court's ruling.
Mr Maduro, who became president of Venezuela in 2013, was sworn in for a second term last year amid claims of vote-rigging in the 2018 election, which was boycotted by opposition parties.
Mr Guaido declared himself acting president in January 2019 and, a month later, then foreign secretary Jeremy Hunt said the UK recognised Mr Guaido as "the constitutional interim president of Venezuela until credible presidential elections can be held".
Lawyers representing the "Guaido board" of the BCV argued the UK government "has decided to recognise Juan Guaido as the constitutional interim president of Venezuela and has denounced the 'illegitimate, kleptocratic Maduro regime'."
Rescuers battling to save 270 whales stranded off Australian coast | World News
Rescuers in Australia say conditions are in their favour as they try to save around 270 whales stranded in one of the country's worst beaching events.
The pilot whales are stuck in shallow water on a sandbar off the remote west coast of the Australian island of Tasmania.
Australian government scientists estimate about 90 of the animals have died.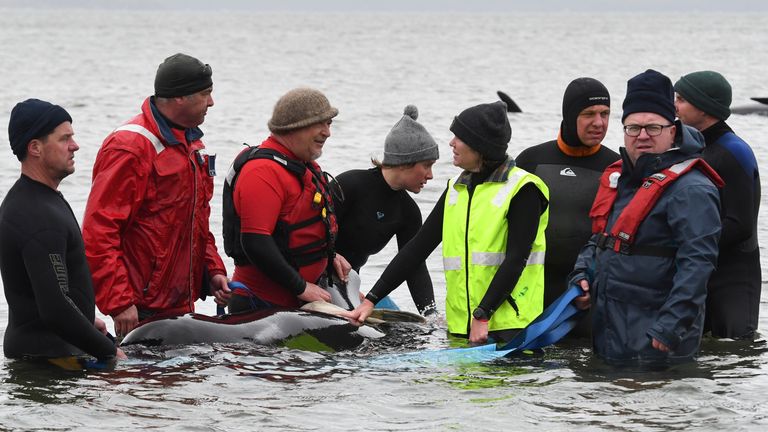 Around 40 government scientists, 20 police officers, and local fish farmers and volunteers are involved in the rescue attempt.
As the attempt to refloat the whales got under way, prevailing wet, cool conditions, rough waters and the remote location helped their chances of success, officials said.
Kris Carlyon, a wildlife biologist with the state government, said: "It's pretty ugly out there for people on the ground, but as far as the whales go it's ideal. If the conditions stay the same they can survive quite a few days."
But the choppy seas also made it the hardest rescue they had faced, experts said, given the labour-intensive nature of the task.
Pilot whales are a species of oceanic dolphin that grow to seven metres (23ft) long and can weigh up to three tonnes.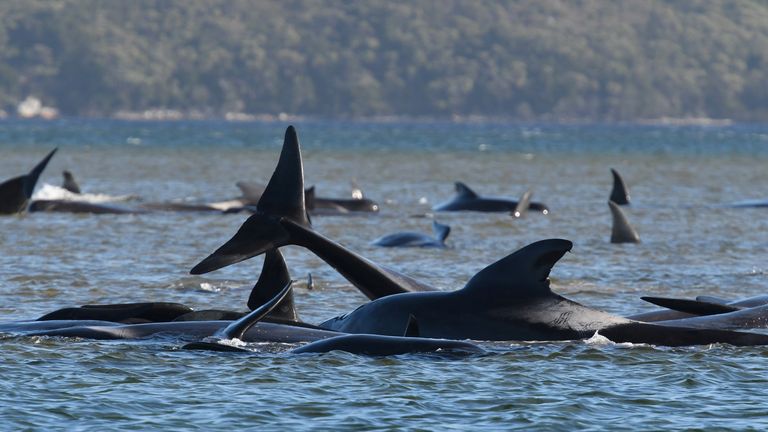 Drawing them back out to sea can include physically pushing the animals or using specialised tarpaulins and pontoons to drag them to deeper water. Rescuers try to keep the whales upright to avoid disorientation.
Aerial footage showed large numbers of the whales largely prone on a wide sandbar at Macquarie Harbour, about 120 miles (200km) northwest of the state capital Hobart, while others floundered in slightly deeper water.
Mr Carlyon said: "We've got animals that are semi-buoyant, so it probably won't take too much to refloat those animals closer to the deeper water, and will involve just a bit of grunt from specialised crew in the water."
Scientists do not know why whales, which travel together in pods, sometimes beach themselves but they are known to follow a leader, as well as gather around an injured or distressed whale.
Arctic ice melts to second lowest summer level on record | World News
Arctic sea ice has melted to its second lowest level on record as a result of heat waves and forest fires, scientists have said.
On 15 September, ice in the Arctic Ocean measured 1.44 million square miles (3.74 million square kilometres), the US National Snow and Ice Data Centre (NSIDC) said.
This is the second lowest summer melt since satellite records began in 1979.
The only time it has ever been lower before the ice refreezes for the autumn was in 2012, according to NSIDC monitoring.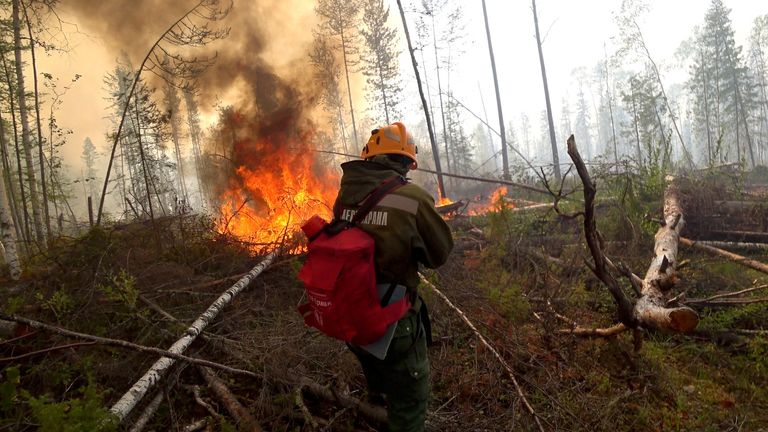 This year's ice conditions come after a "crazy" stint of heat waves in neighbouring Siberia, which resulted in mass forest fires across the region.
Mark Serreze, NSIDC director, said: "It's been a crazy year up north, with sea ice at a near-record low, 100F (37.7C) heat waves in Siberia, and massive forest fires.
"The year 2020 will stand as an exclamation point on the downward trend in Arctic sea ice extent.
"We are headed towards a seasonally ice-free Arctic Ocean, and this year is another nail in the coffin."
Ed Blockey, the Met Office's scientific manager for polar climate, highlighted the significance of Arctic ice dropping below four million square kilometres.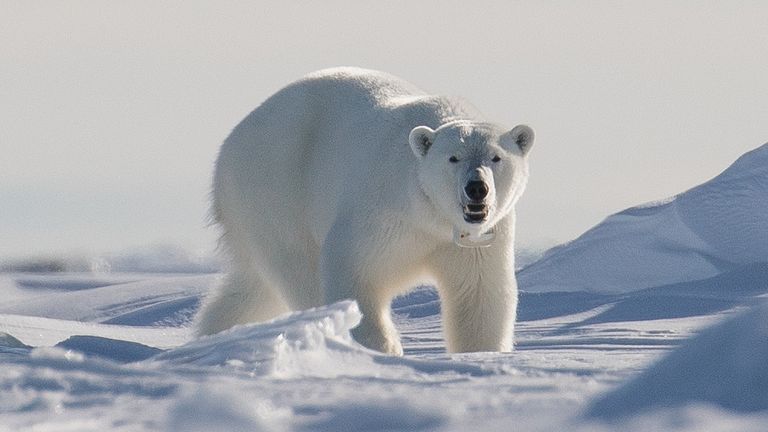 "The Arctic is one of the most vulnerable regions on Earth to climate change and warming here will have consequences both for the region and the planet as a whole," he said.
Rod Downie, chief polar adviser at WWF, added that the Arctic was in "meltdown" and stressed the grave consequences this could have for the UK.
He said: "What happens in the Arctic doesn't stay in the Arctic.
"The UK is the Arctic's closest neighbour and these extreme events affect us all, from changes in weather to increasing sea levels."
"Iconic" species such as walrus and polar bears are also being put at risk, he added.
In light of the "sobering" data, environmentalists are calling on the UK government to up their climate commitments at the COP26 global conference in Glasgow next year.
Speaking from the edge of the sea ice, on board the Greenpeace Ship Arctic Sunrise, Greenpeace campaigner Laura Meller urged officials to pledge to protect "at least 30% of our oceans by 2030".