Maria Kolesnikova: Prominent Belarus opposition leader detained on Ukraine border | World News
One of Belarus's most prominent opposition leaders, Maria Kolesnikova, has been detained by state security at the border between Belarus and Ukraine almost 24 hours after she was abducted from the centre of Minsk by masked men.
According to news agency Interfax Ukraine, Ms Kolesnikova ripped up her passport to prevent herself from being forcibly ejected from the country.
Two of her team members, who also went missing on Monday – opposition co-ordination council spokesman Anton Rodnenkov and executive secretary Ivan Kravtsov – did cross over into Ukraine, the country's border service said.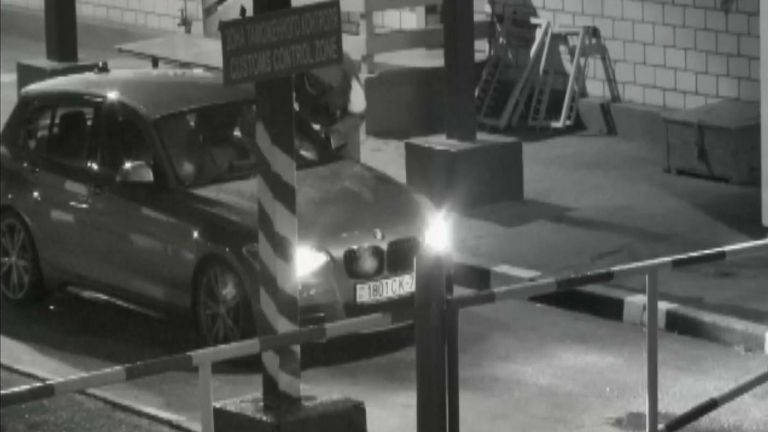 In a Facebook post, Ukraine's deputy interior minister, Anton Gerashchenko, said it was not a voluntary trip but a "violent discharge from their native country with the aim of compromising the opposition".
The aim of the Belarusian authorities, Mr Gerashchenko said, was to "present everything as though opposition leaders throw hundreds of thousands of protesters into the hands of the Lukashenko regime and then flee to cozy Ukraine".
It is the latest development in the unrest the country has been experiencing since a disputed presidential election last month.
President Alexander Lukashenko, who has been dubbed Europe's last dictator, won more than 80% of the vote, according to officials.
But opponents claim the ballot was rigged to disguise his loss of public support. He has been in power since 1994.
Another opposition politician, Svetlana Tikhanovskaya, who was forced to flee to Lithuania after running against President Alexander Lukashenko in the disputed elections, demanded Ms Kolesnikova's immediate release.
"You can't keep people hostage," she said in a statement, adding: "(By) abducting people in broad daylight, Lukashenko demonstrates his own weakness and inadequacy."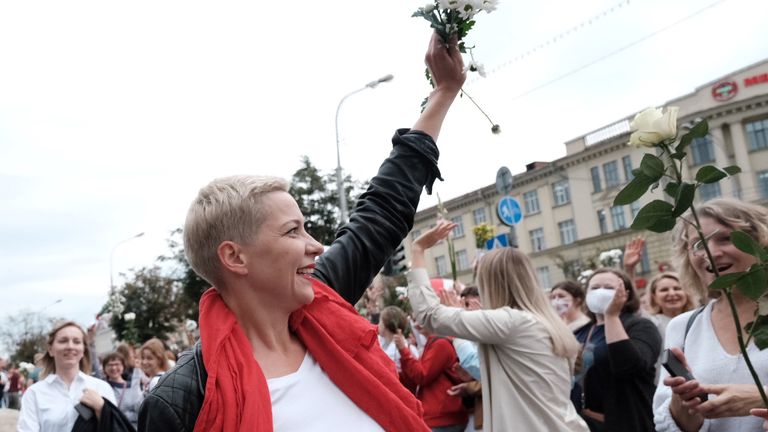 She also called for the release of all political prisoners.
Ms Tikhanovskaya's husband, Sergei Tikhanovsky, was jailed shortly before the presidential elections in which he had hoped to run.
Ms Kolesnikova worked as the campaign manager for a jailed candidate, Viktor Babariko, until she decided to campaign behind Ms Tikhanovskaya on his behalf.
Ms Kolesnikova was apparently abducted on Monday morning. An eyewitness told the Tut.by news website she saw her being bundled into the back of a black van at around 10am near the National Art Museum.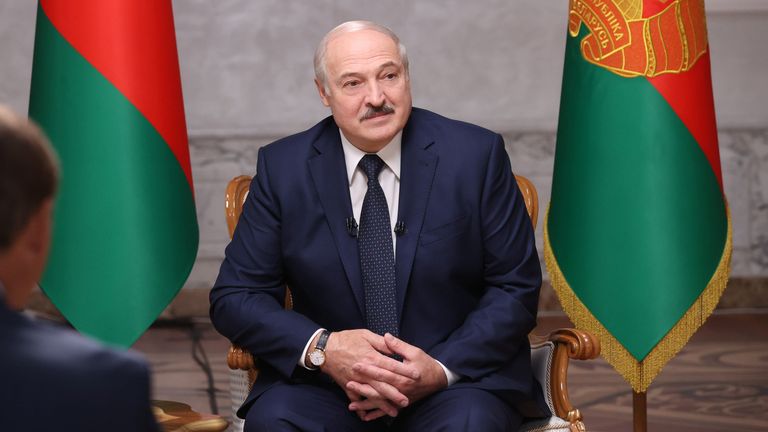 President Lukashenko was cited on Russian news agencies as saying Ms Kolesnikova had been detained for violating border controls.
Roman Babayan, editor in chief of the Govorit Moskva radio station, who spoke to him in Minsk, wrote on Telegram that Mr Lukashenko admitted he "may have overstayed as president a bit", but could not leave immediately.
"I've been building up Belarus for a quarter of a century," Mr Babayan cited Mr Lukashenko as saying. "I won't give all that up just like that. Besides, if I go, my supporters will be massacred."
President Lukashenko is due to meet Russian President Vladimir Putin in Moscow in the coming days.
Kremlin press secretary Dmitry Peskov said today he did not believe there were any political prisoners in Belarus, but that he hoped the situation around Ms Kolesnikova would be cleared up.
Coronavirus: $7trn could be lost to world economy due to pandemic, says OECD | Business News
The long-term economic cost of the COVID-19 pandemic may amount to $7trn (£5.3trn) – around $900 (£690) for every man woman and child on the planet – the OECD warned today.
In its latest set of global forecasts, the Organisation for Economic Co-operation and Development (OECD) said that the world may never regain the economic growth lost during this period.
Live coronavirus updates from UK and around world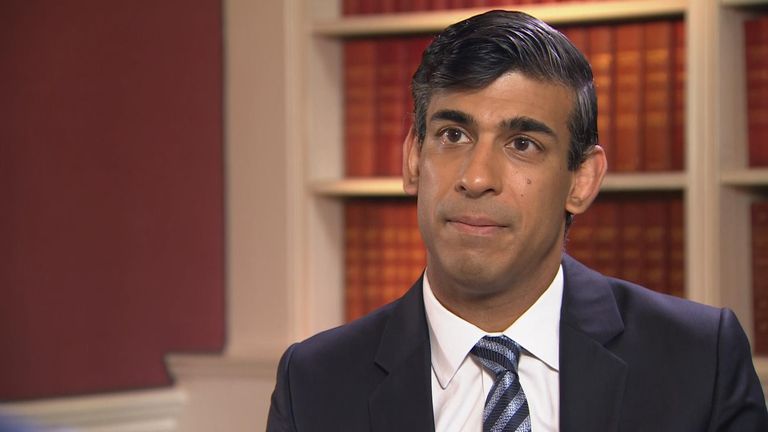 That shortfall equated to around $7trn compared with the income the world economy would otherwise be generating.
While it upgraded the growth forecasts for many economies this year, including the UK, it warned that the return to pre-COVID levels of gross domestic product would take some time.
It added that with a vaccine no longer expected this year it was scaling back its expectations for the speed of economic output next year.
The OECD revised up its forecast for global growth this year by 1.5 percentage points to -4.5% and forecast 5% growth next year.
But chief economist Laurence Boone pointed out that that still left a lasting $7trn shortfall in economic output.
The OECD raised its forecast for the UK this year by 1.4 percentage points but, at -10.1% this year, Britain nonetheless faces one of the biggest falls in economic output in the G20.
The only major country to see positive economic growth this year will be China, it predicted.
The Paris-based organisation also warned that a more severe second wave of the virus remained a major risk for both public health and the economy – though a recovery could be in prospect if that did not materialise.
It said: "If the threat from the coronavirus fades more quickly than expected, improved confidence could boost global activity significantly in 2021.
"However, a stronger resurgence of the virus, or more stringent containment measures, could cut 2-3 percentage points from global growth in 2021, with higher unemployment and a prolonged period of weak investment."
:: Subscribe to the Daily podcast on Apple Podcasts, Google Podcasts, Spotify, Spreaker
It pointed out that there was a strong correlation between those countries which imposed strict lockdowns and those which had seen the biggest falls in economic growth.
"With a few exceptions, those countries that saw the largest cutbacks in private consumption also experienced the greatest declines in GDP in the second quarter of 2020, highlighting that the drop in output was due largely to weaker household consumption," the report said.
British child caught up in Islamic State conflict rescued from Syria | World News
The UK has rescued a British child from Syria as part of efforts to help unaccompanied or orphaned minors caught up in the fallout from the conflict with Islamic State.
A repatriation team left Syria with the child on Tuesday, Sky News understands.
The rescue mission was led by Martin Longden, the UK's Syria envoy.
Further details about the child's identity cannot be reported for legal reasons.
Last year the Foreign Secretary Dominic Raab said the UK would take "the necessary and secure steps" to repatriate minors who are unaccompanied or whose parents have been killed.
"These are children who have experienced the worst horrors of war and bringing them home is the right thing to do," he said in a statement.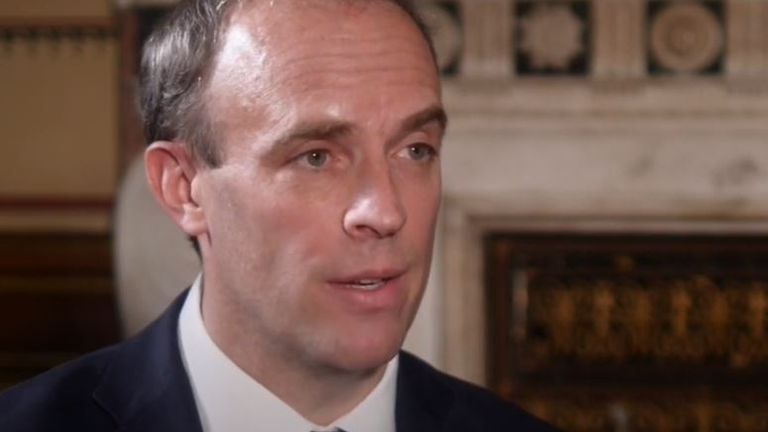 The UK has already brought home a small number of British children from northeast Syria where thousands of men, women and infants from dozens of different countries have been held in camps since the collapse of Islamic State's self-proclaimed caliphate.
It is understood that there are more British minors in these displacement camps.
Save the Children, a UK charity, said last year that as many as 60 British children might be stranded. But it is not clear how many of that number are on their own or how many are still with one or both parents.
The British government has so far resisted pressure to repatriate men and women – including suspected fighters – who travelled to Syria from the UK to join Islamic State but are now stuck in the camps or in crowded detention centres, guarded by Kurdish forces.
US President Donald Trump has long called on countries, including the UK, to take back their IS-linked nationals from Syria and prosecute or rehabilitate them back home.
It is a topic that might come up when Mr Raab meets with his US counterpart, Mike Pompeo, on Wednesday during a trip to Washington.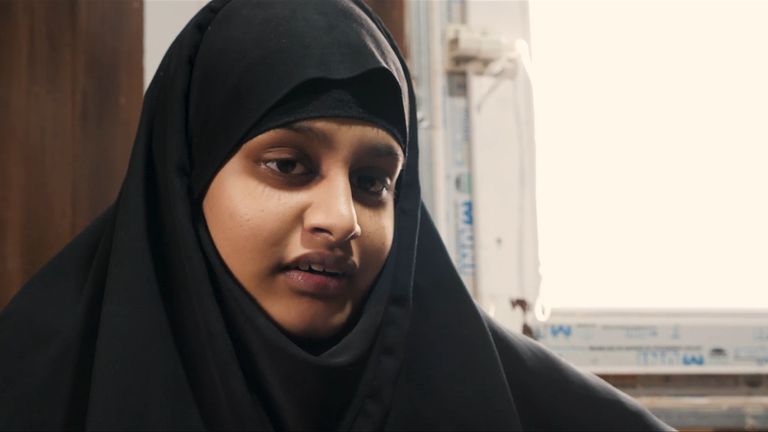 One of the most high-profile cases for the UK is of Shamima Begum, a London schoolgirl who joined Islamic State with two friends in 2015 when she was just 15.
She lived under IS rule before ending up last year at a displacement camp heavily pregnant, having already lost two other children. Her third child also died shortly after he was born.
Ms Begum's British citizenship was revoked – a decision that she is challenging in a legal battle that is due to be heard by the UK's highest court, the Supreme Court.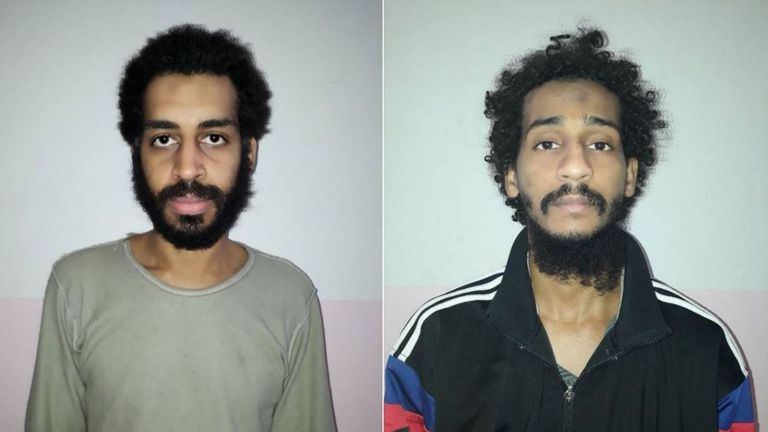 Another high-profile case is of two men from the UK who are accused of being part of an IS kidnap and hostage-killing group dubbed the Beatles.
The US is seeking to put Alexanda Kotey and El Shafee Elsheikh on trial. The men are currently being held by US forces in Iraq.
PM's Operation Moonshot plan 'can be done', says Chinese company behind new 30-minute COVID-19 test | World News
Boris Johnson's moonshot testing programme "can be done", according to a Chinese company which has developed a new 30-minute COVID-19 test.
The firm's founder told Sky News it could provide the capacity to test one million people in the UK each day within a month.
Sabrina Li, the founder and chief executive of biotech company Coyote, said: "If Boris Johnson calls me, I'd say; 'Hi Boris, we are ready to help the UK'.
"I think we have the best technology and we are definitely willing to help."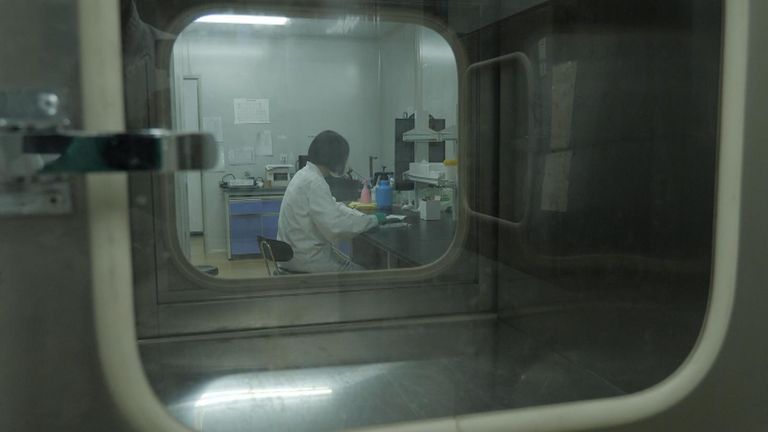 At the end of July, Coyote won approval in China for its rapid testing instrument, which it believes to be the fastest polymerase chain reaction (PCR) test in the world.
The company demonstrated the test to Sky News at its lab in Beijing, with results produced in half an hour and delivered to a phone a few minutes later.
Around 500 units are now being used in hospitals and airports across China.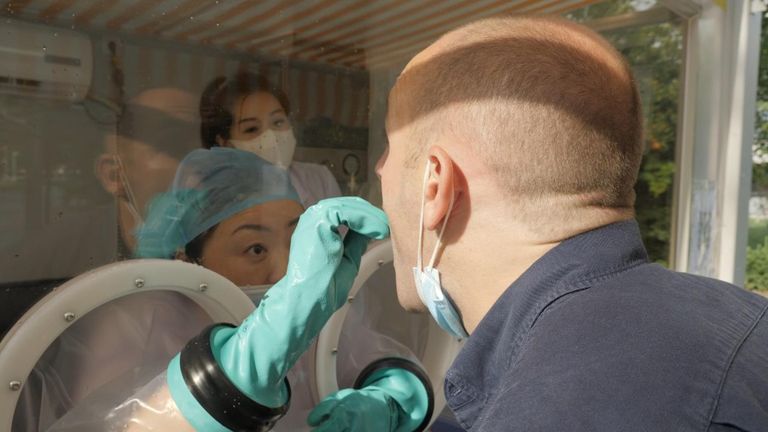 During recent COVID-19 outbreaks in Beijing, Dalian and Urumqi this summer, it carried out 500,000 tests as part of its validation process.
Ms Li said: "For this kind of new test, everyone will have doubts. Is it precise or good enough?
"Although it's quick, is it good enough? So we keep answering this kind of question to the professionals and the experts and then finally we pass [the Chinese government's] test."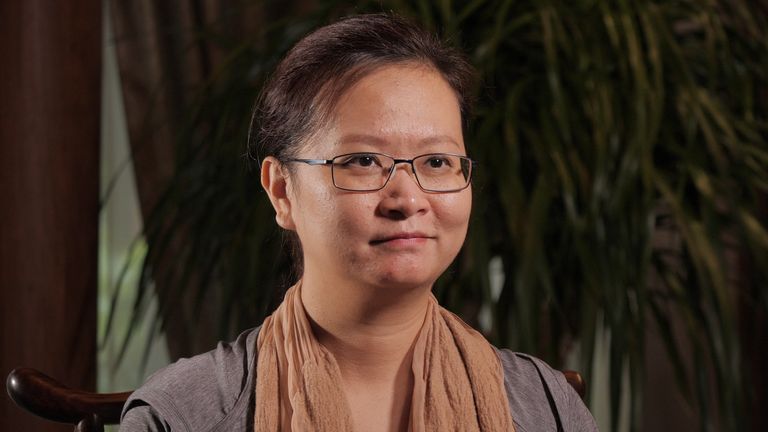 Ms Li said that the rapid test meets the same standards for sensitivity and specificity as slower tests.
The 30-minute test is not designed to replace less rapid, mass testing, which is required to chart the spread of COVID-19 through a population and doesn't depend on a quick turnaround.
But rapid testing has applications in time critical situations like hospitals and border control.
Ms Li said: "The point of care tests like the 30 minute test is; let's say if you got to the hospital and there is an emergency for the patient, they want to go to the ICU or even to operation very, very soon, then you need that short period of time to get that COVID-19 negative result, so that the nurses and doctors won't get infected."
A combination of slow and rapid testing means it's feasible to test 10 million people per day in the UK, one of the reported goals of the UK government's Operation Moonshot.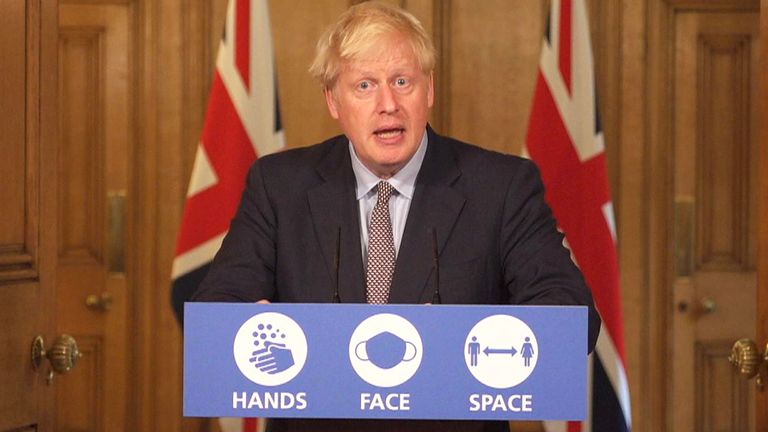 "It requires a lot of equipment," Ms Li told Sky News. "But it can be done."
If 10 swab samples are batched together in one tube – an approved method in China – 500 Coyote machines could provide 2,000 30-minute tests per day, meaning one million daily tests.
The technology is also relatively simple to operate compared to more traditional PCR tests, which could take pressure off UK testing facilities currently under strain.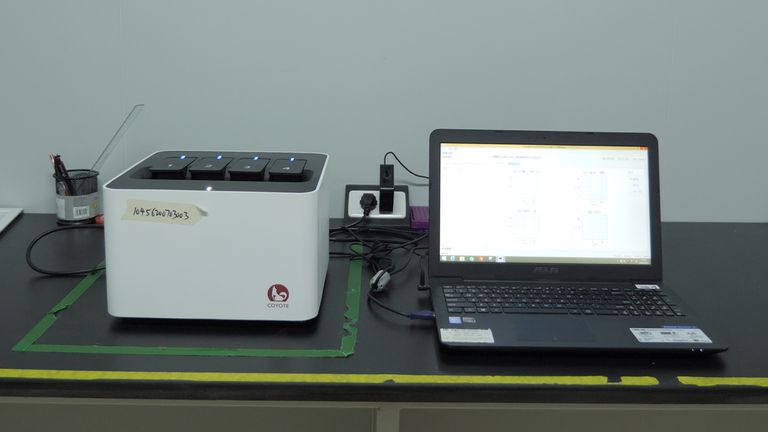 Ms Li said: "For our test you can just train a nurse, even a layman to do it, and it's very simple to operate.
"After training for maybe half an hour, you could operate it."
Two machines are currently being validated in the UK through its Hong Kong-based partner, Prenetics, which is also carrying out COVID-19 testing for the Premier League.
Coyote expects approval by the end of the month.
Ms Li said Prenetics is speaking to FIFA about using the machine for the 2022 World Cup.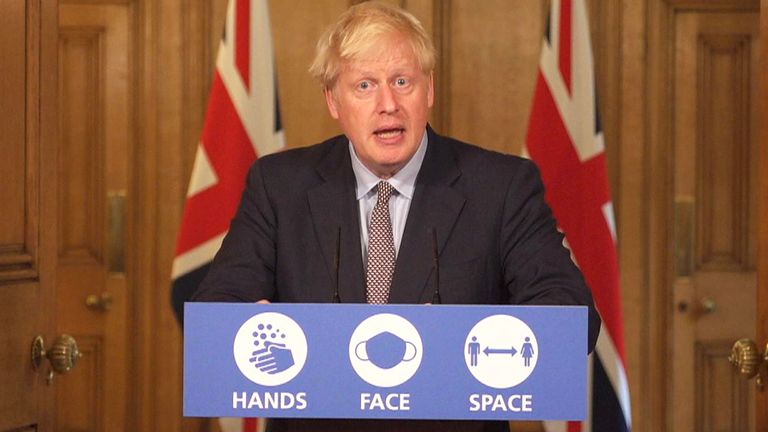 The company can currently produce 500 units per month at its Beijing facility and is aiming to increase capacity to 1,000 per month by the end of the year.
Ms Li added: "For this kind of instrument it actually has all these different controls – electrical, thermal, optical. And also biochemical reactions.
"It's not as simple as a cell phone, so it's not at that scale. It's a medical device, a very complex medical device."
Each instrument costs 350,000RMB, approximately £40,000.
Demand is high and the machines are currently sold out. But the Chinese government is providing support, including increased access to materials and components.
Ms Li said: "They are helping to increase our ability to manufacture, so that we can not only provide China or the Chinese people, we can provide our technology worldwide."