Policeman tracks down man who shot him in the stomach – 46 years after his escape from prison | World News

A policeman shot in the stomach in 1971 has tracked down the man who did it – 46 years after he escaped from prison.
Luis Archuleta, 77, was arrested in Espanola, New Mexico on Wednesday – 49 years after he shot police officer Daril Cinquanta in Denver, the FBI said.
Archuleta, also known as Larry Pusateri, shot the officer after he was pulled over to check his ID and the two got into a fight.
Two years later, he was convicted of assault with a deadly weapon and sent to prison, but he escaped from the Colorado Department of Corrections facility in 1974.
A warrant was put out for his arrest in 1977 but he was never found. It expired in 2018.
Mr Cinquanta never stopped investigating – constantly making phone calls and knocking on doors in a bid to trace the man who shot him.
Recently he got a phone call from an anonymous tipster who said: "I've thought about it, and I'm gonna tell you where the guy is who shot you", he told KUSA-TV.
An arrest warrant was put out for Archuleta and police found him living 20 miles from Santa Fe under the name Ramon Montoya – an alias he had been using for about 40 years.
He is now being transferred to a prison back in Colorado, where Mr Cinquanta hopes to meet him.
The former police officer said: "I would love to sit down and talk to him. He may or may not talk to me. Who knows?"
Michael Schneider, FBI Denver special agent, added: "This arrest should send a clear signal to violent offenders everywhere: The FBI will find you, no matter how long it takes or how far you run, and we will bring you to justice."
Coronavirus: 'Flight to nowhere' gives travellers their plane fix in 1,300-mile sightseeing trip | World News
A plane full of passengers has landed back where it took off after a round-trip "flight to nowhere" of more than 1,300 miles.
The jet flew about 650 miles north (1046 km) from Taiwan for a spot of aerial sightseeing around the South Korean holiday island of Jeju – before heading straight back.
It was designed to give people their hit of plane travel at a time when many are unwilling or unable to go on foreign holidays due to the coronavirus.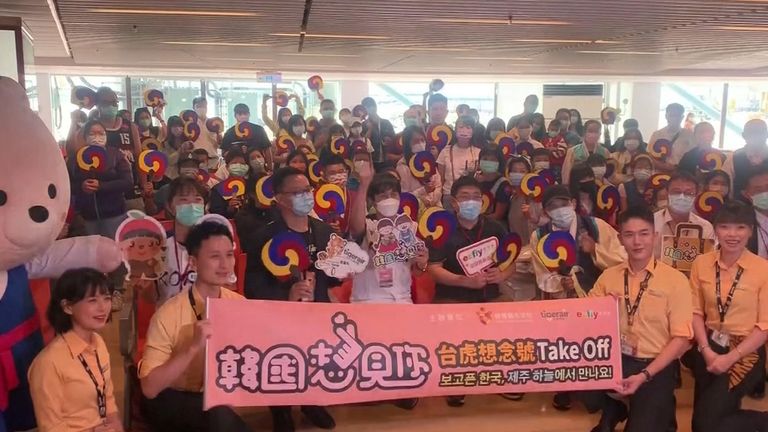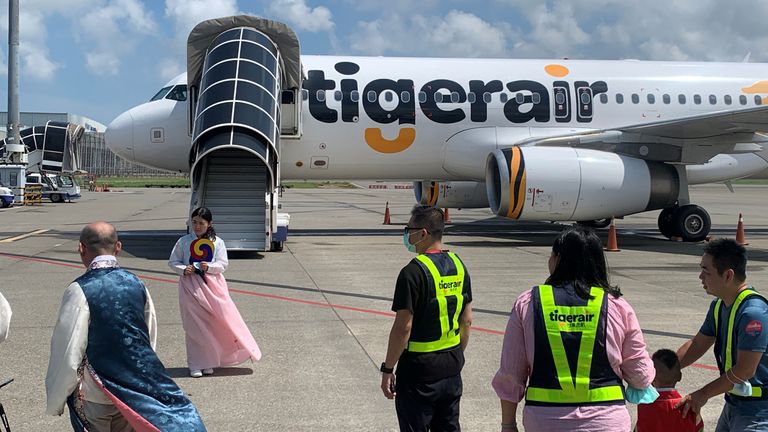 Saturday's flight by Tigerair Taiwan carried about 120 people, some wearing traditional Korean dress, and the plane circled low to give them a good view of the island.
Passengers had their temperature checked for COVID-19 symptoms at Taipei's Taoyuan airport before boarding.
"I feel like I haven't gone abroad for a long time, and I think this event is very special. It's a good deal," said passenger Chen Shu-tzu, 43.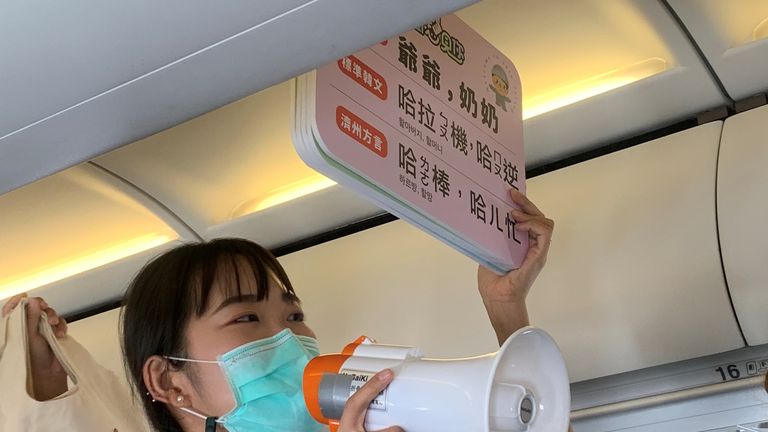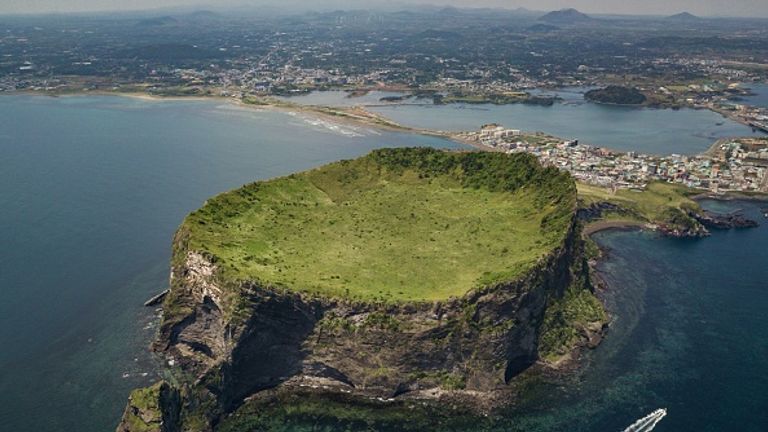 Air travel in the region has fallen 97.5% during the pandemic, according to the Association of Asia Pacific Airlines.
The sightseeing flights also allow some pilots to keep their licences current.
Other airlines, such as Qantas and Japan's All Nipon Aiways, have also seen the opportunity to sell "flights to nowhere" to keen travellers.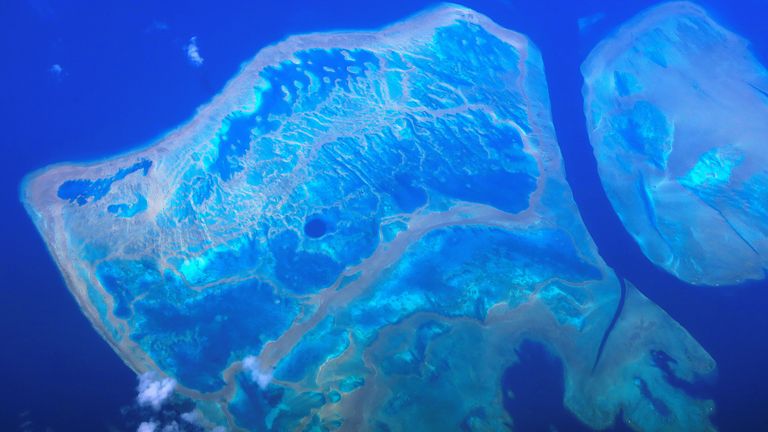 The Australian airline said this week that a seven-hour flight to the Outback and the Great Barrier Reef had sold out in 10 minutes.
Next month's flight on a Boeing 787 Dreamliner – which has larger windows than many planes – will depart from Sydney and sold tickets from economy right up to thousands of dollars for business class.
Primodos: UK campaign prompts German government to investigate pregnancy test drug | World News
Campaigners have described it as "a huge step forward".
The German Federal Ministry of Health has announced it will launch a review into the pregnancy test drug Primodos, which is alleged to have deformed babies.
Primodos, manufactured in Germany, was given to women by GPs in the 1960s and 1970s. Many parents believe the hormone-packed pill damaged the foetus in the womb, leaving children with life-changing malformations.
It's estimated 1.5 million women in the UK used the drug and the same formulation was also widely used in Germany under the brand name Duogynon.
The German government has been reluctant to look into the issue and campaigners in Germany were relying on a breakthrough in the UK.
That came after an independent review in Britain found in July that government health regulators had failed patients and that Primodos was responsible for "avoidable harm".
The review led by Baroness Cumberege said the drug should have been removed from the market in 1967, more than a decade earlier than it was, and that both the state and the manufacturer had "an ethical responsibility" to fund a financial scheme for "those harmed" to help them with the cost of care.
That hasn't happened yet, but pressure from Germany could be key.
The German review is expected to focus on whether connections between the then German regulator, the BGA, and the manufacturer Schering AG (today Bayer AG), led to the drug remaining on the market despite concerns about its safety.
Marie Lyon, chair of the Association for Children Damaged by Hormone Pregnancy Tests and a leading Primodos campaigner, told Sky News: "This is a huge step forward for the German campaign group and one we thought we would never see happen.
"The group had struggled to gain sufficient support from MPs, due to the different political climate in Germany. I have worked with the German campaign group since 2012 and with their MPs since 2016.
"Until now the German government have refused to acknowledge any evidence of harm, or initiate an independent inquiry. The MPs deserve recognition for their persistence and I send them huge congratulations on their well-deserved success."
Last year, Sky News travelled with Ms Lyon to Berlin to meet German MPs where she presented new analysis from Oxford University professors Carl Heneghan and Jeffrey Aronson, which found there was an association between the drug and malformations.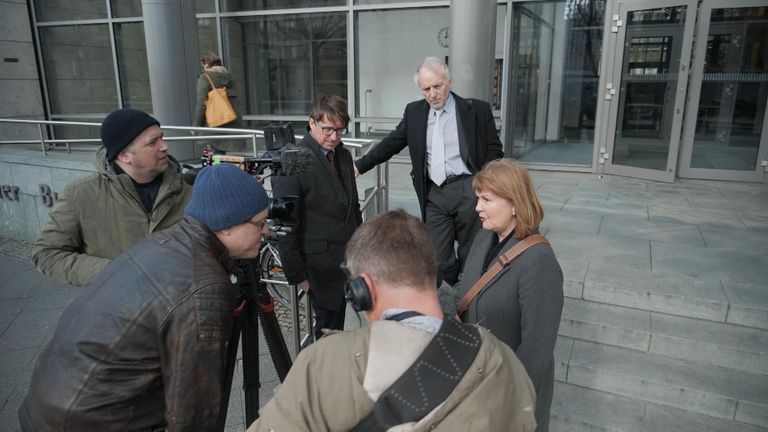 It was after this meeting that 30 German politicians wrote to the department of health calling for a review.
This week, the federal minister for health, Jens Spahn, wrote back to the MPs.
His letter states that "all the known findings and the scientific evidence do not currently support a causal link", but he goes on to inform them that "a research project" will be carried out and it "will include an examination of the relationship between the regulatory authority and pharmaceutical companies".
:: Subscribe to the Daily podcast on Apple Podcasts, Google Podcasts, Spotify, Spreaker
In a statement, Bayer AG said: "No new scientific knowledge has been produced which would call into question the validity of the previous assessment of there being no link between the use of Primodos and the occurrence of such congenital abnormalities."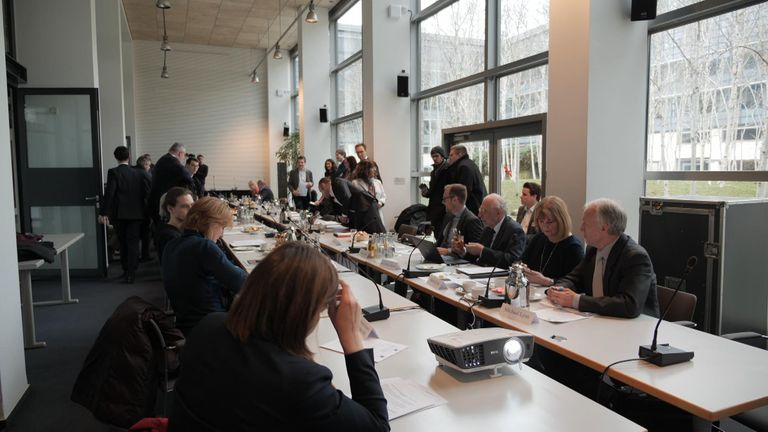 "In 2017 the Expert Working Group of the UK's Commission on Human Medicines published a detailed report concluding that the available scientific data from a variety of scientific disciplines did not support the existence of a causal relationship between the use of sex hormones in pregnancy and an increased incidence of malformations in the new born or of other adverse outcomes such as miscarriage."
The German review is expected to return its findings next summer.
Watch Bitter Pill: Primidos here.
Yemen: 'Choices have been made to abandon these people', says UN official | World News
The "distressing" situation in Yemen is a result of choices made by "powerful countries and powerful people", according to a UN official.
Sir Mark Lowcock told Sky News "choices have been made to abandon these people".
He added that deciding not to fund the relief operation has been "one of the worst choices" made this year.
The country has been devastated by a conflict between Abdrabbuh Mansur Hadi's administration and the Houthi armed movement since 2014 – both claim to form the official government.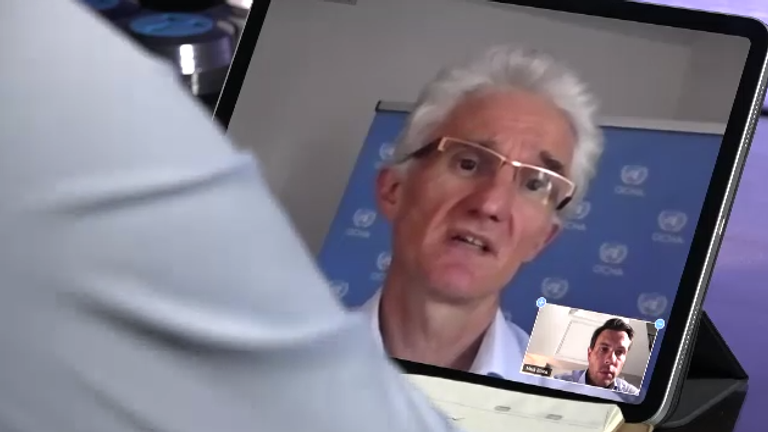 Mr Hadi's government is supported by powerful countries, headed by Saudi Arabia, but also backed by the US, Britain and the United Arab Emirates.
The crisis has worsened due to coronavirus, with the UN saying more than 20 million people require urgent humanitarian assistance because of the ongoing conflict – almost half of them children.
The UK government has said that famine in Yemen "has never looked more likely".
The UN under secretary general for humanitarian affairs and emergency relief co-ordinator said the situation in Yemen is "very distressing and upsetting", and one which is "very important" for the world to see.
In the past, relief efforts have helped avoid suffering and death. However, without these in place Sir Lowcock said "half the people we were reaching, we're barely able to give any food to anymore".
This has also led to the closure of clinics and water stations.
He said countries in the Gulf typically pledge a lot of money but "have not pledged as much this year and have paid almost nothing", adding that "every country actually needs to step up to do more".
Last year, Saudi Arabia gave $750m to the appeal – this year they pledged $500m, before decreasing the amount to $300m.
Sir Lowcock said even this amount isn't "going to be enough, it's not going to turn the corner, it's not going to save all of those millions of children", adding that the relief operation needs to get back to where it was in 2019.
David Milliband, president of the International Rescue Committee, emphasised this is not a tragedy, telling Sky News: "This is a crisis of diplomacy because there's a war going on. It's a crisis of politics because the UN is stuck unable to bring the waring parties to heel.
"It's a crisis of the humanitarian system too because only 30% of the UN appeal is funded."
He added: "The threat of famine and the reality of malnutrition is daily life in Yemen today and it is preventable, and that's what makes this an absolute scandal. We need the governments of the world to fulfil their responsibilities."
Commenting on the crisis, Sir Lowcock added that what has been seen so far is "just the tip of the iceberg" as those unable to get to the hospital are in a much worse situation.
He said: "They're in a tiny shelter covered by a piece of plastic with no food, no water, no power.
"They have nothing except the care and the support of their families as they breathe their last."
Sir Lowcock spoke about how "heartbreaking" the closure of the "life saving" programmes has been, but highlighted that the UN can "only keep them going if people pay for them" due to its reliance on voluntary contributions.
Foreign Secretary, Dominic Raab, said the UK would provide a further £5.8m in UK aid to help avoid famine in the country.
The UK support is said to be able to help at least 500,000 vulnerable people each month with buying food and household essentials, including soap and medicine.
Speaking in New York at a meeting of permanent UN Security Council members, Mr Raab said: "The humanitarian situation in Yemen is now the worst it has ever been, and compounded with the threat of coronavirus, the country has never looked more likely to slide into famine.
"Unless donors urgently act now and follow through on their pledges, hundreds of thousands of people are at risk of dying simply from starvation."
He also called for "unwavering support" for plans to secure a ceasefire that ends the suffering.