Belarus: Europe's last dictatorship could be about to fall because of three women | World News
This is not the election that the long-time leader of Belarus, Alexander Lukashenko, had planned.
The last five were not hard fought. No need when the entire apparatus of the state is busily engaged engineering a slam-dunk majority for the incumbent.
This Sunday was set to be one more token polling day that would see Mr Lukashenko coasting towards his third decade in power.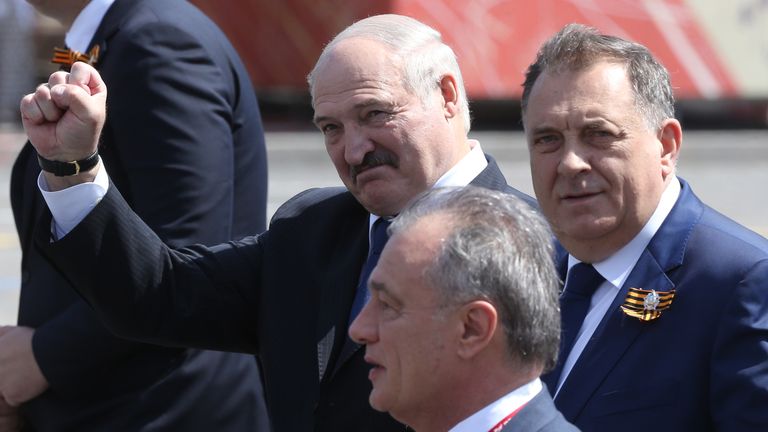 It has not turned out that way.
The remarkable charisma and campaign of his three female challengers may even mean this term turns out to be his last.
Svetlana Tikhanovskaya, Veronika Tsepkalo and Maria Kolesnikova are the wives and campaign manager of three presidential candidates barred from running.
They have taken on the mission their menfolk cannot, uniting their efforts behind Ms Tikhanovskaya, a 37-year-old mother and housewife, to rally the ever-growing opposition behind one voice.
Ms Tikhanovskaya's husband, Sergei, is a popular YouTube blogger. Maria's boss, Victor Babariko, is a banker. Both were jailed during the campaign.
Veronika's husband, Valery, is a former ambassador to the US and key figure in the Belarusian IT sector.
He has had to flee to Moscow with the couple's twin boys after they felt the state circling.
"When you receive information from two independent sources about plans to arrest you and to take your kids from you on the false charges that we were bad parents, we decided," he told me as he took his sons to see the Kremlin for the first time.
The children of opposition candidates have been taken away before and put into state orphanages.
Ms Tikhanovskaya has also had to send her children to Europe to keep them safe.
Nothing is worth that risk.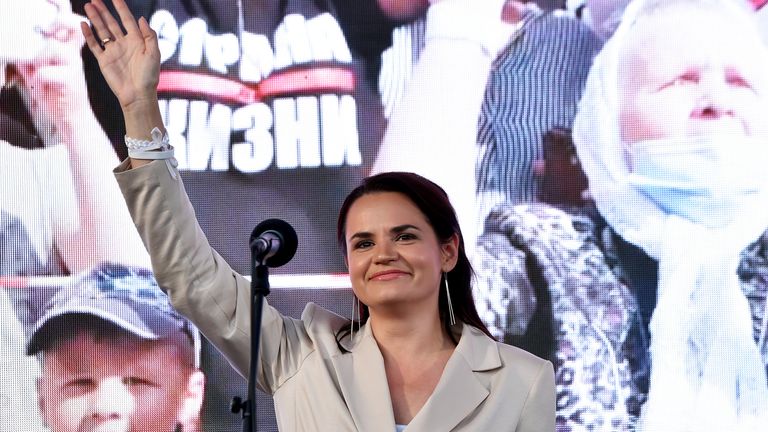 Sky News was refused accreditation to cover the elections so we commissioned a film-maker inside Belarus to document the women's campaign.
It is a fly-on-the-wall look at the spirit which drives them and which has so captured the hearts of their fellow countrymen.
"So many times in this campaign I was close to quitting," Ms Tikhanovskaya told a crowd of tens of thousands in the city of Mogilev.
"I'm not a public person and I'm a weak person to face the actions of the government towards me as a mother and a wife.
"But just the belief that you people are together as a nation, you have helped me get through this."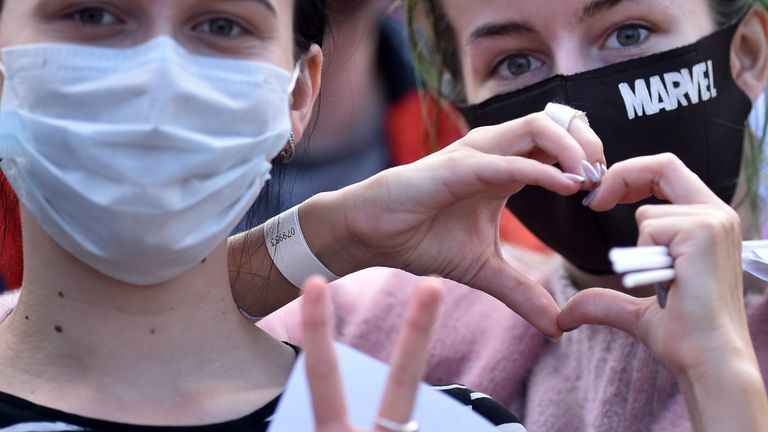 They have drawn crowds never before seen in post-Soviet Belarus: 60,000 in the capital Minsk last week, tens of thousands in each of the towns and cities they have toured.
It has been a gruelling schedule for political novices and the stress is clear to see.
But it is their emotional candour and resolve which has given hope to the millions in Belarus desperate for change.
"I am just the same, un self-confident person I was," Ms Tikhanovskaya told Sky News.
"But this is my mission – I have to overcome all these difficulties and bring our country to a free future and become a mother and wife again.
"People say that usually women are weak. Maybe we are. But when there is need, when our duty calls us and we have to be strong, we are."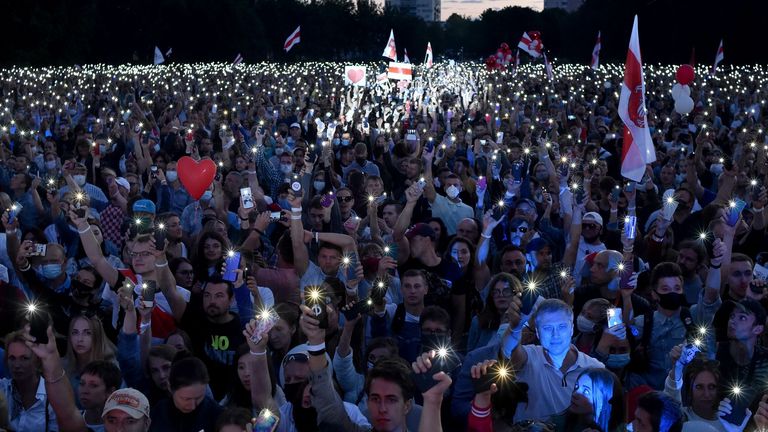 Their agenda is simple: free the political prisoners and, if Ms Tikhanovskaya wins, hold free and fair elections within six months.
Since early May, the human rights group Viasna estimates about 1,300 people have been detained for protesting against the regime.
Scenes of entirely unjustified police brutality make it clear why Belarus still deserves the name Europe's last dictatorship.
At a rally in the city of Babrysk, a schoolteacher gave her summary of what it is to live in Belarus.
She had spent a year and a half in detention on false charges, she said, but had no hesitation about speaking out.
"It's a country of total deception. On TV they say one thing and in reality it's different," she said.
"In Babrysk all the factories stopped working, people have no money to live – the hunger will bring them to the streets.
"That's how we live and we don't want to live like this."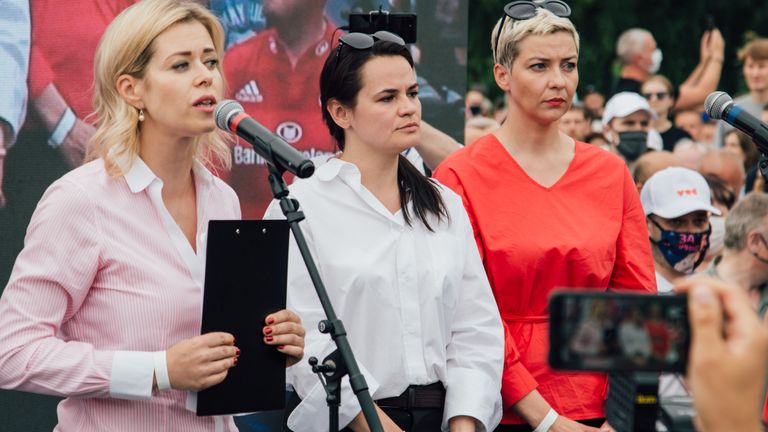 COVID-19 has exacerbated the discontent.
Mr Lukashenko first denied its existence, advocating vodka and banyas (steam baths) as treatment while his people died, only to admit recently he'd had an asymptomatic case himself.
Civil society has stepped in where the state would not, delivering supplies to hospitals across the country. It has made people realise they can make a difference.
The president appears increasingly desperate.
In a strange incident last week, 33 alleged mercenaries from the Russian private military company Wagner were arrested in a sanatorium outside Minsk.
According to the Belarusian KGB, they had raised suspicions because they were not drinking alcohol as regular Russian tourists would.
Moscow says they were in transit. Mr Lukashenko claims they are part of a plot to foment a colour revolution in Minsk.
He told a Ukrainian journalist on Friday that he would take up arms against "hybrid aggression" if all other options were exhausted.
It is unlikely to come to that. Ms Tikhanovskaya's team has no desire to provoke unrest.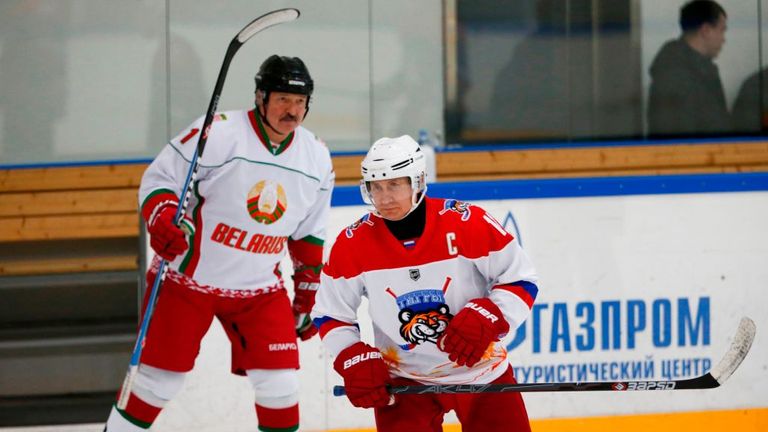 Moscow has neither the will nor the wherewithal to involve themselves in a power grab in Minsk.
Mr Lukashenko's imagination seems to be running wild as he realises his popular support has vanished.
But that does not mean a polling defeat. The members of local electoral committees across the country have jobs to keep and families to look after.
Reporting the true voting tally risks all that.
Furthermore, the elites are entrenched in Belarus. They will not allow for this election to end in anything other than a foregone conclusion even if the winds of change are beginning to blow.
The fairytale has a few more hours to run before polls close on Sunday evening.
The people of Belarus recognise there will be no happy ending this time round.
But they know too that something in the stagnant politics of the last two decades has shifted, thanks to three brave women who refuse to let an old school autocrat break their families or their country.
Primodos: UK campaign prompts German government to investigate pregnancy test drug | World News
Campaigners have described it as "a huge step forward".
The German Federal Ministry of Health has announced it will launch a review into the pregnancy test drug Primodos, which is alleged to have deformed babies.
Primodos, manufactured in Germany, was given to women by GPs in the 1960s and 1970s. Many parents believe the hormone-packed pill damaged the foetus in the womb, leaving children with life-changing malformations.
It's estimated 1.5 million women in the UK used the drug and the same formulation was also widely used in Germany under the brand name Duogynon.
The German government has been reluctant to look into the issue and campaigners in Germany were relying on a breakthrough in the UK.
That came after an independent review in Britain found in July that government health regulators had failed patients and that Primodos was responsible for "avoidable harm".
The review led by Baroness Cumberege said the drug should have been removed from the market in 1967, more than a decade earlier than it was, and that both the state and the manufacturer had "an ethical responsibility" to fund a financial scheme for "those harmed" to help them with the cost of care.
That hasn't happened yet, but pressure from Germany could be key.
The German review is expected to focus on whether connections between the then German regulator, the BGA, and the manufacturer Schering AG (today Bayer AG), led to the drug remaining on the market despite concerns about its safety.
Marie Lyon, chair of the Association for Children Damaged by Hormone Pregnancy Tests and a leading Primodos campaigner, told Sky News: "This is a huge step forward for the German campaign group and one we thought we would never see happen.
"The group had struggled to gain sufficient support from MPs, due to the different political climate in Germany. I have worked with the German campaign group since 2012 and with their MPs since 2016.
"Until now the German government have refused to acknowledge any evidence of harm, or initiate an independent inquiry. The MPs deserve recognition for their persistence and I send them huge congratulations on their well-deserved success."
Last year, Sky News travelled with Ms Lyon to Berlin to meet German MPs where she presented new analysis from Oxford University professors Carl Heneghan and Jeffrey Aronson, which found there was an association between the drug and malformations.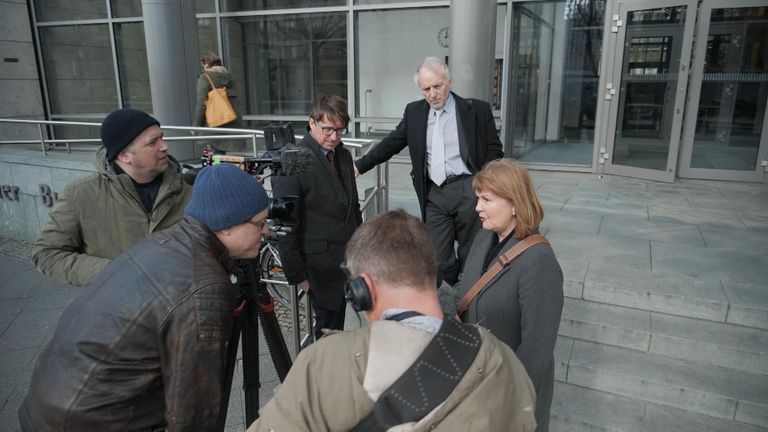 It was after this meeting that 30 German politicians wrote to the department of health calling for a review.
This week, the federal minister for health, Jens Spahn, wrote back to the MPs.
His letter states that "all the known findings and the scientific evidence do not currently support a causal link", but he goes on to inform them that "a research project" will be carried out and it "will include an examination of the relationship between the regulatory authority and pharmaceutical companies".
:: Subscribe to the Daily podcast on Apple Podcasts, Google Podcasts, Spotify, Spreaker
In a statement, Bayer AG said: "No new scientific knowledge has been produced which would call into question the validity of the previous assessment of there being no link between the use of Primodos and the occurrence of such congenital abnormalities."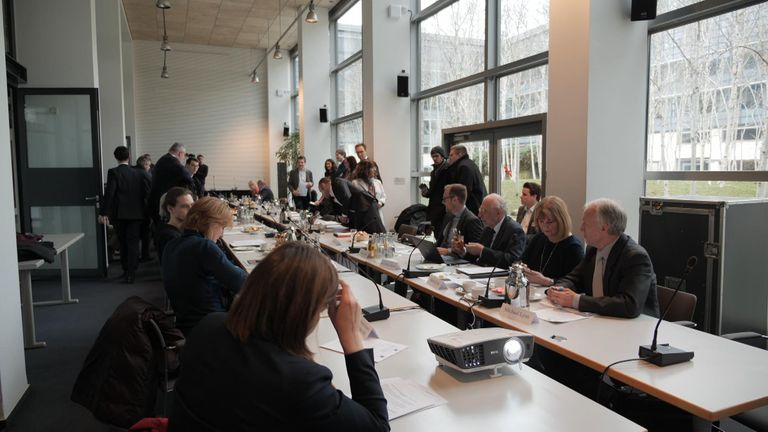 "In 2017 the Expert Working Group of the UK's Commission on Human Medicines published a detailed report concluding that the available scientific data from a variety of scientific disciplines did not support the existence of a causal relationship between the use of sex hormones in pregnancy and an increased incidence of malformations in the new born or of other adverse outcomes such as miscarriage."
The German review is expected to return its findings next summer.
Watch Bitter Pill: Primidos here.
Yemen: 'Choices have been made to abandon these people', says UN official | World News
The "distressing" situation in Yemen is a result of choices made by "powerful countries and powerful people", according to a UN official.
Sir Mark Lowcock told Sky News "choices have been made to abandon these people".
He added that deciding not to fund the relief operation has been "one of the worst choices" made this year.
The country has been devastated by a conflict between Abdrabbuh Mansur Hadi's administration and the Houthi armed movement since 2014 – both claim to form the official government.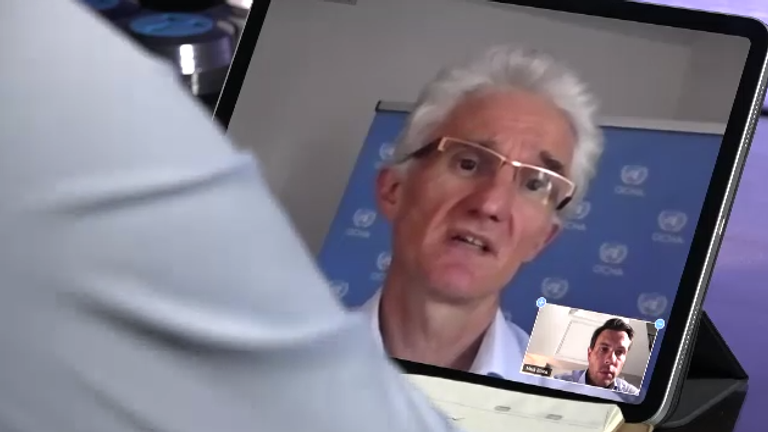 Mr Hadi's government is supported by powerful countries, headed by Saudi Arabia, but also backed by the US, Britain and the United Arab Emirates.
The crisis has worsened due to coronavirus, with the UN saying more than 20 million people require urgent humanitarian assistance because of the ongoing conflict – almost half of them children.
The UK government has said that famine in Yemen "has never looked more likely".
The UN under secretary general for humanitarian affairs and emergency relief co-ordinator said the situation in Yemen is "very distressing and upsetting", and one which is "very important" for the world to see.
In the past, relief efforts have helped avoid suffering and death. However, without these in place Sir Lowcock said "half the people we were reaching, we're barely able to give any food to anymore".
This has also led to the closure of clinics and water stations.
He said countries in the Gulf typically pledge a lot of money but "have not pledged as much this year and have paid almost nothing", adding that "every country actually needs to step up to do more".
Last year, Saudi Arabia gave $750m to the appeal – this year they pledged $500m, before decreasing the amount to $300m.
Sir Lowcock said even this amount isn't "going to be enough, it's not going to turn the corner, it's not going to save all of those millions of children", adding that the relief operation needs to get back to where it was in 2019.
David Milliband, president of the International Rescue Committee, emphasised this is not a tragedy, telling Sky News: "This is a crisis of diplomacy because there's a war going on. It's a crisis of politics because the UN is stuck unable to bring the waring parties to heel.
"It's a crisis of the humanitarian system too because only 30% of the UN appeal is funded."
He added: "The threat of famine and the reality of malnutrition is daily life in Yemen today and it is preventable, and that's what makes this an absolute scandal. We need the governments of the world to fulfil their responsibilities."
Commenting on the crisis, Sir Lowcock added that what has been seen so far is "just the tip of the iceberg" as those unable to get to the hospital are in a much worse situation.
He said: "They're in a tiny shelter covered by a piece of plastic with no food, no water, no power.
"They have nothing except the care and the support of their families as they breathe their last."
Sir Lowcock spoke about how "heartbreaking" the closure of the "life saving" programmes has been, but highlighted that the UN can "only keep them going if people pay for them" due to its reliance on voluntary contributions.
Foreign Secretary, Dominic Raab, said the UK would provide a further £5.8m in UK aid to help avoid famine in the country.
The UK support is said to be able to help at least 500,000 vulnerable people each month with buying food and household essentials, including soap and medicine.
Speaking in New York at a meeting of permanent UN Security Council members, Mr Raab said: "The humanitarian situation in Yemen is now the worst it has ever been, and compounded with the threat of coronavirus, the country has never looked more likely to slide into famine.
"Unless donors urgently act now and follow through on their pledges, hundreds of thousands of people are at risk of dying simply from starvation."
He also called for "unwavering support" for plans to secure a ceasefire that ends the suffering.
Coronavirus: European countries impose new restrictions as infections tick upwards | World News
Several countries across Europe have announced new coronavirus restrictions in some of their largest cities after recent surges in infections. 
Spain, Greece, Denmark and France imposed further measures in virus hotspots, while health authorities in Italy have warned the average age of coronavirus patients is creeping up – risking more hospital admissions and deaths.
Infections have been climbing steadily across most of Europe over the last two months, with more than half of European countries seeing an increase of over 10% in the past two weeks.
On Friday, Madrid residents were told they will need a reason to leave their neighbourhoods, parks will be closed and shops and restaurants will have to work at half capacity.
Cases have continued to rise in the Spanish capital, despite curbs on nightlife and limiting group interactions to a maximum of 10 people.
Spain has the highest number of new coronavirus infections in Europe and Madrid's rate of transmission is more than double the national average.
The country recorded 239 coronavirus-related deaths on Thursday, the highest single-day toll since cases began to rise again at the start of July.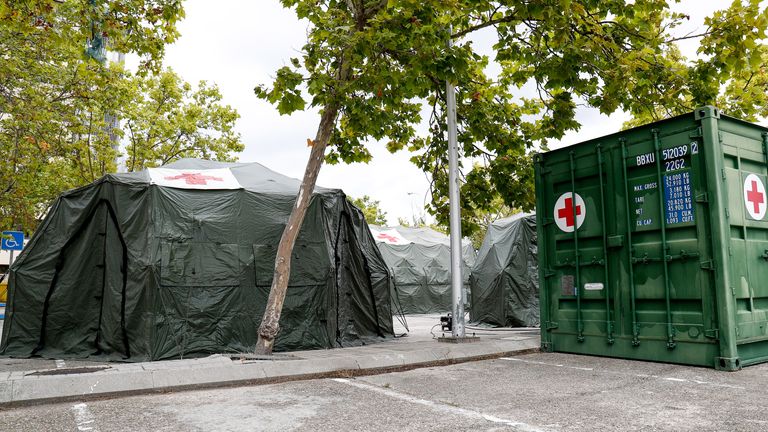 In France, which has also seen a recent spike in infections, further restrictions have been introduced in the southern city of Nice.
Gatherings of more than 10 people have been banned in public spaces and bars are having their opening hours restricted.
More than 13,200 new cases were registered on Friday, France's highest daily count since the start of the pandemic.
Greece is introducing tougher restrictions in the greater Athens region, while also stepping up testing and creating quarantine hotels.
From 21 September until 4 October, gatherings of more than nine people will be banned in the capital, with the exception of restaurants, bars and coffee shops.
Some 339 new infections were reported in Greece on Friday, with almost half of these in the greater Athens area.
In total, there have been 14,000 confirmed cases and 327 deaths nationwide.
Denmark has lowered the limit on public gatherings to 50 people from 100 and ordered bars and restaurants to close early, after the country recorded 454 new infections on Friday.
Meanwhile, Iceland has ordered entertainment venues and pubs in the capital area to close for four days from 18 September.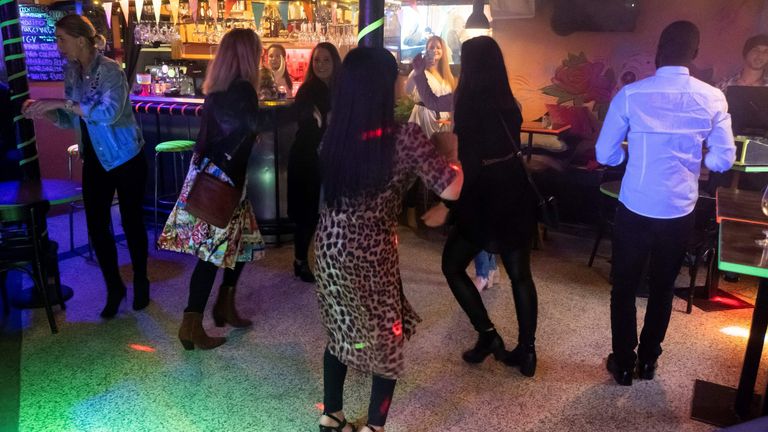 Italy, which was once the epicentre of the virus in Europe, is not experiencing the huge increases in infections seen in some of its neighbouring countries.
But health officials have warned that young people are starting to infect older family members in home settings, with the average age of positive cases last week at 41 versus the low 30s in August.
Earlier this week, the World Health Organisation (WHO) said the number of COVID-19 cases in Europe are now exceeding those reported in March.
The WHO's regional director for Europe, Dr Hans Kluge, told a news briefing: "The September case numbers… should serve as a wake-up call for all of us.
"Although these numbers reflect more comprehensive testing, it also shows alarming rates of transmission across the region."