Italian cities put on alert and Spain sees record temperatures as heatwave grips Europe | World News
More than a dozen Italian cities were put on alert and Spain experienced record temperatures as heatwaves gripped Europe last week.
A fire destroyed a vast area of a forest in southwest France and people in Britain filled beaches on the country's hottest day of the year so far.
The city of San Sebastian on Spain's northern coast had a temperature of 42C (107F) on Thursday.
It was the hottest temperature there since records began in 1955, the country's national weather agency Aemet said.
The city of Palma, on Spain's Mediterranean island of Majorca, set a local record of 40.6C (105F) on Tuesday.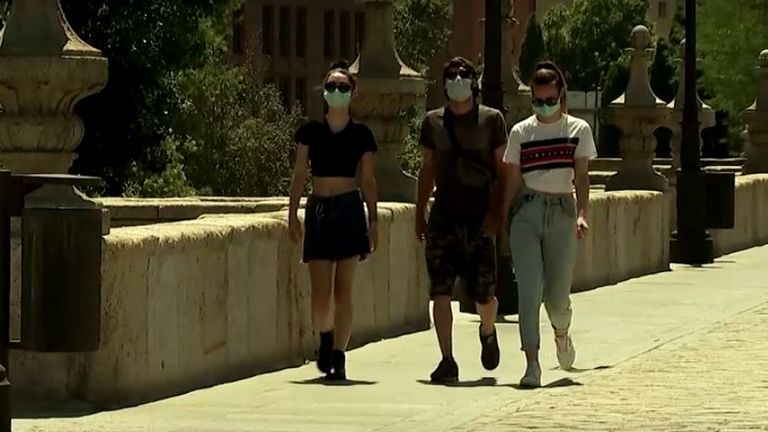 Aemet said tropical nights, when temperatures do not fall below 20C (68F), were also frequent in many parts of Spain in July.
The agency said: "Climate change is increasing the frequency of heatwaves."
Aemet added that the annual number of days in heatwave conditions has doubled since the 1980s.
Temperatures peaked at around 40C (104F) in many parts of Italy on Friday, where 14 cities were put on alert.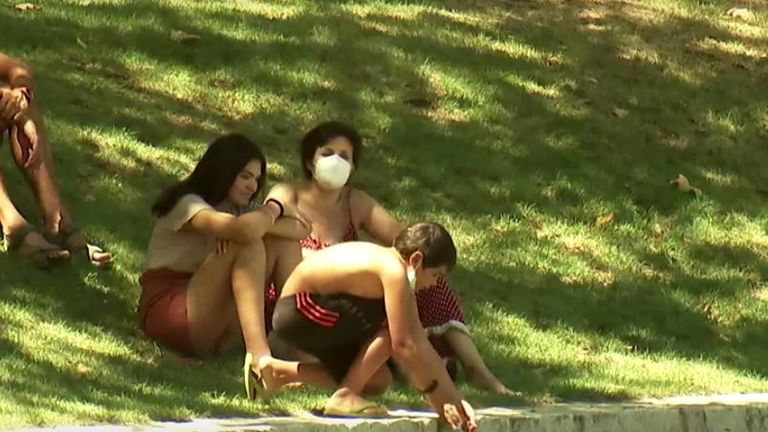 Heatwaves were expected in several major northern cities including Rome, Bologna, Florence, Turin, and Verona.
Tourists and local residents in Rome tried to escape the heat by sheltering under trees, cooling down at public fountains or having ice creams.
Italian weather forecasters say the heatwave is coming from Africa.
A fire ravaged more than 150 hectares of a pine forest in southwest France on Thursday evening, forcing people to evacuate many homes.
The fire broke out at the Chiberta forest, in the centre of the Anglet in the Pyrénées-Atlantiques region, and was brought under control on Friday morning.
Authorities are investigating the cause of the fire.
No casualties were reported but around 100 people were evacuated from the area and 16 were taken to hospital for smoke inhalation, The Connexion reported.
People across the UK sought the shade as temperatures rose above 37C on Friday.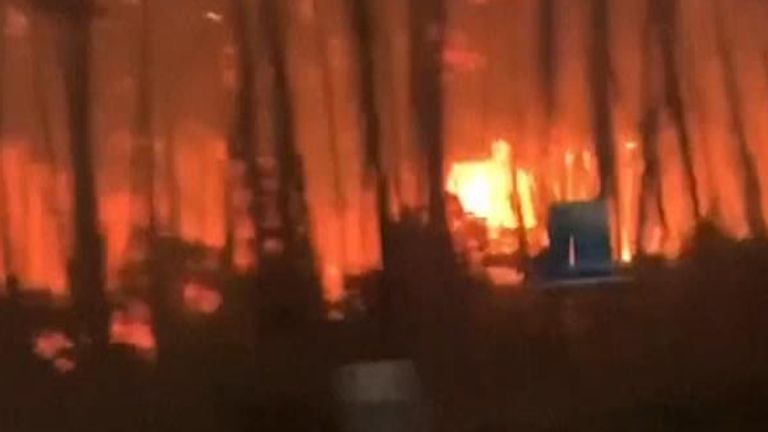 The Met Office said a reading of 37.8C, 100F, was recorded at Heathrow Airport in west London.
It made Friday the hottest day of 2020 and the third-hottest on record.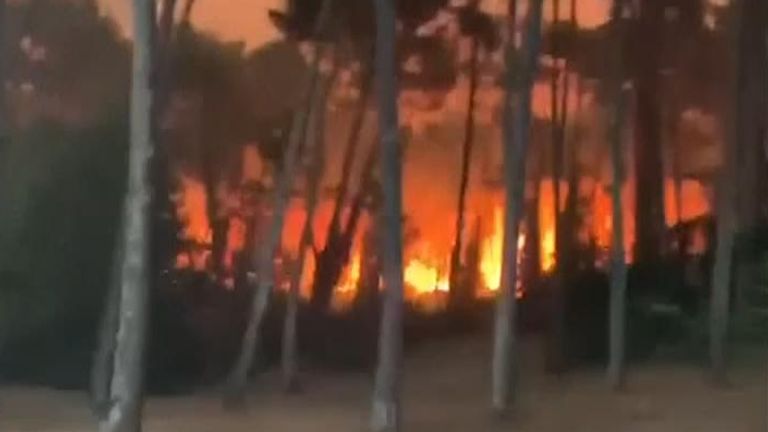 Previous bouts of hot weather have seen people pack beaches around the British coast, though they have not always observed social distancing measures intended to prevent the spread of coronavirus.
The city council in Brighton appealed for visitors to stay away.
The council said it was "concerned about the number of people in the city" and added: "Large numbers make it impossible to maintain physical distancing."
Belarus: Europe's last dictatorship could be about to fall because of three women | World News
This is not the election that the long-time leader of Belarus, Alexander Lukashenko, had planned.
The last five were not hard fought. No need when the entire apparatus of the state is busily engaged engineering a slam-dunk majority for the incumbent.
This Sunday was set to be one more token polling day that would see Mr Lukashenko coasting towards his third decade in power.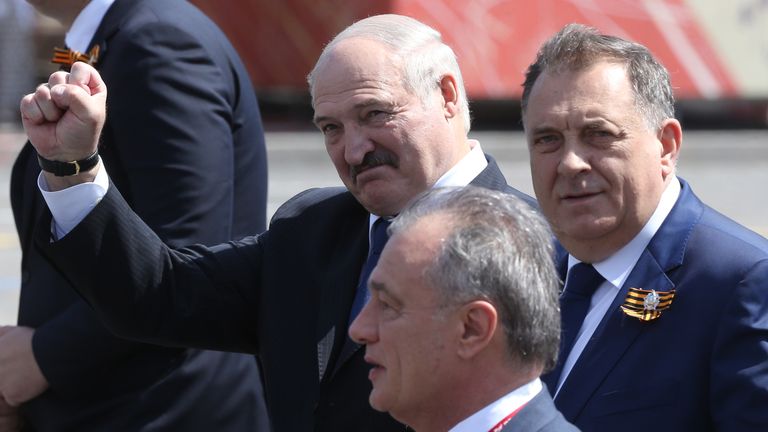 It has not turned out that way.
The remarkable charisma and campaign of his three female challengers may even mean this term turns out to be his last.
Svetlana Tikhanovskaya, Veronika Tsepkalo and Maria Kolesnikova are the wives and campaign manager of three presidential candidates barred from running.
They have taken on the mission their menfolk cannot, uniting their efforts behind Ms Tikhanovskaya, a 37-year-old mother and housewife, to rally the ever-growing opposition behind one voice.
Ms Tikhanovskaya's husband, Sergei, is a popular YouTube blogger. Maria's boss, Victor Babariko, is a banker. Both were jailed during the campaign.
Veronika's husband, Valery, is a former ambassador to the US and key figure in the Belarusian IT sector.
He has had to flee to Moscow with the couple's twin boys after they felt the state circling.
"When you receive information from two independent sources about plans to arrest you and to take your kids from you on the false charges that we were bad parents, we decided," he told me as he took his sons to see the Kremlin for the first time.
The children of opposition candidates have been taken away before and put into state orphanages.
Ms Tikhanovskaya has also had to send her children to Europe to keep them safe.
Nothing is worth that risk.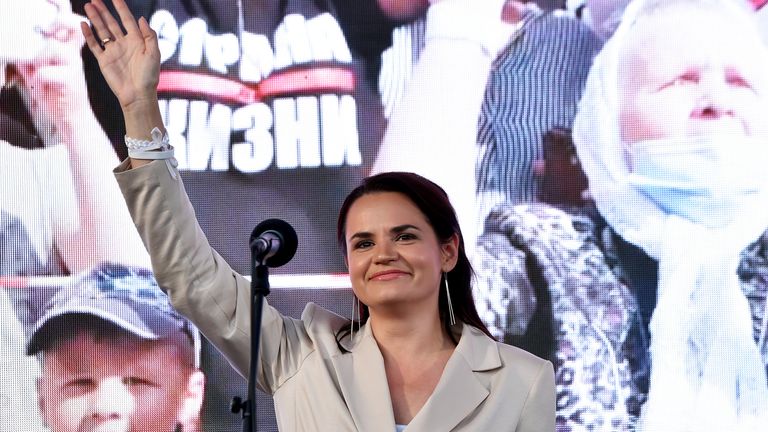 Sky News was refused accreditation to cover the elections so we commissioned a film-maker inside Belarus to document the women's campaign.
It is a fly-on-the-wall look at the spirit which drives them and which has so captured the hearts of their fellow countrymen.
"So many times in this campaign I was close to quitting," Ms Tikhanovskaya told a crowd of tens of thousands in the city of Mogilev.
"I'm not a public person and I'm a weak person to face the actions of the government towards me as a mother and a wife.
"But just the belief that you people are together as a nation, you have helped me get through this."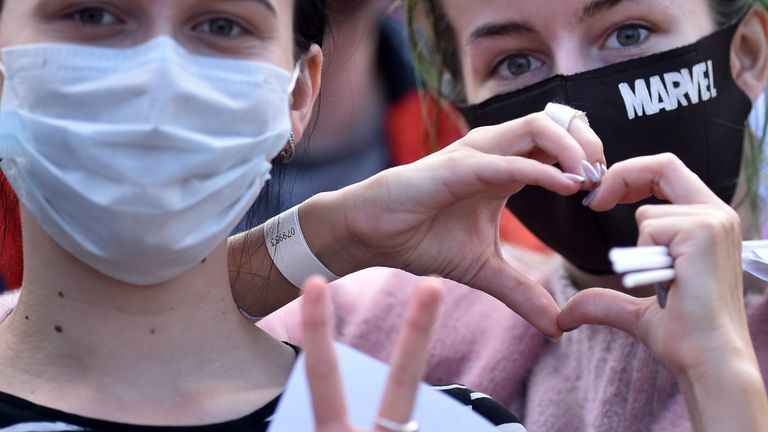 They have drawn crowds never before seen in post-Soviet Belarus: 60,000 in the capital Minsk last week, tens of thousands in each of the towns and cities they have toured.
It has been a gruelling schedule for political novices and the stress is clear to see.
But it is their emotional candour and resolve which has given hope to the millions in Belarus desperate for change.
"I am just the same, un self-confident person I was," Ms Tikhanovskaya told Sky News.
"But this is my mission – I have to overcome all these difficulties and bring our country to a free future and become a mother and wife again.
"People say that usually women are weak. Maybe we are. But when there is need, when our duty calls us and we have to be strong, we are."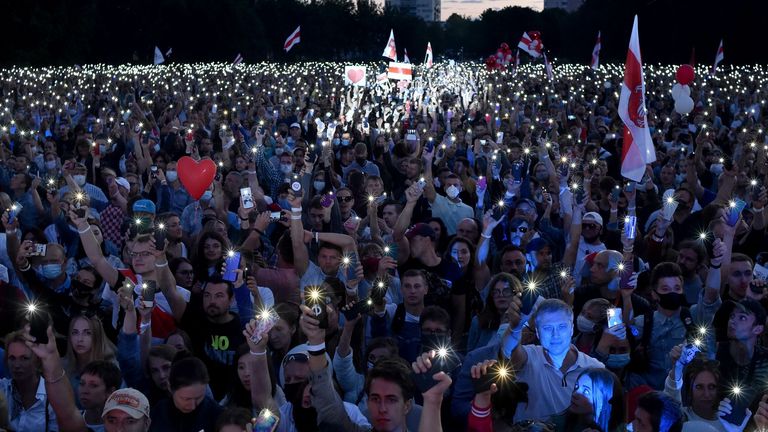 Their agenda is simple: free the political prisoners and, if Ms Tikhanovskaya wins, hold free and fair elections within six months.
Since early May, the human rights group Viasna estimates about 1,300 people have been detained for protesting against the regime.
Scenes of entirely unjustified police brutality make it clear why Belarus still deserves the name Europe's last dictatorship.
At a rally in the city of Babrysk, a schoolteacher gave her summary of what it is to live in Belarus.
She had spent a year and a half in detention on false charges, she said, but had no hesitation about speaking out.
"It's a country of total deception. On TV they say one thing and in reality it's different," she said.
"In Babrysk all the factories stopped working, people have no money to live – the hunger will bring them to the streets.
"That's how we live and we don't want to live like this."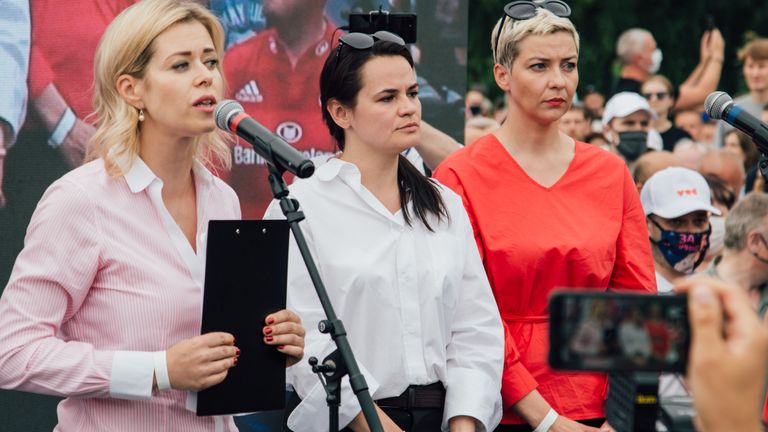 COVID-19 has exacerbated the discontent.
Mr Lukashenko first denied its existence, advocating vodka and banyas (steam baths) as treatment while his people died, only to admit recently he'd had an asymptomatic case himself.
Civil society has stepped in where the state would not, delivering supplies to hospitals across the country. It has made people realise they can make a difference.
The president appears increasingly desperate.
In a strange incident last week, 33 alleged mercenaries from the Russian private military company Wagner were arrested in a sanatorium outside Minsk.
According to the Belarusian KGB, they had raised suspicions because they were not drinking alcohol as regular Russian tourists would.
Moscow says they were in transit. Mr Lukashenko claims they are part of a plot to foment a colour revolution in Minsk.
He told a Ukrainian journalist on Friday that he would take up arms against "hybrid aggression" if all other options were exhausted.
It is unlikely to come to that. Ms Tikhanovskaya's team has no desire to provoke unrest.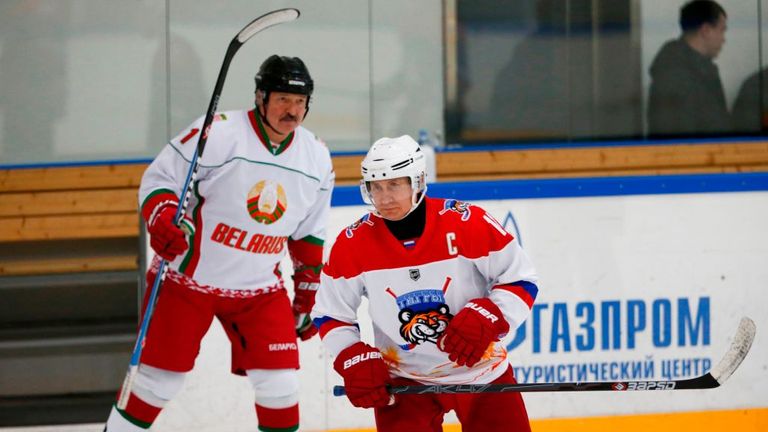 Moscow has neither the will nor the wherewithal to involve themselves in a power grab in Minsk.
Mr Lukashenko's imagination seems to be running wild as he realises his popular support has vanished.
But that does not mean a polling defeat. The members of local electoral committees across the country have jobs to keep and families to look after.
Reporting the true voting tally risks all that.
Furthermore, the elites are entrenched in Belarus. They will not allow for this election to end in anything other than a foregone conclusion even if the winds of change are beginning to blow.
The fairytale has a few more hours to run before polls close on Sunday evening.
The people of Belarus recognise there will be no happy ending this time round.
But they know too that something in the stagnant politics of the last two decades has shifted, thanks to three brave women who refuse to let an old school autocrat break their families or their country.
Policeman tracks down man who shot him in the stomach – 46 years after his escape from prison | World News

A policeman shot in the stomach in 1971 has tracked down the man who did it – 46 years after he escaped from prison.
Luis Archuleta, 77, was arrested in Espanola, New Mexico on Wednesday – 49 years after he shot police officer Daril Cinquanta in Denver, the FBI said.
Archuleta, also known as Larry Pusateri, shot the officer after he was pulled over to check his ID and the two got into a fight.
Two years later, he was convicted of assault with a deadly weapon and sent to prison, but he escaped from the Colorado Department of Corrections facility in 1974.
A warrant was put out for his arrest in 1977 but he was never found. It expired in 2018.
Mr Cinquanta never stopped investigating – constantly making phone calls and knocking on doors in a bid to trace the man who shot him.
Recently he got a phone call from an anonymous tipster who said: "I've thought about it, and I'm gonna tell you where the guy is who shot you", he told KUSA-TV.
An arrest warrant was put out for Archuleta and police found him living 20 miles from Santa Fe under the name Ramon Montoya – an alias he had been using for about 40 years.
He is now being transferred to a prison back in Colorado, where Mr Cinquanta hopes to meet him.
The former police officer said: "I would love to sit down and talk to him. He may or may not talk to me. Who knows?"
Michael Schneider, FBI Denver special agent, added: "This arrest should send a clear signal to violent offenders everywhere: The FBI will find you, no matter how long it takes or how far you run, and we will bring you to justice."
Coronavirus: Vaccine may only be 50% effective, US disease expert warns | World News
An approved coronavirus vaccine may only end up being effective 50% of the time, the top US infectious diseases expert has warned.
The chances of a COVID-19 vaccine being almost 100% effective are "not great", Dr Anthony Fauci, director of the National Institute of Allergy and Infectious Diseases said on Friday.
"We don't know yet what the efficacy might be. We don't know if it will be 50% or 60%. I'd like it to be 75% of more," he told a Brown University webinar.
:: Listen to the Daily podcast on Apple Podcasts, Google Podcasts, Spotify, Spreaker
Dr Fauci warned that the "public health approach must never be abandoned", as it may prove near impossible to develop a vaccine that is as high as 98% effective.
This means Americans should maintain social distancing and wear face coverings in enclosed spaces or large crowds to stop the spread of the virus.
On Friday, the US drugs regulator revealed independent experts would have to review any vaccine before it is approved.
The Food and Drug Administration (FDA) said it would organise an outside advisory committee before giving the green light, in an apparent bid to reassure people it will not cut corners in the race to offer immunity.
Dr Fauci also urged states to react as quickly as possible to increases of just 1% or 2% in coronavirus cases.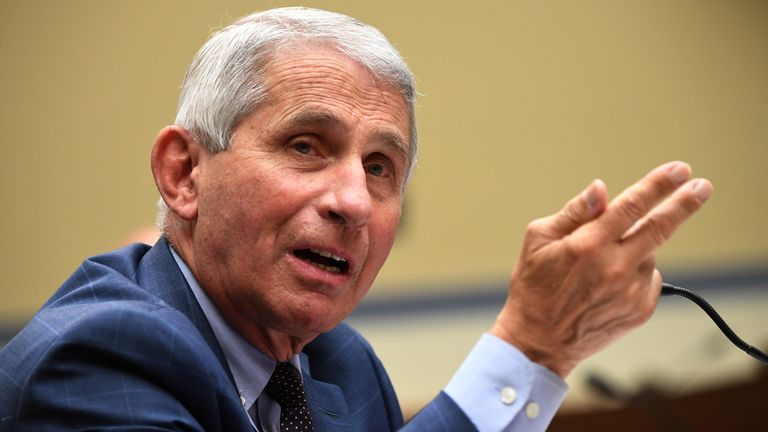 It comes after the US death toll surpassed 160,000 with 4.91 million cases reported nationwide.
The US accounts for nearly a quarter of the world's virus deaths, in front of Brazil, Mexico and the UK, which have the next highest numbers of fatalities.
States are currently considering whether schools should reopen in the coming weeks.
Several – including California, Texas and Florida – have had to go back into lockdown after large spikes in cases.
Democratic presidential candidate Joe Biden was forced to accept his Wisconsin nomination virtually in the latest virus setback to the November election.