10 die after drinking hand sanitiser in India while alcohol stores were closed | World News
Ten men have died in an Indian town after drinking alcohol-based hand sanitiser, as local liquor shops were closed due to a coronavirus lockdown.
The men, from the town of Kurichedu in Andhra Pradesh, were said to be dependent on alcohol.
"Some people who are heavily addicted to alcohol had been consuming hand sanitisers for the high," said Siddharth Kaushal, the top police official in the district.
"Alcohol is not available because of the lockdown, but hand sanitisers are easily available."
Several other people who had also drunk sanitiser were discharged from hospital, Mr Kaushal said.
He added that some of those who died had other health conditions.
Family members of the victims told police they had fallen unconscious hours after drinking the hand sanitiser, according to the Hindustan Times.
It is not known how much they had consumed.
Local media said the victims were between the ages of 25 and 65.
India recorded its steepest spike in new coronavirus cases on Saturday with 57,118 new cases in the past 24 hours. The health ministry also reported 764 additional coronavirus-related deaths, taking the total to 36,511.
Most economic activities have reopened to avoid financial disaster, but many states are isolating localised areas where infections have jumped.
There is a strict lockdown in place in Kurichedu after reported cases in Andhra Pradesh rose nine-fold within a month. Cases have increased by three-fold in the country as a whole over the same period.
The state has the highest rate of testing per million people in the country.
Beirut explosion: Rescuers search for survivors after deadly 'ammonium nitrate blast' | World News
Rescuers are searching for survivors after a huge explosion killed at least 100 people and injured more than 4,000 in Beirut.
For thousands of people at home, work or out and about, there was no warning and no way to get to safety as Tuesday's blast hit the Lebanese capital.
President Michel Aoun said it was caused by 2,750 tonnes of ammonium nitrate – used in fertilisers and as an explosive – which was left unsecured in a warehouse for six years at the city's port.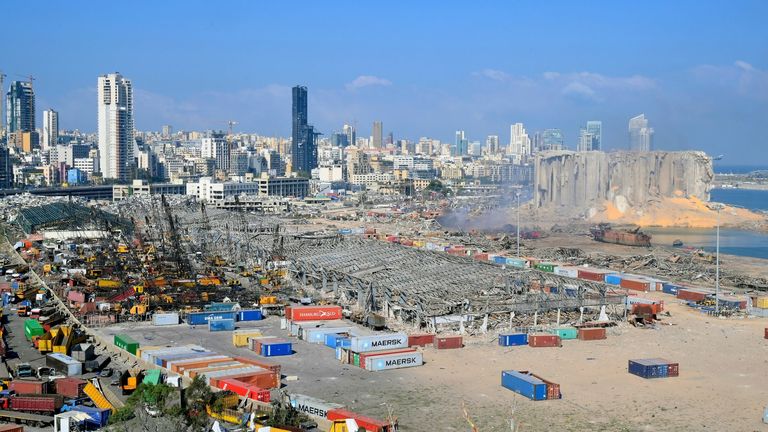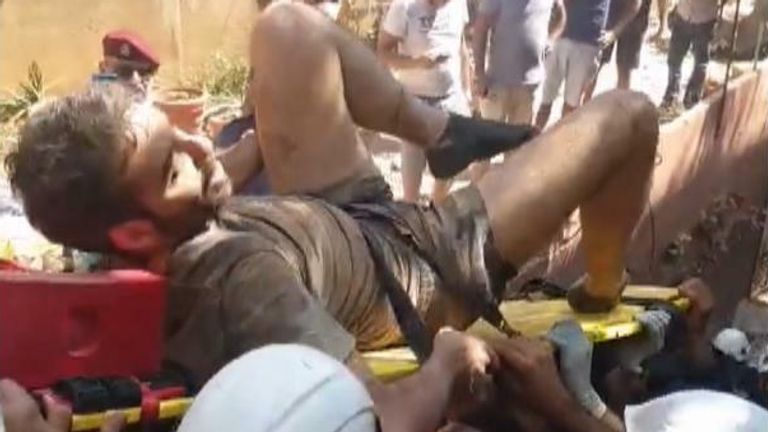 He called for an urgent cabinet meeting on Wednesday, and said a two-week state of emergency should be declared as the disaster is investigated.
Residents woke today to a scene of devastation, shocked by the magnitude of the destruction.
Thousands have been left homeless and families are still counting the casualties and searching for the dead.
The head of Lebanon's Red Cross, George Kettaneh, said at least 100 people were killed and more than 4,000 were wounded, adding the toll could rise further.
Many people spent the night going from one hospital to another desperate for any news about missing loved ones.
The blast struck with the force of a 3.5 magnitude earthquake, according to Germany's geosciences centre GFZ, and was heard and felt as far away as Cyprus – more than 125 miles (200km) across the Mediterranean.
A mushroom cloud could be seen spreading over the city.
"L'Apocalypse," read the front page of Lebanon's French L'Orient-Le Jour newspaper. Another paper, al-Akhbar, had a photo of the destroyed port with the words: "The Great Collapse."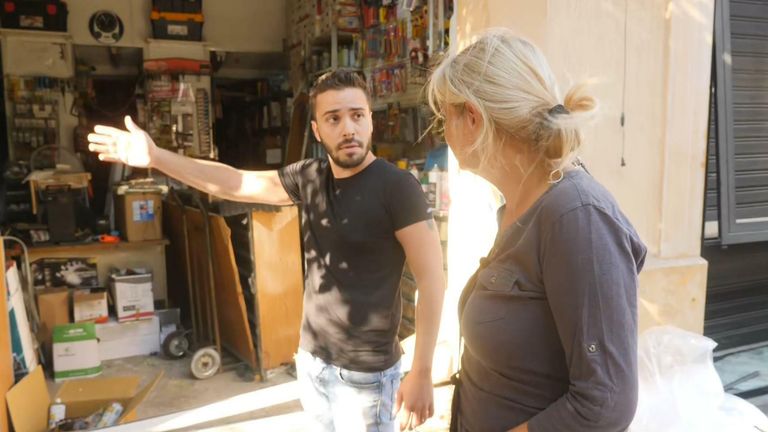 "It was a real horror show. I haven't seen anything like that since the days of the [civil] war," said Marwan Ramadan, who was about 500 metres from the port and was knocked off his feet by the force of the explosion.
The intensity of the blast threw victims into the sea and rescue teams were still trying to recover bodies.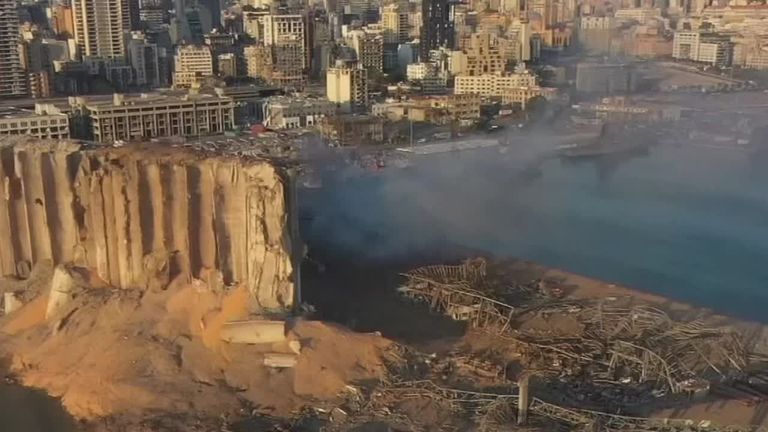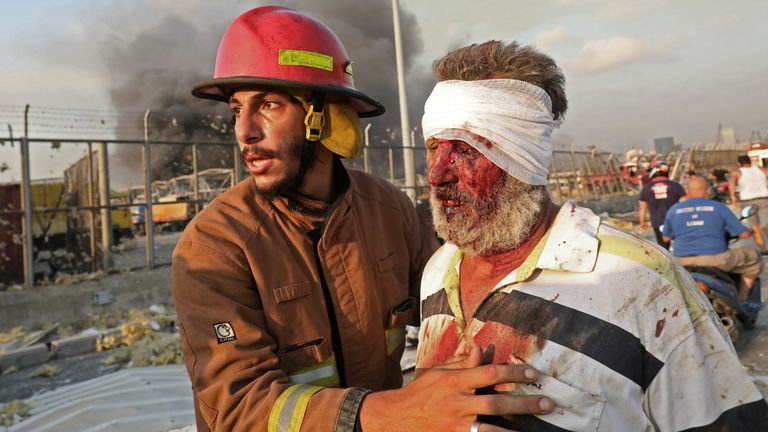 Lebanon was already on the brink of collapse amid the coronavirus outbreak and an unprecedented economic crisis that had triggered mass protests in recent months.
Its hospitals, already buckling under a surge in COVID-19 infections, are now overflowing and struggling to cope with the influx of those injured in the blast.
Doctors and nurses have been forced to treat some of those hurt on the streets outside, while at the same time trying to keep coronavirus patients separate from the constant new arrivals.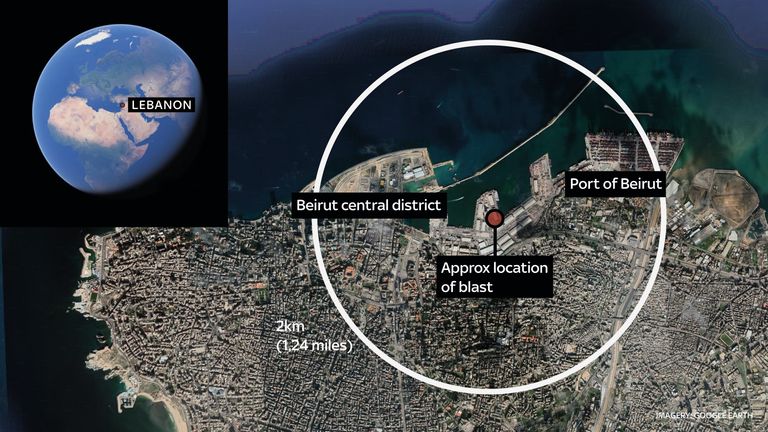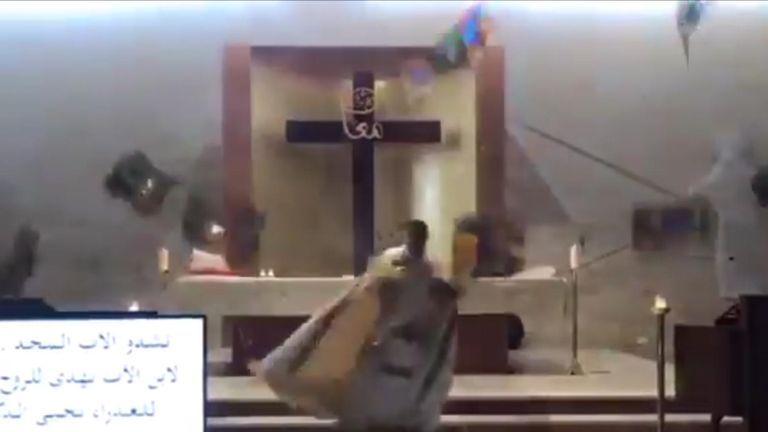 "It's like a war zone. I'm speechless, said Beirut's mayor Jamal Itani, while inspecting damage he estimated ran into billions of dollars.
"This is a catastrophe for Beirut and Lebanon."
Beirut explosion: 'Casualties everywhere' – Hospitals struggle to cope as bloodied people walk streets | World News
"This is a catastrophe we have on our hands," says a doctor at St George Hospital, less than a mile from the epicentre of the explosion at Beirut port.
It is one of several hospitals in the Lebanese capital which was damaged and had its electricity knocked out in the blast.
At least 100 were killed in the explosion and around 4,000 injured, according to Lebanon's Red Cross.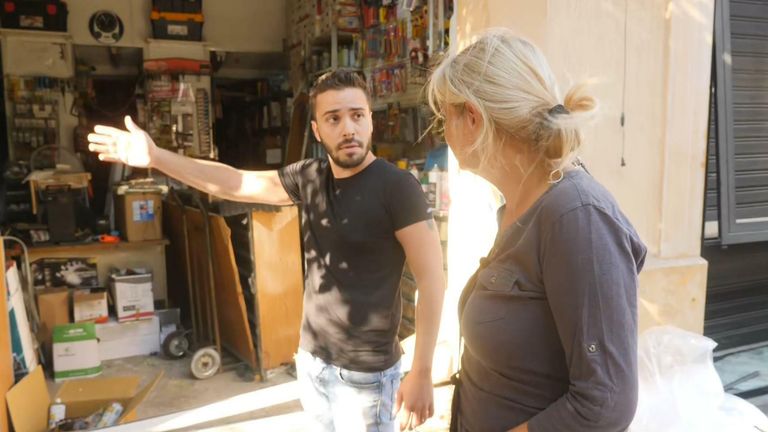 Already near full due to the ongoing and unprecedented coronavirus pandemic, hospitals quickly filled beyond capacity, pleading for blood supplies and generators to keep their lights on.
Inside, the wards and corridors were overflowing with patients.
Dozens of injured were being treated on the spot on the street outside, in the rubble, on stretchers and in wheelchairs.
And all the while, people with various injuries arrived in ambulances, in cars and on foot.
An emergency doctor at Khoury Hospital said: "We have at least 300 wounded in the hospital right now, we have six operating suites that are still operating right now, and this keeps filling up by another group that needs attention.
"Every one of our crew, doctors and nurses are operating, even administration, everyone is working.
"We have a lot of damage, as you can see, all the ceilings have collapsed at the entrance, and the glass windows of patient rooms."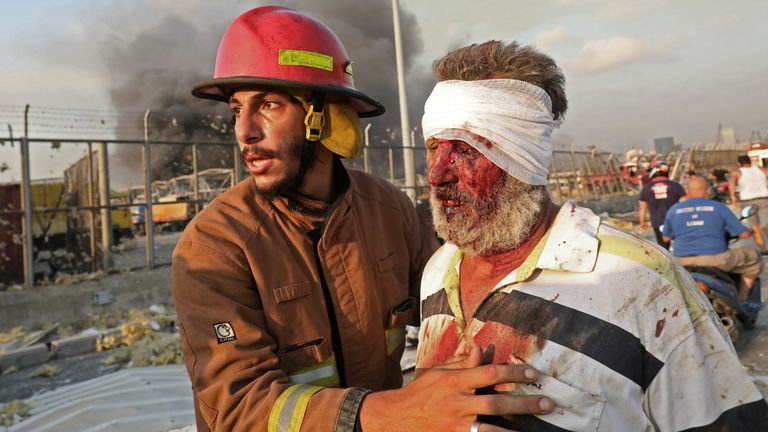 Firass Abiad, chief of Rafic Hariri University Hospital, had already tweeted on Tuesday morning that it had been nearing capacity.
After the explosion he described the scenes in the emergency department as "devastating" as new patients arrived, most with glass injuries, some transferred from other overflowing medical facilities and hospitals.
He tweeted: "More casualties will come. This will be a difficult night.
"My thoughts are with the families of people who have passed away or still missing.
"The scenes in the ED are devastating, but the staff are kind and selfless. No more words…"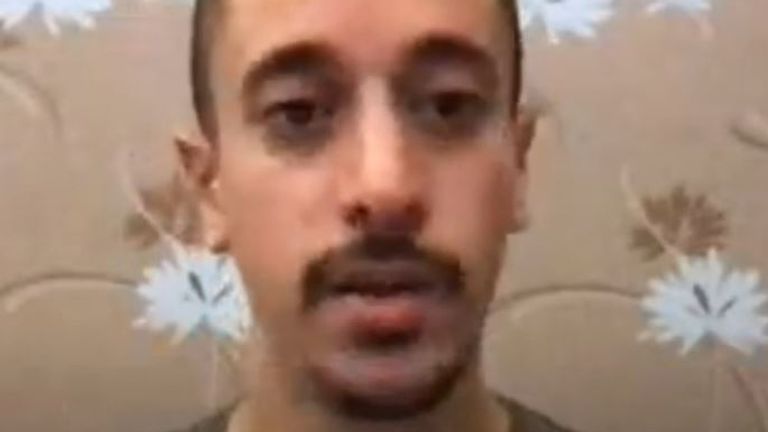 Footage on social media showed the wounded – bloodied and dazed, some in tears – wandering the streets in their blood-soaked clothes, shouting for help or in search of missing loved ones.
The crunch of broken glass and stone clearly audible beneath their feet from shattered windows and smashed masonry.
Ibrahim Shamas was looking for his 29-year-old nephew, Hassan.
"We have been all over every hospital in Beirut and now we are waiting for the names to come out and nothing has come out. We do not know if he is dead or alive, we do not know."
Those who felt the blast said they had never experienced anything like it.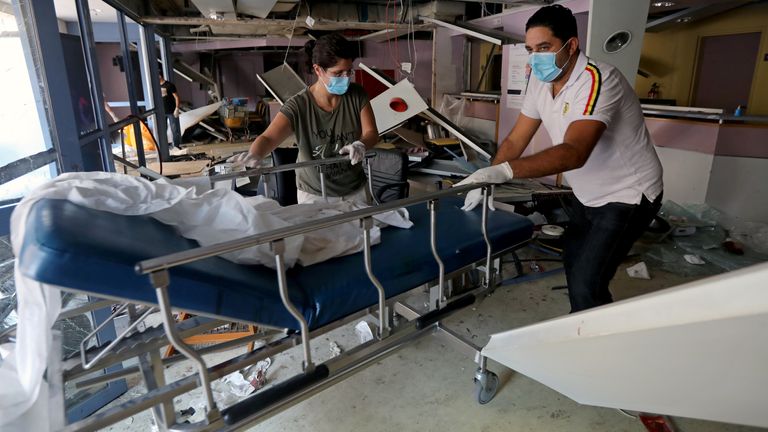 Shop owner Ahmad Ismail said he was standing at the entrance with another person when he "felt the glass shaking".
"I said to him [that] maybe it was an earthquake and he went to ask the neighbours what's going on.
"Then I felt something like lightning strike across Beirut, and then everything turned red and the force (of the explosion) threw me… I landed on the other end of the shop."
He added: "I never experienced such a thing, not its size, not its sound."
One woman said: "We were at home. We heard what sounded like fireworks. We thought it was a container in the port that was on fire and they weren't able to put it out.
"A few seconds later we were flying through the air."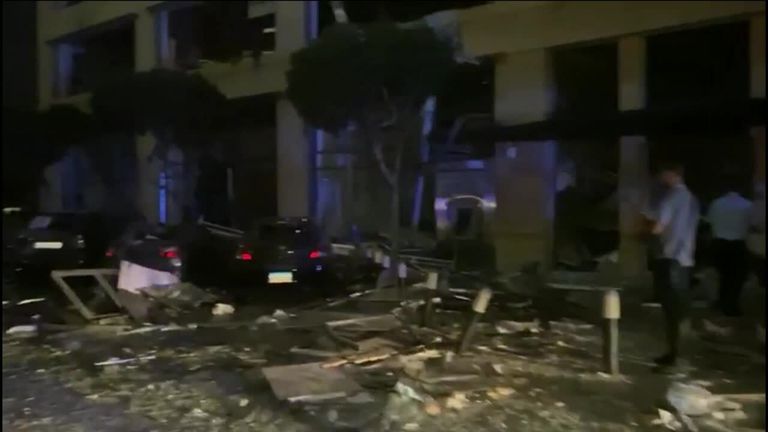 Omar Kinno sat on the pavement, fighting back tears.
He said one of his sisters was killed when the blast rocked their apartment near the port, and another sister's neck was broken.
His injured mother and father were taken to a hospital but he didn't know which, and he was making calls trying to track them down.
He said: "I have no idea what happened to my parents. I am totally lost."
"What we are witnessing is a huge catastrophe," the head of Lebanon's Red Cross, George Kettaneh, told broadcaster Mayadeen.
"There are victims and casualties everywhere."
Beirut: Donald Trump suggests 'bomb of some kind' caused huge explosion in Lebanese city | US News
Donald Trump has contradicted Lebanese officials and suggested a "terrible attack" caused a massive explosion that killed at least 70 people in Beirut.
The cause of the blast, which also injured thousands of others, has not been confirmed – but the Lebanese prime minister has blamed thousands of tonnes of ammonium nitrate stored at a warehouse.
Mr Trump told reporters: "I've met with some of our great generals and they just seem to feel that this was not some kind of manufacturing explosion type of an event… They seem to think it was an attack. It was a bomb of some kind."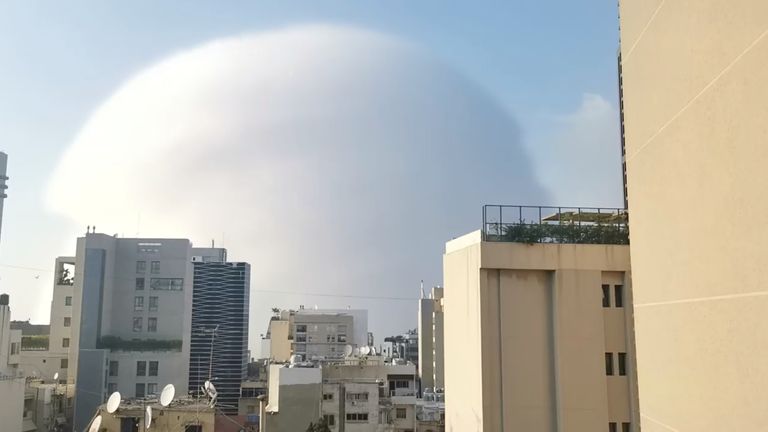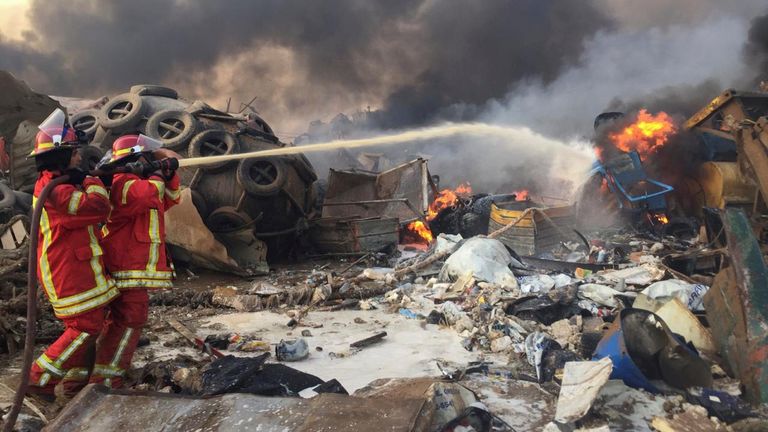 The US president did not say what information his generals had used to inform their opinion, but it clashes with the early assessments of officials in the Middle Eastern country.
Prime Minister Hassan Diab tweeted on Tuesday night to point the finger at what he said was an estimated 2750 tonnes of ammonium nitrate that had been stored dangerously for six years at a warehouse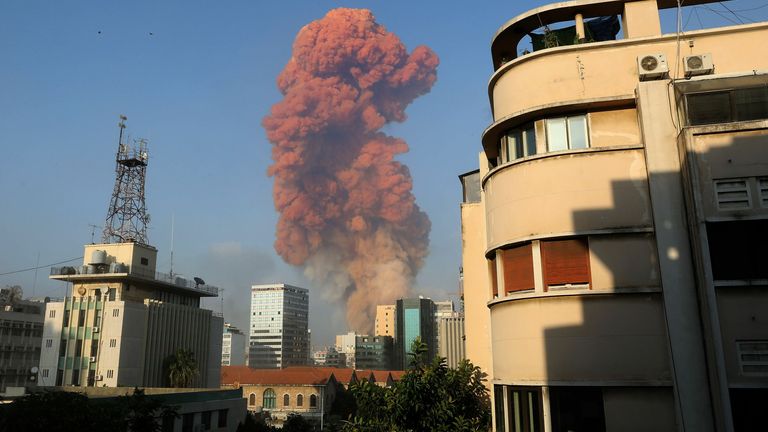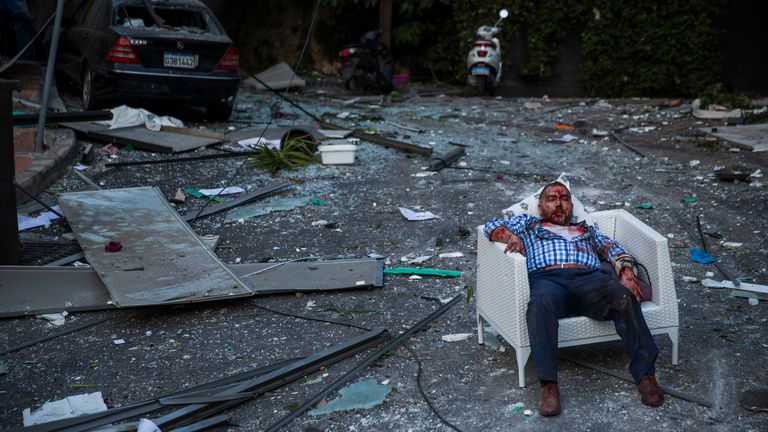 Ammonium nitrate is a chemical compound used as fertiliser and also in explosives.
Lebanon's internal security chief, Abbas Ibrahim, earlier echoed the prime minister and said a highly explosive material had been confiscated from a ship some time ago and stored at the port.
Local TV station LBC named the substance as ammonium nitrate.
A a counter-terrorist bomb disposal operator looked at footage of the smoke produced by the explosion and told Sky News it was unlikely to have been caused be gunpowder or ammunition.
Large parts of the Lebanese capital have been devastated by Tuesday afternoon's explosion, which sent a huge shockwave across the city.
Residents reported collapsed ceilings and shattered windows as far as 2km (1.2 miles) away and the explosion was even heard and felt in Cyprus.
Beirut resident Fady Roumieh, who was standing in a car park east of the blast and said it was "like a nuclear bomb"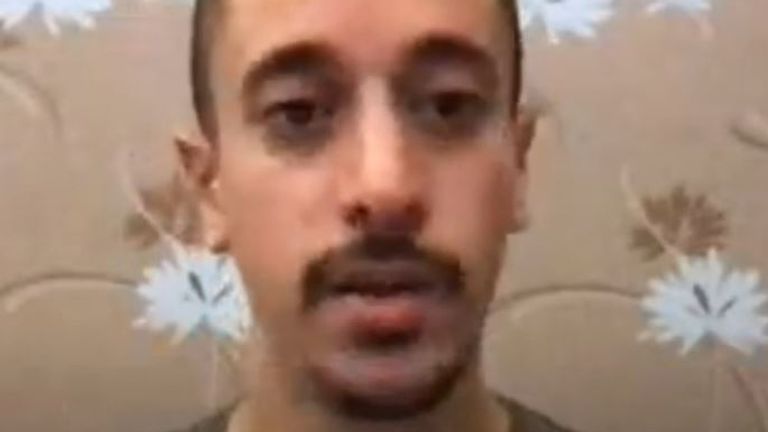 Sky News Middle East editor Zein Ja'far, who was in downtown Beirut at the time of the explosion, said it caused windows to "cave in".
"It tore apart the facade of the building we're in, and once the dust settled we managed to get ourselves and others in this block outside," said Ja'far.
He said there were a lot of "very dazed, very bloodied people" wandering around in shock.