Afghan army mortars missed Taliban and killed civilians in market, UN finds | World News
The Afghan army missed a Taliban target and hit a cattle market with mortars, killing tens of civilians, the United Nations has found.
The Taliban and Afghan military blamed each other for the attack in Sangin district, Helmand province, on Monday.
At least 23 people, including children, were killed and 15 people were injured, officials said.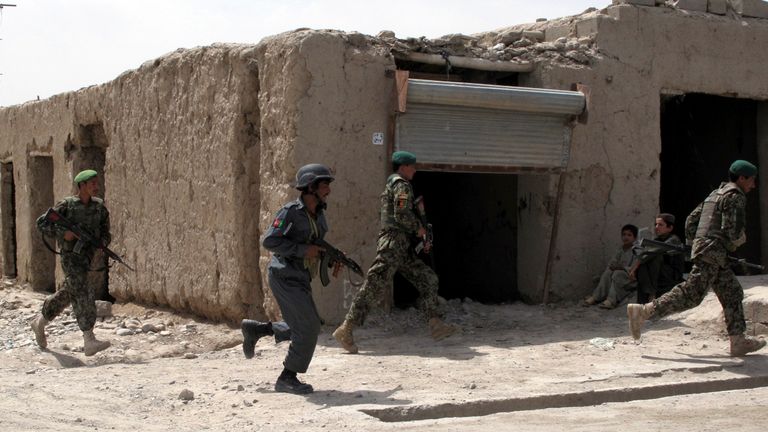 The area is under Taliban control, but spokesman Qari Yusouf Ahmadi denied the group was involved in the incident, saying the military fired mortars into the market.
An army spokesman said a car bomb and mortar shells were fired by the insurgents and that there was no military activity in the area on Monday.
The army also said two Taliban fighters were killed when a car bomb detonated in the marketplace.
However, an investigation by the UN's assistance mission in Afghanistan (UNAMA) found that the Afghan army was to blame as it hit the market while responding to Taliban fire.
A statement from the organisation said: "UNAMA's initial impartial findings indicate Afghan National Army mortars inflicted heavy civilian casualties Monday at a market in Sangin, Afghanistan.
"Multiple credible sources assert that the ANA fired lethal mortars in response to Taliban fire, missing intended target."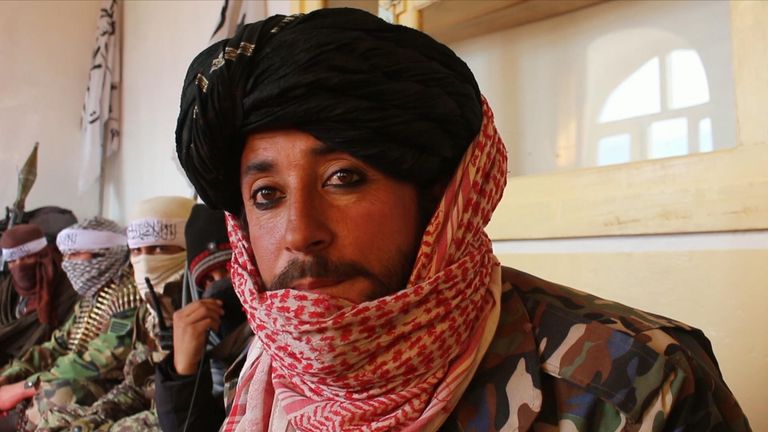 It urged both sides to "stop fighting in civilian-populated areas", adding that indirect fire incidents on the ground in Afghanistan cause thousands of civilian casualties each year.
The statement added: "Dozens were killed and injured in Monday's incident, including children Final number of casualties to be verified."
The UN called on the Afghan government to set up an independent investigation team to look into the market incident.
"UNAMA is prepared to assist all parties, the victims and their families in establishing the fact," it said.
:: Listen to the The World Tomorrow on Apple Podcasts, Spotify, Spreaker
Afghan President Ashraf Ghani had strongly condemned the "brutal and inhuamane act" on Monday as he also blamed the Taliban.
Despite repeated warnings by the UN for both sides to be more careful of civilian casualties, they are on the rise.
The violence has not been quelled despite planned talks between the Taliban and Kabul representatives from as early as next month in Doha, Qatar, where the Taliban maintain a political office.
Srebrenica: Bosnians mark 25 year anniversary since massacre when 8,000 men and boys were killed | World News
Bosnians have been marking the 25th anniversary of the Srebrenica massacre, the only crime in Europe since the Second World War that has been classified a genocide.
More than 8,000 Muslim men and boys in the town in Bosnia and Herzegovina were killed by units from the Bosnian Serb army, despite Srebrenica being declared a "safe area" under United Nations protection.
A ceremony took place as nine newly identified victims were buried at a flower-shaped cemetery near the town.
They were laid to rest among the graves of 6,643 other victims.
Body parts are still being unearthed in mass graves and are being identified through the analysis of DNA.
The remains of around 1,000 victims are still missing.
Dozens of world leaders, including Prime Minister Boris Johnson, Canadian Prime Minister Justin Trudeau, Spain's PM Pedro Sanchez, US Secretary of State Mike Pompeo and the Prince of Wales, sent video messages to be played at the ceremony – unable to attend in person because of coronavirus social distancing requirements.
Mr Pompeo said: "We grieve with the families that tirelessly seek justice for the 8,000 innocent lives lost, all these years later."
One of the few Bosnian officials attending in person, Bosniak Muslim member of the country's tripartite presidency Sefik Dzaferovic, went further, calling on the world to require Serb leaders to finally accept responsibility for what happened.
He said: "I am calling on our friends from around the world to show not just with words but also with actions that they will not accept the denial of genocide and celebration of its perpetrators.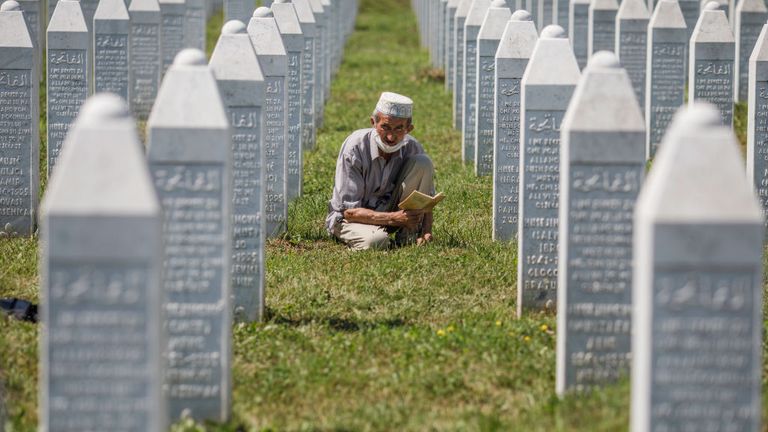 "The Srebrenica genocide is being denied (by Serb leaders) just as systematically and meticulously as it was executed in 1995… we owe it not just to Srebrenica, but to humanity, to oppose that."
During the Bosnian war from 1992 to 1995, Bosnian Serb forces embarked on what was then called ethnic cleansing, pushing non-Serbs out of territories they sought for their Serb state.
Many of those who were forced to flee took shelter in several towns in the east of Bosnia and Herzegovina, including Srebrenica.
The UN said they would be protected and posted peace keeping troops to the "safe" zones.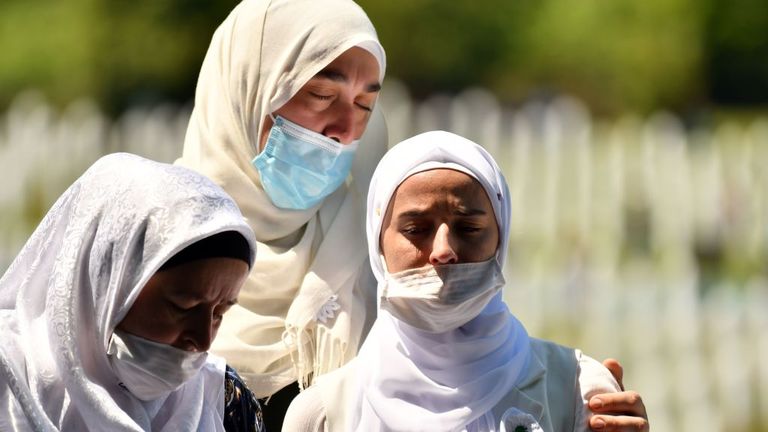 But on 11 July 1995, Serb forces led by General Ratko Mladic overran Srebrenica, which was protected only by lightly armed Dutch peacekeepers.
The Bosnian Serb forces ordered women and children to leave but rounded up the males and executed all those they found.
Bodies were then dumped into mass graves.
It was only later, after the massacre came to light, that many of the remains were exhumed by UN investigators and used as evidence in war crimes trials against Bosnian Serb leaders.
But it took until 2004, after the formation of the International Criminal Tribunal for the former Yugoslavia, in The Hague, before the massacre was ruled a genocide, a crime under international law.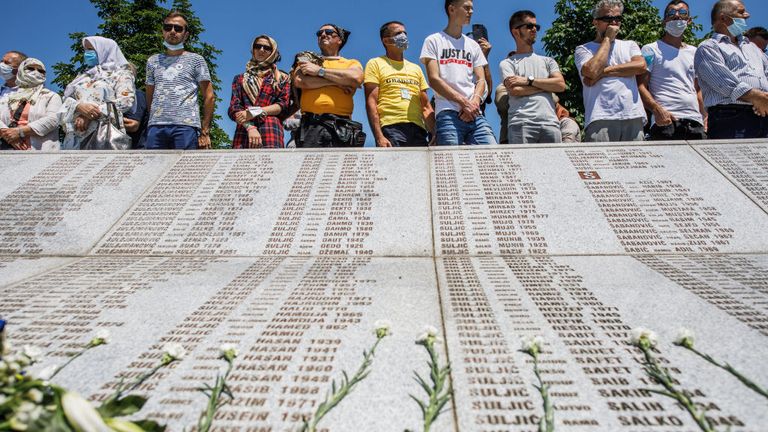 The UK says it has spent millions of pounds supporting projects relating to Srebrenica, including for the families of the victims and their fight for justice.
Foreign Secretary Dominic Raab, a former Foreign Office diplomat posted to The Hague, said: "We remember the victims and the anguish of their families.
"During my time in the Hague between 2003 and 2006, pursuing those responsible for this dark chapter in European history, I was reminded daily of the heinous cruelty perpetrated against the innocent.
"The UK is determined to end impunity and help rebuild those countries affected – as our commitment to the ICC, and UK investment and support for Bosnia demonstrates."
About 100,000 people were killed in the Bosnian war, and reconciliation is far from complete.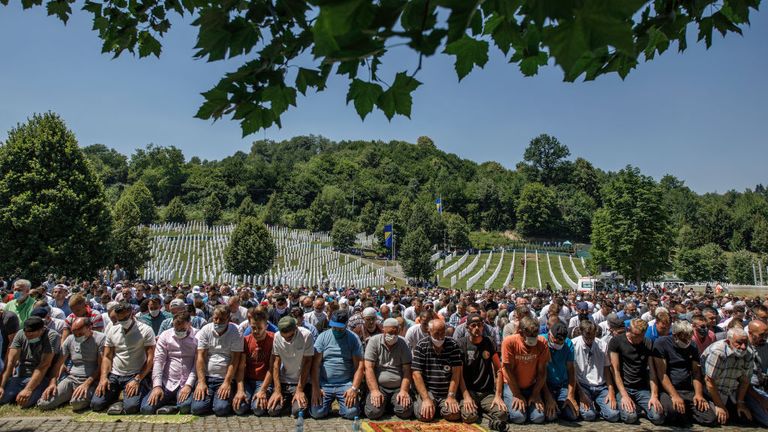 Mladic and his political chief Radovan Karadzic were convicted by the ICTY but they remain heroes for some Serbs, many of whom deny the genocide happened.
On Saturday, Serbs in the nearby town of Bratunac organised an event marking 11 July as "Srebrenica Liberation Day".
Sefik Dzaferovic added: "There can be no trust as long as we witness attacks on the truth, denial of genocide and glorification and celebration of executors."
A memorial also took place at The Hague, in the Netherlands.
Coronavirus: Zimbabweans particularly vulnerable to COVID-19 in the UK, embassy warns | World News
The Zimbabwean embassy in London has told Sky News that at least 37 citizens of the southern African country have died in Britain during the coronavirus pandemic.
It is a revelation which underlines the damage COVID-19 has inflicted on immigrant communities in the UK.
Officials said the vast majority of those who died were working in health and social care positions.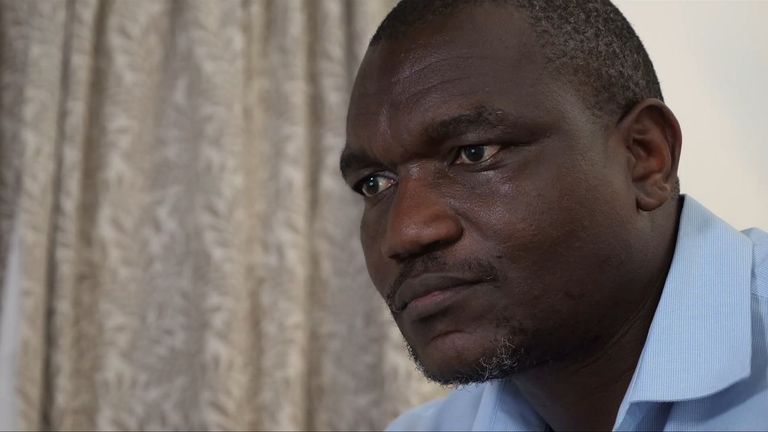 Qualified nurses and doctors from Zimbabwe have long been recruited to help relieve staff shortages in the UK, but the total number of Zimbabweans working in the health sector is small.
According to a study published by the House of Lords in January, Zimbabweans made up a tiny percentage (0.3%) of the total workforce of NHS England.
However, the number of deaths recorded by consular officials suggests that Zimbabweans may constitute well over 10% of all frontline workers who have died during the coronavirus crisis.
This startling disclosure suggests that Zimbabweans have proven particularly vulnerable in the UK and there is a team of researchers and medical experts now trying to grapple with the reasons why.
"This is something that we all need to focus on and we need to do it urgently," says Dr Brighton Chireka, a Zimbabwean GP who runs the Manor Clinic in Folkestone, Kent.
Dr Chireka founded the Zimbabwean Diaspora Health Alliance, an organisation that has been collecting evidence and allegations from thousands of Zimbabweans and other ethnic minority health workers during the epidemic.
The 46-year old physician says he has been disturbed by what he has found.
"There is a perception amongst Zimbabweans and other BAME (Black, Asian and minority ethnic) health workers in Britain that they are treated less favourably than white staff members," he said.
"They frequently tell us that they are being targeted to work in the COVID wards, particularly those working for private agencies. We have been told that whites are more likely than blacks to be assigned ventilators in case of illness."
Dr Chireka says there is an urgent need to analyse and quantify these claims and points to a survey by the Royal College of Nursing, which found that BAME staff experience greater PPE shortages.
Less than half (43%) of respondents from a BAME background said they had enough eye and face protection, while 66% of white staff said they felt properly equipped.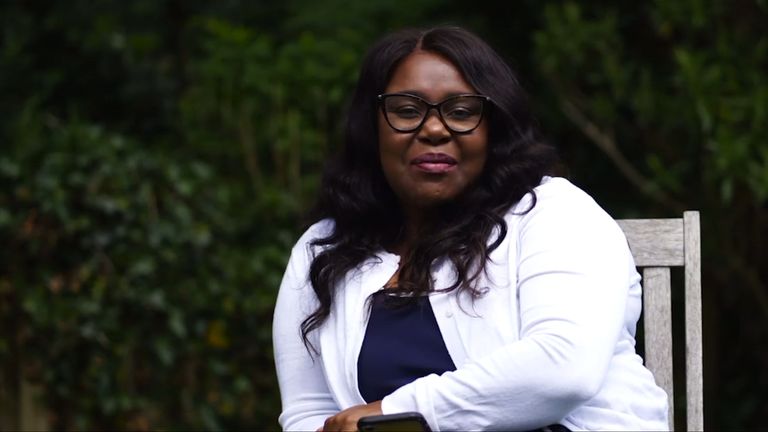 There are other UK-based Zimbabweans, such as Rumbizai Bvunzawabaya, who are dealing with this catastrophe in a different way.
Ms Bvunzawabaya hosts a popular chat show on social media and has been exploring the communal trauma from her home studio in Coventry.
"It caused so much anxiety and fear because it seemed like everyone was dying, every single day," she said. "We are not a big community in the UK, we didn't really understand what was going on."
One thing that has struck Ms Bvunzawabaya in her interactions and conversations is the tendency among Zimbabwean nurses to head to work regardless of how they are feeling.
"She said: Some continued working when they weren't feeling well, because they weren't sure if they had (the virus) or not – and I think Zimbabweans, we are a nation of very hard workers, it is difficult for us to stop working for fear of what will happen to us."
Many Zimbabwean health workers are under significant financial pressure, supporting households in the UK and back at home.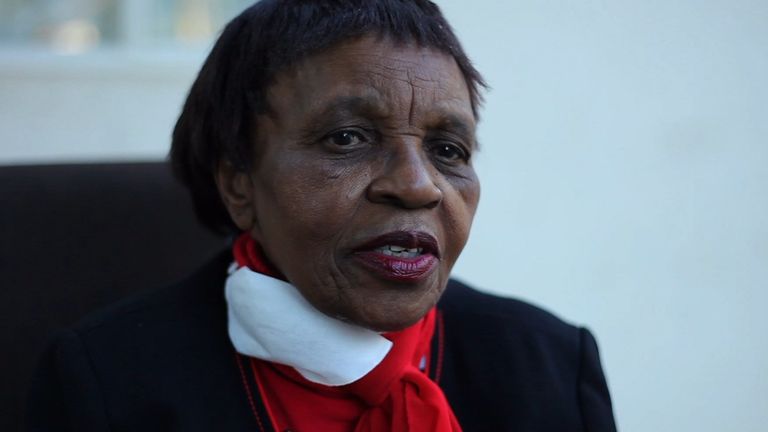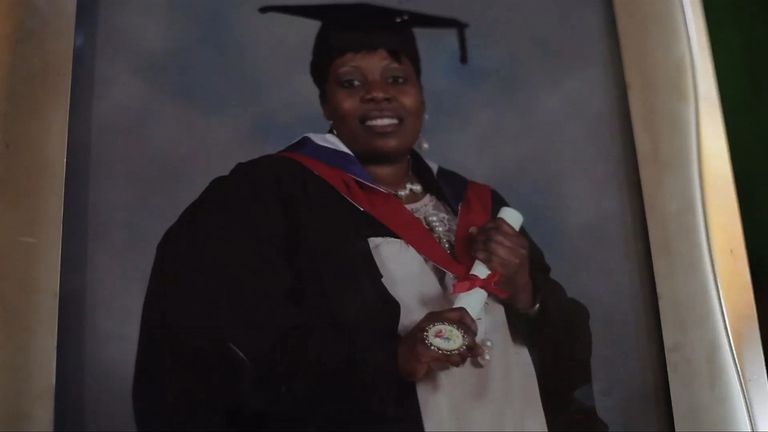 Rutendo Mukotsanjera was a Staffordshire-based NHS employee who worked extra shifts so she could send money back to her relatives in Harare.
COVID-19 claimed her life in April.
As well as dealing with her grief her mother, Monica Mukotsanjera, says she simply did not know what to do when the money stopped.
"I am just helpless now," she said. "Rutendo was so good, she was looking after her children, making sure they were getting education, and here and there she would give me money because I am retired.
"Now all that is shattered."
Coronavirus: French bus driver dies after attack by passengers who refused to wear face masks | World News
A bus driver has died in France five days after he was attacked by passengers who refused to wear face masks, his family have said.
Philippe Monguillot, 59, was left brain dead after being assaulted on board his bus in Bayonne, southwest France, on 5 July.
He died on Friday after doctors agreed it was time to "let him go", his 18-year-old daughter Marie said.
Two men in their 20s have been charged with attempted murder, while another two have been charged with failing to help a person in danger in connection with his death. A fifth man faces a charge of hiding a suspect.
Mr Monguillot is thought to have been attacked after asking three men to wear masks and trying to check another man's ticket late last Sunday.
It is illegal to board public transport without a face mask in France as part of coronavirus restrictions.
On Wednesday, hundreds of people – led by his wife Veronique – marched through Bayonne demanding justice.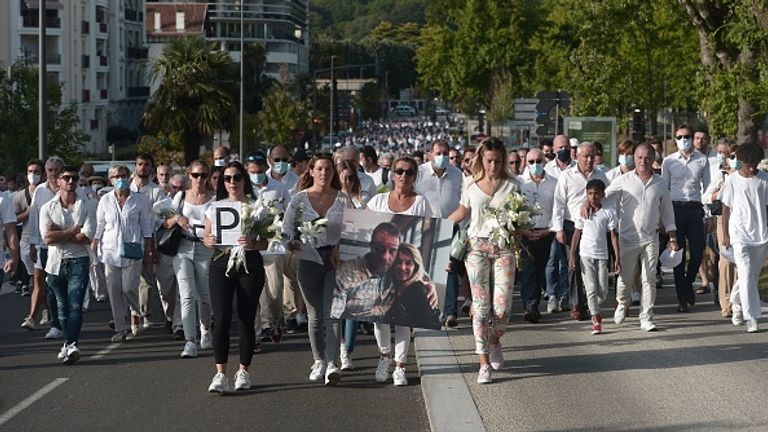 Traffic was brought to a standstill as Mrs Monguillot clutched a picture of them together.
She told crowds she will "fight to the end" for her husband, adding: "I have almost no more tears. I have anger and I'm not afraid to confront it.
"I'm not afraid, the justice system is going to be with me. The justice system is going to help me avenge my husband. I promised him."
They mayor of Bayonne, Jean-René Etchegaray, tweeted: "Philippe Monguillot has died. He succumbed to a barbaric attack while carrying out his job.
"A true public servant, he was a generous man. Solidarity to his colleagues. Our thoughts are with his wife and his family at this painful time."