Nissan puts focus on UK plant but sparks anger with Spain closure | Business News
Nissan's decision to centre European production at its UK plant in Sunderland and close its Barcelona factory has sparked angry protests by workers in Spain.
Employees of the Japanese carmaker set fire to tyres outside the Catalonia site, which is to close – threatening the loss of 3,000 jobs.
The company is also to shut its factory in Indonesia.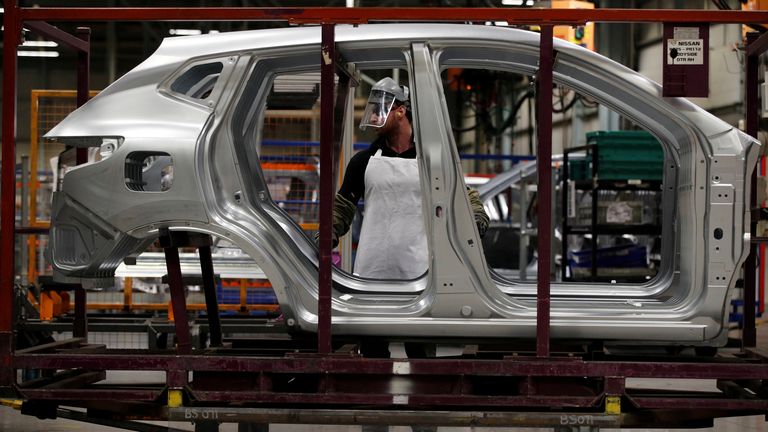 The announcement came as Nissan said it had sunk into the red for the first time since the financial crash, following four years of tumbling profits.
The firm plans to become smaller and more cost-efficient, building 20% fewer vehicles worldwide, after the coronavirus pandemic sent demand plunging.
A Nissan spokesman said: "Europe will remain an important part of Nissan's global business.
"We have more than three decades of history in Europe, where Nissan created the crossover segment and took the lead in the roll-out of electric vehicles and charging infrastructure.
"As the new Nissan mid-term plan explains, the company will be focusing on core models and technologies, which in Europe is our range of crossovers and electrified technologies.
"Sunderland remains an important part of our plans for the European business.
"The new Juke was recently launched, and the plant is now preparing for the arrival of the new Qashqai."
The move to overhaul the global business came as Nissan posted an annual operating loss of 40.5bn yen (£307m) for the year to 31 March, its worst performance since 2008/09.
Over that period, it sold 4.8 million vehicles, the second decline in a row and a fall of 13% from last year.
:: Listen to the Daily podcast on Apple Podcasts, Google Podcasts, Spotify, Spreaker
The survival plan follows a new strategy announced by Nissan and its partners Renault and Mitsubishi Motors to work more closely on developing and producing cars to reduce costs and keep the businesses viable.
Even before the spread of the coronavirus, Nissan's slumping profits had forced it to rein in an aggressive expansion plan pursued by ousted leader Carlos Ghosn.
The COVID-19 pandemic has only ramped up the pressure to downsize.
Next week from Monday to Thursday, Dermot Murnaghan will be hosting After the Pandemic: Our New World – a series of special live programmes about what our world will be like once the pandemic is over.
We'll be joined by some of the biggest names from the worlds of culture, politics, economics, science and technology. And you can take part too. If you'd like to be in our virtual audience – from your own home – and put questions to the experts, email afterthepandemic@sky.uk
Sydney limits passenger arrival numbers due to pressure on quarantine spaces | World News
The number of passengers arriving at Australia's Sydney Airport is being limited due to "pressure" on the city's quarantine facilities.
The Smartraveller website, which is run by Australia's Department of Foreign Affairs and Trade, says a limit of 450 passengers per day are allowed into Sydney Airport until and including 17 July.
The Australian government did not confirm an earlier post by its High Commission in London which also said only 50 people would be allowed on each flight. Eleven international flights were due to arrive at Sydney on Monday, with two of those cancelled.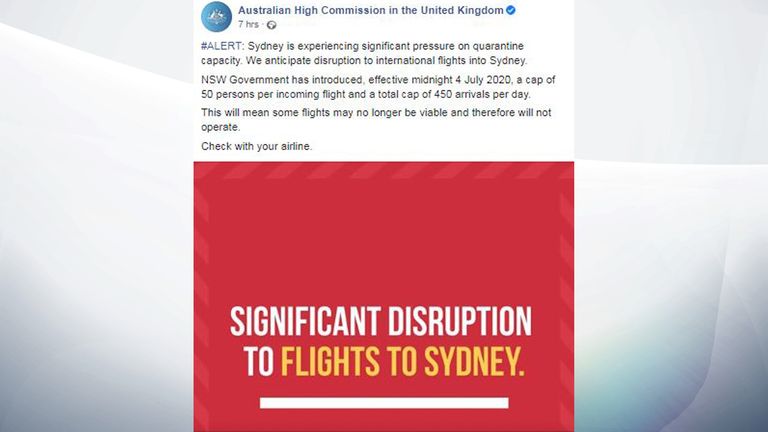 The High Commission had warned it anticipated "disruption to international flights into Sydney", adding: "This will mean some flights may no longer be viable and therefore will not operate."
New Zealand's High Commission also published the information, as many flights between the UK or Europe and New Zealand currently include transit in Australia.
Smartraveller said the limit was due to "pressure" on Sydney's quarantine facilities, worsened by a request from neighbouring Victoria state that no international passenger flights land there until at least 14 July.
Last week parts of Victoria's main city of Melbourne went into strict lockdown following a surge in cases traced to security guards at two Melbourne quarantine hotels, according to reports.
Arrivals in Australia, as in New Zealand, are required to complete 14 days of isolation at a government-chosen hotel, a policy that has helped both countries to keep the number of cases and deaths relatively low..
More than 60,000 Australians have been through the quarantine system since lockdown began, around a third of them in Victoria, according to Australia's deputy chief medical officer, Professor Michael Kidd.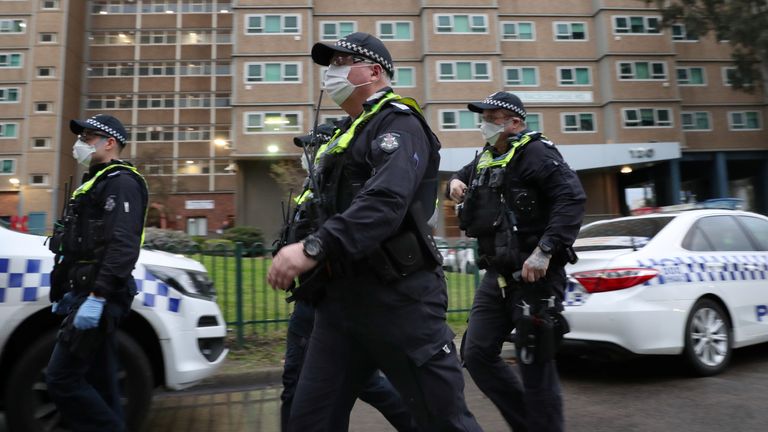 But the number of rooms in suitable hotels is limited and the cost is also a growing issue, with some Australian states starting to charge citizens for their quarantine.
Travellers affected by the passenger limits were told to contact their airline but many of those due to fly wrote on the High Commission's Facebook page that carriers had not been told of the changes, leaving them unsure of what to do next.
Australians and New Zealanders trying to get home from the UK and Europe have struggled with flights since the coronavirus outbreak began earlier this year.
Qantas and Virgin Australia have suspended international services and Air New Zealand permanently cut the first leg of its London-Los Angeles-Auckland route earlier this year.
Citizens returning to that part of the world also rely on transit points remaining open, not a certainty when countries react to the spread of the coronavirus.
Both Australia and New Zealand are currently closed to tourists.
China accuses the UK of 'gross interference' in its affairs | World News

China has accused the UK of "trampling" on the basic norms of international relations – and said Britain's offer of citizenship for Hong Kongers is a "gross interference in China's internal affairs".
Liu Xiaoming, Beijing's ambassador to the UK, claimed Boris Johnson's government "keeps making irresponsible remarks" about Hong Kong.
A new national security law makes secessionist, subversive, or terrorist activities illegal, as well as foreign intervention in the city's internal affairs.
Mr Liu claimed "unwarranted accusations" have been made about this law.
He added: "The UK side knows well that Hong Kong is no longer under its colonial rule and that Hong Kong has returned to China and is now part of China.
"The UK has no sovereignty, jurisdiction or right of supervision over Hong Kong after handover."
Elon Musk digs at Tesla short sellers by selling short shorts for $69.420 | Science & Tech News
Elon Musk has followed through on a joke to sell short shorts through Tesla's online store, which briefly went offline when the items debuted this weekend.
The items are being sold in a limited-edition run, apparently only for the purpose of criticising the electric car-makers' short sellers, at a price which references a puerile internet meme about a sexual position and cannabis consumption.
Musk, who recently turned 49, has often criticised short sellers on Twitter and initially suggested that Tesla would sell "fabulous short shorts in radiant red satin with gold trim" in a series of messages mocking the practice.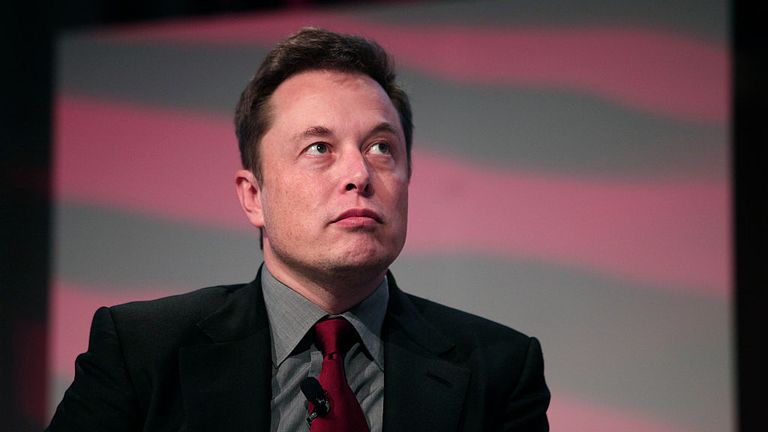 Short sellers are people who borrow and then sell stock, anticipating a decline in price when they will buy it back for less money – thus making a profit when the stock drops in value.
The Tesla chief executive jibed that he would "send some to the Shortseller Enrichment Commission to comfort them through these difficult times" and said they would cost $69.420.
The Securities and Exchange Commission is the US agency which regulates stock and options exchanges.
Musk has had numerous run-ins with the agency, including after tweeting that he was considering taking the electric car-maker private at a price of $420 a share – the number being a popular reference to cannabis consumption.
The SEC filed a lawsuit against Musk for this tweet – alleging it had amounted to securities fraud as the tweet sent Tesla's stock price up more than 7%, before plummeting more than 10% the day after the legal action was announced.
Musk settled this suit for a $20m fine and stepped down as the company's chairman.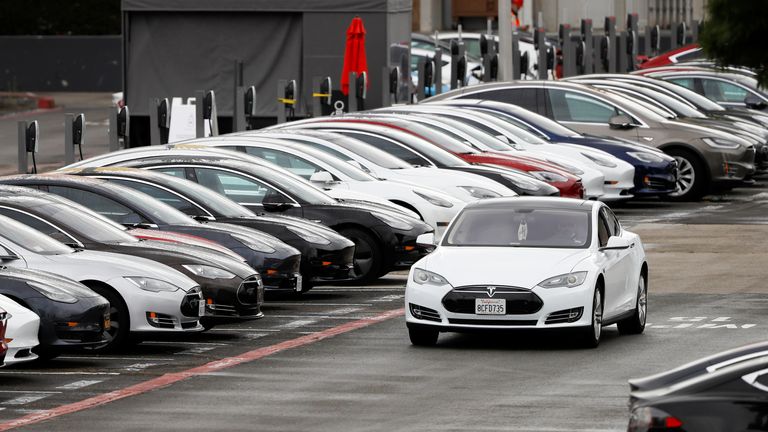 His comments follow a year of remarkable gains for Tesla, rocketing up from around $233 per share last July to more than $1,208 per share today, an increase fittingly of almost 420%.
The company has cut the prices of its electric vehicles by up to 6% in the US in a bid to bolster demand hit by the coronavirus lockdown.
In defiance of state orders issued to tackle the COVID-19 outbreak, Tesla's factory in Fremont, California resumed production back in May.
The weekend before reopening the factory, Musk threatened to move Tesla's HQ to Texas or Nevada.