Hong Kong: Violent clashes feared as China approves controversial bill | World News

China's parliament has approved a controversial security bill which could threaten Hong Kong's traditional freedoms.
Beijing says the legislation is aimed at tackling secession, subversion, terrorism and foreign interference.
But the move is expected to trigger violent clashes in the territory and reprisals from the United States.
Defying international pressure and amid fears it foreshadows Beijing's plans to strip more freedoms from the semi-autonomous city, China's National People's Congress passed the draft national security bill.
The vote overrides the authority of the territory's Legislative Council, where efforts to push the bill through had been thwarted by public opposition.
Chinese officials will now draft details of the new laws, which it is believed will ban sedition – actions that encourage dissent against China's authorities.
Riot police had been deployed across Hong in advance of the vote, after disorder on Wednesday that saw police firing pepper pellets at protesters and make 360 arrests.
Thousands of people have taken to the streets in anger over the bill, with demonstrators staying out late into the evening.
They were heard chanting for full democracy and for Hong Kong to seek independence from China, saying this is now "the only way out".
And it came against the backdrop of escalating threats from the Washington, where Secretary of State Mike Pompeo said Hong Kong no longer qualified for special treatment under US law, potentially dealing a devastatig blow to its status as a major financial hub.
He told Congress that China's plan to impose the new legislation was "only the latest in a series of actions that fundamentally undermine Hong Kong's autonomy and freedoms".
"No reasonable person can assert today that Hong Kong maintains a high degree of autonomy from China, given facts on the ground," he said.
Beijing had unveiled plans last week for national security legislation for Hong Kong that aims to tackle secession, subversion and terrorist activities.
It is expected to see Chinese intelligence agencies set up bases in the city that was supposed to have a high degree of autonomy under the terms of its 1997 handover to China by former colonial power Britain.
Chinese authorities and the Beijing-backed government in Hong Kong insisted there is no threat to the city's high degree of autonomy and the new security law would be tightly focused.
The US and China clashed over Hong Kong at the United Nations on Wednesday after Beijing opposed a request by Washington for the Security Council to meet for discussions about the national security legislation.
The US mission to the United Nations said the issue was "a matter of urgent global concern that implicates international peace and security", while China said the legislation was an internal matter.
The World Tomorrow: Tory election mastermind Sir Lynton Crosby attacks 'mob mentality' in media | World News
Conservative election strategist Sir Lynton Crosby has blamed the media for stoking up a "mob mentality" around issues such as Black Lives Matter, the #MeToo movement and even the Arab Spring.
In a rare podcast interview with Sky News, Sir Lynton – who masterminded many of the Conservative election victories in recent decades – warned the coverage of these matters "alienates many, many voters".
He also dismissed the fall in Tory opinion polls following the Dominic Cummings lockdown affair, saying it was another symptom of the same issue.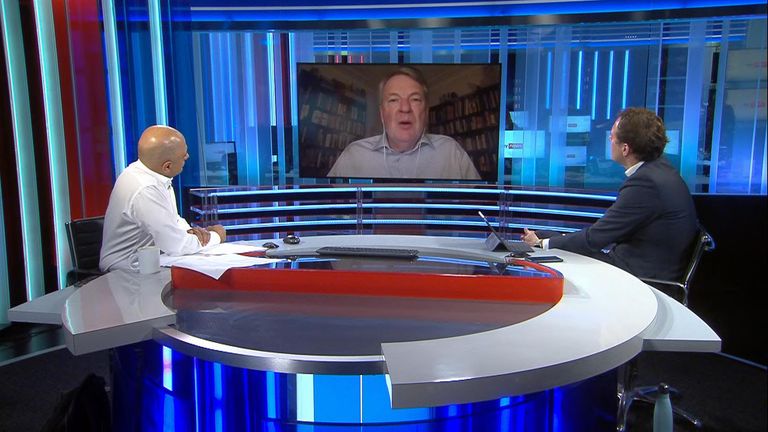 "I despair about the focus on public opinion polls – they're just pop quizzes," he said.
"They don't truly reflect underlying sentiment. You tend to get a period when there's a mob mentality in the media.
"One minute it might be what Dominic Cummings has done.
"The next, understandably something like Black Lives Matter, then before that we had the Arab Spring – where apparently the whole Middle East was going to change in four months… and things have gone pretty much back to the way they were – and the #MeToo movement and all of these things.
"I just think there's a tendency to grab issues and elevate the intensity of debate around them in a way that actually alienates many, many voters."
But Sir Lynton, who was talking to former chancellor Sajid Javid and Sky's economics editor Ed Conway in The World Tomorrow podcast, added that the Black Lives Matter movement could end up deciding the US election.
:: Listen to the The World Tomorrow on Apple podcasts, Spotify, and Spreaker
"One of the things that I think President Trump was counting on was suppressed black and minority, Hispanic and so forth, turnout," he said.
"The question now is, what does this focus on issues of race in America mean for the turnout of those groups at the next election?"
Sir Lynton said he expects the turnout to be higher than predicted, with many BAME people supporting Mr Trump's rival Joe Biden.
He believes the vote will be "incredibly close", and added: "I wouldn't call it either way to be honest."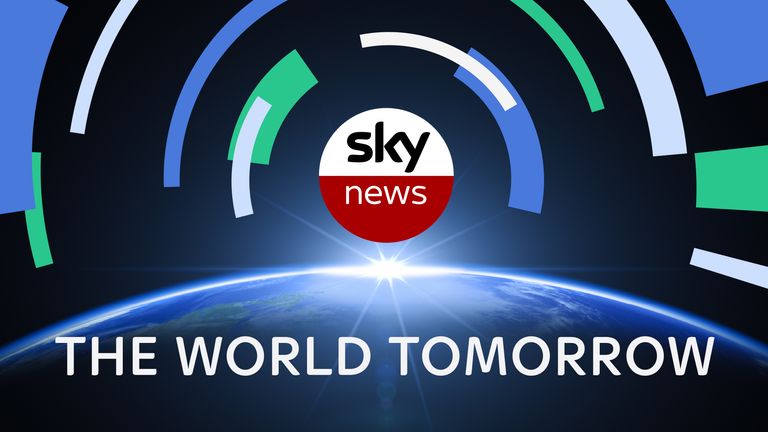 Turning his attention to the coronavirus pandemic, Sir Lynton said one consequence of COVID-19 was that businesses and households would be more keenly focused on existential questions than other issues which have until now dominated debate, such as the environment or equality.
"They're important issues," he said. "But now for some businesses they're important, but they're not immediate."
Sir Lynton said companies are currently focusing on "sheer survival", while many people have had to prioritise having a job and looking after their family.
As a result, he said, there may be a "stalling" on some other issues.
"David Cameron used to say you can't have a strong health system or a good education system if you don't have a strong economy," he said.
"Well, you can't have a company that focuses on the broader social issues… if it's not making a profit."
Sir Lynton said COVID-19 had changed the complexion of public opinion and politics – perhaps permanently – with people becoming far more focused on localism than globalism.
"Economic sovereignty is about the over-reliance on any one country or one company or one source of supply, the over-reliance on a particular country or region as a market, the resilience in our supply chains, the questioning of just-in-time manufacturing.
"I think going forward, you'll see a focus on economic sovereignty, ensuring supply chains, resilience, a focus on energy security, medical supplies, technology and financial security. I think across the world there will be a change."
Asked what that meant for future election campaigns, Sir Lynton said: "Fundamentally, people want elections to be about the future.
"The future is uncertain at present. So those who can help people think about the future and those who can demonstrate that they've got a clear plan for the future will get a better response from the voters."
China: Twenty-one dead and 15 injured after bus crashes into lake | World News

Twenty-one people have died after a bus plunged into a lake in China, state media has reported.
CCTV footage shows the vehicle suddenly cutting across six lanes of traffic in Anshun, Guizhou province, at around midday on Tuesday before crashing through a barrier and falling into Hongshan Lake.
At least 15 people were rescued from the vehicle in southwest China, which is believed to have been taking a group of secondary school students to their university entrance exams, the People's Daily newspaper reported.
Those who were rescued were taken to hospital to be treated for their injuries.
One student was among the dead and three others are thought to have been hurt, the paper said.
A large-scale rescue operation was launched to pull the vehicle from the water, but it is not yet clear what caused the crash.
Widespread flooding in China has left at least 119 people dead or missing in recent weeks.
In Wuhan, where the coronavirus pandemic began, 16.8in of rain fell on Sunday alone.
Jeffrey Epstein: Deutsche Bank agrees $150m compliance penalty | Business News
Regulators have agreed penalties totalling $150m (£119m) with Deutsche Bank for alleged compliance failures in its dealings with the disgraced financier Jeffrey Epstein and two other banks.
The New York State Department of Financial Services (DFS) said the settlement amounted to the first enforcement action against a financial institution for its actions relating to Epstein's financial dealings.
It detailed "hundreds" of transactions made by the billionaire – handled by the German bank between 2013 and 2018 – before he took his own life in a New York jail last summer while awaiting trial on sex-trafficking charges.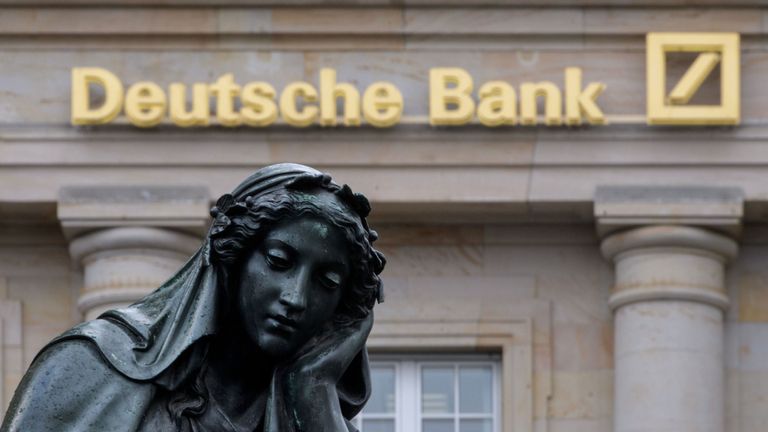 The DFS said they included payments to individuals who were publicly alleged to have been Epstein's co-conspirators in sexually abusing young women, settlements of over $7m in total and also payments to Russian models.
"The bank failed to properly monitor account activity conducted on behalf of the registered sex offender despite ample information that was publicly available concerning the circumstances surrounding Mr Epstein's earlier criminal misconduct," the statement said.
The DFS described Deutsche's failures in relation to Epstein as "substantive".
Its penalty also related to the bank's handling of Danske Bank Estonia, which is embroiled in a money laundering scandal, and Federal Bank of the Middle East.
Deutsche failed to properly monitor their correspondent and dollar clearing businesses, the regulator said.
The bank has yet to make a public statement in relation to the settlement but it did release an internal memo to staff by chief executive Christian Sewing that addressed the issues.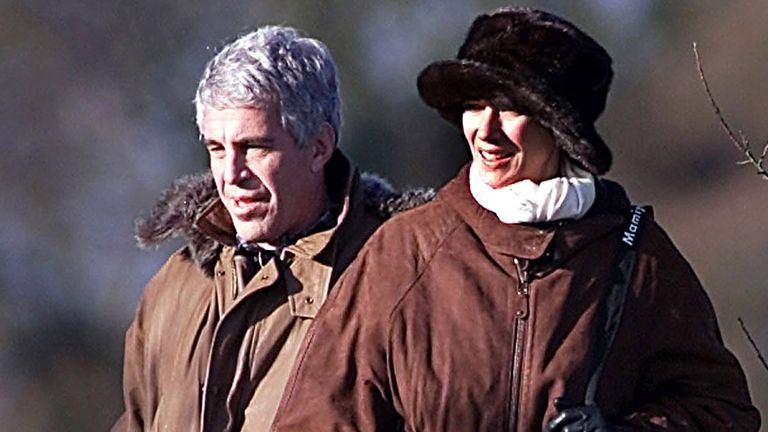 He told the bank's workers it was a "critical mistake" to have taken Epstein as a client in 2013.
"We all have to help ensure that this kind of thing does not happen again," he was quoted as saying.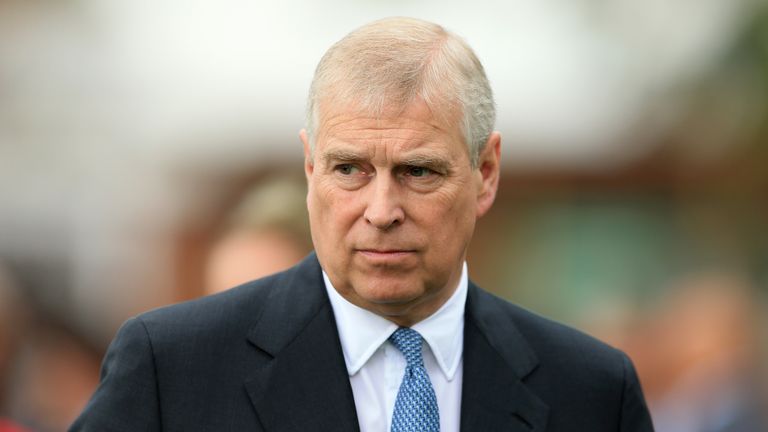 The fallout from Epstein's death has prompted a separate, criminal investigation by the FBI into an alleged network of abuse that culminated in his former girlfriend Ghislaine Maxwell being charged with aiding Epstein in trafficking young girls for sex.
Prince Andrew, who was introduced to the financier by Ms Maxwell, is being urged to talk to the US authorities and his representatives say he has repeatedly offered to do so.
He has strongly denied any suggestion of involvement in sexual abuse.