Coronavirus will 'delete Yemen from maps all over the world' | World News
The impact of coronavirus on Yemen will be devastating after years of civil war, the head of the United Nations Refugee Agency in the country has told Sky News.
Speaking from the Yemeni capital, Sana'a, Jean-Nicolas Beuze said the number of suspected COVID-19 cases in the country appears to be multiplying fast and, at the same time, international aid agencies are being forced to abandon critical programmes.
"The coronavirus may be the straw which will break the camel's back in Yemen," Mr Beuze said via video link.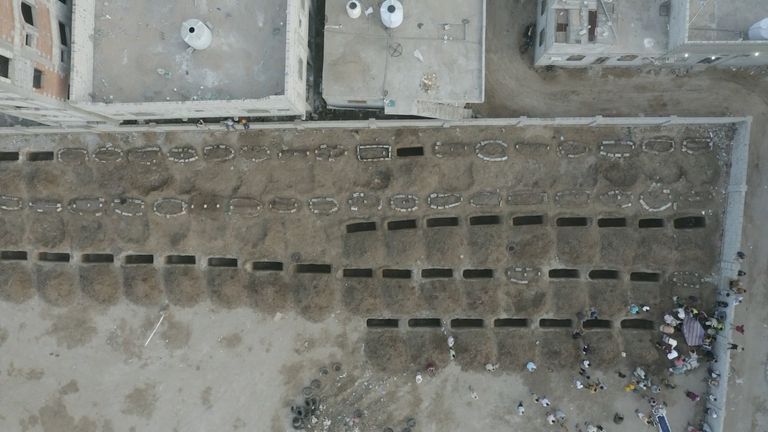 "It's very difficult for the public health authorities despite all their efforts to track the spread of the coronavirus. We don't have enough tests.
"Half of the health facilities have been destroyed by five years of conflict. People die from many other causes too such as dengue fever, malaria, cholera."
The UN warning comes as Sky News has filmed footage in the southern city of Aden showing line upon line of graves as authorities cope with the growing number of dead.
Numerous diseases are already endemic in Yemen and years of civil war has displaced millions.
More than 24 million Yemenis – 80% of the population – are in need of humanitarian assistance. Half of the country's health facilities are dysfunctional and nearly a quarter of the country's districts have no doctors.
"We know that the immunity among the population is very low. We are speaking here about people who maybe eat once a day. We are speaking about children who have not been vaccinated," Mr Bouze said.
"We are speaking about people who have fled their homes because their homes were shelled or bombed and therefore do not have any livelihood."
Critically though, he said that just at the time when urgent extra aid is needed, squeezed donor countries are cutting their funding.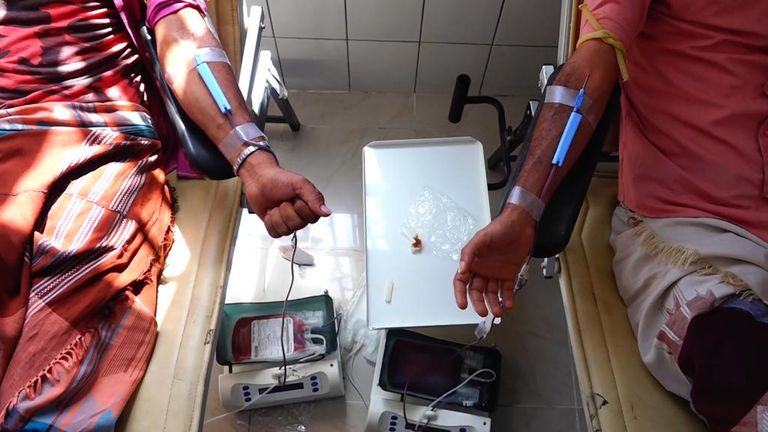 "All the humanitarian partners here… are missing critical funding. The UNHCR will be closing, in a few days, a number of lifeline programmes. So we will be leaving 3.6 million internally displaced and 280,000 refugees without any form of assistance. It's a life and death situation for them."
Global coronavirus restrictions prevent us from travelling to Yemen to see the situation first-hand. But relying on a network of local cameramen and testimony from both local and international aid agencies, Sky News has built up a picture of the situation.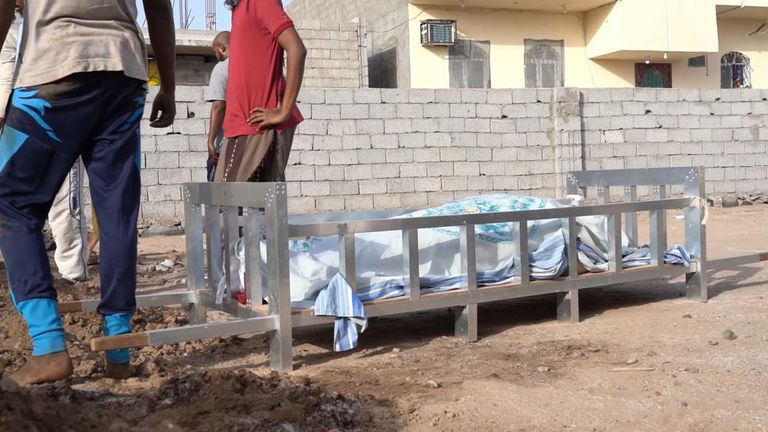 In the southern city of Aden, the crisis is clear at the Radhwan cemetery. Our cameraman filmed as graves were dug and bodies lowered into them.
In the past week alone, in this one city, about 500 people have died with corona-like symptoms according to the city registrar. It is a figure which represents a significant spike.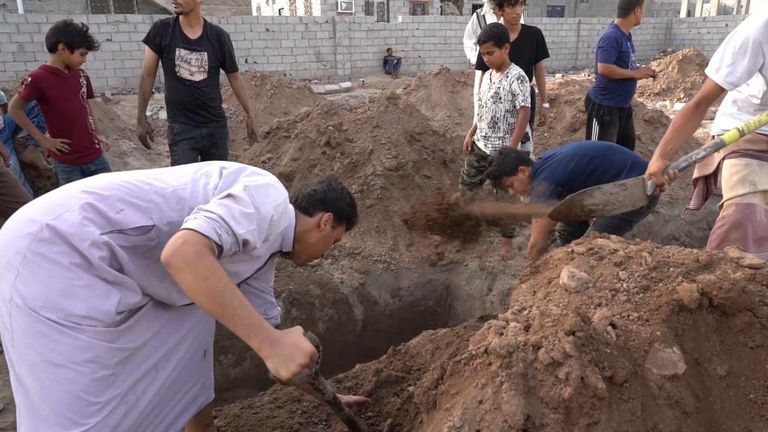 The numbers and causes of death cannot be accurate in this chaotic place, but it is clear that in a little over two weeks Yemen has gone from no cases to many hundreds.
"Nobody knows what the disease is exactly," Fadhl Qaed Ahmed, who manages the cemetery, told us.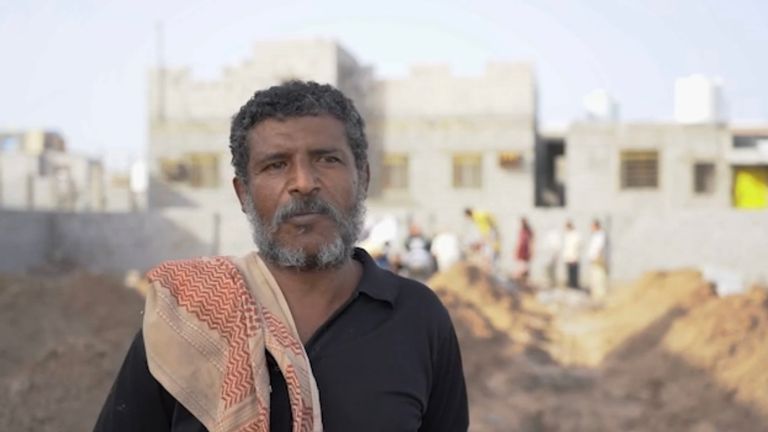 "They sometimes say it's the plague, other times chikungunya or malaria. We don't know what the reality is and there are no specialists to confirm what disease exists," he said.
In anticipation of the days ahead, empty holes line the cemetery with cleared land beyond.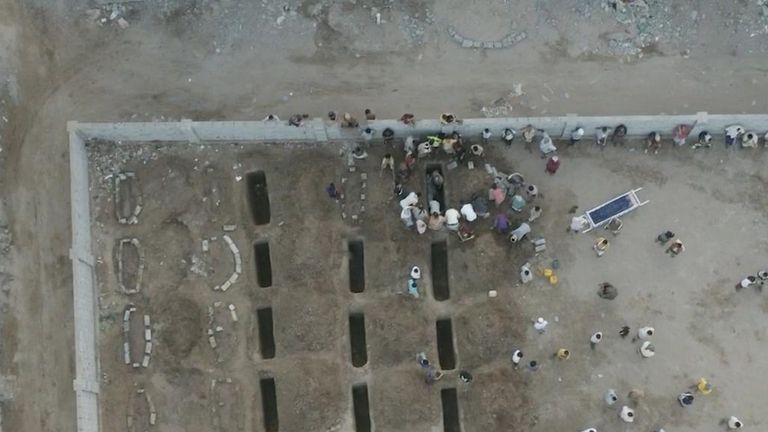 "Here we see a funeral coming our way. This is the fifth funeral this afternoon, while we've buried seven bodies this morning," he added.
There is a hopelessness about it all too. Of the scores of people helping to deliver the bodies to the graveyard and to bury them, not one is wearing any protective clothing or a mask.
Aden is the interim seat of the Saudi-backed government in Yemen. It was removed from the country's capital Sana'a in 2014 by the Iranian-backed Houthi rebel group who now control the north.
This past week, the government's coronavirus committee declared Aden an "infested city" because of the prevalence of the virus on top of existing diseases.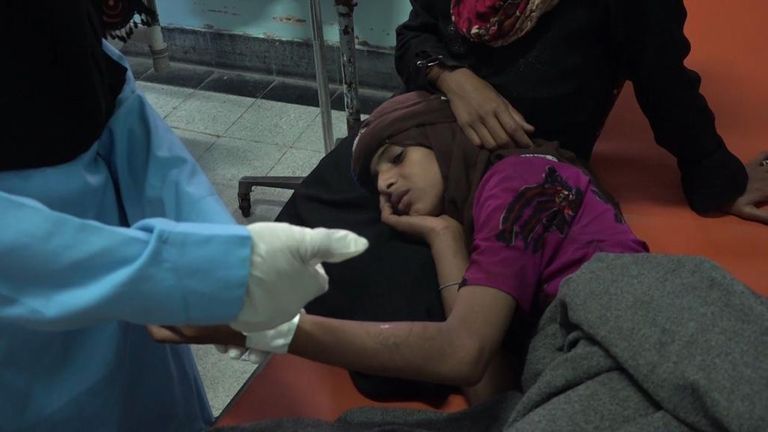 The roads out of Aden tell the story of this country. Each of the destroyed houses represents a family either dead or displaced. The United Nations (UN) estimates that the conflict has killed more than 100,000 people.
Millions of survivors are living in camps where the UN refugee agency has warned they will soon lose their aid and support.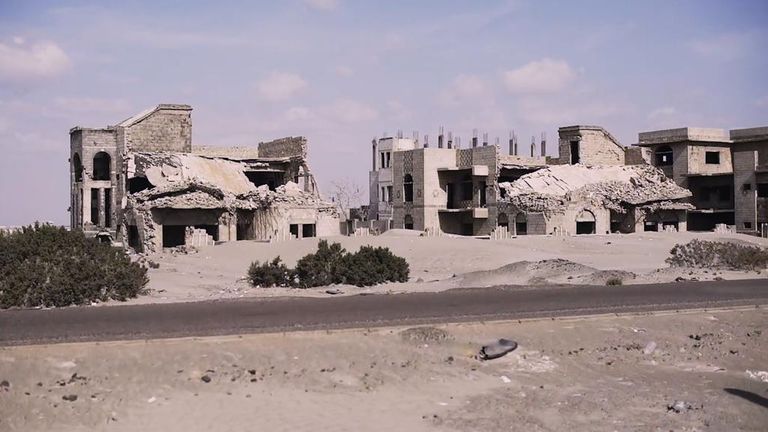 The presence of coronavirus in Yemen and the impact the virus is having on the economies of wealthy donor countries is a devastating dual blow.
Around 120 miles north-west of Aden is Taiz.
Yemen's third largest city, once its capital of culture, it is now a front line in this long war. The city is divided between the warring factions.
An unofficial ceasefire in April, called because of coronavirus, is holding for now. But the city is battered after years of being the dividing point in this conflict.
At the hospital's isolation centre, our cameras filmed blood tests taking place on very frail patients.
They test for cholera, dengue fever, chikungunya and malaria. It is the rainy season now, and with that, in a country like this, all these diseases thrive.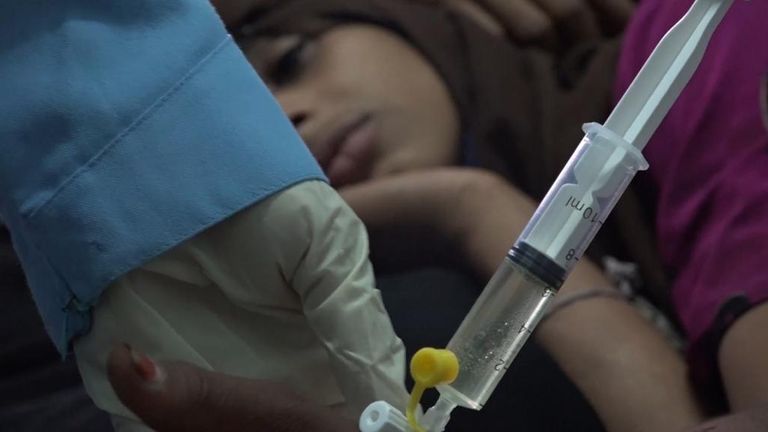 Further north, Sana'a, in the northern mountains, is the heartland of the Houthi rebels.
As part of our effort to gather material and insight from across the country, a month ago we spoke to Dr Hamdan Bajary, the head of the Intensive Care Unit (ICU) at Sana'a's Al-Thawrah General Medical Hospital.
It was a few weeks before there had been any confirmed cases of COVID-19. Yet he warned of the dangers ahead.
"How we can face this struggle I don't know. We haven't any facilities. We haven't any material totally sufficient to face this struggle, to face this disaster. We haven't. Just this," he said, pointing to a couple of sterilisation units.
"All ICUs are overcrowded with patients and we haven't sufficient mechanical ventilation. Even Italian people can't face this struggle. It's a big disaster," Dr Bajary said.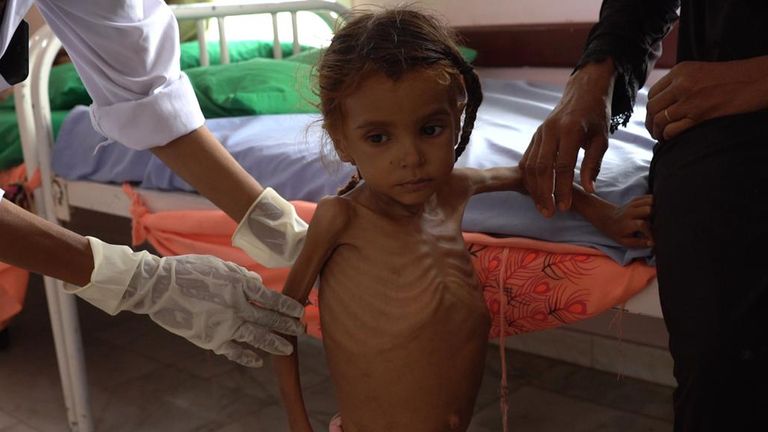 Since we filmed that interview, it is no longer possible to access the hospital. The authorities in control in the north will not allow it.
But Sky News has spoken to a number of well-placed contacts inside the country who say the Houthi authorities are failing to disclose the true number of cases.
Intensive care units are overwhelmed and the mortality rate in ICUs, we are told, is near 100%.
Many people are not even making it to the hospitals with reports of many dying at home and some collapsing as they reach help.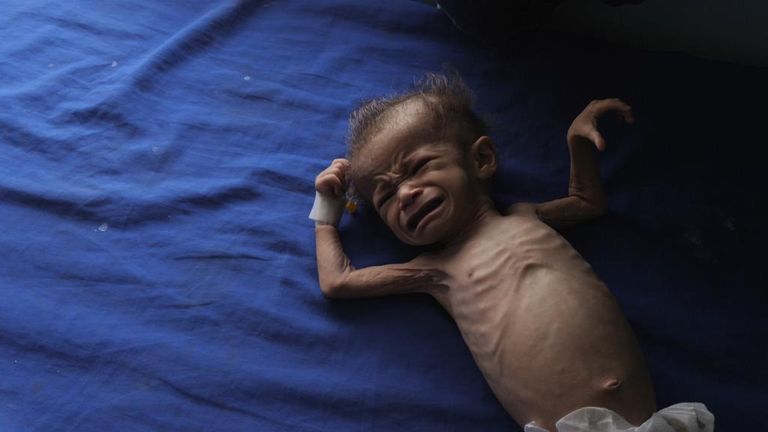 Yet even in this hopelessness, or maybe because of it, we found remarkable ingenuity.
To the west of Sana'a, the hospital in the city of Hajjah supports the whole of Hajjah governorate – an area of four thousand square miles of mountains and coastline. It is the region where poverty and malnutrition are at their most acute.
In a dusty room in the back of the hospital we discovered Luai Taha al Mahbashi, a medical engineer with a vital skill.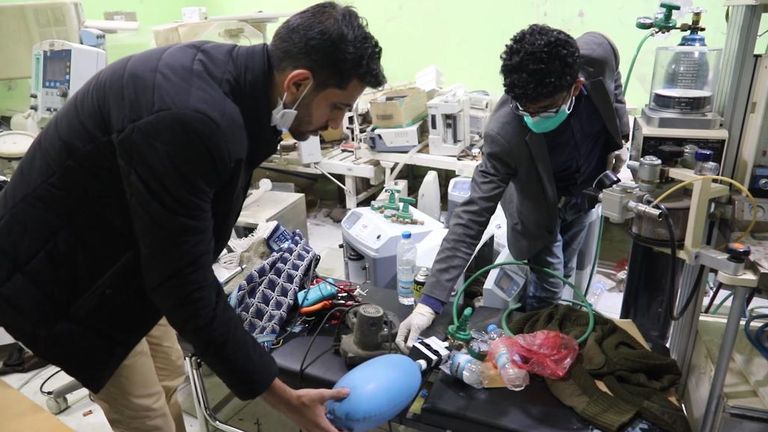 He explained how he was recycling endless bits of medical equipment and repurposing them into lifesaving devices.
Using a blueprint from the internet and inspiration from a UK-based company, he has created his own makeshift CPAP machines – devices that have saved so many lives globally.
And at his desk, he showed us how he is creating an infrared thermal scanner.
"This sensor is going to read the temperature of the human, the patient.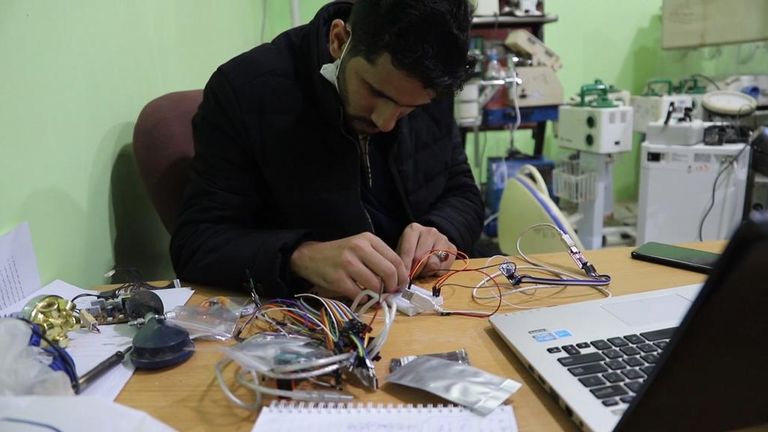 "Actually there is a shortage of the infrared thermal image also in Yemen. It's difficult to import these devices and right now it's so expensive. So I decided to make the infrared thermal image locally with the pieces you can find in our local market."
But he ended with his fears if the world doesn't help.
"It's going to be a really big disaster for my country. Yemen is going to be deleted from maps all over the world. The situation is really dangerous."
NZ limits international arrivals to stop quarantine system being overwhelmed | World News
New Zealand has joined the Australian state of New South Wales in limiting the number of international passengers arriving at its airports.
The move is due to concern about the availability of hotel quarantine places, as more New Zealanders and Australians return home amid the coronavirus pandemic.
Both countries are only open to citizens, residents and their families, and all arrivals must spend 14 days in isolation or quarantine – depending on whether or not they have COVID-19 symptoms – at a government-chosen hotel.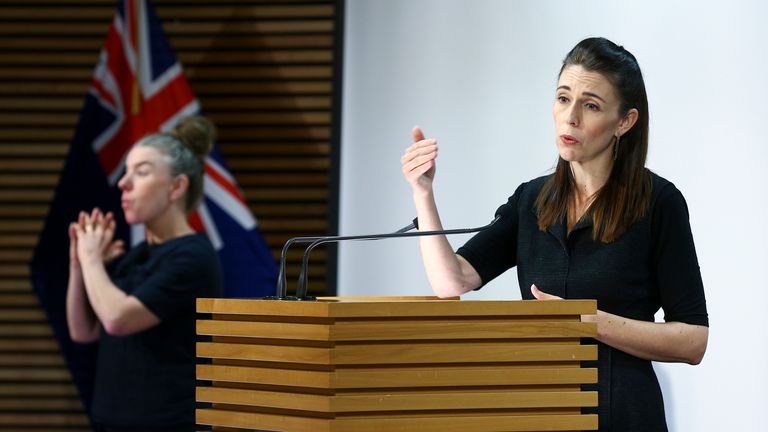 Sydney Airport in Australia said late last week that it was limiting the number of arriving passengers to 450 per day.
That move came amid growing pressure on quarantine facilities, made worse by Melbourne's temporary ban on international arrivals as it struggles to contain a resurgence of the virus there.
On Tuesday, New Zealand's government said it had asked Air New Zealand and Singapore Airlines to "manage" international bookings for the next three weeks to make sure quarantine facilities were not overwhelmed.
Prime Minister Jacinda Ardern said: "We have people showing up at airports, and by the time they close the doors that's when we'll get a heads-up that we have an extra 100 people coming than we had planned for."
Air New Zealand said it was not allowing any new bookings for the three-week period and that flights already booked could be subject to change.
Singapore Airlines spokesman Karl Schubert said they were monitoring passenger numbers and would make adjustments "to ensure we do not contribute to an overwhelming of facilities".
:: Listen to the Daily podcast on Apple Podcasts, Google Podcasts, Spotify, Spreaker
According to the Board of Airline Representatives NZ, the country sees 40 international flights per week – three-quarters of them by Air New Zealand – a big drop from more than 800 per week before the coronavirus.
New Zealand closed its borders to tourists and brought in a strict quarantine system early in the pandemic and that system is one of the main reasons for its relative success: the country has seen just 22 deaths and around 1,500 cases of the disease.
For many days the country was COVID-free but cases have started to emerge among international arrivals – 62 cases have been discovered at the border and the 22 that remain active are the only cases in the country. There is no community transmission.
But that success – as well as many New Zealanders overseas suffering job losses due to the pandemic – has seen a surge in the number of citizens wanting to return home.
New Zealand's health minister, Chris Hipkins, said on Tuesday that there were 6,378 beds in the country's 28 facilities and 5,787 were occupied. Another 750 places will be added in the coming weeks.
The taxpayer-funded quarantine system is also expensive – it is estimated at around $3,800 (£1,985) per person, and the government had said it expected the cost to reach $81m (£42m) by the end of June.
There have been calls to make New Zealanders pay for their quarantine costs and some have even called for them to be prevented from returning home completely, although the latter is an idea the government has repeatedly refused.
UK to resume arms sales to Saudi Arabia following government review | Politics News
The UK government will resume arms sales to Saudi Arabia after a High Court ruling put a temporary suspension on exports last year.
An internal government review into the use of weapons by Saudi Arabia in Yemen has concluded that breaches of international humanitarian law (IHL) were just "isolated incidents".
The move was quietly announced in a written statement to parliament by International Trade Secretary Liz Truss.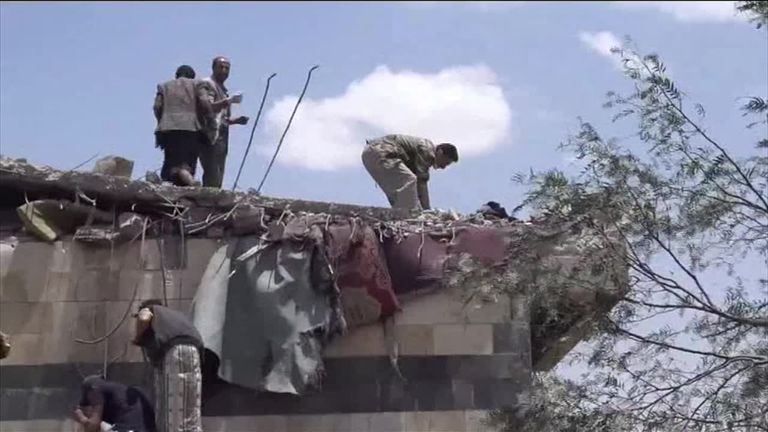 It came less than 24 hours after the government announced human rights sanctions against 20 senior Saudi regime officials for having "blood on their hands".
"I have assessed that there is not a clear risk that the export of arms and military equipment to Saudi Arabia might be used in the commission of a serious violation of IHL," Ms Truss said in the statement.
"The government will now begin the process of clearing the backlog of licence applications for Saudi Arabia and its coalition partners that has built up since 20 June last year."
The UK is one of the biggest arms suppliers to Saudi Arabia and has sold in excess of £5bn of weapons to the kingdom since the bombing of Yemen started in 2015.
The news was quickly condemned by opposition MPs.
Green Party MP Caroline Lucas said she was "lost for words".
"How the foreign secretary can say on one day that the UK will act as a force for good in the world, standing up for human rights, and then on the next, agree to this moral outrage, is just unbelievable," she said.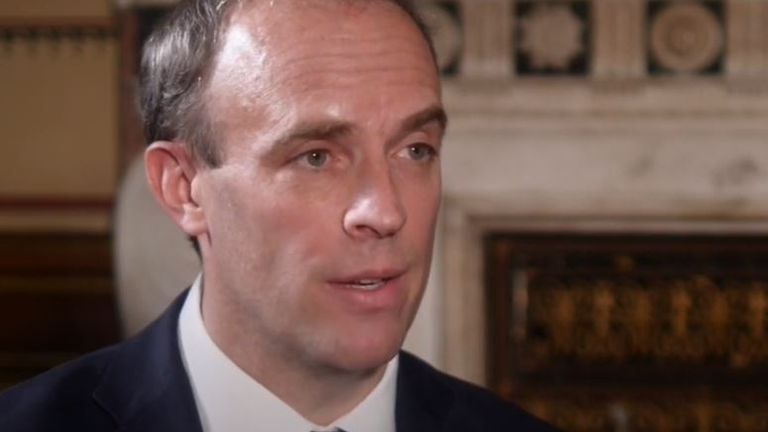 Listen to the Daily podcast on Apple Podcasts, Google Podcasts, Spotify, Spreaker
Andrew Smith, from Campaign Against the Arms Trade, said they were considering legal action.
"This is a disgraceful and morally bankrupt decision," he said.
"The Saudi-led bombardment of Yemen has created the world's worst humanitarian crisis, and the government itself admits that UK-made arms have played a central role on the bombing."
Last week, the UN's under Secretary General for Humanitarian Affairs told Sky News that Yemen was facing "the darkest moment I have ever seen."
Two million children under the age of five in Yemen are believed to be malnourished. Of them, about 325,000 have severe, acute malnutrition.
The World Tomorrow: Tory election mastermind Sir Lynton Crosby attacks 'mob mentality' in media | World News
Conservative election strategist Sir Lynton Crosby has blamed the media for stoking up a "mob mentality" around issues such as Black Lives Matter, the #MeToo movement and even the Arab Spring.
In a rare podcast interview with Sky News, Sir Lynton – who masterminded many of the Conservative election victories in recent decades – warned the coverage of these matters "alienates many, many voters".
He also dismissed the fall in Tory opinion polls following the Dominic Cummings lockdown affair, saying it was another symptom of the same issue.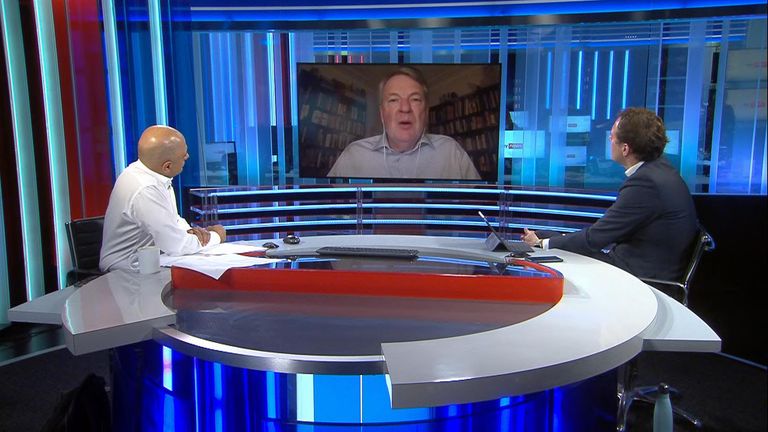 "I despair about the focus on public opinion polls – they're just pop quizzes," he said.
"They don't truly reflect underlying sentiment. You tend to get a period when there's a mob mentality in the media.
"One minute it might be what Dominic Cummings has done.
"The next, understandably something like Black Lives Matter, then before that we had the Arab Spring – where apparently the whole Middle East was going to change in four months… and things have gone pretty much back to the way they were – and the #MeToo movement and all of these things.
"I just think there's a tendency to grab issues and elevate the intensity of debate around them in a way that actually alienates many, many voters."
But Sir Lynton, who was talking to former chancellor Sajid Javid and Sky's economics editor Ed Conway in The World Tomorrow podcast, added that the Black Lives Matter movement could end up deciding the US election.
:: Listen to the The World Tomorrow on Apple podcasts, Spotify, and Spreaker
"One of the things that I think President Trump was counting on was suppressed black and minority, Hispanic and so forth, turnout," he said.
"The question now is, what does this focus on issues of race in America mean for the turnout of those groups at the next election?"
Sir Lynton said he expects the turnout to be higher than predicted, with many BAME people supporting Mr Trump's rival Joe Biden.
He believes the vote will be "incredibly close", and added: "I wouldn't call it either way to be honest."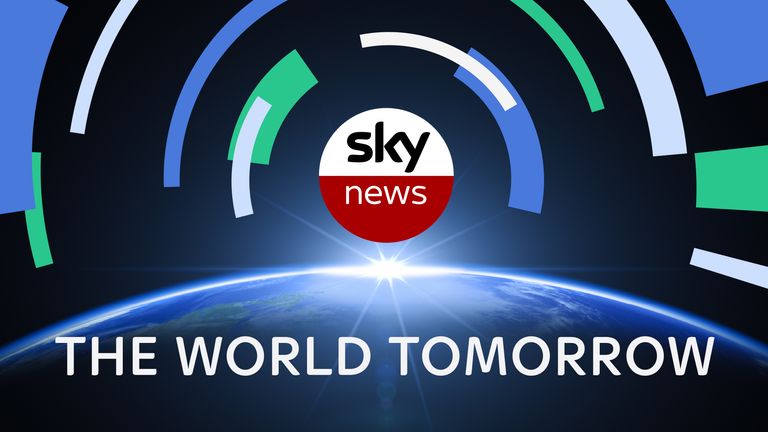 Turning his attention to the coronavirus pandemic, Sir Lynton said one consequence of COVID-19 was that businesses and households would be more keenly focused on existential questions than other issues which have until now dominated debate, such as the environment or equality.
"They're important issues," he said. "But now for some businesses they're important, but they're not immediate."
Sir Lynton said companies are currently focusing on "sheer survival", while many people have had to prioritise having a job and looking after their family.
As a result, he said, there may be a "stalling" on some other issues.
"David Cameron used to say you can't have a strong health system or a good education system if you don't have a strong economy," he said.
"Well, you can't have a company that focuses on the broader social issues… if it's not making a profit."
Sir Lynton said COVID-19 had changed the complexion of public opinion and politics – perhaps permanently – with people becoming far more focused on localism than globalism.
"Economic sovereignty is about the over-reliance on any one country or one company or one source of supply, the over-reliance on a particular country or region as a market, the resilience in our supply chains, the questioning of just-in-time manufacturing.
"I think going forward, you'll see a focus on economic sovereignty, ensuring supply chains, resilience, a focus on energy security, medical supplies, technology and financial security. I think across the world there will be a change."
Asked what that meant for future election campaigns, Sir Lynton said: "Fundamentally, people want elections to be about the future.
"The future is uncertain at present. So those who can help people think about the future and those who can demonstrate that they've got a clear plan for the future will get a better response from the voters."