Coronavirus: The funeral home overwhelmed by New York's conveyor belt of death | US News
The phone doesn't stop ringing at the Gerard J Nuefeld funeral home in New York City.
Those who turn up at the door look bewildered and deeply anxious. Robert Lugo arrives sobbing into his protective mask.
He, like so many you see in this neighbourhood, is wearing gloves.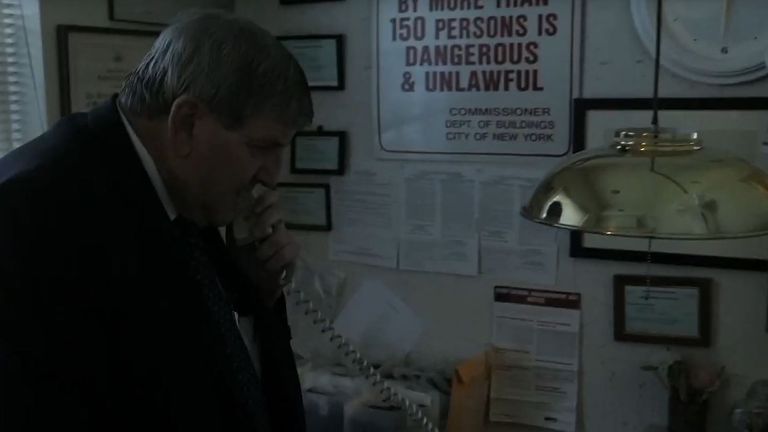 Robert is visibly shaken and it turns out his loss is especially raw. His grandmother, Ana Diaz, died last night at Elmhurst Hospital.
The hospital is at the centre of the COVID-19 outbreak. Staff there are exhausted dealing with the surge in patients, and protective equipment is in desperately short supply. One doctor described the situation as apocalyptic.
Robert breaks down as he tells me that this grandmother – "the glue" in his family – died without any family by her side.
It is an unfathomable burden for him to bear, and sadly, it is one so many are now forced to endure.
"My grandmother died alone," he tells me, his voice breaking. "We didn't even see her and couldn't touch or talk to her. We couldn't give her that boost of morale to say, hey, you know, you got to come out of this. We need you to come out of this. There was nothing."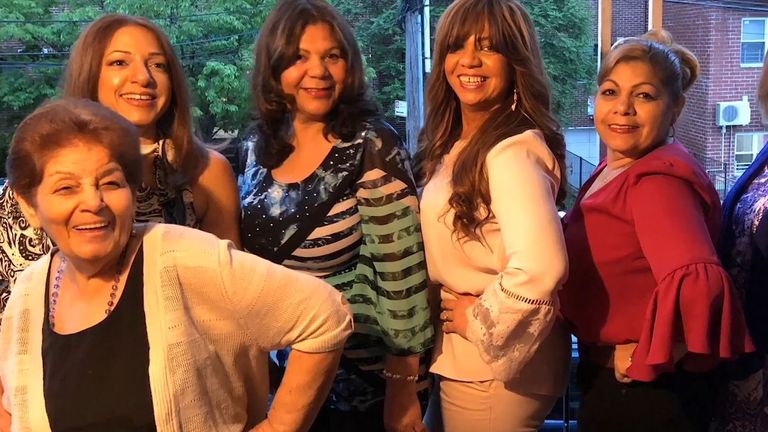 Little over a week ago, his family were all together celebrating her 80th birthday.
"She embraced every life she touched," Robert says.
Now, half of her family have tested positive. They're not only deprived of the chance to grieve her passing, but they're isolated and struggling with their own symptoms too.
Joe Nuefeld Jr is working all hours alongside his father, trying to offer dignity to the dead and support their distraught families.
"The crematoriums really aren't letting anybody in," he tells me. "The cemeteries are, for the most part, telling people to stay in their cars and just watch the burial from the gravesite."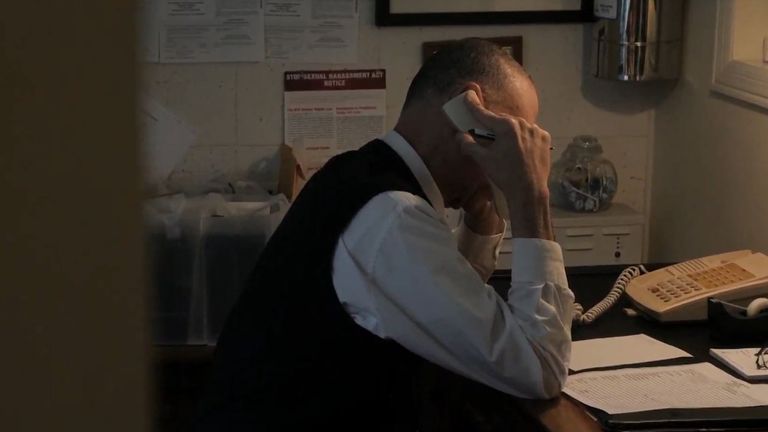 He drives us to St Michael's Crematorium.
A family that is following him in a car behind have turned up hoping they can get in, but they're not even allowed through the gates.
Instead, they're forced to hand over their candle to Joe so he can place it next to the coffin. He clutches it protectively in his hands as he drives through the grounds – conscious of how fleeting it feels for the relatives watching on.
"Sometimes when it's so brief, it almost leaves them still feeling hollow," Joe says. "Like, you know, what just happened? They don't have enough time to process it. It's heartbreaking. It's really sad."
Back at the funeral home, his father Joseph Sr says their work has been non-stop for a fortnight.
"It just got crazy… people are unfortunately passing away in big numbers," he said.
"Because they live in this area and I'm the only funeral home left in this area, they're coming to me.
"I'm trying to accommodate them as best I can… I think we had about 12 services scheduled. And shortly after I left the office, within two hours, I had three more services. And then this morning, as soon as we came in, we put on three or four more services."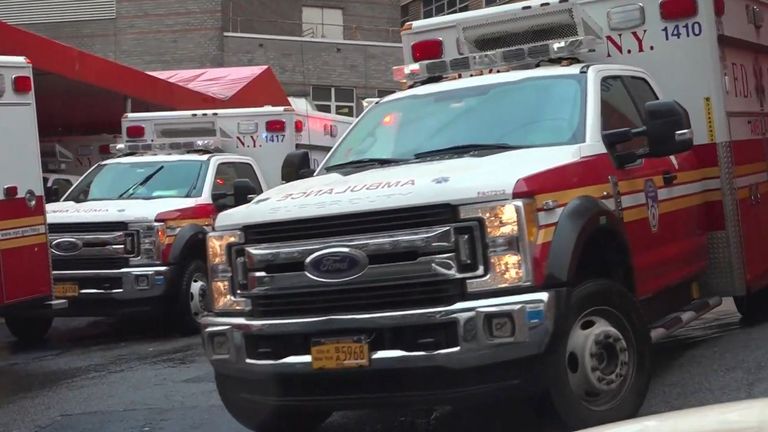 I'm struck by just how stressful their job has become. This is a father and son who take pride and comfort in accommodating the many ceremonies and rituals this diverse neighbourhood desires.
There are more than 100 nationalities in the area – many who traditionally hold large gatherings to say goodbye to their relatives.
Joe Sr says they are trying to let individuals briefly see the caskets before they take them away, but they know they have to closely monitor numbers.
The father and son wear protective clothing where embalming the bodies. But like all undertakers, they are vulnerable to infected bodies.
Nonetheless, they are desperately determined to help a community that's coming to terms with being separated at the most demanding of moments – a surreal and cruel consequence of this pandemic. Watching them work is both humbling and exhausting.
With the predicted peak of this virus two weeks away, their days aren't getting any shorter.
Brutal alleged murder of girl, 14, by father may lead to law change in Iran | World News

The brutal alleged murder of a 14-year-old girl at the hands of her father has led to a call from Iran's president to speed up laws punishing so-called honour killings. 
Romina Ashrafi, from the Iranian town of Talesh, was reportedly beheaded while sleeping by her father Reza Ashrafi, who is accused of using a farming sickle to kill her.
He is believed to have murdered Romina after she eloped with her 34-year-old boyfriend.
Girls can legally marry from the age of 13 in Iran, but the average age of marriage is 23, and it is unheard of in rural areas for teenage girls to run away from home to be with their boyfriend.
Five days after the couple ran away, Romina was found and taken to the police, who she reportedly warned of her concern that her father may be violent.
Ashrafi then took his daughter back to the family home, where he is alleged to have killed her.
He faces up to 10 years in prison if convicted.
The case has caused outrage across Iran and has prompted President Hassan Rouhani to call on his cabinet to accelerate the adoption of relevant bills regarding such killings.
The number of similar incidents in Iran is not known.
Iran's justice department said the case will be tried in a special court.
Essex lorry deaths: 26 arrested in France and Belgium | UK News

Twenty-six people have been arrested in France and Belgium in connection with the deaths of 39 Vietnamese migrants found in the back of a lorry in Essex last year.
The dead, including two 15-year-old boys, were found on an industrial estate about 20 miles east of London in October 2019.
The latest arrests were made on Wednesday after early-morning raids in France and Belgium as a result of a cross-border investigation supported by Eurojust, the EU's agency for criminal justice cooperation, and Europol, the EU crime agency
The individuals are suspected to be members of a major migrant smuggling group, which transported mainly Asian refugees, particularly from Vietnam.
The suspects likely transported up to several dozen people every day for several months, Eurojust said in a statement.
In Belgium, 13 people were arrested after 16 house searches were carried out in Brussels, while a further 13 people were arrested in Paris, France.
Three vehicles were also seized, along with cash and electronic equipment.
A total of 21 irregular migrants were also found and put to safety, Europol said.
The investigation was prompted after emergency services discovered the bodies of the Vietnamese nationals at an industrial estate in Grays, Essex, shortly after the lorry arrived on a ferry from Zeebrugge in Belgium in the early hours of October 23 last year.
Among those found were 10 teenagers, including two 15-year-old boys.
A joint investigation team (JIT) was subsequently created between Belgium, Ireland, France, the UK and Eurojust and Europol.
Europol said in a statement: "The criminal organisation is suspected of facilitating the transit of mainly Vietnamese irregular migrants through Belgium and France towards the United Kingdom.
"The suspects are believed to have hidden their victims before routing them towards their final destination across the English Channel.
"It is likely that the network has transported up to several dozen people every day for several months."
It added that the criminal activities were particularly dangerous due to the "life-threatening" conditions of transportation.
Trump offers to help India and China as border dispute 'rages' | World News
China and India are engaged in a military stand-off along the Himalayan border amid fresh tensions between the two nuclear powers.
As China consolidates its grip over Hong Kong with plans for enacting a draconian security law, it has opened a new front with aggressive moves on its borders with India.
A military stand-off in the Himalayas has been brewing for weeks amid the COVID-19 crisis.
Soldiers from both armies are reported to have had acrimonious exchanges and there are reports of some Indian soldiers being detained, which the Indian military has denied.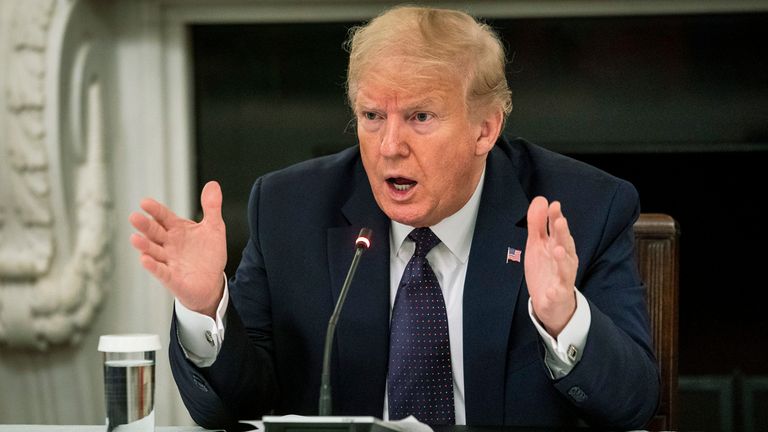 Chinese soldiers have reportedly crossed into Indian territory at five points along the Galwan river valley, the Pangong lake sector and Damchok in the Ladakh region.
China has amassed thousands of soldiers along the de-facto border, the Line of Actual Control (LAC), in Eastern Ladakh, the reports claim.
Six rounds of talks between Chinese and Indian officials have had no breakthrough so far.
President Donald Trump has tweeted the US is ready to mediate.
He wrote: "We have informed both India and China that the United States is ready, willing and able to mediate or arbitrate their now raging border dispute. Thank you!"
India's Prime Minister Narendra Modi discussed the situation in Eastern Ladakh this week with his national security adviser, chief of defence staff and heads of the country's three services.
The scale of the intrusions prompted the Indian army chief, General MM Naravane, to visit the XIV Corps Headquarters in Leh on Friday to review the situation.
India has also bolstered its defences with more soldiers and equipment in the area, while increasing its presence in the border regions of Sikkim, Uttrakhand and Arunachal Pradesh.
Defence analyst Ajay Shukla said: "The Chinese have violated their own claim line by attempting to push their frontier further west into Indian territory.
"In the 1962 Sino-India war they captured the Galwan valley after killing 36 Indian soldiers and claimed an additional 2000sq km (3,128sq m) of Ladakh. Now they are occupying territory which Beijing has traditionally acknowledged to be Indian."
Satellite images show camps that could be occupied by the People's Liberation Army (PLA) – the separatist group fighting for an independent state of Manipur – just 300 metres from the LAC.
Another shows construction work at the high-altitude Ngari Gunsa airport base in Tibet, around 125 miles from the border, as well as Chinese fighter jets on its tarmac.
On Tuesday at the annual meeting of China's legislature the National People's Congress, President Xi Jinping, who is also chairman of the Central Military Commission, addressed representatives of the PLA.
He told them: "The military should scale up training and battle preparedness and to think of the worst-case scenarios.
"It should effectively deal with all sorts of complex situations and resolutely safeguard national sovereignty, security and development interests."
Indian foreign ministry spokesman Anurag Srivastava said: "The two sides have established mechanisms to resolve such situations peacefully through dialogue. Both sides remain engaged with each other to address any immediate issues."
The Chinese government has not yet released a statement on the issue.
A similar stand-off between the two powers took place in June 2017 at the trijunction border at Doklam, which took two months to resolve.
India and China have long-running disputes over both the uninhabited region of Aksai Chin and Arunachal Pradesh, which has 1.4 million residents.