Coronavirus: Lockdown triggers desperate scramble as Indians walk hundreds of miles | World News
Thousands of migrant workers in India descended on state borders and bus stations as they tried to get back to their rural eastern villages during the country's three-week coronavirus lockdown.
Some walked for hundreds of miles in prosperous western areas including Gujarat, Punjab, Haryana and Delhi as there was no public transport available to them.
Prime Minister Narendra Modi has apologised for imposing the national COVID-19 lockdown, admitting it was harsh, especially for poor people, but was needed to beat the pandemic.
The restrictions, brought in on Wednesday, are meant to prevent the virus spreading and overwhelming India's already strained healthcare system.
But migrant workers have been forced to leave where they live as they are unable to pay their rent, and state borders have been sealed as the nation faces one of the gravest challenges of the outbreak.
Driving from Delhi towards its eastern border of Ghazipur, I came across hundreds of men with backpacks, sacks and bags walking in the heat. There were also women and children but it was overwhelmingly young men.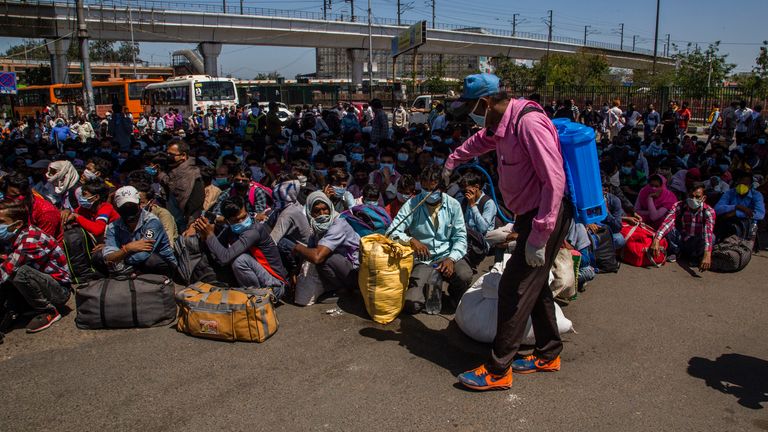 These were poor migrant workers, daily wage earners, and contract workers who have been left outside due to the lockdown. This informal sector forms almost 80% of India's workforce.
Though the central and state governments have announced relief packages, free food and shelter for the migrants, they were in no mood to listen to anyone.
At the border they were made to sit beside the road as Delhi's eastern neighbour, the state of Uttar Pradesh, had sealed its borders.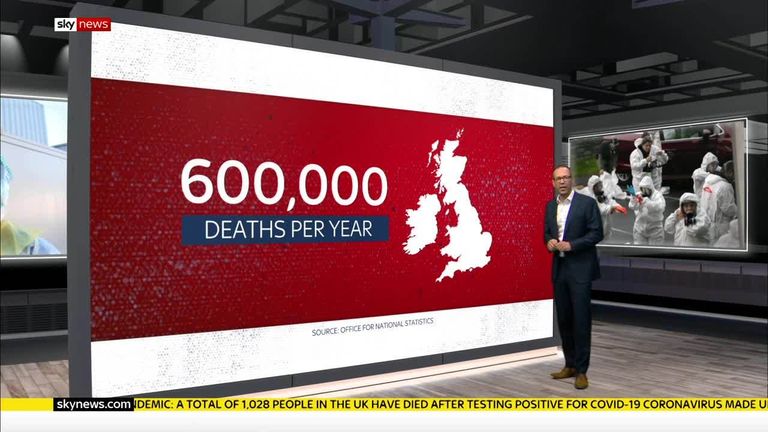 One man told me: "We want to go home, we have no work for 21 days, no money, nothing to eat or drink. We want to see our children back home. There is nothing for us here now. They are not letting us pass."
Others joined in, calling on the government to open the borders, adding: "We don't want anything else, we will walk home."
The government failed to factor in the surge while locking down the country for 21 days – giving only four hours' notice.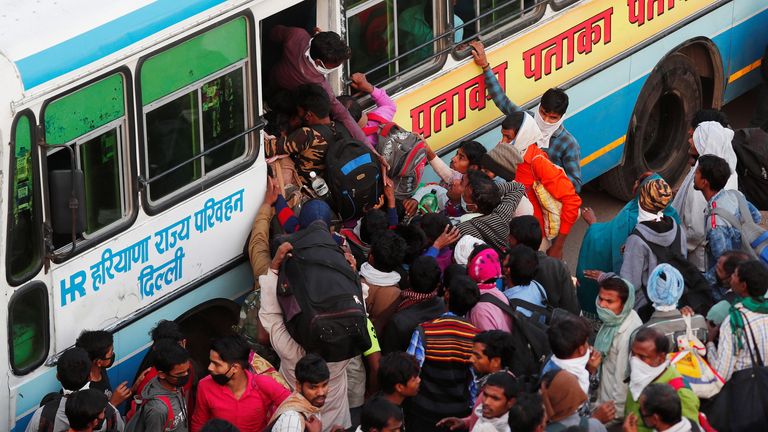 Almost in tears, 21-year-old Zaibi said: "I want to go home, our landlords are asking us to leave. I have walked for 50km and I will have to walk another 200 to reach home. But they are not allowing us to cross."
There was not much evidence of social distancing which the prime minister and health experts have emphasised so often.
But when you are dealing with almost tens of thousands congregating in one place such measures are not always possible.
Missing too were the protective masks – most had handkerchiefs tied around their faces.
The sea of people and critical coverage in the media has forced the government to put on thousands of buses to take migrants back to their homes. Social media images showed the vehicles filled with migrants as well as some finding space on the roof.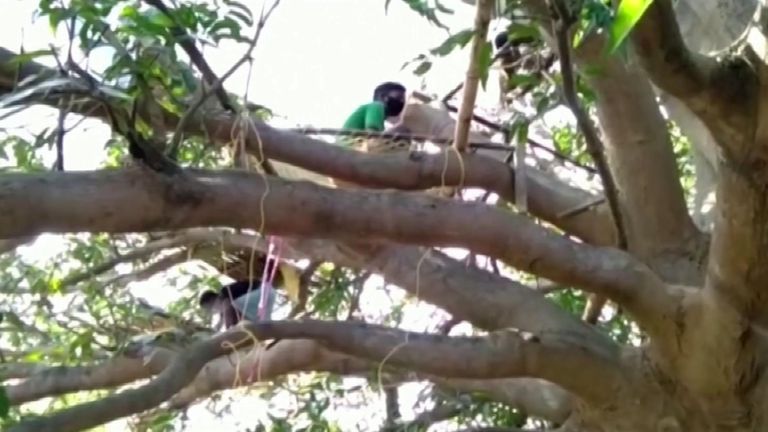 The Uttar Pradesh government has ordered all migrants to be verified and quarantined in camps. An order has directed all magistrates to trace the 150,000 workers.
The police have used a combination of punishments – beating, legal and jail threats, reprimanding, cajoling and even seizing vehicles of those who violate restrictions.
India has been criticised for having one of the lowest testing rates for the virus in the world.
The exponential increase in cases in Italy, the US, Spain and France, which have similarly low rates of testing, should ring alarm bells for the Indian government.
Health experts believe the country is in the third stage of the virus spread – community transmission, though the government has denied it.
At the moment there are 1,027 positive cases and 27 deaths due to COVID-19 and this is expected to rise as lockdown and protective measures have been flouted.
Larry Kramer: Playwright, author and AIDS activist dies aged 84 | World News
Playwright and author Larry Kramer, who was known for his AIDS activism from early on in the epidemic, has died aged 84.
Kramer, who co-founded the Gay Men's Health Crisis (GMHC) in the early 1980s and later the AIDS Coalition to Unleash Power – or ACT UP movement – died in a New York hospital with pneumonia on Wednesday, his close friend and literary executor Will Schwalbe said.
His death was not said to be related to the coronavirus pandemic.
The award-winning writer was known for his 1985 play The Normal Heart, depicting a writer's battle with society to raise awareness of AIDS – the immunodeficiency disease from the HIV virus that Kramer had himself.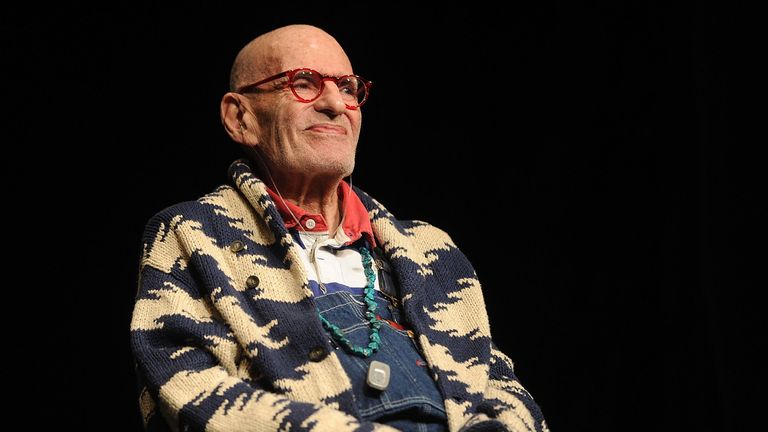 Described as an "angry but compelling indictment of a society as well as a subculture for failing to respond adequately to the tragedy," by AP drama critic Michael Kuchwara, the revival of the play in 2011 earned it several Tony awards.
A TV movie adaptation in 2014 starring Mark Ruffalo, Matt Bomer, Jim Parsons and Julia Roberts, won an Emmy Award for best movie.
Kramer was also nominated for an Academy Award for writing the screen adaptation of DH Lawrence's novel, Women in Love, for which actress Glenda Jackson won her first Oscar.
The 84-year-old was perhaps best known for his lifetime of advocacy work as a fierce activist for LGBTQ rights and securing medical treatment for those with AIDS.
Larry Kramer's passing is the saddest news. We have lost a giant of a man who stood up for gay rights like a warrior. His anger was needed at a time when gay men's deaths to AIDS were being ignored by the American government… (1/3) pic.twitter.com/GRkAkNZrLg

— Elton John (@eltonofficial) May 27, 2020
Journalist Randy Shilts described an article Kramer had written for gay newspapers in the 1980s as "inarguably one of the most influential works of advocacy journalism of the decade" and credited it with "crystallizing the epidemic into a political movement for the gay community."
In the 1983 article, Kramer had written about the epidemic: "Our continued existence as gay men upon the face of this earth is at stake…Unless we fight for our lives, we shall die."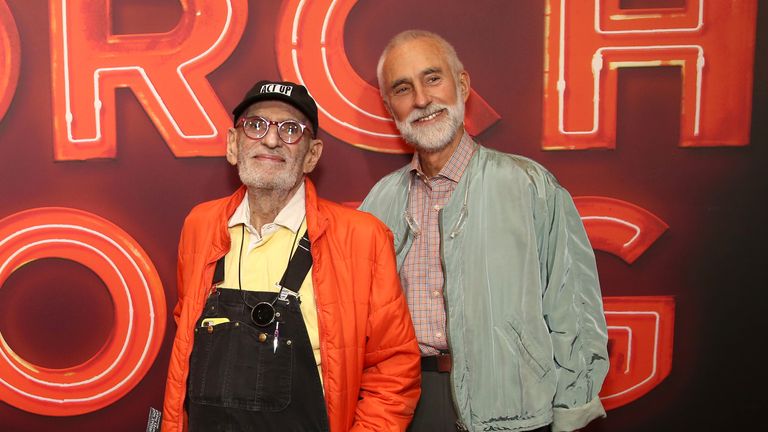 Born in Bridgeport, Connecticut, in June 1935, Laurence David Kramer went on to study at Yale University and served in the army.
He later worked at the William Morris Agency and for Columbia Pictures.
In 2001, he had a liver transplant due to hepatitis B.
Kramer married his long-time partner, architect David Webster, in 2013, with the couple making their vows while Kramer was recovering from a bowel obstruction surgery in an intensive care unit at hospital.
They had planned the wedding before he was forced to have surgery, but they didn't let the health emergency stop them.
Coronavirus: 'She took her last breath in my arms' – A personal tragedy as US COVID-19 deaths hit 100,000 | US News
In a matter of months, 100,000 lives have been lost to coronavirus in the United States – nearly triple that of any other country.
America never wanted to lead the world this way. The unfathomable milestone is one of this country's most tragic and indelible.
Each death took away unique experiences and stories: some well told; most unsung.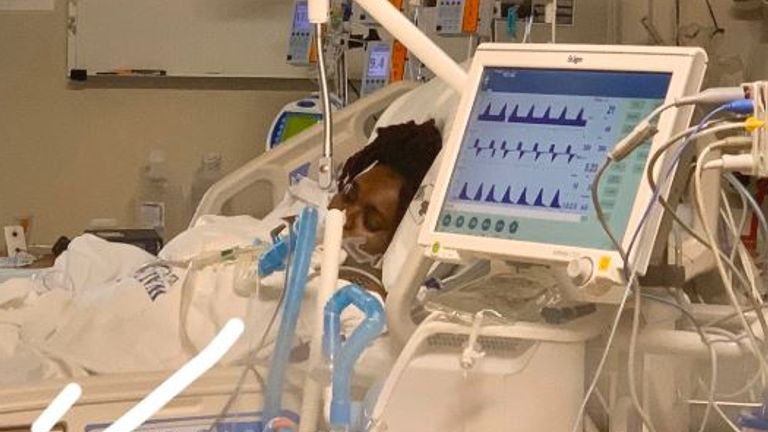 People have died in every state and from every walk of life.
Leilani Jordan was a 27-year-old supermarket worker who put her heart and soul into her job. Coronavirus only strengthened her resolve to help those in need.
Her mum, Zenobia Shepherd, says her daughter, who loved butterflies, had an inbuilt instinct to help people.
"She said to me, 'Mommy, nobody is showing up for work. I have to help the senior citizens, the elderlies'."
Ms Shepherd added: "Many of them can barely walk – leaning over shopping carts. And although (Leilani) had her own disabilities, she would go out of her way to help them to get and find what they needed.
"Because she knew sign language she could even talk to and help those that could not talk. So she loved helping and being needed by others."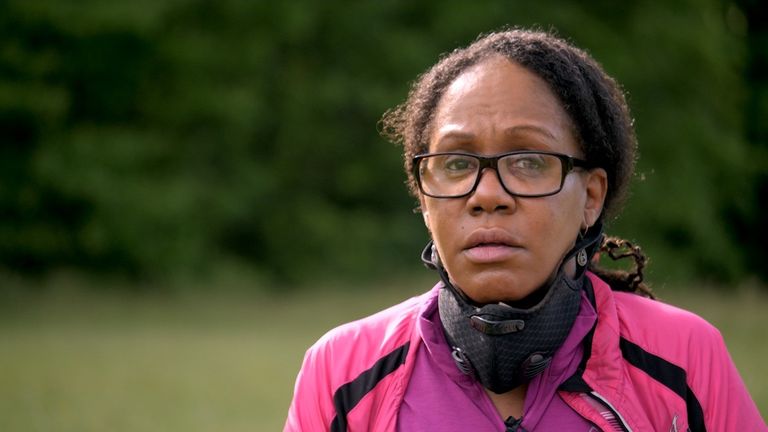 Leilani kept going until the day she could no longer breathe. Unlike the thousands robbed of proper goodbyes, Leilani was in her mother's arms when she passed away.
"I would do anything in this world if I could have my baby back," Ms Shepherd said.
"My butterfly is gone. She's flown away to heaven. I have to wait until my time to go see her."
She added: "I was there when she went to CCU. She took her last breath in my arms. My hands, my last touch, touching her body, as it was warm… It was her last breath."
Ms Shepherd is now living on memories of her daughter's singing, her love of the beach and all things purple.
She has some comfort in Leilani's support dog and best friend, Angel, who now sleeps at the front door, waiting for Leilani to return.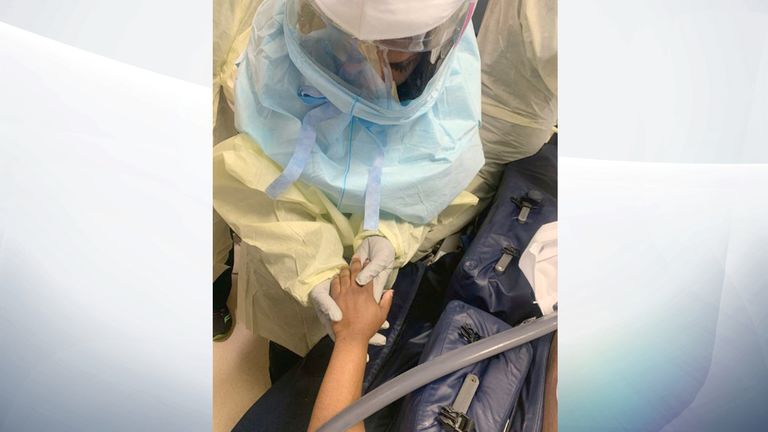 Ms Shepherd has two young daughters who make a video for their sister each day – telling her how much they love her.
Deaths in America have been disproportionately high in black communities, revealing long standing health and socio-economic disparities.
Ms Shepherd is now focusing her grief on the urgent need for protections for essential workers like her daughter.
"I want to help other people that aren't being helped," she said. "The situation is we've got to do a better job, a better job of protecting – protecting and keeping them safe."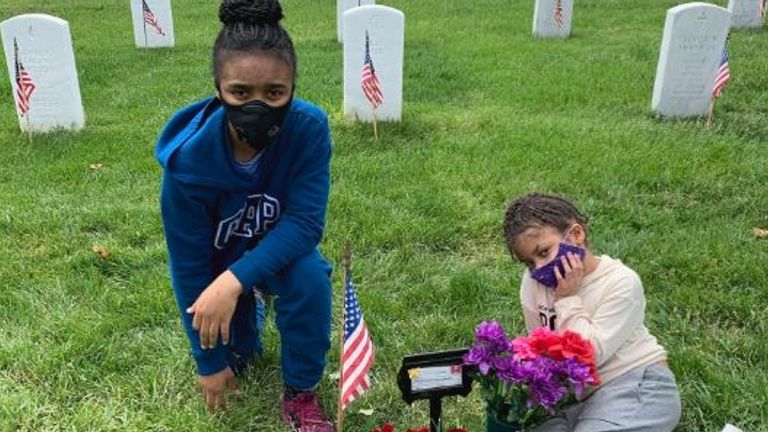 After Leilani's death, she received her daughter's final paycheck in the post. The amount was a gut punch: $20.63.
"I think that families, people that have certain front line jobs need to get paid more money," she said. "They need to have bonuses during this time."
Like every American, Ms Shepherd is desperate for this situation to end: "I wish this whole thing would go away. Just go to space and leave us alone.
"If only (we) could have been ahead of it a little bit. The death toll may not have been so high and growing."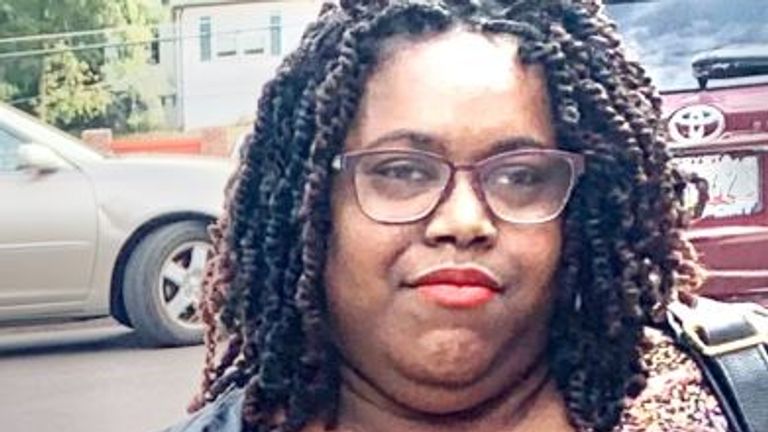 As the daughter of a military family, Leilani shares her final resting place with fallen heroes in Arlington National Cemetery.
Coronavirus has now claimed more American lives than the Vietnam, Gulf, Iraq and Afghanistan wars combined.
Those lives lost in past battles are marked by the seemingly endless symmetry of white headstones. Ms Shepherd knows that is where she will come on every occasion Leilani loved so much: Christmas and Halloween, and each birthday she would have celebrated with her usual joy.
:: Listen to Divided States on Apple podcasts, Google Podcasts, Spotify, and Spreaker
So much death has largely been unseen. For a nation living in isolation it is perhaps harder to share a collective sense of grief – even harder to tune out of the ongoing political noise of this crisis.
But make no mistake: America is engulfed in tragedy, and with no cure or vaccine, this is not the end.
Historic US space launch that would have been visible from UK aborted | Science & Tech News
An historic US space flight that would have been visible from the UK was aborted shortly before launch due to bad weather.
NASA announced the decision on safety grounds just minutes before lift-off on Wednesday – with the flight now not happening until at least the weekend.
The mission had been planned in conjunction with Elon Musk's spaceflight company SpaceX – and it would have been the first private involvement in taking astronauts to the International Space Station.
The US Air Force's 45th Weather Squadron had forecast between a 40% and 60% chance of favourable conditions at the launch site in Florida.
Throughout the day weather conditions became worse, with a tropical storm initially threatening the launch before a tornado warning was issued.
NASA has stringent rules about the conditions in which the Falcon 9 can fly, and said one of these rules was being violated just minutes before the launch.
The earliest the SpaceX Falcon 9 rocket and the Crew Dragon spacecraft could now launch is this weekend, with potential windows available on both Saturday and Sunday.
Falcon 9 rockets are not allowed to launch for 30 minutes after lightning is observed within 10 nautical miles of the launch pad and flight path.
NASA astronaut Anne McClain praised the SpaceX and NASA teams for "making the tough call" to postpone the mission.
"We all wanted a launch, but keeping our friends safe while we do it is a no-fail mission," Ms McClain said, adding: "See you again Saturday."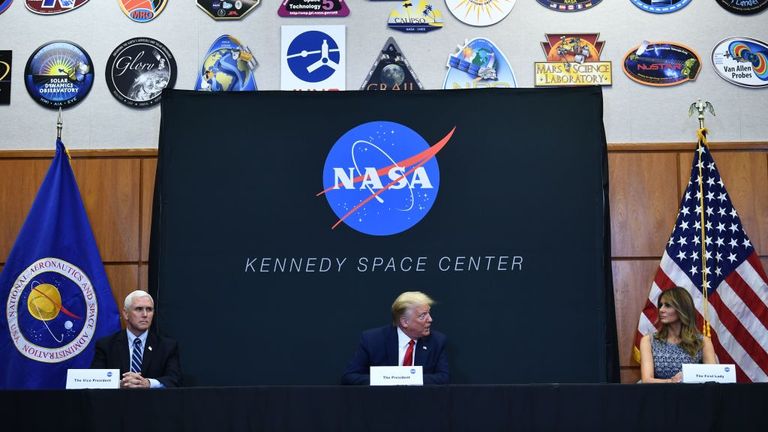 Although Donald Trump flew down to Florida to watch the launch, it being postponed means that the last president to be present at a NASA launch was Bill Clinton.
Barack Obama had flown to the Kennedy Space Centre for a space shuttle launch in 2010, but that launch was scrubbed due to a technical problem.
He didn't return for the rescheduled launch a number of weeks later.
It isn't clear whether Mr Trump will be back in Florida on Saturday.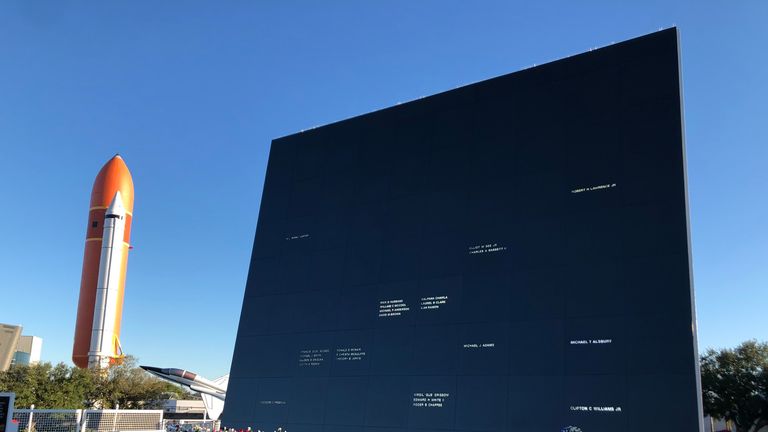 Just a few miles away from the launchpad at the Kennedy Space Centre there is a Space Mirror Memorial.
It commemorates the 15 NASA astronauts who lost their lives while in service to the agency during a spaceflight.
No names will be added to that memorial due to decisions made today.