Coronavirus: Chinese students using private jets to flee US amid COVID-19 outbreak | World News

Chinese students from wealthy families are asking their parents to pay for seats on private jets to bring them home from the US where the coronavirus outbreak continues to spread.
In China, where the pandemic began late last year, authorities have managed to get on top of the disease, but the US is struggling to cope in some areas.
More than 50,000 infections have been recorded in the US, with new cases in China falling to zero.
New York state has recorded more than 5,000 confirmed cases of COVID-19 in a single day, putting the total above 30,000.
Jeff Gong, a lawyer in Shanghai, offered his daughter, a high school student in Wisconsin, either 180,000 yuan (£21,376) or a ticket on a private flight home.
"My daughter begged me to get her back home … She said 'No papa, I don't want the money, I want to go home'," he said.
Families are worried that time is running out.
On Tuesday, 3,102 out of 3,800 planned commercial flights to and from China were cancelled, according to aviation data provider VariFlight.
Annelies Garcia, of Private Fly, a global booking service for charter flights, said: "[Education] agents and schools are the ones making contact on behalf of the Chinese families looking to group together to arrange a private charter, given the lack of airline flights."
Beijing has banned all chartered flights from overseas and Shanghai is expected to follow suit soon, while Hong Kong and Macau have blocked transit flights.
And as opportunities to escape dwindle, prices are skyrocketing.
:: Listen to the Daily podcast on Apple Podcasts, Google Podcasts, Spotify, Spreaker.
The US-based Air Charter Service can offer passengers a 14-seat Bombardier 6000 from Los Angeles to Shanghai for 2.3 million yuan (£273,000), or about £19,400 per seat.
Glenn Phillips, from the company, said: "We have arranged a number of private jets travelling from the US to China repatriating Chinese nationals with routes including New York and Boston to Shanghai, San Jose to Hong Kong and Los Angeles to Guangzhou."
Coronavirus: Infected woman accused of fleeing lockdown in Italy defends herself after protests | World News
Protesters have gathered outside the home of a woman accused of fleeing northern Italy's lockdown and later testing positive for coronavirus.
The claims about the woman's travel came from Raffaele Lettieri, the mayor of her home town Acerra, near Naples.
In a video posted on social media, he said: "This person came down here from Lombardy on 9 March – today it's the 29th and only now have we discovered they have tested positive.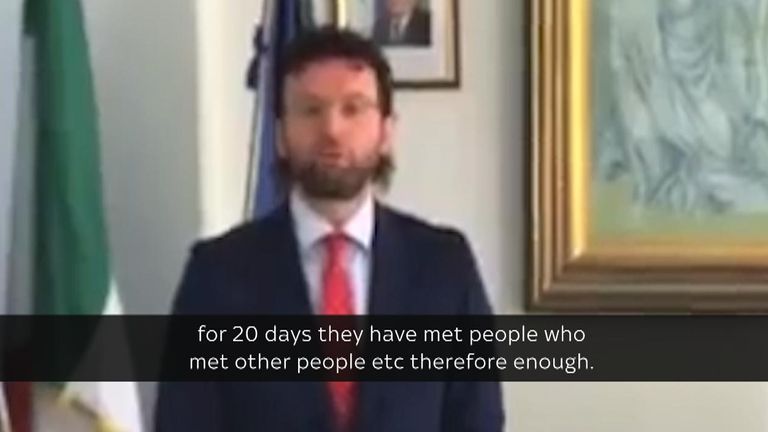 "If for 20 days this person hasn't rigorously respected quarantine, for 20 days they have met people who met other people etc then enough.
"One person who doesn't respect the quarantine is enough for the virus to spread."
The young woman hit back at the mayor's criticism on social media after her home was targeted by protesters.
She said in an emotional video message: "I never let myself leave my room, leave my house, like has been said.
"The mayor will have to give me an explanation because from the beginning I explained what happened.
"I explained immediately. Therefore, to be defamed like this I find truly shameful."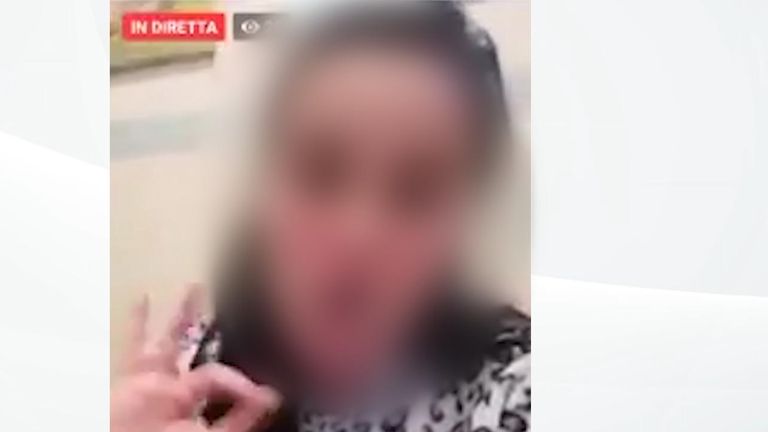 Italy has recorded the most coronavirus deaths in the world, with more than 11,500 people now dead.
The lockdown in the northern region of Lombardy, the worst hit region for COVID-19, came two days before the rest of Italy.
The south has a much higher level of unemployment and deprivation than the north and many travel to Lombardy for work.
The government has been criticised for giving advance warning of the lockdown in Lombardy, allowing the virus to spread as people jumped on trains and fled the region to their homes in the south of the country.
While the growth of the virus is slowing across the country, it is still rising at a faster rate in southern areas. Meanwhile, signs of unrest are growing.
Police are now patrolling supermarkets after the threat of raids and theft.
There have been emotional pleas to authorities from people who are struggling to put food on the table after the economic pain of three weeks in lockdown.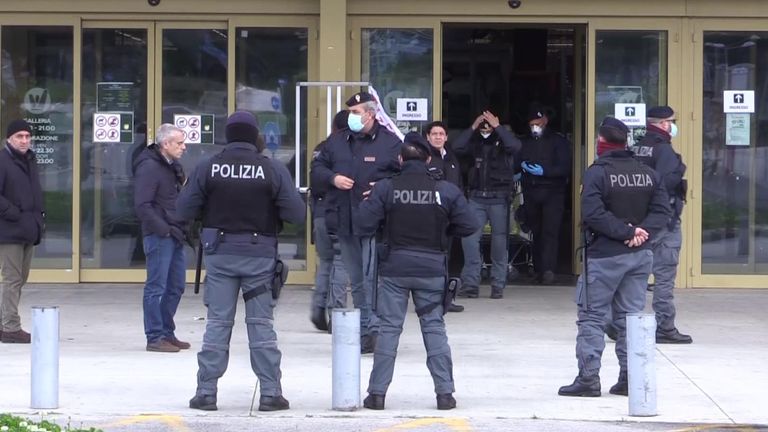 The government made an urgent €400m (£355m) fund available on Saturday night to help people struggling to buy food. But mayors in the south of Italy say this is not nearly enough.
As social and economic tensions build, scientists and politicians have been holding separate talks in Rome on the next steps in this crisis.
Details of the plans have not yet been released but the head of the emergency response in Italy told Sky News they hope the crisis has peaked there.
:: Listen to the Daily podcast on Apple Podcasts, Google Podcasts, Spotify, Spreaker
"The lockdown can be opened and probably April will be the month this will happen," said Luigi d'Angelo from the Italian Civil Protection.
Asked how long it would be before life returned to some semblance of normality, he replied: "Hopefully by May or June."
He said schools could possibly return during August when it would normally be the holiday period.
Coronavirus: How lockdowns have caused drop in air pollution across the world | World News
Air pollution appears to have decreased in urban areas across the world as cities continue to be locked down to prevent the spread of coronavirus.
In Europe, cities including Brussels, Paris, Madrid, Milan and Frankfurt showed a reduction in average levels of noxious nitrogen dioxide from 5 to 25 March, compared with the same period last year, according to new satellite images.
The images, released by the European Space Agency, show the changing density of nitrogen dioxide, a harmful gas emitted when fossil fuels are burnt at high temperatures, most commonly at power plants and in motor vehicles.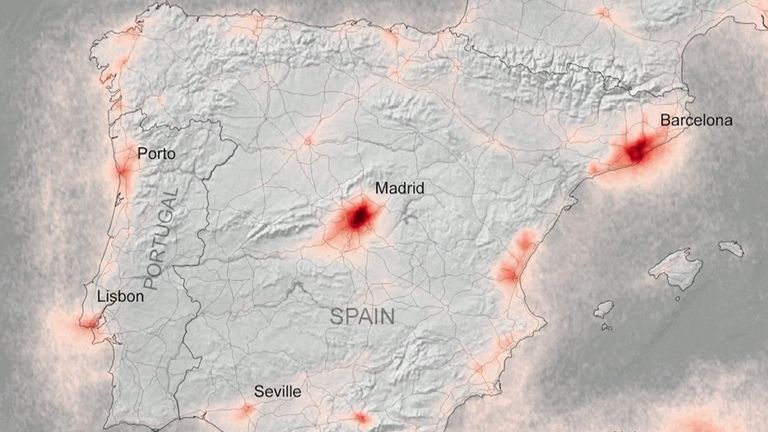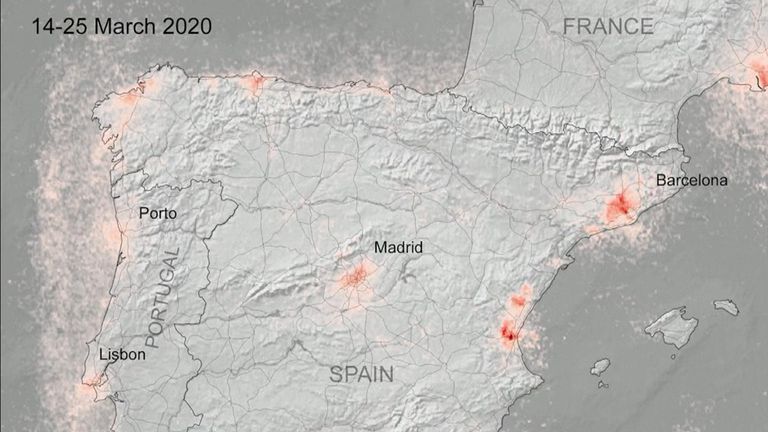 Daily weather events can influence atmospheric pollution, so the satellite pictures took a 20-day average and excluded readings where cloud cover reduced the quality of the data.
However, some scientists have urged caution, with specialists from Lombardy's Regional Environmental Protection Agency (ARPA) saying it is too soon to draw conclusions from air quality data.
In Madrid, average nitrogen dioxide levels decreased by 56% week-on-week after the Spanish government banned non-essential travel on 14 March.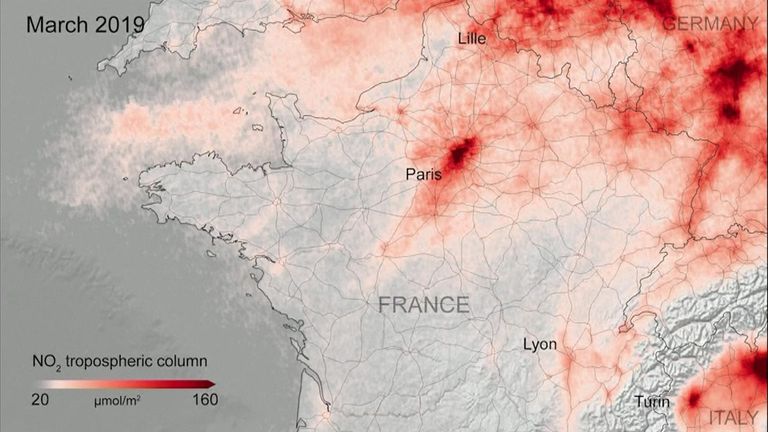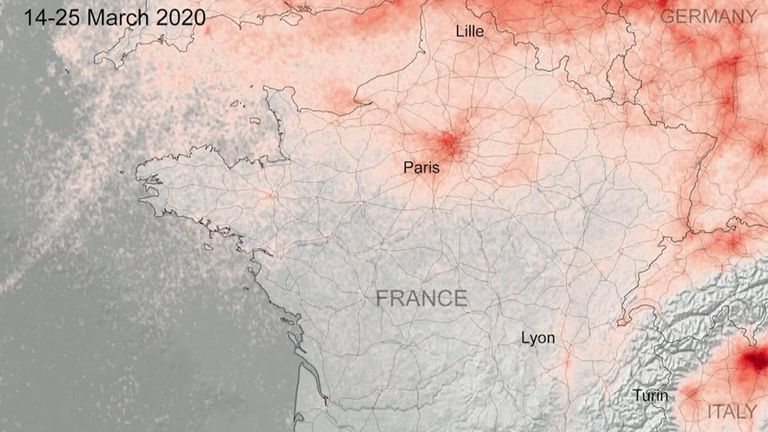 Pollution over parts of Italy also dramatically fell as the entire country was placed in lockdown.
However, in some regions of Poland nitrogen dioxide levels remained relatively high during the period despite its lockdown, perhaps due to the prevalence of coal-based heating.
Experts at Copernicus have warned that until a complete lockdown is imposed, emissions from some sectors may increase.
For example, people might take private cars more often to avoid using public transport.
China – the world's biggest polluter – recorded a drop in nitrogen dioxide pollution in cities during February, when the government imposed draconian lockdown measures to contain the virus.
The country's ministry of ecology and environment said the average number of "good quality air days" increased by 21.5% in February when compared to the same period last year.
According to Nasa, nitrogen dioxide levels have dropped by between 10-30% across eastern and central China.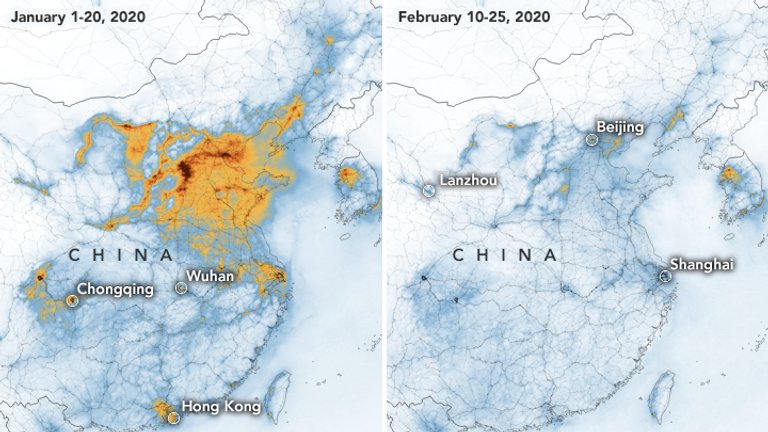 Drops in pollution levels were particularly prominent in the city of Wuhan, the original epicentre of the COVID-19 outbreak.
Meanwhile, CO2 emissions in China were down by at least 30% between 3 February and 1 March, according to the Center for Research on Energy and Clean Air (CREA).
CREA estimates this is equivalent to 200 million tons of carbon dioxide.
In Hong Kong, key air pollutants dropped by nearly a third from January to February, according to data from Hong Kong University School of Public Health.
South Korea also appears to have seen a drop in nitrogen dioxide levels, despite avoiding putting entire regions under lockdown.
However, it has taken an aggressive approach to tracing and isolating suspected cases.
:: Listen to Sophy Ridge on Sunday on Apple podcasts, Google podcasts, Spotify, Spreaker
Researchers in New York told the BBC that early findings showed carbon monoxide had been reduced by nearly 50% compared with the previous year.
The scientists, from Columbia University, said they estimated traffic levels in the city were down 35%.
Countries that went into lockdown later – such as Britain, which did so on 23 March – look set for a pollution reprieve in coming weeks.
Air pollution can cause or exacerbate lung cancer, pulmonary disease and strokes. It causes around 400,000 premature deaths each year in Europe.
Coronavirus: Why Boris Johnson and other world leaders have become more popular during outbreak | Politics News
Boris Johnson's popularity – like that of the majority of world leaders – has risen significantly during the coronavirus crisis.
As tracked by Ipsos MORI, the prime minister's satisfaction ratings had improved to 52% by mid-March.
This is an increase of five points from 47% at the start of February, and up 16 points on his ratings back in early December (36%), just before the general election.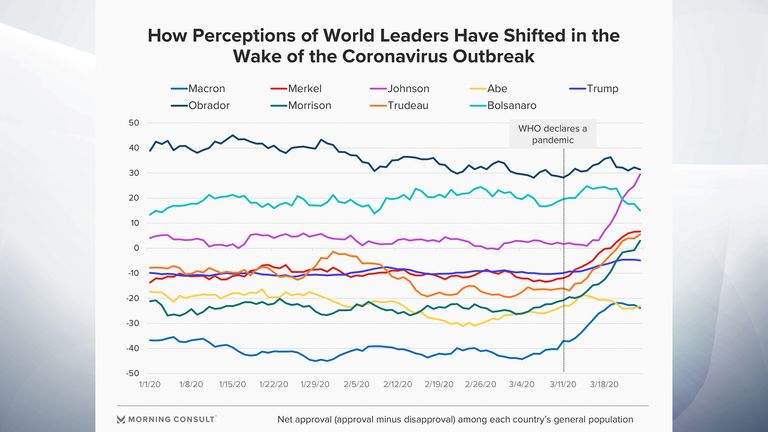 Polling by Number Cruncher more recently found that Johnson's satisfaction ratings had risen to 72%.
But Mr Johnson is by no means alone.
At a time of unprecedented global crisis, and with only one or two exceptions, leaders the world over are experiencing rising popularity.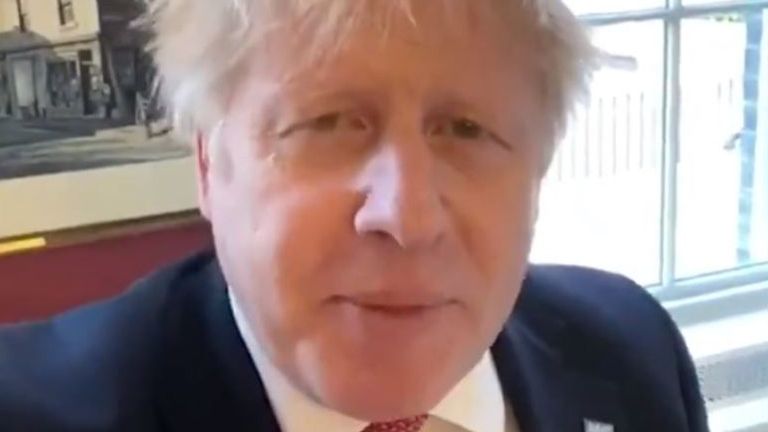 Measured by Gallup, US President Donald Trump's job ratings have soared to their highest ever point, with 49% of adults approving of his performance and 45% disapproving.
French President Emanuel Macron has seen an even larger increase in his satisfaction rating than his counterparts – rising to 51%, some 13 points up since last month, and his highest since January 2018.
German Chancellor Angela Merkel has seen her approval rise to a meteoric 79%, up 11 points since early March – a remarkable figure for a leader who has been in power for well over a decade.
The approval rating of Giuseppe Conte, prime minister of Italy, the country worst-hit so far in terms of deaths, has hit 71% – an incredible 27 points higher than in February.
More broadly, polling firm Morning Consult reports that approval has risen in their daily tracker survey for a number of world leaders since the World Health Organisation (WHO) declared a pandemic.
Indeed, virtually the only leader to have seen their ratings markedly decline is Brazil's populist far-right president, Jair Bolsonaro, with the public seemingly unimpressed by his coronavirus-denialism.
What is interesting, however, is that this widespread rise in popularity appears to have little to do with actual performance in handling the crisis so far – with both the US and UK response having been criticised at times.
So what explains the fact that world leaders' popularity seems to be rising regardless?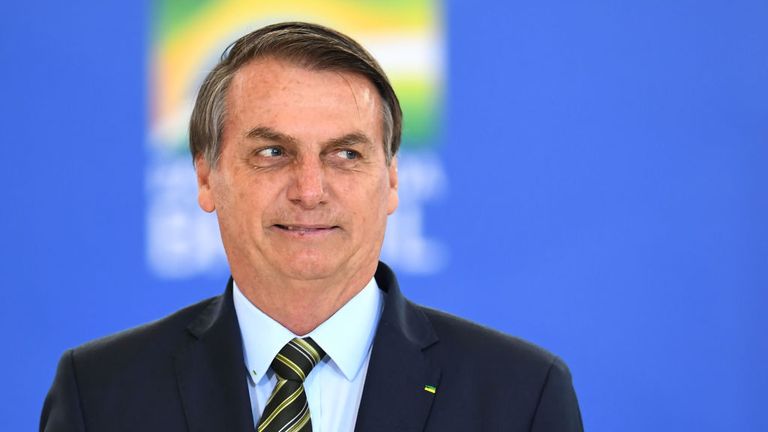 Most obviously what we seem to be seeing is the "rally-round-the-flag" effect originally proposed by American political scientist John Mueller.
The characteristics that Mr Mueller linked with these surges of popular support for incumbents were inspired by Cold War events, but have substantial resonance with the COVID-19 outbreak.
For a rally-round-the-flag to occur, the event had to be international, involve the country and its leader directly, and be "specific, dramatic, and sharply focused".
The global significance of the coronavirus pandemic – and the fact that the fight against it can (and has been) likened to a war – fits perfectly with this definition.
In all countries, leaders have been a central figure in the government response.
As to what drives this rally-round-the-flag at times of national crisis, one of the traditional explanations was that patriotic feelings led the public to view their incumbent leader as the focus of national unity, leading to greater support as citizens set aside their partisan biases.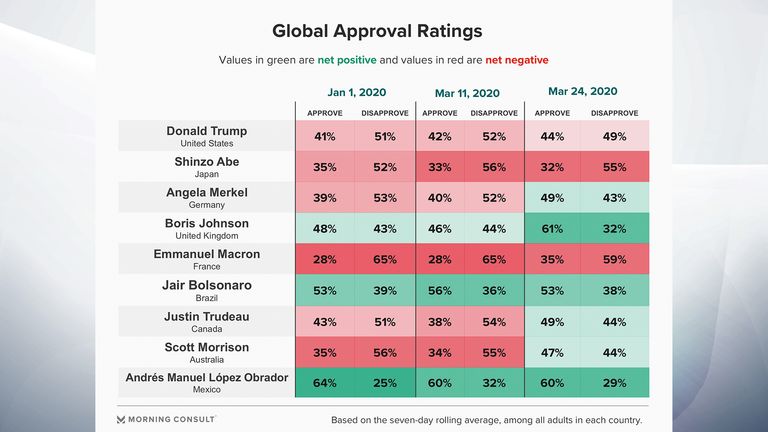 Others have argued that rallies in popularity depend on opposition politicians temporarily laying aside their partisan interests and on increased levels of media coverage, thereby influencing how the public perceive leaders.
Another view is that when feeling vulnerable and under threat, citizens put their trust in political leaders and authorities to protect them.
Whichever explanation works best, however, a big question remains: how long is any rise in popularity for our current crop of leaders likely to last?
To address it we can, perhaps, look to one fairly recent precedent.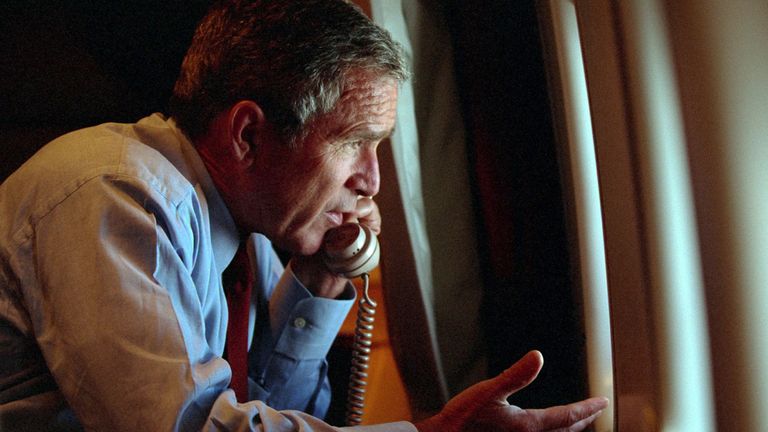 The last rally-round-the-flag with similar global ramifications as COVID-19 was that following the 9/11 attacks on America.
In the aftermath, President George W Bush's approval rating jumped nearly 40 points to 90%, the highest ever recorded for a US president.
:: Listen to the Daily podcast on Apple Podcasts, Google Podcasts, Spotify, Spreaker
More than a year later President Bush's approval rating was 68%, still nearly 20-points higher than his rating at the time of the attacks.
Nothing, however, lasts forever.
President Bush's popularity declined steadily throughout his first and second terms, and in the end only Harry S Truman and Richard Nixon left the White House with lower ratings.
It is impossible to say, then, precisely when the COVID-19 rally-round-the-flag effect might start to fade and then finally end.
As people are finally able to move beyond the pandemic, political gravity is bound to kick in: what goes up must come down.
Where that leaves individual leaders will depend in large part not just on how they are eventually seen to have handled the current crisis, but also on how they handle other issues whose importance to voters will gradually grow again.
A version of this article was originally published by UK in a Changing Europe