Coronavirus: Britons in quarantine on cruise ship criticise government over 'inaction' | UK News
A British couple in quarantine on board a cruise ship in Japan have begged British authorities to get them home, as coronavirus cases on board the Diamond Princess rise.
David Abel has been documenting his experience on board the ship, which has been docked off the coast of Yokohama in Japan for around three weeks.
According to Johns Hopkins University, which is mapping the outbreak, there have been 355 confirmed cases of COVID-19, the disease caused by coronavirus, on board the ship – the highest amount outside China.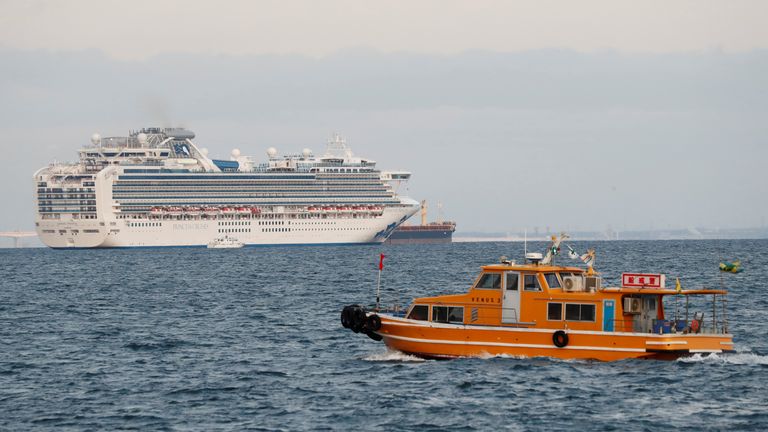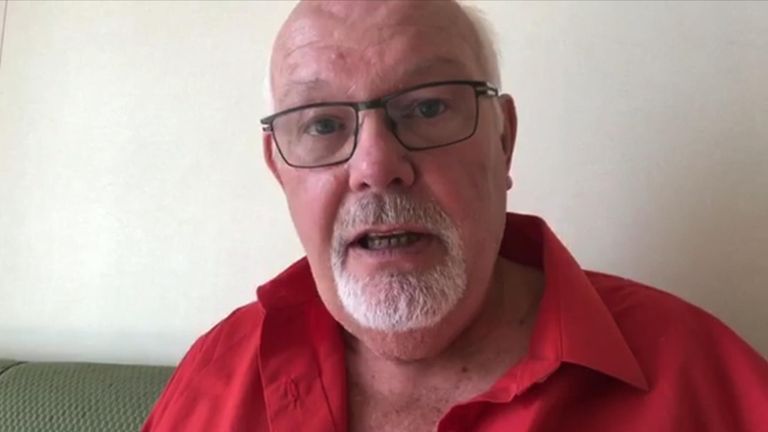 Speaking in a YouTube live stream on Sunday morning from the ship, he said he had not heard "anything" from the UK government.
He said: "All we've got is a message about an hour ago from the… embassy based in Tokyo, to say they've acknowledged the Americans are taking their folk home today. Canadians are going to be following soon. The Australians are probably going to be soon after.
"The UK government, through the ambassador here in Tokyo, has said the World Health Organization acknowledges all of this action taking place but with regard to the United Kingdom… it's not likely we will be repatriated."
US officials announced on Saturday that its citizens will be airlifted back to the country amid the rising number of people being tested positive for COVID-19.
Canadians and those living in Hong Kong have also been told they will be leaving the ship.
Mr Abel adds: "It leaves us feeling like we are not wanted back in the UK – border control have put the barriers up and are saying 'no'."
He has previously hit out at Prime Minister Boris Johnson, saying he had "no confidence" in him, despite being a "staunch Tory".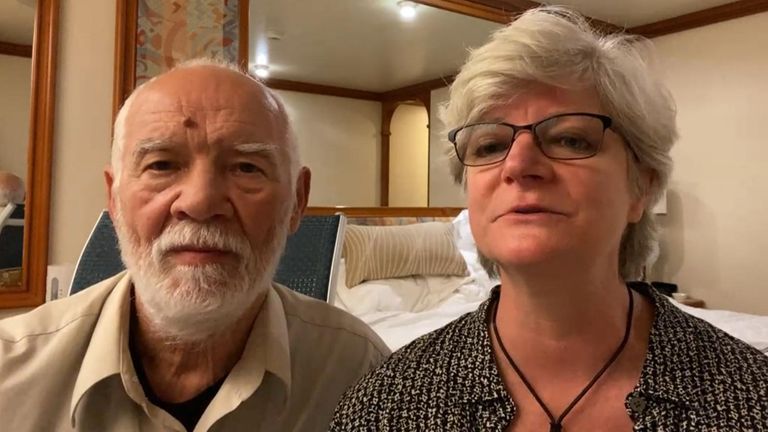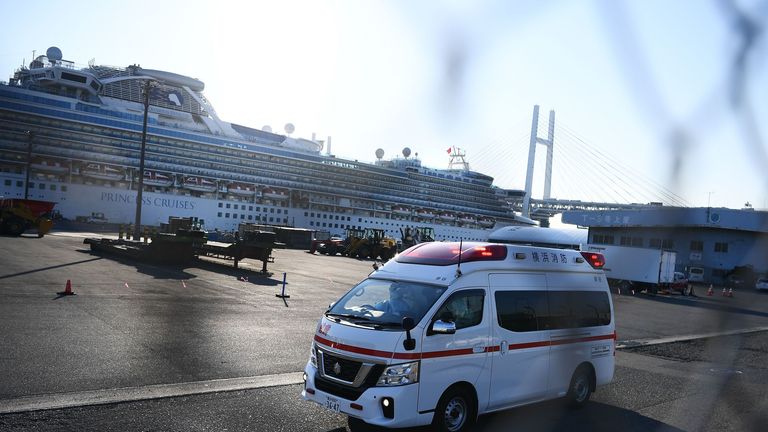 Mr Abel has also begged billionaire Richard Branson for help, asking him how much it would cost to charter a Virgin plane to fly the UK citizens on board to Brize Norton to allow them to undertake their quarantine back home.
"Whatever the cost, we will somehow find a way of paying for that plane.
"Don't know how but we wouldn't want you to be out of pocket on that.
"But this is just how damned desperate some of the passengers are becoming."
According to Johns Hopkins University, 1,655 people have died as a result of contracting COVID-19, most of whom are in China.
On Saturday, a man died in France from the illness, marking the first death in Europe.
In the UK, all but one of those who had been hospitalised for the virus have been discharged.
Coronavirus: How lockdowns have caused drop in air pollution across the world | World News
Air pollution appears to have decreased in urban areas across the world as cities continue to be locked down to prevent the spread of coronavirus.
In Europe, cities including Brussels, Paris, Madrid, Milan and Frankfurt showed a reduction in average levels of noxious nitrogen dioxide from 5 to 25 March, compared with the same period last year, according to new satellite images.
The images, released by the European Space Agency, show the changing density of nitrogen dioxide, a harmful gas emitted when fossil fuels are burnt at high temperatures, most commonly at power plants and in motor vehicles.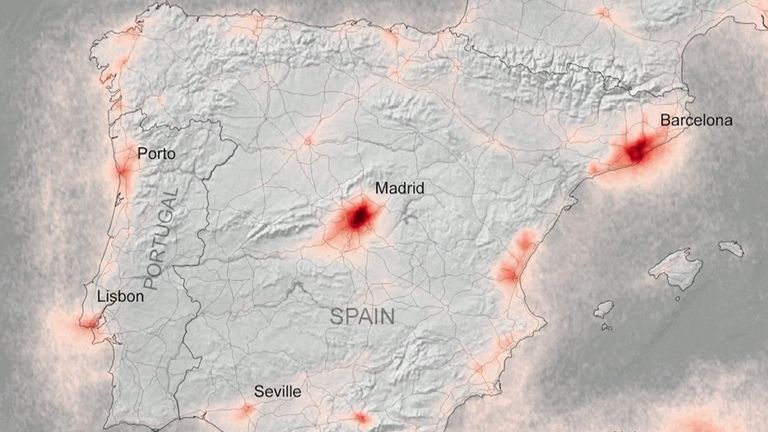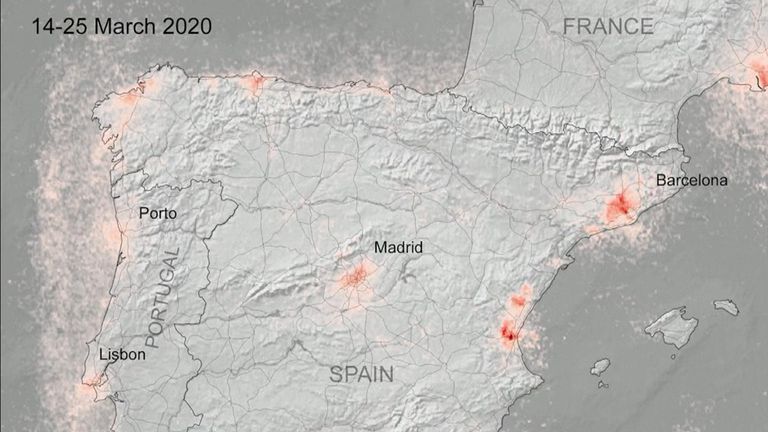 Daily weather events can influence atmospheric pollution, so the satellite pictures took a 20-day average and excluded readings where cloud cover reduced the quality of the data.
However, some scientists have urged caution, with specialists from Lombardy's Regional Environmental Protection Agency (ARPA) saying it is too soon to draw conclusions from air quality data.
In Madrid, average nitrogen dioxide levels decreased by 56% week-on-week after the Spanish government banned non-essential travel on 14 March.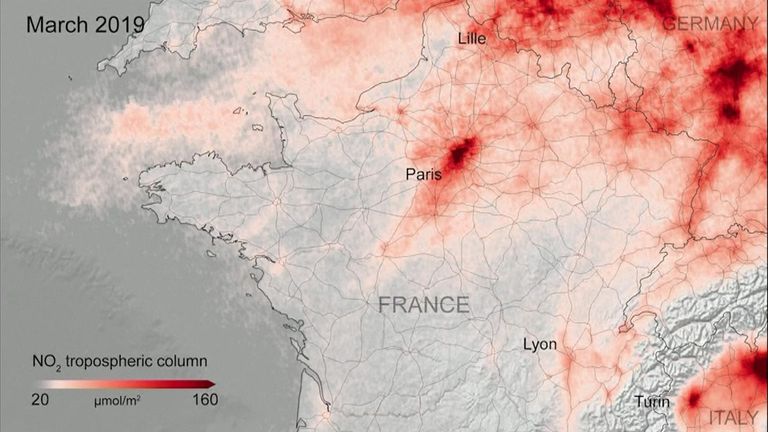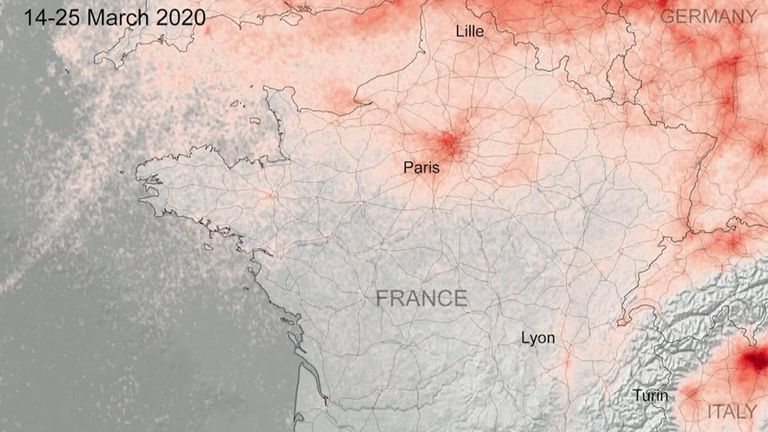 Pollution over parts of Italy also dramatically fell as the entire country was placed in lockdown.
However, in some regions of Poland nitrogen dioxide levels remained relatively high during the period despite its lockdown, perhaps due to the prevalence of coal-based heating.
Experts at Copernicus have warned that until a complete lockdown is imposed, emissions from some sectors may increase.
For example, people might take private cars more often to avoid using public transport.
China – the world's biggest polluter – recorded a drop in nitrogen dioxide pollution in cities during February, when the government imposed draconian lockdown measures to contain the virus.
The country's ministry of ecology and environment said the average number of "good quality air days" increased by 21.5% in February when compared to the same period last year.
According to Nasa, nitrogen dioxide levels have dropped by between 10-30% across eastern and central China.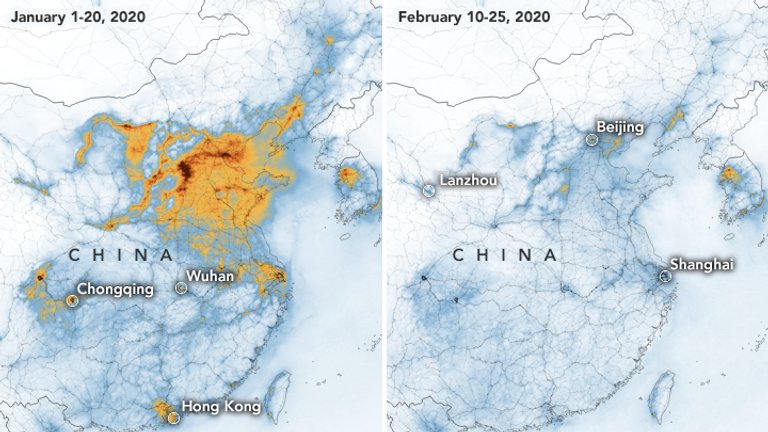 Drops in pollution levels were particularly prominent in the city of Wuhan, the original epicentre of the COVID-19 outbreak.
Meanwhile, CO2 emissions in China were down by at least 30% between 3 February and 1 March, according to the Center for Research on Energy and Clean Air (CREA).
CREA estimates this is equivalent to 200 million tons of carbon dioxide.
In Hong Kong, key air pollutants dropped by nearly a third from January to February, according to data from Hong Kong University School of Public Health.
South Korea also appears to have seen a drop in nitrogen dioxide levels, despite avoiding putting entire regions under lockdown.
However, it has taken an aggressive approach to tracing and isolating suspected cases.
:: Listen to Sophy Ridge on Sunday on Apple podcasts, Google podcasts, Spotify, Spreaker
Researchers in New York told the BBC that early findings showed carbon monoxide had been reduced by nearly 50% compared with the previous year.
The scientists, from Columbia University, said they estimated traffic levels in the city were down 35%.
Countries that went into lockdown later – such as Britain, which did so on 23 March – look set for a pollution reprieve in coming weeks.
Air pollution can cause or exacerbate lung cancer, pulmonary disease and strokes. It causes around 400,000 premature deaths each year in Europe.
Coronavirus: Why Boris Johnson and other world leaders have become more popular during outbreak | Politics News
Boris Johnson's popularity – like that of the majority of world leaders – has risen significantly during the coronavirus crisis.
As tracked by Ipsos MORI, the prime minister's satisfaction ratings had improved to 52% by mid-March.
This is an increase of five points from 47% at the start of February, and up 16 points on his ratings back in early December (36%), just before the general election.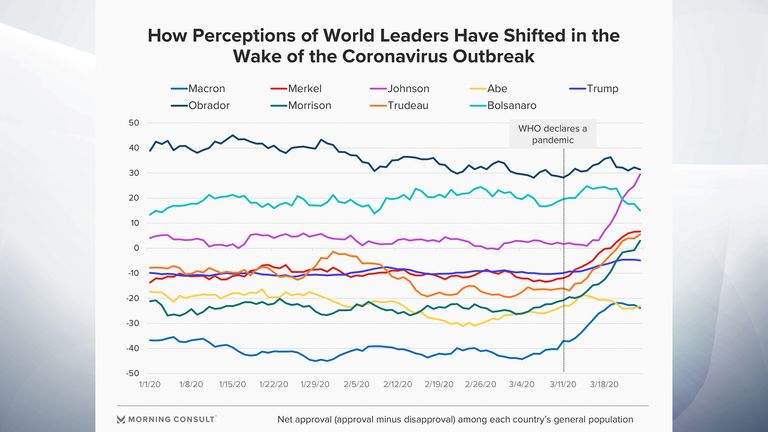 Polling by Number Cruncher more recently found that Johnson's satisfaction ratings had risen to 72%.
But Mr Johnson is by no means alone.
At a time of unprecedented global crisis, and with only one or two exceptions, leaders the world over are experiencing rising popularity.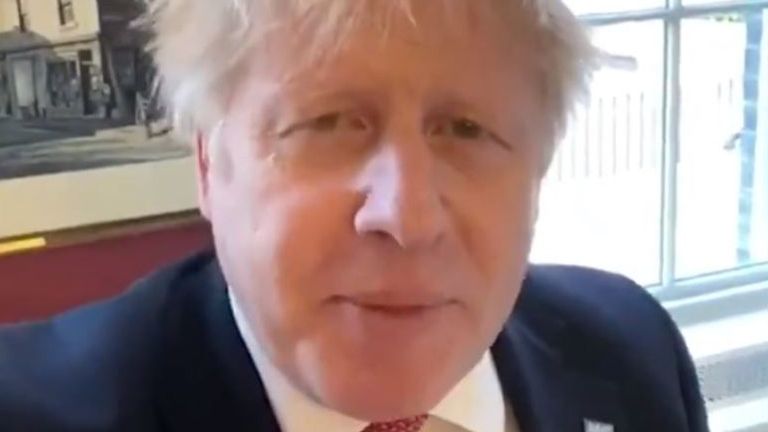 Measured by Gallup, US President Donald Trump's job ratings have soared to their highest ever point, with 49% of adults approving of his performance and 45% disapproving.
French President Emanuel Macron has seen an even larger increase in his satisfaction rating than his counterparts – rising to 51%, some 13 points up since last month, and his highest since January 2018.
German Chancellor Angela Merkel has seen her approval rise to a meteoric 79%, up 11 points since early March – a remarkable figure for a leader who has been in power for well over a decade.
The approval rating of Giuseppe Conte, prime minister of Italy, the country worst-hit so far in terms of deaths, has hit 71% – an incredible 27 points higher than in February.
More broadly, polling firm Morning Consult reports that approval has risen in their daily tracker survey for a number of world leaders since the World Health Organisation (WHO) declared a pandemic.
Indeed, virtually the only leader to have seen their ratings markedly decline is Brazil's populist far-right president, Jair Bolsonaro, with the public seemingly unimpressed by his coronavirus-denialism.
What is interesting, however, is that this widespread rise in popularity appears to have little to do with actual performance in handling the crisis so far – with both the US and UK response having been criticised at times.
So what explains the fact that world leaders' popularity seems to be rising regardless?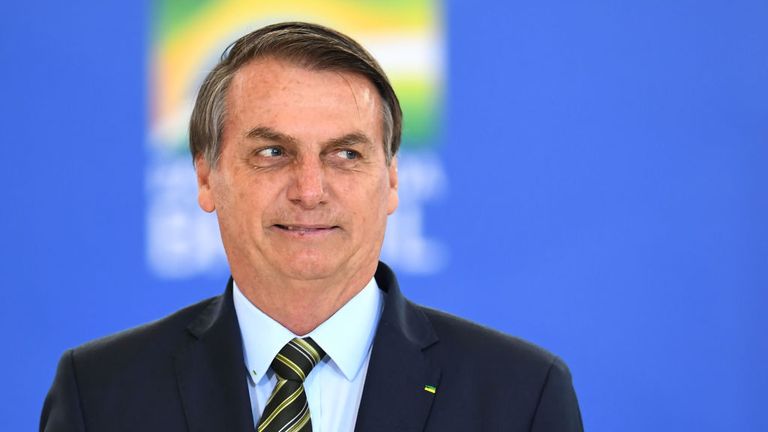 Most obviously what we seem to be seeing is the "rally-round-the-flag" effect originally proposed by American political scientist John Mueller.
The characteristics that Mr Mueller linked with these surges of popular support for incumbents were inspired by Cold War events, but have substantial resonance with the COVID-19 outbreak.
For a rally-round-the-flag to occur, the event had to be international, involve the country and its leader directly, and be "specific, dramatic, and sharply focused".
The global significance of the coronavirus pandemic – and the fact that the fight against it can (and has been) likened to a war – fits perfectly with this definition.
In all countries, leaders have been a central figure in the government response.
As to what drives this rally-round-the-flag at times of national crisis, one of the traditional explanations was that patriotic feelings led the public to view their incumbent leader as the focus of national unity, leading to greater support as citizens set aside their partisan biases.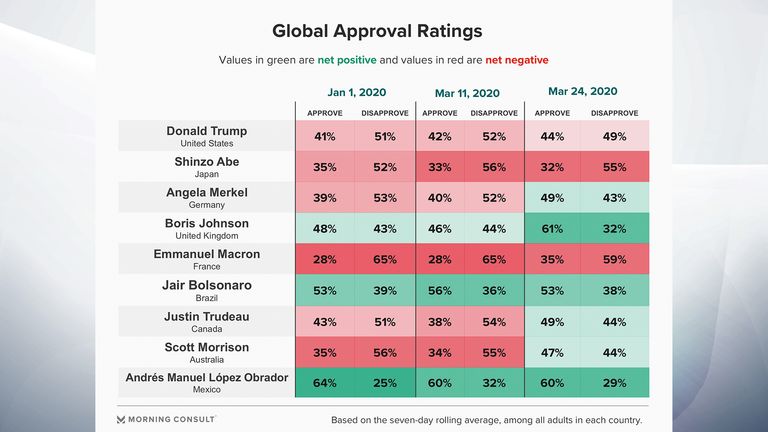 Others have argued that rallies in popularity depend on opposition politicians temporarily laying aside their partisan interests and on increased levels of media coverage, thereby influencing how the public perceive leaders.
Another view is that when feeling vulnerable and under threat, citizens put their trust in political leaders and authorities to protect them.
Whichever explanation works best, however, a big question remains: how long is any rise in popularity for our current crop of leaders likely to last?
To address it we can, perhaps, look to one fairly recent precedent.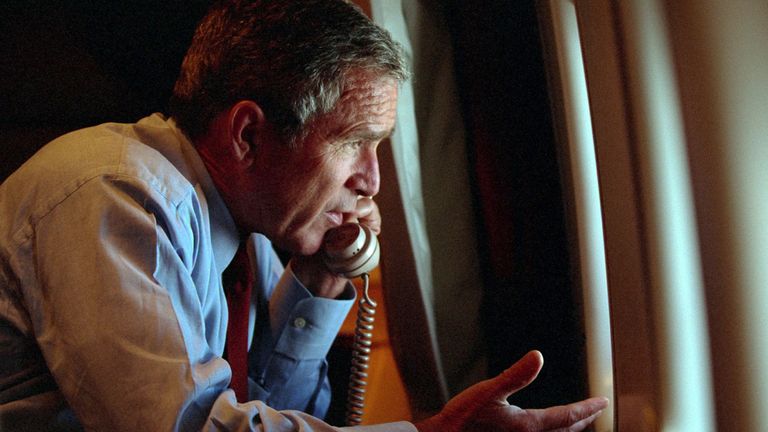 The last rally-round-the-flag with similar global ramifications as COVID-19 was that following the 9/11 attacks on America.
In the aftermath, President George W Bush's approval rating jumped nearly 40 points to 90%, the highest ever recorded for a US president.
:: Listen to the Daily podcast on Apple Podcasts, Google Podcasts, Spotify, Spreaker
More than a year later President Bush's approval rating was 68%, still nearly 20-points higher than his rating at the time of the attacks.
Nothing, however, lasts forever.
President Bush's popularity declined steadily throughout his first and second terms, and in the end only Harry S Truman and Richard Nixon left the White House with lower ratings.
It is impossible to say, then, precisely when the COVID-19 rally-round-the-flag effect might start to fade and then finally end.
As people are finally able to move beyond the pandemic, political gravity is bound to kick in: what goes up must come down.
Where that leaves individual leaders will depend in large part not just on how they are eventually seen to have handled the current crisis, but also on how they handle other issues whose importance to voters will gradually grow again.
A version of this article was originally published by UK in a Changing Europe
Coronavirus: Moscow aims to 'fully control' citizens' movements amid COVID-19 lockdown | World News
Moscow is intending to "practically fully control the movement of citizens" to enforce quarantine measures as the Russian capital begins a full lockdown.
It comes as the city is hit with more than 1,220 cases, with 17 cases known to be children.
Residents will only be allowed to leave their homes when carrying a special pass for either urgent medical problems, to visit the nearest supermarket or chemist, to take out the rubbish and to walk their dogs – but only to a distance of 100m.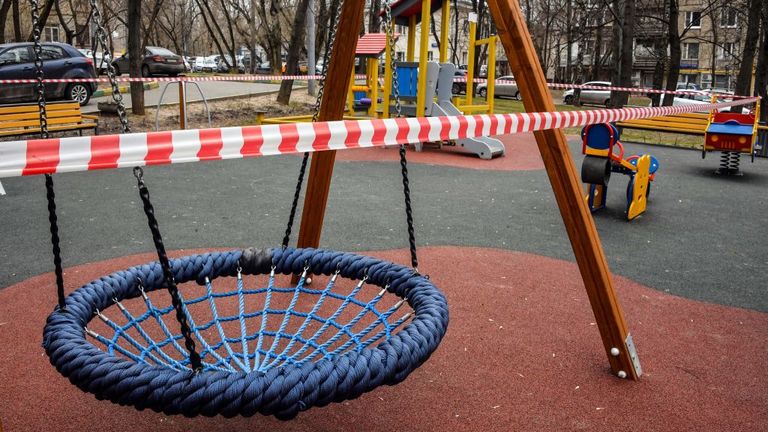 Unlike in the UK, Muscovites are not granted time outside their homes in order to exercise.
These measures will be backed up by what amounts to a smart control system where data on citizens will be monitored.
"We will be tightening control as the development of information systems progresses. Hopefully, by the end of the week, we'll have information systems which will allow us to practically fully control the movement of citizens and prevent possible violations," Moscow mayor Sergei Sobyanin said during a coronavirus council meeting.
Moscow already has one of the most sophisticated and invasive facial recognition surveillance systems in the world which has been used to monitor individual quarantines.
Additionally, location data gathered from people's mobile phones will also be used to track the movements of citizens. This new power for the government has resulted in the presidential press secretary Dmitry Peskov having to deny the measure is a violation of people's rights.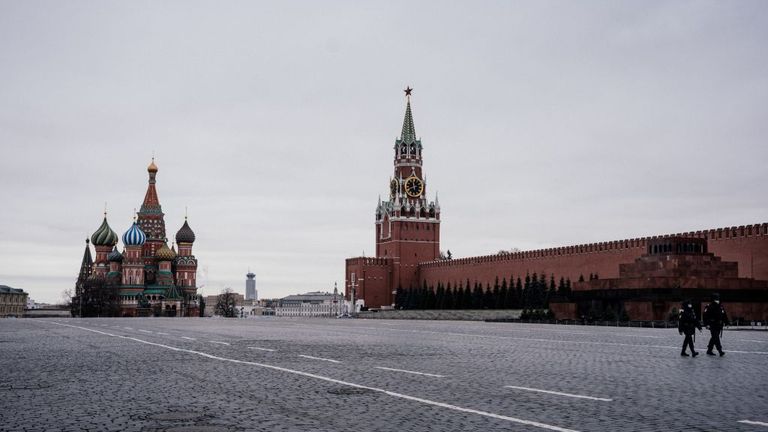 These two surveillance tools will become just a part of the mechanism deployed to watch the whole city.
People flouting the quarantine will be hit with fines and potential prison terms.
New draft legislation which is soon to be debated in parliament would see any person who is found to have infected two or more people face up to seven years behind bars.
One exception to the strict rules is that people are still allowed to leave and enter the city.
Moscow Region, adjacent to the capital, and the Arctic city of Murmansk are also in lockdown.
On Monday morning Prime Minister Mikhail Mishustin urged other regional governors to follow suit, indicating that it will only be a matter of time before Russia, the largest country in the world, locks down completely.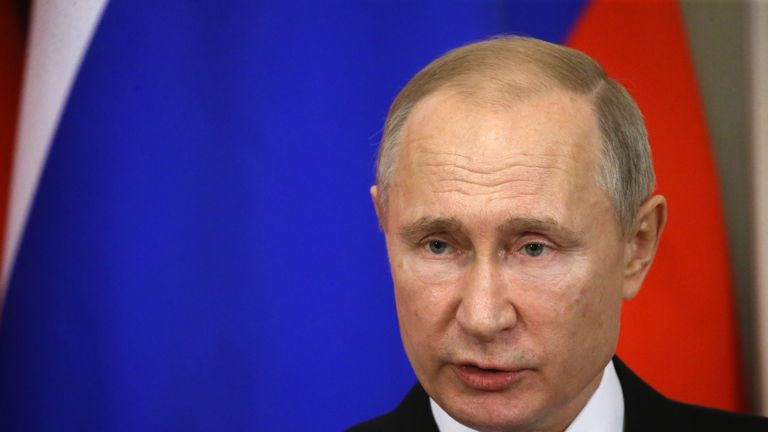 These new steps are a far cry from the week's paid leave Russian President Vladimir Putin offered his people last Wednesday.
It was an extraordinary promise in an address which the president seemed to have made to announce the delay of his cherished vote on constitutional reforms, rather than to remind his people of the gravity of what is an economic as much as a health crisis.
It fell to Mr Sobyanin to explain that all restaurants, malls and parks would now be closed and for the Kremlin spokesman to spell out that this was not actually a holiday and that people should work or study from home.
There has been a strange absence of leadership from Mr Putin on the coronavirus crisis.
On Friday, the Kremlin insisted there was no epidemic in Russia but three days later and the capital is in lockdown. The president's default appears to be to downplay the virus. Perhaps this is to stop the spread of panic, but more likely it is to capitalise off the perceived wins of Russia being able to control an epidemic the West cannot.
The more realistic perspective and the real leadership on this has come from Mr Sobyanin. His impulse has been to meticulously watch the response of countries elsewhere and to take every possible precaution back home, first as mayor and then as head of the country's COVID-19 task force.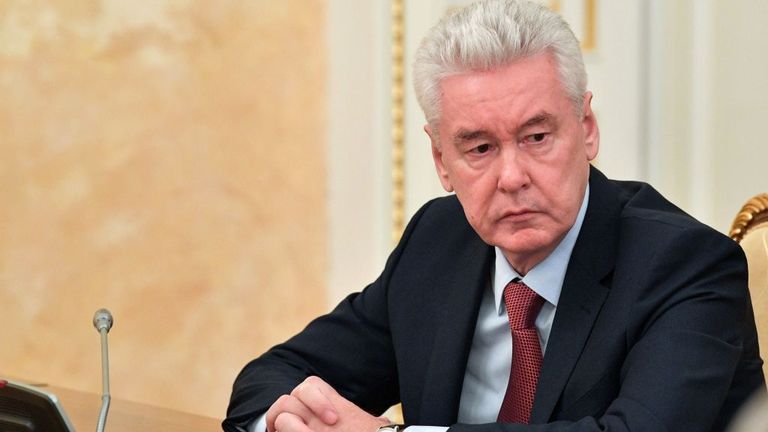 The decision to put Moscow in lockdown was his. Last Tuesday in a televised meeting a visibly frustrated Mr Sobyanin told the president that the numbers in the capital alone were far higher than the official statistics suggested and that the response must be ramped up nationwide.
It was his call to implement a regime of high alert on 5 March which required anyone returning from high-risk countries to self-isolate for 14 days. These measures may have won Russia valuable time.
The Kremlin spokesman last week said there was no reason to consider a lockdown. Mr Putin's office then said there was no reason to consider extending the 'week off work' this time was styled as.
:: Listen to the Daily podcast on Apple Podcasts, Google Podcasts, Spotify, Spreaker
Mr Sobyanin on the other hand is clearly preparing for the long haul. He says that self-isolation measures will become more restrictive day by day and that the monitoring system will only come into play at the weekend. That would not happen if the self-isolation regime was duly lifted the following week.
Russians have not yet been confronted with the six month lockdown possibility the UK faces today but it may not be far off. The number of cases this Monday is up to 1,836 over 35 regions, the vast majority of those in Moscow. Sobyanin is taking steps that would suggest the capital is already riddled with the virus.
Let us hope this is out of an abundance of caution rather than because he is one of the few to see the real picture.