'Technosignatures' could help in search for alien life | Offbeat News
Scientists are developing techniques to detect signatures from space in their search for alien life.
The Very Large Array (VLA) telescope, at the National Radio Astronomy Observatory (NARO) site in Socorro, New Mexico, will be used to constantly seek evidence of technosignatures.
A technosignature is a proxy for the existence of a technologically advanced, extraterrestrial civilisation, according to scientists at the Search for Extraterrestrial Intelligence (SETI) Institute in California.
These include things such as the chemical composition of a planet's atmosphere, laser emissions or structures orbiting stars.
The VLA is a collection of 27 radio antennas – and one spare – which work together to effectively act as a single huge telescope.
Bill Diamond, president and chief executive of the SETI Institute, said: "Having access to the most sensitive radio telescope in the northern hemisphere for SETI observations is perhaps the most transformative opportunity yet in the history of SETI programmes."
Dr Tony Beasley, director of the NRAO, based in the US state of Virginia, said: "Determining whether we are alone in the universe as technologically capable life is among the most compelling questions in science."
He added: "As the VLA conducts its usual scientific observations, this new system will allow for an additional and important use for the data we're already collecting.
"As continuing discoveries show us that planets are very common components of the universe, and we are able to study the characteristics of those planets, it's exciting that at the same time, technological advances are giving us the tools to greatly expand our search for signs of life.
"We also look forward to the coming decade, when we hope to build a next-generation Very Large Array, which will be able to search a volume of the universe a thousand times larger than that accessible to current telescopes – making it the most powerful radio technosignature search machine humanity has ever constructed."
The scientists are also making computer models to simulate extraterrestrial environments, helping the search for life beyond the solar system and planets that can support future searches for habitable planets and life beyond the solar system.
Victoria Meadows, principal investigator for Nasa's virtual planetary laboratory at the University of Washington, said: "Upcoming telescopes in space and on the ground will have the capability to observe the atmospheres of Earth-sized planets orbiting nearby cool stars, so it's important to understand how best to recognise signs of habitability and life on these planets.
"These computer models will help us determine whether an observed planet is more or less likely to support life."
The new developments come after astronomers based in Canada detected radio signals from outer space that repeat at regular intervals.
The series of fast radio bursts (FRBs) – short-lived pulses of radio waves that come from across the universe – were detected about once an hour for four days and then stopped, only to start up again 12 days later.
FRBs are not in and of themselves unusual, but previous observations have shown them to be mostly emitted at random.
Beirut explosion: A city in pain that does not know how to heal its wounds | World News
Seething with anger, Beirut is a traumatised city that is in danger of tearing itself apart.
Tens of thousands of people came from all over the country to the capital to show their utter disgust for the political class that they blame for the explosion that has wrecked the capital.
The protests were the biggest and most violent in months, with young and old gripped by fury at the authorities.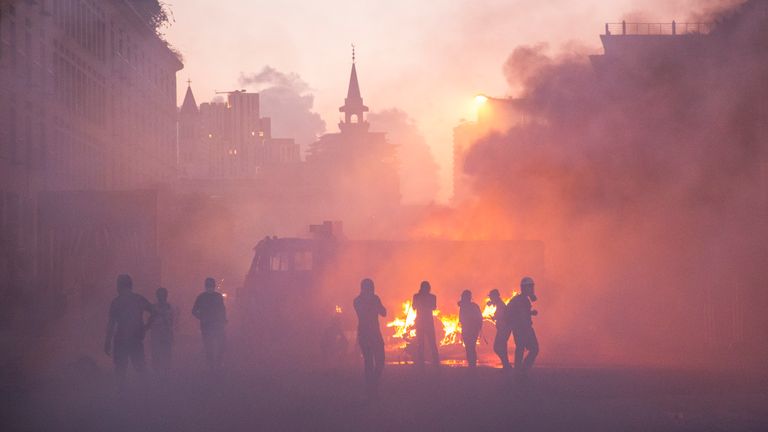 It is a sign of how the blast – which has displaced hundreds of thousands of people – has galvanised a desperate population already at breaking point from a deepening economic and political crisis.
The savings of ordinary people – if they had any – have been wiped out thanks to a plunging currency and Lebanon is now one of the most indebted countries in the world.
Makeshift gallows were constructed in Martyrs' Square. Many here want to metaphorically hang the ruling elite and remove them from power; others want them to literally swing.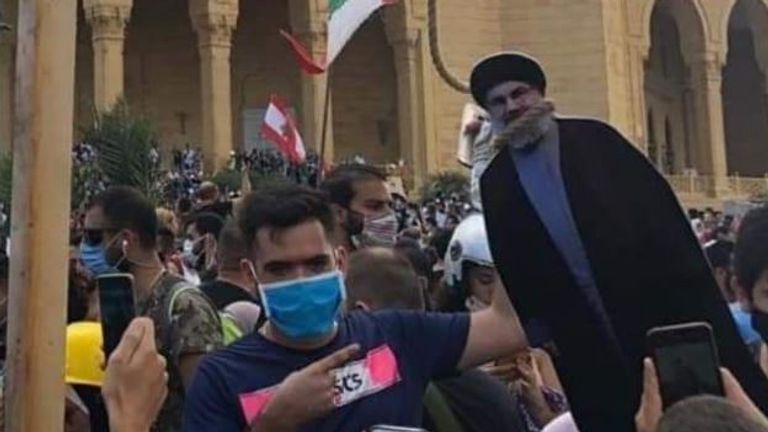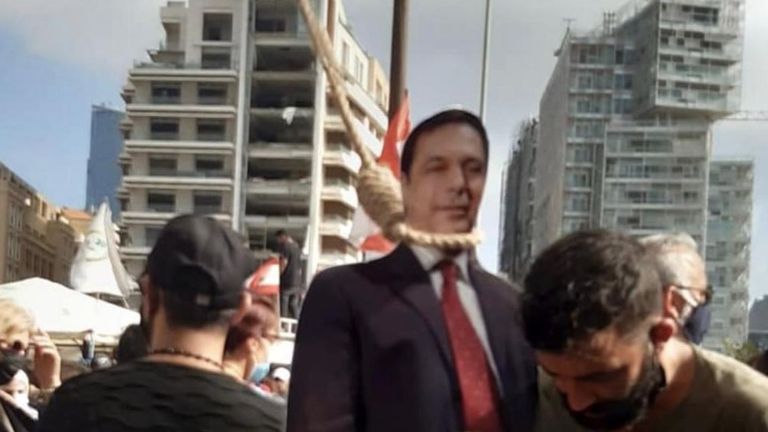 One man quivering with rage shouted to me that he was going to kill the country's leaders because they were responsible, through callous negligence, for the destruction of his beloved Beirut.
As tear gas choked through the city a burning sense of righteous anger brought more and more people onto the streets.
They were determined to reach the parliament building – a symbol of the rottenness at the heart of the country.
Plastic bullets crackled through the air, and some of the protesters were seriously injured with blood once again spilling onto Beirut's tired and weary streets.
This was an already battered people facing the full force of state security.
How this fresh wave of protests ends is not yet clear, but what is certain is that no one will accept a return to the status quo.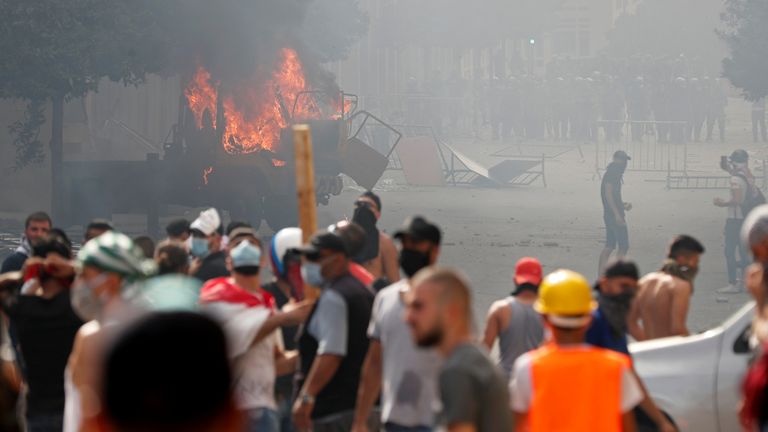 In response the prime minister, Hassan Diab, made an unscheduled and brief TV appearance calling for early elections.
But it is a move unlikely to defuse the anger here, and people across country want reform of the entire system.
By early evening the protesters had taken over the foreign ministry, occupying one of the government's seats of power.
The revolutionary fervour soon spilled into the main banking institution where offices were torched and equipment was smashed.
:: Listen to the Daily podcast on Apple Podcasts, Google Podcasts, Spotify, Spreaker
Protesters told me the blame for what is becoming a hellish descent into chaos lies only with the ruling class, who are accused of plundering the nation's resources.
More protests are planned for the coming days, but for now this is a city in pain that does not know how to heal its wounds.
Coronavirus: Paris imposes face masks along the River Seine and in other outdoors areas | World News
Wearing a face mask outdoors in some crowded parts of Paris will become mandatory next week, as France battles a surge in coronavirus infections.
Areas of the French capital where the new measures will be enforced include the banks of the River Seine and along the Canal St Martin as well as open-air markets and other places where social distancing is difficult, local officials said.
Tourist sites such as the Eiffel Tower, the Arc de Triomphe and Champs-Elysees boulevard were not included.
France is experiencing a spike in coronavirus infections. More than 2,200 new cases were reported on Friday, the biggest single-day increase since May. That brought the total for the week to 9,330.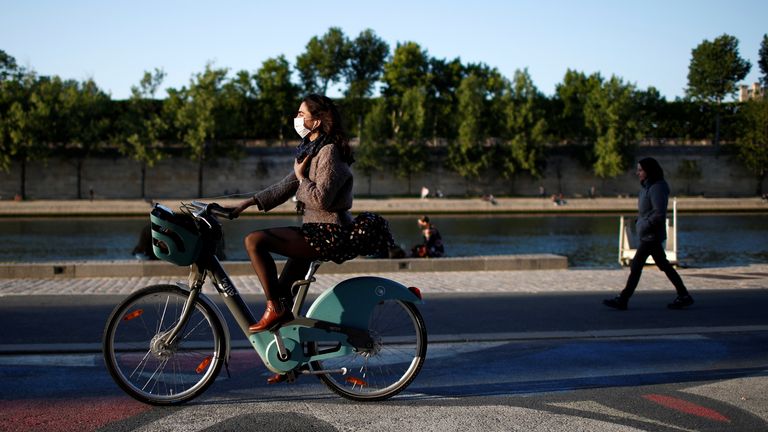 Under the new measures, masks will become mandatory for all people aged 11 and over as of Monday morning and will remain in place for one month.
Those breaching the order face a fine of €135 (£120).
Wearing a mask outdoors is also mandatory in some crowded parts of cities including Marseilles, the country's second largest, Nice and Lille. The glamorous French Riviera resort of Saint-Tropez is also requiring face masks outdoors.
France has suffered more than 30,000 coronavirus deaths since the start of the pandemic.
The country made it compulsory to wear a face mask in closed public spaces such as shops and banks since 21 July.
:: Listen to the Daily podcast on Apple Podcasts, Google Podcasts, Spotify, Spreaker
The national government's top scientific body said this week that the situation is "precarious".
"We could at any moment tip into a scenario that is less under control, like in Spain," it said.
"It is highly likely that we will experience a second epidemic wave this autumn or winter."
European countries are experiencing new flare-ups after easing lockdown restrictions to try to limit the economic damage and alleviate public frustration.
Beirut: Riot police fire tear gas at protesters as anger grows over port explosion | World News
Tear gas has been fired in Beirut as people protesting against the government's handling of this week's explosion tried to reach the parliament building.
Riot police took action as about 5,000 people gathered in the central Martyrs' Square and attempted to break through a barrier.
"The people want the fall of the regime," protesters chanted, adding: "Leave, you are all killers."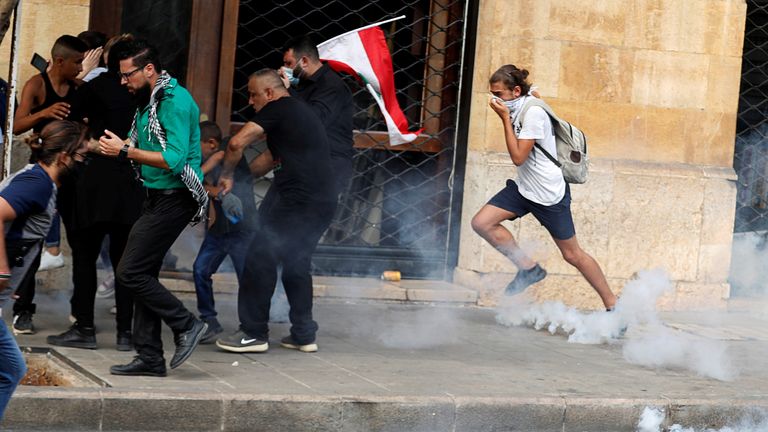 Makeshift gallows and nooses have been set up.
Sky News correspondent Alex Rossi, who is there, said residents have been "enormously angry" since the explosion happened, adding: "People here want to – metaphorically at least – hang their political class."
He said there was a "huge amount of structural damage to the buildings" and hardly any windows have glass in them.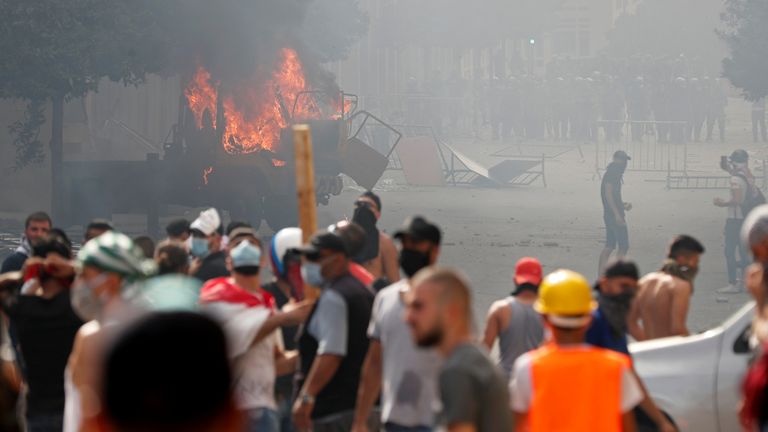 Student Celine Dibo, speaking as she scrubbed blood off the walls of her shattered apartment building, said there was "no trust" in the government, adding: "I wish the United Nations would take over Lebanon."
Psychologist Maryse Hayek said the Lebanese people are "living in ground zero".
"I hope another country would just take us over. Our leaders are a bunch of corrupt people," he said.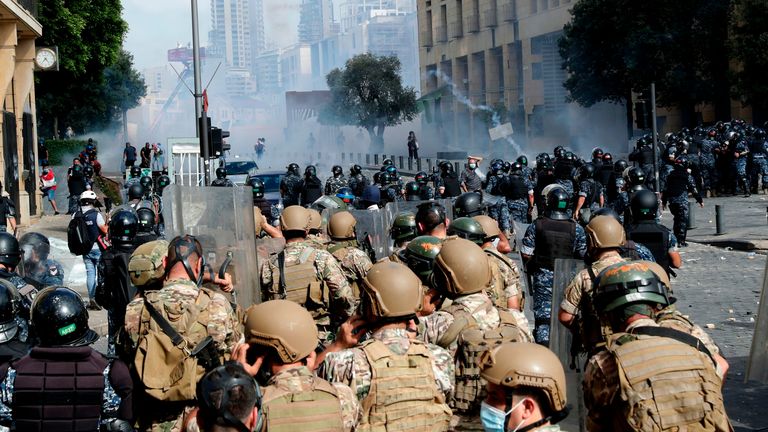 One of the demonstrators in Martyrs' Square, Rose Sirour, said: "We want a future with dignity – we don't want the blood of the victims of the explosion wasted."
The number of dead has risen to 158, the Lebanese health ministry said. At least 6,000 have been injured, while 21 people remain missing.