Ingrid Escamilla murder: Hundreds protest against 'femicide state' | World News
Hundreds of demonstrators have demanded action from the Mexican government after the latest murder of a young woman in the country.
An average of 10 women are murdered in Mexico every day but the protests were sparked by the particularly grisly killing of 25-year-old Ingrid Escamilla in Mexico City.
Ms Escamilla was found dead by officers at an apartment just north of the city centre last weekend, her body skinned and part of her corpse flushed down a sewer.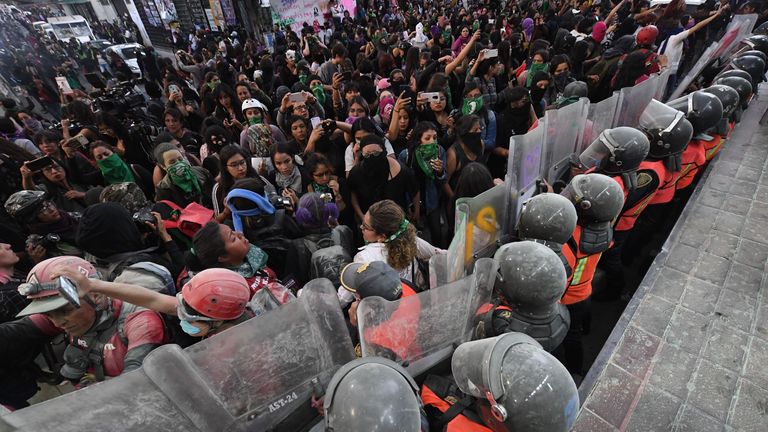 Her boyfriend has been arrested in connection with her murder.
Gruesome pictures of her body were published by some Mexican newspapers, a move that sparked further anger.
Lilia Florencio Guerrero, whose daughter was murdered in 2017, called on President Andres Manuel Lopez Obrador, who was inside the palace during the protests, to do more to stop the violence.
She said: "It's not just Ingrid. There are thousands of femicides.
"It fills us with anger and rage."
The protesters, most of them women, painted the words "femicide state" in red on Mexico's presidential palace.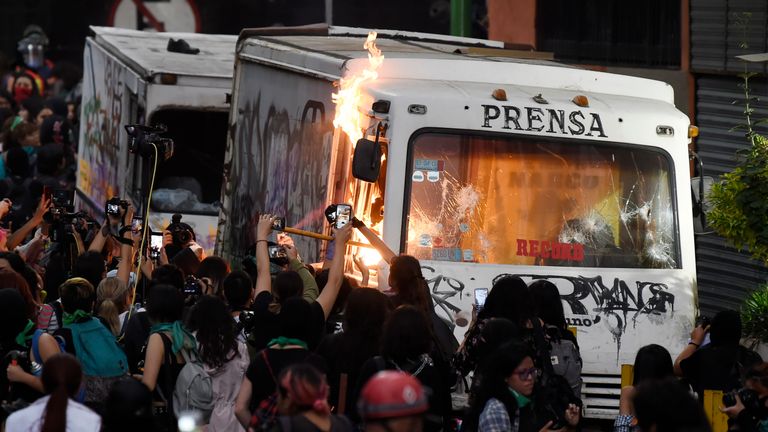 They also marched through heavy rain to the offices of La Prensa, which published photos of Ms Escamilla's body on its front page. At least one vehicle belonging to the newspaper was set on fire.
The newspaper later said in a statement that it had "entered a process of deeper review".
The United Mexican Journalists collective was quoted in El Pais as saying that publication of the photos showed "total lack of respect for the victim, the accused, due process and society".
"The message they sent to society was that they are entrepreneurs and their content (is) a mere commodity…It is a very dark moment for the Mexican press."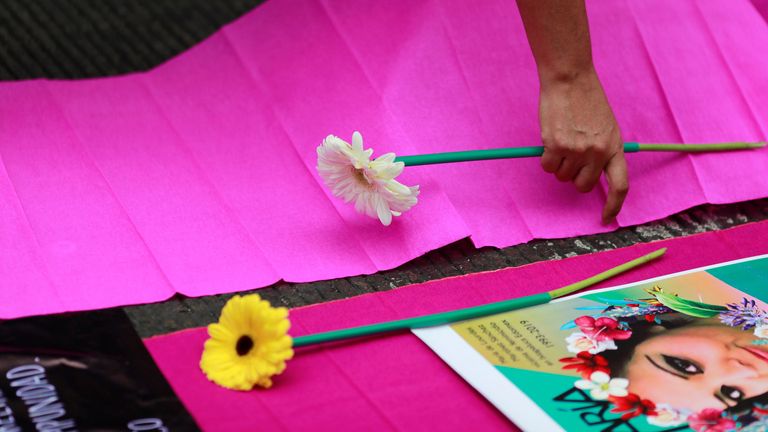 Officials say they are investigating police officers thought to have taken the photos with their mobile phones before leaking them to newspapers.
Protesters chanted "not one more murder" and carried signs saying "we demand responsible journalism", "Ingrid we are all you" and "sexism kills".
In a statement, the protesters said: "It enrages us how Ingrid was killed, and how the media put her body on display.
"It enrages us that the public judges us, saying 'this isn't the right way to express your rage'.
"We are not mad, we are furious."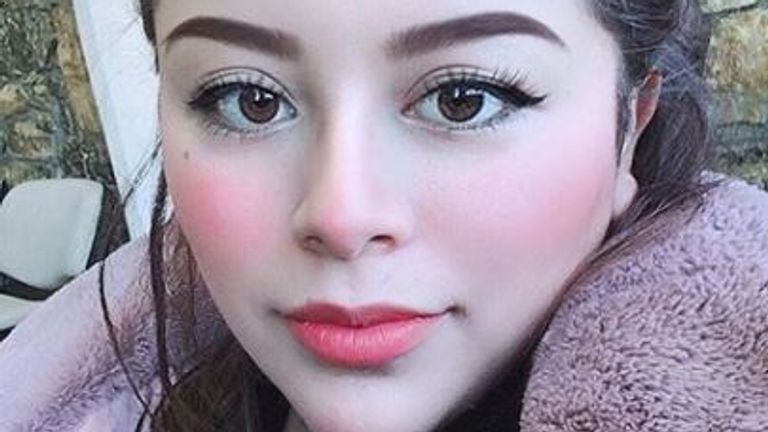 On social media, people sought to counteract the photos published in newspapers with photos of Ms Escamilla alive and happy.
Inside the presidential palace, the president told reporters: "I'm not burying my head in the sand… The government I represent will always take care of ensuring the safety of women."
He did not give further details of how he would do this.
Last year 3,825 women were murdered, an increase of 7% from 2018, according to official figures.
Juan Carlos: Spain's former king 'staying at a luxury hotel in Abu Dhabi' | World News
Spain's former king Juan Carlos has reportedly been staying at one of the world's most luxurious hotels since fleeing his country amid a corruption scandal.
Spanish national daily ABC reported the 82-year-old checked into Abu Dhabi's exclusive Emirates Palace Hotel on Monday night.
This is around the same time his letter informing his son, King Felipe, of his intention to leave, was made public, the newspaper said.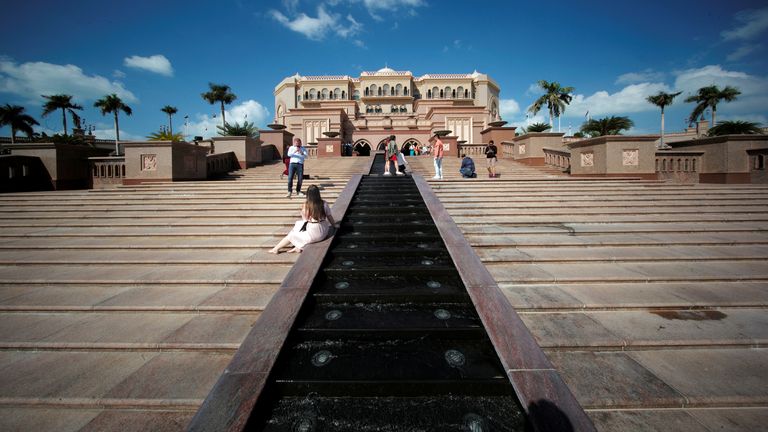 Earlier this week reports suggested he had fled to a luxury resort in the Dominican Republic, via Porto in Portugal.
But ABC said the ex-monarch took a private jet (en route from Paris to Abu Dhabi) from the city of Vigo on Spain's northwest coast at Sunday lunchtime with at least five passengers, including four bodyguards.
The jet landed at Al Bateen Executive Airport, whose use is exclusively for private flights arriving in the capital of the United Arab Emirates, the newspaper reported.
From there the father-of-three travelled by helicopter to the five-star hotel, owned by the Emirati government, it added.
United Arab Emirates officials were not immediately available for comment, Reuters reported. The Emirates Palace Hotel did not immediately respond to an emailed request for comment, the news agency said.
It was widely reported Juan Carlos left the Zarzuela Palace in Madrid on Sunday and spent the night in Sanxenxo, a small town on Spain's Atlantic coast, where he had often attended sailing events – a 42-minute drive to Vigo.
Officials in the Dominican Republic and Portugal have said they have no knowledge of him arriving.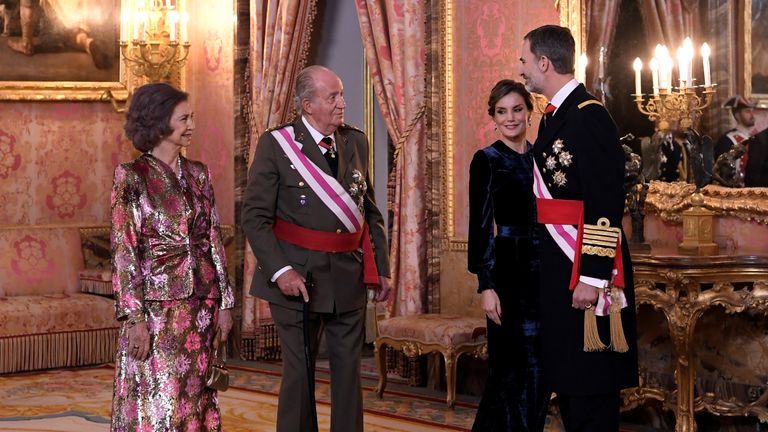 In a letter to his son, King Felipe, published on the Spanish royal family's website, Juan Carlos said that he had chosen to leave the country because of "public repercussions that certain past events in my private life are generating".
Juan Carlos came to the throne in 1975 after the death of General Francisco Franco and was widely respected for his role in helping guide Spain from dictatorship to democracy.
But his popularity sank in later years because of a series of scandals, leading to him stepping down.
Prosecutors in Switzerland are investigating whether financial transactions linked to Juan Carlos had any bearing on Saudi Arabia awarding a lucrative multi-billion-dollar deal to Spanish companies to build a high-speed railway in the kingdom in 2011.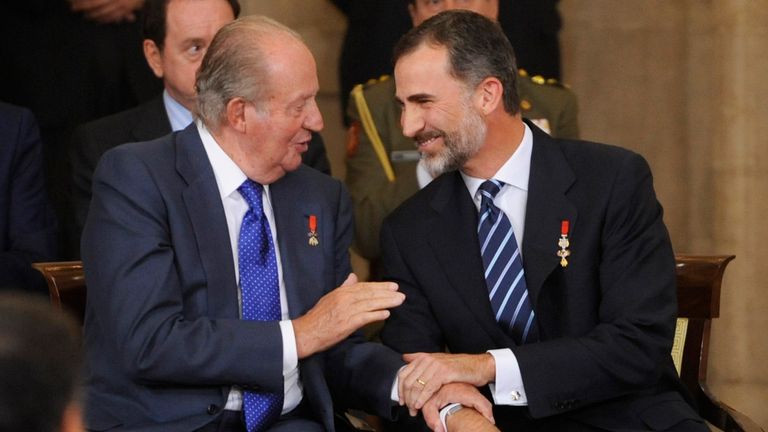 In March this year, Switzerland's La Tribune de Geneve newspaper reported that the former monarch received $100m (£75m) from the late Saudi King Abdullah in 2008.
Juan Carlos allegedly then transferred €65m (£75m) to his former companion, the German businesswoman Corinna zu Sayn-Wittgenstein.
Spain's supreme court has also opened an inquiry into the circumstances surrounding the Saudi deal, and whether the former king can be investigated for any dealings after 2014, when he lost his immunity from prosecution after his abdication.
The former monarch is not formally under investigation.
His lawyer, the royal palace and the government have all declined to say where he is.
Beirut explosion: Lebanon's president doesn't rule out 'rocket or bomb' as possible cause | World News
Lebanon's president has said an investigation into the Beirut blast is exploring the possibility it was caused by "a rocket or a bomb".
Michel Aoun spoke on Friday after the number of victims in the explosion rose to 154, with another 5,000 people injured.
Mr Aoun told local media: "The cause has not been determined yet.
"There is a possibility of external interference through a rocket or bomb or other act".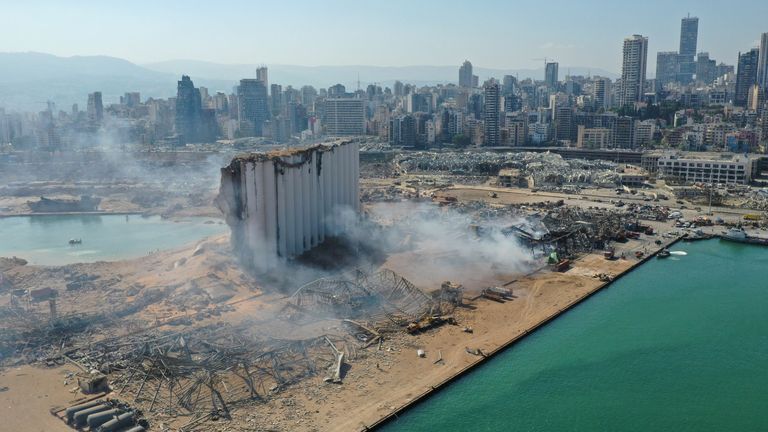 International rescue teams are still searching the rubble of Beirut's port nearly three days after the explosion ripped through the city.
At least three more bodies were recovered in the 24 hours leading up to Friday morning, bringing the total to 149.
Lebanon's health minister later said at least 154 people had died in the blast on Tuesday.
French and Russian rescue teams with dogs were seen searching the port area on Friday.
Among those located in the rubble was Joe Akiki, a 23-year-old port worker who had been missing since the explosion.
Dozens of people are still missing.
Some 300,000 people, more than 12% of Beirut's population, are unable to return to their homes because of the explosion, which blew out doors and windows across the city and left many buildings uninhabitable.
Officials have estimated losses at 10 billion to 15 billion US dollars (£7.6bn to £11bn).
The United Nations High Commissioner for Refugees (UNHCR) in Geneva has said the need for shelter in Beirut is "massive".
The United Nations Children's Fund (UNICEF) has said up to 100,000 children have had their homes damaged and are displaced because of the explosion.
UNICEF added it lost 10 containers of personal protective equipment (PPE) in the blast and has placed an order to replace the items.
The Food and Agriculture Organization of the United Nations has said the grain silo destroyed in Tuesday's blast was the country's only one.
The port director in the Lebanese city of Tripoli has said plans to build another 150,000 tonne grain silo there have been shelved due to a lack of funding.
It comes as the US has pledged over $17m in initial disaster aid for Lebanon.
The US embassy said in a statement the aid included food assistance, medical supplies and financial assistance for the
Lebanese Red Cross.
The World Food Programme (WFP) plans to import wheat flour and grains for bakeries and mills to help protect against food shortages across Lebanon.
The United Nations agency said on Friday: "WFP is concerned that the explosion and the damage to the port will exacerbate an already grim food security situation – that has worsened because of the country's profound financial crisis and the COVID-19 pandemic.
"WFP also stands ready to offer supply chain management and logistical support and expertise to Lebanon."
The developments come a day after France's president Emmanuel Macron paid a visit to the blast site and promised aid.
He also said Lebanon needed a new "political initiative" as part of the rebuilding process because of corruption in the country.
Lebanon was mired in a severe economic crisis before the blast that was also widely blamed on the political class.
The explosion was apparently caused by the ignition of 2,750 tonnes of ammonium nitrate – a chemical used for explosives and fertiliser.
It had been stored at the port since it was confiscated from an impounded cargo ship in 2013.
Beirut explosion: Protests erupt as Lebanon's leaders blamed for deadly blast | World News
Protests have erupted in Beirut as residents blame Lebanon's leaders for the deadly explosion that killed at least 145 people.
Dozens of protesters threw stones at security forces and set tyres on fire near the country's parliament in central Beirut on Thursday evening.
They were eventually pushed back after security forces, including army soldiers, fired a few rounds of tear gas to disperse the crowd.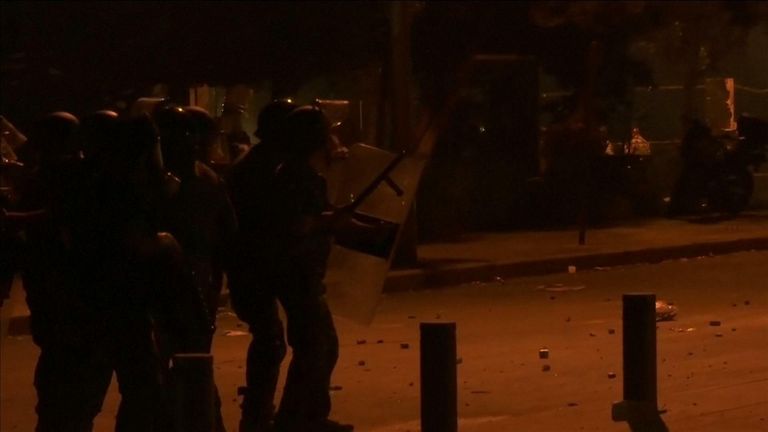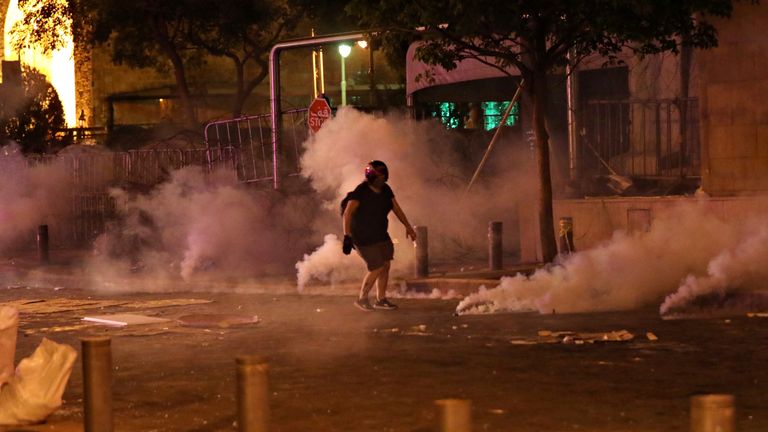 Hours before, locals used French president Emmanuel Macron's visit to let the world know they want political reform in a country that was already struggling with economic and political crises.
Mr Macron visited the capital's port that was devastated on Tuesday after 2,750 tonnes of ammonium nitrate set off a massive explosion that left 300,000 people – more than 12% of Beirut's population – homeless, and thousands injured.
Lebanon's customs chief said the cabinet was previously warned by a security agency that the stockpile of chemicals, confiscated from an impounded Russian cargo ship in 2013, was dangerous.
The report has compounded anger as few people can rebuild homes and businesses, with unemployment and poverty having already mounted during the financial crisis blamed on the government.
As Mr Macron visited one of the worst-hit residential areas in France's former colony, a crowd gathered around him and shouted their anger, using slogans including "revolution!" and "the people want to bring down the regime" – a line used at mass protests last year.
Presenting himself as a champion for the Lebanese people, he told the crowd in Gemmayze he would propose "a new political pact" to the government and said French aid would "not go into the hands of corruption".
One woman shouted at Mr Macron: "You are sitting with warlords. They have been manipulating us for the past year."
He replied: "I'm not here to help them. I'm here to help you."
The pair then hugged.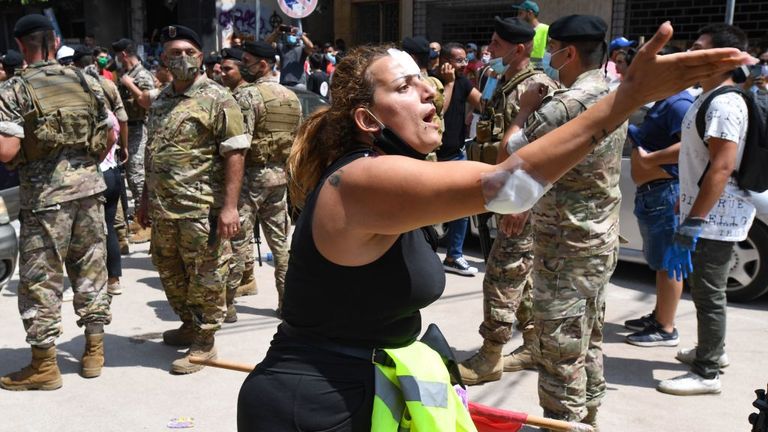 Mr Macron announced France will organise a conference in the next few days with European, American, Middle Eastern and other donors to raise money for food, medicine, housing and other urgent aid.
He warned Lebanon's political elite he would not give "blank cheques to a system that no longer has the trust of its people" and called on them to create a "new political order".
Lebanon's president, Michel Aoun, visited the port with other colleagues but no leading politicians have visited the neighbourhoods damaged by the blast.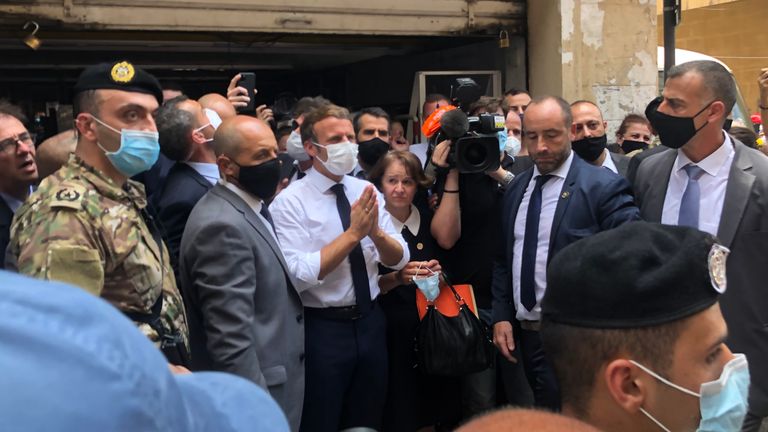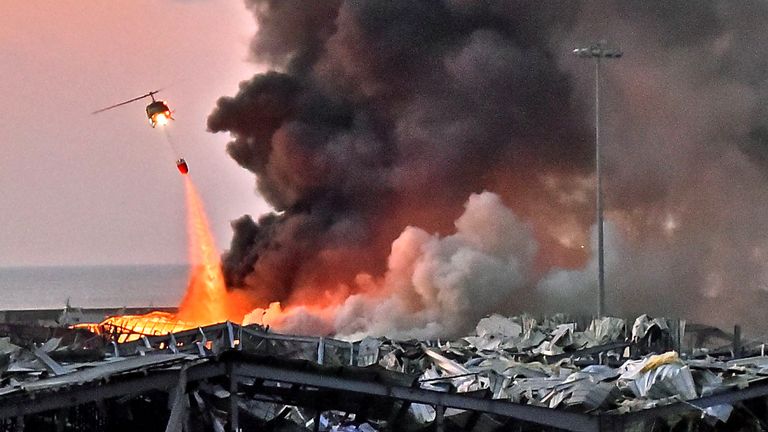 Beirut's hospitals are struggling to deal with the wounded more than 48 hours after the blast, with fears of a coronavirus spike adding to the devastation.
Four-month-old Sophie Ajoury, one of the youngest survivors, was fighting for her life in one hospital after suffering head injuries as her mother breastfed her near a window when the explosion happened.
The United Nations said it was releasing $9 million (£6.7m) from its emergency fund to support hospitals and intensive care units, while European, Arab and Asian countries are sending doctors, medical supplies or field hospitals.
Over the past few years, the international community has been reluctant to offer support to the notoriously dysfunctional government where corruption is rife and basic services like rubbish collection are a mess.
The investigation into the blast is focusing on how the ammonium nitrate came to be stored in the port and why it was never dealt with, with the president promising punishment for whoever is responsible.
Sixteen port employees have been detained and 18 port and customs officials in charge of the warehouse's maintenance have been questioned so far, lead investigator and military judge Fadi Akki said.
The port's general manager, Hassan Koraytem, and former works and transport minister Ghazi Aridi, will be interviewed on Friday, a person familiar with the investigation said.