Coronavirus: World Health Organisation mission heads to China as COVID-19 death toll passes 1,500 | World News
The World Health Organisation will lead a mission to China this weekend to start investigating the COVID-19 outbreak.
The group of 12 Chinese and 12 international members will focus on how the new coronavirus is spreading and its severity.
WHO chief Tedros Adhanom Ghebreyesus said: "The goal of the joint mission is to rapidly inform the next steps in the COVID-19 response and preparedness activities in China and globally."
COVID-19 is the medical name for the acute respiratory disease caused by the virus.
"Particular attention will be paid to understanding transmission of the virus, the severity of disease and the impact of ongoing response measures," Mr Tedros added.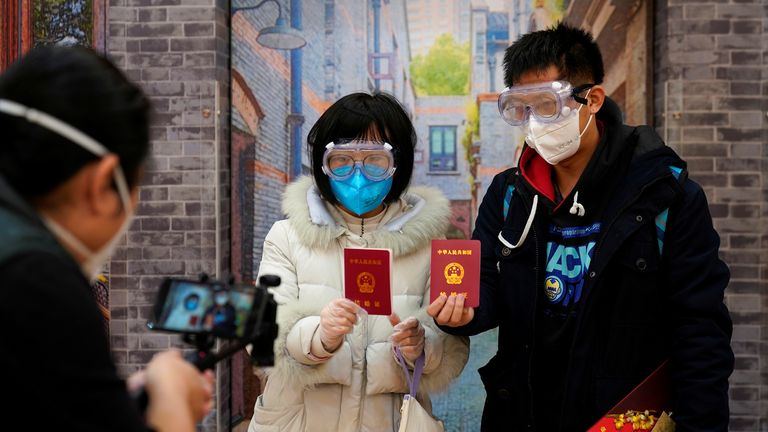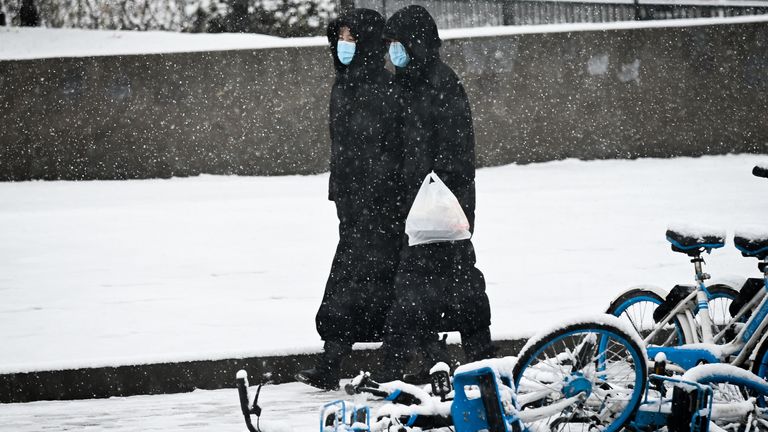 A total of 1,525 people have died from COVID-19, the disease caused by the virus – most in mainland China but one each in Hong Kong, the Philippines and Japan
67,079 cases have been confirmed since the virus started in mid-December in Wuhan, with 63,866 in mainland China, according to data collected by Johns Hopkins University and the World Health Organisation
There were 5,090 suspected new cases recorded in mainland China, Chinese authorities said on Friday
It comes as people returning to Beijing were told they would be punished if they did not isolate themselves for two weeks to stop the spread of the virus.
City authorities, quoted in the Beijing Daily newspaper, said: "From now on, all those who have returned to Beijing should stay at home or submit to group observation for 14 days after arriving.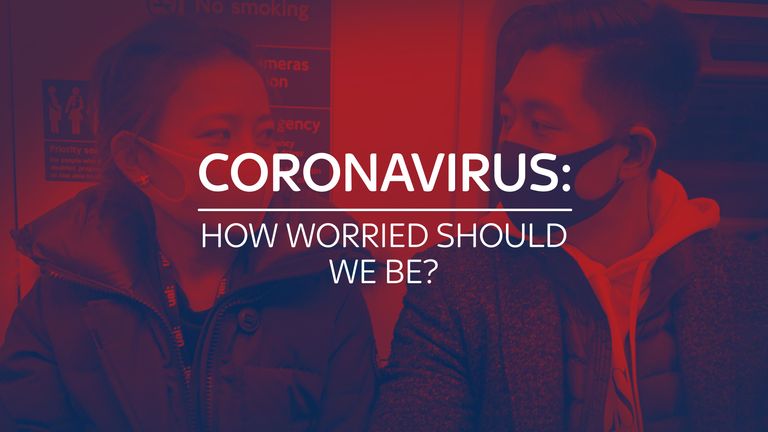 "Those who refuse to accept home or centralised observation and other prevention and control measures will be held accountable under law."
Anybody returning to the Chinese capital will have to submit travel plans to their community in advance, the notice said.
It was unclear how this would affect foreign visitors arriving from outside China.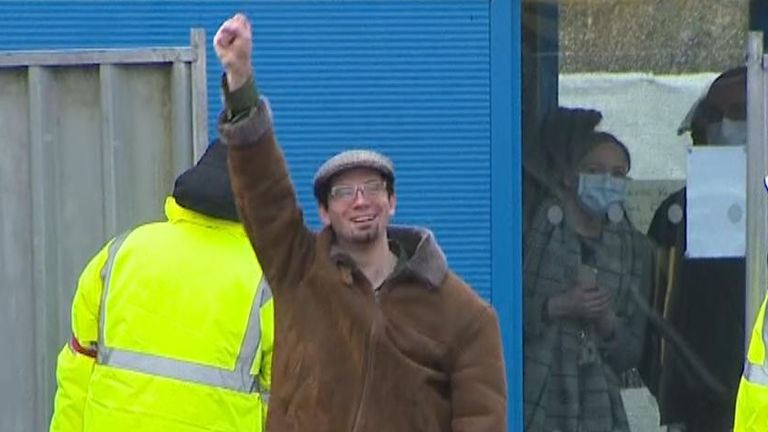 Other major coronavirus updates:
The first case in Africa was confirmed on Friday after a "foreigner" tested positive in Egypt
Two British Labour MPs cancelled all engagements after they were among 250 people at the UK Bus Summit on 6 February which was also attended by a patient with COVID-19
A North Sea oil rig worker was placed in isolation as he was tested for COVID-19 after returning from Thailand
A ninth person in the UK was confirmed as having the virus on Sunday. The Chinese woman had flown from China and walked into a London hospital's A&E
All 2,257 passengers and crew on the MS Westerdam cruise ship were at last allowed to dock in Cambodia, having been stranded for two weeks after ports in Thailand, Japan, Taiwan, the Philippines and Guam turned them away over fears they would spread the new virus, despite nobody on board testing positive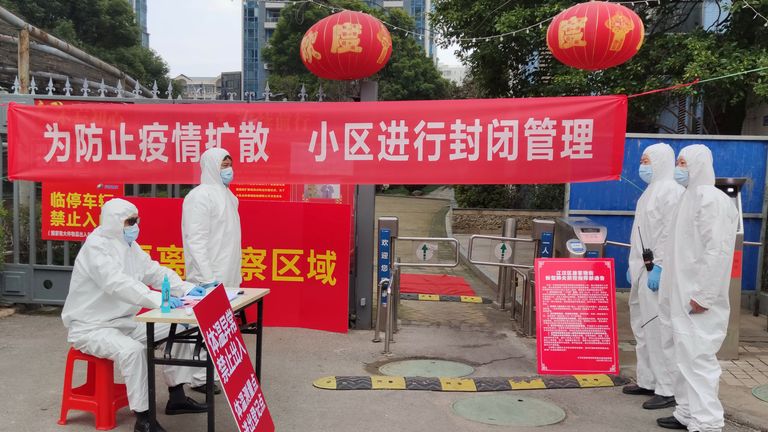 :: Listen to the Daily podcast on Apple Podcasts, Google Podcasts, Spotify, Spreaker
About 500 million people in China are affected by travel restrictions, as more cities, including Beijing and Shanghai, imposed lockdowns this week in an attempt to halt the spread of COVID-19.
Last week President Xi Jinping warned top officials efforts to contain the virus had gone too far and were threatening the economy.
People returned from the Chinese New Year holiday on Monday, but cities remain empty, with Shanghai and Beijing's streets and subways largely deserted, with many shops and restaurants empty or shut.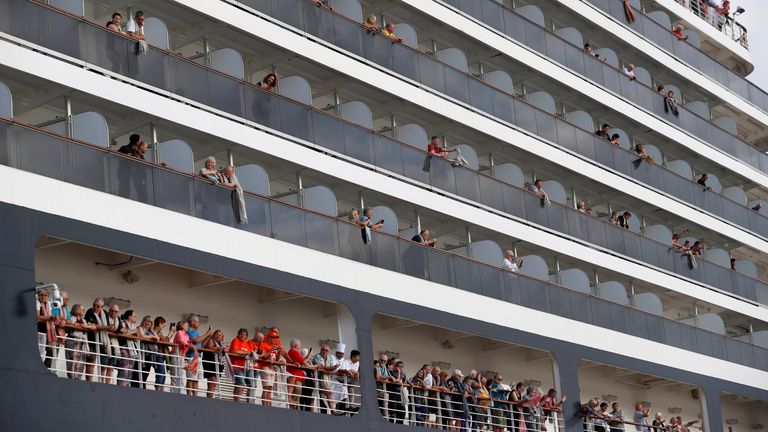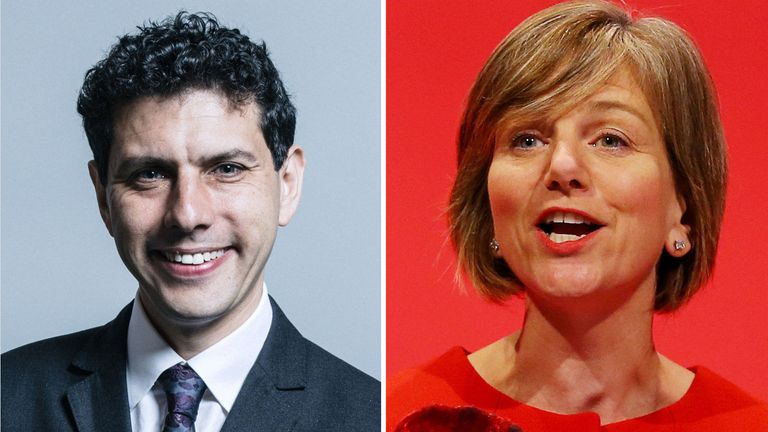 Wuhan, the city of 11 million people where the outbreak began, is under the most severe lockdown, with all public transport, taxis and ride-hailing services shut down.
Volunteer drivers are risking their own health by secretly ferrying medical staff and those in vital jobs to and from work after responding to requests on messaging groups.
Others are desperately trying to find accommodation for medical workers, many who have come from across China.
Brexit: UK and EU will 'rip each other apart' in talks, France predicts | Politics News
Prime Minister Boris Johnson has been warned that he will face a tough battle with the European Union in his efforts to secure a trade deal in the aftermath of Brexit.
France's foreign minister Jean-Yves le Drian gave the prediction during the Munich Security Conference, as both sides prepare to begin negotiations on the UK's future relationship with the bloc.
Mr le Drian warned Mr Johnson that Brussels will defend its interests when talks formally open up next month, saying: "I think that on trade issues and the mechanism for future relations, which we are going to start on, we are going to rip each other apart.
"But that is part of negotiations, everyone will defend their own interests."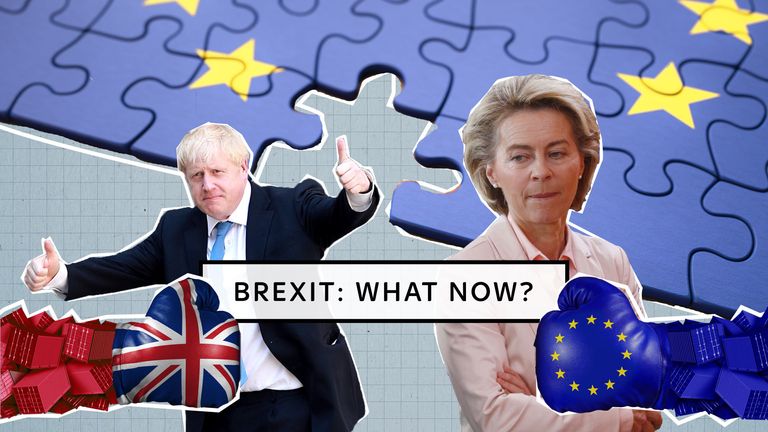 The UK's chief negotiator David Frost is set to make it clear that Mr Johnson will walk away from talks with the EU, unless it drops what he calls its "ridiculous and unreasonable" demands.
Mr Frost is said to be travelling to Brussels on Monday to lay down his opening gambit, following a meeting of his 40-strong negotiating team last week.
Mr le Drian is a close ally of French President Emmanuel Macron, and is one of the latest major European voices to speak out about the tough road ahead for the UK.
Fishing will be high on the agenda during trade talks, and it is believed that Mr Macron wants EU fleets to keep their access to UK waters, in what is set to be a key demand in the negotiations.
However, Mr Johnson has said that the UK will take control of its fishing waters, acting as a "independent coastal state" once the Brexit transition period is over.
:: Listen to Sophy Ridge on Sunday on Apple podcasts, Google podcasts, Spotify, Spreaker
The EU has sent repeated warnings to the UK ahead of talks, saying it should not expect to be able to carry enjoying "high quality" market access if it demands on moving away from the bloc's existing social and environmental standards.
The new European Commission president, Ursula von der Leyen, told the European Parliament this week that Mr Johnson would have to accept a "level playing field" on rules and standards.
Britons land in Sharm el Sheikh as 5-year flight restriction lifted | World News
One of the first flights from the UK to Sharm el Sheikh has landed after restrictions on flying to the Egyptian resort were lifted.
British tourists on the TUI flight from Gatwick were greeted by celebrations, with fire engines jetting water over the top of the aircraft and a reception featuring flowers, music and cocktails.
Flights between the UK and Sharm el Sheikh were halted in November 2015 after a bomb blew up on a Russian airliner shortly after take-off from Sharm el Sheikh airport, killing all 224 people on board.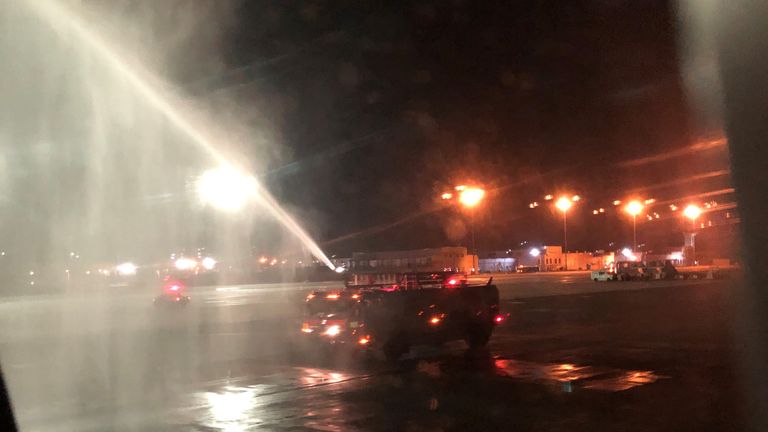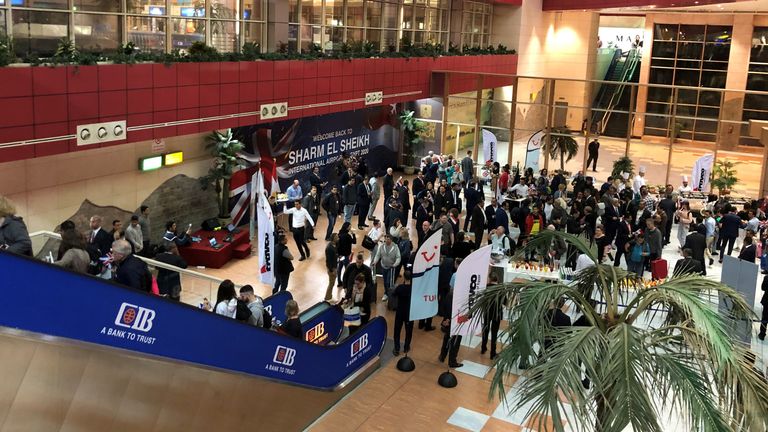 The Department for Transport lifted the restrictions in October, saying there had been "improvements in security procedures" and "close co-operation between our aviation security experts and their Egyptian counterparts".
The bombing had forced the UK to repatriate about 16,000 tourists in 2015 as the airport's security procedures were considered high risk.
TUI, the UK's biggest travel company, said last year it would be resuming flights to the Egyptian resort this month.
Rival company Easyjet also said it would be restarting flights to Sharm el Sheikh.
The airline said two flights a week would depart from Manchester from 7 June, while flights from Gatwick will begin on 30 September.
The ban had sparked a steep decline in UK visitors to the region, which had previously seen hundreds of thousands of British tourists each year.
Tourists were forced to either take multiple flights or a ferry from Hurghada to visit the Red Sea destination.
It was one of the factors which led to the collapse of airline Monarch in October 2017.
Coronavirus: Americans start to leave cruise ship as Britons claim 'we've been forgotten' | World News
The US has evacuated some of its citizens from a cruise ship quarantined over coronavirus fears.
Two charter flights carrying some of the 380 Americans on board the Diamond Princess ship moored at Yokohama Port near Tokyo had left Japan for America on Sunday, the US State Department said.
Once back in the US, the repatriated passengers will have to spend another two weeks in quarantine at a US military facility.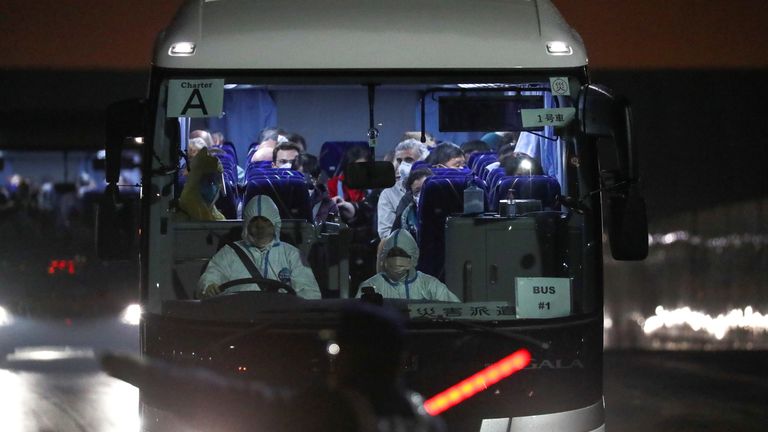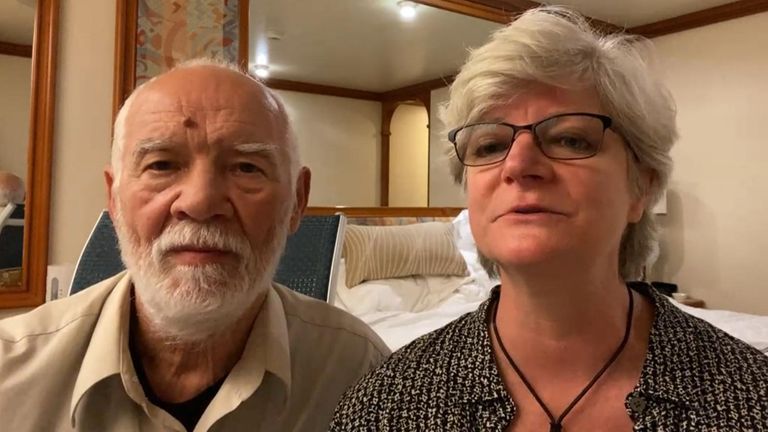 Of the 3,500 people on board the ship, 355 have tested positive for COVID-19, the disease caused by the coronavirus.
One US couple, Cheryl and Paul Molesky, filmed themselves boarding the flight after being kept inside their cabin for 12 days.
"Well we're exhausted but we're on the plane and that's a good feeling," Mrs Molesky said.
Her husband added they had spent "five hours on the bus, waiting to get off the bus" before boarding the flight.
Canada, Hong Kong and Italy are also planning similar repatriation flights.
Meanwhile, Britons held on the ship have accused the UK government of "forgetting" about them.
In a video message, British passenger David Abel said: "Every country except the UK has become involved, and that is really wonderful for the people on board the ship.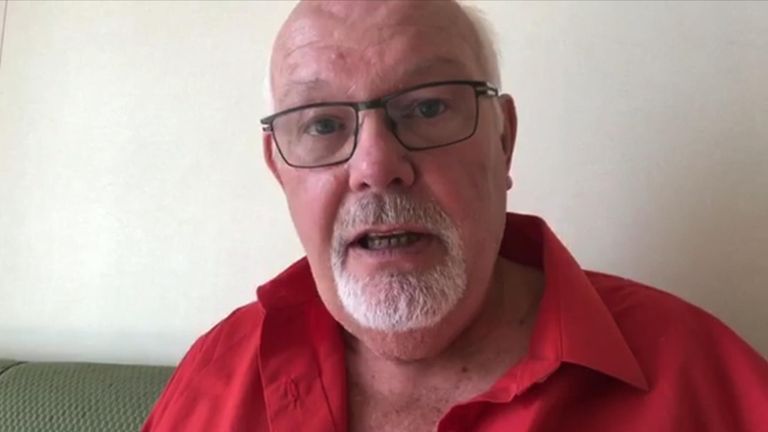 "Every country except for the United Kingdom.
"It feels that we've been forgotten. That you don't really care about us, and that you're actually not wanting us to come home."
Fellow Briton Alan Steele, who was diagnosed with COVID-19 and taken to hospital while celebrating his honeymoon on the cruise ship, said it was time for Boris Johnson to "get the Brits back".
Mr Steele, who has since tested negative for the disease, posted on Facebook: "I think it is about time boris got the brits back to england as the japanese are being totally incompetent and do not realise you cannot keep ppl in solitary confinement for 28 days without damaging their mental health. [sic]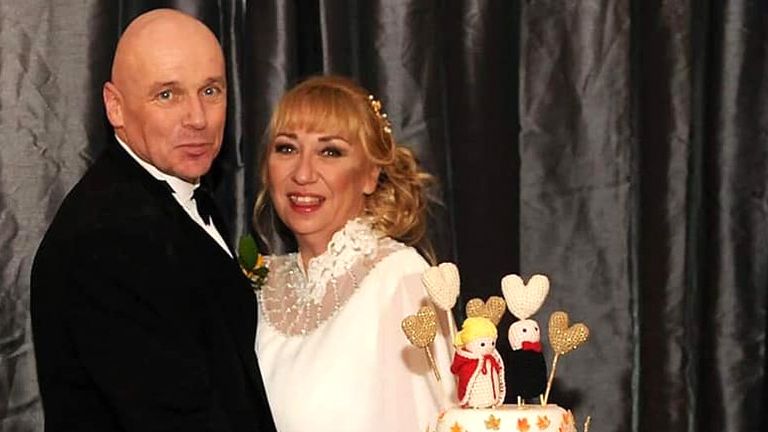 "What does WHO [World Health Organisation] have to say about this and I am sure cruel punishment like this has to be illegal."
News agency PA understands that the UK government is considering a repatriation flight.
A Foreign Office spokeswoman said: "We sympathise with all those caught up in this extremely difficult situation.
"We are urgently considering all options to guarantee the health and safety of the British people on board the Diamond Princess, in line with the latest advice from the Chief Medical Officer and the World Health Organisation, and are working closely with the Japanese authorities and our international partners.
"Our staff in Tokyo, including the ambassador, have been in regular contact with the British passengers and crew on the Diamond Princess and we have also been speaking to families in the UK."
Other passengers fear they may be kept in quarantine beyond the initial 19 February deadline, after Princess Cruises president Jan Swartz said the quarantine may be extended for guests who had close contact with a person who tested positive for COVID-19.
:: Listen to the Daily podcast on Apple Podcasts, Google Podcasts, Spotify, Spreaker
Ms Swartz said: "We also now understand the Japanese may handle a select group of guests differently, anyone who had close contact with a person who tested positive – such as a cabin mate – may have to restart their quarantine from the date their close contact ended."
It comes as the death toll from COVID-19 hit more than 1,773, according to the Johns Hoskins Centre for Systems Science and Engineering.
So far there have been more than 71,000 suspected and confirmed cases of COVID-19, with many of the cases concentrated in mainland China.