Gerard Butler is set to carry Sparta's torch before Tokyo Olympics | Ents & Arts News
In a case of life imitating art, Gerard Butler, the star of ancient Greek epic 300, is to carry Sparta's Olympic torch ahead of this summer's Tokyo games.
Sparta's mayor says the Hollywood A-lister, who played warrior king Leonidas in the 2006 movie based on The Battle Of Thermopylae in 480BC, will return to the city.
The film depicts the heroic rear-guard action by 300 Spartans and other forces to repel the attempted invasion of Greece by a much larger Persian force.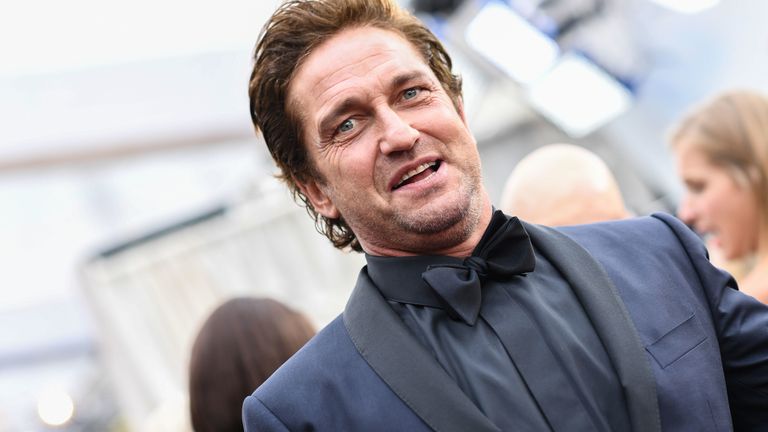 The blockbuster, criticised for playing loose with historical accuracy, grossed $400m (£307m) at the box office, establishing Butler as major action movie lead.
The Scot, 50, will be in Sparta on 14 March to run as a torchbearer for the 2020 Tokyo Olympic Games, and will also be in the city for the 2,500th anniversary of the battle, Sparta mayor Petros Doukas told state-run broadcaster ERT.
The movie is based on the 1998 comic series of the same name by Frank Miller and Lynn Varley, which presents a fictionalised retelling of the battle, for entertainment purposes, while retaining many of the historical facts.
Mr Doukas said that Butler will be a guest of honour in the festivities.
The Hollywood star will forever be associated with the battle cry "This is Sparta!" which has become one of the more iconic lines in film history.
Butler has appeared in numerous movies such as Olympus Has Fallen, P.S. I Love You and Law Abiding Citizen but he recently told Greek Reporter that 300 was the "most intense and enjoyable movie" he ever made.
Coronavirus: World leaders must overcome differences to fight COVID-19, PM to warn | World News
Boris Johnson will warn the coronavirus pandemic has divided the international community, as he pledges hundreds of millions of pounds to the World Health Organisation to fight future viruses.
In a speech at the UN General Assembly later, the prime minister will warn that countries must work together and overcome the divisions created by the global health crisis or risk it spiralling out of control.
Mr Johnson will also make a large financial commitment to the WHO, making the UK the largest country-donor to the organisation just months after Donald Trump froze US funding.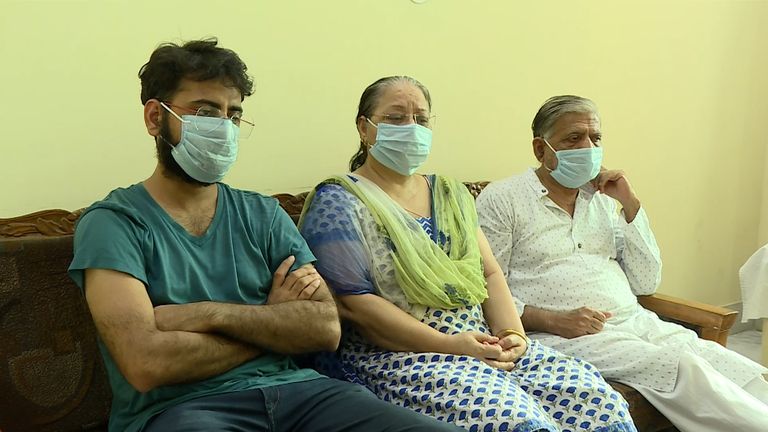 He will say: "After nine months of fighting COVID, the very notion of the international community looks tattered.
"We know that we cannot continue in this way. Unless we unite and turn our fire against our common foe, we know that everyone will lose.
"Now is the time therefore – here at what I devoutly hope will be the first and last ever Zoom UNGA – for humanity to reach across borders and repair these ugly rifts."
The prime minister will also unveil an ambitious plan, timed to coincide with the UK presidency of the G7 next year, designed to prevent future global health crisis.
In his pre-recorded speech, Mr Johnson will add: "Here in the UK, the birthplace of Edward Jenner who pioneered the world's first vaccine, we are determined to do everything in our power to work with our friends across the UN to heal those divisions and to heal the world."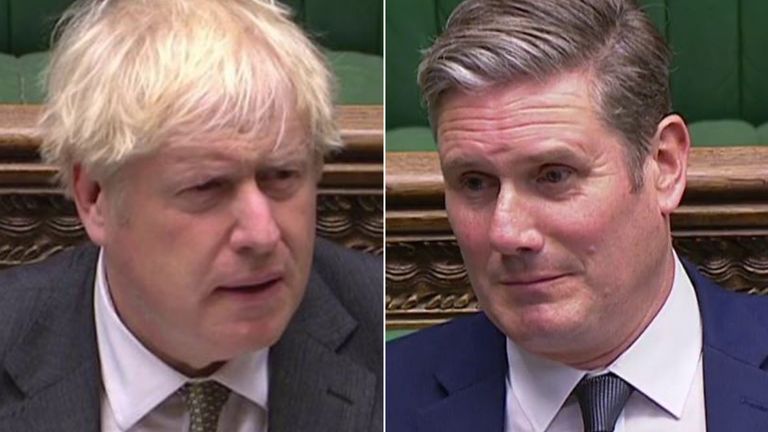 The five point plan, developed with the Wellcome Trust and the Bill and Melinda Gates Foundation, aims to identify dangerous pathogens which could make the leap between animals and humans before they lead to COVID-like pandemics.
He will also commit to an extra £71m for 27 million vaccine doses for the UK to combat COVID-19 and spend £500m to help poorer nations tackle the virus.
Announcing the UK will increase funding to the WHO by 30 per cent Mr Johnson will call for countries to work together, not pull apart.
The £340m investment will be spent over the next four years and comes after President Trump criticised the WHO for failing to tackle the virus in the early stages. The UK funding will aim to ensure the organisation can be flexible and respond quickly to any future pandemic.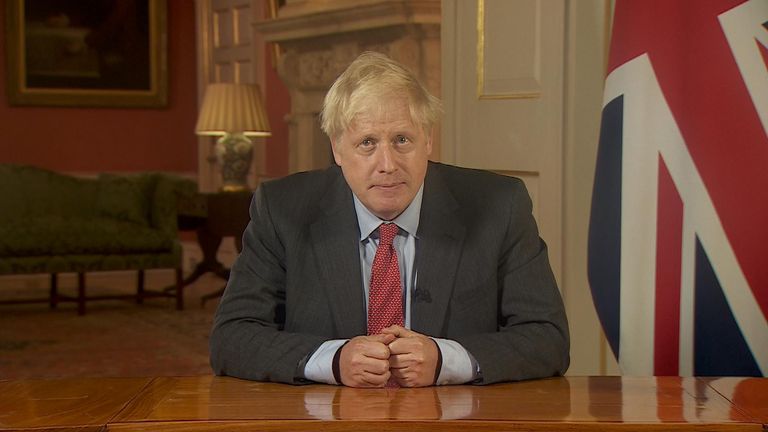 Mr Johnson will also set out further initiatives the UK plans to champion when it takes charge of the G7 next year, including a global pandemic early warning system, better manufacturing capability for treatments, global protocols for future health emergencies and a plan to reduce trade barriers to help nations respond more quickly in future.
In the early stages of the pandemic some nations increased tariffs on key goods such as soap, making it difficult for poorer nations to respond well.
Plane carrying aviation students crashes in Ukraine killing 22 | World News

A military transport plane carrying students from an aviation school has crashed in northeastern Ukraine, killing at least 22 people on board, officials have said.
The Antonov An-26 had been trying to land during a training exercise when it burst into flames just a mile short of a military airport on Friday evening.
General Staff of the Armed Forces Ruslan Khomchak said that, as well as those killed, at least two people were critically injured.
A total of 27 people were on the plane, according to the State Emergency Service of Ukraine.
Most of those on board were students from the Kharkiv University of Air Force, which is run by the country's defence ministry.
Deputy Interior Minister Anton Gerashchenko posted video showing the plane in flames with smoke billowing upwards.
Other pictures showed rescue workers inspecting the wreckage near Chuhuiv, about 250 miles east of Ukraine's capital Kiev.
The cause of the crash is being investigated but one pilot reported the failure of one of the plane's two engines, according to Oleksiy Kucher, the governor of the Kharkiv region.
He told Interfax Ukraine this would not have been a critical situation for an experienced pilot.
Some of those on board managed to jump out of the plane as it flew at low altitude, he added, something confirmed by a witness on the Ukraine 24 news channel.
President Volodymyr Zelenskiy will visit the scene on Saturday.
Breonna Taylor: Armed civilians are demonstrating their power in wake of decision over her killing | US News
Louisville is a tinder box of rage and frustration.
Protesters have been taking to the streets for 121 nights since Breonna Taylor was killed.
This week the city has been in a state of emergency, roads closed and businesses barricades. Military personnel line the streets, armoured vehicles patrol the airport and protesters hold vigil at a square, waiting for curfew to fall before they march.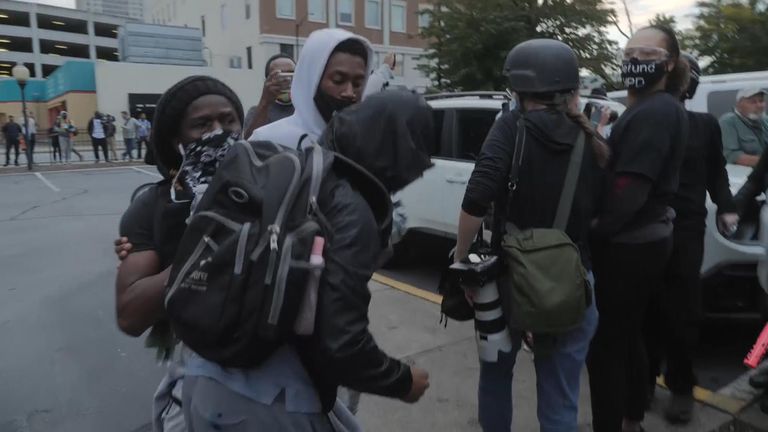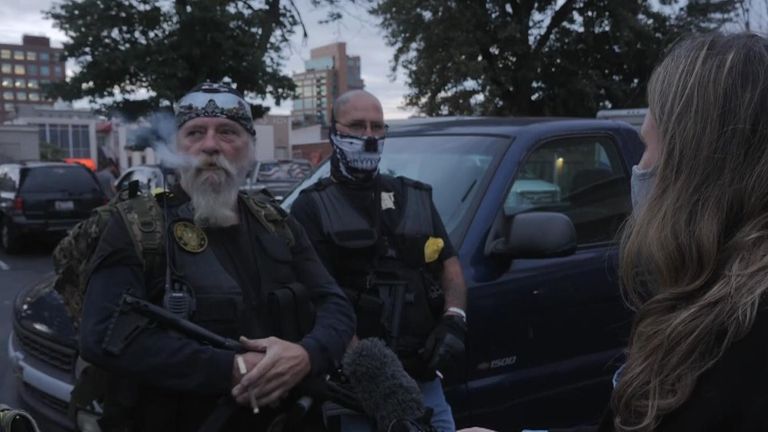 But there's another group who've started to make their presence felt in the past few days – loaded with rifles and army fatigues they look like active military personnel.
But they are in fact a far-right group who call themselves the Oath Keepers, described by the Southern Poverty Law Centre as one of the largest radical anti-government groups in the US.
We find them in the car park of a hotel. There are about 30 of them and the protesters marching by are immediately aggravated by the sight of them.
The anti-government group insists they've been invited here by business owners. The founder, Stewart Rhodes tells me: "We're here to protect businesses and apartments. We're also here protecting residents.
"We don't want to say who they are or where they lived because they're afraid. We're protecting life and property."
The crowd that's started to form around them is clearly incensed.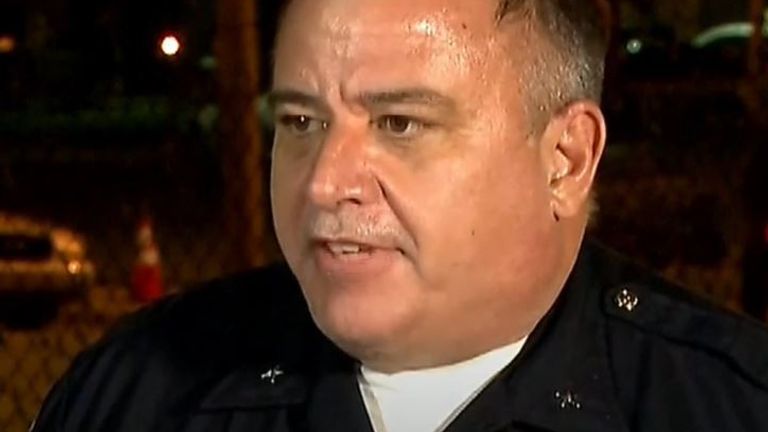 There are tense exchanges playing out everywhere as the two sides face off.
One member, George Douglas Smith Jr, tells me he won't raise his gun unless damage is done. He said: "What they do in their organisation is fine. Unless they try to turn the buildings down.
"I made a solemn oath to the store owners that I won't let that happen even if this crowd beats me downs and kill me."
It is an austerely incongruous sight, but it's become painfully commonplace in the pockets of tension around America that seemingly keep emerging. A nation where heavily armed civilians feel emboldened to demonstrate their power.
It constantly feels like the mood and risk can radically shift at any moment.
The protesters eventually make their way out of the car park, many encouraging each other not to rise to the bait.
For another two hours, they walk around Louisville. They eventually make their way to a church where they're welcomed in and offered refreshments.
The police keep watch on the edge of the grounds. It is a far less disparate and chaotic scene than some of the skirmishes and arrests we witnessed the night before, when two officers were shot.
:: Subscribe to Divided States on Apple podcasts, Google Podcasts, Spotify, and Spreaker
But it's a constant game of cat and mouse that's hard to imagine any resolution to right now.
Twenty five minutes out of town, we meet neighbours of Breonna Taylor who were there the night she died. They're incredulous at the grand jury's decision not to charge any officers with her killing.
Deja Moore lives opposite Breonna's apartment. She tells me there were gun shells all around her door and she could see Breonna's body.
The attorney general said the police announced their presence. But Deja is emphatic that she and others didn't hear it.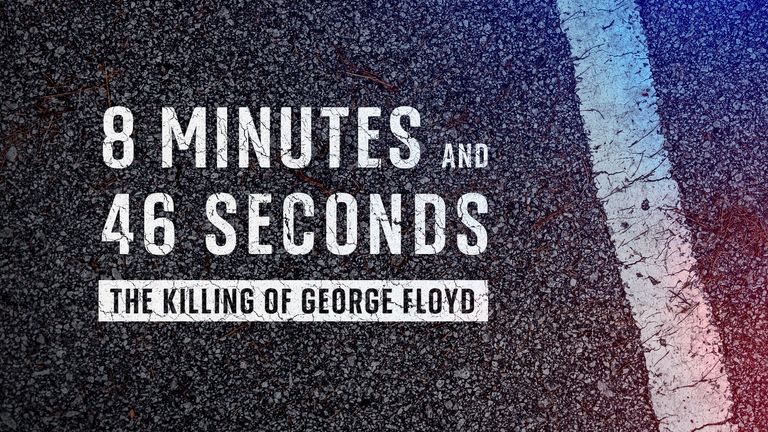 She is exasperated at the lack of progress on racial justice in America, but defiant too.
"Honestly a change needs to come. Whether they like it or not it's going to turn violent. We're upset, angry, disappointed and if they won't change it we will," she said.
Quite what the change looks like in a country where it's proved so illusive, is very unclear.