Coronavirus: Everyone arriving in Beijing must 'self-isolate or be punished' | World News

Everyone arriving in Beijing is being told to self-isolate for two weeks to protect against coronavirus otherwise they will be punished, Chinese state media reported.
More follows…
China emissions pledge could help the world avoid climate catastrophe, says top diplomat | UK News
Catastrophic climate change could be avoided because of China's promise to be carbon neutral by 2060, the UK's climate diplomat has told Sky News.
John Murton – who is the UK's envoy for climate summit COP26 – says although the details need to be examined, he hopes other countries will now follow China's lead to reduce their emissions.
"It's a really important thing that China has made this commitment as there's no way that the world would be able to meet Paris goals of keeping temperature rise to no more than 2C – and as close to 1.5C – if China hadn't made this sort of commitment," he said.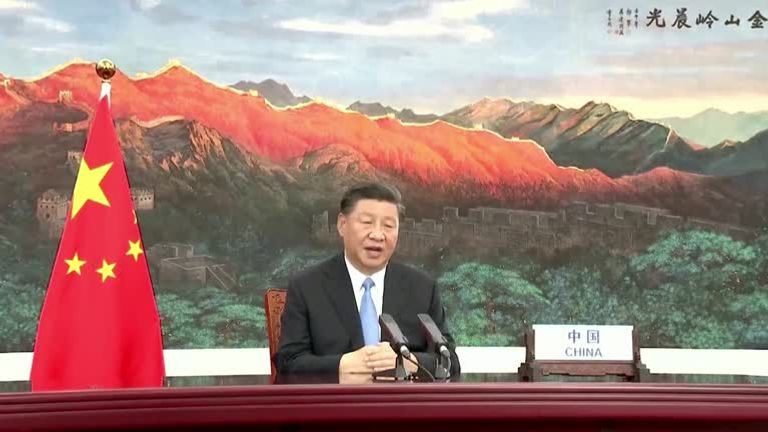 "So in that sense, it's good news. We need to learn the details but what it does is tell other big emitters that these sorts of reductions are possible."
Mr Murton said China's pledge is a "positive thing" for the COP26 conference, which is due to be held in Glasgow next November, as it could persuade other nations to make similar targets.
China is the world's worst polluter, but in a virtual speech at the United Nations General Assembly, President Xi Jinping said his country would be carbon neutral by 2060 and achieve a peak in carbon dioxide emissions before 2030.
It is the first time China has said it will end its net contribution to climate change.
But it is not just its domestic reliance on fossil fuels that environmentalists say needs to be cleaned up.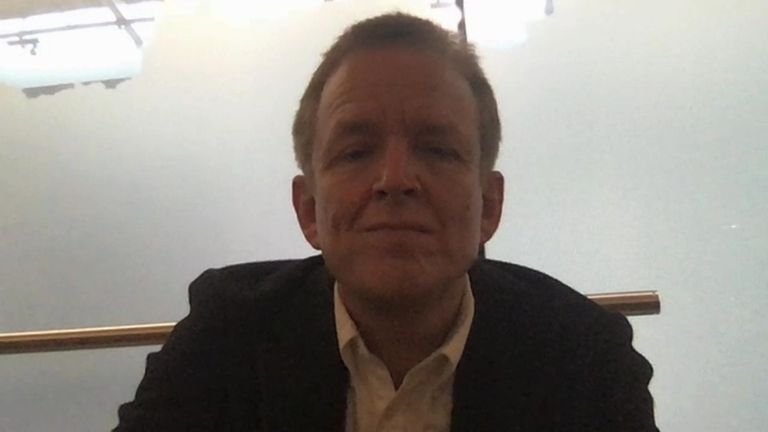 The Organisation for Economic Co-operation and Development says China spent more than $1tn (£786bn) on foreign infrastructure. Over the last few years, the majority of that is thought to involve fossil fuels.
And it has coal projects in at least 28 countries totalling over $50bn (£39bn), according to global coal finance tracker EndCoal.org.
Professor Lord Nicholas Stern of the London School of Economics said: "A big majority of their investments in energy infrastructure would be in fossil fuels, coal and oil and gas, but what we must hope now is that given that China has changed its ambitions, upped its ambitions for emissions within China, that it will apply the same logic outside.
"China's investments internationally should follow the same principles of China's investments inside China and China has made statements to the effect that they will be – that China's investments outside China will be sustainable but that is something that will now be tested."
Asteroid the size of a bus to hurtle past Earth closer than satellites tomorrow, NASA says | Science & Tech News
An asteroid the size of a bus is set to pass Earth at a distance closer than both the Moon and satellites, according to NASA.
The asteroid, named 2020 SW, will fly past 13,000 miles (22,000 kilometres) above the Earth's surface.
This distance means it will be closer than both the Moon and satellites – used for GPS, television and weather – that orbit our plan.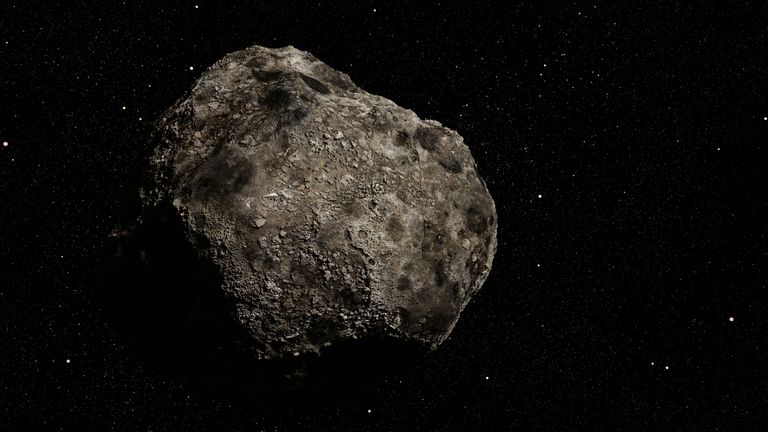 The rock was only discovered on 18 September by the NASA-funded Catalina Sky Survey in Arizona.
It is estimated to be around five to 10 metres (15 to 30ft) wide, making it equivalent to the "size of a small school bus".
Further observations carried out by astronomers identified a trajectory which ruled out any chance of the asteroid colliding with Earth.
"Although it's not on an impact trajectory with Earth, if it were, the space rock would almost certainly break up high in the atmosphere, becoming a bright meteor known as a fireball," the space agency said.
After the asteroid passes at noon, UK time, it will continue its journey around the sun.
This means it will not pass Earth again until 2041, where it will be a greater distance away from the planet.
Although the minor planet's passing will not be visible to the naked eye, people with 12-inch telescopes should be able to spot it.
The passing will also be streamed in a live video feed broadcast by the Virtual Telescope Project.
Paul Chodas, a director at NASA's Jet Propulsions Laboratory, said: "There are a large number of tiny asteroids like this one, and several of them approach our planet as close as this several times every year.
"In fact, asteroids of this size impact our atmosphere at an average rate of about once every year or two."
There are believed to be more than 100 million small asteroids, similar to 2020 SW. However, they are hard to discover until they get very close to Earth.
Larger asteroids, which hold a greater threat if they did collide with Earth, can be detected while further away because they are brighter than small ones.
On 20 August, an asteroid made the closest fly-by of Earth ever recorded. At the time, NASA admitted it had not seen it until after it passed.
Breonna Taylor: Fury as no police charged directly over fatal shooting | US News
A police officer has been indicted following the death of Breonna Taylor in March – but not on charges directly linked to her being shot.
Of the three officers involved, Brett Hankison was the only one to be indicted on three counts of first-degree wanton endangerment – after he fired his gun into neighbouring apartments.
He could face up to five years in prison for each of the three counts.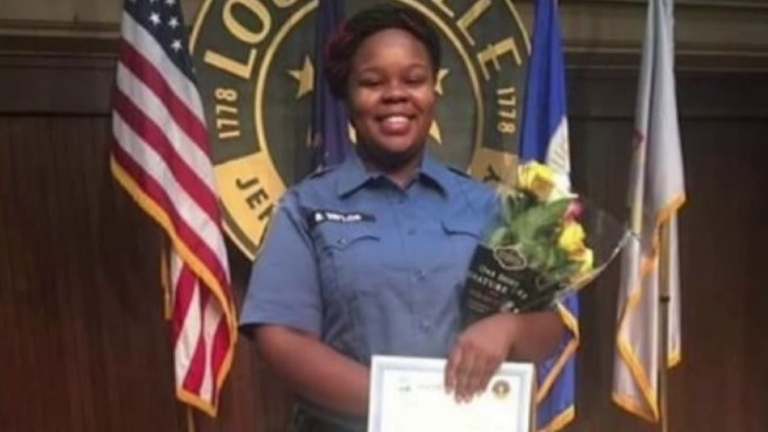 Kentucky's attorney general Daniel Cameron said the investigation found the remaining two officers were justified in their use of force.
"According to Kentucky law, the use of force by Officers Jonathan Mattingly and (Myles) Cosgrove was justified to protect themselves. This justification bars us from pursuing criminal charges in Miss Breonna Taylor's death.
"The decision before my office as the special prosecutor in this case was not to decide if the loss of Ms Taylor's life was a tragedy. The answer to that is unequivocally yes."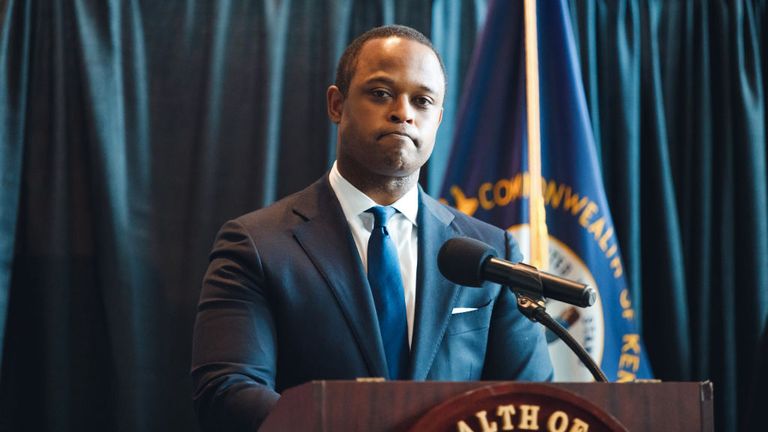 Mr Cameron added that "I understand that Breonna Taylor's death is part of a national story, but the facts and evidence in this case are different than others" involving police shootings.
The FBI is still investigating potential violations of federal law in the case.
Taylor family lawyer Ben Crump described the lack of charges directly related to Ms Taylor's death as "outrageous and offensive".
And campaigner Linda Sarsour, of Until Freedom, tweeted: "Justice has NOT been served.
"Rise UP. All across this country. Everywhere. Rise up for #BreonnaTaylor."
Ms Taylor, a 26-year-old emergency medical technician, was woken from her bed before being shot several times after police burst into her Kentucky apartment at night using a so-called "no-knock" arrest warrant that did not require them to announce themselves.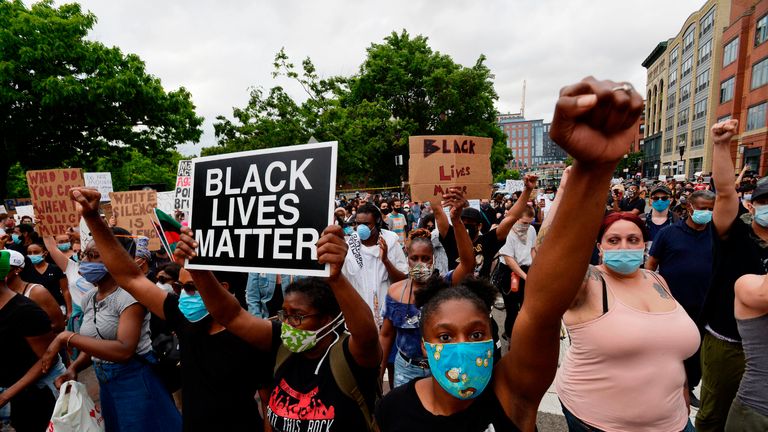 Police typically use them in drug cases over concerns that evidence could be destroyed if they announce their arrival.
The warrant used, however, was connected to a suspect who did not live there, and no drugs were found inside the home.
The use of no-knock warrants has since been banned by Louisville's Metro Council.
:: Subscribe to Divided States on Apple podcasts, Google Podcasts, Spotify, and Spreaker
Ms Taylor's death sparked months of protests in Louisville and across the US, with the demonstrations intensified by the high-profile killings of other unarmed African Americans by police, such as George Floyd in Minneapolis and Daniel Prude in Rochester, New York.
Following the decision, police arrested a number of people during protests in downtown Louisville.
Demonstrators in "Injustice Square" chanted, "No justice, no peace!" and began marching through the streets. Some sat quietly and wept.
Police later cordoned off a street with yellow tape, telling protesters to move back.
Officers in protective gear could be seen detaining and handcuffing a number of people.
Last week, the city of Louisville settled a lawsuit from Ms Taylor's family for $12m (£9.4m) and pledged several police reforms as part of the agreement.