Benjamin Griveaux: Emmanuel Macron ally quits Paris mayor race following sex video | World News
French President Emmanuel Macron's favoured candidate to become Paris mayor has withdrawn from the contest following the publication of a sex video.
Benjamin Griveaux, viewed as one of Mr Macron's closest political allies, criticised "vile attacks" from a website and on social media concerning his private life.
He said: "My family does not deserve this. No one should ever be subjected to such abuse."
The 42-year-old, a married father-of-two, is a member of Mr Macron's La Republique En Marche! party and served as a spokesman for the French government until March last year.
He resigned from that position in order to run for Paris mayor, with voters in the French capital due to go to the polls next month.
On Wednesday evening, a video emerged online along with messages addressed to a woman and quickly spread on social media.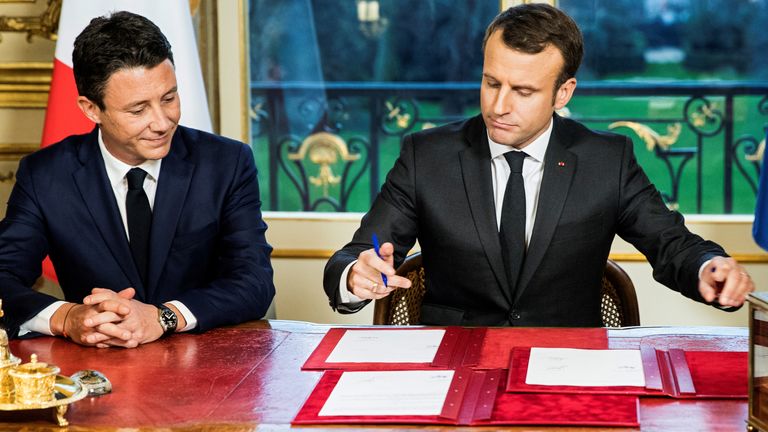 Mr Griveaux added: "For more than a year, my family and I have been subjected to defamatory remarks, lies, rumours, anonymous attacks, the revelation of stolen private conversations and death threats.
"As if this was not enough, yesterday a new level was reached."
Following Mr Griveaux's withdrawal from the mayoral contest, Anne Hidalgo – the current mayor of Paris who is standing for re-election – called for "respect for private life".
"Parisians deserve a worthy debate, up to the challenges we have to face," she added.
The Paris mayoralty has been used in the past, notably by ex-French president Jacques Chirac, as a springboard for higher office.
Coronavirus: World Health Organisation mission heads to China as COVID-19 death toll passes 1,500 | World News
The World Health Organisation will lead a mission to China this weekend to start investigating the COVID-19 outbreak.
The group of 12 Chinese and 12 international members will focus on how the new coronavirus is spreading and its severity.
WHO chief Tedros Adhanom Ghebreyesus said: "The goal of the joint mission is to rapidly inform the next steps in the COVID-19 response and preparedness activities in China and globally."
COVID-19 is the medical name for the acute respiratory disease caused by the virus.
"Particular attention will be paid to understanding transmission of the virus, the severity of disease and the impact of ongoing response measures," Mr Tedros added.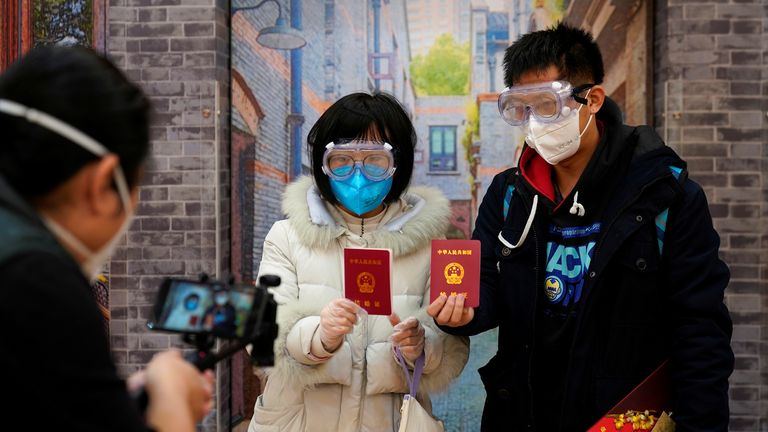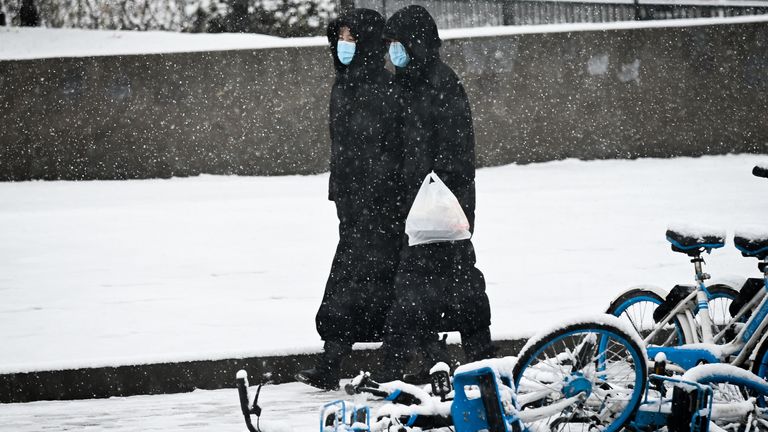 A total of 1,525 people have died from COVID-19, the disease caused by the virus – most in mainland China but one each in Hong Kong, the Philippines and Japan
67,079 cases have been confirmed since the virus started in mid-December in Wuhan, with 63,866 in mainland China, according to data collected by Johns Hopkins University and the World Health Organisation
There were 5,090 suspected new cases recorded in mainland China, Chinese authorities said on Friday
It comes as people returning to Beijing were told they would be punished if they did not isolate themselves for two weeks to stop the spread of the virus.
City authorities, quoted in the Beijing Daily newspaper, said: "From now on, all those who have returned to Beijing should stay at home or submit to group observation for 14 days after arriving.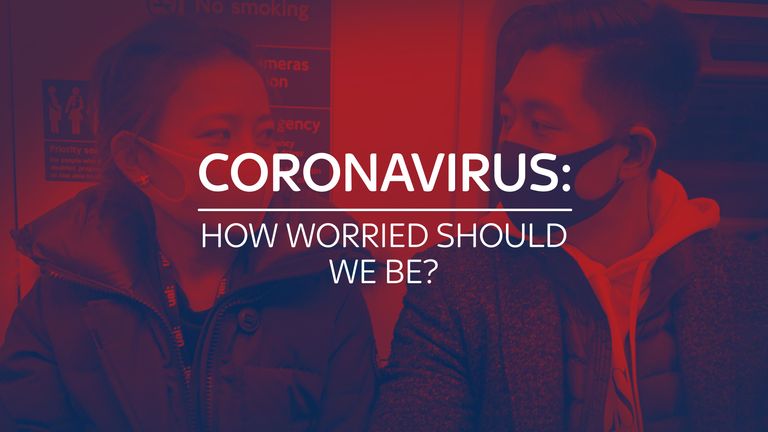 "Those who refuse to accept home or centralised observation and other prevention and control measures will be held accountable under law."
Anybody returning to the Chinese capital will have to submit travel plans to their community in advance, the notice said.
It was unclear how this would affect foreign visitors arriving from outside China.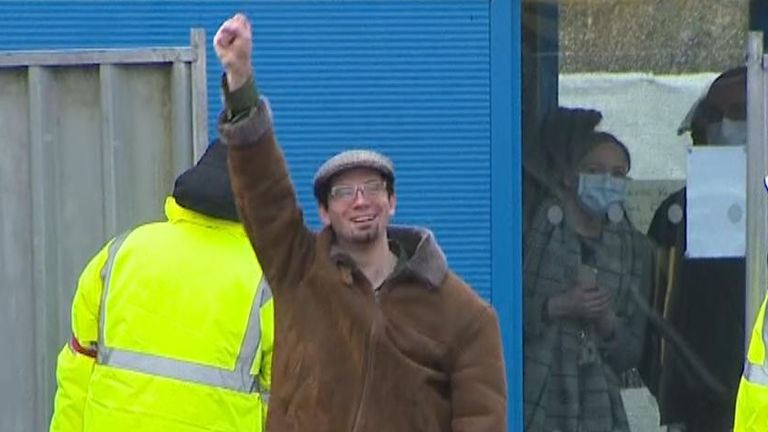 Other major coronavirus updates:
The first case in Africa was confirmed on Friday after a "foreigner" tested positive in Egypt
Two British Labour MPs cancelled all engagements after they were among 250 people at the UK Bus Summit on 6 February which was also attended by a patient with COVID-19
A North Sea oil rig worker was placed in isolation as he was tested for COVID-19 after returning from Thailand
A ninth person in the UK was confirmed as having the virus on Sunday. The Chinese woman had flown from China and walked into a London hospital's A&E
All 2,257 passengers and crew on the MS Westerdam cruise ship were at last allowed to dock in Cambodia, having been stranded for two weeks after ports in Thailand, Japan, Taiwan, the Philippines and Guam turned them away over fears they would spread the new virus, despite nobody on board testing positive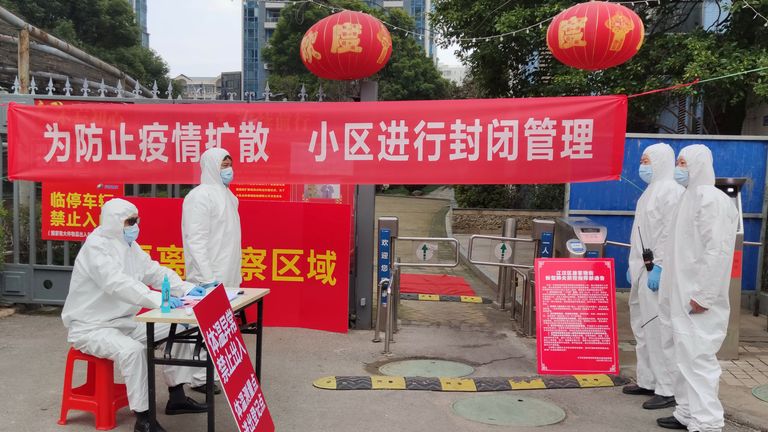 :: Listen to the Daily podcast on Apple Podcasts, Google Podcasts, Spotify, Spreaker
About 500 million people in China are affected by travel restrictions, as more cities, including Beijing and Shanghai, imposed lockdowns this week in an attempt to halt the spread of COVID-19.
Last week President Xi Jinping warned top officials efforts to contain the virus had gone too far and were threatening the economy.
People returned from the Chinese New Year holiday on Monday, but cities remain empty, with Shanghai and Beijing's streets and subways largely deserted, with many shops and restaurants empty or shut.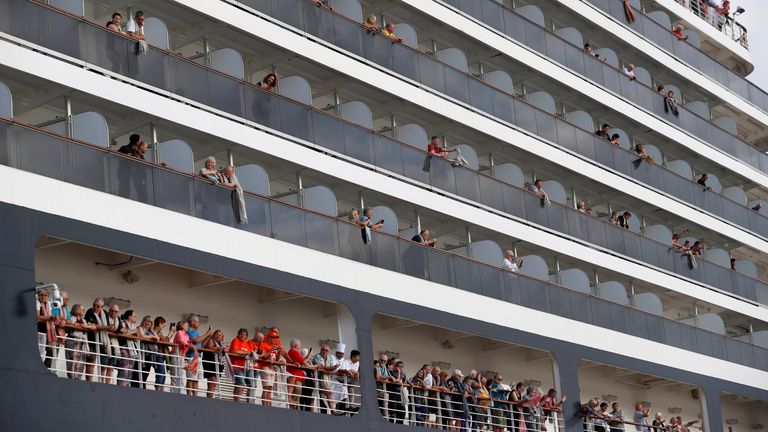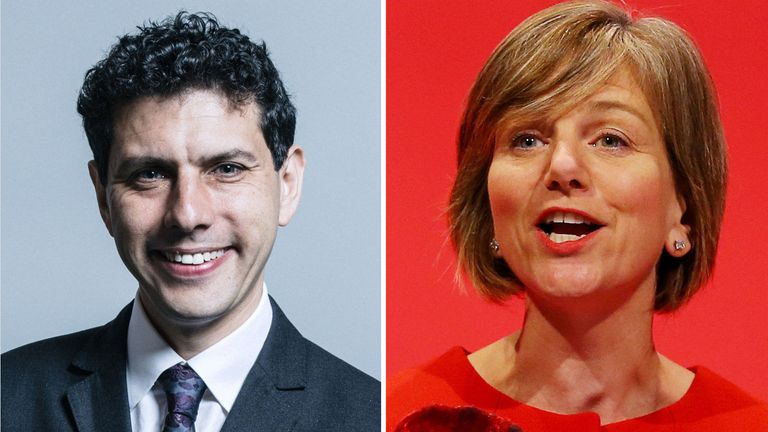 Wuhan, the city of 11 million people where the outbreak began, is under the most severe lockdown, with all public transport, taxis and ride-hailing services shut down.
Volunteer drivers are risking their own health by secretly ferrying medical staff and those in vital jobs to and from work after responding to requests on messaging groups.
Others are desperately trying to find accommodation for medical workers, many who have come from across China.
'Technosignatures' could help in search for alien life | Offbeat News
Scientists are developing techniques to detect signatures from space in their search for alien life.
The Very Large Array (VLA) telescope, at the National Radio Astronomy Observatory (NARO) site in Socorro, New Mexico, will be used to constantly seek evidence of technosignatures.
A technosignature is a proxy for the existence of a technologically advanced, extraterrestrial civilisation, according to scientists at the Search for Extraterrestrial Intelligence (SETI) Institute in California.
These include things such as the chemical composition of a planet's atmosphere, laser emissions or structures orbiting stars.
The VLA is a collection of 27 radio antennas – and one spare – which work together to effectively act as a single huge telescope.
Bill Diamond, president and chief executive of the SETI Institute, said: "Having access to the most sensitive radio telescope in the northern hemisphere for SETI observations is perhaps the most transformative opportunity yet in the history of SETI programmes."
Dr Tony Beasley, director of the NRAO, based in the US state of Virginia, said: "Determining whether we are alone in the universe as technologically capable life is among the most compelling questions in science."
He added: "As the VLA conducts its usual scientific observations, this new system will allow for an additional and important use for the data we're already collecting.
"As continuing discoveries show us that planets are very common components of the universe, and we are able to study the characteristics of those planets, it's exciting that at the same time, technological advances are giving us the tools to greatly expand our search for signs of life.
"We also look forward to the coming decade, when we hope to build a next-generation Very Large Array, which will be able to search a volume of the universe a thousand times larger than that accessible to current telescopes – making it the most powerful radio technosignature search machine humanity has ever constructed."
The scientists are also making computer models to simulate extraterrestrial environments, helping the search for life beyond the solar system and planets that can support future searches for habitable planets and life beyond the solar system.
Victoria Meadows, principal investigator for Nasa's virtual planetary laboratory at the University of Washington, said: "Upcoming telescopes in space and on the ground will have the capability to observe the atmospheres of Earth-sized planets orbiting nearby cool stars, so it's important to understand how best to recognise signs of habitability and life on these planets.
"These computer models will help us determine whether an observed planet is more or less likely to support life."
The new developments come after astronomers based in Canada detected radio signals from outer space that repeat at regular intervals.
The series of fast radio bursts (FRBs) – short-lived pulses of radio waves that come from across the universe – were detected about once an hour for four days and then stopped, only to start up again 12 days later.
FRBs are not in and of themselves unusual, but previous observations have shown them to be mostly emitted at random.
Ingrid Escamilla murder: Hundreds protest against 'femicide state' | World News
Hundreds of demonstrators have demanded action from the Mexican government after the latest murder of a young woman in the country.
An average of 10 women are murdered in Mexico every day but the protests were sparked by the particularly grisly killing of 25-year-old Ingrid Escamilla in Mexico City.
Ms Escamilla was found dead by officers at an apartment just north of the city centre last weekend, her body skinned and part of her corpse flushed down a sewer.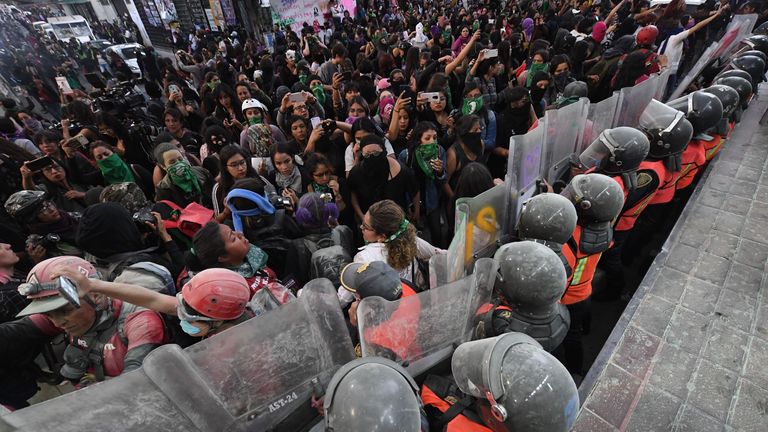 Her boyfriend has been arrested in connection with her murder.
Gruesome pictures of her body were published by some Mexican newspapers, a move that sparked further anger.
Lilia Florencio Guerrero, whose daughter was murdered in 2017, called on President Andres Manuel Lopez Obrador, who was inside the palace during the protests, to do more to stop the violence.
She said: "It's not just Ingrid. There are thousands of femicides.
"It fills us with anger and rage."
The protesters, most of them women, painted the words "femicide state" in red on Mexico's presidential palace.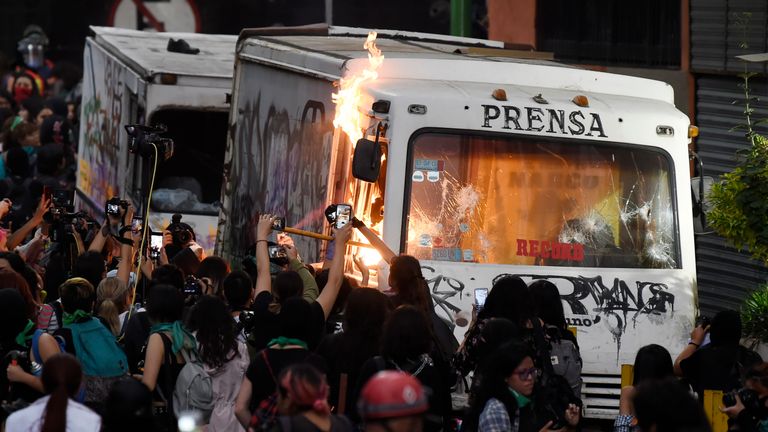 They also marched through heavy rain to the offices of La Prensa, which published photos of Ms Escamilla's body on its front page. At least one vehicle belonging to the newspaper was set on fire.
The newspaper later said in a statement that it had "entered a process of deeper review".
The United Mexican Journalists collective was quoted in El Pais as saying that publication of the photos showed "total lack of respect for the victim, the accused, due process and society".
"The message they sent to society was that they are entrepreneurs and their content (is) a mere commodity…It is a very dark moment for the Mexican press."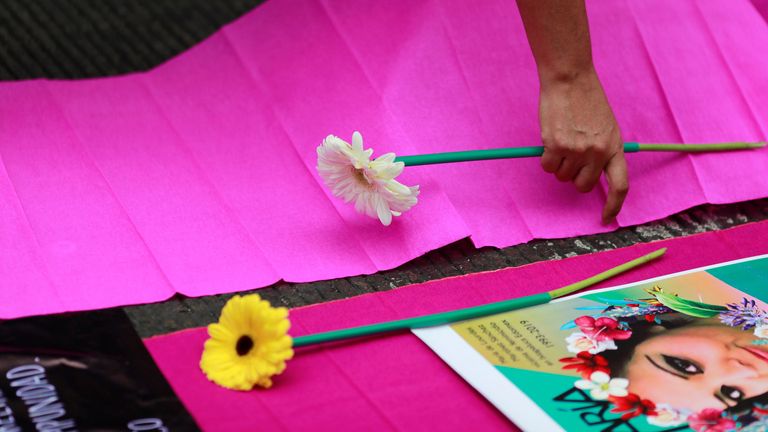 Officials say they are investigating police officers thought to have taken the photos with their mobile phones before leaking them to newspapers.
Protesters chanted "not one more murder" and carried signs saying "we demand responsible journalism", "Ingrid we are all you" and "sexism kills".
In a statement, the protesters said: "It enrages us how Ingrid was killed, and how the media put her body on display.
"It enrages us that the public judges us, saying 'this isn't the right way to express your rage'.
"We are not mad, we are furious."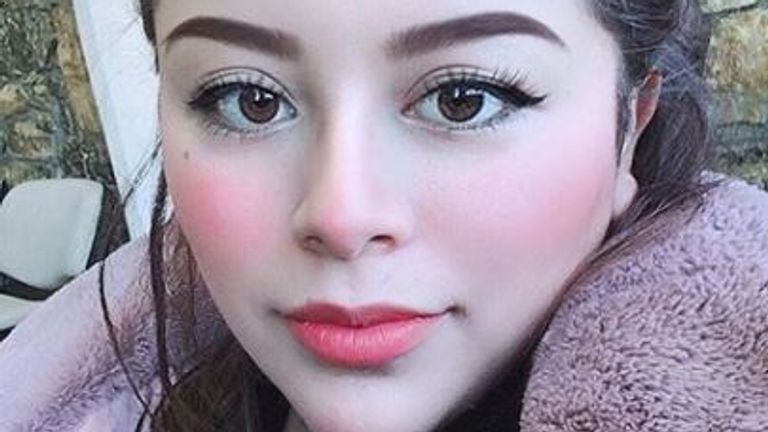 On social media, people sought to counteract the photos published in newspapers with photos of Ms Escamilla alive and happy.
Inside the presidential palace, the president told reporters: "I'm not burying my head in the sand… The government I represent will always take care of ensuring the safety of women."
He did not give further details of how he would do this.
Last year 3,825 women were murdered, an increase of 7% from 2018, according to official figures.