US troops killed and injured in machine gun attack in Afghanistan | World News
Two US servicemen have been shot dead and six others are injured after a machine gun attack in eastern Afghanistan.
American officials in the country said a combined US-Afghan force, stationed in the province of Nangahar, had been targeted by an individual in an Afghan uniform.
Colonel Sonny Leggett, a spokesman for US forces in Afghanistan, said "the cause or motive behind the attack is unknown at this time".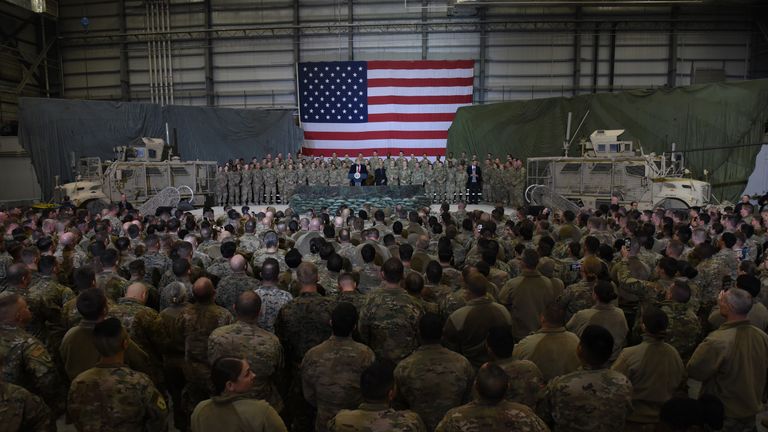 The violent incident comes at a sensitive time for the US operation in Afghanistan, with American diplomats having struggled to make progress in negotiations with the Taliban that would see foreign troops head home.
In exchange, the Taliban would be expected to provide security guarantees, including a commitment to ensure Afghanistan will not again become a base for international terrorist groups like al Qaeda.
But with violence in the country having failed to ebb away, the 13,000 US troops still stationed in Afghanistan do not seem likely to leave anytime soon.
Back in December, a mid-ranking Taliban commander told Sky News there cannot be a ceasefire – or any talks with the US-backed Afghan government – until all foreign forces leave Afghanistan
The foreign troops are there as part of a US-led NATO mission to train, assist and advice Afghan forces and carry out counter-terror operations in the country.
Nangahar is particularly significant to the latter, as it has long served as the main stronghold of Islamic State and has also been partly controlled by the Taliban.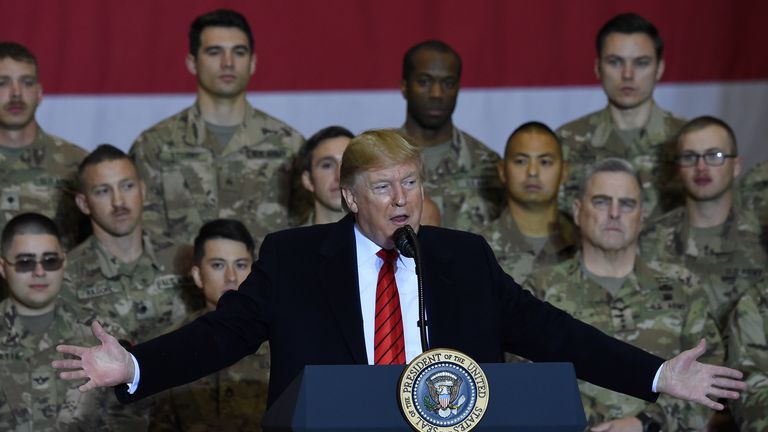 During a surprise Thanksgiving visit to Afghanistan last year, Donald Trump told US troops at Bagram Airfield that he was confident negotiations with the Taliban would eventually succeed.
He said: "The Taliban wants to make a deal. We'll see if they want to make a deal. It's got to be a real deal. But we'll see, but they want to make a deal."
Coronavirus: US navy ship to treat non-COVID-19 patients as LA hospitals struggle | US News
Non-coronavirus patients will start being transferred onto a US Navy hospital ship moored off the coast of Los Angeles to help the city's overburdened hospitals.
A handful of patients will be taken to the USNS Mercy, one of the navy's two hospital ships, on Saturday as the Californian city struggles to cope with the COVID-19 outbreak.
The captain of the ship, which has 1,100 hospital beds, said they would gradually take on more patients over time to free up space in hospitals for coronavirus patients.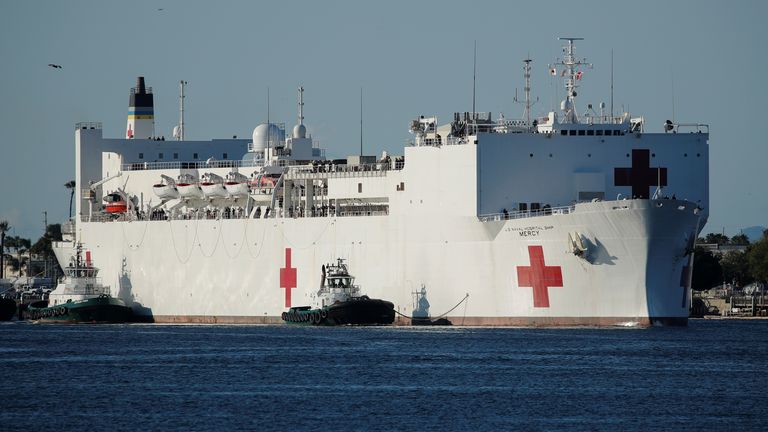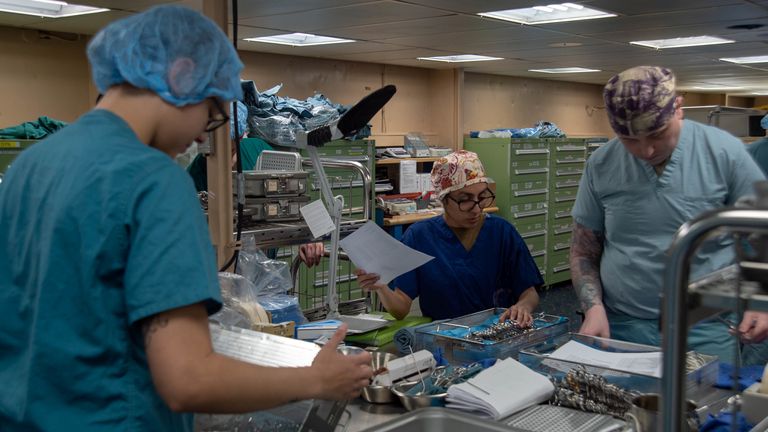 "We would start slowly with a number like five for the first day, then doubling that and doubling again," Navy Captain John Rotruck said.
The Mercy's 1,000 sailors, of which two-thirds are medical staff, have spent the last week training at sea as it is the first time many of them have worked together.
California's 40 million residents were placed on lockdown on 19 March, with its governor estimating 56% of the state's population would be infected over eight weeks.
Listen to Divided States on Apple podcasts, Google Podcasts, Spotify, and Spreaker
It is the third hardest hit state in the country, after New York and New Jersey, with a total of 4,905 coronavirus cases confirmed and 102 deaths in California by Thursday evening.
Los Angeles has been the state's hardest hit city, with 1,482 confirmed cases and 26 deaths.
On Friday the US overtook China and Italy in the number of confirmed cases, which reached 104,860 on Saturday and 1,581 deaths.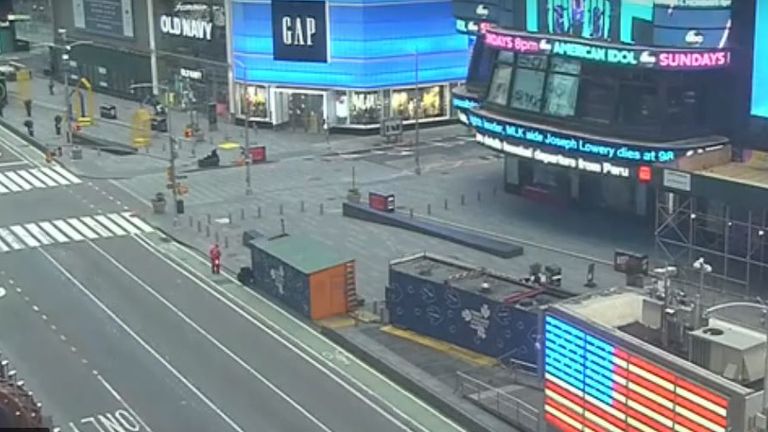 The country now has just over 17% of the world's 615,519 cases.
The US Navy's other hospital ship, the USNS Comfort, is preparing to leave Virginia on Saturday to head to New York City which is the worst hit area of the US.
Coronavirus: Spain deaths surge by 832 in 24 hours | World News

The number of people to have died after testing positive for coronavirus in Spain has surged by 832 to 5,690.
A further 8,189 cases were detected in the country in the last 24 hours, bringing the total to 72,248.
The rise in Spain came as German chancellor Angela Merkel thanked people in her country for being largely compliant during the lockdown there.
The number of confirmed cases in Germany has continued to increase, with Ms Merkel's chief of staff saying the shutdown would not be eased before 20 April.
The German chancellor said in her weekly podcast: "When I see today how almost everyone has completely changed their behaviour, how the vast majority of you really do avoid any unnecessary contact, precisely because it can also contain a risk of infection, then I would simply like to say: thank you, thank you from the bottom of my heart."
More follows…
Coronavirus: Falkland Islands brace for first COVID-19 case | UK News
Concern is growing on the Falkland Islands that their first cases of coronavirus could be confirmed this week.
A child is critically ill with suspected COVID-19 and is being treated at a small hospital in Stanley, the capital of the British overseas territory in the South Atlantic.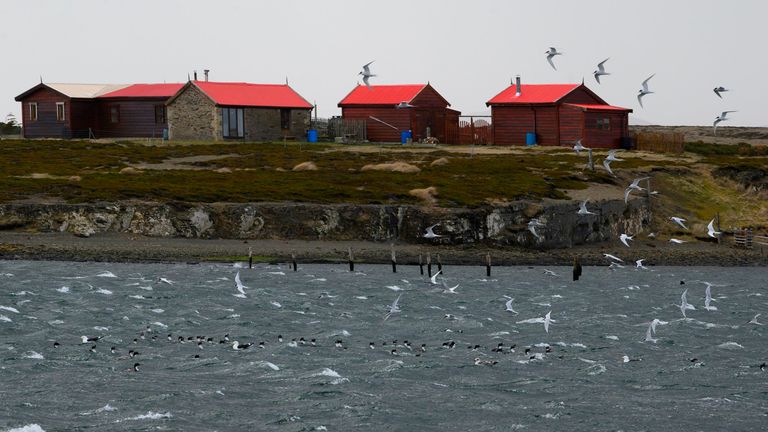 A number of other islanders are self-isolating with symptoms.
Complicating the situation, the Falkland Islands authorities do not have any coronavirus testing kit. It means all samples have to be flown to the UK, some 8,000 miles away.
"At the moment we are blind," said Leona Roberts, a member of the Legislative Assembly.
"We don't know whether we have the virus here. There is a very strong suspicion that we do. We have a child who was hospitalised with suspected coronavirus."
Even the limited ability to fly samples to the UK for testing ran into trouble earlier this month.
A Royal Air Force airbridge that links the Falklands to the UK had to be temporarily suspended because Cape Verde – a cluster of 10 islands in the mid-Atlantic off the west coast of Africa – decided to stop allowing the Voyager aircraft to transit back and forth through its territory to refuel amid coronavirus fears.
Efforts by the Foreign and Commonwealth Office and the Ministry of Defence to find an alternative transit point eventually secured a route via Senegal.
It means the twice-weekly airbridge between RAF Brize Norton air base in Oxfordshire, England, and RAF Mount Pleasant, the military airfield in the Falklands, has restarted, with the first flight landing in the Falklands on Friday afternoon.
:: Listen to the Daily podcast on Apple Podcasts, Google Podcasts, Spotify, Spreaker
But the sudden pause added to the sense of anxiety gripping the archipelago.
Ms Roberts said people had been particularly alarmed that the first patient to be hospitalised because of suspected coronavirus is a child.
"It is very difficult at this stage without having the test results. It is very worrying," she told Sky News.
"The UK government has expressed a commitment to support the islands, they are trying to expedite some testing kit for us and medication as well. We are hopeful."
While the airbridge was suspended, a number of charter flights did land in the Falklands to repatriate hundreds of cruise ship passengers from around the world who had been forced to abandon ship and seek refuge on the territory because of the coronavirus crisis.
Some possible coronavirus samples were sent on to the UK on at least one of these charter flights to be tested, with the results expected by the middle of this coming week.
Even without confirmation, the authorities have imposed strict new measures on islanders to try to stop any further spread of the disease in case worst fears are realised.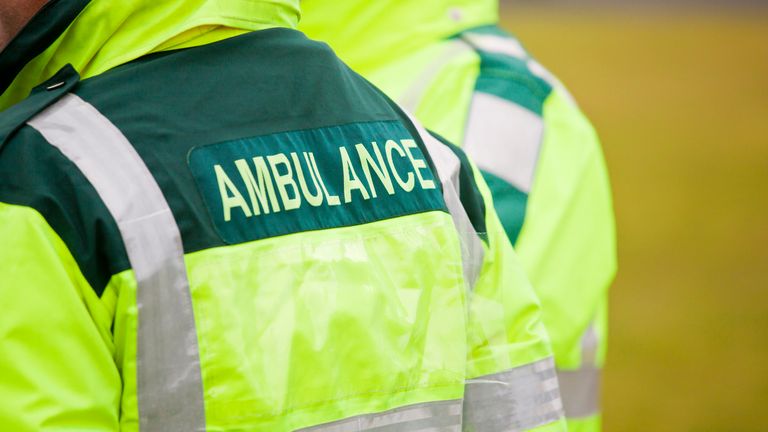 All schools and nurseries closed on Friday until at least the start of the new term in May and everyone has been told to stay at home except for doing essential activities and those deemed as critical workers.
Barry Rowland, chief executive of the Falkland Islands, said anyone who has been asked to self-isolate because they have flu-like symptoms and a fever, must do so with everyone in their household for 14 days.
"These actions are essential to protect everyone, especially the most vulnerable, and ensure that the demand on the health service is limited," he said.
"The situation will be kept under constant review. It could change, and, when test results are known, we may step up, or scale back some restrictions."
For a community of little over 3,000 people surrounded by the South Atlantic, the Falkland Islanders are used to isolation, but these will be particularly worrying times.
About a sixth of the population is classed as high-risk, mainly those over 70 with underlying health conditions.
The only civilian hospital – the King Edward Memorial Hospital – has limited bed capacity and ventilators.
The authorities will likely draw on support from a large British military presence – a by-product of the Falklands War in 1982 when Argentina invaded and had to be fought back.
Today, some 1,300 British military personnel are stationed at the Mount Pleasant base, supported by hundreds of civilian contractors.
Argentina has also offered support, telling Britain's ambassador to Buenos Aires that it was ready to send shipments of food, medical supplies and coronavirus test kits to the Falklands.
Foreign Minister Felipe Sola even said his country could provide medical care for infected patients.