US troops killed and injured in machine gun attack in Afghanistan | World News
Two US servicemen have been shot dead and six others are injured after a machine gun attack in eastern Afghanistan.
American officials in the country said a combined US-Afghan force, stationed in the province of Nangahar, had been targeted by an individual in an Afghan uniform.
Colonel Sonny Leggett, a spokesman for US forces in Afghanistan, said "the cause or motive behind the attack is unknown at this time".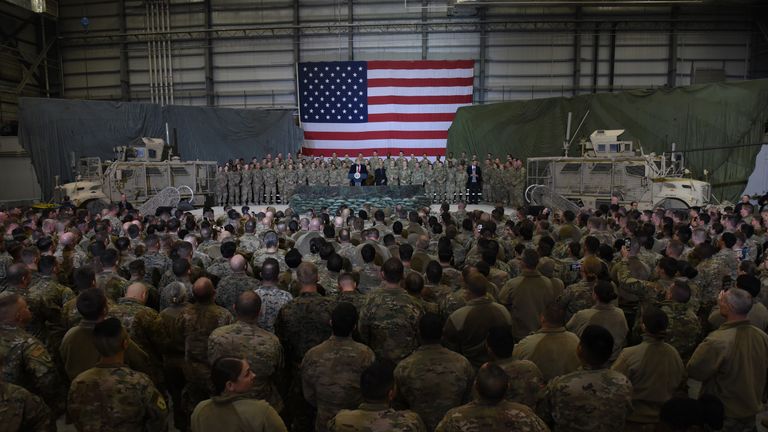 The violent incident comes at a sensitive time for the US operation in Afghanistan, with American diplomats having struggled to make progress in negotiations with the Taliban that would see foreign troops head home.
In exchange, the Taliban would be expected to provide security guarantees, including a commitment to ensure Afghanistan will not again become a base for international terrorist groups like al Qaeda.
But with violence in the country having failed to ebb away, the 13,000 US troops still stationed in Afghanistan do not seem likely to leave anytime soon.
Back in December, a mid-ranking Taliban commander told Sky News there cannot be a ceasefire – or any talks with the US-backed Afghan government – until all foreign forces leave Afghanistan
The foreign troops are there as part of a US-led NATO mission to train, assist and advice Afghan forces and carry out counter-terror operations in the country.
Nangahar is particularly significant to the latter, as it has long served as the main stronghold of Islamic State and has also been partly controlled by the Taliban.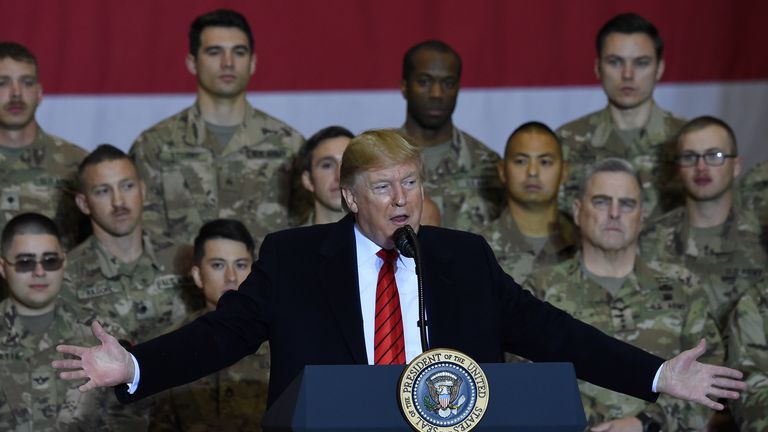 During a surprise Thanksgiving visit to Afghanistan last year, Donald Trump told US troops at Bagram Airfield that he was confident negotiations with the Taliban would eventually succeed.
He said: "The Taliban wants to make a deal. We'll see if they want to make a deal. It's got to be a real deal. But we'll see, but they want to make a deal."
Nordic airline SAS criticised for saying 'absolutely nothing' is truly Scandinavian | World News
A Nordic airline has been called "disgusting" for saying Scandinavia has imported from other countries many of the things the region is known for.
Scandinavian Airlines (SAS), the carrier of Denmark, Norway and Sweden, released a video campaign earlier this week that asked: "What is truly Scandinavian? Absolutely nothing."
It went on to identify Nordic-centric ideas and items – such as democracy, the Danish pastry, and Swedish meatballs – that all originated elsewhere.
"Our democracy? Credit goes to Greece…Even the Danish isn't Danish. It's Austrian…The pride of Norway – the paperclip – was actually invented by an American," the advert said.
It added: "We take everything we like from our trips abroad, adjust it a little bit – et voila – it's a unique Scandinavian thing.
"In a way, Scandinavia was brought here, piece by piece, by everyday people."
But this advert – which the airline says was intended to share the message that travel enriches people – was criticised heavily by nationalist and right-wing groups, and forced the company to temporarily take it down.
Soeren Espersen, the foreign affairs spokesperson for the populist Danish People's Party, said on Facebook that he would have "a bad taste in my mouth" if he were to fly with the airline again "because they spit on us like that".
Swedish Democrats secretary Richard Jomshof wrote: "What devilish nonsense and self-hatred. Have always tried to fly with SAS, but never again. It's a promise."
Scandinavian Airlines, @SAS has chosen to question the uniqueness of Scandinavian identity, culture and way of life. Whoever greenlit this is an enemy of Scandinavia and should be treated as such. pic.twitter.com/vRtjuluVK0

— Nordchan ⭐ (@nordchanman) February 12, 2020
@SAS saw your commercial. Way to devalue your country and countryman's pride. People love nothing more than to be told they are nothing and their culture is hollow. Every culture but your own is good. Congrats, will never recommend your self hating airline. #sas #sascommercial

— Corbin dallas (@imperator_roma) February 12, 2020
The airline later released a shorter edit of the campaign video and said it was "regrettable" that their message had been misunderstood.
It said: "SAS is a Scandinavian airline that brings travellers to, from and within Scandinavia, and we stand behind the message in the film that travel enriches us.
"We are proud of our Scandinavian heritage…When we travel, we influence our surroundings and we are influenced by others.
"The experiences we bring back from our travels inspire us as individuals, but also our society.
"It is regrettable that the film is misunderstood, that some choose to interpret the message and use it for their own purpose."
Speaking about the response to the film, the airline added: "The pattern in the comment sections and the volume of reactions in SAS' social media channels suggest that the campaign was subject to an attack.
"We cannot accept being a platform for values that we do not share. Consequently, we decided to unpublish the film in our own channels and we have now evaluated the situation."
Benjamin Griveaux: Emmanuel Macron ally quits Paris mayor race following sex video | World News
French President Emmanuel Macron's favoured candidate to become Paris mayor has withdrawn from the contest following the publication of a sex video.
Benjamin Griveaux, viewed as one of Mr Macron's closest political allies, criticised "vile attacks" from a website and on social media concerning his private life.
He said: "My family does not deserve this. No one should ever be subjected to such abuse."
The 42-year-old, a married father-of-two, is a member of Mr Macron's La Republique En Marche! party and served as a spokesman for the French government until March last year.
He resigned from that position in order to run for Paris mayor, with voters in the French capital due to go to the polls next month.
On Wednesday evening, a video emerged online along with messages addressed to a woman and quickly spread on social media.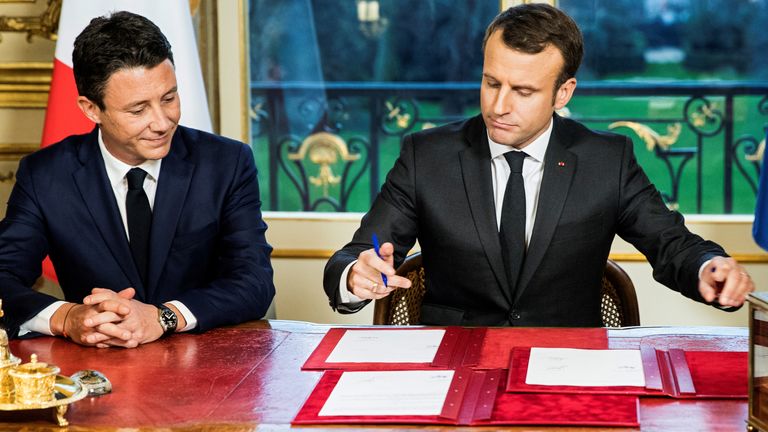 Mr Griveaux added: "For more than a year, my family and I have been subjected to defamatory remarks, lies, rumours, anonymous attacks, the revelation of stolen private conversations and death threats.
"As if this was not enough, yesterday a new level was reached."
Following Mr Griveaux's withdrawal from the mayoral contest, Anne Hidalgo – the current mayor of Paris who is standing for re-election – called for "respect for private life".
"Parisians deserve a worthy debate, up to the challenges we have to face," she added.
The Paris mayoralty has been used in the past, notably by ex-French president Jacques Chirac, as a springboard for higher office.
Polanski film nominations prompt Cesar board to resign en masse two weeks before awards | Ents & Arts News
The entire board of the Cesar Awards, France's Oscars equivalent, has resigned en masse after weeks of controversy over Roman Polanski's new film which received the most nominations.
The resignations come just two weeks before the awards, which will feature 12 nominations for An Officer And A Spy, Polanski's film about a Jewish French officer accused of spying for Germany in the 1890s.
"To honour those who made films in 2019, to regain serenity and make the cinema festival a celebration, the board of directors of the (film academy) made a unanimous decision to resign," the French film academy said in a statement.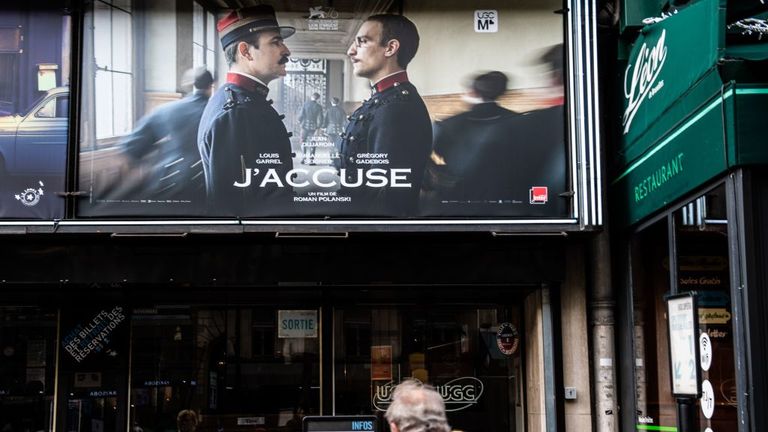 Polanski launched his new film in France last year, just days after a French actress accused him of having raped her in 1975, when she was 18, during a ski holiday in Gstaad, Switzerland.
Polanski, now 86, has denied the accusation.
The French-Polish director fled the United States after pleading guilty in 1977 to having unlawful sex with a
13-year-old girl in Los Angeles.
An Officer And A Spy, J'Accuse in French, is based on Robert Harris's novel of the same name and stars a French cast which includes Oscar-winner Jean Dujardin and Emmanuelle Seigner, who is married to Polanski.
Feminist groups have called for a boycott of the film and the academy's "opaqueness" has been criticised in an open letter signed by directors and actors including Dujardin's The Artist co-star Berenice Bejo and X-Men's Omar Sy.
Accusations against Polanski predate the sexual harassment scandal that embroiled Hollywood film producer Harvey Weinstein in 2017.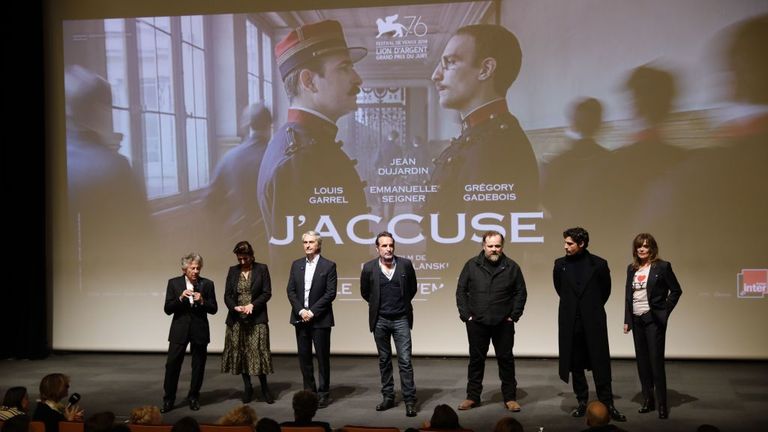 But Polanski's history came under renewed scrutiny as the #MeToo movement against sexual abuse and harassment grew in response to the allegations against Weinstein, who is on trial for rape and sexual assault in New York.
Polanski was expelled from the Academy of Motion Picture Arts and Sciences in 2018.