Trump's plan means an end to the 'two-state' solution | World News

There's no question that Mr Trump's peace plan was in no small part about distraction. 
The American President has his impeachment to deflect from. Israeli PM Netenyahu has a corruption and bribery trial ahead of him.
It's also about domestic politics. Both leaders face elections – Netanyahu's is in just a few weeks.
The plan they jointly unveiled, and without the Palestinians, appeals to their domestic bases – Israeli right wingers and American Jewish voters.
In truth, it's not a viable plan for peace. It's an aspiration.
It's one that the Palestinians won't accept. Palestinian President Mahmoud Abbas made that clear "1000 times over" moments after it was revealed.
Even if the Palestinians are being offered economic sweeteners and Israeli desert land near Egypt as compensation, this won't fly.
The idea alone that they would sign up to a plan where the whole of Jerusalem – west and east – is formally declared as the capital of the Jewish State of Israel is a fantasy now and for many years to come.
The Trump plan is a radical new approach, weighted hugely towards the Israelis, at a time when sympathy for the Palestinian cause globally, even among Arab states is dwindling.
The awfulness of Syria, Yemen and Iraq has moved the focus away from the decades-old Palestinian struggle.
And Israel has successfully cast itself as the regional policeman vis-a-vis Iran. Gulf Arab states now quietly talk to Israel as they all work out how to counter Iran.
Again, this makes it harder for the Palestinian voice to be heard – if the Arabs in the Gulf don't have their back, then what?
That's why America and Israel think that now is the moment to reframe the debate; to reset the Israel/Palestinian argument and to do so in their own interests.
A final thought: Is there a chance that at some point in the future, a majority of Palestinians will decide that their own rights outweigh their quest for sovereignty and statehood?
Polls suggest the young in Palestine already care more about their rights than they do about having their own country.
They believe in a one state solution, a nation that incorporates everyone. Call it Israel, call it something else – long as they have rights entirely equal to Israeli Jews.
That could be where we are heading. One thing is clear though – the two state solution as we have known it for 30 years is dead with Donald Trump's Deal of the Century.
Japan: Passengers leaving coronavirus-hit cruise ship criticise quarantine 'nonsense' | World News
After two weeks of coronavirus quarantine, today is the first day of freedom for more than 400 passengers who have been stuck on the Diamond Princess cruise ship in Japan.
The vessel was initially carrying about 3,700 passengers and crew from more than 50 countries and regions.
At least 621 people have contracted the illness.
In the port car park in Yokohama, hazmat-clad officials greet the slow trickle of passengers who have tested negative and are cleared to leave, loading them on to specially adapted buses.
Inside the driver sits behind a protective layer of bubble wrap, dividing him from the travellers who for weeks have been living in a virus hotspot.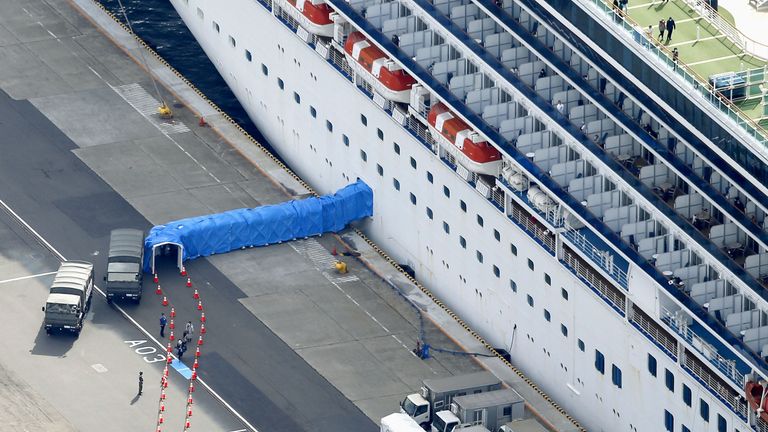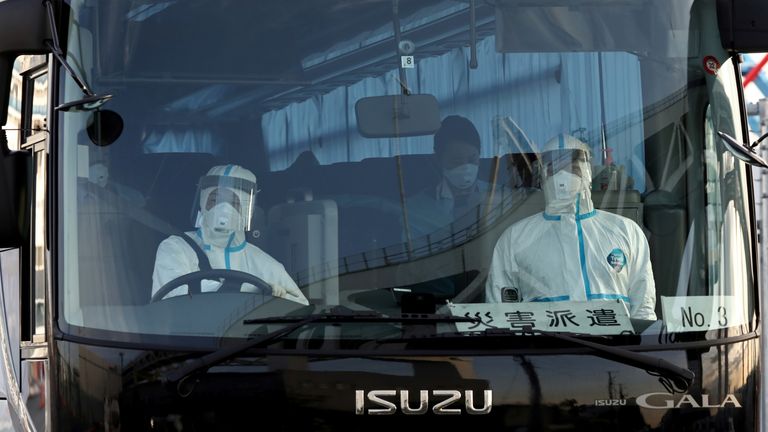 Others are collected by relatives, overjoyed that their loved ones are hopefully out of danger.
Among the first off, a Japanese man who wheels his suitcase out of the dock gate.
He doesn't want to give his name but says he is relieved to be going home and confirms his health is good.
An anonymous female passenger is also feeling confident.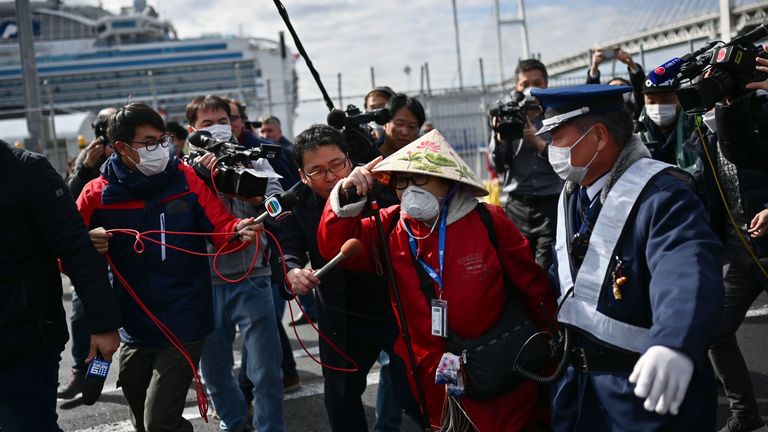 She said: "I felt totally safe, I'm that kind of person. I trusted everyone on the ship to look after me."
But others are less positive, the ship they have been confined to has been described by some on board as a floating prison where the coronavirus infection rate keeps on rising.
Hundreds of passengers, including Britons still cannot escape. They're waiting for evacuation but fearing infection.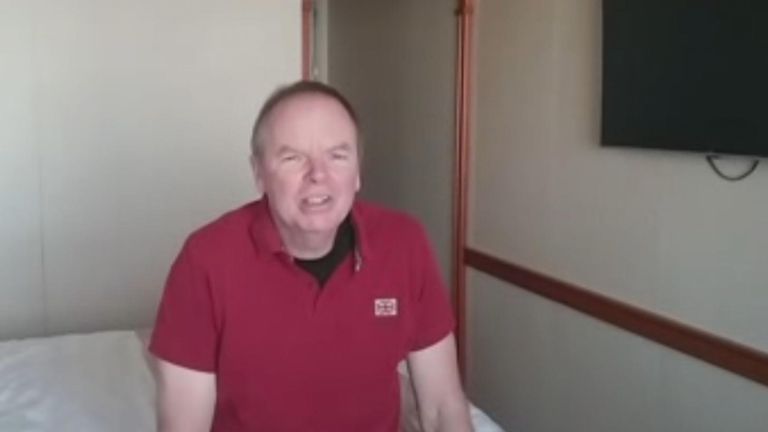 At the train station, I ask a Japanese man, who has just disembarked and also doesn't want to be named, if he feels enough was done to stop the spread of the virus on the Diamond Princess?
He said: "The ship's quarantine didn't work. It looked like a quarantine – but it was nonsense. It didn't stop the spread of the virus. It was all over the ship."
More than 600 passengers have now tested positive for coronavirus after another 79 cases were confirmed today, the highest concentration outside mainland China.
The Japanese government has again defended the way it has managed the quarantine saying "thorough action" to prevent the spread has been taken including using masks, disinfectant and keeping people apart.
:: Listen to the Daily podcast with Dermot Murnaghan on Apple Podcasts, Google Podcasts, Spotify, Spreaker
Yoshihide Suga, Japanese chief cabinet secretary, explains: "With the urgency of the current situation, Japan took full measures to ensure the prevention of the spread of the infection, taking into consideration human rights and humanitarian needs, cooperating with relevant nations and taking appropriate measures."
But the professor of infectious diseases at Kobe University, Kentaro Iwata, has been on board and is seriously concerned.
An expert who has worked with ebola and SARS, he wrote in an online blog: "Inside the Princess Diamond I was so scared. I was so scared of getting COVID-19 because there's no way to tell where the virus is. No green zone, no red zone. Everywhere could have the virus and everybody was not careful about it. There was no single professional infection control person inside the ship."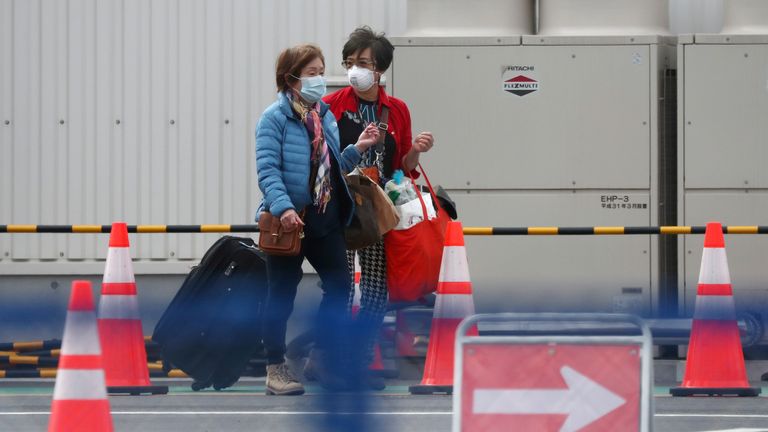 In isolation in a Japanese hospital, I speak to coronavirus patient Jerri Jorgensen via Skype.
Like 68 of the recently diagnosed passengers removed from the ship she has no symptoms.
A silent carrier, she was contagious without even knowing it.
She said: "If they didn't tell me I had the virus I wouldn't have known. I'm hardly ever sick, but I think I may have had a cold that was worse than this. I'm experiencing no physical ailments at all, none."
It raises the question, how many more people could unwittingly be spreading the virus.
With passengers, including Britons, still unclear when they will leave, the current focus is on getting people home, but huge questions remain unanswered about how a quarantine ship became a coronavirus breeding ground.
Family including three children under 10 killed in 'horrific' Brisbane car fire | World News
A former rugby player and his three children have died in what police have described as a "horrific" car fire in Brisbane, Australia.
Rowan Baxter, 42, and the children – Laianah, Aaliyah and Trey Baxter – all aged under 10, were found dead in the vehicle.
The children's mother, Hannah Baxter, 31, suffered extensive burns and was taken to hospital where she later died from her injuries.
Officers were called to the scene at around 8.30am on Wednesday and found the car engulfed in flames.
Detective Inspector Mark Thompson, of Queensland State Police, said: "It's a horrific scene."
He said officers were investigating the cause of the accident, which took place in Raven Street at Camp Hill.
"It is too early for me to say how the actual incident occurred, that would certainly be a critical part of the investigation," he said.
"But I can say that the vehicle was fully involved in fire upon the emergency services arriving," he said.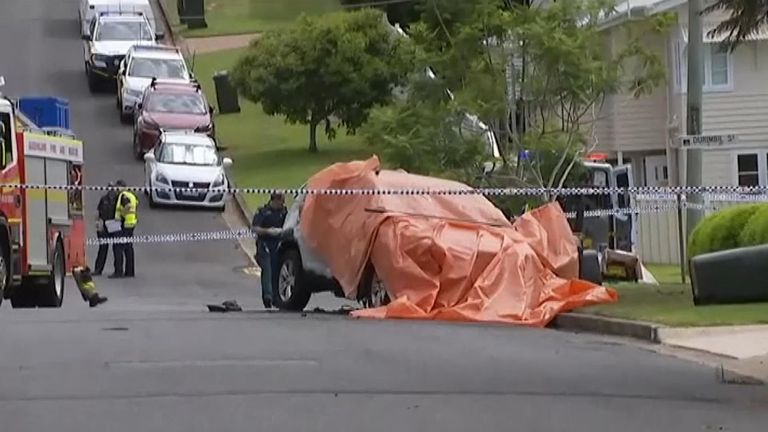 Mr Baxter, a member of the 2005 New Zealand Warriors rugby league football squad and the children, aged six, four and three, died at the scene.
Neighbour Murray Campbell told the Brisbane Times he heard several explosions from his backyard and ran to the front.
He said he alerted the emergency services, adding: "The rest is just horrible".
Mr Campbell said the car was stationary, but then rolled across the street ablaze.
Prime Minister Scott Morrison said the news was "devastating".
"My heart goes out to the families and community going through this tragic time and the emergency responders confronting what would be a shattering scene," he tweeted.
Neanderthal skeleton suggests species carried out funeral rites with flowers | World News
The discovery of a 70,000-year-old skeleton has provided fresh evidence Neanderthals buried their dead and conducted funeral rites with flowers.
Scientists found the well-preserved Neanderthal remains in the Shanidar Cave in the semi-autonomous Kurdistan region of northern Iraq on Tuesday.
Neanderthals are the extinct cousins of humans.
The sex of the skeleton, named Shanidar Z, was undetermined but it has the teeth of a "middle to older aged adult".
The remains also include a crushed but complete skull, the upper chest and both hands.
The skeleton was found to be reclining on his or her back, with the left arm tucked under the head and the right arm bent and sticking out to the side.
Researchers hope that DNA can be extracted from Shanidar Z's teeth or bones.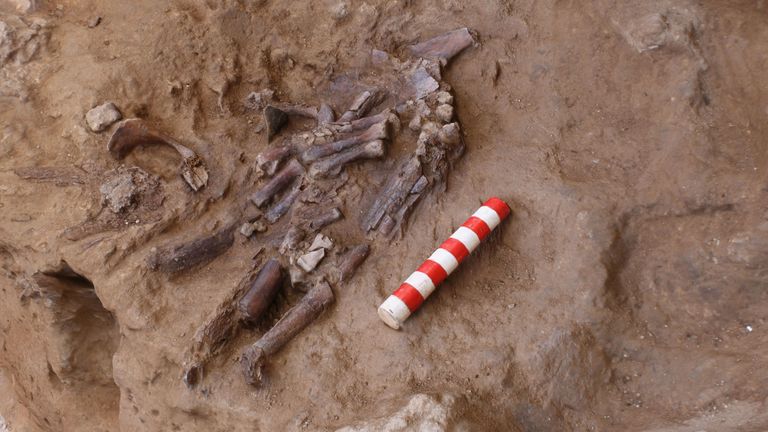 The Shanidar Cave is famous for containing Neanderthal fossils and was a pivotal site for mid-20th century archaeology.
Remains of 10 other neanderthals, seven adults and three infants, were dug up there six decades ago.
The find offered an insight in the physical characteristics, behaviour and diet of the species.
Clusters of flower pollen were found at that time in soil samples associated with one of the skeletons.
The discovery prompted two researchers, the late American archaeologist Ralph Solecki and French pollen specialist Arlette Leroi-Gourhan, to propose that Neanderthals buried their dead and conducted funerary rites with flowers.
Critics however cast doubt on the theory, arguing that the pollen could have been modern contamination from the feet and clothes of people working and living in the cave.
The pollen could also have come from burrowing rodents or insects.
But the bones of Shanidar Z were found in sediment containing ancient pollen and other mineralised plant remains, reviving the possibility of flower burials.
The material is being examined to determine its age and the plants represented.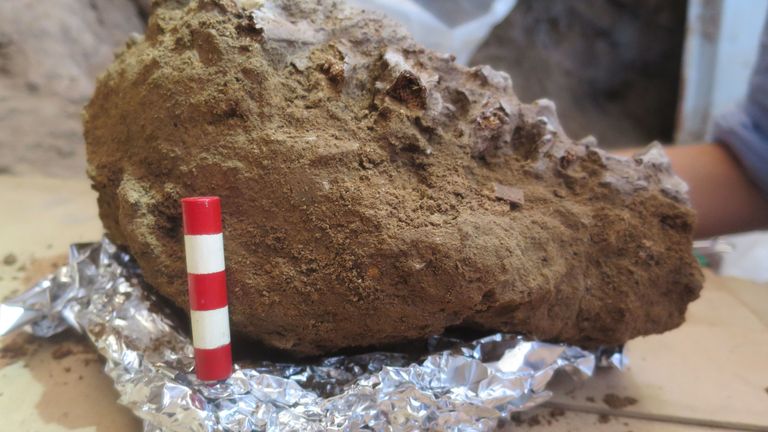 The newly discovered body also appears to have been deliberately placed in an intentionally dug depression cut into the subsoil and part of a cluster of four individuals.
Emma Pomeroy, an osteologist and paleoanthropologist at the University of Cambridge, is the lead author of the research published the Antiquity journal.
She said: "So from initially being a skeptic based on many of the other published critiques of the flower-burial evidence, I am coming round to think this scenario is much more plausible and I am excited to see the full results of our new analyses."
Ms Pomeroy added: "What is key here is the intentionality behind the burial. You might bury a body for purely practical reasons, in order to avoid attracting dangerous scavengers and/or to reduce the smell.
"But when this goes beyond practical elements it is important because that indicates more complex, symbolic and abstract thinking, compassion and care for the dead, and perhaps feelings of mourning and loss."
Scholars have argued for years about whether Neanderthals buried their dead with rituals like humans.
Graeme Barker, University of Cambridge archaeologist and study co-author, said: "Whether the Neanderthal group of dead placed around 70,000 years ago in the cave were a few years, a few decades or centuries – or even millennia – apart, it seems clear that Shanidar was a special place, with bodies being placed just in one part of a large cave. They were in a kind of natural niche formed by rock fall."
He added: "There is strong early evidence that Shanidar Z was deliberately buried."