Trump's plan means an end to the 'two-state' solution | World News

There's no question that Mr Trump's peace plan was in no small part about distraction. 
The American President has his impeachment to deflect from. Israeli PM Netenyahu has a corruption and bribery trial ahead of him.
It's also about domestic politics. Both leaders face elections – Netanyahu's is in just a few weeks.
The plan they jointly unveiled, and without the Palestinians, appeals to their domestic bases – Israeli right wingers and American Jewish voters.
In truth, it's not a viable plan for peace. It's an aspiration.
It's one that the Palestinians won't accept. Palestinian President Mahmoud Abbas made that clear "1000 times over" moments after it was revealed.
Even if the Palestinians are being offered economic sweeteners and Israeli desert land near Egypt as compensation, this won't fly.
The idea alone that they would sign up to a plan where the whole of Jerusalem – west and east – is formally declared as the capital of the Jewish State of Israel is a fantasy now and for many years to come.
The Trump plan is a radical new approach, weighted hugely towards the Israelis, at a time when sympathy for the Palestinian cause globally, even among Arab states is dwindling.
The awfulness of Syria, Yemen and Iraq has moved the focus away from the decades-old Palestinian struggle.
And Israel has successfully cast itself as the regional policeman vis-a-vis Iran. Gulf Arab states now quietly talk to Israel as they all work out how to counter Iran.
Again, this makes it harder for the Palestinian voice to be heard – if the Arabs in the Gulf don't have their back, then what?
That's why America and Israel think that now is the moment to reframe the debate; to reset the Israel/Palestinian argument and to do so in their own interests.
A final thought: Is there a chance that at some point in the future, a majority of Palestinians will decide that their own rights outweigh their quest for sovereignty and statehood?
Polls suggest the young in Palestine already care more about their rights than they do about having their own country.
They believe in a one state solution, a nation that incorporates everyone. Call it Israel, call it something else – long as they have rights entirely equal to Israeli Jews.
That could be where we are heading. One thing is clear though – the two state solution as we have known it for 30 years is dead with Donald Trump's Deal of the Century.
Coronavirus: Italy president fires back at Boris Johnson over COVID remark | Politics News
Italy's president has hit back at Boris Johnson after he suggested the UK had higher coronavirus infection rates because it was a more "freedom-loving country".
In parliament this week, the prime minister was quizzed about why Germany and Italy appeared to have lower COVID-19 rates than the Britain.
Mr Johnson disputed a claim that the relative success of different countries' test and trace schemes was a factor.
And the PM added that there was "an important difference between our country and many other countries around the world: our country is a freedom-loving country".
"If we look at the history of this country over the past 300 years, virtually every advance, from free speech to democracy, has come from this country," he continued.
"It is very difficult to ask the British population uniformly to obey guidelines in the way that is necessary."
Asked about Mr Johnson's comments, Italian President Sergio Mattarella said on Thursday: "We Italians also love freedom, but we also care about seriousness."
The Reuters news agency reported Mr Mattarella was asked about Mr Johnson during a private conversation, but his words were swiftly reported in the local media and his office confirmed the remarks.
According to a tally by the Johns Hopkins University, the UK has been the worst-affected country in Europe from COVID-19 in terms of death, ahead of Italy, France and then Spain.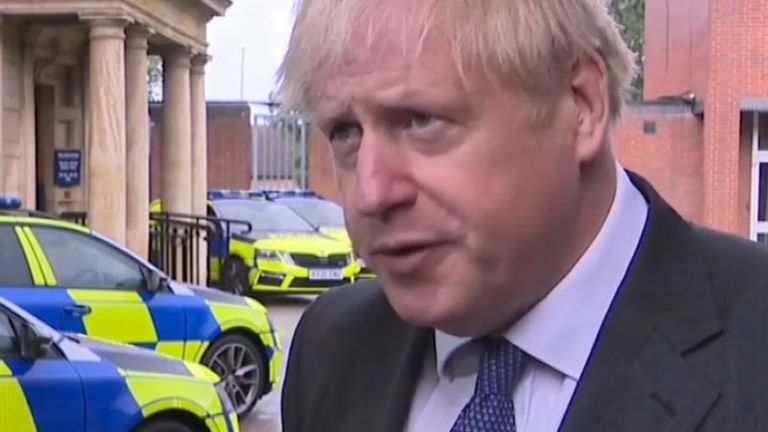 Germany has suffered less than one-quarter of the number of deaths the UK has, according to the tally.
It is not the first time Mr Johnson's comments have prompted a response from an Italian politician.
In 2016, Mr Johnson – then foreign secretary – was accused of "insulting" the country's government by claiming Italy should support a generous post-Brexit trade deal in order to prevent a decline in its exports of prosecco.
:: Subscribe to the Daily podcast on Apple Podcasts, Google Podcasts, Spotify, Spreaker
The prime minister's fiancee, Carrie Symonds, was this week photographed in Lake Como, northern Italy, with the Daily Mail website reporting she had been spending a few days with the couple's baby, WIlfred, and friends.
Downing Street recently condemned "completely untrue" claims that Mr Johnson travelled through Perugia airport on a secretive trip this month.
And the president of the airport said on Monday there had been an "error" in a previous statement and that Mr Johnson did not recently land there.
Mystery of Jupiter's polygon storms solved by scientists | Science & Tech News
Scientists have solved the mystery of Jupiter's polygon storms, which were first spotted by NASA's Juno space probe in 2019.
At the gas giant's south pole, hidden from view from Earth, is a herd of storms arranged in a perfect geometric pattern.
This is unlike anything else humanity has observed in the universe. The most comparable gas giant we know of, Saturn, has single massive storms at each of its poles – not a collection of them arranged in such a mathematical formation.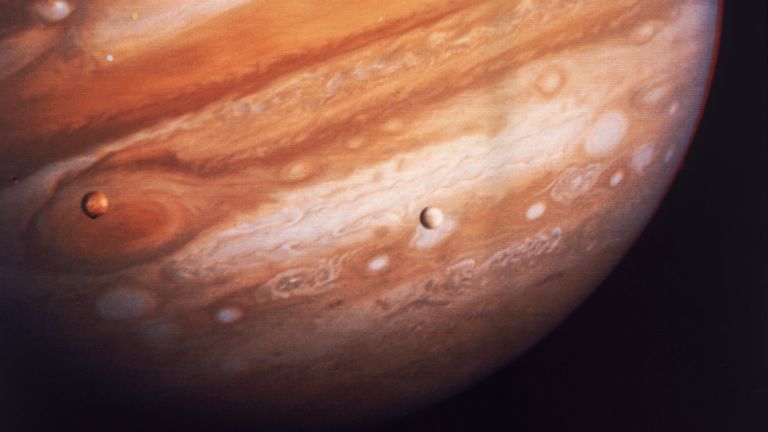 But a research team at the California Institute of Technology, working in the Andy Ingersoll laboratory, has now figured out why the storms arrange themselves in this pattern.
The answer – published in the Proceedings of the National Academy of Sciences – was inspired by a mathematical proof developed long before the space age – and almost 150 years ago by the British mathematical physicist and engineer Lord Kelvin.
Working alongside American physicist Alfred Mayer, he observed in 1878 that when circular magnets were floated in a pool of water, they would spontaneously arrange themselves into geometric shapes.
"Back in the 19th century, people were thinking about how spinning pieces of fluid would arrange themselves into polygons," Professor Ingersoll said.
"Although there were lots of laboratory studies of these fluid polygons, no one had thought of applying that to a planetary surface."
This is what the scientists at Ingersoll's laboratory did, building a computer model of what might be happening on Jupiter and running the simulations to see if their model held any value.
The storms are very similar to those on Earth, which form close to the equator and drift towards the poles – but on Earth the hurricanes and typhoons tend to dissipate when they get too far away from the equator.
However, because Jupiter's storms do not experience any friction from the land or the oceans, they keep on going until they reach the poles.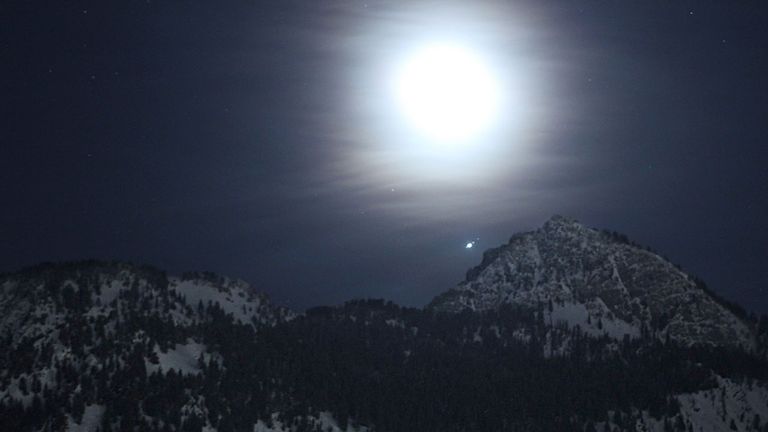 In the early trial runs of the simulations, the team found that the cyclones tended "to merge at the pole due to the rotation of the planet" said Dr Cheng Li, lead author of the study and a researcher at UC Berkeley.
But they found that the stable geometric arrangement could occur when the storms were each surrounded by a ring of winds turning in the opposite direction to the storms themselves, called an anticyclonic ring.
The made the storms repel each other rather than merge.
This phenomenon could help researchers understand how Earth's weather behaves – but also solves a particularly fascinating and modern mystery.
"Other planets provide a much wider range of behaviours than what you see on Earth, so you study the weather on other planets in order to stress-test your theories," Professor Ingersoll said.
Coronavirus: Denmark, Slovakia and Iceland added to England's travel quarantine list | UK News

Denmark, Slovakia and Iceland have been added to England's travel quarantine list – meaning travellers returning from 4am on Saturday will have to self-isolate for two weeks.
The Caribbean island of Curacao has also been added to the list.
The government's "red list" is aimed at stopping coronavirus spreading from countries with high infection rates.
Anyone who fails to quarantine after returning from these countries – apart from a small list of exemptions – faces a fine starting at £1,000.
No countries have been removed from the red list this week, Transport Secretary Grant Shapps confirmed.