Emiliano Sala: Cardiff call for investigation into 'wrongdoing' over fatal plane crash | UK News
Cardiff City have urged the French authorities to launch an official investigation into the death of striker Emiliano Sala.
The Argentinian forward died on 21 January last year when the plane carrying him from Nantes to the Welsh capital crashed into the English Channel near Guernsey.
Sala was set to finalise a £15m move to the then-Premier League club, who were hoping the 28-year-old could score enough goals to help keep them in the division.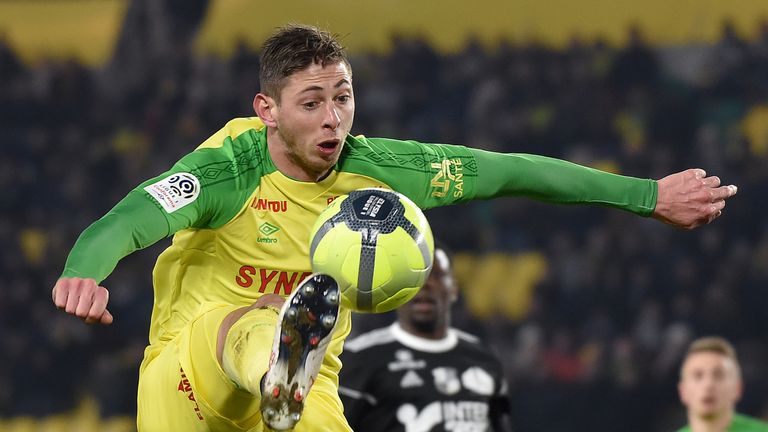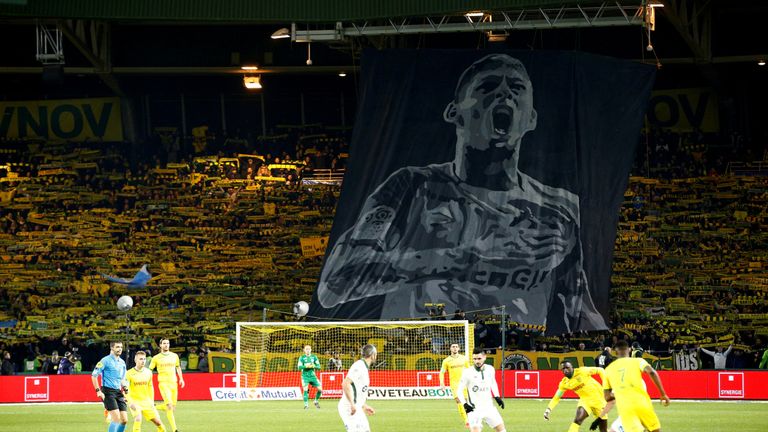 Twelve months on and Cardiff, who have so far refused to pay any of the transfer fee to Nantes, have called for an investigation into what they claim is "sufficient evidence of wrongdoing" by some of those involved in the deal.
The club issued a statement in response to an article in French sports newspaper L'Equipe, which claimed Nantes owner Waldemar Kita and Sala's agent Willy McKay would be central to any potential probe.
Cardiff said there were still questions over why the Piper PA-46 Malibu plane crashed, and surrounding other issues such as "the use of illegal flights in the football industry and the role of intermediaries in player transfers".
They added: "As a result of our investigation we believe there is sufficient evidence of wrongdoing that necessitates investigation by the French authorities of those responsible for the arrangement of the transfer on behalf of FC Nantes and for arranging the doomed flight."
Cardiff said they had passed their information to the Parquet de Nantes to assist their efforts, adding: "We remain committed to establishing the full facts and adhering to any final decision on our financial liability in the transfer."
The decision over the payment of the transfer fee will be made by the Court of Arbitration for Sport at some point this summer after Cardiff appealed a FIFA ruling that they should pay the first instalment of £5.2m.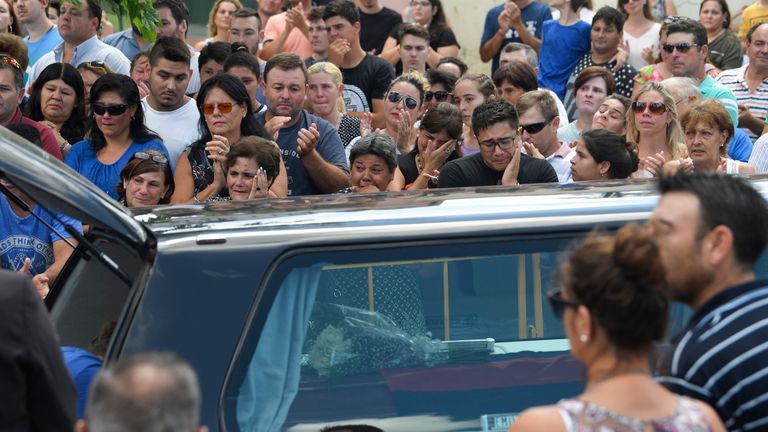 Nantes, where Sala was a hero among the fans, have been critical of Cardiff's conduct over the tragedy.
Cardiff, who are in the Sky Bet Championship following their relegation last season, have argued they were not liable for the full transfer fee because Sala was not officially their player when he died.
The deal that had been agreed was a club record transfer fee for Cardiff, who paid tribute to Sala last week to mark the first anniversary of his death.
Bluebirds manager Neil Harris and captain Sean Morrison were among those to attend a dedication service in the city and fans left flowers, banners and other tributes.
The service was also in honour of the pilot David Ibbotson, whose body was never found.
Ghost ship brought ashore in Ireland by Storm Dennis | World News

After more than a year adrift at sea, a ghost ship has washed ashore in Ireland thanks to the power of Storm Dennis.
The Alta cargo vessel, originally from Tanzania, had floated for thousands of miles since its small ten-man crew was rescued by the US Coast Guard back in October 2018.
On Sunday – as the UK, Ireland and parts of mainland Europe felt the force of Storm Dennis – the boat finally hit dry land when it ran aground near Ballycotton in County Cork.
Rescue 117 was tasked earlier today to a vessel aground near Ballycotton, Cork. There was nobody on board. Previously the @USCG had rescued the 10 crew members from the vessel back in September 2018. The vessel has been drifting since and today came ashore on the Cork coastline. pic.twitter.com/NbvlZ89KSY

— Irish Coast Guard (@IrishCoastGuard) February 16, 2020
"Rescue 117 was tasked earlier today to a vessel aground near Ballycotton, Cork," said the Irish Coast Guard.
"Thankfully there was nobody on board.
"Previously the US Coast Guard had rescued the 10 crew members from the vessel back on September 30 2018.
"The vessel has been drifting since and today came ashore on the Cork coastline."
Engineers will inspect the 80-metre long vessel while it remains aground in Ireland, Cork City Council has said.
Members of the public have been warned to stay away as the ship is stranded on a dangerous and stretch of coastline, with the waters still raging following the weekend's extreme weather.
RTE reports that a pollution risk assessment will be carried out, but it is not believed to pose any immediate concern given the length of time the vessel – which dates back to 1976 – has been adrift.
Two days ago @hmsprotector discovered this apparently abandoned Merchant Vessel whilst mid-Atlantic. We closed the vessel to make contact and offer our assistance, but no one replied! Whilst investigations continue we're unable to give you more detail on this strange event.🌊🚢🇬🇧 pic.twitter.com/x29sB5IF06

— HMS Protector (@hmsprotector) September 2, 2019
Sunday's surprise arrival was the first time the Alta had been seen since last September, when a Royal Navy ship tweeted that its crew had spotted it in the middle of the Atlantic.
"We closed the vessel to make contact and offer our assistance, but no one replied," the HMS Protector said.
"Whilst investigations continue we're unable to give you more detail on this strange event."
The Alta crew abandoned ship after calling for help during a trip from Greece to Haiti, when it ran into trouble and was left drifting for nearly three weeks.
They were about 1,300 miles southeast of Bermuda when they were rescued by the US Coast Guard.
Tesla ordered to stop clearing trees at German factory site | Business News

Tesla has been ordered to stop cutting down trees at the site in Germany where it is planning to build its first car and battery factory in Europe – after environmentalists objected.
The electric car maker had announced in November that it planned to build the "gigafactory" at a site near Berlin.
It has not yet won planning permission to build the plant but was cleared by state authorities to cut down 92 hectares (227 acres) of forest.
Hundreds of demonstrators have protested over the threat they say the factory poses to local wildlife and water supplies.
On Sunday, a court issued an order to stop the tree-felling pending a ruling on a complaint brought by local environmentalist group Gruene Liga Brandenburg (Green League of Brandenburg).
Without the court's injunction, the work would have been completed in only three more days, the court said.
"It should not be assumed that the motion seeking legal protection brought by the Green League lacks any chance of
succeeding," the court added.
Pro-business German legislators have warned that the legal battle against the gigafactory would damage the country's image as a place to do business.
Tesla currently has two gigafactories in the US and one in China. It had hoped to complete the factory in Germany by the middle of next year.
The company's shares have rocketed by 340% since last June as more investors bet on boss Elon Musk's growth ambitions.
High school ring lost in US found 47 years later in Finnish forest | World News
In 1973, a teenage Debra McKenna accidentally left her future husband's ring in a department store in the US town of Brunswick Maine.
Fast forward 47 years and it has been found by a sheet metal worker – buried in a Finnish forest.
Ms McKenna, 63, lost the ring in Portland when she was a student at Morse High School, the Bangor Daily News reported.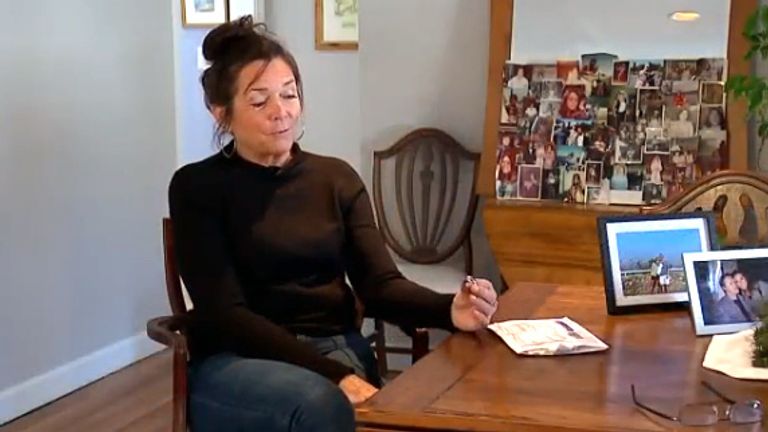 The ring, which had engravings identifying the school, belonged to Ms McKenna's late husband Shawn, who she dated all throughout high school and college.
The couple was married for 40 years until Shawn died in 2017 after a six-year battle with cancer.
Shawn gave Ms McKenna the ring before he left for college, but she accidentally left it in a department store.
She said the ring was largely forgotten until the worker found it buried under eight inches of soil in Kaarina, a small town in southwest Finland.
Finnish media reports that Marko Saarinen was using a metal detector when he found the blue-stoned, silver ring.
"Usually my findings are bottle caps or other junk," he said.
Mr Saarinen contacted the alumni association, who had no trouble identifying the ring's owner as it bore the 1973 graduation date and the initials S.M.
Ms McKenna said she cried when the ring arrived in the mail at her Brunswick home last week.
"It's very touching in this world of negativity, to have decent people step forward and make an effort," she said.
"There are good people in the world, and we need more of them."
Ms McKenna has no idea how the long-lost ring ended up in a Finnish forest.
She said Shawn spent some time working in Finland in the early 1990s – but nowhere near the city where the ring was found and he had not seen the ring in 20 years at that point.