Davos 2020: Trump blasts 'prophets of doom' climate activists as Thunberg watches | World News
Donald Trump has attacked climate activists in front of Greta Thunberg as he revealed the US is signing up to a project to plant one trillion trees
In a speech in Davos, Switzerland, the US president called those calling for more action on climate change "perennial prophets of doom" and the "heirs of yesterday's foolish fortune tellers".
Teenage activist Thunberg was among those watching Mr Trump at the event, having earlier warned that planting trees is "nowhere near enough".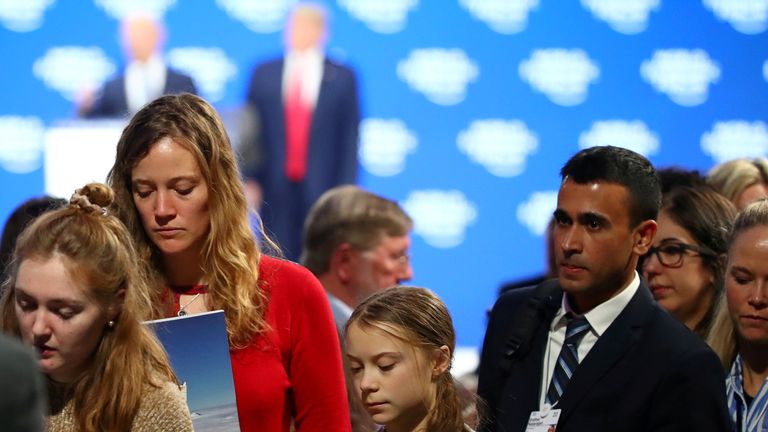 It comes after Mr Trump unilaterally pledged to withdraw the US from the Paris Climate Accord, which aimed to cut CO2 emissions to a rate that will limit global warming to 1.5C.
He made his comments at the World Economic Forum in Davos after its founder Klaus Schwab made climate change a key topic.
To applause, Mr Trump told the forum: "Today I'm pleased to announce the United States will join the one trillion trees initiative being launched here.
"And in doing so we will continue to show strong leadership in restoring, growing and better managing our trees and our forests.
"This is not a time for pessimism. This is a time for optimism. Fear and doubt is not a good thought process because this is a time for tremendous hope and joy, optimism and action.
"But to embrace the possibilities of tomorrow we must reject the perennial prophets of doom and their predictions of the apocalypse. They are the heirs of yesterday's foolish fortune tellers."
His words came in stark contrast to those of 17-year-old Thunberg, who spoke earlier on the first full day of the forum about the "crisis" she said was occurring.
The Swedish teenager told delegates: "Planting trees is good of course but it's nowhere near enough. It cannot replace mitigation."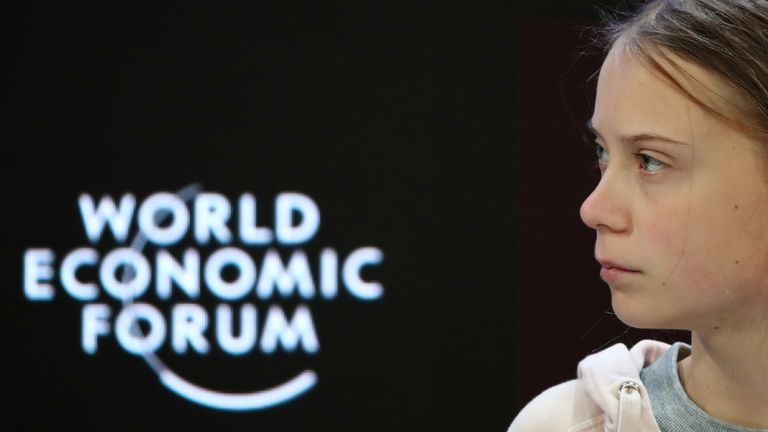 She accused leaders of "cheating and fiddling around with numbers" by talking about cutting emissions to net-zero and added that her calls for more action were based on science, not on irrational fears.
"My generation will not give up without a fight," she said.
Mr Schwab had earlier outlined his plans to launch a scheme to plant a trillion trees using public and private funds by the end of this decade.
The idea was not new and a number of organisations and activists have already been promoting the idea for some years.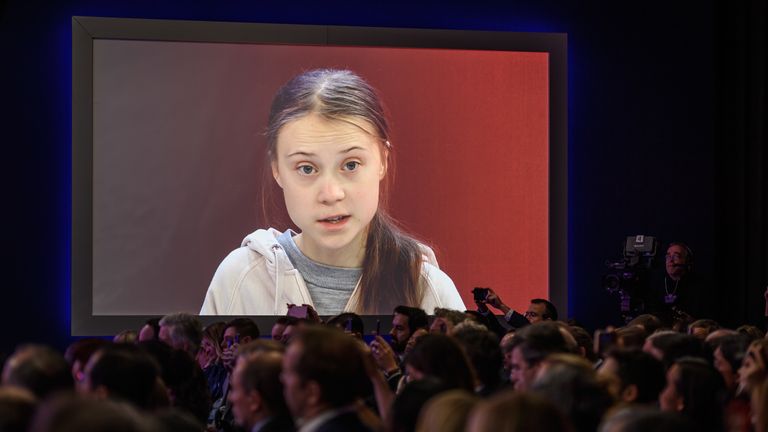 Experts say the number of trees on the planet has declined from its previous high of six trillion to its current three trillion, so replanting one trillion would go some way to offsetting the carbon emitted into the atmosphere by industrialised nations.
Mr Trump's pledge to join the project, however, was a deviation from the main theme of his speech in which he claimed US economic success since he came to office – something he said had been achieved as a result of deregulation.
While claiming to be a "big believer in the environment" and wanting "the cleanest water and the cleanest air", he spoke with pride about the expansion of US oil and gas production.
Most ecologists believe more controls on industry and a sharp reduction in oil and gas use are required if carbon emissions are to be cut to a level that will limit climate change.
Nobel prize winning economist Joseph Stiglitz told Reuters afterwards he found Mr Trump's comments "astounding", adding it was "As if what we are seeing with our eyes are not there".
Coronavirus: Spain orders Madrid lockdown as COVID-19 cases soar | World News

Residents in Madrid will be banned from leaving the city, except on essential trips, under strict new coronavirus restrictions imposed by the Spanish government.
Currently a hotspot for infection, the Madrid region accounts for more than a third of the 133,604 cases diagnosed in Spain over the past two weeks.
Madrid has 735 cases of COVID-19 per 100,000 people, one of the highest of any region in Europe and double the national rate.
Under the new measures, the capital city's borders will be closed to outsiders for non-urgent visits.
Another nine cities in the metropolitan area are also affected.
"Madrid's health is Spain's health. Madrid is special," Health Minister Salvador Illa told a news conference to announce the new regulations, which are due to come into force in the coming days. He did not say exactly when.
People will be allowed to cross municipal boundaries to go to work or school, visit the doctor or go shopping, but must remain within the city for leisure activities.
Other measures include the closure of bars and restaurants at 11pm, from a previous curfew of 1am, as well as the closure of public parks and playgrounds.
Social gatherings will be limited to six people.
The conservative regional assembly had already enforced localised lockdowns in 45, mostly poor districts, often with a high immigrant population.
But the new wider restrictions see the central government overriding the regional government after weeks of fighting between the two authorities over what should be done in the city.
This has taken the political polarisation that has characterised much of the response to the pandemic over the past months to new heights, exasperating communities.
Spain has recorded a total of 769,188 cases, more than any other nation in Western Europe. The total death toll stands at 31,791.
"We must be conscious that there are tough weeks, very tough, ahead," Mr Illa said.
China's president Xi Jinping says the world must co-operate on climate change | World News
China's president has said the world needs to work together to balance economic development and the destruction of the natural world.
It comes just a week after Xi Jinping promised China – the world's worst polluter and an economic super power – would be carbon neutral by 2060.
In another landmark speech, he told the UN biodiversity summit: "At present there exists an acceleration of the global extinction of species.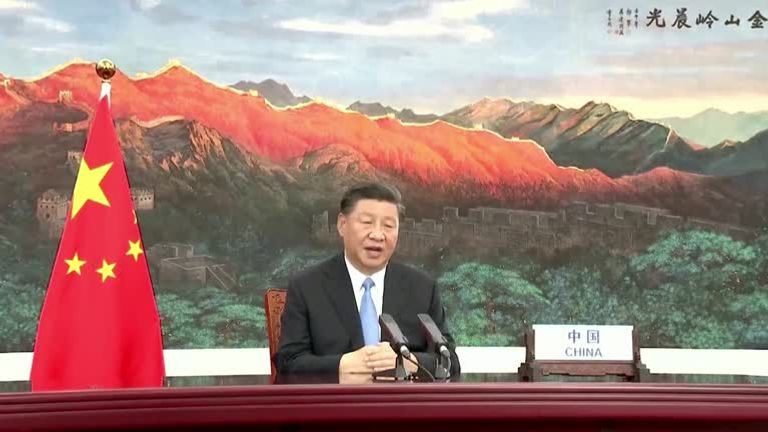 "The loss of biodiversity and degradation of the ecosystem pose a major risk to human survival and development.
"It falls to all of us to act together. We need to respect nature, follow its laws and protect it. We need to find a way for man and nature to live in harmony and balance and coordinate economic development and ecological protection."
It came as a new study by the Royal Botanical Gardens at Kew in London collated the findings of 210 scientists from 42 countries.
They estimated forty per cent of plant species are at risk of extinction, hundreds of medicinal plants are threatened and only a tiny fraction of plants are being used for food and fuel.
Professor Phil Stevenson told Sky News: "The attention that is being drawn to biodiversity loss at high levels around the world I think is a really positive thing.
"This report will provide those decision makers, and also individuals at home, with new information and more information on making better decisions about conserving the diversity of plants and funghi."
:: Subscribe to the Daily podcast on Apple Podcasts, Google Podcasts, Spotify, Spreaker
It seems hard to re-imagine China as a champion of climate change and biodiversity given the environmental devastation caused by its break-neck speed of economic transformation. So has China really turned over a new leaf?
Isabel Hilton, CEO of China Dialogue, said: "On the analogy of the prodigal son, isn't it better that China has got to the point of understanding how damaging its previous policies were, and is now exerting leadership in a number of ways."
It's easy to make promises but the world will be watching to see whether those with the power actually make a difference on biodiversity and climate change.
US presidential debate: 'A wild ride' for Pennsylvania viewers | World News
Much of America stayed at home to watch the big debate.
"The home schooling's keeping them in," explained Mike McCloskey, owner of the Railroad Street Bar & Grill in Linfield, Pennsylvania. "Teaching kids in the morning is even harder after a hard night."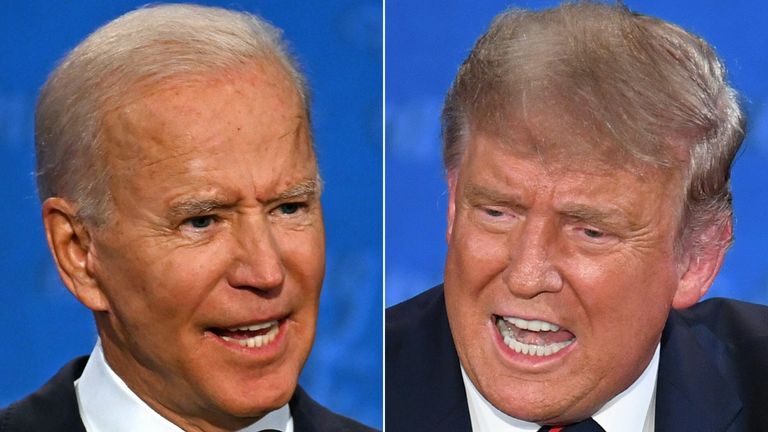 It didn't prevent a sprinkling of the politically-attuned gathering in this self-styled "upbeat hub for brews," by the Norfolk Southern rail line that runs freight through their swing state.
In the United States, they say if you don't win Pennsylvania, you don't win the country.
After an hour and a half of watching the debate, the verdict in Linfield favoured Donald Trump, albeit not unanimously.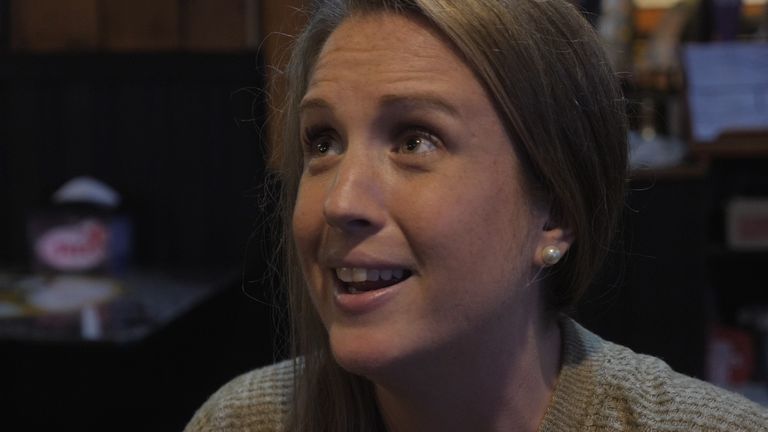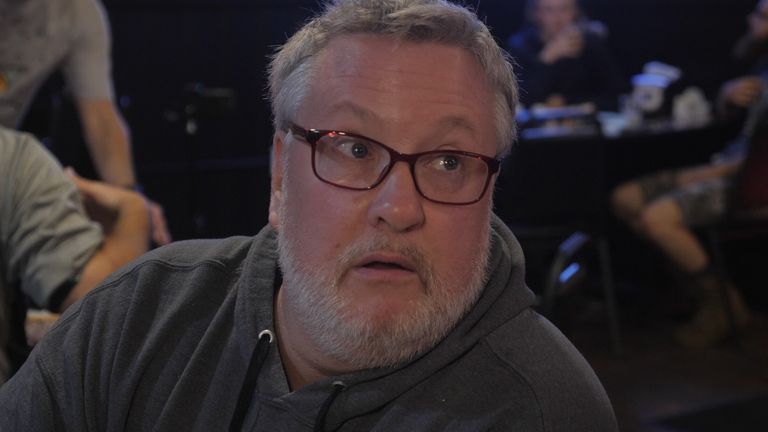 Colleen Dougherty told Sky News: "I think that Donald Trump owned this. I don't think that Joe Biden really had anything to really bring to the table. I was really hoping that he would. And we didn't really have anything."
John Lappin saw Mr Trump as the victor. He said: "One came with a piece of paper in front of them that can only read from that. The other one is a leader of our country. It really isn't much more difficult than that.
:: Subscribe to Divided States on Apple podcasts, Google Podcasts, Spotify, and Spreaker
Others didn't declare a clear winner, but did see a loser – the voting public.
Meredith Warren said: "This is terrible, all around. This is very upsetting to watch, but this is the best representation for our country right now. I think they're both little kids going back and forth to each other. They didn't answer any questions."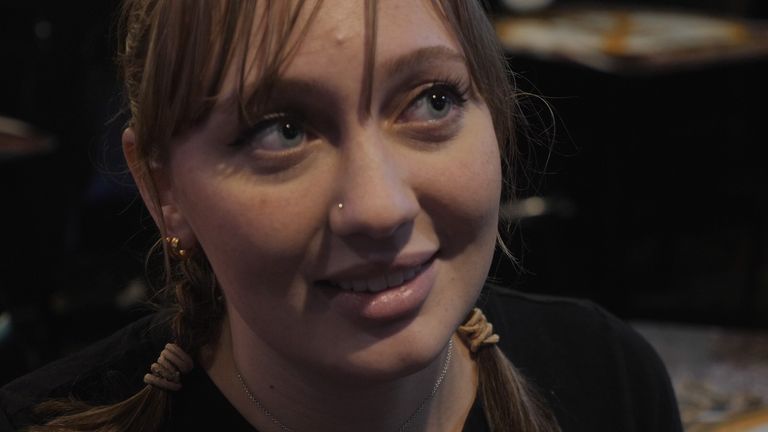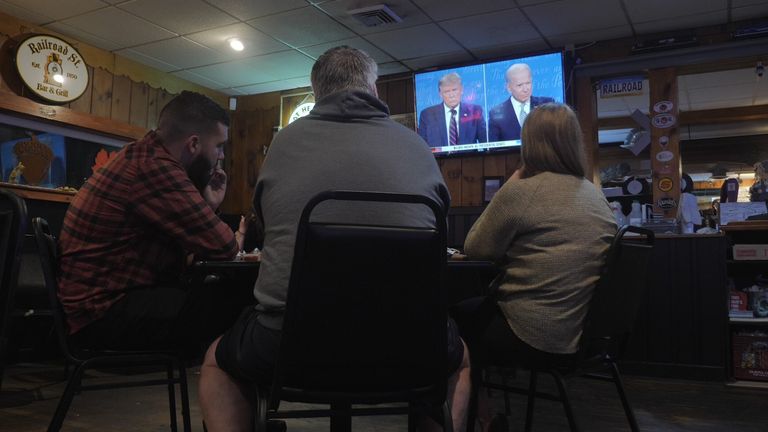 Mr McCloskey added: "It was a wild ride, it went right, it went left. There was a lot going on, there was a lot of interruption.
"Right now, watching that, I would feel really bad for the American people. Because there was no order. It was all over the place. And I understand why people look at us as a laughing stock. I don't believe anybody won that debate."