Davos 2020: Trump blasts 'prophets of doom' climate activists as Thunberg watches | World News
Donald Trump has attacked climate activists in front of Greta Thunberg as he revealed the US is signing up to a project to plant one trillion trees
In a speech in Davos, Switzerland, the US president called those calling for more action on climate change "perennial prophets of doom" and the "heirs of yesterday's foolish fortune tellers".
Teenage activist Thunberg was among those watching Mr Trump at the event, having earlier warned that planting trees is "nowhere near enough".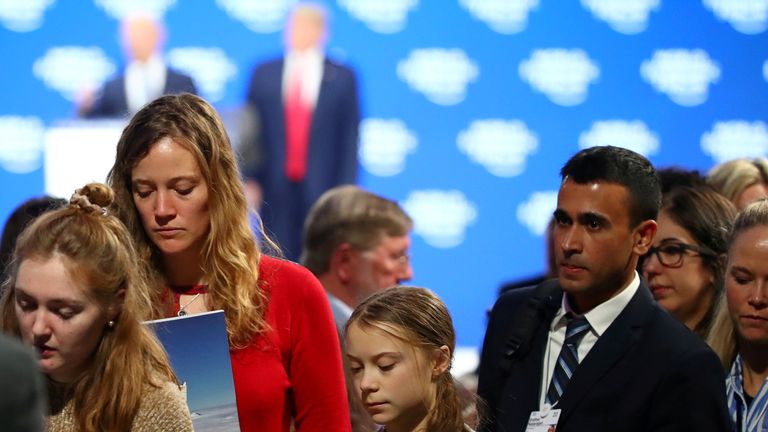 It comes after Mr Trump unilaterally pledged to withdraw the US from the Paris Climate Accord, which aimed to cut CO2 emissions to a rate that will limit global warming to 1.5C.
He made his comments at the World Economic Forum in Davos after its founder Klaus Schwab made climate change a key topic.
To applause, Mr Trump told the forum: "Today I'm pleased to announce the United States will join the one trillion trees initiative being launched here.
"And in doing so we will continue to show strong leadership in restoring, growing and better managing our trees and our forests.
"This is not a time for pessimism. This is a time for optimism. Fear and doubt is not a good thought process because this is a time for tremendous hope and joy, optimism and action.
"But to embrace the possibilities of tomorrow we must reject the perennial prophets of doom and their predictions of the apocalypse. They are the heirs of yesterday's foolish fortune tellers."
His words came in stark contrast to those of 17-year-old Thunberg, who spoke earlier on the first full day of the forum about the "crisis" she said was occurring.
The Swedish teenager told delegates: "Planting trees is good of course but it's nowhere near enough. It cannot replace mitigation."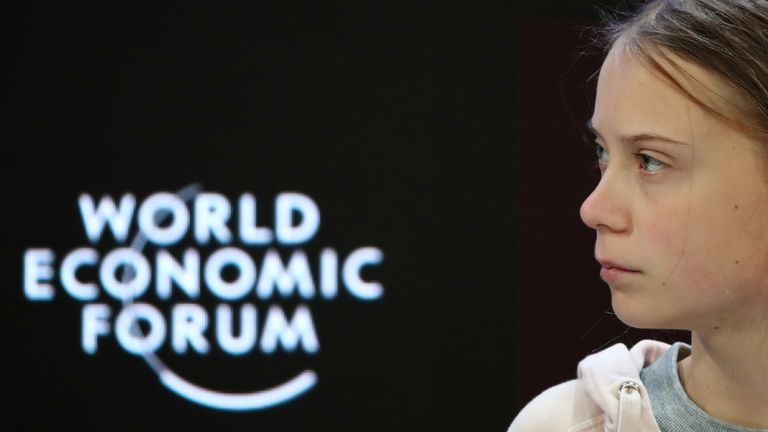 She accused leaders of "cheating and fiddling around with numbers" by talking about cutting emissions to net-zero and added that her calls for more action were based on science, not on irrational fears.
"My generation will not give up without a fight," she said.
Mr Schwab had earlier outlined his plans to launch a scheme to plant a trillion trees using public and private funds by the end of this decade.
The idea was not new and a number of organisations and activists have already been promoting the idea for some years.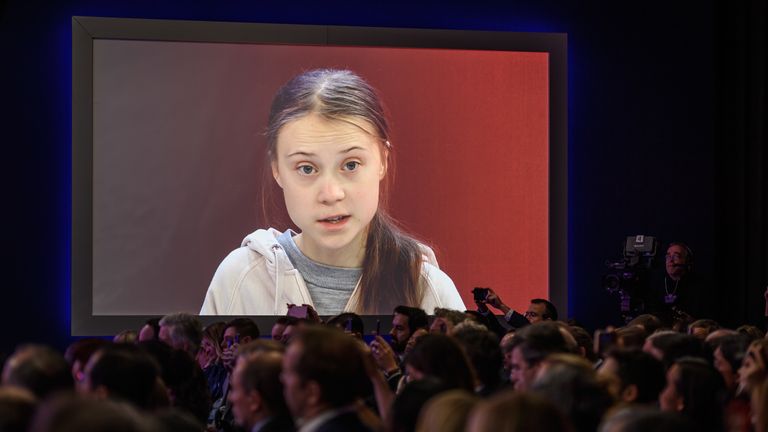 Experts say the number of trees on the planet has declined from its previous high of six trillion to its current three trillion, so replanting one trillion would go some way to offsetting the carbon emitted into the atmosphere by industrialised nations.
Mr Trump's pledge to join the project, however, was a deviation from the main theme of his speech in which he claimed US economic success since he came to office – something he said had been achieved as a result of deregulation.
While claiming to be a "big believer in the environment" and wanting "the cleanest water and the cleanest air", he spoke with pride about the expansion of US oil and gas production.
Most ecologists believe more controls on industry and a sharp reduction in oil and gas use are required if carbon emissions are to be cut to a level that will limit climate change.
Nobel prize winning economist Joseph Stiglitz told Reuters afterwards he found Mr Trump's comments "astounding", adding it was "As if what we are seeing with our eyes are not there".
Ghost ship brought ashore in Ireland by Storm Dennis | World News

After more than a year adrift at sea, a ghost ship has washed ashore in Ireland thanks to the power of Storm Dennis.
The Alta cargo vessel, originally from Tanzania, had floated for thousands of miles since its small ten-man crew was rescued by the US Coast Guard back in October 2018.
On Sunday – as the UK, Ireland and parts of mainland Europe felt the force of Storm Dennis – the boat finally hit dry land when it ran aground near Ballycotton in County Cork.
Rescue 117 was tasked earlier today to a vessel aground near Ballycotton, Cork. There was nobody on board. Previously the @USCG had rescued the 10 crew members from the vessel back in September 2018. The vessel has been drifting since and today came ashore on the Cork coastline. pic.twitter.com/NbvlZ89KSY

— Irish Coast Guard (@IrishCoastGuard) February 16, 2020
"Rescue 117 was tasked earlier today to a vessel aground near Ballycotton, Cork," said the Irish Coast Guard.
"Thankfully there was nobody on board.
"Previously the US Coast Guard had rescued the 10 crew members from the vessel back on September 30 2018.
"The vessel has been drifting since and today came ashore on the Cork coastline."
Engineers will inspect the 80-metre long vessel while it remains aground in Ireland, Cork City Council has said.
Members of the public have been warned to stay away as the ship is stranded on a dangerous and stretch of coastline, with the waters still raging following the weekend's extreme weather.
RTE reports that a pollution risk assessment will be carried out, but it is not believed to pose any immediate concern given the length of time the vessel – which dates back to 1976 – has been adrift.
Two days ago @hmsprotector discovered this apparently abandoned Merchant Vessel whilst mid-Atlantic. We closed the vessel to make contact and offer our assistance, but no one replied! Whilst investigations continue we're unable to give you more detail on this strange event.🌊🚢🇬🇧 pic.twitter.com/x29sB5IF06

— HMS Protector (@hmsprotector) September 2, 2019
Sunday's surprise arrival was the first time the Alta had been seen since last September, when a Royal Navy ship tweeted that its crew had spotted it in the middle of the Atlantic.
"We closed the vessel to make contact and offer our assistance, but no one replied," the HMS Protector said.
"Whilst investigations continue we're unable to give you more detail on this strange event."
The Alta crew abandoned ship after calling for help during a trip from Greece to Haiti, when it ran into trouble and was left drifting for nearly three weeks.
They were about 1,300 miles southeast of Bermuda when they were rescued by the US Coast Guard.
Tesla ordered to stop clearing trees at German factory site | Business News

Tesla has been ordered to stop cutting down trees at the site in Germany where it is planning to build its first car and battery factory in Europe – after environmentalists objected.
The electric car maker had announced in November that it planned to build the "gigafactory" at a site near Berlin.
It has not yet won planning permission to build the plant but was cleared by state authorities to cut down 92 hectares (227 acres) of forest.
Hundreds of demonstrators have protested over the threat they say the factory poses to local wildlife and water supplies.
On Sunday, a court issued an order to stop the tree-felling pending a ruling on a complaint brought by local environmentalist group Gruene Liga Brandenburg (Green League of Brandenburg).
Without the court's injunction, the work would have been completed in only three more days, the court said.
"It should not be assumed that the motion seeking legal protection brought by the Green League lacks any chance of
succeeding," the court added.
Pro-business German legislators have warned that the legal battle against the gigafactory would damage the country's image as a place to do business.
Tesla currently has two gigafactories in the US and one in China. It had hoped to complete the factory in Germany by the middle of next year.
The company's shares have rocketed by 340% since last June as more investors bet on boss Elon Musk's growth ambitions.
High school ring lost in US found 47 years later in Finnish forest | World News
In 1973, a teenage Debra McKenna accidentally left her future husband's ring in a department store in the US town of Brunswick Maine.
Fast forward 47 years and it has been found by a sheet metal worker – buried in a Finnish forest.
Ms McKenna, 63, lost the ring in Portland when she was a student at Morse High School, the Bangor Daily News reported.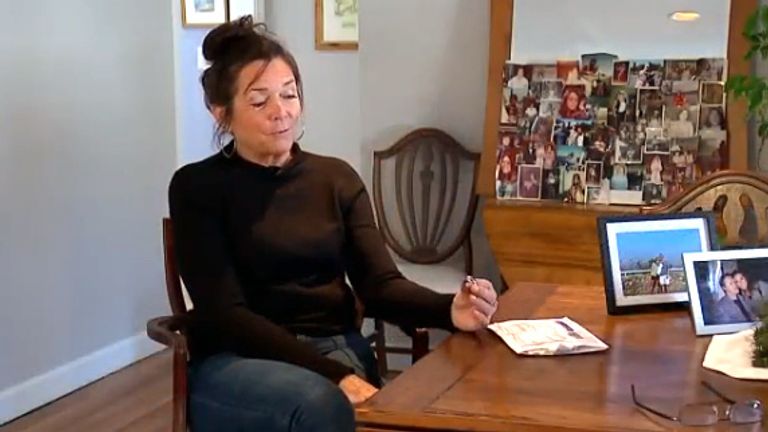 The ring, which had engravings identifying the school, belonged to Ms McKenna's late husband Shawn, who she dated all throughout high school and college.
The couple was married for 40 years until Shawn died in 2017 after a six-year battle with cancer.
Shawn gave Ms McKenna the ring before he left for college, but she accidentally left it in a department store.
She said the ring was largely forgotten until the worker found it buried under eight inches of soil in Kaarina, a small town in southwest Finland.
Finnish media reports that Marko Saarinen was using a metal detector when he found the blue-stoned, silver ring.
"Usually my findings are bottle caps or other junk," he said.
Mr Saarinen contacted the alumni association, who had no trouble identifying the ring's owner as it bore the 1973 graduation date and the initials S.M.
Ms McKenna said she cried when the ring arrived in the mail at her Brunswick home last week.
"It's very touching in this world of negativity, to have decent people step forward and make an effort," she said.
"There are good people in the world, and we need more of them."
Ms McKenna has no idea how the long-lost ring ended up in a Finnish forest.
She said Shawn spent some time working in Finland in the early 1990s – but nowhere near the city where the ring was found and he had not seen the ring in 20 years at that point.