China confirms deadly Wuhan coronavirus can be transmitted by humans | UK News
Chinese authorities have confirmed a deadly virus that has infected more than 160 people in four countries can be transmitted via human-to-human contact.
The confirmation comes as airports around the world introduced temperature screening as hundreds of millions of Chinese travel home and abroad for the Lunar New Year holiday.
China's National Health Commission confirmed it will step up monitoring during Chinese New Year as President Xi Jinping said 217 people in China have been infected by the new viral pneumonia.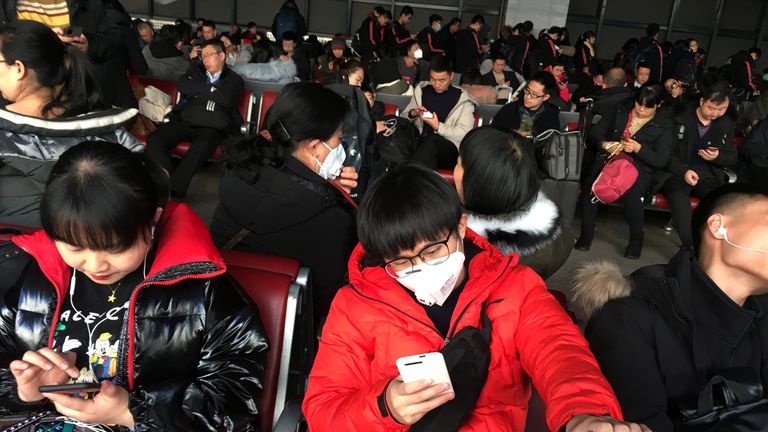 Three people have died from the virus and over the weekend new cases tripled to 139 in China, while cases have also been confirmed in Thailand, Japan and South Korea.
The virus belongs to the same family of coronaviruses that causes Severe Acute Respiratory Syndrome (SARS), which killed nearly 800 people around the world during a 2002/03 outbreak that started in China.
The newest virus, which has no cure, has been dubbed Wuhan Virus as it originated at the seafood market in the city of Wuhan in central Hubei province.
Chinese New Year is this Saturday and brings with it a week long holiday when most people will travel home on Friday, often to the countryside from the cities, or take the chance to go overseas.
President Xi said: "The recent outbreak of novel coronavirus pneumonia in Wuhan and other places must be taken seriously.
"Party committees, governments and relevant departments at all levels should put people's lives and health first.
"They should ensure that the masses have a quiet, peaceful and joyous Spring Festival."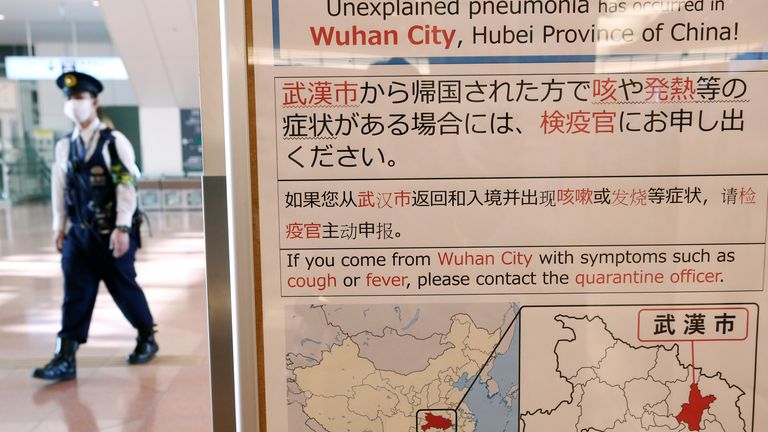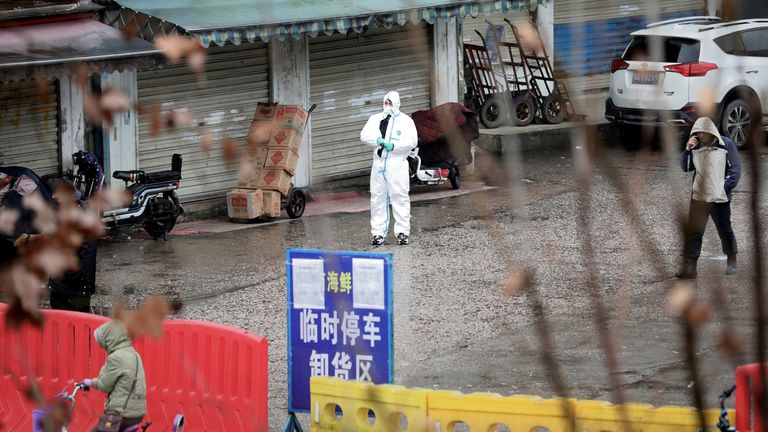 The virus spread on Monday to Shanghai, east of Wuhan, and the first cases in the southern province of Guandong were also recorded, including a 66-year-old man in Shenzhen, just over the border from Hong Kong.
Five people in Beijing have also been diagnosed, according to state broadcaster CCTV.
Authorities in other countries have been put on alert, with at least half a dozen Asian countries and three US airports – New York's JFK, LA and San Francisco – screening incoming passengers from central China.
Two cases have been confirmed in Thailand, both women who had been to Wuhan, and the four Thai airports running flights between Wuhan are carrying out tests. One of the cases was detected by thermal serveillance equipment at Bangkok airport.
South Korea reported its first case on Monday after a 35-year-old Chinese woman from Wuhan tested positive a day after arriving at Seoul's Incheon airport.
Videos posted online showed authorities in protective suits on a plane at the airport in Macau, an autonomous region on China's south coast, checking the temperatures of every passenger arriving from Wuhan.
Hong Kong airport, where temperature screening is commonplace after the SARS outbreak, is stepping up its measures.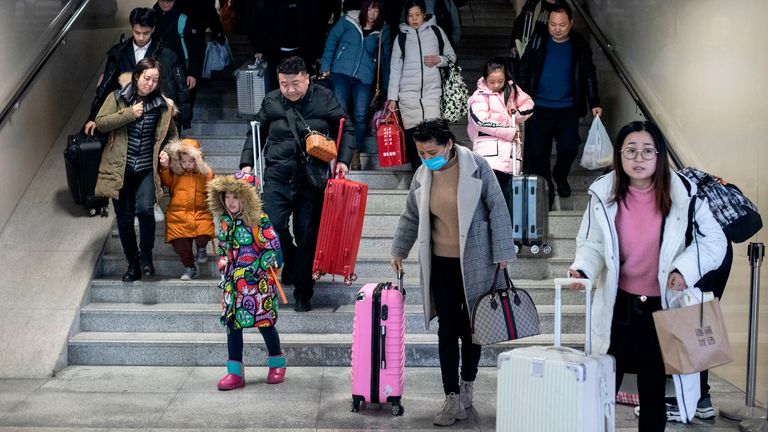 Singapore's ministry of health confirmed all passengers arriving at Changi Airport from China will be temperature screened in response to more cases and the spike in travel volume ahead of Chinese New Year.
Doctors began seeing symptoms including fever, coughing and breathing difficulties in people who worked at or visited Wuhan's seafood market late last month.
Health officials maintained on Sunday that the virus is not easily transmitted between humans and the hundreds of people who have been in close contact with diagnosed patients have not got sick.
President Xi's announcement that 217 people had been infected is much higher than the 62 cases health officials said on Sunday.
However, both figures are dramatically lower than a study from London's Imperial College which suggested there could be more than 1,723 cases in Wuhan alone.
It said: "It is likely that the Wuhan outbreak of a novel coronavirus has caused substantially more cases of moderate or severe respiratory illness than currently reported."
Some experts say the new virus may not be as deadly as SARS, but there is still little known about it, including its origin and how easily it can be transmitted between humans.
Coronavirus: Where are Europe's infection hotspots? | World News

European Union health officials are urging member nations to move quickly to slow the latest wave of COVID-19 infections to avoid a repeat of the broad lockdowns that paralysed the continent's economy in the spring.
EU health commissioner Stella Kyriakides said the most recent risk assessment showed that some countries are reporting more cases now than they did during the earlier pandemic's peak.
She said now "might be our last chance to prevent a repeat of last spring".
More than three million cases have been reported in Europe since the beginning of the year, including 187,509 deaths, according to figures from the European Center for Disease Prevention and Control.
These maps and graphs show how the picture is changing across Europe.
This map shows that Montenegro has become a coronavirus hotspot within Europe, with 305.4 cases per 100,000 people in the week of 14-20 September.
Spain is next with 165.6 per 100,000, and then the Czech Republic with 122.6 cases.
When we look at this second map you can see that Montenegro has seen a 64% week-on-week increase from 7-13 September.
Iceland had the highest weekly increase, 654.2%, with a rise from 6.7 per 100,000 to 50.7 per 100,000.
Another island which saw a big rise was Cyprus which had a 335.3% increase from 1.9 per 100,000 to 8.4.
Spain is still seeing the most significant rise in infections after rates started rising steadily again from the start of July.
France is also on a similar trajectory and the UK is following the same pattern, though a few weeks behind.
Germany's rate is still largely flat with a small rise since the beginning of September.
The UK has an infection rate of 38.6 cases per 100,000 people, while Ireland's rate is just above that on 39.7.
When a country is above 20, the home nations of the UK consider imposing two-week quarantine restrictions on people travelling to the UK from there. Such countries currently include France and Spain.
Belarus: UK prepares sanctions for human rights violations | World News
The UK is preparing sanctions for human rights violations in Belarus, the foreign secretary has said.
Speaking in the House of Commons, Dominic Raab said Alexander Lukashenko, who was sworn in this week as president in a secret ceremony, has "a wholesale lack of legitimacy".
Mr Raab said Britain does not accept the results of the rigged election and condemned the "thuggery" imposed on protesters in Belarus.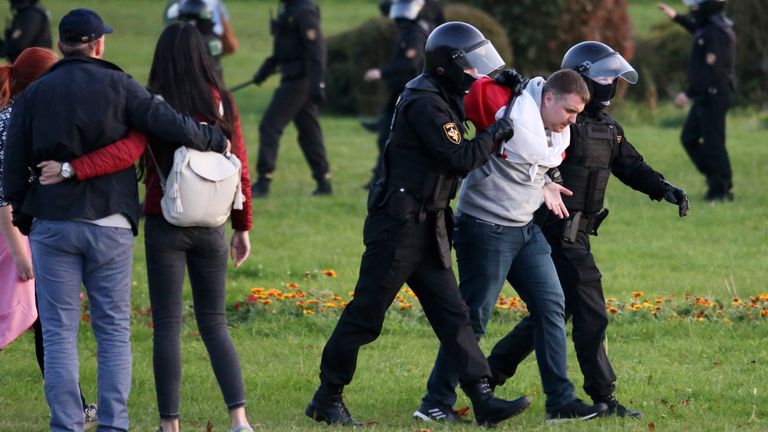 He told the House of Commons it is "critical those responsible for the fraudulent elections and human rights violations are held to account."
He said although the UK was willing to join the EU's plans for targeted sanctions, delays in Brussels meant the U.K. would join other allies to adopt targeted sanctions against those responsible for human rights abuses.
He has decided to direct the foreign office to coordinate with the US and Canada instead.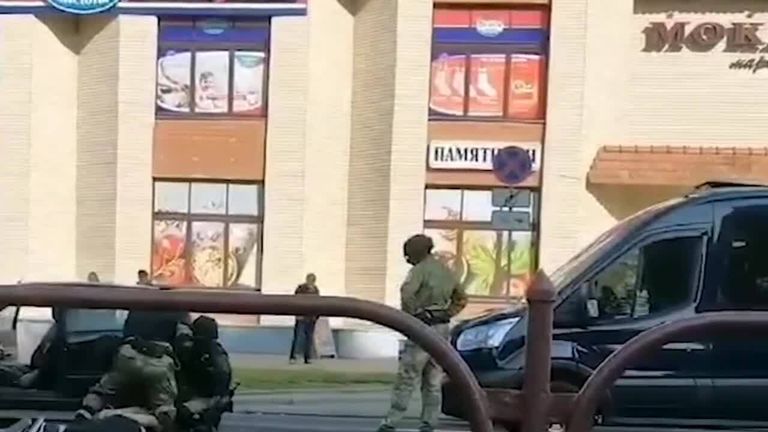 He said: "Given the delay and Lukashenko's fraudulent inauguration I've directed the foreign office's sanction team to prepare Magnitsky sanctions for those responsible for serious human rights violations.
"We are coordinating with US and Canada to prepare appropriate listings as a matter of urgency.
"We will apply all the tools at our disposal to hold Lukashenko and his regime to account."
Mr Raab told the Commons the UK will double the amount of financial support given human rights groups, independent media organisations and community groups, totalling an extra £1.5 million over the next two years.
This includes £800,000 of support for journalists, in particular, in Belarus, to help "shine a light" on repression there.
Thousands of Belarusians took to the streets of the capital of Minsk and other cities on Wednesday evening, protesting the unannounced inauguration of President Alexander Lukashenko that took place in the morning.
Police fiercely dispersed the crowds; in Minsk, officers used truncheons and water cannons, leaving dozens injured. Over 360 protesters were detained.
It follows nearly seven weeks of rallies against the authoritarian leader's re-election, which the opposition says was rigged.
The EU said Thursday that the swearing in of Lukashenko to a sixth term lacks democratic legitimacy, defies the will of the Belarusian people and will only deepen the country's political crisis.
EU foreign policy chief Josep Borrell reiterated that the 27-nation bloc did not recognize the result of the August 9 election that kept Lukashenko in power after 26 years.
He said: "This 'inauguration' directly contradicts the will of large parts of the Belarusian population, as expressed in numerous, unprecedented and peaceful protests since the elections, and serves to only further deepen the political crisis in Belarus."
On Monday, EU foreign ministers failed to impose sanctions on Belarus officials suspected of election fraud or of playing a part in a brutal security crackdown on the post-election protests, despite appeals from Lukashenko's main opponent to take action.
Cyprus continues to block the sanctions until similar measures are slapped on Turkey for its disputed energy exploration in the eastern Mediterranean Sea.
EU leaders will try to break the deadlock when they meet in Brussels on Oct. 1.
Coronavirus: Israel heads into 'hermetic' lockdown after infection figures surge | World News
Israel's government has voted to tighten a week-old national lockdown as figures reveal the extraordinary extent of the country's coronavirus challenge.
The cabinet met late into Wednesday night and concluded, not without huge disagreement, that a "hermetic" lockdown must be implemented by Friday.
The country's infection rate is by far the highest among known rates globally.
Live updates on coronavirus from UK and around the world
Prime Minister Benjamin Netanyahu told minsters: "I know that it is late but in more than one sense, we are facing the moment of truth.
"The number of severe cases is rising. To my sorrow, so is the number of deaths.
"Over the past two days we have heard from the experts that if we do not take tough and immediate measures, we will reach the edge of the abyss."
Sky News analysis of data from the Johns Hopkins University shows that Israel currently has a daily infection rate of 55 cases per 100,000 (seven-day rolling average).
This compares with Spain at 24.2, Brazil with 11.8, and the United States with 13.6.
The data also shows that Israel has had the biggest global increase in infection rates over a 14-day period. The two week infection rate doubled to 663.7 per 100,000, up by 340.5.
About 54,000 tests were administered on Wednesday and 6,808 people, 13%, tested positive. That is the highest single day positive percentage since the outbreak of the pandemic.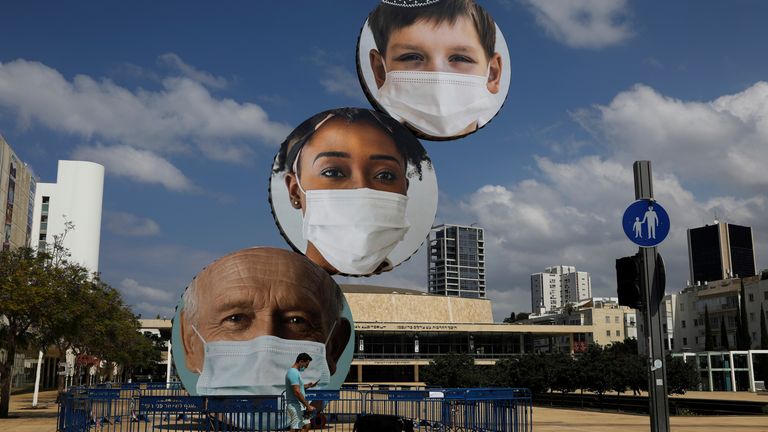 The country's positivity rate is averaging 8%. The World Health Organisation (WHO) has said it should be below 5% for a country to be able to control the virus.
It took Israel a steady six months to reach 100,000 confirmed coronavirus cases. The country was praised for its initial handling of the pandemic.
Yet, just 32 days after confirming its 100,000th case, the number had doubled to 200,000.
In line with global trends, the vast majority of cases are showing minor symptoms or are asymptomatic.
However, the sheer number of cases is now overwhelming hospitals and impacting the number of medical staff who are available to treat patients.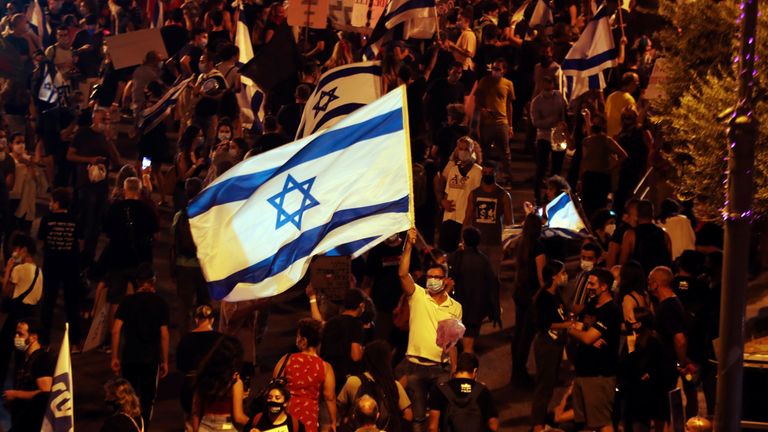 Health ministry statistics show that among health workers nationally, cases surged from 722 on Monday to 1,697 on Wednesday. A further 4,331 medical staff are quarantined.
The existing lockdown, only imposed last week, had restricted movement to within 1km of people's homes. However, rules for shops, businesses and places of worship were confusing, contradictory and not well enforced.
The new lockdown will come into effect at 2pm on Friday and last until at least 11 October. Only supermarkets and pharmacies will open.
Synagogues will remain open only for the Yom Kippur holiday and protests will be limited to within 1km of the demonstrator's home in groups of 20.
Mr Netanyahu has been the focus of weeks of protests. His critics say he is trying to silence their calls for him to resign because of his handling of the crisis.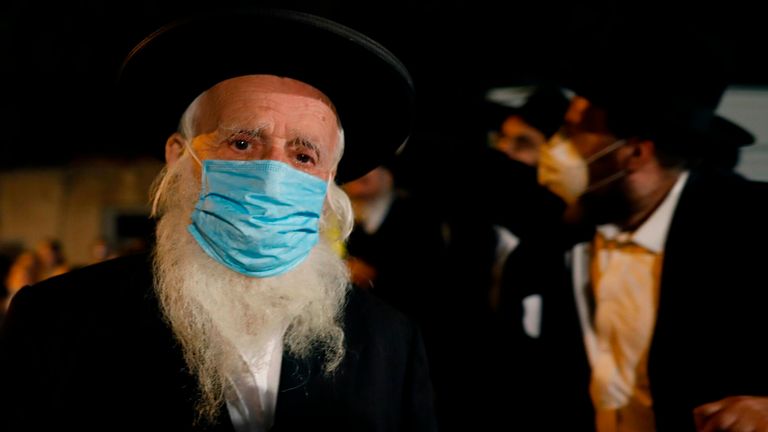 The country is struggling to implement an effective contact tracing system. The security establishment recently concluded that more than 50% of Israelis who are asked to quarantine violate their orders.
The pandemic has exposed huge fault-lines in Israel's political and social structure.
The complex coalition government is deeply divided over the restrictions, which are set to devastate the economy.
Even the government-appointed corona tsar Professor Ronni Gamzu – who is known for his caution – took exception to the new restrictive measures.
"My recommendation was more moderate, to go for 50%," he is reported to have told the cabinet meeting.
Prime Minister Netanyahu responded: "We make decisions by dint of our responsibility and not only based on recommendations. The recommendations that we've gotten up until now have led us to a surge from 2,000 patients a day to 5,000 a day."