Australia bushfires: Injured koalas sniffed out by talented rescue dog | World News
A talented dog is lending a paw to animal rescue efforts in areas devastated by Australia's raging bushfires, saving koalas with her impressively strong sense of smell.
Taylor, a four-year-old English springer spaniel, has found dozens of injured marsupials by sniffing out the scent of their fur or their faeces, also known as scat.
The clever dog ventures out into the burnt-out bushland in search for the animals when her trainer Ryan Tate commands the magic words, "koala, find".
Each time she sniffs out a koala, she is rewarded with a tennis ball or culinary treat.
Mr Tate runs the detector dog training service, Tate Animal Training Enterprises.
He said Taylor had become an expert at her niche occupation as she had been practising since she was just a few months old.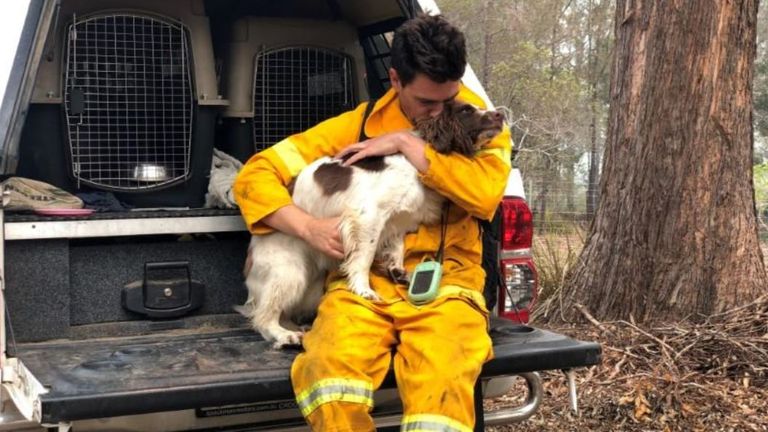 "In ideal conditions where the air is still, the smell of the animal actually drops down from the tree and Taylor can smell them," Mr Tate said.
"She'll sit right below them and point up to them and show us where they are."
Mr Tate said the canine was even trained to complete her mission in difficult and windy conditions, by finding fresh faeces.
"We can let the experts know where the scats are and they will scan the canopy and usually find the animal," Mr Tate said.
Several of the koalas found by Taylor have been treated at Port Macquarie's Koala Hospital, a specialist facility and tourist attraction that has been overrun in the current crisis.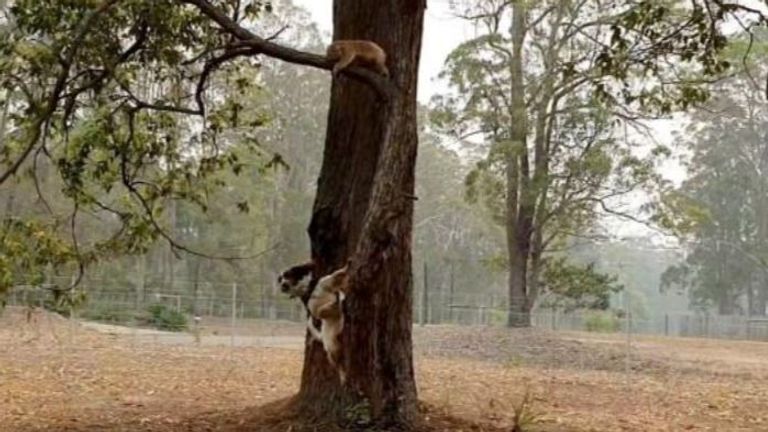 Ferocious and unprecedented bushfires have killed 29 people in Australia in the past few months and razed bushland equal to an area the size of Bulgaria.
Much of Australia's koala population has been severely affected by the blazes, which continue to burn across the country's east coast.
In the state of New South Wales alone, officials estimate koalas may have lost 30% of their eucalypt woodlands, which they use for both food and shelter.
Their heavy fur and tendency to climb higher when threatened are severe disadvantages in fast-moving bushfires.
Taylor is not the only animal working to save his fellow furry friends.
Suffering marsupials have found another unlikely saviour in Bear, a dog with obsessive compulsive disorder, who has also been helping animal rescuers by sniffing out creatures in charred bush.
The cattle dog cross-breed is ideally suited to the task as he is trained to find both wild koalas and quolls – another small Australian marsupial.
Authorities have said the full extent of the koala's habitat damage will not be known until the fires are extinguished, which is likely several months away.
A $50m emergency wildlife recovery program launched by the federal government earlier this week will focus on the survival of the iconic native animal.
Plastic 'pouring' into Antarctica – with hundreds of pieces in every litre of water | Climate News
Hundreds of pieces of plastic have been found in every litre of Antarctic seawater by scientists being followed by Sky News.
In the first attempt to quantify how much plastic has reached the pristine continent, scientists on British Antarctic Survey's (BAS) ship the James Clark Ross have filtered the water in fjords along the Antarctic Peninsula.
Tristyn Garza, from the University of West Florida, pumps water samples taken at different depths through an ultra-fine filter.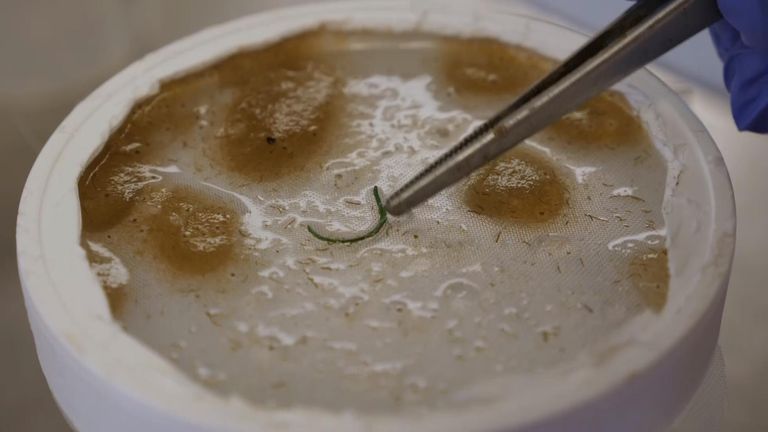 A sample taken from surface water in Borgen Bay on Anvers Island yielded several fibres and fragments of microplastic that were visible to the naked eye, but samples studied under the microscope reveal many more.
"It's incredible," she said.
"There's lots more plastic than I was expecting to see. So far it is easily in the hundreds [of pieces] per litre of water, which is very sad because the places we are looking at are pristine and untouched.
"You would not be expecting to see human influence, but so far there definitely has been."
Sky News was also filming as a scientist retrieved a fine-meshed net from Marguerite Bay, 250 miles further south.
The net is used to sieve plankton, tiny marine plants, from the top layer of water.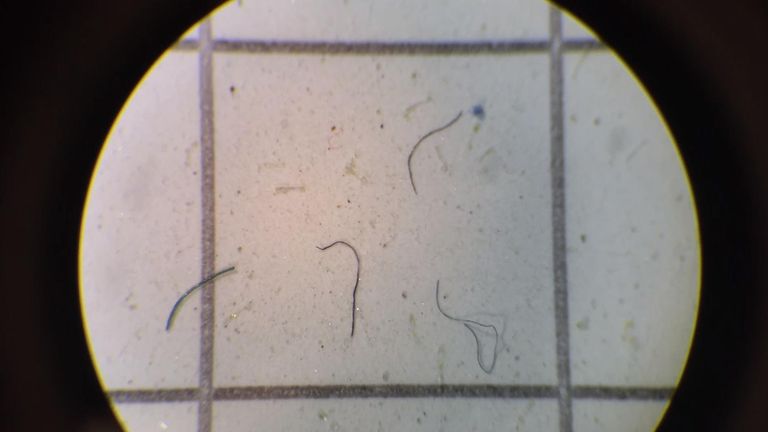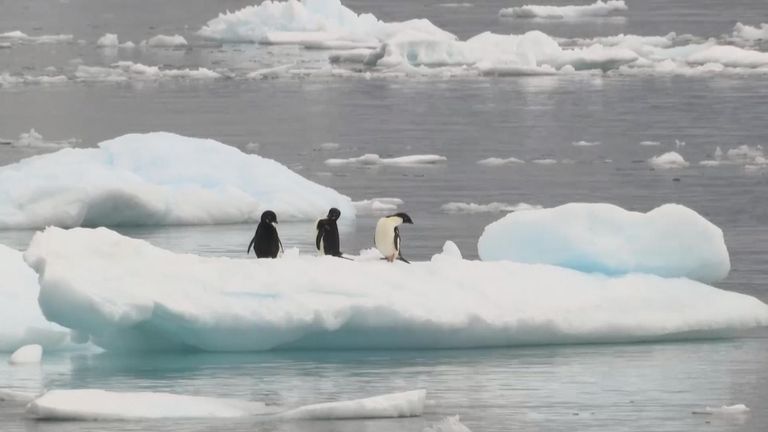 But Julian Blumenroeder, from the University of Heidelberg in Germany, also found in the net a piece of hard green plastic, possibly from a bottle top.
"The problem with microplastic is that it's not just where lots of people live," he said.
"It gets distributed on global ocean currents. It's in remote, pristine places. You can find it even here."
He is studying whether plankton are consuming tiny pieces of plastic and then passing it up the food chain.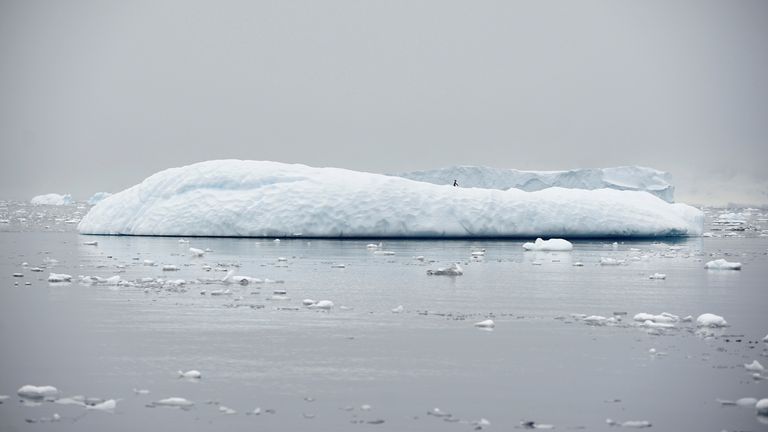 But Dave Barnes, a marine ecologist at BAS, said the amount of plastic in the South Atlantic was still rising exponentially and that some of it is now making it through the strong currents that swirl around Antarctica.
He said: "This is the last frontier, the last place we can go where systems are natural. Yet plastic is pouring into Antarctica, and a lot of the organisms here take a very long time to process a meal.
"If most of that food is full of tiny plastic fragments then they have wasted time processing a meal that not only isn't going to give them anything, but worse, will still fill up their stomach so they can eat less next time. It's a big worry."
Dr Barnes said Antarctica's marine life is already having to deal with the impact of climate change – rapidly warming water, loss of sea ice and increasing winds.
"Life in the slow lane, as many people refer to Antarctic life, is suddenly in the fast lane of stress," he said.
The troubling discoveries came as Sky – the owner of Sky News – marked the third anniversary of its influential and award-winning Ocean Rescue campaign.
Since it launched, Sky Ocean Rescue has been committed to raising awareness of plastic pollution and giving people easy ways to take action.
This year Sky will have cut 1,000 tonnes of plastic from its business and supply chain, and the company is also investing £25m in other firms dedicated to helping us give up plastic for good.
Coronavirus: China faces economic hit from deadly outbreak | Business News
Beijing's Forbidden City, part of the Great Wall and Shanghai Disneyland are among the attractions to close as China moves to contain a deadly virus that threatens to take an economic as well as a human toll.
The country has introduced travel restrictions affecting more than 30 million people across 10 of its cities in Hubei province, including Wuhan, the epicentre of the infection.
So far 26 people have died in China, with more than 800 infected.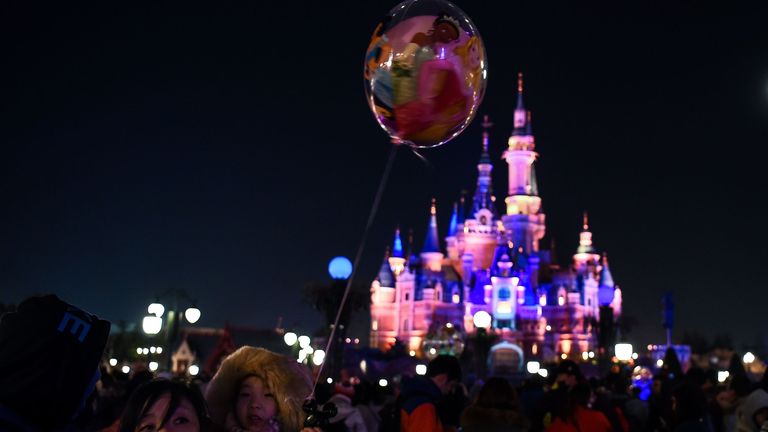 In response to the crisis, McDonald's has temporarily shut outlets in five cities following the coronavirus outbreak, while hotels and airlines are offering refunds to people travelling to the country.
The owner of Uniqlo has closed 17 of its shops in Wuhan, with the Swedish flat-pack giant Ikea following suit with its superstore at the request of authorities.
Film premieres have also been postponed.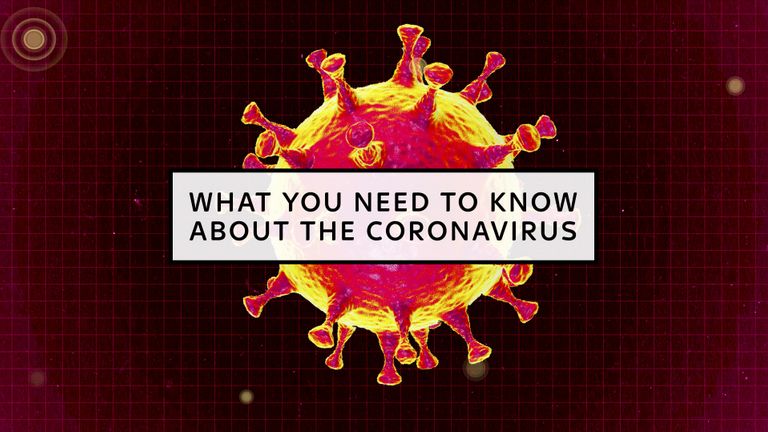 With parts of the country in virtual lockdown at the start of the usually busy week-long holiday to mark the Lunar New Year, the virus is expected to damage China's growth after months of economic worries over trade tensions with the US.
Economists estimate China's GDP for the first quarter could be hit by about one percentage point, with tourism, retail and hospitality all set to take an impact.
Shares in luxury goods firms have suffered from the anticipated drop in demand from China, and French spirits group Remy Cointreau said it was "clearly concerned" about the potential impact.
However, global stock markets, including London's top-flight FTSE 100, rose after the outbreak was not declared a global emergency.
Gareth Leather from the research consultancy Capital Economics told Sky News the 2003 outbreak of Severe Acute Respiratory Syndrome (SARS), which also began in China and killed nearly 800 people, may give an indication on the likely impact of the latest virus.
Speaking to the Ian King Live programme, he said: "If you look at 2003, the sectors of the economy in China that were hardest hit and also across the rest of Asia were things such as tourism, retail sales, restaurants.
"People were afraid to go out shopping, go out to the movies… and so all those sectors plummeted.
"But as soon as SARS stopped and was brought under control they rebounded again quite strongly.
"The chances are if its a similar kind of outbreak you will get a short, sharp downturn and then rebounding pretty quickly."
But given it coinciding with celebrations to mark the Year of the Rat, he added: "In terms of the timing it couldn't really be worse."
Mr Leather also warned it was not just China which would take an economic hit, with Hong Kong, Vietnam, Thailand and Cambodia all set to feel the impact from the drop in tourism.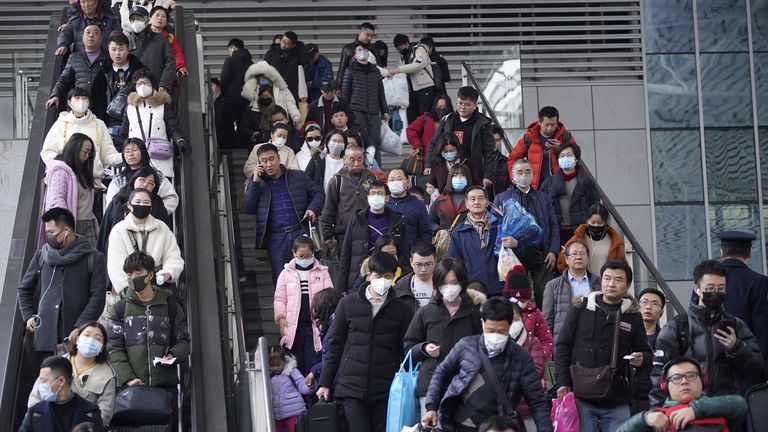 Meanwhile, Gloria Guevara, president of the London-based World Travel and Tourism Council (WTTC), said transparent communication was vital to "contain panic and mitigate negative economic losses".
The group had estimated the previous SARS outbreak of 2003 cost the global travel and tourism sector up to £38bn.
Ms Guevara said: "The most effective management of a crisis requires rapid activation of effective emergency plans, and we can see that in the early days of this outbreak, the Chinese government has acted rapidly.
"However, quick, accurate and transparent communication is also crucial in order to contain panic and mitigate negative economic losses. Containing the spread of unnecessary panic is as important as stopping the virus itself."
Coco Gauff, 15, knocks out Australian Open champion Naomi Osaka | World News
American teenager Coco Gauff has produced a performance for the ages to knock out defending Australian Open champion Naomi Osaka.
The 15-year-old has already made headlines around the world but none of her achievements so far could compare to this as she took apart one of the best players in the world at the Rod Laver Arena.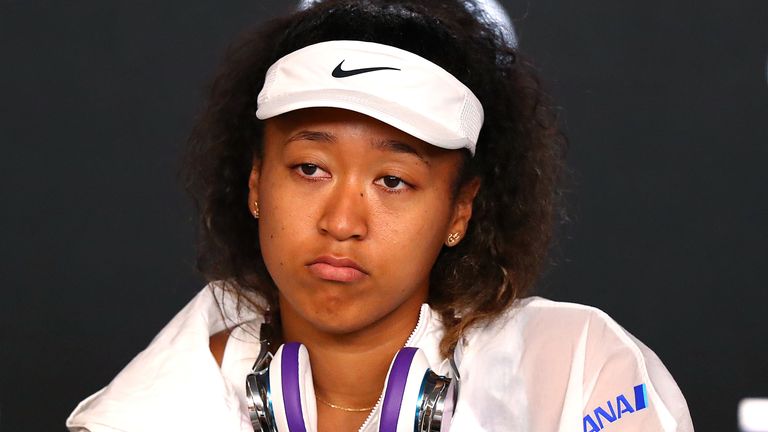 Gauff has now reached the fourth round at two grand slams as she comfortably defeated the player who lifted the trophy here 12 months ago.
The teenager kept her head impressively while Osaka lost hers, tumbling out of the tournament 6-3 6-4 in a flurry of errors.
Gauff was stunned by her achievement, saying: "Two years ago I lost first round in juniors, and now I'm here. This is crazy.
"I was just telling myself one point at a time and keep fighting because you never know what happens on this court.
"I'm on Rod Laver Arena, I can't believe this."
Gauff said she had been too shy to speak to Laver when she passed him in the corridor but hoped to set up a meeting.
Laver was quick to respond on Twitter, saying: "Hello CocoGauff – congratulations on your incredible victory tonight. I would love to meet you too."
"I love her, but I don't like this feeling of losing to her," said 22-year-old Osaka, who had easily beaten Gauff at the US Open last summer.
"I think just losing to her, that hurts more than the defending champion thing. I think it's because I have an age problem. I don't like losing to people that are younger than me. I took this very personally."
In the next round, the teenager will face another young American, 21-year-old 14th seed Sofia Kenin, who battled past Zhang Shuai 7-5 7-6 (7).
Gauff shocked tennis fans when she beat Venus Williams in the first round of Wimbledon last year. She beat her again in the first round in Melbourne on Monday.
Gauff's victory on Friday came several hours after title favourite Serena Williams had been stunned by a player who won just 15 points against her in their last meeting at the US Open.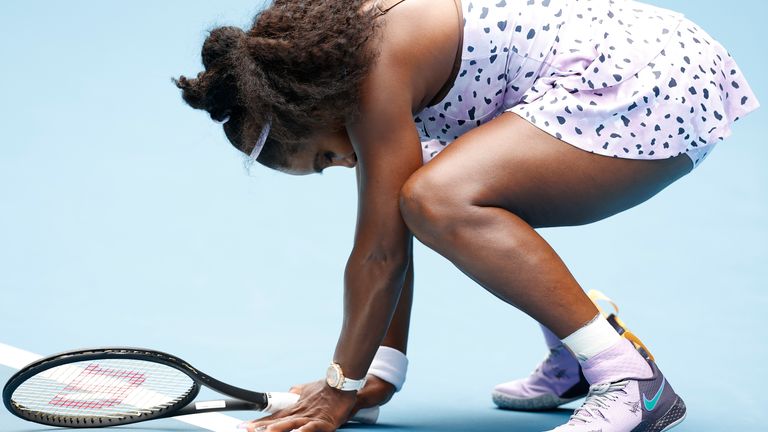 China's Wang Qiang had vowed to improve after that match and she certainly kept her promise, going toe to toe with Williams and not losing her cool when the 23-time grand-slam champion fought back.
The 38-year-old's defeat meant the wait to equal Margaret Court's record went on, but Williams added: "I definitely do believe [I can do it] or I wouldn't be on tour."