Former pope wants his name taken off controversial book about celibacy | World News
The former pope wants his name removed from a controversial book about priestly celibacy, an aide has said.
Benedict XVI, who retired from the role in 2013, is currently listed as a co-author of From The Depths Of Our Hearts – a book which argues that celibacy is a "necessity" for priests.
Excerpts from the book, released over the weekend, angered some scholars in the Catholic community who believe Benedict risks undermining his successor Pope Francis.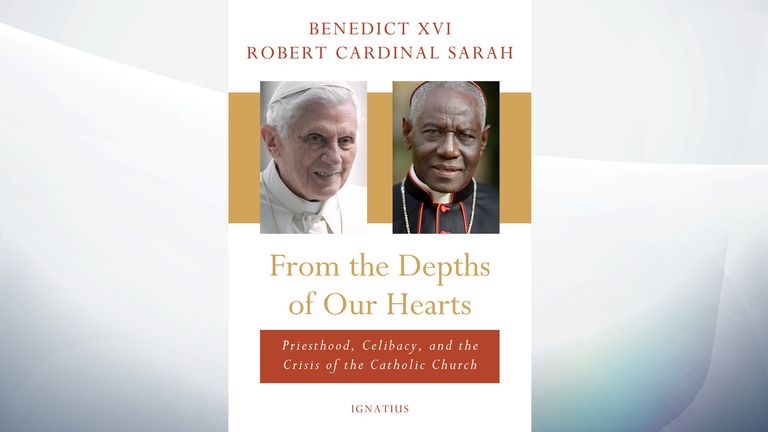 Cardinal Robert Sarah, the principal author of the book, has been asked to contact the publisher so the 92-year-old's name can be removed.
Hours earlier, Cardinal Sarah denied allegations that he had used the former pontiff's name without permission, tweeting: "I solemnly affirm that Benedict XVI knew that our project would take the form of a book. I can say that we exchanged several texts to establish the corrections."
The cardinal described accusations that he was manipulating Benedict as "despicable" – adding that his allegiance to Pope Francis was "total".
News reports citing sources close to Benedict claim he never saw or approved the book, but Cardinal Sarah has reproduced letters which appear to show he wrote the text and was in favour of its publication.
One signed letter, which the former pope wrote in Italian, says: "For my part the text can be published in the form you have foreseen."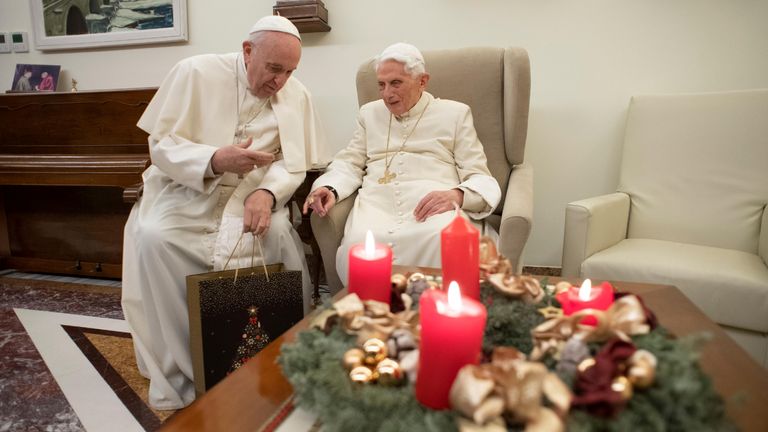 Cardinal Sarah has confirmed that Benedict will be named as a contributor rather than a co-author in future editions of the book, adding: "However, the full text remains absolutely unchanged."
In the coming weeks, Pope Francis is expected to publish a document that could discuss whether married men can be ordained priests in the Amazon, where a shortage means some Catholics wait months for their next mass.
The exceptions could apply to older men who are already deacons in the church, have a stable family life and have shown leadership in their communities.
From The Depths Of Our Hearts has been regarded by some as an intervention in that debate, taking some Catholics by surprise given how Benedict had vowed to live "hidden from the world".
The book states that relaxing these rules would be a "serious breach" of Vatican protocol – adding it doesn't seem possible to realise priesthood and marriage simultaneously as they require conflicting surrenders to either God or their family.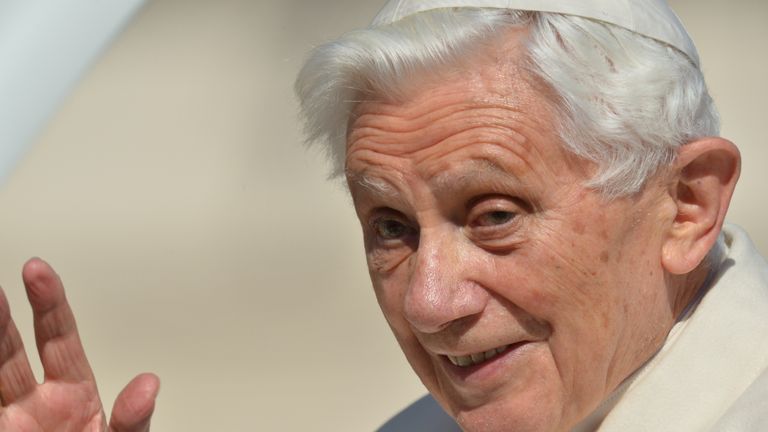 It is not the first time Benedict has broken his public vow to keep silent on church matters, made when he became the first pontiff in 700 years to resign.
He caused a stir last year by writing an essay for a German newspaper where he blamed the Catholic Church's sexual abuse scandal on the effects of the sexual revolution of the 1960s, homosexual cliques in seminaries, and what he called a general collapse in morality.
UK to resume arms sales to Saudi Arabia following government review | Politics News
The UK government will resume arms sales to Saudi Arabia after a High Court ruling put a temporary suspension on exports last year.
An internal government review into the use of weapons by Saudi Arabia in Yemen has concluded that breaches of international humanitarian law (IHL) were just "isolated incidents".
The move was quietly announced in a written statement to parliament by International Trade Secretary Liz Truss.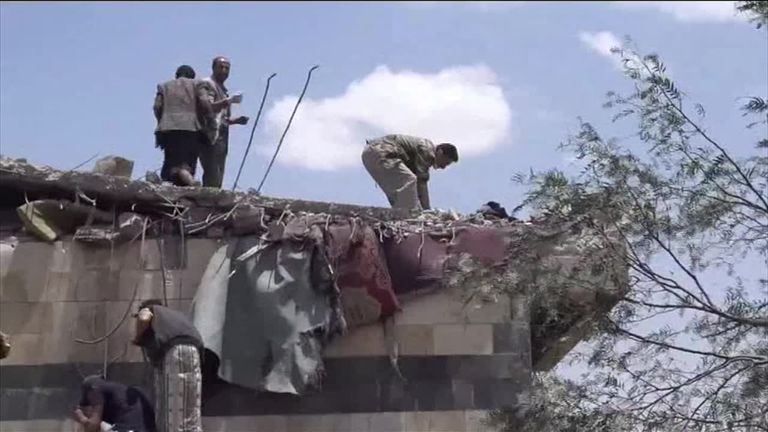 It came less than 24 hours after the government announced human rights sanctions against 20 senior Saudi regime officials for having "blood on their hands".
"I have assessed that there is not a clear risk that the export of arms and military equipment to Saudi Arabia might be used in the commission of a serious violation of IHL," Ms Truss said in the statement.
"The government will now begin the process of clearing the backlog of licence applications for Saudi Arabia and its coalition partners that has built up since 20 June last year."
The UK is one of the biggest arms suppliers to Saudi Arabia and has sold in excess of £5bn of weapons to the kingdom since the bombing of Yemen started in 2015.
The news was quickly condemned by opposition MPs.
Green Party MP Caroline Lucas said she was "lost for words".
"How the foreign secretary can say on one day that the UK will act as a force for good in the world, standing up for human rights, and then on the next, agree to this moral outrage, is just unbelievable," she said.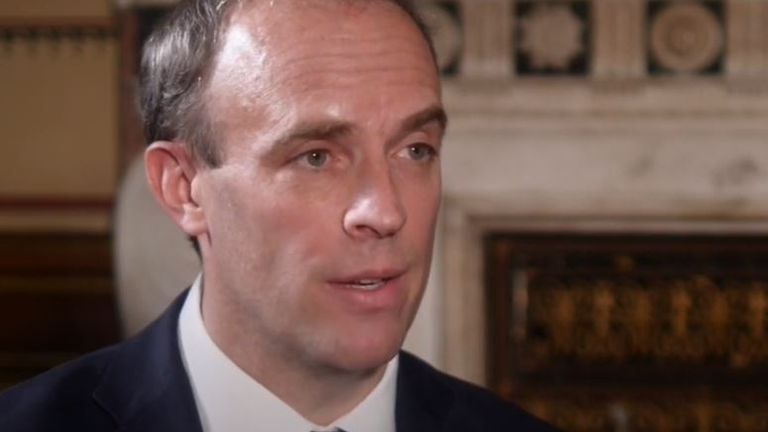 Listen to the Daily podcast on Apple Podcasts, Google Podcasts, Spotify, Spreaker
Andrew Smith, from Campaign Against the Arms Trade, said they were considering legal action.
"This is a disgraceful and morally bankrupt decision," he said.
"The Saudi-led bombardment of Yemen has created the world's worst humanitarian crisis, and the government itself admits that UK-made arms have played a central role on the bombing."
Last week, the UN's under Secretary General for Humanitarian Affairs told Sky News that Yemen was facing "the darkest moment I have ever seen."
Two million children under the age of five in Yemen are believed to be malnourished. Of them, about 325,000 have severe, acute malnutrition.
The World Tomorrow: Tory election mastermind Sir Lynton Crosby attacks 'mob mentality' in media | World News
Conservative election strategist Sir Lynton Crosby has blamed the media for stoking up a "mob mentality" around issues such as Black Lives Matter, the #MeToo movement and even the Arab Spring.
In a rare podcast interview with Sky News, Sir Lynton – who masterminded many of the Conservative election victories in recent decades – warned the coverage of these matters "alienates many, many voters".
He also dismissed the fall in Tory opinion polls following the Dominic Cummings lockdown affair, saying it was another symptom of the same issue.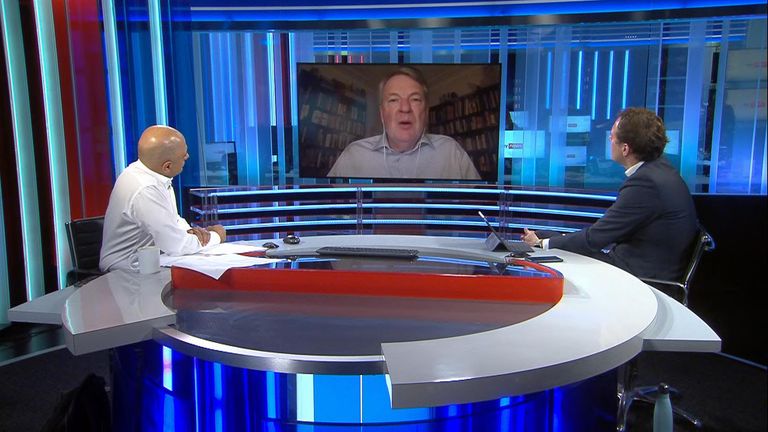 "I despair about the focus on public opinion polls – they're just pop quizzes," he said.
"They don't truly reflect underlying sentiment. You tend to get a period when there's a mob mentality in the media.
"One minute it might be what Dominic Cummings has done.
"The next, understandably something like Black Lives Matter, then before that we had the Arab Spring – where apparently the whole Middle East was going to change in four months… and things have gone pretty much back to the way they were – and the #MeToo movement and all of these things.
"I just think there's a tendency to grab issues and elevate the intensity of debate around them in a way that actually alienates many, many voters."
But Sir Lynton, who was talking to former chancellor Sajid Javid and Sky's economics editor Ed Conway in The World Tomorrow podcast, added that the Black Lives Matter movement could end up deciding the US election.
:: Listen to the The World Tomorrow on Apple podcasts, Spotify, and Spreaker
"One of the things that I think President Trump was counting on was suppressed black and minority, Hispanic and so forth, turnout," he said.
"The question now is, what does this focus on issues of race in America mean for the turnout of those groups at the next election?"
Sir Lynton said he expects the turnout to be higher than predicted, with many BAME people supporting Mr Trump's rival Joe Biden.
He believes the vote will be "incredibly close", and added: "I wouldn't call it either way to be honest."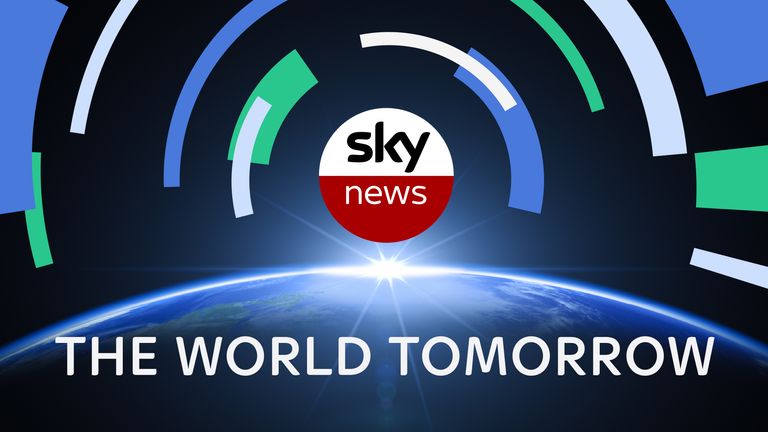 Turning his attention to the coronavirus pandemic, Sir Lynton said one consequence of COVID-19 was that businesses and households would be more keenly focused on existential questions than other issues which have until now dominated debate, such as the environment or equality.
"They're important issues," he said. "But now for some businesses they're important, but they're not immediate."
Sir Lynton said companies are currently focusing on "sheer survival", while many people have had to prioritise having a job and looking after their family.
As a result, he said, there may be a "stalling" on some other issues.
"David Cameron used to say you can't have a strong health system or a good education system if you don't have a strong economy," he said.
"Well, you can't have a company that focuses on the broader social issues… if it's not making a profit."
Sir Lynton said COVID-19 had changed the complexion of public opinion and politics – perhaps permanently – with people becoming far more focused on localism than globalism.
"Economic sovereignty is about the over-reliance on any one country or one company or one source of supply, the over-reliance on a particular country or region as a market, the resilience in our supply chains, the questioning of just-in-time manufacturing.
"I think going forward, you'll see a focus on economic sovereignty, ensuring supply chains, resilience, a focus on energy security, medical supplies, technology and financial security. I think across the world there will be a change."
Asked what that meant for future election campaigns, Sir Lynton said: "Fundamentally, people want elections to be about the future.
"The future is uncertain at present. So those who can help people think about the future and those who can demonstrate that they've got a clear plan for the future will get a better response from the voters."
China: Twenty-one dead and 15 injured after bus crashes into lake | World News

Twenty-one people have died after a bus plunged into a lake in China, state media has reported.
CCTV footage shows the vehicle suddenly cutting across six lanes of traffic in Anshun, Guizhou province, at around midday on Tuesday before crashing through a barrier and falling into Hongshan Lake.
At least 15 people were rescued from the vehicle in southwest China, which is believed to have been taking a group of secondary school students to their university entrance exams, the People's Daily newspaper reported.
Those who were rescued were taken to hospital to be treated for their injuries.
One student was among the dead and three others are thought to have been hurt, the paper said.
A large-scale rescue operation was launched to pull the vehicle from the water, but it is not yet clear what caused the crash.
Widespread flooding in China has left at least 119 people dead or missing in recent weeks.
In Wuhan, where the coronavirus pandemic began, 16.8in of rain fell on Sunday alone.