Baseball team sack managers after $5m fine for snooping on rivals | US News
The Houston Astros baseball team have sacked their manager and general manager over a cheating scandal that saw them snoop on opposition tactics during a historic championship-winning season.
AJ Hinch and Jeff Luhnow were fired after receiving a one-year suspension from Major League Baseball – one of a series of penalties handed out to the Astros following an investigation into sign stealing allegations.
Sign stealing is when a team tries to decode signals given by their opponents as how the pitcher will deliver the ball, which are then passed on to the batter to try and gain a tactical advantage.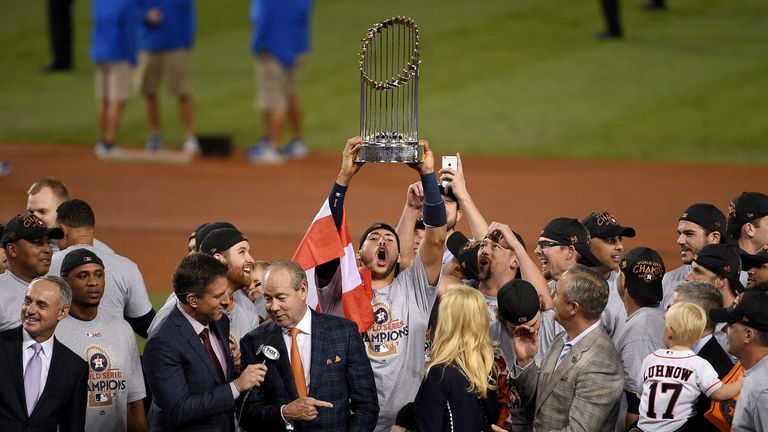 Claims against the Astros were first reported by The Athletic in 2017 after their former pitcher Mike Fiers came forward, sparking an MLB probe that found the team had used cameras to gain an unfair advantage.
While sign stealing is considered part of the game, the Astros' conduct during their triumphant 2017 World Series campaign – the first time they had won the title – was seen as a breach of etiquette.
The investigation found that the Astros had used their video-replay staff to decode opposition signs, with the findings subsequently sent to the team bench via phone or text message.
Players in the dugout would then hit rubbish bins to indicate to the batter what kind of pitch they should expect, which league commissioner Rob Manfred said "raised questions about the integrity" of Astros fixtures.
In a nine-page ruling that came with a $5m (£3.9m) fine for the club – the maximum allowed – Mr Manfred said: "I find that the conduct of the Astros, and its senior baseball operations executives, merits significant discipline.
"And while it is impossible to determine whether the conduct actually impacted the results on the field, the perception of some that it did, causes significant harm to the game."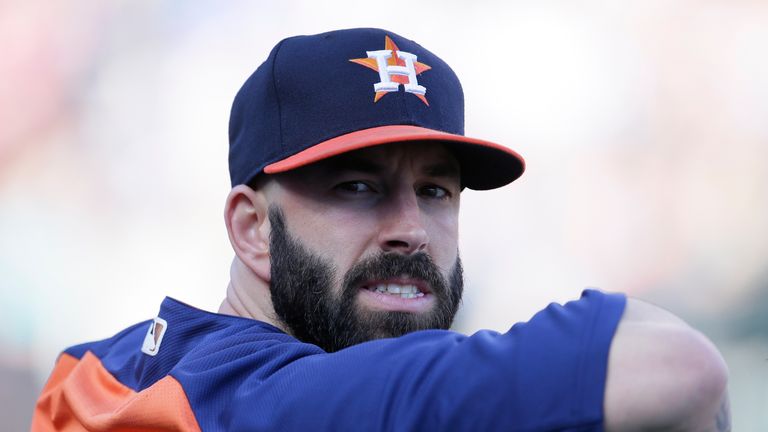 In addition to the fine and suspensions, Mr Manfred also took away the Astros' first and second-draft picks for the 2020 and 2021 seasons – leaving them at a disadvantage when it comes to picking their squad.
Following the ruling, Astros owner Jim Crane announced he had sacked Hinch and Luhnow.
"Neither one of them started this, but neither one did anything about it," he said.
"We need to move forward with a clean slate."
Hinch said he was "deeply sorry" for not stopping the cheating, while Luhnow said he was "deeply upset" that he was never informed about what was going on "because I would have stopped it".
Both men deny any direct involvement in the scandal, with original whistleblower Fiers having identified former Astros bench coach Alex Cora as the mastermind.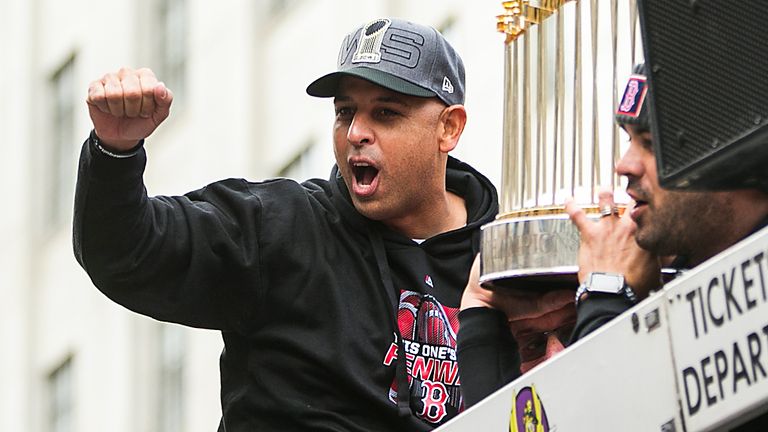 Cora – who has not yet been disciplined – now manages the Boston Red Sox, who are facing their own MLB investigation into allegations of sign stealing during the 2018 season.
The Athletic reported that Red Sox players visited the team's video-replay room and then passed on information to teammates on the field.
The Red Sox – who have said they will "fully cooperate" with the investigation – won more matches than any other side during that season.
Lewis Pugh becomes first person to swim under Antarctic ice sheet | Climate News
Endurance swimmer and climate activist Lewis Pugh has become the first person to swim under an Antarctic ice sheet.
He swam for 10 minutes and 17 seconds in the river under the melting ice sheet – in just trunks, cap and goggles.
Pugh took on the feat to raise awareness of climate change at the Earth's poles.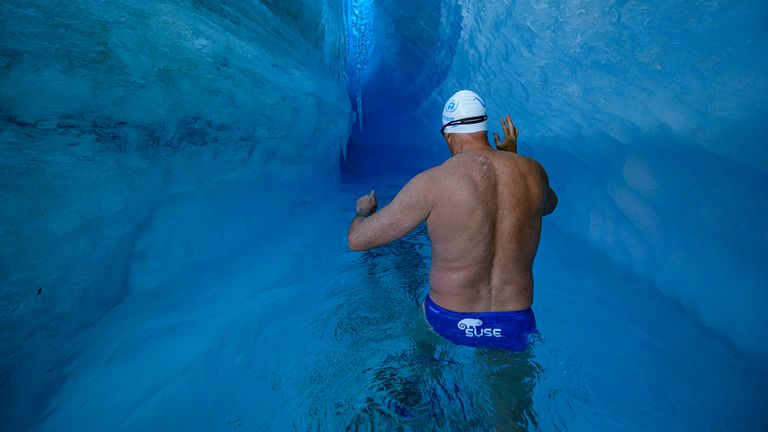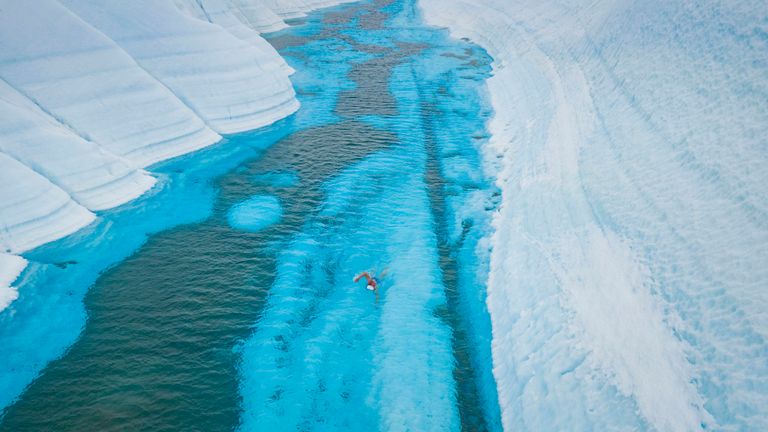 He called it the "most frightening swim of my life" as he faced severe wind chill at the East Antarctica ice sheet – which holds the record for the lowest temperate ever recorded.
"Mid-way I heard an almighty boom above me, and thought my time had come. Luckily, it was just the ice shifting," tweeted Pugh.
A survey recently found more than 65,000 supraglacial lakes had appeared in the East Antarctica ice sheet in the last three years.
Antarctica also lost the same amount of ice between 2014 and 2017 as in the previous three decades.
Pugh completed a 330-mile swim along England's coast coast in conjunction with Sky in 2018, but said his latest challenge was "the culmination of 33 years of training".
The 50-year-old hopes his efforts could help the creation of a network of marine protected areas (MPAs) to ease pressure on wildlife and counter the impacts of climate change.
First sight of the glacial river that I'll be swimming. It may seem shocking that someone would be able to swim in a river that runs under the ice sheet, but that's the point. Antarctica is melting. Scientists have discovered over 65,000 supra-glacial lakes in this region alone. pic.twitter.com/GXvcBZzePX

— Lewis Pugh (@LewisPugh) January 24, 2020
"I swam here today as we are in a climate emergency. We need immediate action from all nations to protect our planet," he said.
"I hope that my swim underneath the Antarctic ice sheet will ignite international leaders and lead to the introduction of the marine protected areas this region so critically needs.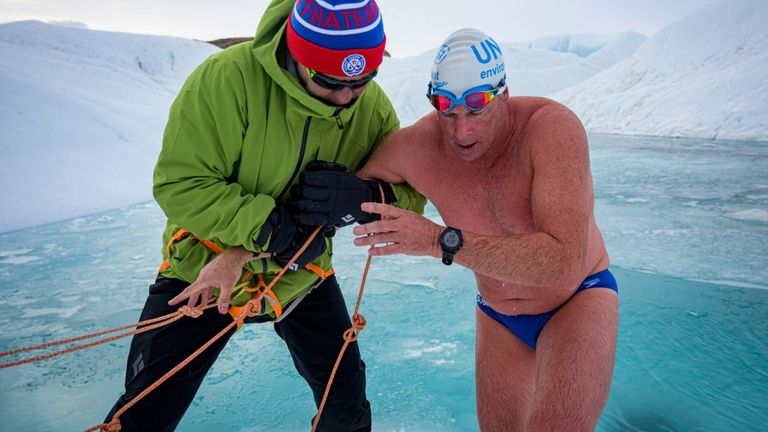 "Wherever I looked there were large rivers of water carving their way through the ice sheet. I have no doubt whatsoever that we are now facing a climate emergency.
"We do not have 50 years or 20 years or even 10 years to solve this crisis. We have run out of time. The time for action is now."
Plastic 'pouring' into Antarctica – with hundreds of pieces in every litre of water | Climate News
Hundreds of pieces of plastic have been found in every litre of Antarctic seawater by scientists being followed by Sky News.
In the first attempt to quantify how much plastic has reached the pristine continent, scientists on British Antarctic Survey's (BAS) ship the James Clark Ross have filtered the water in fjords along the Antarctic Peninsula.
Tristyn Garza, from the University of West Florida, pumps water samples taken at different depths through an ultra-fine filter.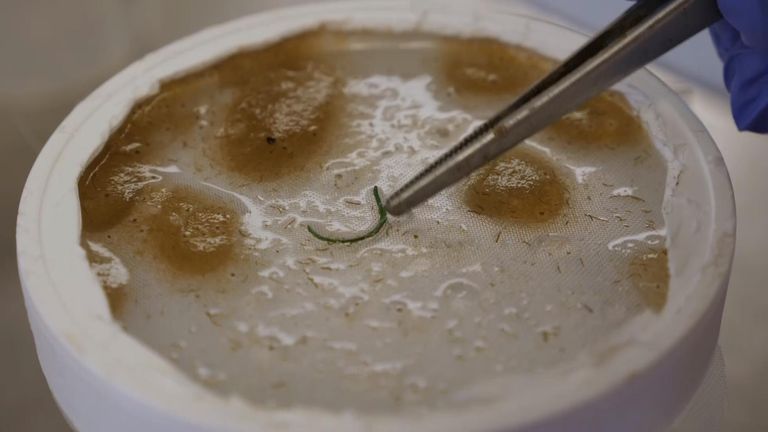 A sample taken from surface water in Borgen Bay on Anvers Island yielded several fibres and fragments of microplastic that were visible to the naked eye, but samples studied under the microscope reveal many more.
"It's incredible," she said.
"There's lots more plastic than I was expecting to see. So far it is easily in the hundreds [of pieces] per litre of water, which is very sad because the places we are looking at are pristine and untouched.
"You would not be expecting to see human influence, but so far there definitely has been."
Sky News was also filming as a scientist retrieved a fine-meshed net from Marguerite Bay, 250 miles further south.
The net is used to sieve plankton, tiny marine plants, from the top layer of water.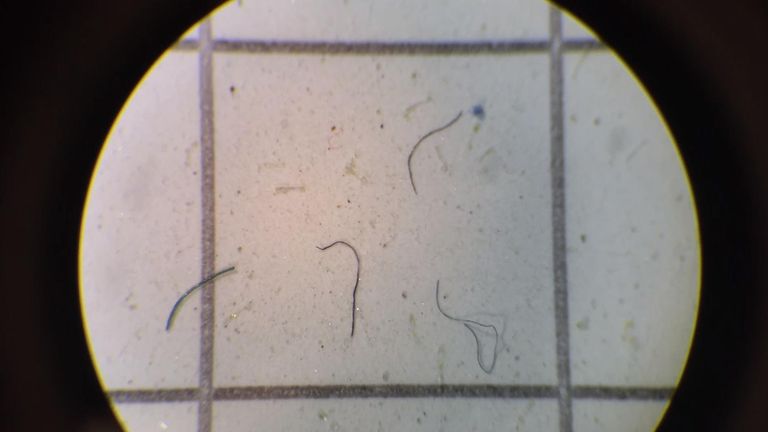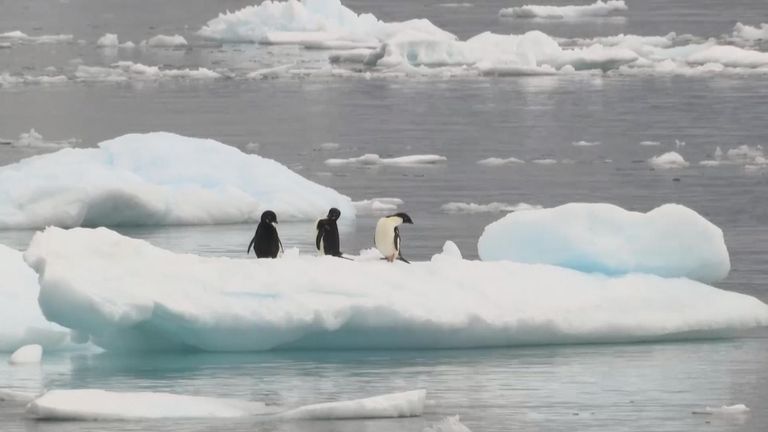 But Julian Blumenroeder, from the University of Heidelberg in Germany, also found in the net a piece of hard green plastic, possibly from a bottle top.
"The problem with microplastic is that it's not just where lots of people live," he said.
"It gets distributed on global ocean currents. It's in remote, pristine places. You can find it even here."
He is studying whether plankton are consuming tiny pieces of plastic and then passing it up the food chain.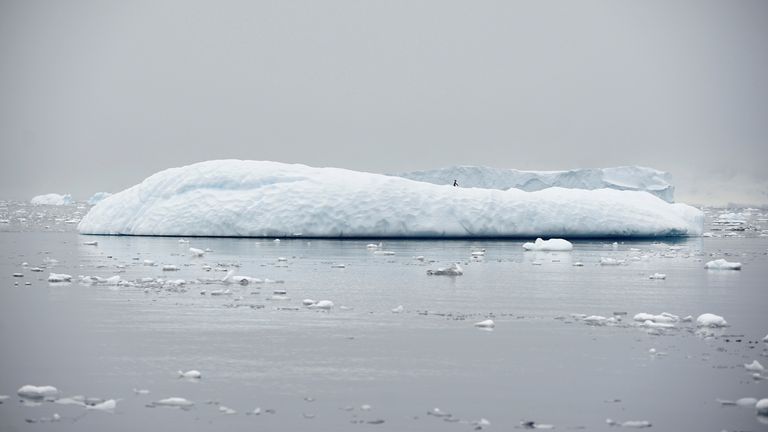 But Dave Barnes, a marine ecologist at BAS, said the amount of plastic in the South Atlantic was still rising exponentially and that some of it is now making it through the strong currents that swirl around Antarctica.
He said: "This is the last frontier, the last place we can go where systems are natural. Yet plastic is pouring into Antarctica, and a lot of the organisms here take a very long time to process a meal.
"If most of that food is full of tiny plastic fragments then they have wasted time processing a meal that not only isn't going to give them anything, but worse, will still fill up their stomach so they can eat less next time. It's a big worry."
Dr Barnes said Antarctica's marine life is already having to deal with the impact of climate change – rapidly warming water, loss of sea ice and increasing winds.
"Life in the slow lane, as many people refer to Antarctic life, is suddenly in the fast lane of stress," he said.
The troubling discoveries came as Sky – the owner of Sky News – marked the third anniversary of its influential and award-winning Ocean Rescue campaign.
Since it launched, Sky Ocean Rescue has been committed to raising awareness of plastic pollution and giving people easy ways to take action.
This year Sky will have cut 1,000 tonnes of plastic from its business and supply chain, and the company is also investing £25m in other firms dedicated to helping us give up plastic for good.
Coronavirus: China faces economic hit from deadly outbreak | Business News
Beijing's Forbidden City, part of the Great Wall and Shanghai Disneyland are among the attractions to close as China moves to contain a deadly virus that threatens to take an economic as well as a human toll.
The country has introduced travel restrictions affecting more than 30 million people across 10 of its cities in Hubei province, including Wuhan, the epicentre of the infection.
So far 26 people have died in China, with more than 800 infected.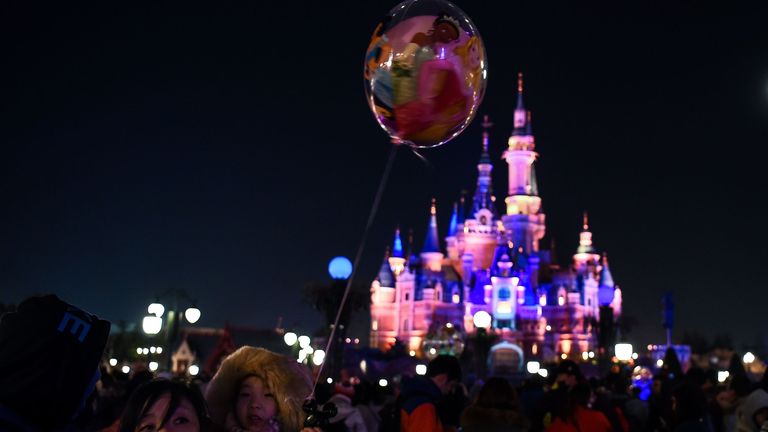 In response to the crisis, McDonald's has temporarily shut outlets in five cities following the coronavirus outbreak, while hotels and airlines are offering refunds to people travelling to the country.
The owner of Uniqlo has closed 17 of its shops in Wuhan, with the Swedish flat-pack giant Ikea following suit with its superstore at the request of authorities.
Film premieres have also been postponed.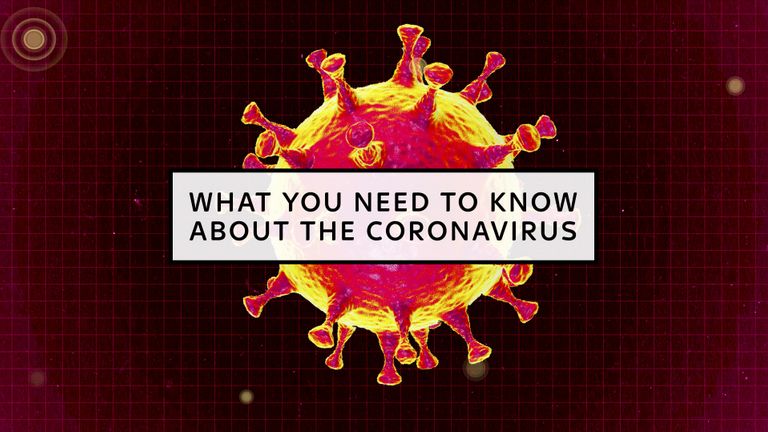 With parts of the country in virtual lockdown at the start of the usually busy week-long holiday to mark the Lunar New Year, the virus is expected to damage China's growth after months of economic worries over trade tensions with the US.
Economists estimate China's GDP for the first quarter could be hit by about one percentage point, with tourism, retail and hospitality all set to take an impact.
Shares in luxury goods firms have suffered from the anticipated drop in demand from China, and French spirits group Remy Cointreau said it was "clearly concerned" about the potential impact.
However, global stock markets, including London's top-flight FTSE 100, rose after the outbreak was not declared a global emergency.
Gareth Leather from the research consultancy Capital Economics told Sky News the 2003 outbreak of Severe Acute Respiratory Syndrome (SARS), which also began in China and killed nearly 800 people, may give an indication on the likely impact of the latest virus.
Speaking to the Ian King Live programme, he said: "If you look at 2003, the sectors of the economy in China that were hardest hit and also across the rest of Asia were things such as tourism, retail sales, restaurants.
"People were afraid to go out shopping, go out to the movies… and so all those sectors plummeted.
"But as soon as SARS stopped and was brought under control they rebounded again quite strongly.
"The chances are if its a similar kind of outbreak you will get a short, sharp downturn and then rebounding pretty quickly."
But given it coinciding with celebrations to mark the Year of the Rat, he added: "In terms of the timing it couldn't really be worse."
Mr Leather also warned it was not just China which would take an economic hit, with Hong Kong, Vietnam, Thailand and Cambodia all set to feel the impact from the drop in tourism.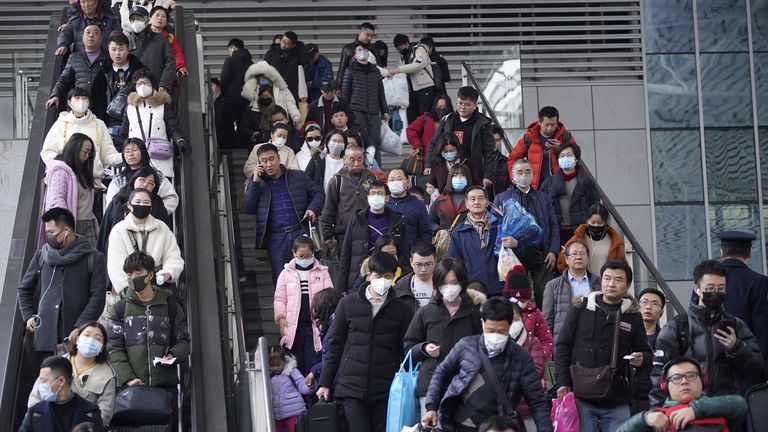 Meanwhile, Gloria Guevara, president of the London-based World Travel and Tourism Council (WTTC), said transparent communication was vital to "contain panic and mitigate negative economic losses".
The group had estimated the previous SARS outbreak of 2003 cost the global travel and tourism sector up to £38bn.
Ms Guevara said: "The most effective management of a crisis requires rapid activation of effective emergency plans, and we can see that in the early days of this outbreak, the Chinese government has acted rapidly.
"However, quick, accurate and transparent communication is also crucial in order to contain panic and mitigate negative economic losses. Containing the spread of unnecessary panic is as important as stopping the virus itself."