Trump and Johnson discuss situation in Iraq and Iran as Middle East tensions rise | World News
Donald Trump has spoken with Boris Johnson to discuss the situation in Iraq and Iran, the White House has said in a statement.
The release offered few details of the specifics of the call on Sunday, noting only that the two leaders "reaffirmed the close alliance between the two countries."
Mr Johnson is expected to brief ministers today on the crisis in the Middle East.
On Sunday, Mr Trump insisted that Iranian cultural sites would be fair game as military targets if Iran carries through on its vow to attack Americans.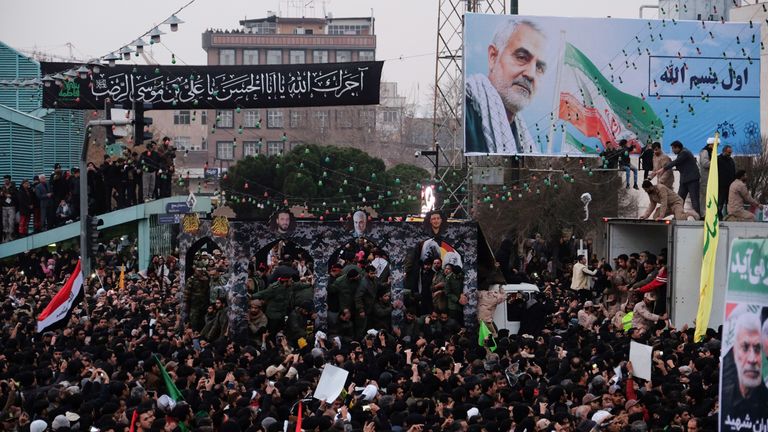 And he warned Iraq that the US would levy punishing sanctions if it expelled American troops in retaliation for a US strike in Baghdad that killed top Iranian official Major General Qassem Soleimani.
The US leader first suggested the idea of targeting Iranian cultural sites in a tweet on Saturday.
An Iranian government minister denounced Mr Trump as a "terrorist in a suit" after the US president sent a series of tweets threatening to hit 52 Iranian sites.
Speaking to reporters aboard Air Force One on route to Washington from Florida on Sunday, Mr Trump stood by his comments.
He said: "They're allowed to kill our people. They're allowed to torture and maim our people. They're allowed to use roadside bombs and blow up our people. And we're not allowed to touch their cultural sites? It doesn't work that way."
Meanwhile, Mr Johnson and his French and German counterparts, Emmanuel Macron and Angela Merkel, have called for all sides to work towards an urgent easing of tensions in the Persian Gulf.
In a statement, the three leaders said they were concerned by the "negative" role Iran has played in the region, including through forces by Soleimani, whose killing by the US sparked the crisis.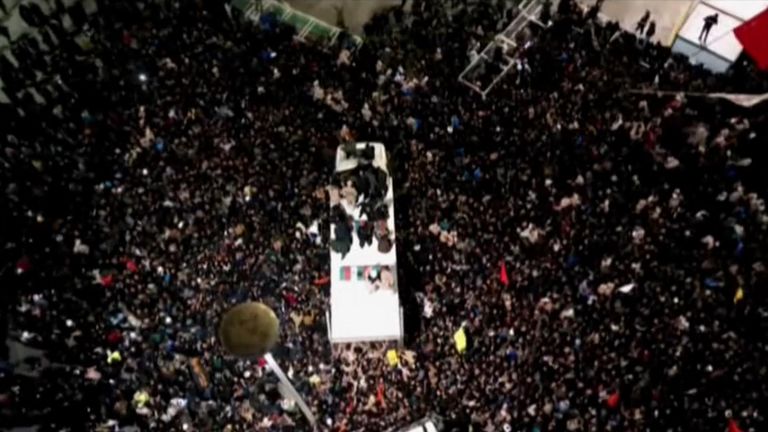 They said there was now "an urgent need for de-escalation".
"We call on all parties to exercise utmost restraint and responsibility. The current cycle of violence in Iraq must be stopped," the joint statement said.
"We specifically call on Iran to refrain from further violent action or proliferation, and urge Iran to reverse all measures inconsistent with the JCPOA (the Iran nuclear deal)."
It added: "We stand ready to continue our engagement with all sides in order to contribute to defuse tensions and restore stability to the region."
The targeted killing of Soleimani sparked outrage in the Middle East, including Iraq, where more than 5,000 troops are still on the ground 17 years after the US invasion.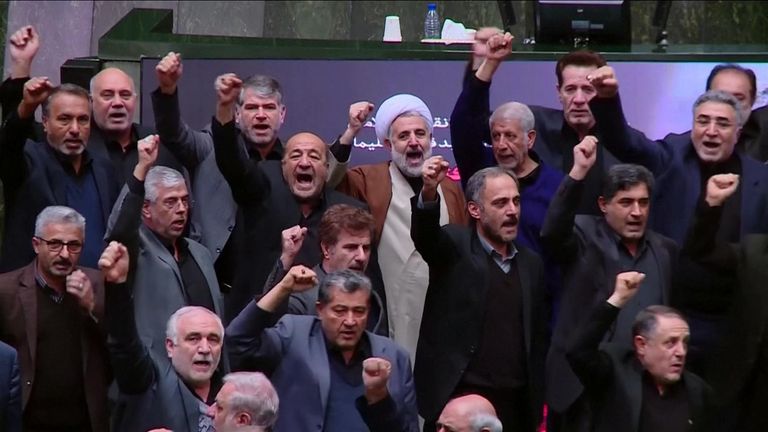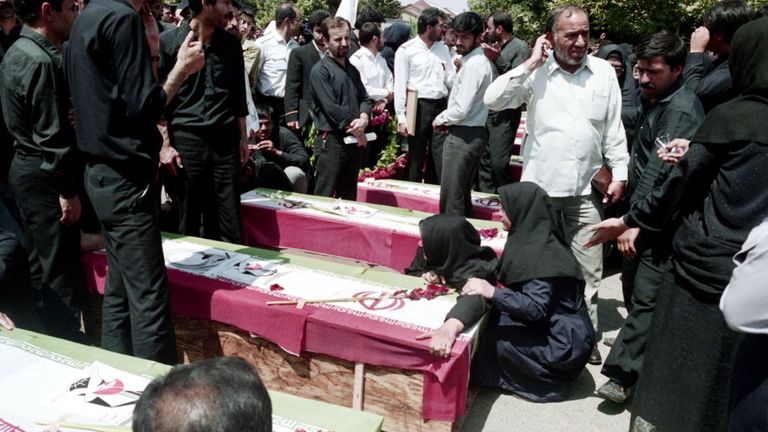 Iraq is intending to expel foreign troops following Friday's deadly airstrike in Baghdad.
The Iraqi parliament also wants the government to ensure foreign troops do not use its land, air and waters for any reason.
It came after Iraq's foreign ministry denounced the US drone attack as a "blatant" violation of sovereignty and a breach of the agreement between Iraq and the US-led coalition.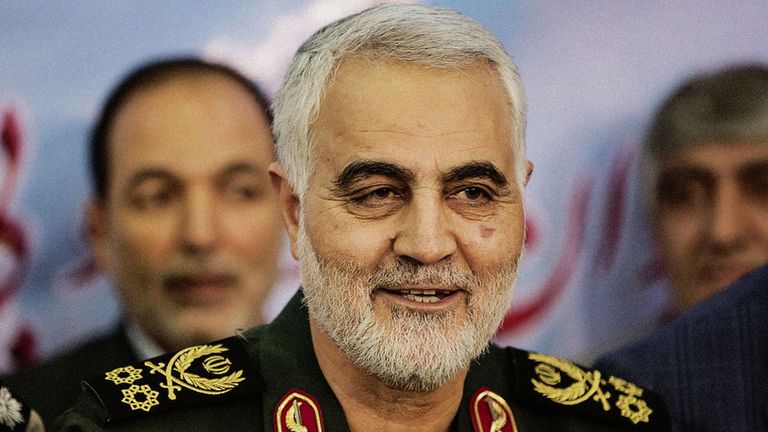 The US has said it is "disappointed" by the vote in Iraq's parliament and urged the country's leaders to consider the importance of the US-Iraq economic and security relationship, as well as the role of the US-led coalition in defeating Islamic State.
Mr Trump said the US would not leave without being paid for its military investments in Iraq over the years – adding that if the troops do have to withdraw, he would levy punishing economic penalties on Baghdad.
"We will charge them sanctions like they've never seen before ever. It'll make Iranian sanctions look somewhat tame," he said.
"If there's any hostility, that they do anything we think is inappropriate, we are going to put sanctions on Iraq, very big sanctions on Iraq.
"We're not leaving until they pay us back for it."
Iranian state television reported that Iran will no longer abide by any limits of the 2015 nuclear deal it signed with the US and other world powers.
Mr Trump withdrew the US from the deal in 2018 and stepped up economic sanctions on Tehran, fuelling hostilities that lead to the Soleimani killing.
In other developments:
Two Katyusha rockets have fallen inside Baghdad's green zone, Iraq's military has said
The military also confirmed a third rocket fell in the nearby Jadriya area
Hundreds of thousands of mourners have flooded the streets of Iran to walk alongside a coffin carrying the remains of Qassem Soleimani
Tehran has announced new steps to distance itself from a 2015 nuclear deal with major powers – but says this can be reversed if the US lifts sanctions
The US-led coalition in Iraq is pausing operations in support of Iraqi forces in the fight against IS militants
A former leader of Iran's Revolutionary Guards has said the Israeli cities of Tel Aviv and Haifa could be targeted to avenge the death of Maj Gen Soleimani
Iraqi President Barham Salih offered his Iranian counterpart his condolences over the death of the general in a phone call
NATO will hold an urgent meeting at ambassador level on the Iraq-Iran crisis on Monday
General David Petraeus, a former director of the CIA, says the killing of Iran's top general is such a significant escalation that it may prompt Tehran to "give pause"
Breaking his silence after returning from holiday in the Caribbean, Boris Johnson has said the UK "will not lament" Maj Gen Soleimani's death
Republicans in Congress have generally backed Mr Trump's move to authorise the killing of Soleimani, who has long been seen as a threat by the US authorities.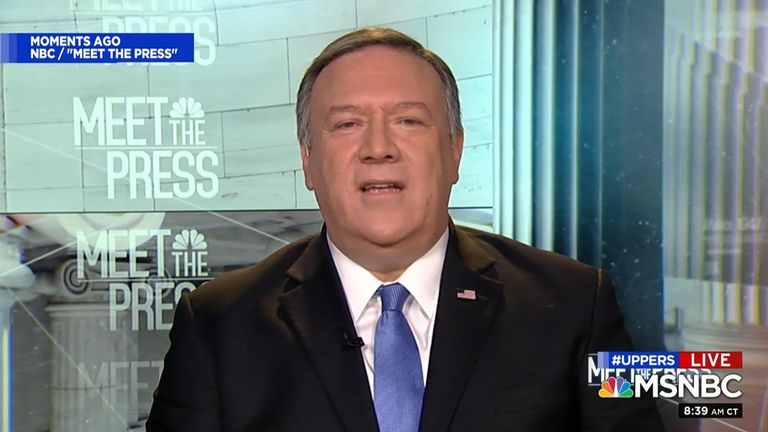 US Secretary of State Mike Pompeo defended targeting Soleimani in Friday morning's airstrike outside Baghdad airport, telling ABC News the intelligence assessment on Iran's effective second-in-command was "clear".
He added that the US will respond with "lawful strikes" against any retaliatory attacks on American targets.
Red List: European hamsters, lemurs and North Atlantic right whales on the edge of extinction | World News
European hamsters are on the brink of extinction and could vanish entirely within the next 30 years, according to conservationists.
The rodent, also known by its Latin name cricetus cricetus, has been named as a critically endangered species in latest listings from the International Union for Conservation of Nature (IUCN).
Once a common sight across Europe and Russia, the hamster is said to have suffered severe population declines in recent years as females experienced reduced average birth rates from 20 pups each year to around five or six.
It is not currently known what has caused these changes to birth rates, but the IUCN says monoculture plantations, industrial development, global warming and light pollution are being looked into as possible reasons.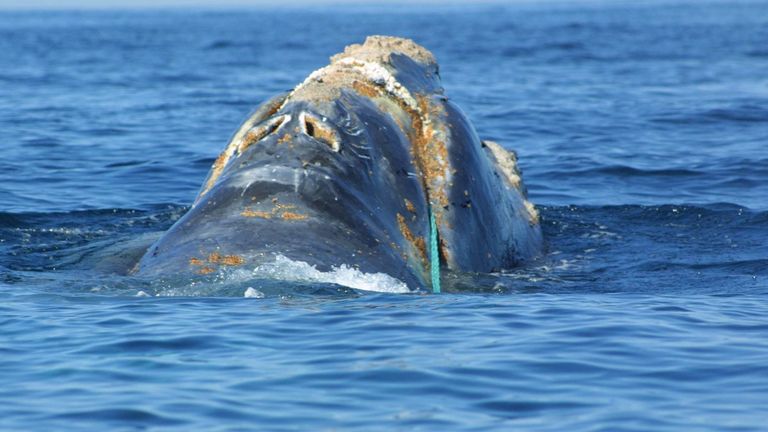 The development has been particularly felt in the hamsters' original habitat in Alsace, France, where it has vanished from more than three-quarters of the area.
In Germany, it has disappeared from a third of its usual area, and a further 75% of where it would have been found in Eastern Europe.
Dr Mikhail Rusin, an author of the new Red List assessment, said conservation efforts may have started to slow the population decline in some places, but it has so far "failed to reverse the trend".
He added: "In addition to these measures, more research into the various possible drivers of the European hamster's disappearance is urgently needed to save it from extinction."
The warning from the IUCN on Thursday also highlighted dangers to other animals – including many subspecies of lemurs and the North Atlantic right whale, which have been listed as critically endangered.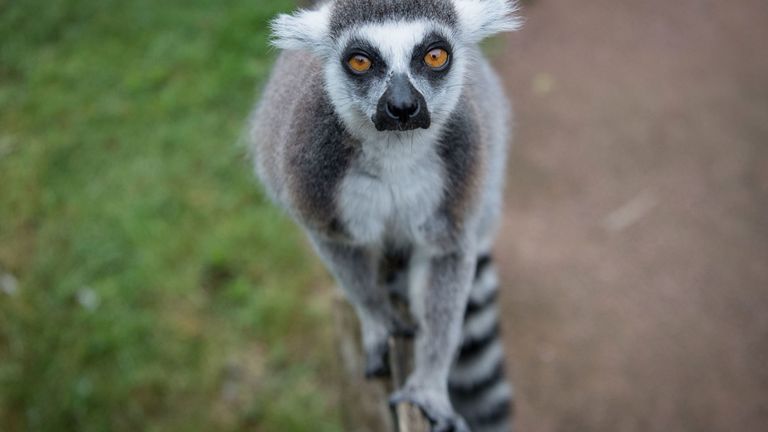 A third of lemurs, which live on the island nation of Madagascar, are at the highest risk of extinction – but almost the entire species is under threat.
This is thought to be due to their habitat being destroyed by agricultural expansion.
More than half of all primate species in Africa are now under threat, according to the IUCN, including 17 species of red colobus monkey.
IUCN acting director-general Dr Grethel Aguilar said the new listings expose "the true scale of threats faced by primates across Africa".
She added: "It also shows that Homo sapiens needs to drastically change its relationship to other primates, and to nature as a whole.
"At the heart of this crisis is a dire need for alternative, sustainable livelihoods to replace the current reliance on deforestation and unsustainable use of wildlife.
"These findings really bring home the urgent need for an ambitious post-2020 biodiversity framework that drives effective conservation action."
For the North Atlantic right whale, there are believed to be less than 250 in existence.
Climate change has been touted as reason for guiding the whales into waters where they are more likely to encounter humans, where they have experienced troubles with entanglements with fishing equipment, being hit by boats, and lower reproduction rates.
The IUCN has assessed 120,372 species for its Red List, having put 32,441 in at least one of its three categories signifying the species is under threat.
Also on the list is the world's most expensive fungus – the caterpillar fungus – which has a popular use in traditional Chinese medicine and has been given its vulnerable status due to over-harvesting.
'Political prosecution': Donald Trump blasts Supreme Court ruling on his tax returns | US News
Donald Trump's tax returns can be seen by a New York prosecutor, the US Supreme Court has ruled.
The request to view the documents is part of a criminal investigation into alleged hush-money payments to women who claim they had affairs with the US president.
However in a separate ruling, Supreme Court justices said Mr Trump does not have to hand over his financial records to Congress, which has sought them for more than a year.
In response, the US president – who has strenuously sought to keep his financial records private – tweeted: "This is all political prosecution."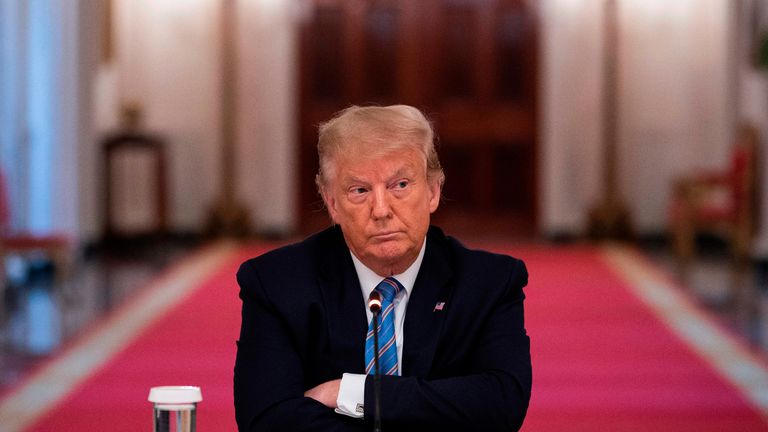 "I won the Mueller Witch Hunt, and others, and now I have to keep fighting in a politically corrupt New York," he wrote.
"Not fair to this Presidency or Administration!"
He added: "Courts in the past have given 'broad deference'. BUT NOT ME!"
In the New York case, Supreme Court judges rejected arguments by Mr Trump's lawyers and the US Justice Department that the president is immune from investigation while he holds office, or that a prosecutor must show a greater need than normal to obtain the records.
The tax returns are held by the president's longtime accounting firm, Mazars USA, which has said it would comply with a court order.
It is likely to be at least several weeks before the court issues a formal judgment that would trigger the turnover of the documents.
Because the grand jury process is confidential, the rulings make it unlikely any of Mr Trump's financial records will become public soon.
Unlike other recent presidents, Mr Trump has refused to release his tax returns and other documents that could provide details on his wealth and the activities of his family real-estate company, the Trump Organisation.
:: Listen to Divided States on Apple podcasts, Google Podcasts, Spotify, and Spreaker
As part of a criminal investigation by the Manhattan district attorney's office, court writs were issued to Mazars for financial records – including nearly a decade of Mr Trump's tax returns – to be turned over to a grand jury in New York City.
The investigation launched in 2018 into Mr Trump and the Trump Organisation was spurred by claims of hush payments to two women who said they had past sexual relationships with him; adult film actress Stormy Daniels and former Playboy model Karen McDougal.
Mr Trump has denied having relationships with the women.
Following the Supreme Court's ruling, Manhattan District Attorney Cyrus Vance said: "This is a tremendous victory for our nation's system of justice and its founding principle that no one – not even a president – is above the law."
The ruling on Congress' request for Mr Trump's financial returns the case to lower courts, with no clear prospect for when the case might ultimately be resolved.
Toddler thrown from burning building caught by former American football player | US News
Video footage shows the moment a toddler was caught by a former American football player after being thrown out of a burning building by his mother in Phoenix, Arizona.
The three-year-old boy was "twirling in the air like a propeller", Phillip Blanks told ABC7 – adding that it was just "instinct" that led to him rushing out, barefoot, to help.
The 28-year-old ex-player said: "There wasn't much thinking. I just reacted. I just did it.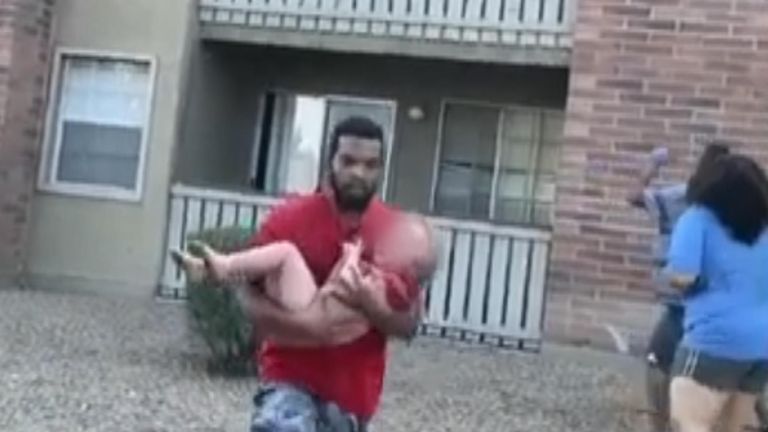 "I just did my best. His head landed perfectly on my elbow. His ankle got twisted up as I was diving. The guy who was there with me – it looked like he wasn't going to catch him. So that's why I stepped in.
"I just wanted to make a better catch."
The child's mother, Rachel Long, 30, did not survive the fire; her other child, an eight-year-old girl, was taken to hospital, along with her younger brother, according to local reports.
Mr Blanks, a former US marine and wide receiver for Saddleback College in Mission Viejo, California, said their mother was "the real hero", saying "she made the ultimate sacrifice to save her children".
The fire started on the third floor of the building on the morning of 3 July, and several residents were evacuated before the fire department arrived, it is claimed.
Spokesman Captain Kenny Overton has been quoted as saying that no firefighters were hurt, but that an adult victim was taken to hospital with a leg injury.