Harvey Weinstein: Rosanna Arquette will be in court to support alleged victims | World News
Movie mogul Harvey Weinstein's sexual assault trial begins on Monday and actress Rosanna Arquette will be in court to support his alleged victims.
The former Hollywood producer is facing five charges relating to two women – all of which he denies – including two of rape.
If convicted he could face a life sentence.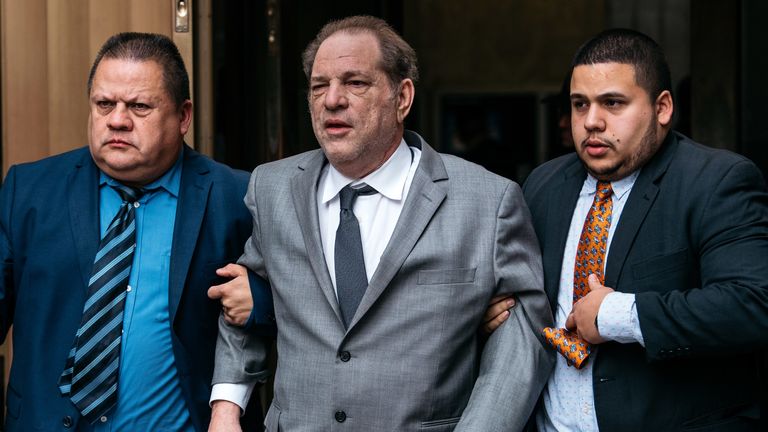 Arquette has accused Weinstein of derailing her career after she resisted his advances and was one of first of dozens of women to come forward and tell her story in 2017.
Ahead of the New York trial she said: "I think either way, whatever happens, it's still going to be hard for the people that came forward, in terms of retaliation. He's all about that.
"You have all these women telling their stories. No one's making this up, you know. And I guess the system is built to protect the predator.
"And we need to keep the focus on this crime and this case with Harvey Weinstein is – is – is huge because so many people are looking at it as being, you know, what happens next for all survivors, all across the world.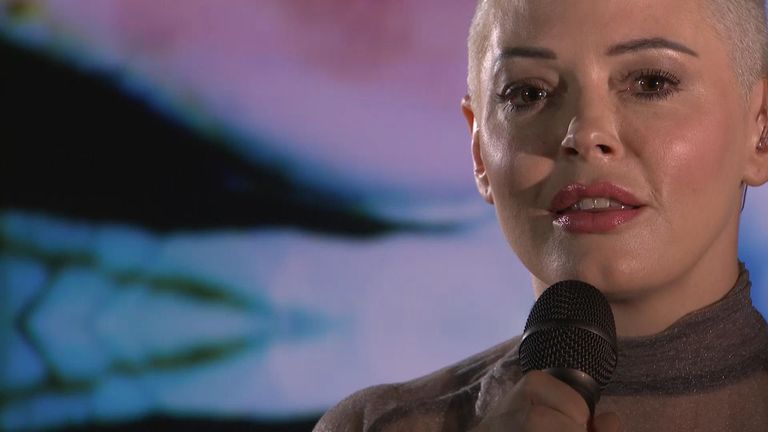 Actress Rose McGowan, another of Weinstein's most prominent accusers, has said the trauma he caused her is so great she could not face being in court.
"The whole thing's a horror movie, you know. It's just, it's so hard," she said.
Since the allegations against Weinstein sparked the #MeToo movement, McGowan has emerged as a vigorous advocate for sexual assault victims.
She added: "I do know that we're at a really pivotal moment in history and that the eyes of the world are watching and that everyone, even him, deserves a fair trial.
"But that they're going to pull a lot of unfair tricks and that people need to be aware of that."
Last month it was reported Weinstein had struck a "tentative" deal with dozens of his alleged victims.
The New York Times said the proposed settlement of $25m (£18.9m) would end nearly every lawsuit filed by those who say they are victims of sexual assault by the former Hollywood producer.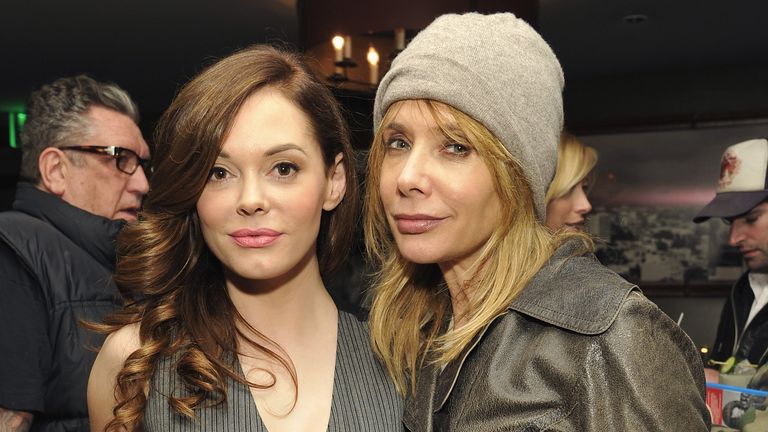 And Weinstein would not have to apologise, or pay from his own bank account as insurers representing the Weinstein Company would cover the settlement's cost, the report said.
More than 30 actresses and Weinstein employees who have sued him for accusations ranging from sexual misconduct to rape, have agreed to the deal, according to half a dozen lawyers.
A court would then have to approve the settlement before it is paid out.
Coronavirus outbreak: Hospital to be built in five days as death toll rises in China | World News
China is building a new 1,000-bed hospital in five days to treat victims of the new deadly coronavirus.
Work has started on the building in the central city of Wuhan – the epicentre of the outbreak – in the style of a facility Beijing constructed during the SARS epidemic 17 years ago.
Machinery including 35 diggers and 10 bulldozers arrived at the site on Thursday night, with the aim of it being ready by Monday.
"The construction of this project is to solve the shortage of existing medical resources," the official Changjiang Daily reported.
"Because it will be prefabricated buildings, it will not only be built fast but it also won't cost much."
It comes as the coronavirus death toll in China increased to 26 and the number of confirmed cases to 880.
Lockdowns to contain the new virus have been extended to at least 10 cities in Hubei province, effectively isolating 33 million people.
Restrictions include the suspension of public transport services, while some cities have also shut public venues such as temples and cinemas.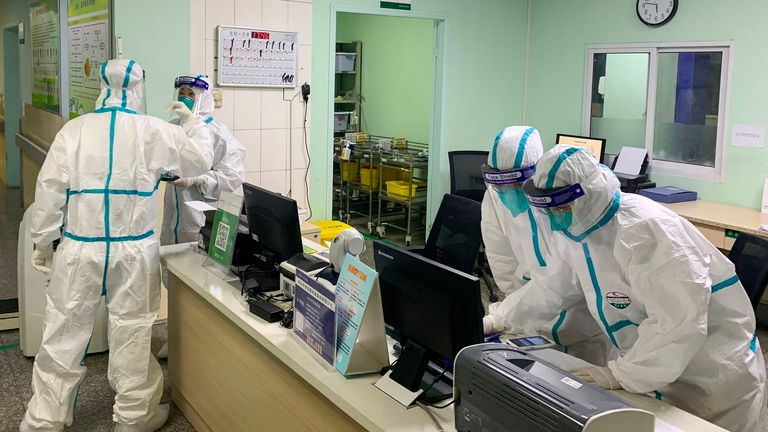 Where did the outbreak start and how far has it spread?
The virus, first detected in Wuhan last month, has since spread to at least 25 provinces across mainland China, including cities such as Beijing and Shanghai.
The first two deaths outside Hubei have been confirmed.
An 80-year-old with coronavirus died in northern Hebei province after returning from a two-month stay in Wuhan to see relatives. Heilongjiang province in the northeast has also confirmed a fatality.
Where in China are the restrictions?
China is taking unprecedented steps to contain the coronavirus outbreak, as millions of people prepare to travel domestically and abroad for its lunar New Year celebrations this weekend.
Authorities have warned people to avoid crowds during the holidays.
In Wuhan, the airport and train station have been shut down and ferry, underground and bus services halted, while its 11 million residents have been ordered to wear masks in public places and at work.
Similar measures are being enforced in the city of Huanggang, which has a population of six million, as bus and train services are suspended and cinemas and internet cafes told to shut.
Public transport restrictions have been imposed in Yichang city. In Zhijiang – a district-level city within Yichang, all public venues have been shut down except hospitals, supermarkets, farmers' markets, petrol stations and pharmacies.
Bus services in the cities of Chibi, Xiantao, Qianjiang, Xianning and Huangshi have been suspended.
Ezhou city has shut its train stations, and indoor entertainment venues as well as buses have been shut in Enshi city.
The port city of Haikou, the capital of the southern resort island province of Hainan, has shut cultural and tourist facilities such as libraries and museums.
Walt Disney's Shanghai Disney Resort is to close its doors from Saturday.
Beijing's Lama Temple, where people traditionally go to make offerings for the new year, has been closed. The Forbidden City, the capital's most famous tourist attraction, is also shut to visitors until further notice.
Those returning to the Chinese capital from affected areas have been told to stay at home for 14 days to prevent the spread of the virus.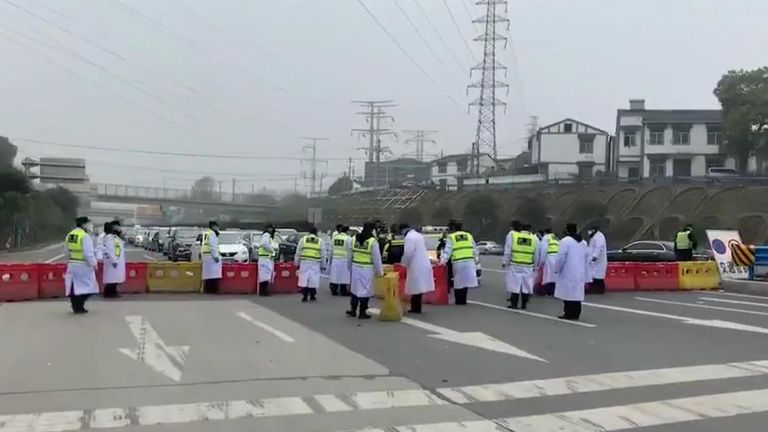 Is it a global health emergency?
Not yet.
The World Health Organisation (WHO) has declared the outbreak an emergency but said it was "too early" to consider it a "public health emergency of international concern" given "its restrictive and binary nature".
WHO chief Dr Tedros Adhanom Ghebreyesus said: "Make no mistake, though, this is an emergency in China.
"But it has not yet become a global health emergency. It may yet become one."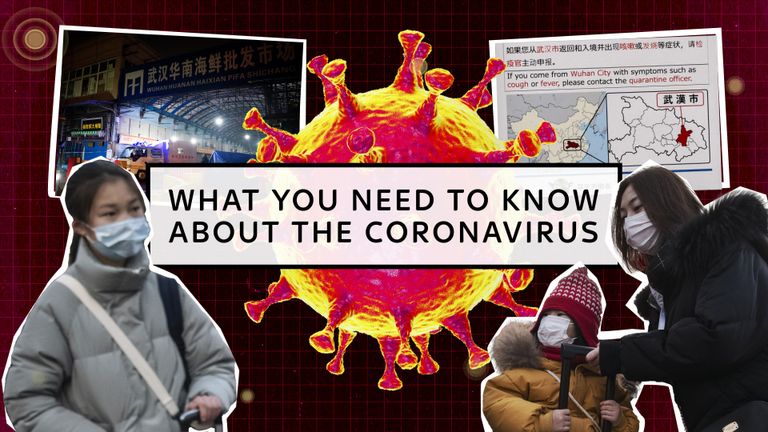 What do we know about the new virus?
There is no vaccine for the new viral infection, which can cause pneumonia and can be passed from person to person.
The symptoms include fever, coughing and difficulty breathing.
Though the origin of the virus has yet to be identified, the WHO has said the primary source is probably an animal.
The Chinese government this week released a breakdown of 17 people killed by the deadly virus.
All but two of the 13 men and four women were aged over 60. Ten of the victims had a pre-existing condition.
Coronaviruses are a large family of viruses ranging from the common cold to severe diseases such as SARS – which killed nearly 800 people during the 2002-03 outbreak.
When a new strain emerges that has not yet been identified, as with the current outbreak, it becomes known as a novel coronavirus (nCoV).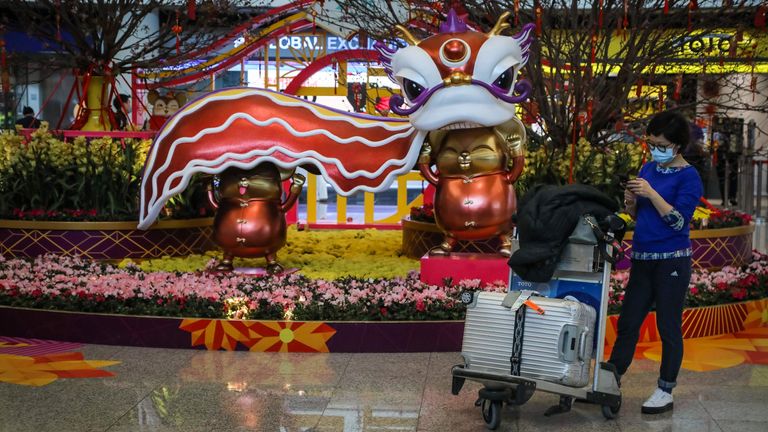 What about the rest of the world?
Overseas, four cases have been found in Thailand, three in Singapore, two in Hong Kong, Japan, South Korea, Vietnam and the autonomous region of Macau, and one each in the US and Taiwan.
In the UK, 14 people have been checked for coronavirus – five tested negative and nine are still waiting for results, Public Health England said.
Airports around the world – including in Dubai, Australia and South Africa – have stepped up screening of travellers arriving from affected regions.
Measures are also in force in the UK to guard against the virus, including taking aircraft to a special designated area of Heathrow's Terminal 4.
Meanwhile China's central bank said it would temporarily raise the limit on small bank batch payments to 500 million yuan (£55m) from Friday until 30 January to ease fund transfers amid the outbreak.
In Singapore, schools have asked parents to declare their overseas holiday plans as authorities screen travellers at air, land and sea checkpoints to combat the spread of the deadly virus.
:: Listen to the Daily podcast on Apple Podcasts, Google Podcasts, Spotify, Spreaker
EU's top two leaders sign off on Brexit deal with promise 'our friendship will remain' | Politics News
The EU's two most senior figures have signed off a treaty paving the way for Brexit to happen next week. 
Ursula Von Der Leyen, president of the European Commission, and Charles Michel, head of the European Council, ratified the divorce deal from Brussels' side.
Watching on from behind them was Michel Barnier, who has for the last three years been the EU's lead negotiator in charge of brokering a divorce deal – and then several subsequent changes to please MPs.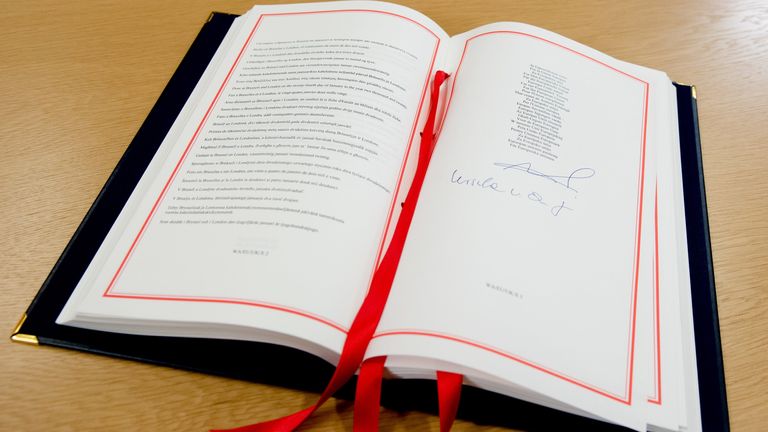 It comes a day after the Brexit deal became UK law, when it completed its journey through parliament on getting royal assent from the Queen.
At exactly 7am UK time, Ms Von Der Leyen announced she had signed the deal off meaning it must now be approved by the European Parliament.
Mr Michel, who used to be prime minister of Belgium, wrote in a tweet sent simultaneously: "Things will inevitably change but our friendship will remain. We start a new chapter as partners and allies."
He added in French: "Look forward to writing this new page together."
The two top EU figures are relatively new in their posts, having taken over from Jean-Claude Juncker and Donald Tusk last winter.
They will still have a daunting task ahead of them even after Brexit happens on Thursday 31 January, as Brussels and the UK attempt to hammer out a trade deal in the next 11 months.
Palestinian worshippers in clashes after 'peace plan' leak | World News
Israeli security forces have clashed with Palestinian worshippers as they arrived at Friday prayers at Jerusalem's Al Aqsa mosque.
Palestinian leaders had, last week, called for mass attendance at dawn prayers at holy sites in Jerusalem as well as throughout the West Bank and Gaza.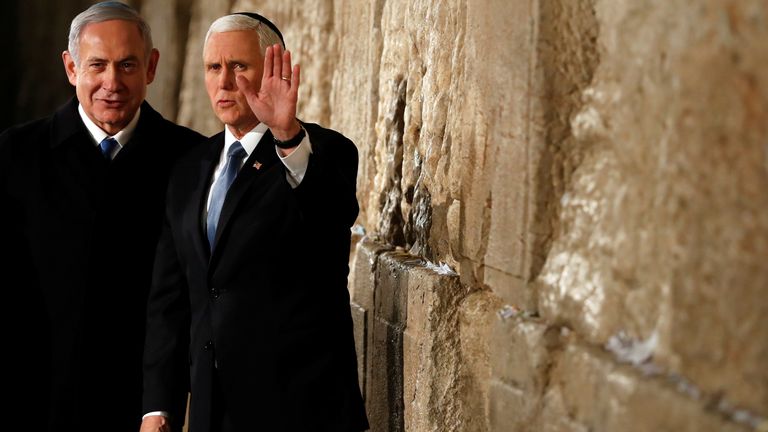 But tensions spiked around the mosque, which is located in Jerusalem's old city on what Israel calls Temple Mount, as news leaked on Thursday night of the contents of Donald Trump's "peace plan" for the region.
The American president has indicated that his long-awaited plan for peace between the Israelis and Palestinians will be released before Tuesday next week.
The content of his so-called "deal of the century" has been the subject of much speculation for months having been shrouded in secret by his son-in-law Jared Kushner and a small policy team inside the White House.
On Thursday, on a visit to Jerusalem, US Vice President Mike Pence invited Israeli Prime Minister Benjamin Netanyahu and opposition leader Benny Gantz to Washington to discuss the peace plan.
Speaking to reporters on a flight to Florida, the US president said the plan will be released before the Tuesday meeting.
"Sometime prior to that… Probably we'll release it a little bit prior to that." Mr Trump said.
He dismissed leaked details of the plan's contents as "purely speculative".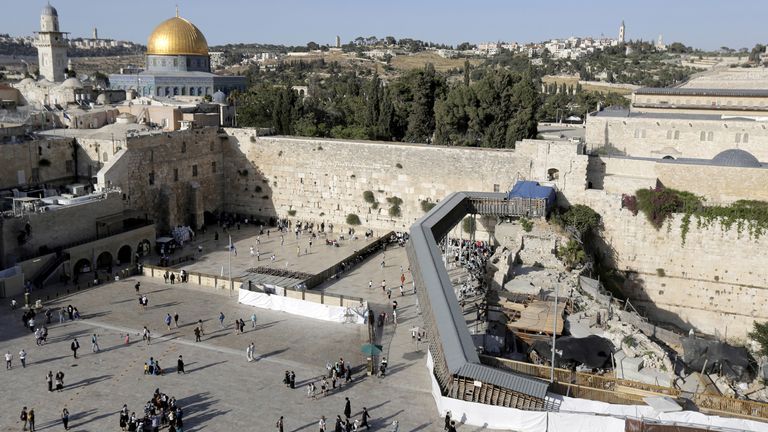 In the leaks to the Israeli media, it is suggested that the plan will propose that all Israeli settlements in the West Bank would become sovereign Israeli territory.
Israeli sovereignty would also be given to the whole of Jerusalem with the city being officially recognised as the Israeli capital.
Palestinians would be granted statehood but only on condition that they recognise Jerusalem as being the capital of the Jewish State of Israel and subject to Gaza being demilitarised with Hamas giving up its weapons.
For the Palestinian Authority in the West Bank and Hamas in Gaza, the plan will be entirely unreasonable and will be rejected outright. No Palestinians have been invited to next week's White House meeting.
Mr Trump indicated that he had had limited discussion with the Palestinians and predicted that, initially at least, they would reject it.
He said: "We've spoken to them briefly. But we will speak to them in a period of time… And they have a lot of incentive to do it. I'm sure they maybe will react negatively at first but it's actually very positive for them.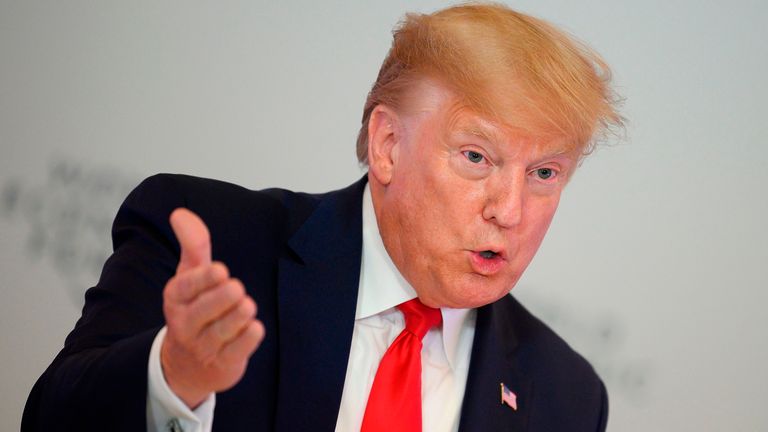 "I'd love to be able to do that deal. They say that's the hardest of all deals… I love doing deals.
"It's a great plan. It's a plan that really would work."
Internationally, Israeli settlements in the West Bank are considered illegal.
The United Nations, the European Union and the UK all continue to call for a two-state solution with Israel based on 1967 borders with agreed land swaps and with Jerusalem as the shared capital of both states.
The calculus in Mr Trump's White House is that the two-state solution in its existing proposed form has cemented a stalemate stretching back nearly three decades and that shifting the dial, albeit in Israel's favour, prompts a new, fresh conversation.
The plan will also shift the political dial in Israel as Israelis prepare to go to the polls for the third time in 11 months this March. Two elections last year were inconclusive.
EU and Arab states have not yet said how they will react to the plan but they are likely to reject it as not providing for a viable and sovereign Palestinian state.