'Fraught with danger': Ex-MI6 officer behind Russia dossier warns about discussing sources | US News
Former intelligence officer Christopher Steele has warned about the danger of discussing sources.
It comes after a US investigation published details about people who it said contributed to a dossier that he compiled on alleged Russian links to Donald Trump's election campaign.
The long-serving veteran of Britain's Secret Intelligence Service (MI6) also hit back at the findings of the investigation by the US Department of Justice's inspector general, which were released on Monday.
The top complaint was on claims in the report about a "primary sub-source" that was allegedly relied upon by Mr Steele in his compilation of the so-called Trump dossier.
Inspector General Michael Horowitz – who was looking into the origins of an inquiry by the Federal Bureau of Investigation (FBI) into the Russia suspicions – set out how the FBI had interviewed who they believed to be Mr Steele's "primary sub-source" in January, March and May 2017.
His report claimed these interviews "raised significant questions about the reliability of the Steele election reporting".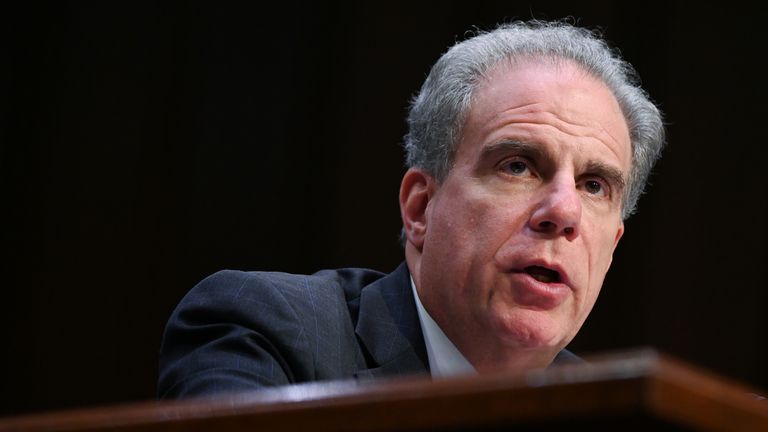 It continued: "During the FBI's January interview, the primary sub-source told the FBI that he/she had not seen Steele's reports until they became public that month, and that he/she made statements indicating that Steele misstated or exaggerated the Primary Sub-source's statements in multiple sections of the reporting."
Mr Steele and Orbis Business Intelligence – his private intelligence company – said in a statement that they were never given the opportunity to respond to these claims.
"Public discussions about a source are always fraught with danger for the source and the source's sub-sources," said the statement, released by their lawyers.
"Had Orbis been given the opportunity to respond in a private session, the statements by the 'primary sub-source' would be put in a very different light. The 'primary sub-source's' debriefings by Orbis were meticulously documented and recorded".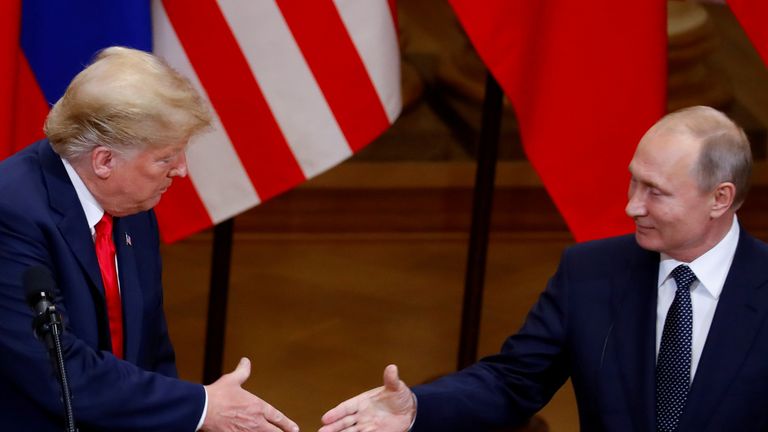 The former intelligence officer and his company also described how they had cooperated "voluntarily and fully" with Mr Horowitz's during his inquiry.
"Orbis also provided the OIG (Office of the Inspector General) team unprecedented access to Orbis internal company documentation, including contemporaneous memoranda of meetings with the FBI," they said in the statement.
They added that Mr Horowitz's team did give Orbis redacted portions of a draft version of the report to review and offer comment on in advance of publication.
"Those portions contained numerous inaccurate and misleading statements as to which Orbis submitted suggested corrections and clarifications," said the statement.
"Some of Orbis's suggestions appear to be reflected in the final report."
Mr Steele and his company then said that "at the twelfth hour late on Sunday evening" – they were told that previously redacted material had been unredacted and contained negative material about Mr Steele.
"Orbis was given no opportunity to review, much less comment, on this material," they said.
"The result is that the OIG Report contains several serious errors and misstatements that require this response."
In other criticisms of the report, Mr Steele and Orbis also denied a claim that he had been a Confidential Human Source (CHS) to the FBI during a relationship that started in 2010 and became a more formal contractual relationship between 2013 and 2016.
During that time Mr Steele, a Russia expert, provided information that helped the FBI in other Russia-linked investigations, including work on FIFA and athletics doping.
The Justice Department did not immediately respond to a request for comment.
Virgin Galactic working on 2,300mph supersonic jet that could reach Sydney in five hours | Science & Tech News
Virgin Galactic has revealed designs for a supersonic passenger plane capable of flying three times the speed of sound.
With a top speed of around 2,300mph (3,700kmh), it could fly from London to Sydney in just five hours – or to New York in less than two.
Virgin has teamed up with engine-maker Rolls-Royce to work on the concept, which is still in the early stages.
The delta-wing jet would cruise at above 60,000ft (18,300m), far higher than current passenger planes, but would only have room for nine to 19 passengers.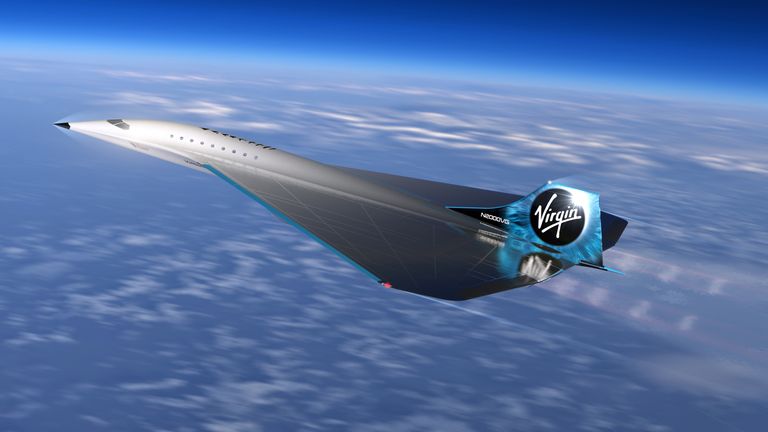 The project is separate from Virgin's bid to send customers to the edge of space to experience weightlessness – which has already completed a number of test flights using the SpaceshipTwo craft.
Supersonic passenger flights stopped when Concorde retired in October 2003 and no one has so far plugged the gap for ultra-fast air travel.
Virgin said it had signed a memorandum of understanding with Rolls-Royce "to collaborate in designing and developing engine propulsion technology for high speed commercial aircraft" and has also worked with NASA on the concept.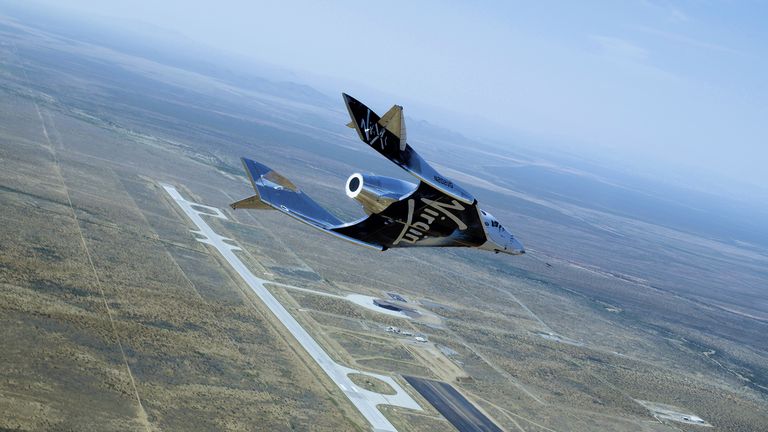 The company said the Mach-3 jet would target existing long-distance commercial routes, taking off and landing normally at existing airports.
The next phase will look at things such as which materials to use, how to reduce noise and emissions, and how to keep the jet cool as it flies supersonically.
US aviation regulator the FAA has also agreed to help work on a certification framework for the plane.
Other companies are also targeting a new age of super-fast air travel.
They include aerospace giant Lockheed-Martin, and US start-up Boom Supersonic – which is set to reveal a scaled-down prototype this winter followed by test flights in 2021.
North Korea has 'probably' developed mini nuclear devices to fit missile warheads, says UN report | World News
North Korea has "probably developed miniaturised nuclear devices to fit
into the warheads of its ballistic missile", according to a confidential UN report.
It says several unidentified countries believe North Korea's past six nuclear tests have likely helped it to develop such a capability.
An interim version of the report – by an independent panel monitoring United Nations sanctions – was submitted to the UN Security Council on Monday and has been seen by the Reuters news agency.
It also accuses North Korea of continuing its nuclear ambitions, despite it not carrying out a nuclear test for nearly three years.
The report states: "The Democratic People's Republic of Korea is continuing its nuclear program, including the production of highly enriched uranium and construction of an experimental light water reactor.
"A Member State assessed that the Democratic People's Republic of Korea is continuing production of nuclear weapons."
One country – not identified – believes North Korea "may seek to further develop miniaturisation in order to allow incorporation of technological improvements… or, potentially, to develop multiple warhead systems".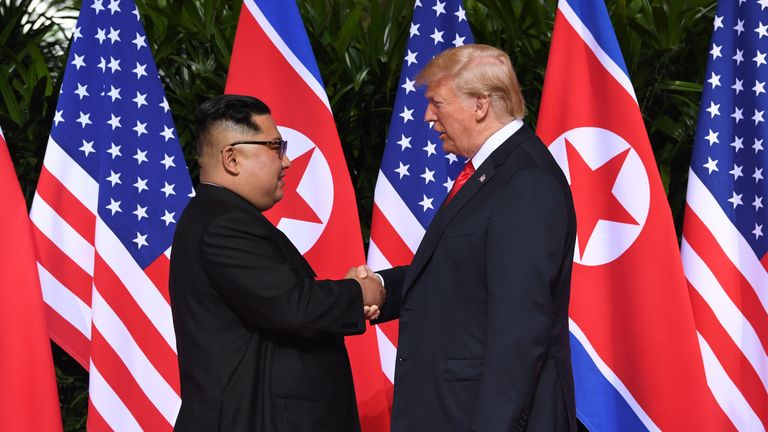 The secretive communist state has been subject to UN sanctions for many years over its ballistic and nuclear missile programmes.
North Korean leader Kim Jong Un has met Donald Trump three times since 2018 in the hope that sanctions could be eased if it denuclearises, but a deal has proved elusive.
A summit in Vietnam in 2019 was cut short, with Mr Trump saying it was because his counterpart wanted all sanctions lifted – a claim denied by North Korea.
The UN report also casts doubt on the effectiveness of the destruction of tunnels at North Korea's main nuclear site, Punggye-ri, in May 2018.
International experts were not allowed in, and the report says only tunnel entrances are known to have been destroyed rather than a complete demolition.
One country is said to have assessed that it would take only three months for North Korea to get the site capable of conducting a nuclear test again.
With North Korea's economy still punished by sanctions, the report says it continues to break the rules and generate money through "illicit maritime exports of coal", as well as widespread hacking.
It is estimated to have stolen $2bn (£1.7bn) through cyber attacks targeting banks and cryptocurrency exchanges.
"The Panel continues to assess that virtual asset service providers and virtual assets will continue to remain lucrative targets for the Democratic People's Republic of Korea to generate revenue, as well as mining cryptocurrencies," it said.
Genoa replacement bridge inaugurated despite boycott by victims' families | World News
Two years after a bridge collapse killed 43 people in Italy, a replacement bridge has been inaugurated – but families of the victims boycotted the event.
A stretch of the Morandi Bridge in Genoa collapsed on 14 August 2018 during a torrential rainstorm, sending cars and trucks crashing into the dry riverbed below.
The new structure was put up following round-the-clock construction, even during the COVID-19 pandemic.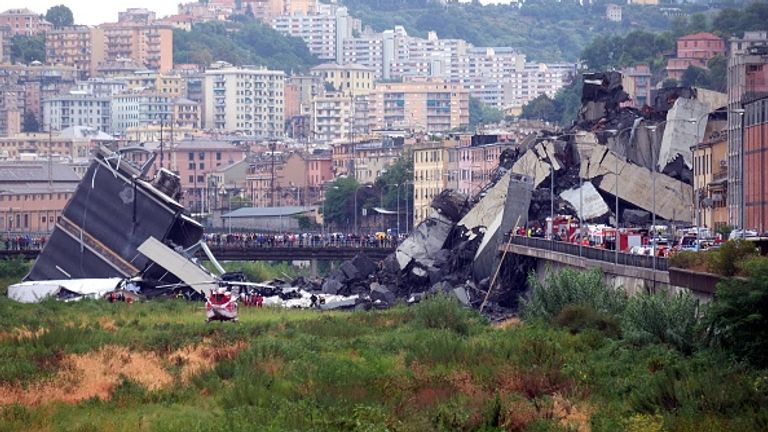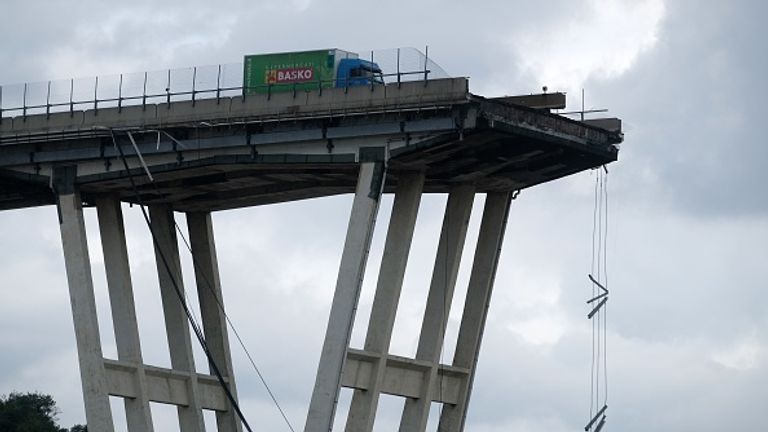 Monday's ceremony for the new San Giorgio Bridge started with the reading out of the names of the dead.
"We are suspended between grief" over the tragedy and "pride for the construction of the new bridge", its renowned architect, Renzo Piano, said in a speech at the ceremony.
The victims' families agreed to meet Italy's President Sergio Mattarella privately, but announced they were skipping the actual ceremony.
The families are unhappy that the company which maintained the old bridge will be running the new structure for a while, despite poor maintenance being investigated as a possible cause of the collapse.
Firefighters who worked to extract survivors and bodies from tonnes of twisted metal also boycotted the ceremony in solidarity with the families, according to Sky TG24.
Egle Possetti, who leads an association of the bridge victims' families, said: "No one can give us back our dead".
Ms Possetti, who lost a sister and other family members in the tragedy, said she hoped the attention would stay focused on the ongoing criminal investigation into the collapse.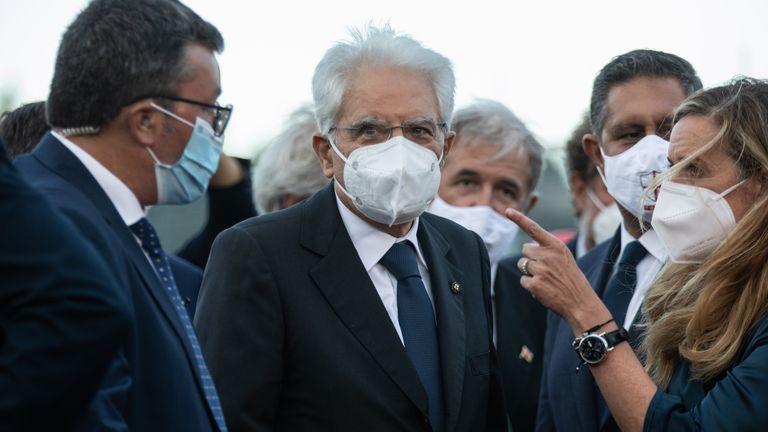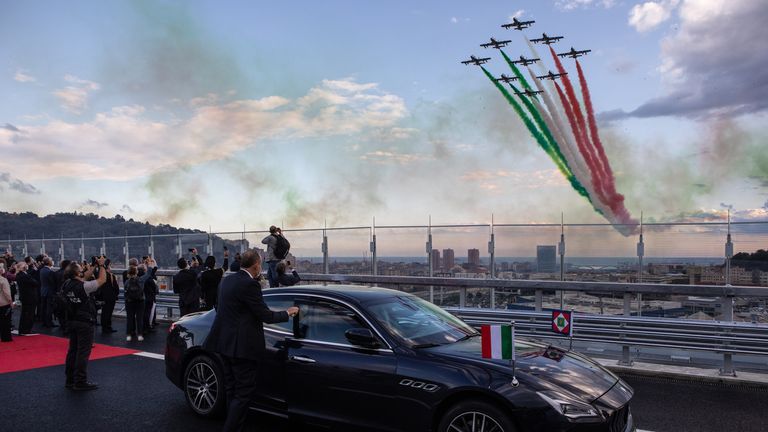 Mayor Marco Bucci also dedicated a few words to those who lost loved ones in the collapse, saying: "Our message to them is very simple. This must never happen again."
Nine Italian Air Force jets flew in formation over the bridge to mark the inauguration, trailing smoke in the red, white and green colours of the country's flag.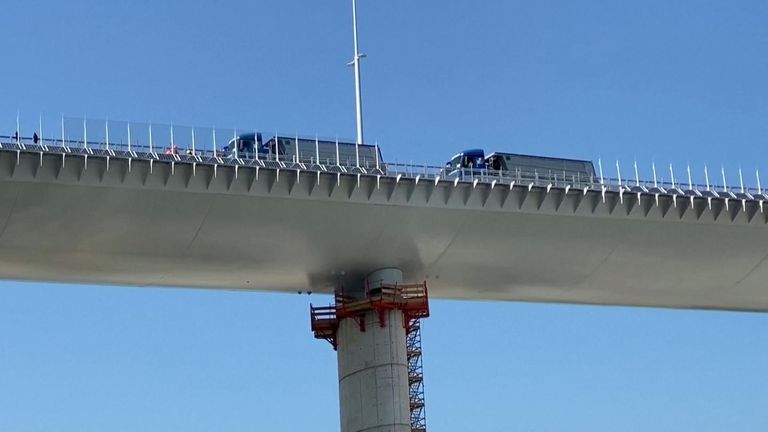 Prosecutors are investigating what caused Morandi Bridge to collapse and if proper maintenance was carried out consistently.
Riccardo Morandi, the engineer who designed the bridge which was built in the 1960s, had recommended continual maintenance of the structure due to the corrosive effect of sea air in the port city and pollution.
Traffic will start crossing the new San Giorgio Bridge, named after St George, a saint popular in Genoa, on Wednesday.