'Fraught with danger': Ex-MI6 officer behind Russia dossier warns about discussing sources | US News
Former intelligence officer Christopher Steele has warned about the danger of discussing sources.
It comes after a US investigation published details about people who it said contributed to a dossier that he compiled on alleged Russian links to Donald Trump's election campaign.
The long-serving veteran of Britain's Secret Intelligence Service (MI6) also hit back at the findings of the investigation by the US Department of Justice's inspector general, which were released on Monday.
The top complaint was on claims in the report about a "primary sub-source" that was allegedly relied upon by Mr Steele in his compilation of the so-called Trump dossier.
Inspector General Michael Horowitz – who was looking into the origins of an inquiry by the Federal Bureau of Investigation (FBI) into the Russia suspicions – set out how the FBI had interviewed who they believed to be Mr Steele's "primary sub-source" in January, March and May 2017.
His report claimed these interviews "raised significant questions about the reliability of the Steele election reporting".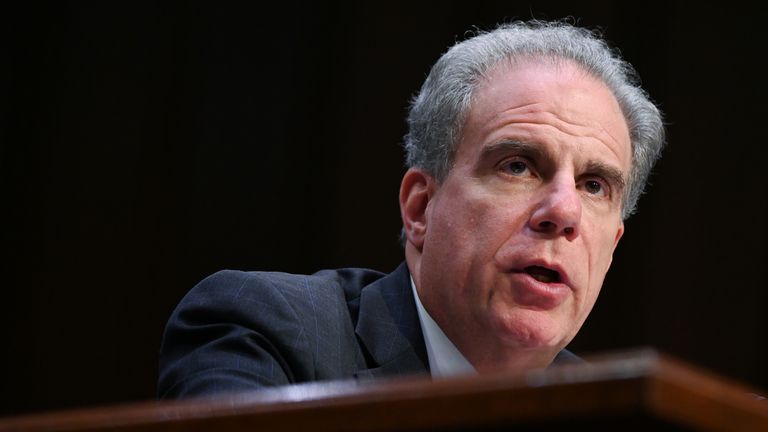 It continued: "During the FBI's January interview, the primary sub-source told the FBI that he/she had not seen Steele's reports until they became public that month, and that he/she made statements indicating that Steele misstated or exaggerated the Primary Sub-source's statements in multiple sections of the reporting."
Mr Steele and Orbis Business Intelligence – his private intelligence company – said in a statement that they were never given the opportunity to respond to these claims.
"Public discussions about a source are always fraught with danger for the source and the source's sub-sources," said the statement, released by their lawyers.
"Had Orbis been given the opportunity to respond in a private session, the statements by the 'primary sub-source' would be put in a very different light. The 'primary sub-source's' debriefings by Orbis were meticulously documented and recorded".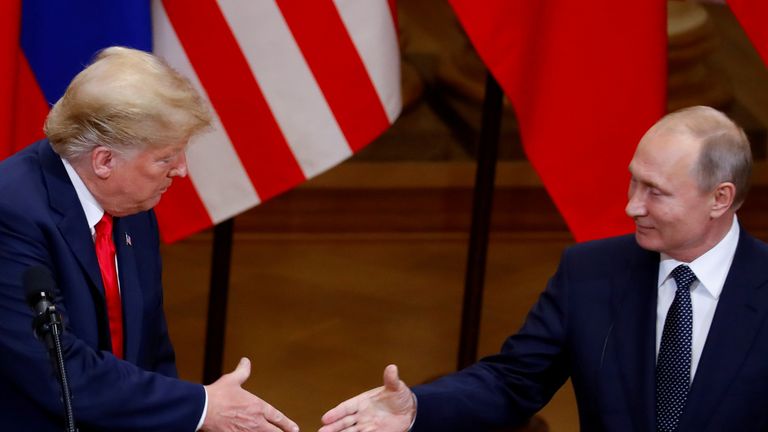 The former intelligence officer and his company also described how they had cooperated "voluntarily and fully" with Mr Horowitz's during his inquiry.
"Orbis also provided the OIG (Office of the Inspector General) team unprecedented access to Orbis internal company documentation, including contemporaneous memoranda of meetings with the FBI," they said in the statement.
They added that Mr Horowitz's team did give Orbis redacted portions of a draft version of the report to review and offer comment on in advance of publication.
"Those portions contained numerous inaccurate and misleading statements as to which Orbis submitted suggested corrections and clarifications," said the statement.
"Some of Orbis's suggestions appear to be reflected in the final report."
Mr Steele and his company then said that "at the twelfth hour late on Sunday evening" – they were told that previously redacted material had been unredacted and contained negative material about Mr Steele.
"Orbis was given no opportunity to review, much less comment, on this material," they said.
"The result is that the OIG Report contains several serious errors and misstatements that require this response."
In other criticisms of the report, Mr Steele and Orbis also denied a claim that he had been a Confidential Human Source (CHS) to the FBI during a relationship that started in 2010 and became a more formal contractual relationship between 2013 and 2016.
During that time Mr Steele, a Russia expert, provided information that helped the FBI in other Russia-linked investigations, including work on FIFA and athletics doping.
The Justice Department did not immediately respond to a request for comment.
Emmanuel Macron filmed yelling at security guards during Jerusalem church visit | World News
Emmanuel Macron has been filmed yelling at Israeli security guards and telling them to "go out" during his visit to a church in Jerusalem.
The French president was surrounded by guards in the doorway of the Church of St Anne when he shouted: "We know perfectly, everybody knows the rules."
"I don't like what you did in front of me," he added, while pointing to one of the security guards.
"Go out," he said. "Outside."
Mr Macron visited the basilica on Wednesday ahead of a Holocaust memorial conference in the city.
The sandstone structure, which was gifted to French emperor Napoleon III from the Ottomans in 1856, sits in a section of the city annexed by Israel in the 1967 Middle East war.
It is considered a provocation by France if Israeli police enter the premises.
The spat on Wednesday was not the first of its kind between Israeli security and a French president.
Jacques Chirac, the country's former president who died in September, also had an altercation with guards in the city in 1996, where he shouted: "What do you want – me to get back on my plane and go back to France?"
Mr Macron has since told reporters his incident was just "a minor irritation" and highlighted an agreement that Israeli guards escort him to the door, before being replaced by a French detail.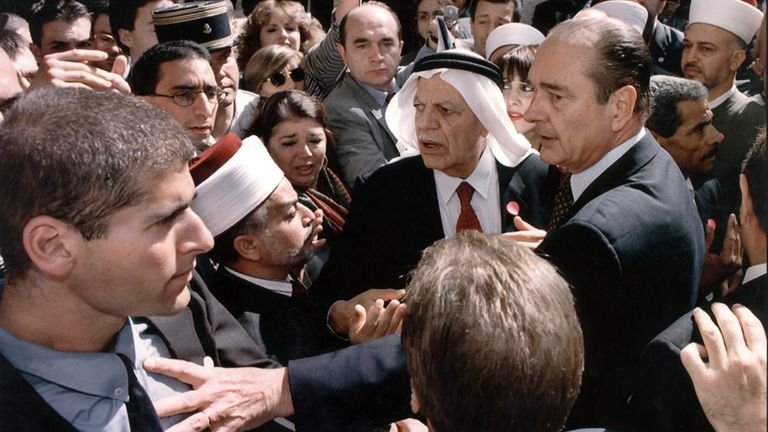 But a joint statement from the Israeli police and Shin Bet security agency said "there was a discussion" upon Mr Macron's arrival, and the guards had escorted him inside "based on the terms agreed upon ahead of time".
It added: "When the president and the delegation finished the visit, he apologised about the incident and shook hands with the security personnel and continued his scheduled visit in the old city with security guards."
China coronavirus: Britons advised against travel to outbreak epicentre of Wuhan | World News
The UK Foreign Office has advised against all but essential travel to the Chinese city of Wuhan after a new virus killed 17 and infected hundreds.
Wuhan's local transport networks – including bus, subway and ferries – will also be suspended from 10am on Thursday, and airport and train stations closed to outgoing passengers.
Authorities are asking citizens not to leave unless there are special circumstances, said state media.
Screening is in place at major US airports, while Britain's transport secretary said a separate area was being set up at London Heathrow to monitor arrivals from the city.
More than 500 cases of the new coronavirus have so far been confirmed by Chinese authorities.
The first case in the US was identified this week, while others have been diagnosed in Thailand, South Korea, Japan, Hong Kong and Taiwan.
All of them had been to Wuhan – the Chinese city with an 11 million population where the virus is believed to have started – with illegally trafficked animals at a market being named as the likely source.
Symptoms include fever, coughing and difficulty breathing.
More serious cases could lead to deadly conditions such as pneumonia and kidney failure.
Concerns are growing as hundreds of millions of people in China prepare to travel for the Lunar New Year holiday, which starts on Saturday.
The Foreign Office said travellers should not visit Wuhan, capital of Hubei province, "due to the ongoing novel coronavirus outbreak".
Public Health England (PHE) has revised the coronavirus risk from "very low" to "low".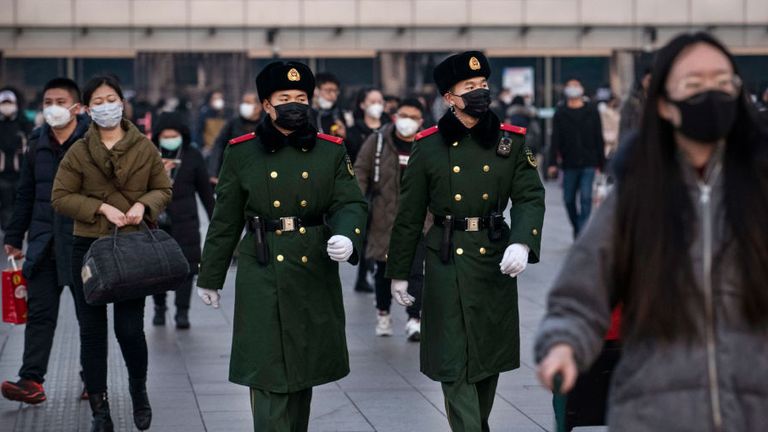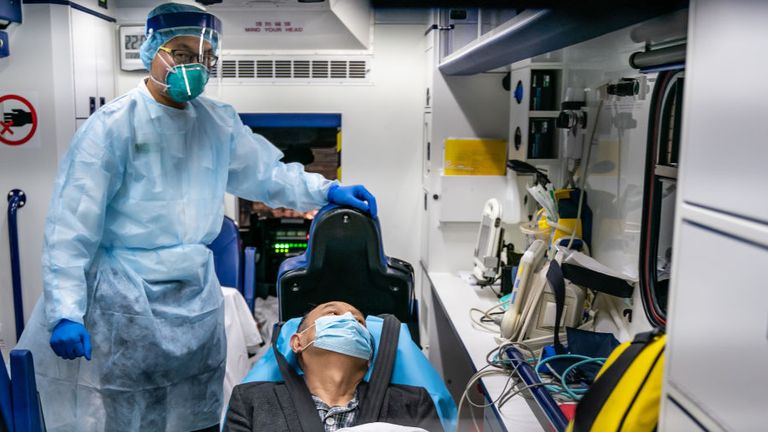 Sales of surgical masks have increased in China and some people are cancelling trips and avoiding public places, as cases of the virus show up in Beijing and Shanghai.
Taiwan has joined Australia in telling its citizens to avoid Wuhan, while North Korea has banned foreign tourists – most of whom are Chinese.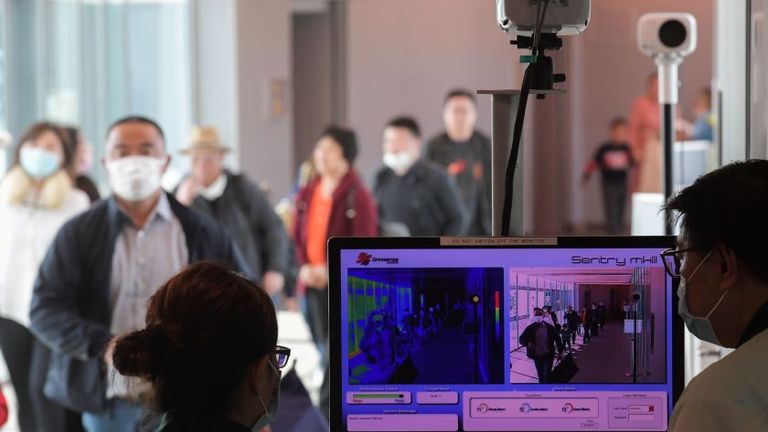 Singapore is also among the countries that have started screening all passengers arriving on flights from China – with heat-detecting guns scanning people for signs of fever.
Coronaviruses are a large family of viruses ranging from the common cold to severe diseases such as SARS – which killed nearly 800 people during the 2002-03 outbreak.
:: Listen to the Daily podcast on Apple Podcasts, Google Podcasts, Spotify, Spreaker
When a new strain emerges that has not yet been identified, as with the current outbreak, it becomes known as a novel coronavirus (nCoV).
Chinese state media say the latest strain is different from those identified in the past, but have confirmed it can be passed from person to person.
All coronaviruses are also zoonotic, meaning they are transmitted between animals and people.
There are no reliable vaccines. The best someone can do is take medicines and treatments for specific symptoms.
Storm Gloria: Hunt for missing Briton, 25, who vanished during Ibiza motorbike trip | World News
A land and sea search is under way to find a British man who vanished during a deadly storm that has ripped through Ibiza.
The 25-year-old had been spending his day off riding his motorbike around the north of the Balearic island and was reported missing by a colleague when he failed to return.
His colleague later went out to search for his friend and found the bike.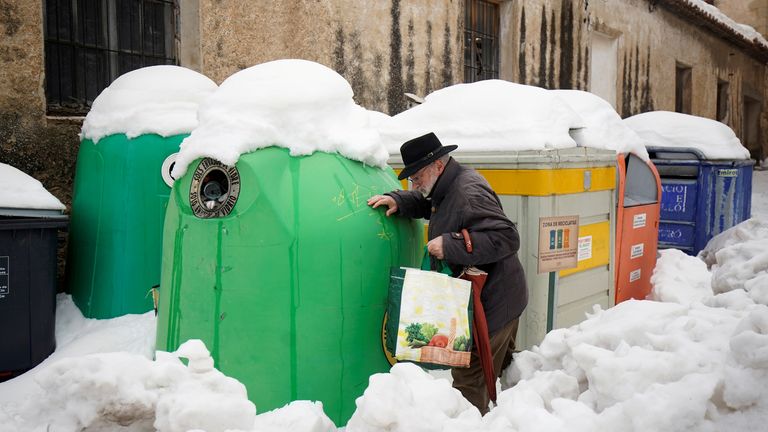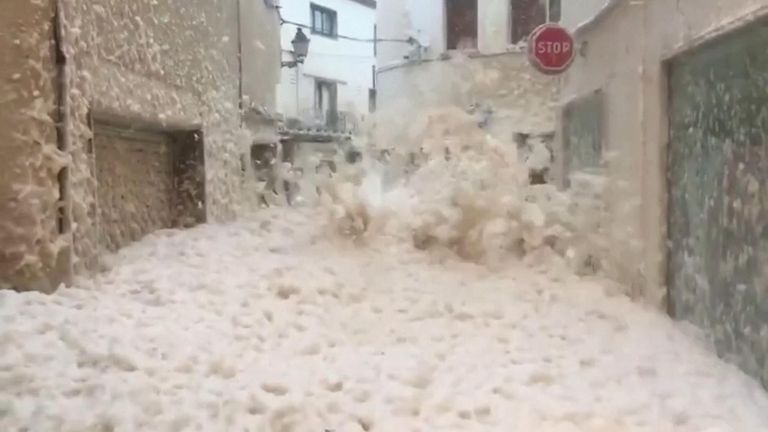 Spanish helpline service 112 Emergency said the man is believed to have disappeared around the remote Portinatx area of Sant Joan de Labritja at the northernmost point of the island.
A multi-agency search and rescue operation has since been launched on land and sea, and is being carried out by local police and the Guardia Civil.
The Briton is one of three people to vanish in mainland Spain and the Balearic Islands in the last four days after Storm Gloria tore across the Mediterranean coast.
A further eight people have died due to the storm, which ranks as the worst sea storm since 2003 "and likely of this century", according to Dani Palacios, head of beach services for Barcelona in the northeast.
It brought winds of up to 90mph (144kmh) and stirred up huge waves of up to 13.5m (44ft) at its peak.
Hundreds of thousands of people have been left without power and weather alerts are still in place across three dozen provinces.
According to Spanish authorities and rescue teams, one body was found in a river in Alicante, while another person died after a building collapsed in Alcoy, which was believed to have been caused by heavy rainfall.
One man was killed after hailstones smashed through a greenhouse he was working in, according to the mayor of Almeria province, and a homeless man in Valencia is said to have died from low temperatures.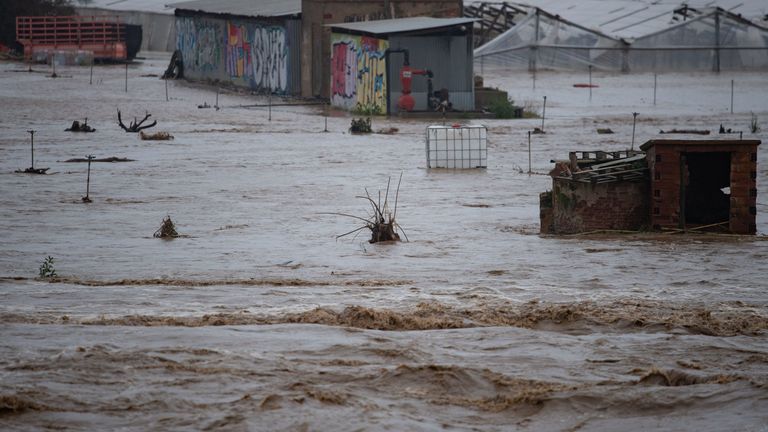 In a statement on Tuesday, 112 Emergency warned residents keep away from the coastal areas as it "can cause you to be hit by a sea storm."
It added: "Don't stop to watch the waves and get away from breakwaters, boardwalks and other places where the waves may break nearby. Find a safe place."
Meanwhile, Spanish Prime Minister Pedro Sanchez tweeted: "Solidarity and government support to the families of the victims of the #BorrascaGloria and to those who are suffering the fatal consequences of this storm.
"I reiterate my thanks to the emergency services that work tirelessly to help the population."