US ambassador 'shocked' by Zambian president's anti-gay comments | World News
The Zambian president's tough defence of his anti-homosexual views in an exclusive interview with Sky News has sparked outrage from the country's US ambassador.
American diplomat Daniel Foote has now threatened to cut aid.
The Zambians, in response, say they intend to lodge a demarche – an official diplomatic complaint demanding action from the US president against his envoy.
Zambian President Edgar Lungu and America's top diplomat in the country are at loggerheads over the jailing of two homosexuals under an archaic law which dates back to British colonial times.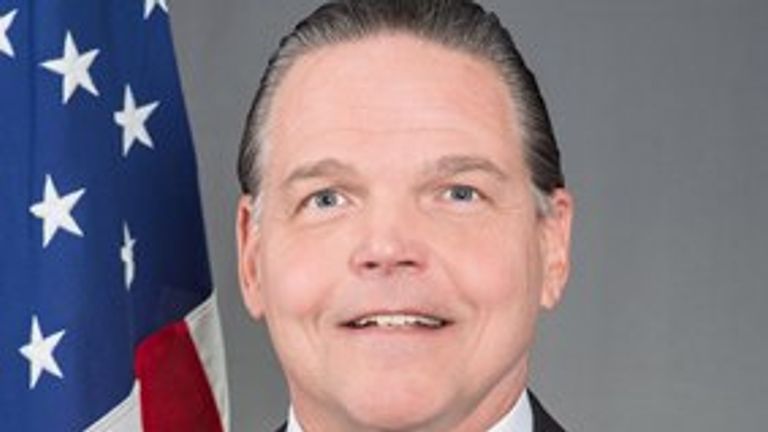 Under the law, the men were jailed for 15 years for what is known as a crime against the order of nature – the legal term for gay sex in Zambia.
Mr Foote said he was "personally horrified" at the sentencing.
He went on to attack the government for failing to tackle endemic corruption and for giving poachers lighter jail terms – yet handing down harsh punishment on consenting homosexual adults.
But the Zambian president was far from cowed by the ambassador's criticism.
Instead he went on the offensive, accusing Mr Foote of being "disrespectful" to the Zambian cultural and social values and interfering with the sovereignty of a foreign state.
President Lungu's remarks on Sky News seem to have infuriated the ambassador even further.
The president said: "We know that there could be people who are homosexual in Zambia but we don't want to promote it.
"We frown on it… the practice… most of us think it's wrong… it's unbiblical and unchristian… and we don't want it."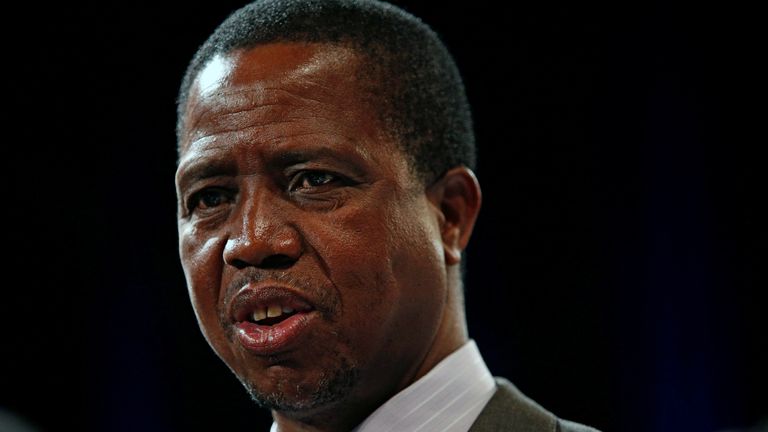 He went on: "Even animals don't do it so why should we be forced to do it… because we want to be seen to be smart, to be seen to be civilised and advanced and so on.
'If there are such countries which will allow bestiality, let them do it but not here."
Hours later, the US ambassador told Zambian reporters: "I was shocked at the venom and hate directed at me and my country, largely in the name of Christian values, by a small minority of Zambians."
He said he had received threats against him which has forced him to cancel official engagements to mark World Aids Day being organised for Tuesday.
"I am not qualified to sermonise," the ambassador said, in what appeared to be a direct comment to the president.
"But I cannot imagine Jesus would have used bestiality comparisons or referred to his fellow human beings as 'dogs' or 'worse than animals', allusions made repeatedly by your countrymen and women about homosexuals.
"Targeting and marginalising minorities, especially homosexuals, has been a warning signal of future atrocities by governments in many countries."
The ambassador insisted his country's hundreds of millions of dollars in aid to Zambia gave him the right to express his views.
And he suggested if the authorities didn't "renew and rejuvenate" its partnership with the United States, aid donations would suffer.
"If you see someone is not co-operating," he said, 'I think the natural inclination would be that assistance levels could change."
Turkey: Powerful earthquake kills 18 and injures more than 500 | World News
At least 18 people have been killed after an earthquake with a preliminary magnitude of 6.8 struck eastern Turkey.
Turkish officials said more than 553 people are injured, including 11 who are in a serious condition, and around 30 were left trapped in the wreckage of toppled buildings.
Hundreds of residents were left homeless or with damaged homes and buildings collapsed in affected towns near the centre of the tremor, which was felt in several neighbouring countries.
The quake jolted Elazig province, which is around 340 miles (550km) east of the capital Ankara, and was followed by dozens of aftershocks.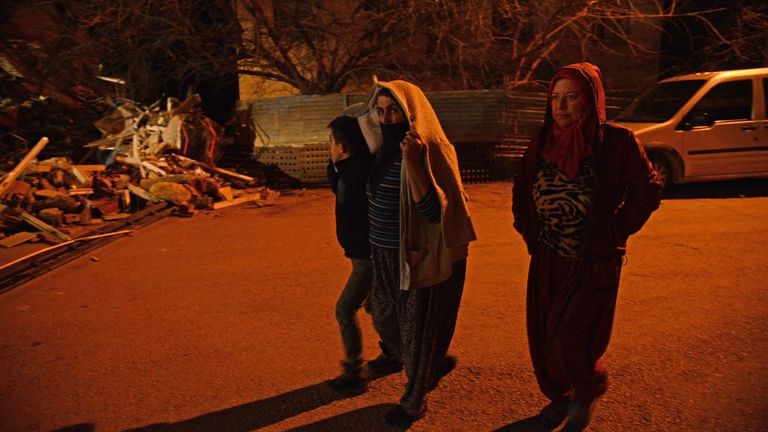 Health Minister Fahrettin Koca said 14 people were killed in Elazig and five more in the neighbouring province of Malatya.
He said two people suffered heart attacks and five others died in Malatya.
Meanwhile Interior Minister Suleyman Soylu said emergency workers were looking for 30 people under the rubble, adding that more than 500 people were hurt.
He described the earthquake as a "level 3" incident according to Turkey's emergency response plan – meaning that it called for a national help response but did not require international help.
Around 30 buildings had collapsed from the quake in the two provinces, according to Environment Minister Murat Kurum.
State broadcaster TRT showed footage of police and emergency workers searching a partly collapsed building in Elazig, as well as smashed windows and balconies that had crashed to the ground.
Rescue teams could also be seen working by hand to remove bricks and plaster from the ruins.
Emergency workers used drills and mechanical diggers to clear the debris, while injured people were taken to stretchers on ambulances.
Elazig residents whose homes were damaged were being moved to student dormitories or sports centres amid freezing conditions.
Mr Soylu added that the country, which is prone to earthquakes, had learnt lessons from past disasters which helped it address Friday's quake.
Drones were deployed in search operations and communication between provinces.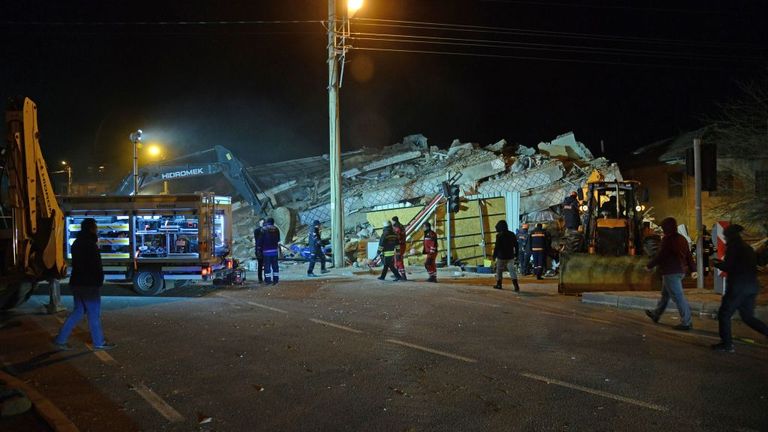 Turkish President Recep Tayyip Erdogan tweeted that all measures were being taken to "ensure that the earthquake that occurred in Elazig and was felt in many areas is overcome with the least amount of loss".
The quake struck at 8.55pm local time (5.55pm GMT) at a depth of 4 miles (6.7km) near the town of Sivrice in Elazig, the Disaster and Emergency Management Presidency (AFAD) said.
Several aftershocks followed, the strongest with 5.4 and 5.1.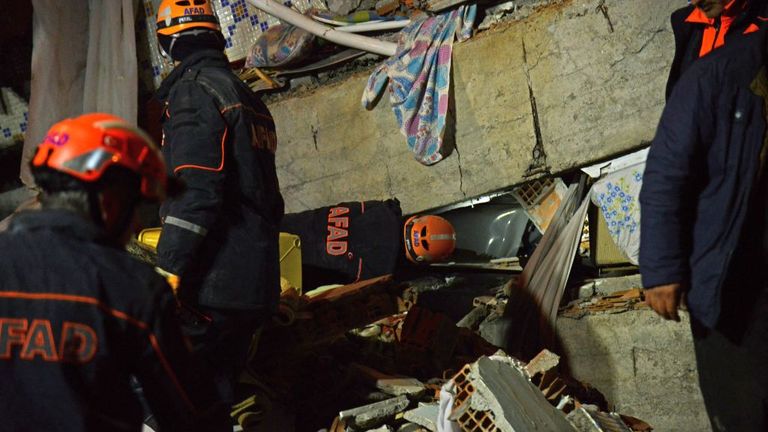 The AFAD warned residents not to return to damaged buildings because of the risk of further aftershocks.
It said beds, blankets and tents were being sent to the area, where the overnight temperature was below 0C (32F).
Syria in Iran both reported feeling the earthquake, according to the countries' state media.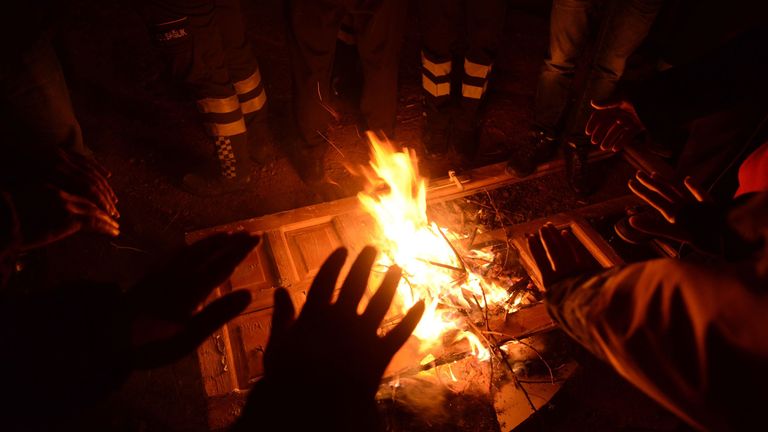 Turkey straddles seismic faultiness and has a history of powerful earthquakes.
In 1999, more than 17,000 people were killed when a 7.6 magnitude quake struck the western city of Izmit, around 55 miles (90km) southeast of Istanbul. Around 500,000 people were made homeless after the disaster.
And in 2011 an earthquake struck the eastern city of Van and the town of Ecris, killing at least 523 people.
Three children found dead at house in Ireland | World News

Police in Ireland are investigating the deaths of three children in a house in Newcastle, Co Dublin.
Two boys and girl were found dead and a woman in her 40s has been taken to Tallaght hospital.
Police have described the deaths as "unexplained" but it is understood they are not looking for anyone else in relation to the incident.
An incident room has been set up in Clondalkin police station and officers have appealed for anyone with information to come forward.
Mosquito-killing fungus wins prestigious award | Science & Tech News
Researchers based in the US and Burkino Faso have won a prestigious prize for their creation of a fungus which kills mosquitoes.
Mosquitoes are a major spreader of disease, especially malaria, as well as dengue and Zika.
In a paper published in the journal Science last May the authors described how they had engineered a fungus which could infect mosquitoes that had grown immune to insecticides, causing a rapid population collapse in a simulated village setting.
According to the American Association for the Advancement of Science (AAAS), which awards the Newcomb Cleveland Prize, a child dies of malaria every two minutes.
"In 2018, the World Health Organisation reported 228 million cases of malaria and more than 400,000 deaths from the disease worldwide, with 93% of cases and 94% of deaths occurring in Africa.
"Burkina Faso, a country of just under 20 million people, recorded nearly 8 million cases that year," the AAAS added.
Although these figures seem stark, they are a remarkable improvement. Cases of malaria have dropped by 18% and deaths by 28% since 2010 thanks to new insecticides being applied to bed nets and living spaces.
But mosquito populations are increasingly developing a resistance to these insecticides, leaving vulnerable communities in need of new and novel methods of tackling the insects.
Dr Brian Lovett, then just a PhD candidate at the University of Maryland, and Etienne Bilgo, a postdoc fellow at the Institut de Recherche en Sciences de la Santé in Burkina Faso, developed one such novel method.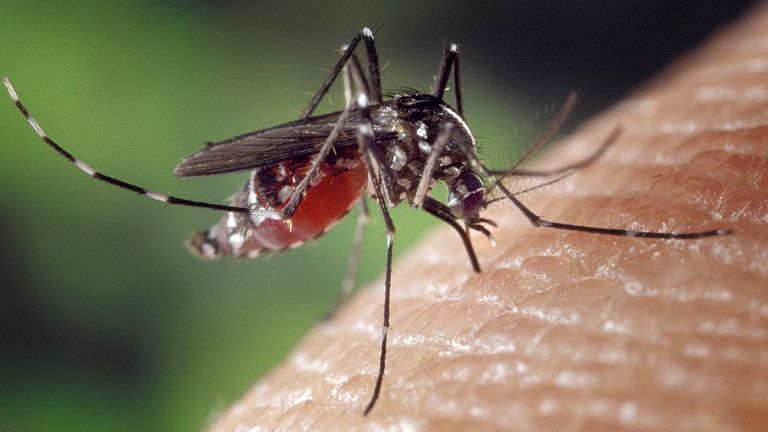 They genetically engineered a naturally occurring fungal pathogen to produce a toxin derived from spider venom, and using this they were able to sidestep the mosquitoes' resistance to insecticide.
The toxin is harmless to humans and managed to kill 75% of an insecticide-resistance population of mosquitoes within just 45 days.
"The study is one of extraordinary scope and creativity," said Holden Thorp, editor-in-chief of the journal Science and chair of the Newcomb Cleveland prize selection committee.
"Not only is it a highly clever idea to use a fungus to transmit insect-selective toxins, but the breadth of the study, from engineering the fungus all the way through demonstrating the viability of the approach, is superb and meets all of our highest standards."