Protesters in Iran warned of 'decisive' action if unrest continues | World News
Iran's Revolutionary Guards have warned of "decisive" action if protests in the country continue.
At least five people have been killed in the unrest, which began on Friday after the announcement of fuel rationing and a 50% hike in the price of petrol.
At least 100 banks, buildings and cars were torched, according to state media.
Iranian authorities shut down the internet on Saturday but videos shared online before then contained sounds of gunfire and images of badly injured people.
In a statement, the country's main security force said: "If necessary we will take decisive and revolutionary action against any continued moves to disturb the people's peace and security."
Fars, a semi-official news agency in Iran, said there had been more than 87,000 protesters across the country and that around 1,000 had been arrested.
The streets were reportedly calmer on Monday and General Gholamreza Soleimani, head of the Basij, Iran's paramilitary Revolutionary Guard, insisted security forces had acted with "restraint and patience".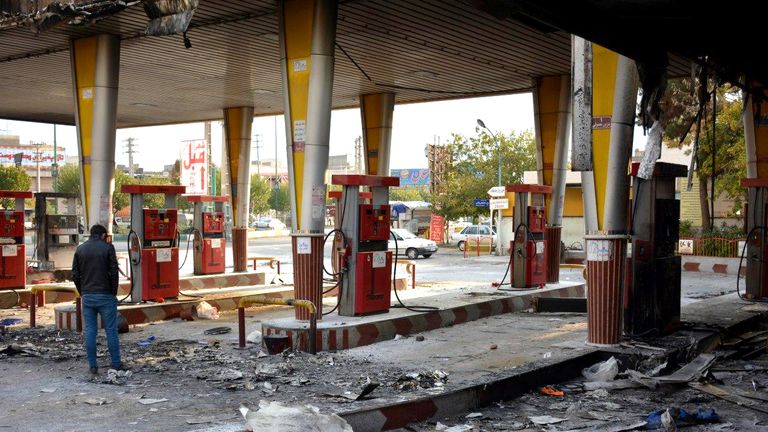 Iran is home to the world's fourth-largest crude oil reserves and cheap oil is almost seen as a birthright but even this has not saved the economy from difficulty.
Since US President Donald Trump withdrew his country from the 2015 nuclear deal last year and imposed sanctions instead, jobs have become scarce and the currency has collapsed.
When the nuclear deal was put on ice, Iran's rial was trading at 32,000 to $1 but this has worsened to more than 123,000 to $1.
Sky News diplomatic editor Dominic Waghorn said: "Iran's government had claimed US sanctions were uniting the people behind them but these scenes [of the protests] suggest a different story."
Parliamentary elections are due in February and the unrest, the worst since 2017, will be another challenge for President Hassan Rouhani.
Mr Rouhani had said the petrol price rises would help raise money for handouts to 18 million families struggling families, which begin this week.
US Secretary Of State Mike Pompeo said he was monitoring the protests and was deeply concerned by reports of fatalities.
But Iran's foreign minister Mohammad Javad Zarif hit back with: "A regime that impedes food and medicine to ordinary people, including the elderly and the sick, by economic terrorism can never get away with the obscene claim of supporting the Iranian people."
New Zealand orders 1.2 million sq cm of skin from US to treat volcano patients | World News
New Zealand has ordered 1.2 million sq cm of skin from America to treat patients suffering burns on up to 95% of their body after Monday's volcano eruption.
Surgeons have been working around the clock on 29 patients in burns units across the country since the volcano suddenly erupted on White Island, off New Zealand's North Island.
New Zealand Police confirmed five people died during the eruption and one person died from their burns on Tuesday night after a total of 47 were affected.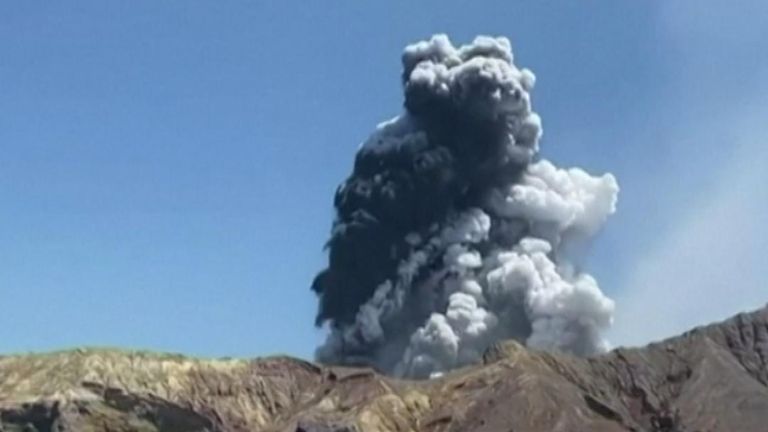 The bodies of eight people remain on the island as ever-increasing volcanic activity is preventing authorities from safely returning to the island.
Due to the unprecedented numbers of burn victims at one time and the nature of their burns from toxic volcanic gases, surgeons are having to work quicker than usual, said Dr Peter Watson, clinical director at Middlemore Hospital where the national burns unit is.
He said 1.2 million sq cm of skin is coming from the United States as they "urgently need more skin grafts".
A number of patients have burns on up to 95% of their bodies, while the average is 40-50%, and 22 remain on airway support due to burns affecting their lungs.
A human body has approximately 20sqm of skin, with the palm of a hand about 1.5% of a body's skin, doctors explained.
Surgeons estimated they have 500 hours of operations to do in the days and months ahead.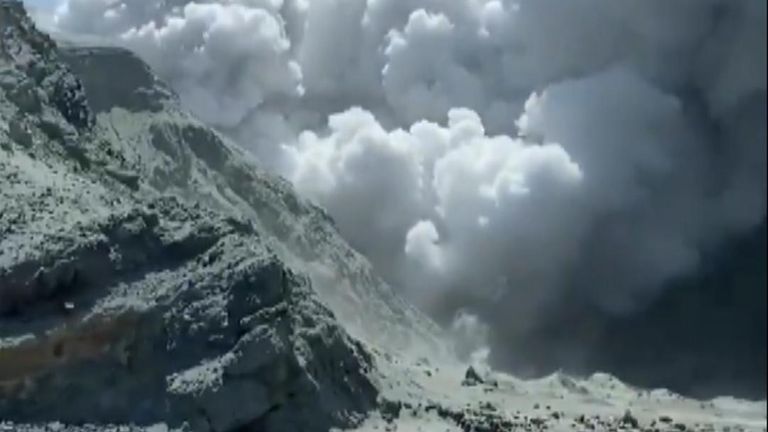 An Australian Defence Force aircraft is being sent to New Zealand to transfer some of the 24 Australians involved to burns units closer to their homes.
One Australian national was being flown from Auckland by specialist air ambulance to Australia on Wednesday evening.
The other victims are from New Zealand, the UK, the US, Germany, China and Malaysia.
Dr Watson said doctors struggled to identify many of the patients at first as they were in surgery and many did not have ID on them, but most have been identified now.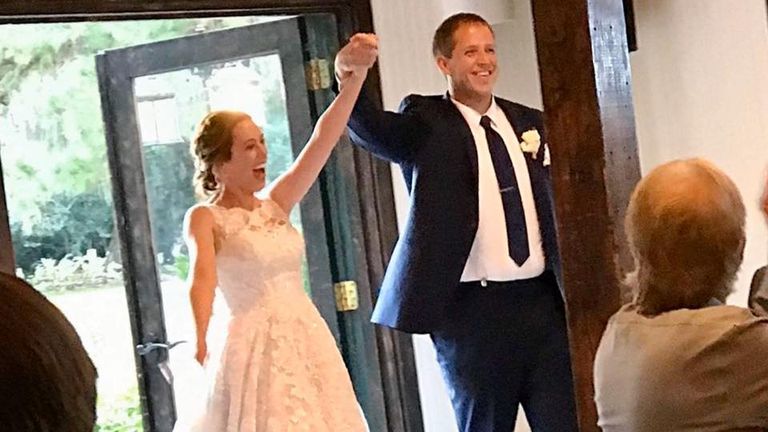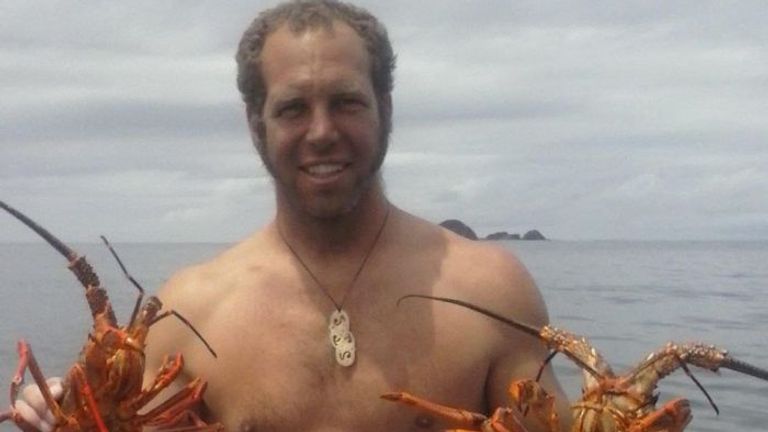 Matthew Urey, from Virginia in the US, experienced burns over 80% of his body, while his wife, Lauren Urey, who he had just married, had burns over 20% of her body.
Experienced tour guide Hayden Marshal-Inman, from New Zealand, was the first person to have died to be publicly named as his brother, Mark, described him as a "lovely young man" who died doing what he loved.
On Wednesday afternoon, Australians Julie Richards, 47, and her daughter Jessica, 20, from Queensland were confirmed to have died.
Family friend John Mickel told Sky News Australia their family was informed by authorities early on Wednesday and the pair left for new Zealand last Monday and were due back home this weekend.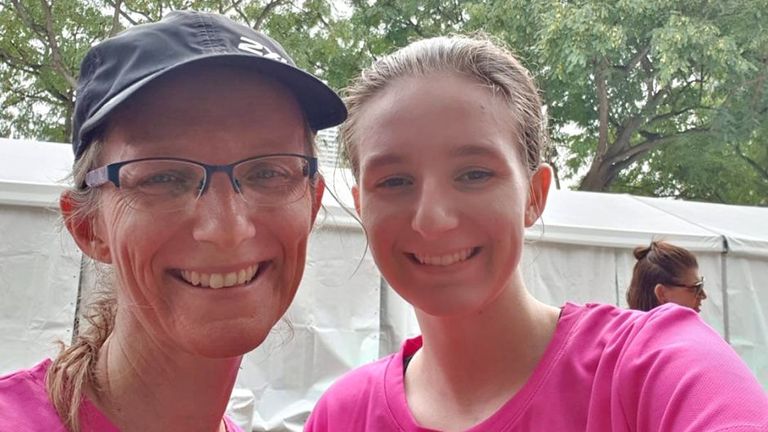 Police said they are ready to get onto White Island to recover the remaining bodies as soon as they are given the go-ahead by volcanologists.
Graham Leonard, senior volcanologist at GNS Science, said the chance of an eruption like Monday's had risen to 40-60% on Wednesday evening, up from a 30-50% chance on Tuesday.
"Yesterday was high risk, today there is an even higher risk and the parameters are worsening," he said.
He said the ash and gas being emitted from the volcano mean rescue crews would struggle to breath and see.
Police officer among six people killed in shootout in New Jersey | US News
Six people, including a police officer, have been killed in a shoot-out in New Jersey.
The officer was investigating a murder in Jersey City when he approached two suspects, one of whom opened fire and shot him in the head, police sources told NBC News.
The two suspects then fled in a rental van and holed up in a grocery store where a gun battle broke out, according to reports.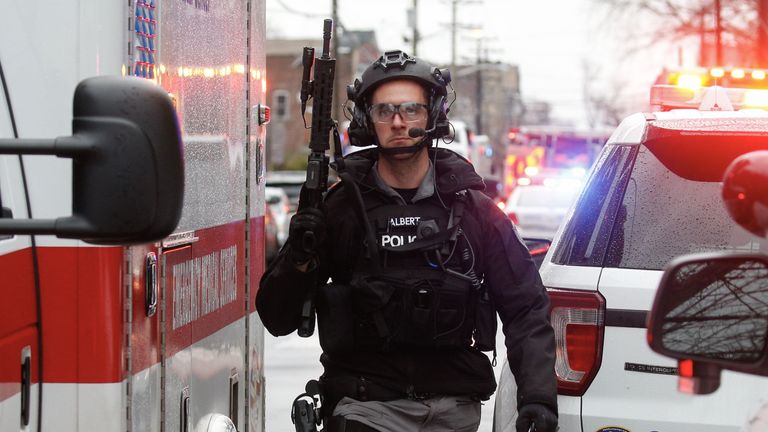 Both suspects and three civilians were killed, NBC News said.
All schools in Jersey City were put on lockdown as heavy, sporadic gunfire was heard over an hour.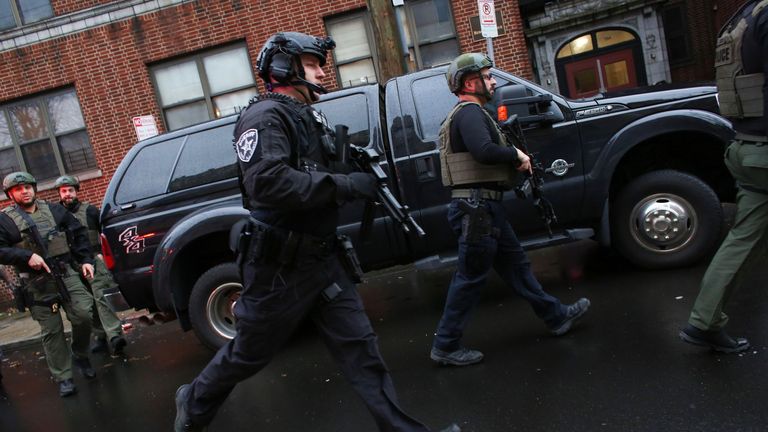 The officer who was killed was a 39-year-old father of five children, according to officials.
A second officer was wounded after being struck in the shoulder by gunfire, and two others were injured by shrapnel.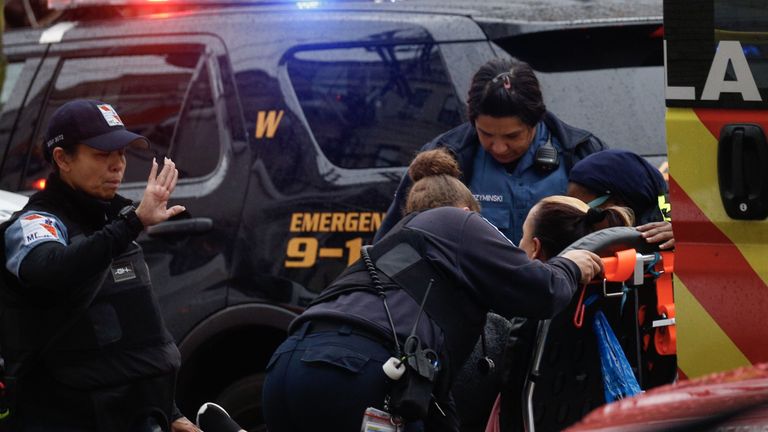 SWAT teams, state police and federal agents responded to the incident, with officers blocking off an area which includes a school, a kosher supermarket and a hair stylist.
Authorities have said the incident is not believed to be a terror attack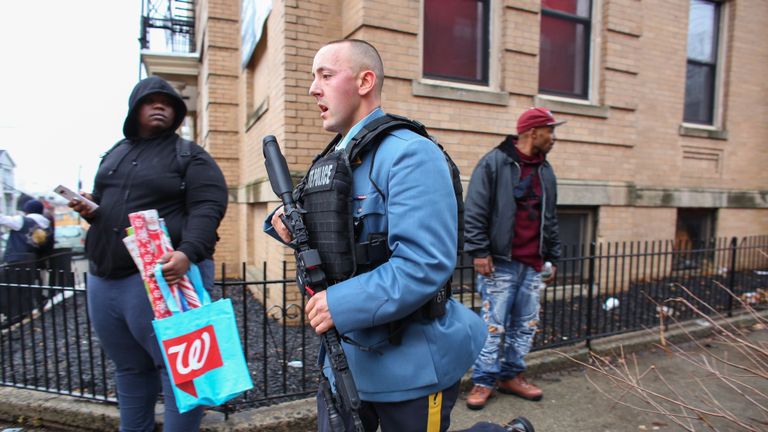 US President Donald Trump tweeted: "Just received a briefing on the horrific shootout that took place in Jersey City, NJ.
"Our thoughts & prayers are [with] the victims & their families during this very difficult & tragic time.
"We will continue to monitor the situation as we assist local & state officials on the ground."
More follows…
Child prodigy, 9, quits university in row over graduation date | World News
A nine-year-old boy who was set to become the world's youngest ever graduate has quit his university following a row over his graduation date.
Laurent Simons made headlines around the world after he was on track to complete a bachelor's degree in electrical engineering at Eindhoven's University of Technology in the Netherlands.
The Belgian boy – who has an IQ of 145 – was due to complete his studies before the end of the year, which would have made him the world's first ever graduate under the age of 10.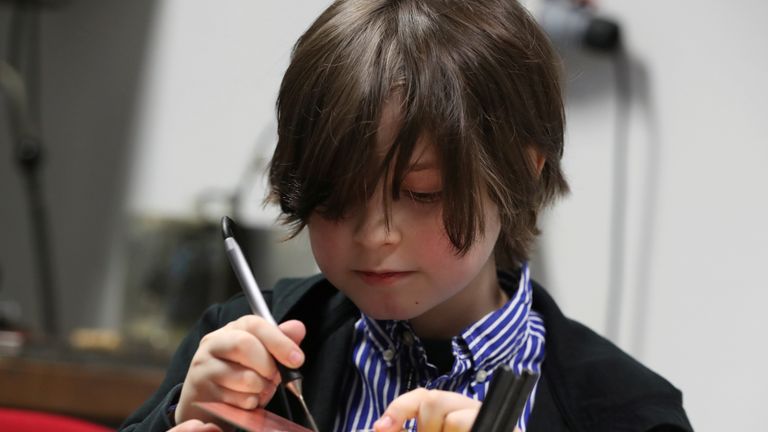 But the university has now told Laurent and his parents that the target is no longer feasible because of the number of exams he still needs to finish before his birthday on Boxing Day.
"Laurent is an exceptionally gifted boy, who is going through his studies at an unprecedented pace," the university said in a statement.
The university added that it had offered "a still phenomenally quick scheme in which he would end his education mid-2020".
But Laurent's parents decided not to accept the offer and immediately ended his studies in Eindhoven.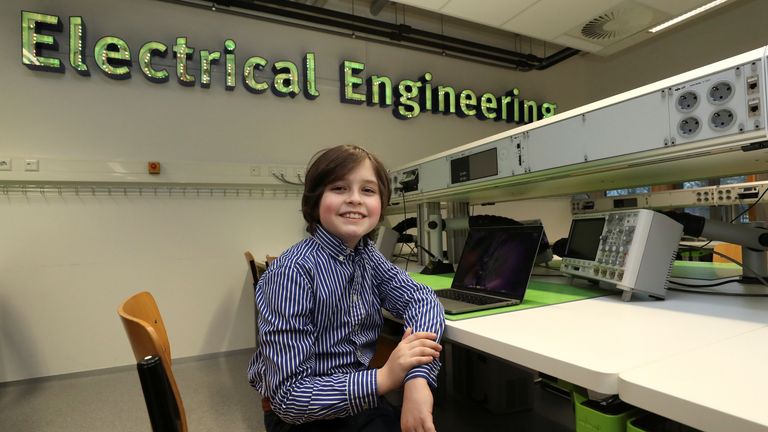 His father Alexander Simons said: "Until last week everything was fine, and now suddenly they see a delay of six months."
He said the exact date of Laurent's graduation had never been an issue for the family but became one as they felt the university was reacting to their plans to move the boy's further education abroad.
A programme director at the university had previously described Laurent as "maybe three times smarter than the smartest student we've ever had".
Mr Simons said: "It's very peculiar that this all comes right at the time when we were finalising our plans for Laurent's PhD at a different university.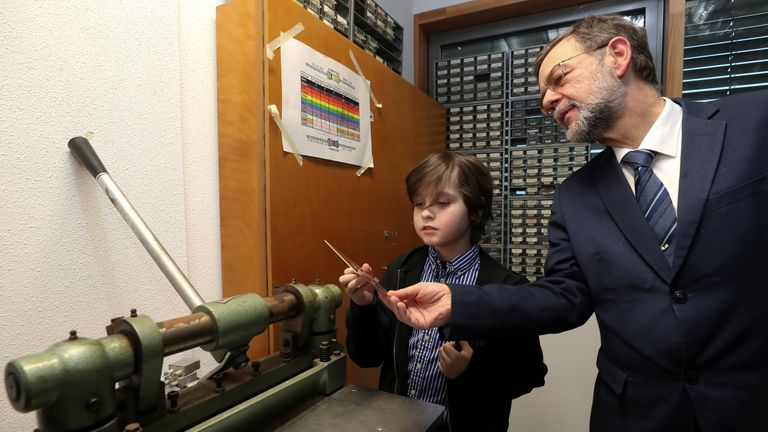 "There is a lot of interest in Laurent from universities he would be honoured to join… there is so much demand for Laurent, he is a unique project which everybody wants to be a part of."
Laurent, who is inspired by Serbian-American inventor Nikola Tesla, says he wants to research artificial organs and ultimately to develop an entire artificial body in his own laboratory.
Currently the youngest person to obtain a degree is American Michael Kearney, who achieved the feat in June 1994 at the age of 10 years and four months, according to the Guinness Book of World Records.