Grace Millane's former partner: She asked me to choke her during sex | World News
British backpacker Grace Millane belonged to BDSM dating sites and allowed a former partner to choke her during sex, a court has heard.
An ex-boyfriend of the university graduate from Essex said they had used a system of safe words and signals to make sure she was never in danger.
A statement from the man, whose identity is protected, was read to the jury at the trial of a 27-year-old New Zealander accused of strangling Grace to death at the end of a Tinder date.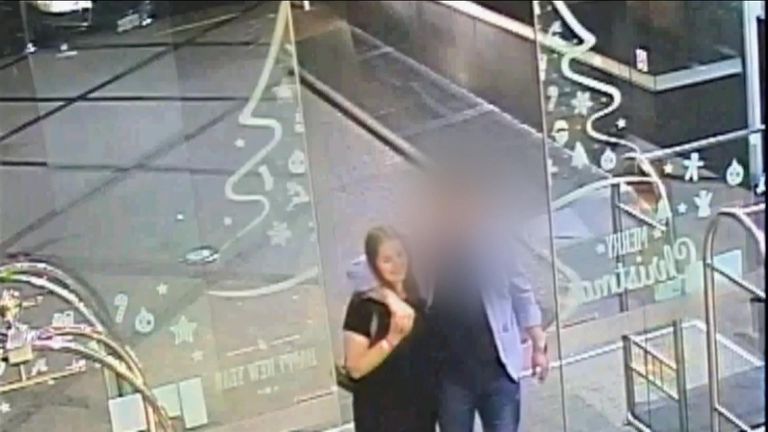 The defendant, who also cannot be named for legal reasons, says Miss Millane died accidentally during consensual sex at his apartment in Auckland last December after she asked him to put his hands on her neck during rough sex.
Miss Millane's former partner said in a statement read to Auckland High Court: "When we researched it we knew the word was asphyxiation.
"Grace and I discussed keeping hands wide and on the side of the neck, never on the front.
"Grace and I would have a safe word most of the time which we had discussed, something like "turtle" or something ridiculous. Grace and I used a tapping practice too. If Grace tapped me three times then it would stop.
"Grace would tap out maybe one in four times.
"Grace would be sure to do this and I trusted that anytime it was too much for Grace she would do this. Grace and I were careful to discuss not only the physical but the psychological aspects to practising BDSM."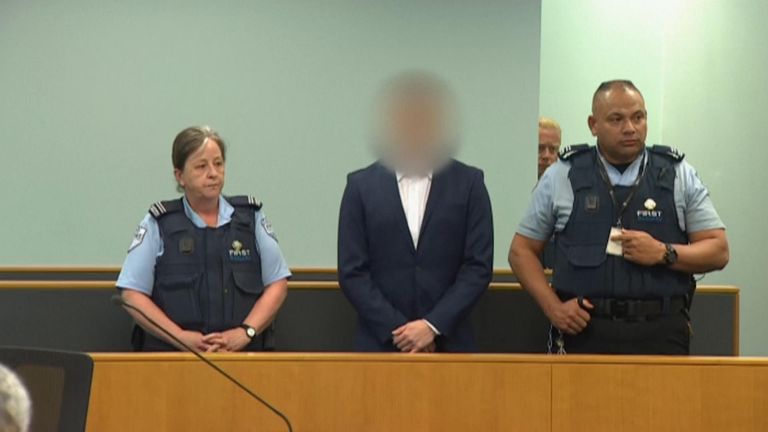 Statements from police revealed that Miss Millane had been active on BDSM dating site Whiplr an hour before meeting the defendant outside a central city casino.
Defence barrister Ron Mansfield told the jury: "All the evidence shows that Miss Millane was a loving, bright, intelligent young woman and she was.
"That is her reputation and that should be her reputation and her memory at the start of this trial and at the conclusion if it.
"The fact that we need to discuss with you what she liked to do in the bedroom should have no impact on he reputation at all."
But, he said: "It's important that we are fully informed. It's not the time for embarrassment or immaturity.
"If this couple engaged in consensual sexual activity which included pressure being applied to her neck with her consent and that went wrong, that is not murder.
"Death through this mechanism may thankfully be rare but it does happen and sadly it happened here."
Mr Mansfield said the defendant admits Grace died from pressure he placed on her neck but said expert evidence was consistent with his account that it was consensual, not violent.
In a police interview, the trial heard last week, he said he only realised Grace was dead when he found her lying on the floor but admits then cramming her body into a suitcase which he buried in a shallow grave in the woods.
Mr Mansfield said his failure to call for help, disposal of Grace's body and lies to police were due to panic.
"He may have thought he wouldn't be believed," Mr Mansfield told the jury, "but don't prove him right."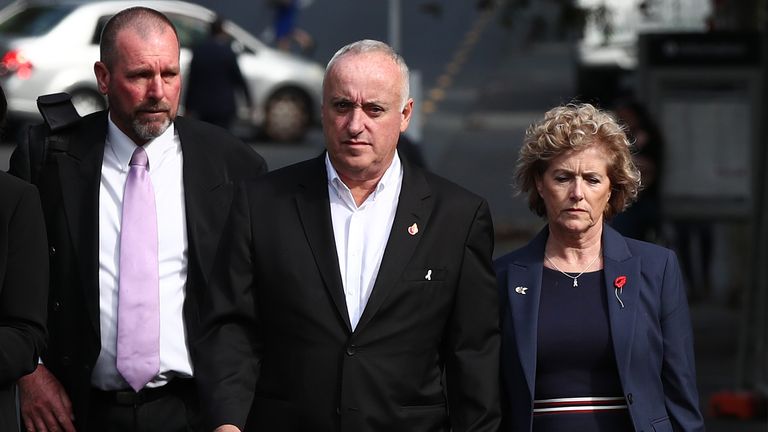 The court also heard that Miss Millane had drunk so much that night that her heart may have gone into a "terminal tailspin" when she was choked during sex.
Pathologist Dr Fintan Garavan, appearing as a defence witness, told the jury a combination of obstruction of the blood flow, pressure on her nervous system and being drunk meant she might have died quickly.
There were no signs of her having struggled and her plight "would not be obvious to a person nearby unless you know what you are looking for," he said.
Defence barrister Ian Brookie said Miss Millane had drunk four mango cocktails, one tequila shot, two whisky cocktails herself and shared three half litre jugs of margheritas and sangria with her alleged killer during their night out.
Dr Garavan said the alcohol, in conjunction with the choking, was "an iceberg making its way into the shipping lane".
"It very likely has become an important indirect player in causing death," he said, explaining that being drunk could turn off a "safety valve" which would normally trigger someone to fight for breath.
Dr Garavan, who examined hundreds of photographs of Grace's body, agreed the primary cause of death was asphyxiation, which he said would have required just one kilogram of pressure.
But he said the absence of deeper haemorrhages in the neck muscles, fractures or scratches to the skin "would favour consensual" choking.
The trial continues.
Airbus reaches 'agreement in principle' over corruption probe | Business News

Airbus has reached an "agreement in principle" with French, UK and US authorities over an investigation into allegations of bribery and corruption.
The planemaker said it could not comment on precise details of its talks with the French Parquet National Financier, the UK Serious Fraud Office and the US authorities, but confirmed it had reached an agreement with all three.
Airbus has been investigated by French and British authorities for almost four years over suspected corruption dating back more than a decade.
The Serious Fraud began its investigation in July 2016 over claims of fraud, bribery and corruption in Airbus's civil aviation group.
The allegations related to irregularities concerning third party consultants.
At the centre of the case was a decades-old system of third-party agents or intermediaries run from a now-disbanded unit which at its height involved some 250 people across parts of the world, sources told Reuters news agency.
Airbus has already fired more than 100 people over ethics and compliance issues as a result of its own investigation into the corruption claims.
In the US Airbus has faced investigations over suspected violations of export controls.
Airbus said in a statement early on Tuesday: "These agreements are made in the context of investigations into allegations of bribery and corruption as well as compliance with the US International Traffic in Arms Regulations.
"They remain subject to approval by French and UK courts and US court and regulator."
The Financial Times earlier reported that Airbus could pay out huge sums to reach the settlement, quoting analysts as predicting fines of more than €3bn (£2.5bn).
This would surpass the record £671m penalties handed down to Rolls-Royce for similar allegations two years ago.
Airbus is still being investigated by German authorities over alleged misuse of client documents.
Israel Folau: Disgraced rugby star signs for Catalan Dragons | World News
Disgraced rugby star Israel Folau has signed for Catalan Dragons, months after being sacked from his previous club over comments about gay people.
The French club said they are pleased to sign him to a one-year contract with "immediate effect".
Folau told the club's website: "I'm a proud Christian, my beliefs are personal, my intention is not to hurt anyone and I will not be making further public comment about them.
"I look forward to my return to the great game of Rugby League with the Catalans Dragons."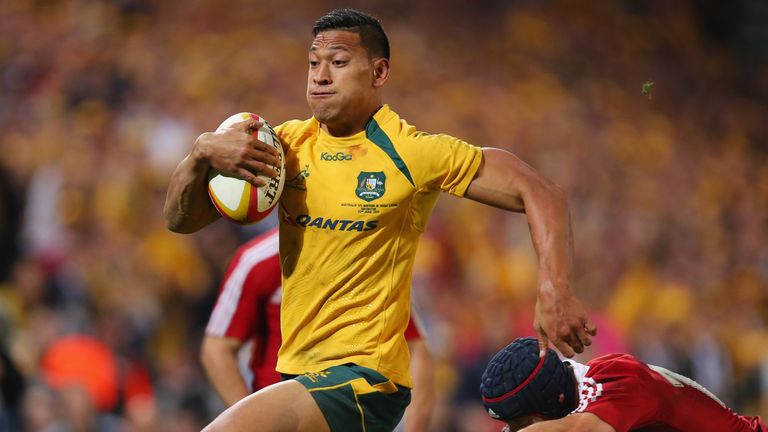 Last April, Folau posted on social media that "hell awaits" for "drunks, homosexuals, adulterers, liars, fornicators, thieves, atheists, idolaters".
His $5m (£2.7m) contract with the Wallabies and the Sydney-based New South Wales Waratahs was terminated in May.
In November, he linked bushfires in New South Wales and drought to Australia's decision to legalise same-sex marriage and abortion.
The 30-year-old, delivering a sermon at the Truth of Jesus Christ Church in Sydney, said "God is speaking" to Australians and called for the laws to be reversed.
He said: "God's word says for a man and a woman to be together, one man and one woman in the covenant of marriage to be together.
"Abortion; it's now OK to murder and kill unborn children and they deem that to be OK."
After being sacked, Folau brought an unfair dismissal case which was settled in December.
Rugby Australia said: "While it was not Rugby Australia's intention, Rugby Australia acknowledges and apologises for any hurt or harm caused to the Folaus.
"Similarly, Mr Folau did not intend to hurt or harm the game of rugby and acknowledges and apologises for any hurt or harm caused."
Japan: Lowest-ranked sumo wrestler weeps as he defies odds to win tournament | World News

An outsider has beaten the odds to become a sumo champion and won fans' hearts at the same time.
Tokushoryu was one of the lowest ranked competitors at the New Year Grand Sumo Tournament in Tokyo, but beat ozeki Takakeisho to win his first trophy on Sunday night.
An ozeki is the second highest ranking in sumo, with yokozuna ranking one spot higher.
After he beat the ozeki, he burst into tears, a rare show of emotion in a typically stoic sport.
Speaking after the match, he said: "Deep down I'm feeling like, 'Is it okay for me to win the championship?'
"I was the lowest-ranking fighter, I had nothing to fear. I just had to give it everything I had."
Kyodo News reported he also won an Outstanding Performance Prize, the first of his 12-year career.
At 33, he was an unlikely winner for many reasons, but said the next day: "It feels like a dream. I don't feel like myself. I feel I'm walking on clouds."
On shedding tears, he said: "I might have cried too much, but at that moment I felt relieved from all the pressure."
He is the first bottom-ranked contestant to win in 20 years, and the first Nara-born wrestler to win the Emperor's Cup in nearly 100 years.
He won hearts on Twitter, as fans praised his attitude and victory.
One compared the victory to a first division team winning the FA Cup, while others said he "absolutely deserved it".
Expressing disappointment in the wrestler he follows, another added: "But seeing Tokushoryu's emotional reaction made me smile. A yuusho well well earned."
Another said: "Watching him cry and then seeing his dad cry too was actually touching. At the beginning of this basho, I had no opinion on Tokushoryu but now I'm genuinely happy for him."
Yuusho is the Japanese term for championship, and basho refers to a tournament.