At least seven killed in gas explosion in Bangladesh | World News

At least seven people have been killed after a gas pipeline exploded in the Bangladeshi port city of Chittagong.
The gas pipeline exploded in front of a five-storey building, blowing walls off the building, a local police official said, citing witnesses.
Eight people who were injured in the blast have been taken to hospital.
More to follow…
Japan: Lowest-ranked sumo wrestler weeps as he defies odds to win tournament | World News

An outsider has beaten the odds to become a sumo champion and won fans' hearts at the same time.
Tokushoryu was one of the lowest ranked competitors at the New Year Grand Sumo Tournament in Tokyo, but beat ozeki Takakeisho to win his first trophy on Sunday night.
An ozeki is the second highest ranking in sumo, with yokozuna ranking one spot higher.
After he beat the ozeki, he burst into tears, a rare show of emotion in a typically stoic sport.
Speaking after the match, he said: "Deep down I'm feeling like, 'Is it okay for me to win the championship?'
"I was the lowest-ranking fighter, I had nothing to fear. I just had to give it everything I had."
Kyodo News reported he also won an Outstanding Performance Prize, the first of his 12-year career.
At 33, he was an unlikely winner for many reasons, but said the next day: "It feels like a dream. I don't feel like myself. I feel I'm walking on clouds."
On shedding tears, he said: "I might have cried too much, but at that moment I felt relieved from all the pressure."
He is the first bottom-ranked contestant to win in 20 years, and the first Nara-born wrestler to win the Emperor's Cup in nearly 100 years.
He won hearts on Twitter, as fans praised his attitude and victory.
One compared the victory to a first division team winning the FA Cup, while others said he "absolutely deserved it".
Expressing disappointment in the wrestler he follows, another added: "But seeing Tokushoryu's emotional reaction made me smile. A yuusho well well earned."
Another said: "Watching him cry and then seeing his dad cry too was actually touching. At the beginning of this basho, I had no opinion on Tokushoryu but now I'm genuinely happy for him."
Yuusho is the Japanese term for championship, and basho refers to a tournament.
Coronavirus outbreak set to hit production of new cheaper iPhone – reports | Science & Tech News
Apple's plans to increase iPhone production and launch a cheaper model could be disrupted by the outbreak of a new coronavirus in China, according to reports.
The outbreak has already impacted oil and financial markets, with oil prices falling to their lowest point in three months and the FTSE 100 losing more than 2% in early Monday trading.
A report in the Nikkei Asian Review on Tuesday morning said that Apple's request to suppliers to produce 80 million iPhones over the first half of 2020 could be delayed.
The Japanese financial newspaper reported that the production of 65 million older iPhone models and 15 million newer models which will retail at a lower price is going to be disrupted by the outbreak.
Although manufacturing was due to start in the third week of February ahead of the unveiling of the new iPhone model in March, the spread of the coronavirus is getting stronger and causing Chinese authorities to put whole cities on lockdown.
China says 106 people have now died due to the outbreak, with more than 4,515 confirmed cases across the country.
Both numbers rose dramatically in the latest update from the country's National Health Commission, with most of those affected hailing from the city of Wuhan – the epicentre of the outbreak.
There are believed to be about 300 UK citizens still in Wuhan and the surrounding Hubei province, but the Foreign Office will work to evacuate the area in days, if not sooner.
The US consulate in Wuhan is preparing to fly its diplomats and other Americans out of the city, and the Japanese and Mongolian governments are also preparing flights.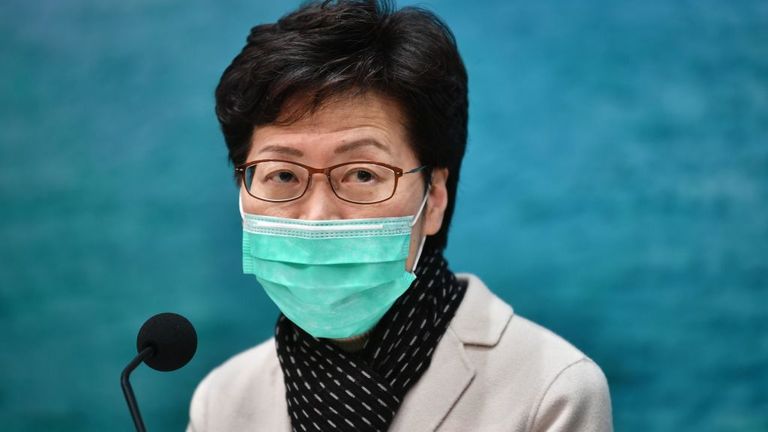 It comes as Hong Kong chief executive Carrie Lam said on Tuesday that high-speed rail and ferry links to the Chinese mainland would be suspended from 30 January.
Wearing a green face mask, she also told reporters the number of flights would be halved and personal travel permits to the city temporarily frozen.
Apple's shares dropped nearly 3% on Monday as technology firms which have supply-chain roots in China felt market fears about the outbreak.
The company will report its earnings for the first quarter of the year after the close of markets on Tuesday.
Apple has not responded to a request for comment.
China coronavirus: Villages build walls and checkpoints to stop outsiders spreading infection | World News
Small villages in China are barricading themselves in against the coronavirus. They are not acting on government orders but taking matters into their own hands.
We came across six in Hebei, the province surrounding Beijing which has seen one death from novel coronavirus.
Handwritten signs at street entrances say: "No outsiders allowed in."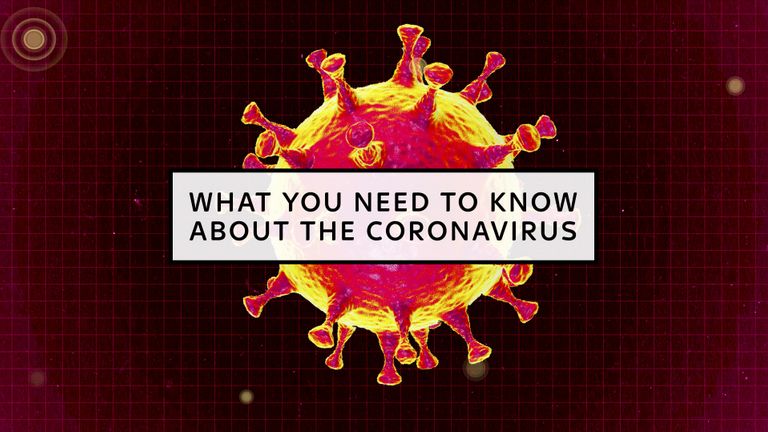 Others have taken it further, building entire walls out of brick.
We spoke to one man through a gap in the barrier. "Our village built this," he said. "To stop outsiders coming to our village – to reduce the number of people coming in."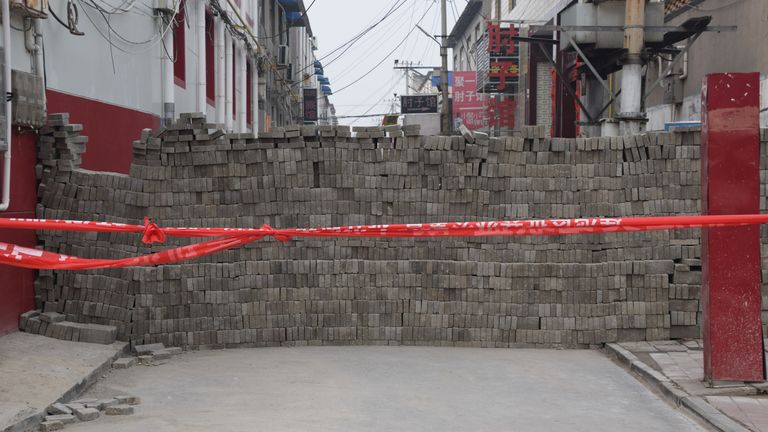 Villagers have set up checkpoints that mimic the official versions you have to cross as you enter the province, screening people's temperatures.
Another fortified village was winching a portable cabin into place – it will serve as a guardhouse.
After it was safely set down, resident Yan Yang told us: "It's because of the epidemic. I don't know how long it will last.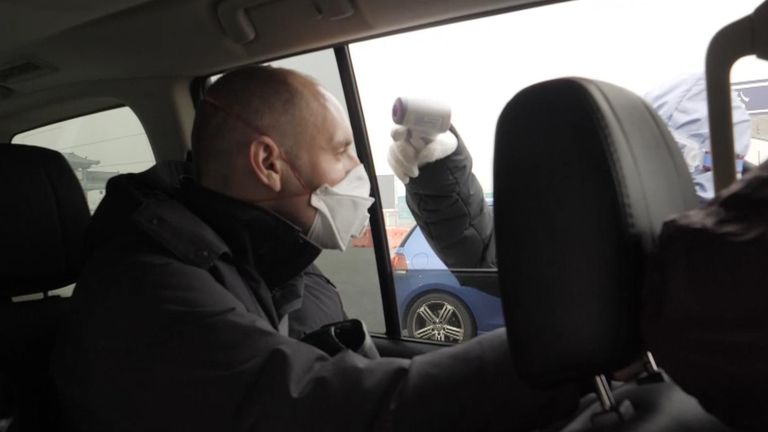 "No one knows how the epidemic will process. There's no policies from the top yet.
"I can't say I'm not worried. But no one has another method."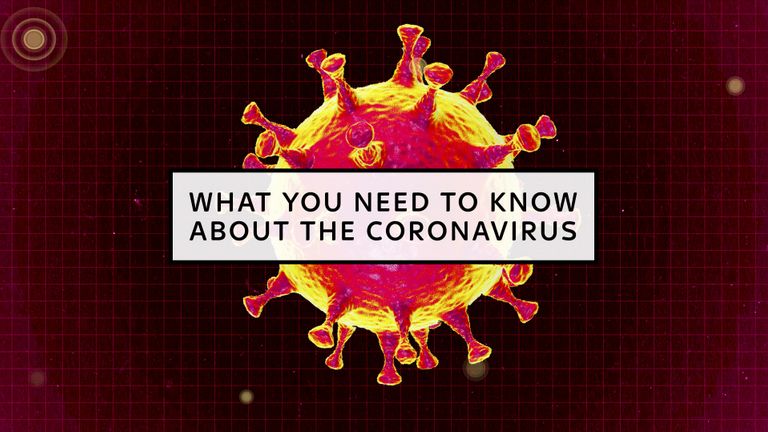 :: Listen to the Daily podcast on Apple Podcasts, Google Podcasts, Spotify, Spreaker
Hebei is some 600 miles from Wuhan – a city that has been sealed off not to stop the virus getting in, but prevent it getting out.
There, video filmed by a resident showed the city at night, as the cry went up around the neighbourhood: "Wuhan, add oil!" It means keep going, hang tough.
Neighbours shouted it out the window to each other, a chorus of solidarity.
But elsewhere in China, people are bunkering down, breaking their bonds with the outside world.