McDonald's to launch 'evolved' paper straw after customer backlash | Business News
McDonald's says it is to launch an "evolved" paper straw across Europe following a backlash from customers over its first attempt.
The fast food chain, which recently hit headlines over the controversial departure of its British-born chief executive Steve Easterbrook, said the change it was bringing in was part of a wider commitment to the environment by reducing plastic and waste.
McDonald's replaced its plastic straws with paper versions in the UK from late last year following, what it said were, successful trials.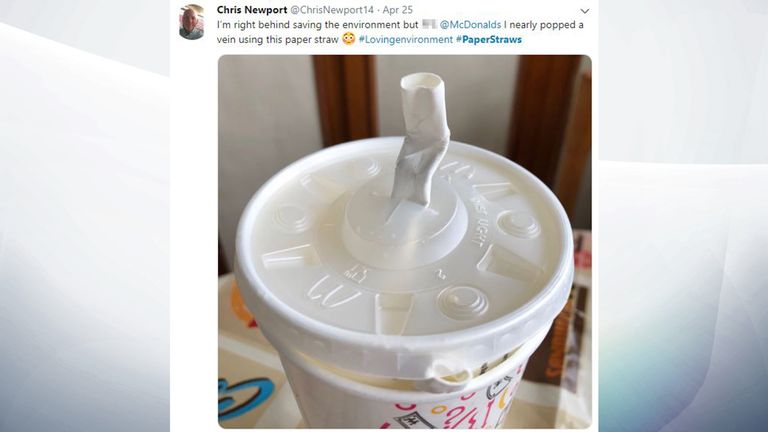 But tens of thousands of customers called for the move to be scrapped, claiming the straws became soggy too quickly and even dissolved.
The chief executive of McDonald's UK, Paul Pomroy, appeared on Sky News at the time to defend the straws – saying he had checked them himself.
The company said on Thursday that the new, more sturdy, straw would be distributed to restaurants across Europe, though it declined to give a time frame.
It said: "Following feedback from customers, and as the packaging industry has evolved, the paper straws being rolled out are now stronger while remaining made of fully recyclable materials."
The straw initiative forms part of the chain's 'Better M' platform to support the environment.
Another change was a makeover of McFlurry packaging to eliminate the need for a separate plastic lid. This would involve the container having flaps at the top, the company explained.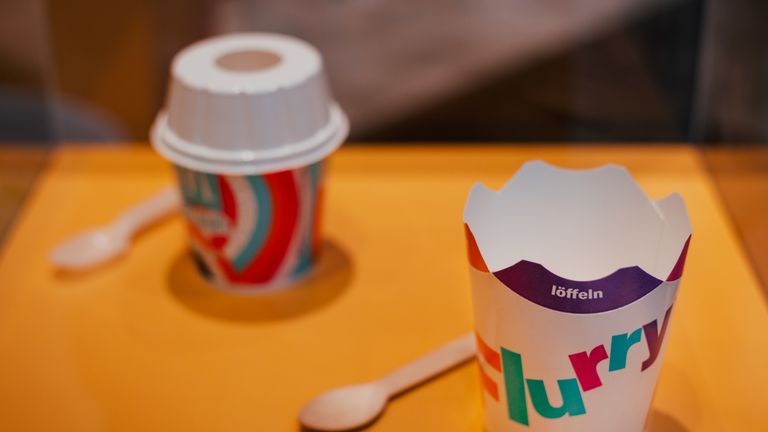 It said this would reduce more than 1,200 tonnes of plastic annually.
It also said it was also to stop plastic drink lids – but only in France.
The chain said they would be replaced by fibre. Edible packaging was to be trialled in Ukraine with its Sundae surround made from waffle.
Vice president of global sustainability at McDonald's, Keith Kenny, said: "We care about lessening our impact on the environment and know our customers do too.
"That's why we're finding new and innovative ways to reduce our use of packaging, switch to more sustainable materials and help our customers to reuse and recycle, too.
"The trials we are conducting across Europe are vital in helping us get first-hand feedback from customers on solutions that help them to be conscious consumers, without compromising on quality and the McDonald's experience they love."
Ex King of Belgium finally admits he fathered a daughter during extra-marital affair | World News
The former king of Belgium has finally admitted he is the father of a woman who had claimed she was born as a result of an extra-marital affair with her mother.
Albert II, who abdicated in 2013 for health reasons, had never publicly denied the claims of artist and sculptor Delphine Boel, 51, but had for years battled to avoid a DNA test.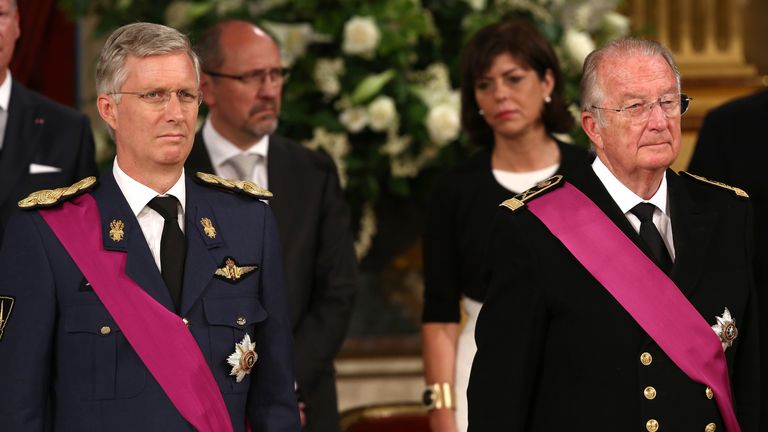 He finally gave in last year after an order from the Brussels Appeals court.
In a statement by the 85-year-old's lawyers they said he admitted paternity as "scientific conclusions indicate that he is the biological father of Mrs Delphine Boel".
On Monday Albert II said that he had decided to "to end with dignity this painful procedure".
Ms Boel's lawyer Marc Uyttendaele said that "her reaction was one of relief, emotion but also shows a wound that will not heal".
Rumours about Albert and Ms Boel's mother, Baroness Sybille de Selys Longchamps, had been around for years, but the news that the king may have had a child with her broke into the open when a biography of Albert's wife, Queen Paola, was published in 1999.
In his Christmas message to the nation that year, he alluded to a past infidelity and said he and Queen Paola lived through a "crisis" in the late 1960s that almost wrecked their marriage, but they overcame their marital problems "a long while ago".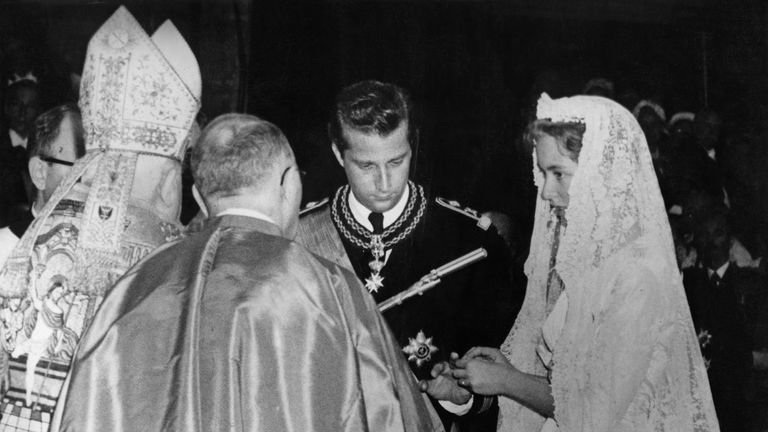 Albert II acceded to the Belgian throne in 1993 on the death of his older brother. He stepped down in July 2013 and automatically lost his immunity from prosecution. a privilege enjoyed by the reigning monarch.
The following year Ms Boel, who bears a striking resemblance to some members of the royal family, opened court proceedings to prove that Albert was her father.
She has always said she brought the paternity case due to anger since she was being cold-shouldered by the royal family.
Man charged with killing five of his own children when they were babies | US News

A man has been charged with killing five of his own children – none of them more than six months old.
Paul Perez, who is already behind bars in California, is accused of killing the infants between 1992 and 2001.
The remains of one of the siblings, three-month-old Nikko Lee Perez, were discovered by a fisherman in March 2007, submerged in an irrigation canal northwest of Sacramento.
Yolo County Sheriff's Office said the baby was "found in a sealed container and weighed down with heavy objects".
No information was discovered to further an investigation at the time – but in October, the infant was identified by DNA comparison.
Officials said: "It is now known that the baby boy was born on November 8 1996, in Fresno, California."
Once they had the DNA information, investigators discovered that Nikko had siblings.
Police said one of them – Kato Allen Perez – was born in 1992 and is "known to be deceased", while three other siblings are believed to have died.
Officials said the investigation is ongoing, but declined to say if Perez had other children or if the victims were born to more than one mother.
District Attorney Jeff Reisig said the investigation had "uncovered a deeply disturbing, chilling case of infanticide".
He added: "Today we are announcing charges against Paul Perez for the serial murder of five of his own children, all babies."
Ed Medrano, from the California Department of Justice, said the "allegations we are discussing today are senseless, evil and heartbreaking".
Perez was arrested at a state prison days before he was expected to be released on unrelated charges, officials said.
Trump trial: What happened on day six as unlikely hero emerges for the Democrats | US News
Few expect Donald Trump to be removed from office come the end of his impeachment trial, but the Democrats have been given new fuel in their pursuit of sworn evidence from former US national security adviser John Bolton.
Here's what you need to know from day six of the trial.
In a sentence
John Bolton, Donald Trump's former national security adviser, claims the president directly withheld military aid to Ukraine in order to secure an investigation into his political opponents.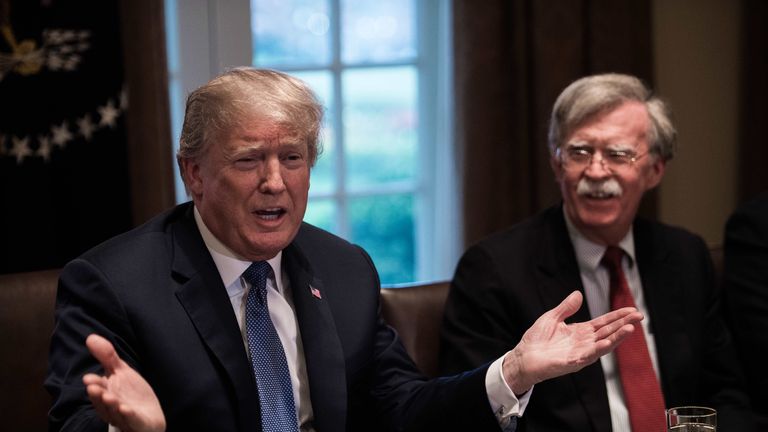 In a paragraph
Mr Bolton's explosive allegation features in his new book, The Room Where It Happened. Pressure is now growing among Republicans to allow him to testify.
He's an unlikely hero for Democrats, but they hope he could be a star witness and provide damming evidence of wrongdoing to help support their case of removing the president from office. Mr Trump plans to block him from talking on the grounds of protecting national security.
That could set the stage for a potential showdown in the Supreme Court.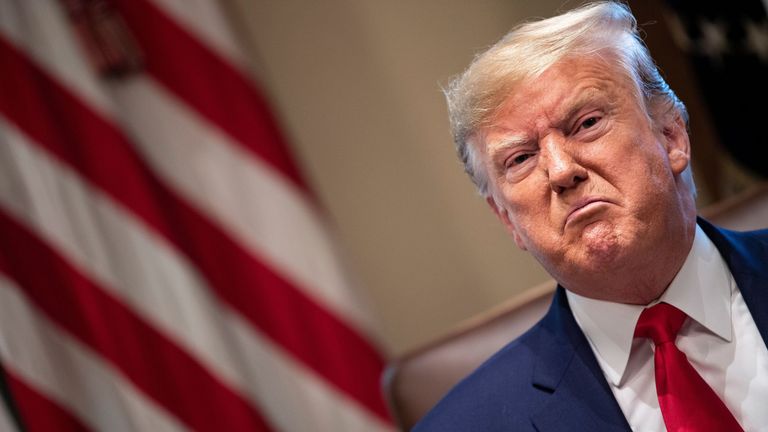 In 100 words
The reality is, there may now be enough new pressure on Senate Republicans to allow witnesses at the impeachment trial. Mr Bolton is not a peripheral figure. He worked closely with Mr Trump and he's the first person to claim he was a direct eyewitness to the president tying aid to investigating Joe Biden.
Moderate Senators Mitt Romney and Susan Collins have already strongly signalled they would vote for witnesses. Democrats only need two more Republicans to potentially push it over the line.
But the story doesn't end there. Mr Trump has made clear he will try to exert executive privilege and cite national security concerns to prevent Mr Bolton from talking.
His defence lawyers say Mr Bolton's account doesn't change any facts. But he is a key figure and his evidence explicitly speaks to the Democrats' case. The White House will have a fight on its hands trying to stop the Senate from at least hearing him out.
In a quote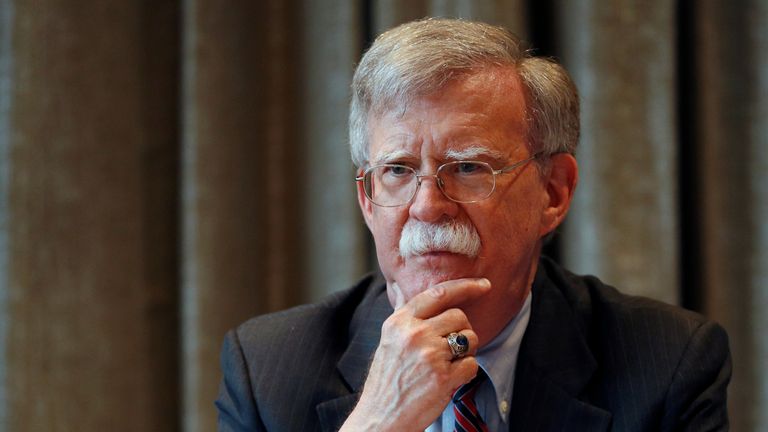 The reports about John Bolton's book strengthen the case for witnesses and have prompted a  number of conversations around my colleagues.
Tweet of the day