Tensions in NATO normal 'like a marriage', says British chief of defence staff | UK News
Tensions in NATO are normal and are like those often seen in marriages, according to the head of the British armed forces.
General Sir Nicholas Carter's comments follow criticism from France's president Emmanuel Macron that NATO was experiencing "brain death" and suffering from a lack of co-ordination and US unpredictability under President Donald Trump.
Sir Nicholas, who is the chief of defence staff, told Sky News' defence correspondent Alistair Bunkall: "There are always tensions in alliances, it's the same as a marriage."
But he dismissed other criticisms about whether NATO was relevant on the 30th anniversary of the fall of the Berlin wall.
Although the aftermath of the USSR's collapse were optimistic days, today NATO has never been as important in the 70 years it has existed, Sir Nicholas told Sky News.
"We talk a lot about Russia, but what we also need to be conscious of are the threats to NATO's southern flank, from the way Africa is revolving, from migration, and of course from terrorism as well," he said.
"The world has changed. We now have global competition between great powers, something we probably haven't seen since the middle and early part of the last century.
"NATO's relevance is now back where it was during the Cold War, because of the nature of that threat and the evolving strategic context."
Despite this, the alliance has been criticised not just by Emmanuel Macron, but also by Mr Trump, who has accused other NATO members of not contributing enough funding.
Asked if he believed these criticisms were slowly eating away at NATO, Sir Nicholas said: "No, I don't think so.
"There are always tensions in alliances, it's the same as a marriage, and the plain fact is with 29 nations it's very important that we all come together and we all contribute to that alliance in a fair way.
"So I think it's right that burden sharing is on the agenda," he added, noting that members were expected to aspire to spend 2% of their GDP on their militaries, and at least 20% of that figure on military equipment.
Qantas flight evacuated using slides as cabin starts to fill up with smoke | World News

Passengers on a Qantas flight from Sydney to Perth evacuated using slides after the Airbus A330 was forced to return as the cabin filled with smoke.
The airline said Flight 575 returned to Sydney shortly after take-off because of a hydraulic problem.
In a statement, Qantas said: "Once back at the gate, the captain made the decision to evacuate the aircraft as a precaution and three emergency slides were deployed.
"Passengers were evacuated through both the slides and normal exits."
One passenger, Ally Kemp, said on Twitter that the experience was "terrifying", adding: "Just had to evacuate my flight to Perth after engineering issues. Everyone had to exit the plane via slide onto Sydney tarmac after the cabin filled with smoke and the captain screamed evacuate."
Another passenger Niamh Champion, describing the moment everyone realised something was wrong, said: "They came and got us to the gate and everything was fine. And next thing he (pilot) goes, evacuate, evacuate, evacuate, like in a calm but firm, loud voice.
"And so instantly everyone jumps off and they're thinking, Oh my God. I thought there was smoke, or a fire or, you know, something was happening, and I was relatively close to the back of the plane.
"The hostess opened the door, bang, the chute comes down and everyone starts rushing into the aisle."
Ms Champion said she had to jump out before her two young children followed her.
Debbie Slade, the Qantas fleet safety captain, said that once the plane was on the ground, it was towed to the gate.
She added: "And once they're at the gate, I believe there was some indications of a mist inside the cabin. So the crew took the conservative option and agreed to evacuate the aircraft."
New York: Mum whose baby was ripped from her arms by police wins $625k settlement | US News
A woman whose one-year-old child was wrenched from her arms by officers in New York City is to receive a cash settlement from the city.
A video showing Ms Headley lying on the floor as officers attempt to wrestle the child from her arms went viral in December 2018, prompting a police investigation.
Jazmine Headley is set to receive £470,000 ($625,000) after filing a lawsuit in federal court in August over the incident last year, according to TV station WNBC.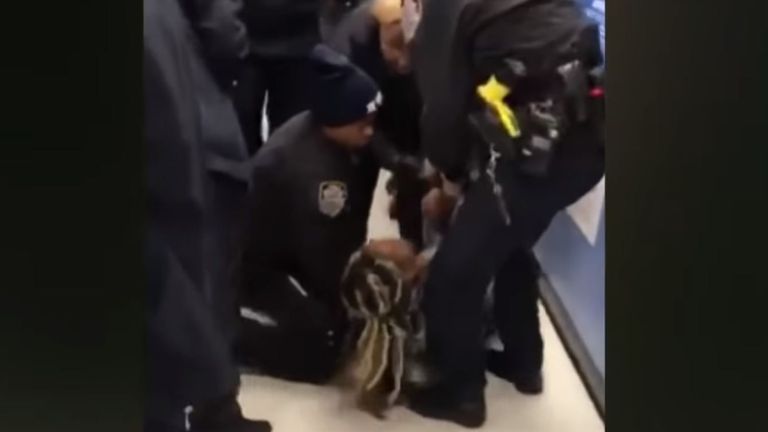 Ms Headley was holding her child while at a social services office in Brooklyn on 7 December last year, while inquiring about her child care benefits, her lawsuit says.
She was sitting on the floor in a crowded waiting room, the suit says, when officers at the agency demanded she leave. She responded that she wanted to see a supervisor.
Video of the incident taken by a bystander and posted on social media shows Ms Headley on the floor on her back with several officers surrounding her as one tried to rip her child from her arms.
She can be heard saying: "They're hurting my son! They're hurting my son."
The scene quickly escalated as bystanders surrounded the chaos and shouted over each other. One person is heard saying, "Oh my God! Look what they're doing to her."
At one point, an officer pulls out a yellow stun gun and points it at people in the angry crowd.
Officers for the city's social services agency were the first to respond to Ms Headley, the New York Police Department said shortly after the incident. NYPD officers acted in support.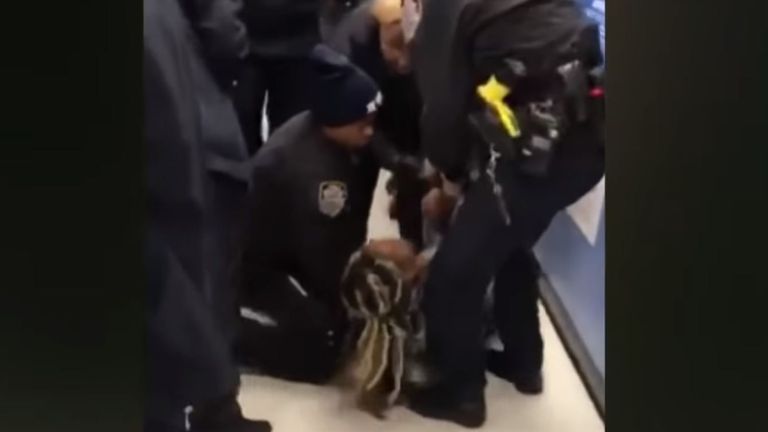 Immediately after the altercation, Ms Headley faced possible charges for resisting arrest, acting in a manner injurious to a child, obstructing governmental administration and criminal trespass – but all charges were eventually dropped.
"Headley had been humiliated, assaulted, physically injured, threatened with a Taser, brutally separated from her son, handcuffed, arrested, and jailed-all by employees of the City of New York," her lawsuit claims.
Her son, who was still breastfeeding at the time, "had been brutally wrenched from his mother's arms, taken by strangers to a police precinct, and released to spend the night without his mother for the first time in his life", according to the lawsuit.
Days after the incident, Mayor Bill de Blasio apologised to her publicly.
De Blasio's spokeswoman, Olivia Lapeyrolerie, said in a statement on Friday that the city failed to treat Ms Headley with dignity and respect, WNBC reported.
"While this injustice should have never happened, it forced a reckoning with how we treat our most vulnerable," Lapeyrolerie said.
Lesbian kiss row: Wedding-planning site hits out at Hallmark for pulling adverts | Ents & Arts News
A wedding planning website has refused to advertise on the Hallmark Channel again after it scrapped commercials featuring two brides kissing at the altar.
The network removed the adverts following a complaint by One Million Moms – a conservative group linked with the American Family Association.
Zola had submitted six adverts, four of which featured a lesbian couple.
After Hallmark axed those, but not the two featuring only opposite-sex couples, Zola pulled its remaining adverts.
"The only difference between the commercials that were flagged and the ones that were approved was that the commercials that did not meet Hallmark's standards included a lesbian couple kissing," said Mike Chi, Zola's chief marketing officer.
"All kisses, couples and marriages are equal celebrations of love and we will no longer be advertising on Hallmark," he said.
The decision was also met with anger by a number of US celebrities.
Ellen DeGeneres asked Hallmark: "Isn't it almost 2020? What are you thinking? Please explain. We're all ears."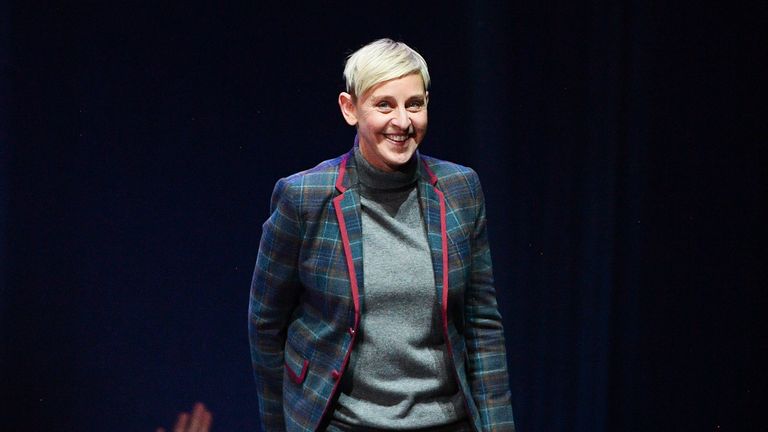 Actress Sandra Bernhard, who played one of the first openly bisexual characters on network TV in Roseanne also criticised Hallmark's decision.
"All the groovy gay ladies i know won't be watching your Christmas schlock," she wrote on Twitter, addressing Hallmark.
"They'll be out celebrating with their "families", wives, children, friends on & on & getting married in chic ensembles. Didn't you all get the memo? Family is all inclusive."
In one of the adverts for Zola, two brides stand at the altar and discuss whether their wedding would go more smoothly if they had used a planning site before sharing a kiss.
Molly Biwer, senior vice president for public affairs and communications at Hallmark, said: "The debate surrounding these commercials on all sides was distracting from the purpose of our network, which is to provide entertainment value.
"The Hallmark brand is never going to be divisive. We don't want to generate controversy, we've tried very hard to stay out of it… we just felt it was in the best interest of the brand to pull them and not continue to generate controversy."
Ms Biwer said One Million Moms had complained about the adverts to Bill Abbott, CEO of Crown Media Family Networks, Hallmark's parent company.
A post on the group's website said that Mr Abbott "reported the advertisement aired in error".
The group also wrote: "The call to our office gave us the opportunity to confirm the Hallmark Channel will continue to be a safe and family-friendly network."