Grace Millane: Blood sample in murder accused's flat is likely to be hers, court told | UK News
Blood found in the apartment where British backpacker Grace Millane was murdered was 500,000 million times more likely to belong to her than anyone else, a New Zealand court has heard.
The university graduate, from Wickford, Essex, had been on a date with a 27-year-old man she met in Auckland on 1 December 2018.
The man, who cannot be named for legal reasons, is accused of strangling the backpacker until she bled from her nose.
The New Zealander later took intimate images of Ms Millane's dead body as it lay on the floor of the CityLife hotel where he was living, the court heard.
He is then accused of putting his victim's body in a suitcase before burying her in a forested area outside Auckland.
The defence claims Ms Millane's death, on either on 1 or 2 December last year, was accidental and occurred during rough sexual intercourse.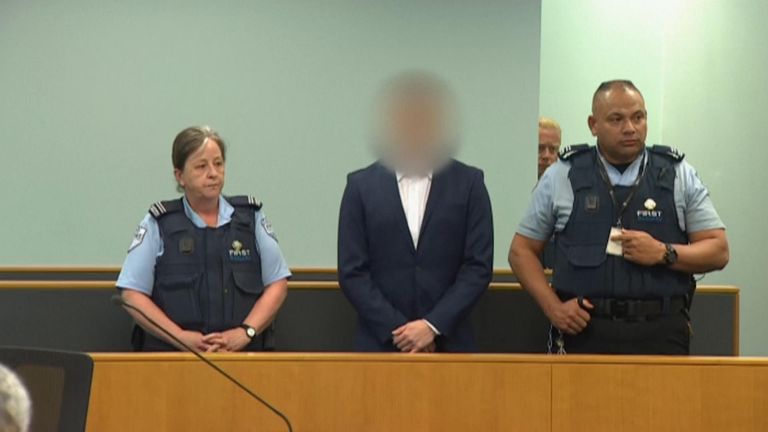 The backpacker would have celebrated her 22nd birthday on 2 December 2018.
Forensic experts told Auckland High Court on Friday that there was evidence Ms Millane's blood had been cleaned up, which the defendant told police he had done.
Scientific testing showed that blood found on the fridge in the man's apartment was 500,000 million times more likely to belong to Ms Millane than anyone else, the court heard.
DNA expert Turlough Thomas-Stone said "no male DNA was detected" in samples taken from the woman's fingernails and from the suitcase in which her body was found.
But he added that "damp, moisture, exposure to the elements" can make it harder to identify DNA samples taken from grave sites.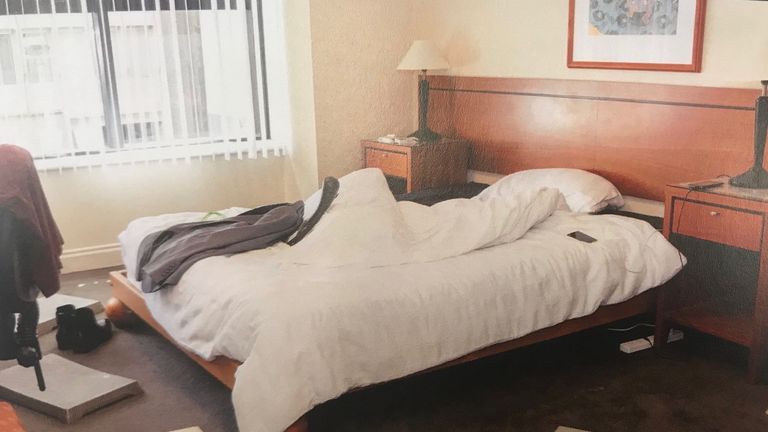 He added: "Given the time between the alleged event and the taking of these samples, that could be a potential explanation (for the absence of male DNA)."
Toxicologist Diana Kappatos said testing found no illicit or prescribed drugs in Ms Millane's body.
The backpacker was found to have 106mg of alcohol per 100ml of blood in her body, which is double the legal limit for drivers in New Zealand.
But Ms Kappatos said that microbial action after death may have increased or decreased the concentration of alcohol in Ms Millane's body.
Ameena Ashcroft, Ms Millane's friend, said in a letter read to the court that she "thought something was out of place" when the backpacker sent a series of messages during the date in which she admitted to wanting to "get smashed" with the man she met on Tinder.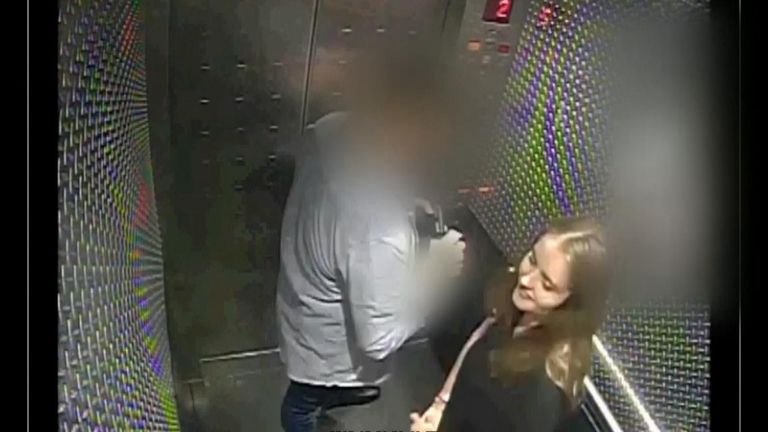 Security footage showed the pair kiss repeatedly at the Bluestone Room before walking arm in arm a short distance into the lobby of the CityLife hotel.
Ms Millane was shown to follow the defendant out of the lift at 9.41pm.
It was the last time she was seen alive.
Data from the man's phone showed he had used Google to browse websites for large duffel bags, suitcases and car hire, the court heard.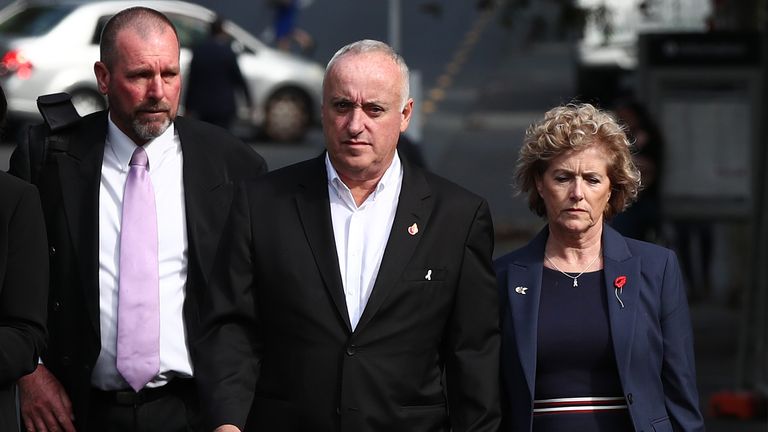 The defendant's phone was also used to search for "flesh-eating birds" and "are there vultures in New Zealand?" days later on 5 December 2018, the jury was told.
Records showed the defendant had searched online for "the hottest fire", "large bags near me" and "Waitakere Ranges" – where Ms Millane's body was later found contorted inside a suitcase on 9 December 2018.
The defendant also watched a string of hardcore pornographic videos on his mobile phone and arranged another Tinder date the day after killing Ms Millane before disposing of her body, the court heard.
The New Zealander claims the backpacker's death was an accident and she had asked him to hold her throat during sex as a way to increase her pleasure, the jury was told.
The trial, which is expected to last for another four weeks, continues.
Beirut explosion: A city in pain that does not know how to heal its wounds | World News
Seething with anger, Beirut is a traumatised city that is in danger of tearing itself apart.
Tens of thousands of people came from all over the country to the capital to show their utter disgust for the political class that they blame for the explosion that has wrecked the capital.
The protests were the biggest and most violent in months, with young and old gripped by fury at the authorities.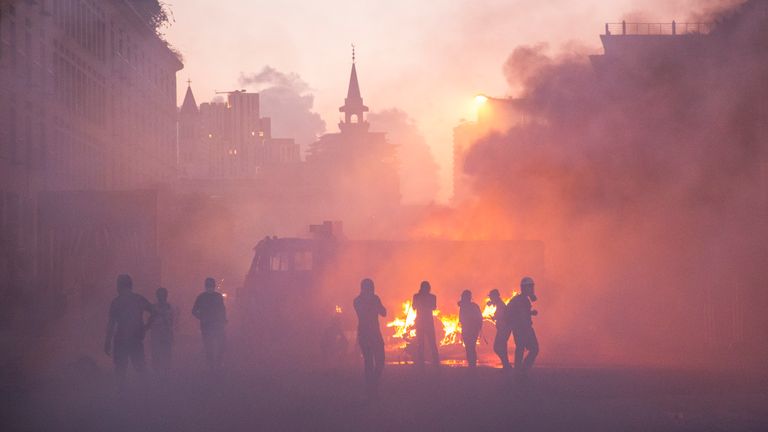 It is a sign of how the blast – which has displaced hundreds of thousands of people – has galvanised a desperate population already at breaking point from a deepening economic and political crisis.
The savings of ordinary people – if they had any – have been wiped out thanks to a plunging currency and Lebanon is now one of the most indebted countries in the world.
Makeshift gallows were constructed in Martyrs' Square. Many here want to metaphorically hang the ruling elite and remove them from power; others want them to literally swing.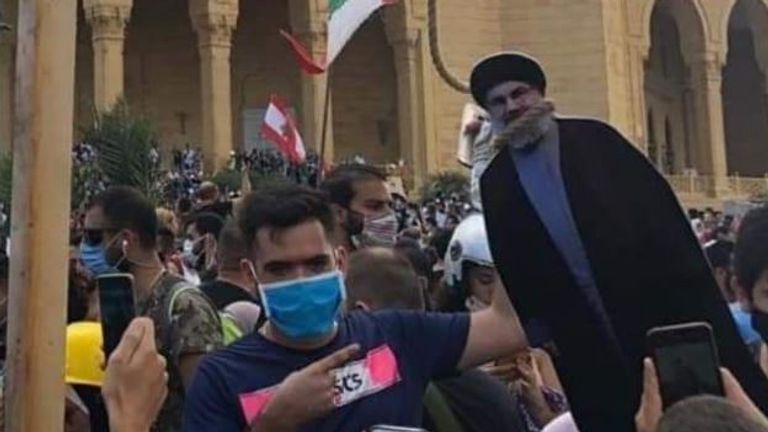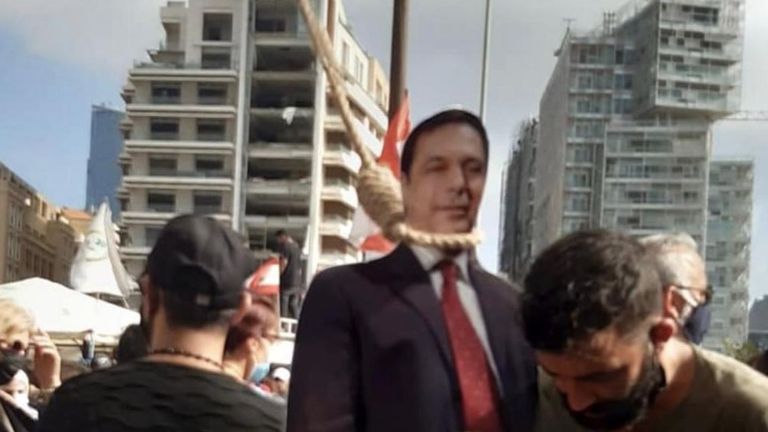 One man quivering with rage shouted to me that he was going to kill the country's leaders because they were responsible, through callous negligence, for the destruction of his beloved Beirut.
As tear gas choked through the city a burning sense of righteous anger brought more and more people onto the streets.
They were determined to reach the parliament building – a symbol of the rottenness at the heart of the country.
Plastic bullets crackled through the air, and some of the protesters were seriously injured with blood once again spilling onto Beirut's tired and weary streets.
This was an already battered people facing the full force of state security.
How this fresh wave of protests ends is not yet clear, but what is certain is that no one will accept a return to the status quo.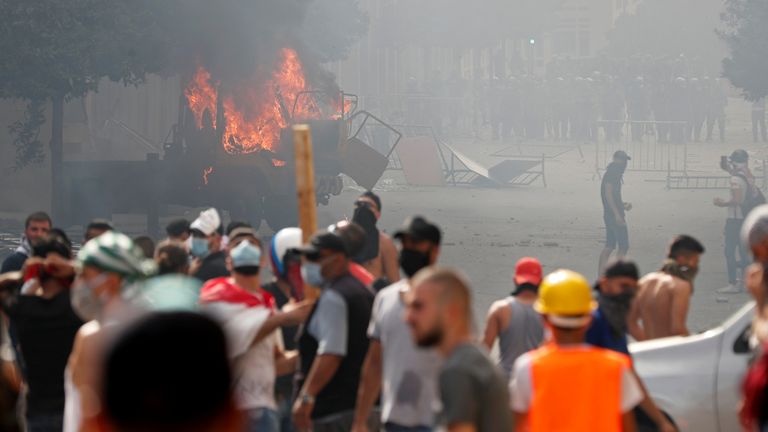 In response the prime minister, Hassan Diab, made an unscheduled and brief TV appearance calling for early elections.
But it is a move unlikely to defuse the anger here, and people across country want reform of the entire system.
By early evening the protesters had taken over the foreign ministry, occupying one of the government's seats of power.
The revolutionary fervour soon spilled into the main banking institution where offices were torched and equipment was smashed.
:: Listen to the Daily podcast on Apple Podcasts, Google Podcasts, Spotify, Spreaker
Protesters told me the blame for what is becoming a hellish descent into chaos lies only with the ruling class, who are accused of plundering the nation's resources.
More protests are planned for the coming days, but for now this is a city in pain that does not know how to heal its wounds.
Coronavirus: Paris imposes face masks along the River Seine and in other outdoors areas | World News
Wearing a face mask outdoors in some crowded parts of Paris will become mandatory next week, as France battles a surge in coronavirus infections.
Areas of the French capital where the new measures will be enforced include the banks of the River Seine and along the Canal St Martin as well as open-air markets and other places where social distancing is difficult, local officials said.
Tourist sites such as the Eiffel Tower, the Arc de Triomphe and Champs-Elysees boulevard were not included.
France is experiencing a spike in coronavirus infections. More than 2,200 new cases were reported on Friday, the biggest single-day increase since May. That brought the total for the week to 9,330.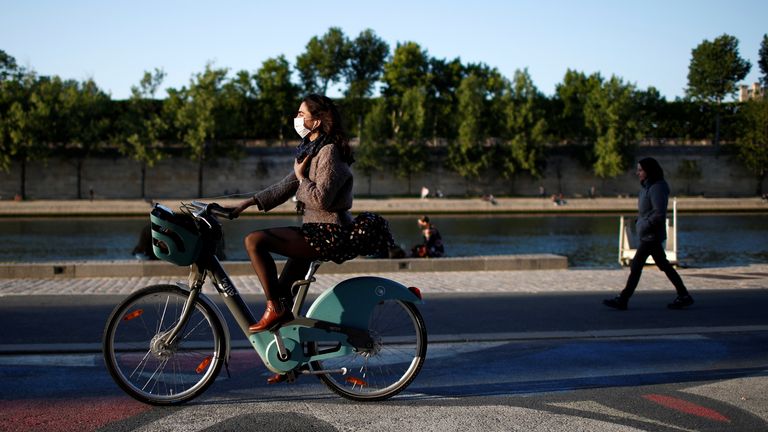 Under the new measures, masks will become mandatory for all people aged 11 and over as of Monday morning and will remain in place for one month.
Those breaching the order face a fine of €135 (£120).
Wearing a mask outdoors is also mandatory in some crowded parts of cities including Marseilles, the country's second largest, Nice and Lille. The glamorous French Riviera resort of Saint-Tropez is also requiring face masks outdoors.
France has suffered more than 30,000 coronavirus deaths since the start of the pandemic.
The country made it compulsory to wear a face mask in closed public spaces such as shops and banks since 21 July.
:: Listen to the Daily podcast on Apple Podcasts, Google Podcasts, Spotify, Spreaker
The national government's top scientific body said this week that the situation is "precarious".
"We could at any moment tip into a scenario that is less under control, like in Spain," it said.
"It is highly likely that we will experience a second epidemic wave this autumn or winter."
European countries are experiencing new flare-ups after easing lockdown restrictions to try to limit the economic damage and alleviate public frustration.
Beirut: Riot police fire tear gas at protesters as anger grows over port explosion | World News
Tear gas has been fired in Beirut as people protesting against the government's handling of this week's explosion tried to reach the parliament building.
Riot police took action as about 5,000 people gathered in the central Martyrs' Square and attempted to break through a barrier.
"The people want the fall of the regime," protesters chanted, adding: "Leave, you are all killers."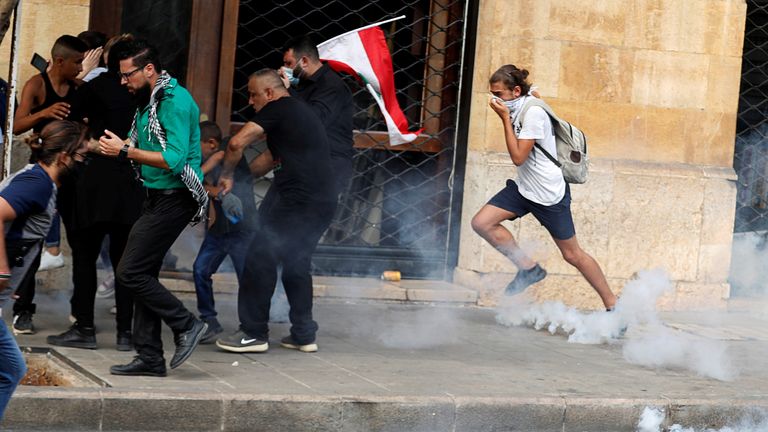 Makeshift gallows and nooses have been set up.
Sky News correspondent Alex Rossi, who is there, said residents have been "enormously angry" since the explosion happened, adding: "People here want to – metaphorically at least – hang their political class."
He said there was a "huge amount of structural damage to the buildings" and hardly any windows have glass in them.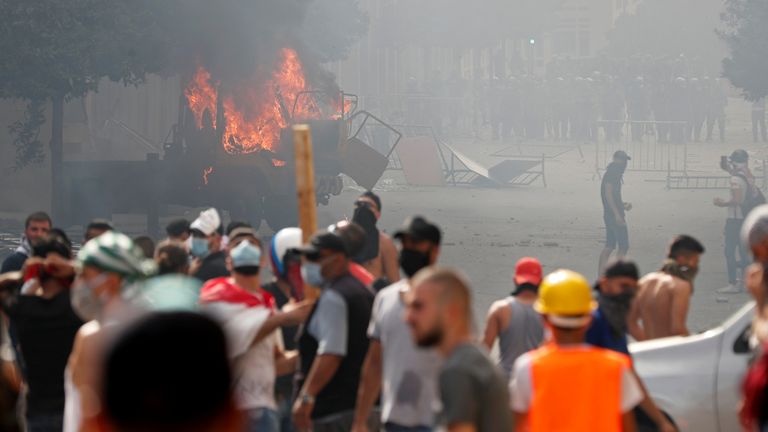 Student Celine Dibo, speaking as she scrubbed blood off the walls of her shattered apartment building, said there was "no trust" in the government, adding: "I wish the United Nations would take over Lebanon."
Psychologist Maryse Hayek said the Lebanese people are "living in ground zero".
"I hope another country would just take us over. Our leaders are a bunch of corrupt people," he said.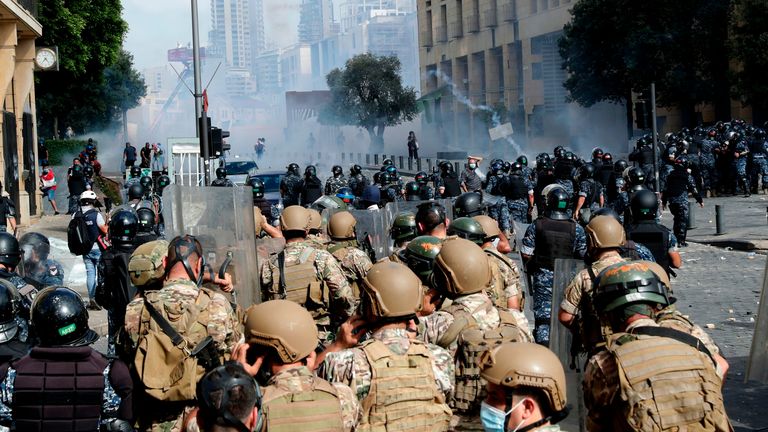 One of the demonstrators in Martyrs' Square, Rose Sirour, said: "We want a future with dignity – we don't want the blood of the victims of the explosion wasted."
The number of dead has risen to 158, the Lebanese health ministry said. At least 6,000 have been injured, while 21 people remain missing.