Typhoon Hagibis: Elderly woman falls to her death from rescue helicopter | World News
A woman in her 70s has died after she was accidentally dropped 40m (131ft) from a helicopter rescuing her from an area devastated by Typhoon Hagibis.
Helicopters, boats and thousands of troops have been deployed to rescue those stranded in flooded homes, and at least 33 people in Japan have lost their lives.
The Tokyo Fire Department has admitted that the pensioner had not been strapped in properly while being airlifted in Iwaki city in Fukushima.
Officials apologised during a news conference, bowing deeply and for a long time, in accordance with Japanese custom.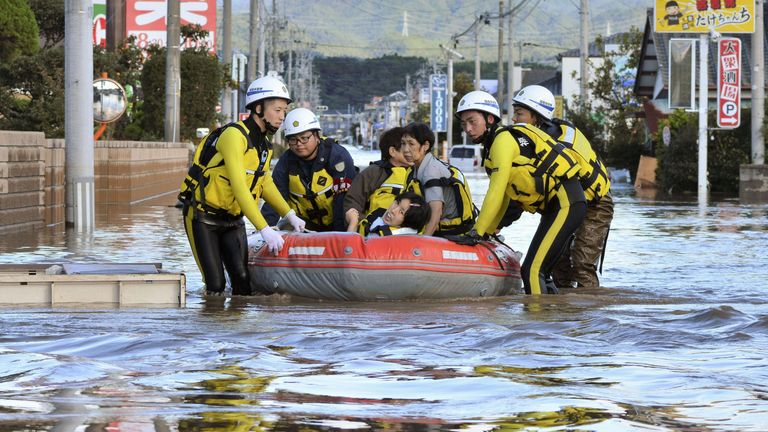 At least 187 people have been injured since Typhoon Hagibis made landfall south of Tokyo on Saturday evening – with an estimated 1,283 homes flooded and 517 more damaged.
According to the Kyodo news agency, 19 people are missing.
Reports suggest at least five crew members died after a cargo ship sank off Japan's coast – and four other members of the 12-strong crew were brought to safety.
The ship had been anchored off the coast of Kawasaki city, south of Tokyo, when it lost contact on Saturday, the transport ministry said.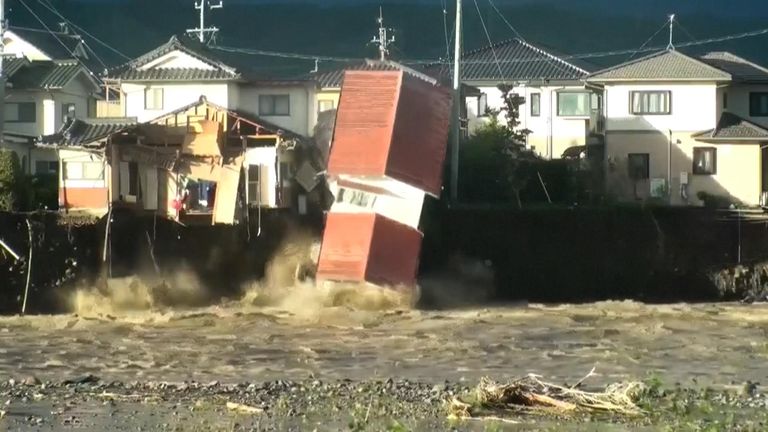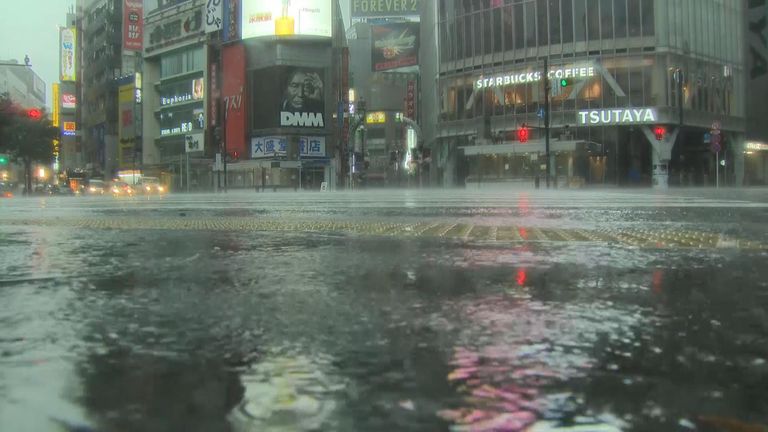 "The major typhoon has caused immense damage far and wide in eastern Japan," government spokesman Yoshihide Suga said.
As the typhoon was downgraded to a tropical storm on Sunday, authorities started to help clear up areas where houses have been destroyed and rivers flooded.
A rescue helicopter was seen hovering in a flooded area of Nagano prefecture where an embankment of the Chikuma River broke.
The aircraft picked up those stranded on the second floor of a home submerged in muddy waters.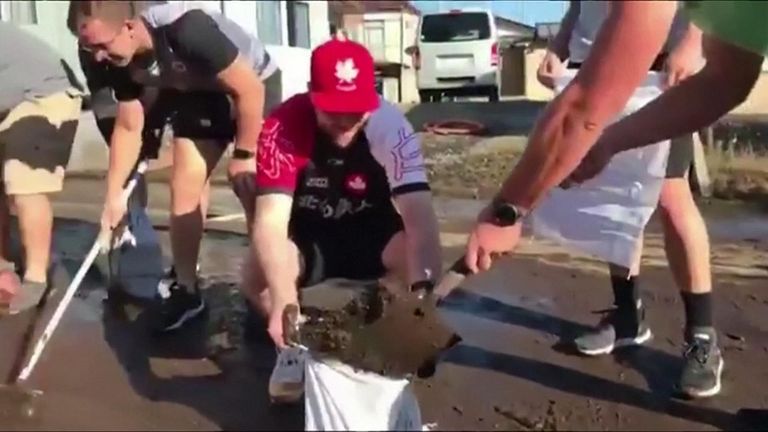 Aerial footage showed tractors trying to control the flooding and several people on a rooftop, with one person waving a white cloth to get the attention of a helicopter.
The Tama River, which runs by Tokyo, overflowed its banks, flooding homes and other buildings in the area.
Scotland's Rugby World Cup game against Japan, which was won by the home team, went ahead on Sunday despite the typhoon, but the Namibia vs Canada game was cancelled.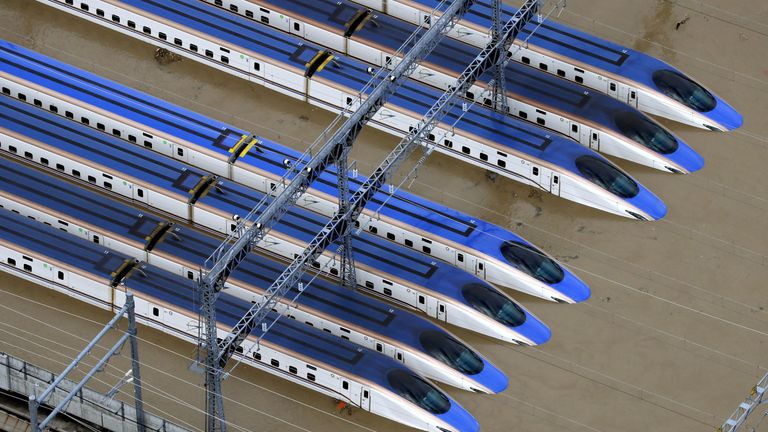 All matches on Saturday were cancelled.
Tokyo's airports gradually resumed service on Sunday after shutting down on Saturday due to the high winds and strong rain.
German police investigate discovery of ape's hand and foot in forest | World News

German police are investigating the grisly discovery of an ape's severed hand and foot in a forest west of Munich.
The cleanly-detached body parts – complete with skin, hair, and nails – were found by a forester's dog around a week ago near the Bavarian town of Grafrath.
One police tip suggested the finding was evidence that the government was carrying out coronavirus experiments on monkeys.
But after examination of the foot and hand, which appear to come from a chimpanzee, experts concluded that the body parts had been preserved with formaldehyde or another chemical used to keep scientific specimens.
"This makes it possible that the parts are significantly older than initially thought," Michael Fischer, a police spokesman in nearby Fuerstenfeldbruck, told dpa news agency.
"The good news is that nobody has to worry that an ape was slaughtered in Fuerstenfeldbruck last week."
:: Listen to the Daily podcast on Apple Podcasts, Google Podcasts, Spotify, Spreaker
Officers are still trying to figure out how a chimpanzee's parts ended up in a German forest, but say it seems likely it is at most an administrative offence rather than a crime.
In German law, an administrative offence does not reach the punishable unlawful content of a criminal offence but typically results in a fine.
"It could already be past the statute of limitations," Mr Fischer added.
Nissan puts focus on UK plant but sparks anger with Spain closure | Business News
Nissan's decision to centre European production at its UK plant in Sunderland and close its Barcelona factory has sparked angry protests by workers in Spain.
Employees of the Japanese carmaker set fire to tyres outside the Catalonia site, which is to close – threatening the loss of 3,000 jobs.
The company is also to shut its factory in Indonesia.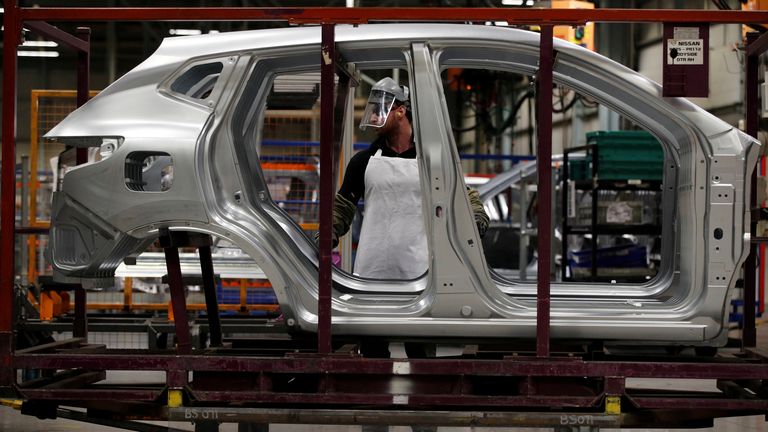 The announcement came as Nissan said it had sunk into the red for the first time since the financial crash, following four years of tumbling profits.
The firm plans to become smaller and more cost-efficient, building 20% fewer vehicles worldwide, after the coronavirus pandemic sent demand plunging.
A Nissan spokesman said: "Europe will remain an important part of Nissan's global business.
"We have more than three decades of history in Europe, where Nissan created the crossover segment and took the lead in the roll-out of electric vehicles and charging infrastructure.
"As the new Nissan mid-term plan explains, the company will be focusing on core models and technologies, which in Europe is our range of crossovers and electrified technologies.
"Sunderland remains an important part of our plans for the European business.
"The new Juke was recently launched, and the plant is now preparing for the arrival of the new Qashqai."
The move to overhaul the global business came as Nissan posted an annual operating loss of 40.5bn yen (£307m) for the year to 31 March, its worst performance since 2008/09.
Over that period, it sold 4.8 million vehicles, the second decline in a row and a fall of 13% from last year.
:: Listen to the Daily podcast on Apple Podcasts, Google Podcasts, Spotify, Spreaker
The survival plan follows a new strategy announced by Nissan and its partners Renault and Mitsubishi Motors to work more closely on developing and producing cars to reduce costs and keep the businesses viable.
Even before the spread of the coronavirus, Nissan's slumping profits had forced it to rein in an aggressive expansion plan pursued by ousted leader Carlos Ghosn.
The COVID-19 pandemic has only ramped up the pressure to downsize.
Next week from Monday to Thursday, Dermot Murnaghan will be hosting After the Pandemic: Our New World – a series of special live programmes about what our world will be like once the pandemic is over.
We'll be joined by some of the biggest names from the worlds of culture, politics, economics, science and technology. And you can take part too. If you'd like to be in our virtual audience – from your own home – and put questions to the experts, email afterthepandemic@sky.uk
Hong Kong: Violent clashes feared as China approves controversial bill | World News

China's parliament has approved a controversial security bill which could threaten Hong Kong's traditional freedoms.
Beijing says the legislation is aimed at tackling secession, subversion, terrorism and foreign interference.
But the move is expected to trigger violent clashes in the territory and reprisals from the United States.
Defying international pressure and amid fears it foreshadows Beijing's plans to strip more freedoms from the semi-autonomous city, China's National People's Congress passed the draft national security bill.
The vote overrides the authority of the territory's Legislative Council, where efforts to push the bill through had been thwarted by public opposition.
Chinese officials will now draft details of the new laws, which it is believed will ban sedition – actions that encourage dissent against China's authorities.
Riot police had been deployed across Hong in advance of the vote, after disorder on Wednesday that saw police firing pepper pellets at protesters and make 360 arrests.
Thousands of people have taken to the streets in anger over the bill, with demonstrators staying out late into the evening.
They were heard chanting for full democracy and for Hong Kong to seek independence from China, saying this is now "the only way out".
And it came against the backdrop of escalating threats from the Washington, where Secretary of State Mike Pompeo said Hong Kong no longer qualified for special treatment under US law, potentially dealing a devastatig blow to its status as a major financial hub.
He told Congress that China's plan to impose the new legislation was "only the latest in a series of actions that fundamentally undermine Hong Kong's autonomy and freedoms".
"No reasonable person can assert today that Hong Kong maintains a high degree of autonomy from China, given facts on the ground," he said.
Beijing had unveiled plans last week for national security legislation for Hong Kong that aims to tackle secession, subversion and terrorist activities.
It is expected to see Chinese intelligence agencies set up bases in the city that was supposed to have a high degree of autonomy under the terms of its 1997 handover to China by former colonial power Britain.
Chinese authorities and the Beijing-backed government in Hong Kong insisted there is no threat to the city's high degree of autonomy and the new security law would be tightly focused.
The US and China clashed over Hong Kong at the United Nations on Wednesday after Beijing opposed a request by Washington for the Security Council to meet for discussions about the national security legislation.
The US mission to the United Nations said the issue was "a matter of urgent global concern that implicates international peace and security", while China said the legislation was an internal matter.