Syria: IS fighters escape from jail as 130,000 people flee Turkish forces | World News
Islamic State (IS) fighters have fled a Syrian prison and more than 700 IS family members escaped a camp during a Turkish offensive – as the UN said more than 130,000 Kurds have been displaced.
The terror group said it was behind a car bombing on Friday in Qamishli, the largest city in Kurdish-held northern Syria, which allowed some of the thousands of IS fighters held in Syria to escape.
On Sunday, about 100 women and children affiliated with IS escaped the Ain Issa camp guarded by Kurdish-led forces after it was shelled by Turkish forces and their allies, the UK-based Syrian Observatory for Human Rights (SOHR) said.
Their escape came as the UN said more than 130,000 people have been displaced from the region in the four days since Turkish forces and their Syrian rebel allies started the offensive.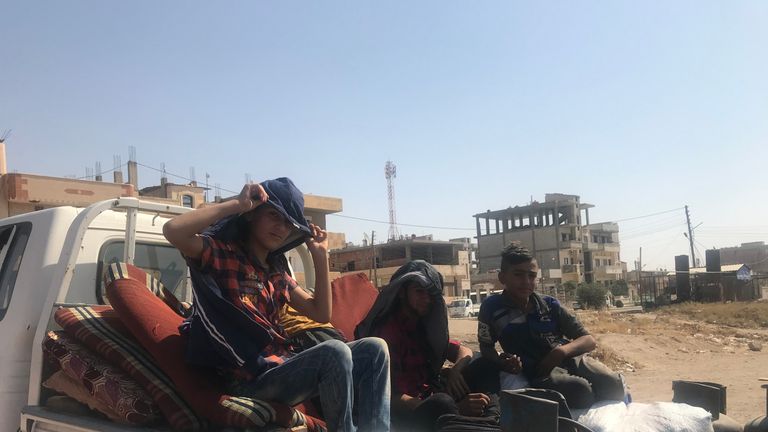 More than 30,000 people were forced out of their homes on Sunday after Turkey seized large parts of the town of Suluk, following the capture of the border towns of Tel Abyad and Ras al Ain.
Turkey said it plans to continue the offensive for a further nine days.
The SOHR said 104 Kurdish-led fighters have been killed in the fighting, while 49 Turkey-backed Syrian rebels have died and 30 civilians have been killed in Syria.
In Turkey, 18 civilians have been killed in cross-border bombardment, Turkish media and officials say.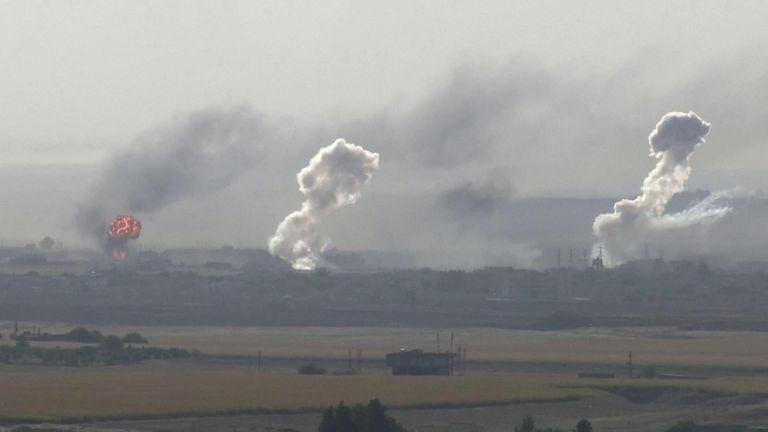 As Turkish forces advanced into the area, video released by Kurdish supporters, seen by Sky News, showed two prisoners being executed by the side of a road by Turkish-backed Syrian rebels.
The unverified images showed the rebels stamping on a Kurdish flag and using a rifle butt to deface a picture of their leader.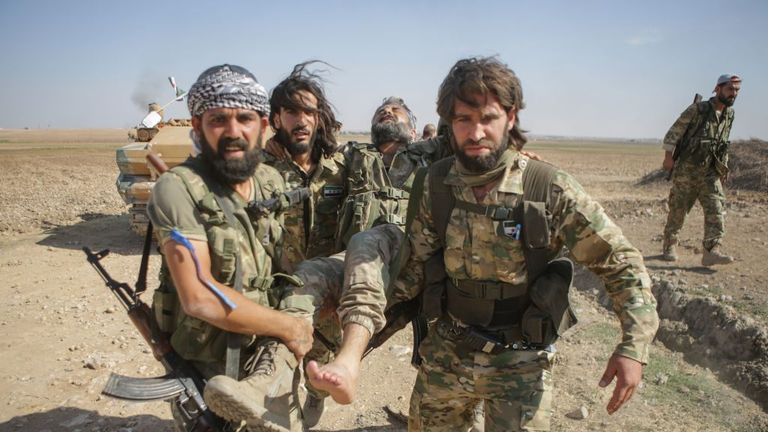 Sky News foreign affairs editor Deborah Haynes, who is on the Turkey-Syria border, said: "If these images are found to be true, they show an undisciplined force.
"It is further evidence of the real ethnic dangers of releasing this in a country that is so unstable.
"It raises questions of ethnic cleansing – that Kurdish families could be indiscriminately targeted."
Turkey is facing fierce international opposition after its president, Recep Tayyip Erdogan, launched the offensive when US president Donald Trump announced he was pulling US troops out of northern Syria.
Mr Trump has defended his decision, which left its Kurdish allies, the Syrian Defence Force, at risk because Turkey views them as a terrorist threat due to their link to the Syrian Kurdish People's Protection Units (YPG), deemed a terror group by Turkey.
At a rally on Saturday Mr Trump said the US cannot fight "endless wars" and announced the it has sent $50m (£39.5m) in emergency aid for Syria to support Christians and other religious minorities there.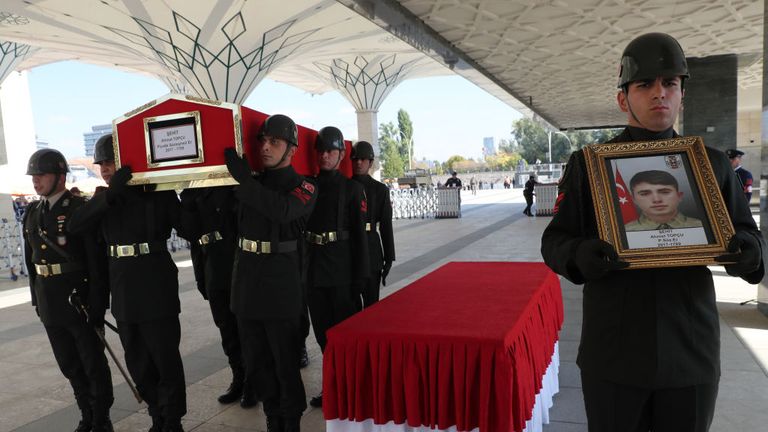 The US has threatened Turkey with sanctions unless it calls off the incursion.
In the UK, Boris Johnson expressed "grave concern" about the offensive as he urged President Erdogan to end the operation during a phone call on Saturday evening.
France and Germany announced they would stop selling weapons to Turkey that could be used in the conflict.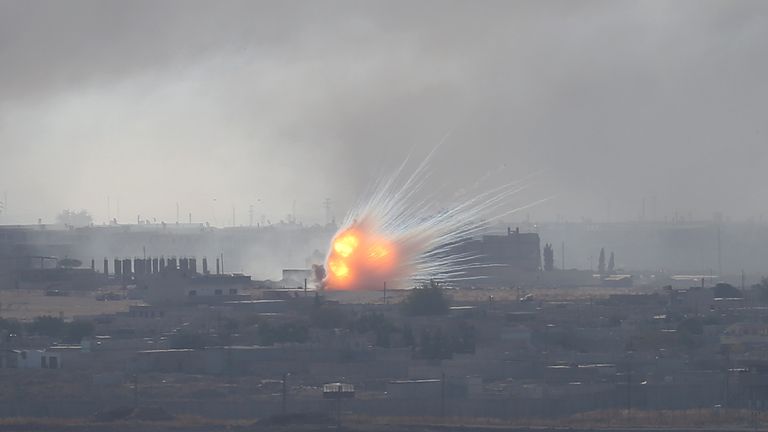 The humanitarian situation has escalated dramatically since Turkey launched the offensive, but the International Rescue Committee warned it could get "more dire" as Turkey advances further into the region.
Misty Buswell, IRC's policy director, told Sky News: "These towns, Ras al Ain and Tal Abyad, have become basically empty of people.
"Everyone has left, they're moving into areas that are already overstretched and under Islamic State for four years previous to this.
"People are really suffering and now they're seeing mass displacement into areas that were just beginning to recover."
:: Listen to the Daily podcast on Apple Podcasts, Google Podcasts, Spotify, Spreaker
She added hospitals in the most impacted areas have been forced to close and those that remain open are becoming overwhelmed.
A water station which provides water for drinking and washing to up to 400,000 people in the area was hit by Turkish government forces, prompting fears of disease spreading as people resort to unclean sources.
Mr Erdogan says the military action is necessary for national security, saying on Saturday: "We will never stop this step we have taken… We will not stop it no matter what anyone says."
Beirut protests turn violent as economic crisis engulfs Lebanon | World News
Dozens of people have been injured in running battles between security forces and anti-government protesters in Lebanon.
Riot police fired rubber bullets and tear gas after being pelted with stones and firecrackers by demonstrators on the streets of the capital Beirut.
Snatch squads beat and detained protesters as the two sides engaged in cat-and-mouse clashes.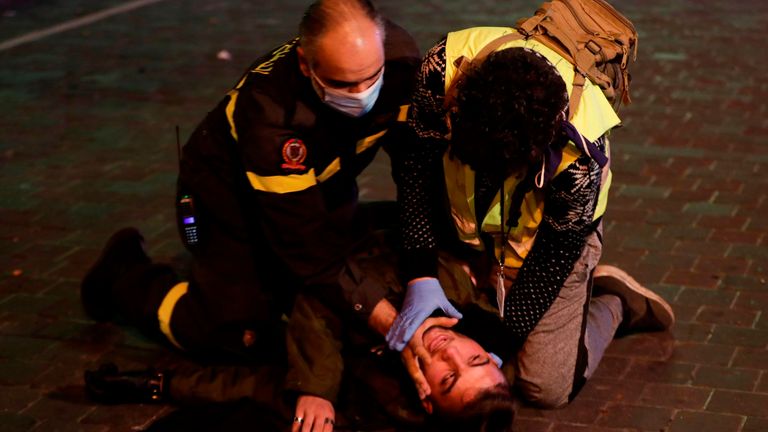 The violent unrest was the worst seen since demonstrations began two months ago, amid public fury at the economic crisis engulfing the country.
Medical teams said they had treated 54 people for injuries, with more than half being taken to hospital.
The security forces said at least 20 officers were wounded.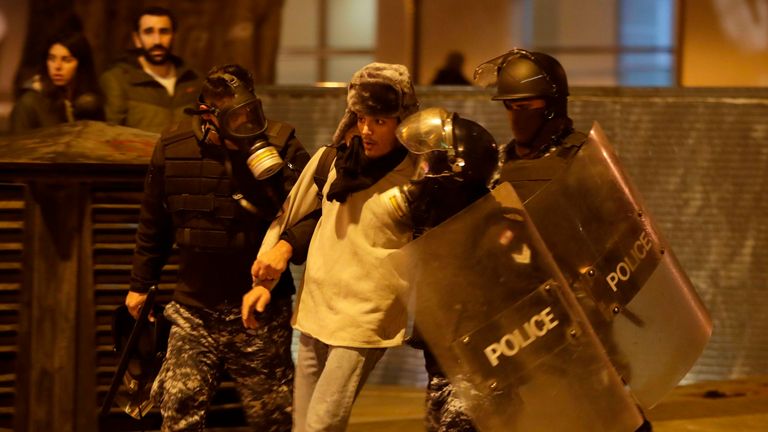 The trouble flared just days before the president meets with parliamentary groups in a bid to name a prime minister after the protests forced the incumbent Saad al Hariri from office.
Previous efforts had stalled after rival political factions failed to agree on a new head of government.
An administration is urgently needed to tackle the crisis gripping the country, with foreign donors holding back financial support until there is a cabinet in place to carry out reforms.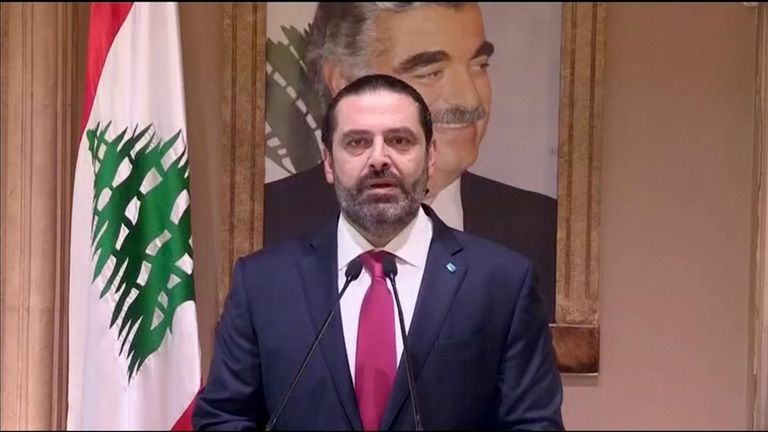 The unrest erupted in October fuelled by anger at the rising cost of living, new tax plans and the political establishment, which is accused of exploiting the state for their own benefit.
Qantas flight evacuated using slides as cabin starts to fill up with smoke | World News

Passengers on a Qantas flight from Sydney to Perth evacuated using slides after the Airbus A330 was forced to return as the cabin filled with smoke.
The airline said Flight 575 returned to Sydney shortly after take-off because of a hydraulic problem.
In a statement, Qantas said: "Once back at the gate, the captain made the decision to evacuate the aircraft as a precaution and three emergency slides were deployed.
"Passengers were evacuated through both the slides and normal exits."
One passenger, Ally Kemp, said on Twitter that the experience was "terrifying", adding: "Just had to evacuate my flight to Perth after engineering issues. Everyone had to exit the plane via slide onto Sydney tarmac after the cabin filled with smoke and the captain screamed evacuate."
Another passenger Niamh Champion, describing the moment everyone realised something was wrong, said: "They came and got us to the gate and everything was fine. And next thing he (pilot) goes, evacuate, evacuate, evacuate, like in a calm but firm, loud voice.
"And so instantly everyone jumps off and they're thinking, Oh my God. I thought there was smoke, or a fire or, you know, something was happening, and I was relatively close to the back of the plane.
"The hostess opened the door, bang, the chute comes down and everyone starts rushing into the aisle."
Ms Champion said she had to jump out before her two young children followed her.
Debbie Slade, the Qantas fleet safety captain, said that once the plane was on the ground, it was towed to the gate.
She added: "And once they're at the gate, I believe there was some indications of a mist inside the cabin. So the crew took the conservative option and agreed to evacuate the aircraft."
New York: Mum whose baby was ripped from her arms by police wins $625k settlement | US News
A woman whose one-year-old child was wrenched from her arms by officers in New York City is to receive a cash settlement from the city.
A video showing Ms Headley lying on the floor as officers attempt to wrestle the child from her arms went viral in December 2018, prompting a police investigation.
Jazmine Headley is set to receive £470,000 ($625,000) after filing a lawsuit in federal court in August over the incident last year, according to TV station WNBC.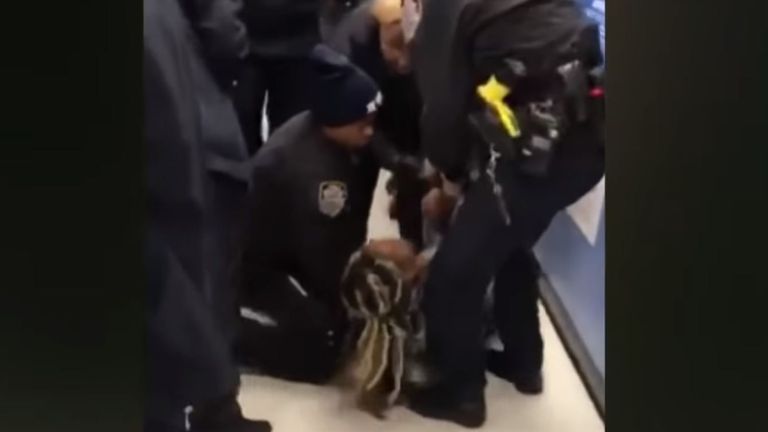 Ms Headley was holding her child while at a social services office in Brooklyn on 7 December last year, while inquiring about her child care benefits, her lawsuit says.
She was sitting on the floor in a crowded waiting room, the suit says, when officers at the agency demanded she leave. She responded that she wanted to see a supervisor.
Video of the incident taken by a bystander and posted on social media shows Ms Headley on the floor on her back with several officers surrounding her as one tried to rip her child from her arms.
She can be heard saying: "They're hurting my son! They're hurting my son."
The scene quickly escalated as bystanders surrounded the chaos and shouted over each other. One person is heard saying, "Oh my God! Look what they're doing to her."
At one point, an officer pulls out a yellow stun gun and points it at people in the angry crowd.
Officers for the city's social services agency were the first to respond to Ms Headley, the New York Police Department said shortly after the incident. NYPD officers acted in support.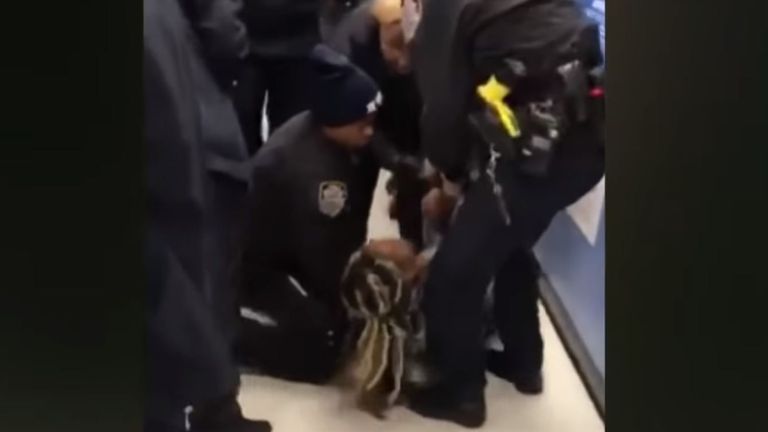 Immediately after the altercation, Ms Headley faced possible charges for resisting arrest, acting in a manner injurious to a child, obstructing governmental administration and criminal trespass – but all charges were eventually dropped.
"Headley had been humiliated, assaulted, physically injured, threatened with a Taser, brutally separated from her son, handcuffed, arrested, and jailed-all by employees of the City of New York," her lawsuit claims.
Her son, who was still breastfeeding at the time, "had been brutally wrenched from his mother's arms, taken by strangers to a police precinct, and released to spend the night without his mother for the first time in his life", according to the lawsuit.
Days after the incident, Mayor Bill de Blasio apologised to her publicly.
De Blasio's spokeswoman, Olivia Lapeyrolerie, said in a statement on Friday that the city failed to treat Ms Headley with dignity and respect, WNBC reported.
"While this injustice should have never happened, it forced a reckoning with how we treat our most vulnerable," Lapeyrolerie said.