Joe Biden's son Hunter steps down from Chinese firm amid Trump controversy | US News
Joe Biden's son has announced he will step down from the board of the Chinese company which has put him in the firing line of criticism from Donald Trump.
In his first public comments since the president criticised his work in Ukraine and China, Hunter Biden confirmed he will leave the board of BHR (Shanghai) Equity Investment Fund Management Company.
Mr Trump's unfounded accusations against the 49-year-old, and his efforts to have the Bidens investigated by Ukrainian officials, have led the Democrats to begin an impeachment inquiry against him.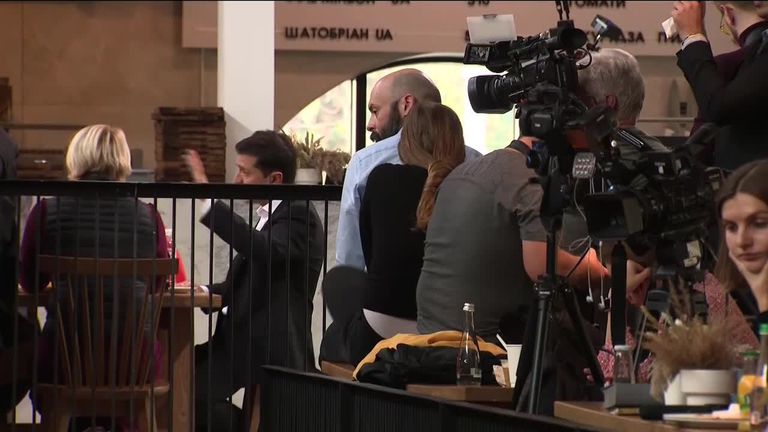 Hunter Biden says the allegations made against him bear "little resemblance to the public record".
He was on the board of a Ukrainian gas company, Burisma, at the same time his father was leading the Obama administration's diplomatic dealings with Kiev.
In a statement, Mr Biden's lawyer George Mesires says "vibrant energy production, particularly natural gas, was central to Ukraine's independence and to stemming the tide of Vladimir Putin's attack on the principles of a democratic Europe".
The statement adds: "Hunter joined the board as a non-executive director, meaning he was an independent board member and not a member of the management team. At no time was Hunter in charge of the company's legal affairs. Like all Burisma directors, Hunter was compensated for his board service.
"Hunter stepped off Bursima's board in April, 2019. Despite extensive scrutiny, at no time has any law enforcement agency, either domestic or foreign, alleged that Hunter engaged in wrongdoing at any point during his five-year term."
Hunter also says that he was not involved in the formation of Chinese firm BHR and did not have any equity in it when his father was vice president of the US.
He did invest $420,000 (£332,000) in the company to obtain equity, but has not profited.
On BHR, the statement adds: "He served only as a member of its board of directors, which he joined based on his interest in seeking ways to bring Chinese capital to international markets. It was an unpaid position.
"Hunter undertook these business activities independently. He did not believe it appropriate to discuss them with his father, nor did he. Hunter always understood that his father would be guided, entirely and unequivocally, by established US policy, irrespective of its effects on Hunter's professional interests.
"This was the standard observed throughout Hunter's professional career."
As well as stepping down from the board of BHR by the end of the month, Mr Biden pledged in his statement not to serve on the boards of any foreign-owned companies if his father becomes president.
Democrats are currently investigating Mr Trump's dealings with Ukraine and exploring whether he compromised national security or abused his office by seeking information from a foreign country on Hunter Biden.
The impeachment probe was started when a whistle-blower revealed Mr Trump asked Ukraine's new president Volodymyr Zelenskiy to investigate the Bidens and Ukraine's role in the 2016 election that Mr Trump won.
If impeached, Mr Trump could face a trial in the US Senate, which could result in him being removed from office.
Democratic primaries and most hypothetical polls put Mr Trump and Joe Biden at level pegging for the November 2020 election.
Hong Kong: UK expresses 'deep concern' in joint statement condemning China's controversial security bill | World News
Foreign Secretary Dominic Raab has condemned China for passing its controversial security law in a statement that accuses Beijing of "curtailing" Hong Kong's liberties.
The statement, which has also been signed by Australian Foreign Minister Marise Payne, Canadian Foreign Minister François-Philippe Champagne, and US Secretary of State Mike Pompeo, comes after the draft legislation was officially endorsed by the National People's Congress in Beijing.
Riot police have been deployed in Hong Kong over fears violent clashes could break out over the legislation, which would mean China could set up intelligence bases across the territory.
Mr Raab and his colleagues expressed their "deepest concern" over the passing of the bill, claiming it risks "eroding Hong Kong's autonomy" and goes back on the Sino-British Joint Declaration.
The statement reads: "Direct imposition of national security legislation on Hong Kong by the Beijing authorities, rather than through Hong Kong's own institutions as provided for under Article 23 of the Basic Law, would curtail the Hong Kong people's liberties, and in doing so, dramatically erode Hong Kong's autonomy and the system that made it so prosperous."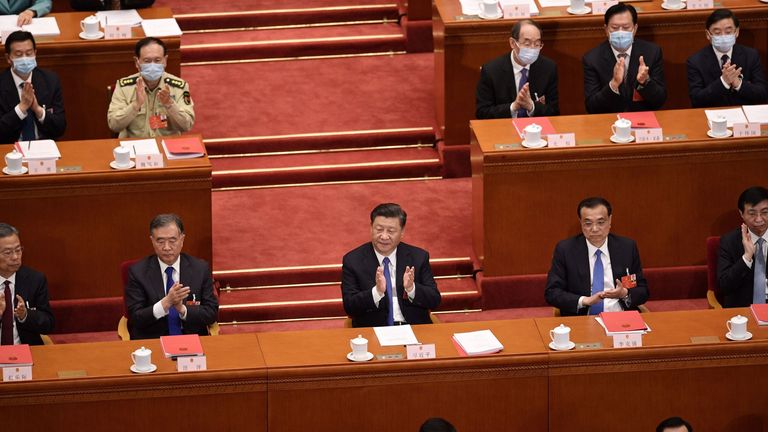 The vote overrides the authority of Hong Kong's Legislative Council, where efforts to push the bill through had been thwarted by public opposition.
Chinese officials will now draft details of the new law, which it is believed will ban sedition – actions that encourage dissent against China's authorities.
Beijing says the legislation is aimed at tackling secession, subversion, terrorism and foreign interference.
Hong Kong's Beijing-backed leader, Carrie Lam, claimed in a statement welcoming the vote: "The law will not affect the rights and freedoms enjoyed by Hong Kong residents."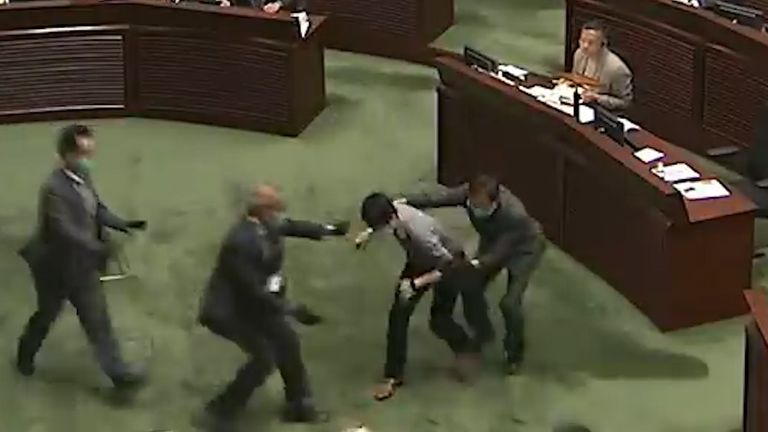 But campaigners in the city were despondent, with pro-democracy lawmaker Dennis Kwok telling reporters: "This is the death knell for Hong Kong, make no mistake of it, this is the end of 'one country, two systems' … the Hong Kong that we loved, a free Hong Kong."
Thousands of people have already taken to the streets in anger over the bill, with demonstrators staying out late into the evening on Wednesday.
They believe it will undermine civil liberties and might be used to suppress political activity.
They were heard chanting for full democracy and for Hong Kong to seek independence from China, saying this is now "the only way out".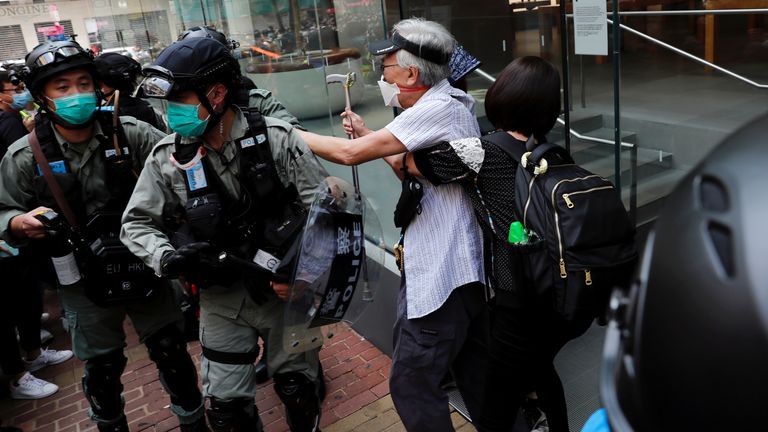 And it came against the backdrop of escalating threats from Washington, where Secretary of State Mike Pompeo said Hong Kong no longer qualified for special treatment under US law, potentially dealing a devastating blow to its status as a major financial hub.
He told Congress that China's plan to impose the new legislation was "only the latest in a series of actions that fundamentally undermine Hong Kong's autonomy and freedoms".
"No reasonable person can assert today that Hong Kong maintains a high degree of autonomy from China, given facts on the ground," he said.
China's new bill is expected to see Chinese intelligence agencies set up bases in the city, which was supposed to have a high degree of autonomy under the terms of its 1997 handover by former colonial power Britain.
Chinese authorities and the Beijing-backed government in Hong Kong insisted there is no threat to the city's high degree of autonomy and the new security law would be tightly focused.
The US and China clashed over Hong Kong at the United Nations on Wednesday after Beijing opposed a request by Washington for the Security Council to meet for discussions about the legislation.
The US mission to the UN said the issue was "a matter of urgent global concern that implicates international peace and security", while China said the legislation was an internal matter.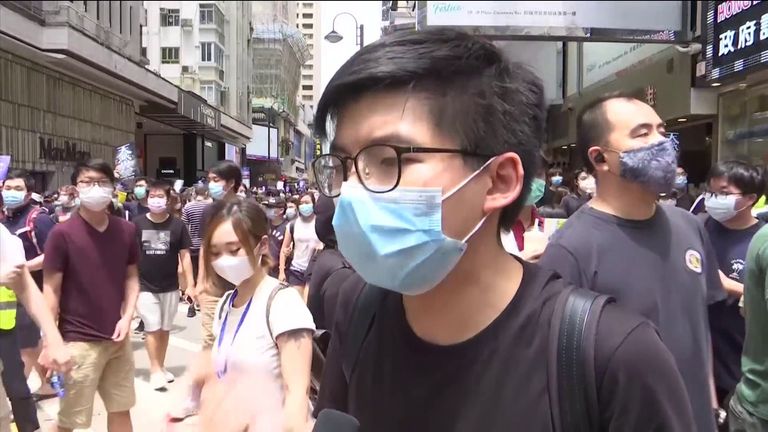 Why this legislation was a huge surprise – and a massive accelerant
By Tom Cheshire, Asia Correspondent
Amid the pandemic, it's been much observed that history accelerates in crisis. Here in Beijing, years have been compressed into the last week, in terms of China, Hong Kong and the rest of the world.
On Friday, the National People's Congress proposed national security legislation to cover Hong Kong. It was a huge surprise – and a massive accelerant. Hong Kong's autonomy was supposed to last until 2047.
Beijing and Hong Kong insist that Hong Kong's freedoms will be preserved. The US disagrees. Mike Pompeo, the US Secretary of State, told Congress that "no reasonable person can assert today that Hong Kong maintains a high degree of autonomy from China, given the facts on the ground".
It's probable that the US will go on to impose sanctions – something unthinkable last year, even amid the heights of the Hong Kong protests and the heavy-handed police response. And US-China relations will reach their lowest ebb since the Korean War, nearly 70 years ago.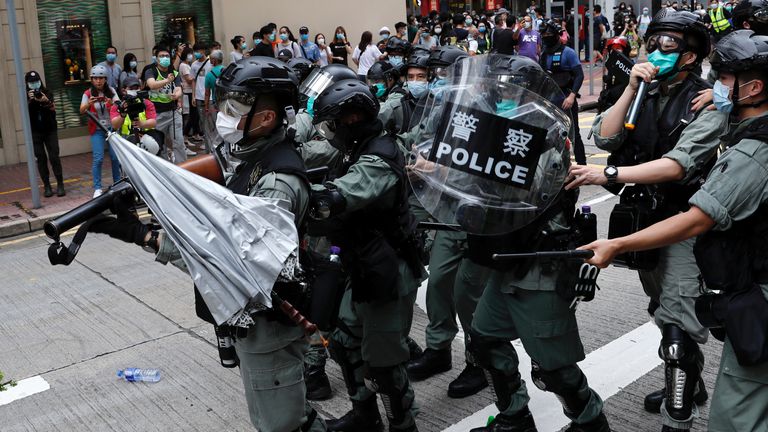 Why has so much happened, so quickly, in this case? The pandemic initially looked to be a threat to the Chinese Communist Party.
Instead, they contained it, at the same time as the West grimly tallied tens of thousands of deaths. Washington railed against Beijing – the same trajectory as pre-pandemic, but now with much more vigour and much higher stakes.
Beijing responded equally forcefully. It has always wanted to bring Hong Kong to heel but seemed to be happy to wait and, year by year, grip Hong Kong tighter.
The pandemic accelerated time, so China seized this moment now, and that has accelerated time once more.
Issues like Taiwan – and China's ultimate aim to "reunify" or in fact annexe it – seemed a generation in the future. Now they are conceivably short term.
Last year, protesters told me of their fear that, one day, Hong Kong would become "just another Chinese city". The US is now saying that this is exactly the case. "One day" has come very quickly for the people of Hong Kong.
Coronavirus: Restaurants and cafes reopen in Israel under strict rules | World News
Boris Johnson has said he is "optimistic" about pubs and restaurants reopening in the UK soon, but how easy will it be?
"I'm much more optimistic about that than I was." the prime minister told MPs on Wednesday.
"We may be able to do things faster than I had previously thought."
Countries are moving at different speeds, with their lockdown reductions dependent largely on the success they have had at containing the coronavirus.
Israel is one of a small number of nations which is now pushing ahead quickly with the reopening of society.
This week, the hospitality sector was allowed to reopen with businesses and customers being asked to stick to a set of rules.
But a couple of hours at one west Jerusalem cafe and the sense I get is that it is going to be extremely challenging.
So what are the rules?
The details will differ from country to country, but broadly they centre around extra hygiene and social distancing.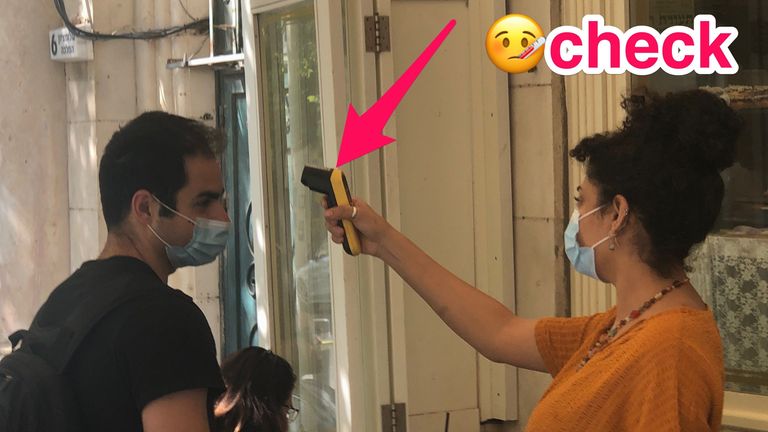 The Israeli government has issued guidelines for businesses which say:
Establishments with capacity of 100 or less can operate at 100%
Those with capacity of over 100 people must operate at 85%
A distance of 1.5m must be placed between tables
Tables and chairs must be fully disinfected between customers
Tables must only be set after customers are seated
Menus must be disposable
Salt, pepper and other condiments must be disinfected after each sitting
Antibacterial gel must be readily available
All food on display must be covered
Customer temperatures must be taken before they enter premises
A staff member in every restaurant must be assigned as being responsible for monitoring that regulations are followed
The reality seems to be a little different though.
Customers tend to bunch up subconsciously, waitresses' masks slip down from their noses, and some people unintentionally walk past the waiter with the thermometer. It's all a bit chaotic, naturally.
And this is all at a cafe, which is, on the face of it, taking the regulations seriously.
The owner was armed with a tape measure and had been diligently spacing out the tables to meet the required 1.5m (almost 5ft) distance.
The Israeli government and local authorities are acutely aware of how important it is to get the economy moving again, but balancing that against the regulations is hard.
The authorities here have given restaurants permission to spread out along pavements and even into parking bays, allowing them to seat more people at a safe distance. The weather in Israel is on their side.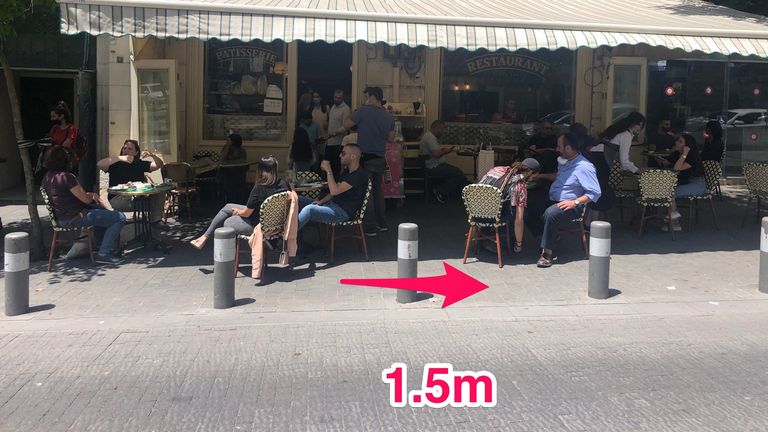 In Tel Aviv, 115 bars, restaurants and cafes have been given the go-ahead to expand into public space around their premises.
The city's mayor, Ron Huldai, said: "We will continue to fight for the 70,000 workers from the restaurants, bars, cafes, and clubs sector in Tel Aviv.
"These businesses are the beating heart of the urban economy and I have instructed the municipal executives to turn every stone to find ways to put them again on their feet."
After a couple of hours at the Jerusalem cafe, on just day two of their reopening, it looks to me like the drive to return to normal is overwhelming the necessity to adapt our behaviour.
Whether it is retail, hospitality or travel, as we try to return to normal, or at least an "adapted normal", the requirements seem to go against all our natural pre-corona instincts.
Nowhere is this clearer than in the social environment of a restaurant or pub.
:: Listen to the Daily podcast on Apple Podcasts, Google Podcasts, Spotify, Spreaker
I guess it comes down to a risk assessment, accepting that infection rates will probably go up again, but must be controlled as much as possible by testing, tracing and social distancing.
We need to do everything we can to stick to the rules – a sort of global social contract to return our societies to normal.
It is a learning curve as we all adapt; but adapt we must, or the infection curve will steepen sharply once again.
Next week from Monday to Thursday, Dermot Murnaghan will be hosting After the Pandemic: Our New World — a series of special live programmes about what our world will be like once the pandemic is over.
We'll be joined by some of the biggest names from the worlds of culture, politics, economics, science and technology. And you can take part too. If you'd like to be in our virtual audience – from your own home – and put questions to the experts, email afterthepandemic@sky.uk
German police investigate discovery of ape's hand and foot in forest | World News

German police are investigating the grisly discovery of an ape's severed hand and foot in a forest west of Munich.
The cleanly-detached body parts – complete with skin, hair, and nails – were found by a forester's dog around a week ago near the Bavarian town of Grafrath.
One police tip suggested the finding was evidence that the government was carrying out coronavirus experiments on monkeys.
But after examination of the foot and hand, which appear to come from a chimpanzee, experts concluded that the body parts had been preserved with formaldehyde or another chemical used to keep scientific specimens.
"This makes it possible that the parts are significantly older than initially thought," Michael Fischer, a police spokesman in nearby Fuerstenfeldbruck, told dpa news agency.
"The good news is that nobody has to worry that an ape was slaughtered in Fuerstenfeldbruck last week."
:: Listen to the Daily podcast on Apple Podcasts, Google Podcasts, Spotify, Spreaker
Officers are still trying to figure out how a chimpanzee's parts ended up in a German forest, but say it seems likely it is at most an administrative offence rather than a crime.
In German law, an administrative offence does not reach the punishable unlawful content of a criminal offence but typically results in a fine.
"It could already be past the statute of limitations," Mr Fischer added.