Japan 'quietly and efficiently' recovers from Typhoon Hagibis | World News
Standing on top of the wreckage, all seven of the Yarita family shifted heavy wood or pulled out their possessions from the debris.
Yesterday, this was a house, and they had taken shelter inside from the coming storm.
But they were lying in the path of a tornado, part of the huge weather system of Typhoon Hagibis.
It ripped through their village.
"After that, the power went," Kazumi Yarita, the mother, told me. "Then I heard a loud bang. And I thought, the house is probably collapsing.
"We were buried under all the things.
"My husband and my mum got out by themselves. And I was helped by my husband. And the other four of us were helped by firefighters."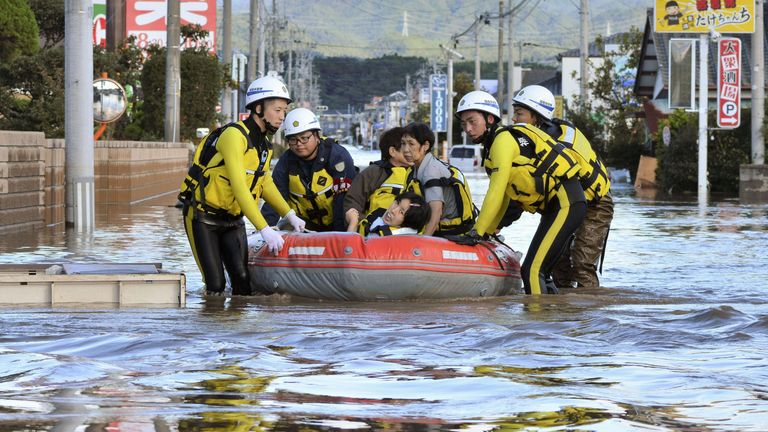 The typhoon has passed and today there were clear blue skies over Nagayoshi, in Chiba, east of Tokyo.
It's a relief: there's less danger of rain and wind damage, or landslides. And it means the recovery operation has already been able to begin.
But the scene is devastating. The Yarita house has simply been flattened. Elsewhere in the village cars and even a digger were simply swatted away by the tornado. One person lost his life when the wind flung a car over.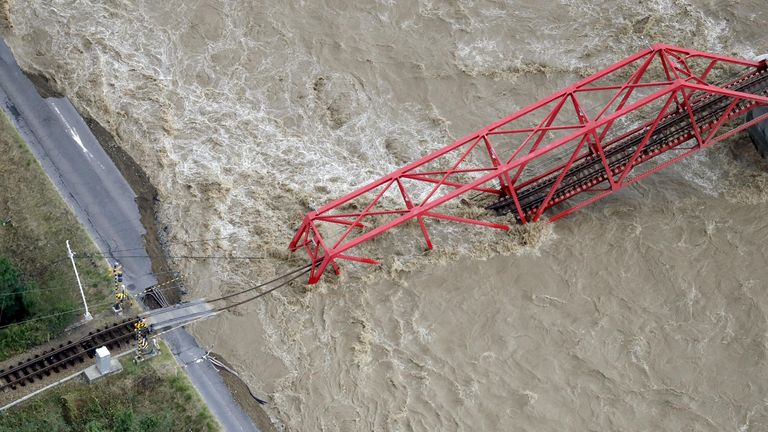 Many residents were inside a small, beautiful shrine holding a ceremony when the tornado hit. It was battered too but is more or less unscathed. Everyone inside was unharmed.
Teams of men, working diligently, are helping the villagers with the heavier damage. They are quietly and efficiently putting things back together.
It might be a entire change of season, to compare it with yesterday.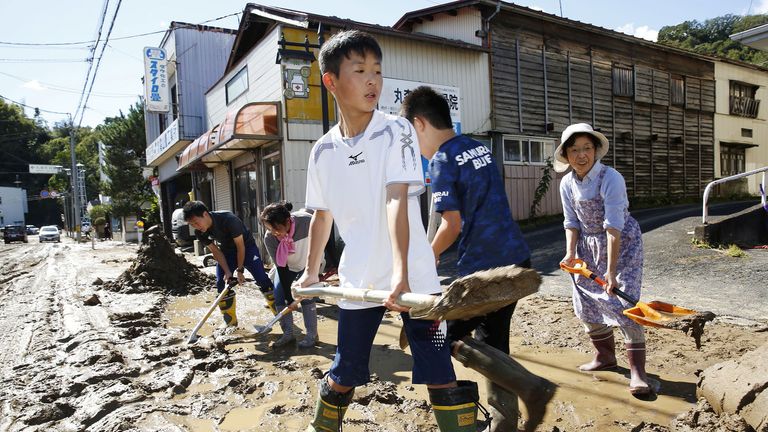 In central Tokyo the rain came down all day long, as the typhoon delayed its arrival. At around 9pm it was on top of us, and the wind and rain were extraordinary.
It was easy to see why forecasters had warned it could be the worst storm to hit Japan in more than 60 years – and why everyone had taken such precautions.
Still, at least 10 people died and more are still missing.
Japan is already on the way to recovery – the rugby match between Scotland and the host nation will take place later today.
That was already an important game, especially for the Scottish. But it will have an added pull, now that Japan has come through some of the worst that nature could throw at it.
Coronavirus: Restaurants and cafes reopen in Israel under strict rules | World News
Boris Johnson has said he is "optimistic" about pubs and restaurants reopening in the UK soon, but how easy will it be?
"I'm much more optimistic about that than I was." the prime minister told MPs on Wednesday.
"We may be able to do things faster than I had previously thought."
Countries are moving at different speeds, with their lockdown reductions dependent largely on the success they have had at containing the coronavirus.
Israel is one of a small number of nations which is now pushing ahead quickly with the reopening of society.
This week, the hospitality sector was allowed to reopen with businesses and customers being asked to stick to a set of rules.
But a couple of hours at one west Jerusalem cafe and the sense I get is that it is going to be extremely challenging.
So what are the rules?
The details will differ from country to country, but broadly they centre around extra hygiene and social distancing.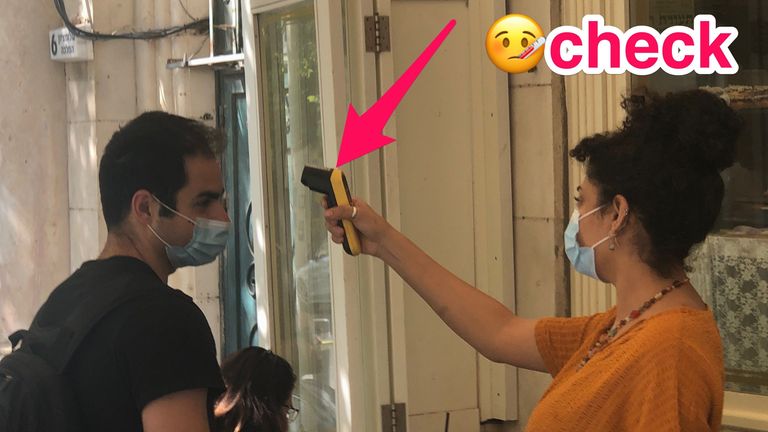 The Israeli government has issued guidelines for businesses which say:
Establishments with capacity of 100 or less can operate at 100%
Those with capacity of over 100 people must operate at 85%
A distance of 1.5m must be placed between tables
Tables and chairs must be fully disinfected between customers
Tables must only be set after customers are seated
Menus must be disposable
Salt, pepper and other condiments must be disinfected after each sitting
Antibacterial gel must be readily available
All food on display must be covered
Customer temperatures must be taken before they enter premises
A staff member in every restaurant must be assigned as being responsible for monitoring that regulations are followed
The reality seems to be a little different though.
Customers tend to bunch up subconsciously, waitresses' masks slip down from their noses, and some people unintentionally walk past the waiter with the thermometer. It's all a bit chaotic, naturally.
And this is all at a cafe, which is, on the face of it, taking the regulations seriously.
The owner was armed with a tape measure and had been diligently spacing out the tables to meet the required 1.5m (almost 5ft) distance.
The Israeli government and local authorities are acutely aware of how important it is to get the economy moving again, but balancing that against the regulations is hard.
The authorities here have given restaurants permission to spread out along pavements and even into parking bays, allowing them to seat more people at a safe distance. The weather in Israel is on their side.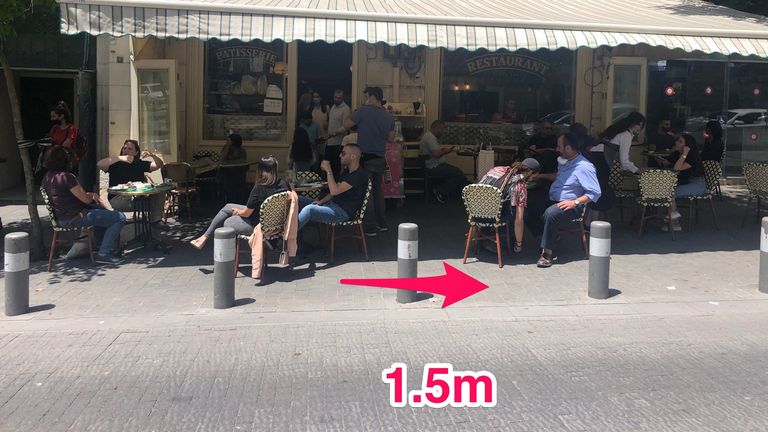 In Tel Aviv, 115 bars, restaurants and cafes have been given the go-ahead to expand into public space around their premises.
The city's mayor, Ron Huldai, said: "We will continue to fight for the 70,000 workers from the restaurants, bars, cafes, and clubs sector in Tel Aviv.
"These businesses are the beating heart of the urban economy and I have instructed the municipal executives to turn every stone to find ways to put them again on their feet."
After a couple of hours at the Jerusalem cafe, on just day two of their reopening, it looks to me like the drive to return to normal is overwhelming the necessity to adapt our behaviour.
Whether it is retail, hospitality or travel, as we try to return to normal, or at least an "adapted normal", the requirements seem to go against all our natural pre-corona instincts.
Nowhere is this clearer than in the social environment of a restaurant or pub.
:: Listen to the Daily podcast on Apple Podcasts, Google Podcasts, Spotify, Spreaker
I guess it comes down to a risk assessment, accepting that infection rates will probably go up again, but must be controlled as much as possible by testing, tracing and social distancing.
We need to do everything we can to stick to the rules – a sort of global social contract to return our societies to normal.
It is a learning curve as we all adapt; but adapt we must, or the infection curve will steepen sharply once again.
Next week from Monday to Thursday, Dermot Murnaghan will be hosting After the Pandemic: Our New World — a series of special live programmes about what our world will be like once the pandemic is over.
We'll be joined by some of the biggest names from the worlds of culture, politics, economics, science and technology. And you can take part too. If you'd like to be in our virtual audience – from your own home – and put questions to the experts, email afterthepandemic@sky.uk
German police investigate discovery of ape's hand and foot in forest | World News

German police are investigating the grisly discovery of an ape's severed hand and foot in a forest west of Munich.
The cleanly-detached body parts – complete with skin, hair, and nails – were found by a forester's dog around a week ago near the Bavarian town of Grafrath.
One police tip suggested the finding was evidence that the government was carrying out coronavirus experiments on monkeys.
But after examination of the foot and hand, which appear to come from a chimpanzee, experts concluded that the body parts had been preserved with formaldehyde or another chemical used to keep scientific specimens.
"This makes it possible that the parts are significantly older than initially thought," Michael Fischer, a police spokesman in nearby Fuerstenfeldbruck, told dpa news agency.
"The good news is that nobody has to worry that an ape was slaughtered in Fuerstenfeldbruck last week."
:: Listen to the Daily podcast on Apple Podcasts, Google Podcasts, Spotify, Spreaker
Officers are still trying to figure out how a chimpanzee's parts ended up in a German forest, but say it seems likely it is at most an administrative offence rather than a crime.
In German law, an administrative offence does not reach the punishable unlawful content of a criminal offence but typically results in a fine.
"It could already be past the statute of limitations," Mr Fischer added.
Nissan puts focus on UK plant but sparks anger with Spain closure | Business News
Nissan's decision to centre European production at its UK plant in Sunderland and close its Barcelona factory has sparked angry protests by workers in Spain.
Employees of the Japanese carmaker set fire to tyres outside the Catalonia site, which is to close – threatening the loss of 3,000 jobs.
The company is also to shut its factory in Indonesia.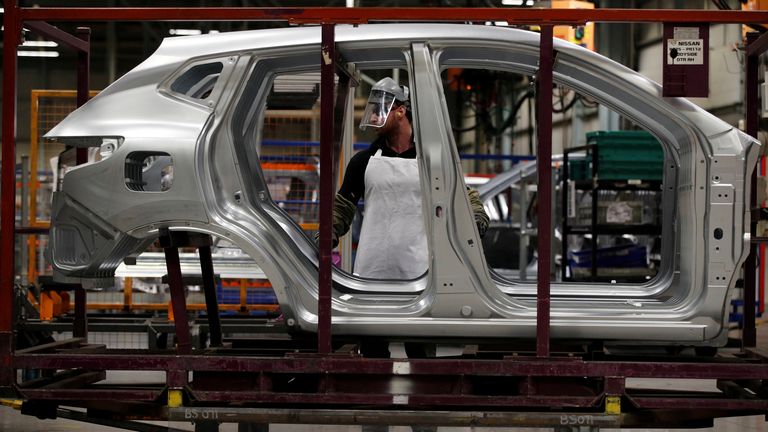 The announcement came as Nissan said it had sunk into the red for the first time since the financial crash, following four years of tumbling profits.
The firm plans to become smaller and more cost-efficient, building 20% fewer vehicles worldwide, after the coronavirus pandemic sent demand plunging.
A Nissan spokesman said: "Europe will remain an important part of Nissan's global business.
"We have more than three decades of history in Europe, where Nissan created the crossover segment and took the lead in the roll-out of electric vehicles and charging infrastructure.
"As the new Nissan mid-term plan explains, the company will be focusing on core models and technologies, which in Europe is our range of crossovers and electrified technologies.
"Sunderland remains an important part of our plans for the European business.
"The new Juke was recently launched, and the plant is now preparing for the arrival of the new Qashqai."
The move to overhaul the global business came as Nissan posted an annual operating loss of 40.5bn yen (£307m) for the year to 31 March, its worst performance since 2008/09.
Over that period, it sold 4.8 million vehicles, the second decline in a row and a fall of 13% from last year.
:: Listen to the Daily podcast on Apple Podcasts, Google Podcasts, Spotify, Spreaker
The survival plan follows a new strategy announced by Nissan and its partners Renault and Mitsubishi Motors to work more closely on developing and producing cars to reduce costs and keep the businesses viable.
Even before the spread of the coronavirus, Nissan's slumping profits had forced it to rein in an aggressive expansion plan pursued by ousted leader Carlos Ghosn.
The COVID-19 pandemic has only ramped up the pressure to downsize.
Next week from Monday to Thursday, Dermot Murnaghan will be hosting After the Pandemic: Our New World – a series of special live programmes about what our world will be like once the pandemic is over.
We'll be joined by some of the biggest names from the worlds of culture, politics, economics, science and technology. And you can take part too. If you'd like to be in our virtual audience – from your own home – and put questions to the experts, email afterthepandemic@sky.uk