Cardinal Newman: Catholic convert made a saint at Vatican ceremony | UK News
A leading 19th century Anglican who controversially converted to Catholicism has become the first English saint of the modern era.
Cardinal John Henry Newman, born in London in 1801, was one of five people to be canonised, including three nuns and a Swiss seamstress who was said to have the stigmata, the five wounds of the crucified Jesus.
Tens of thousands of people, including Prince Charles, watched Pope Francis as he elevated them to sainthood in the Vatican's St Peter's Square.
The Vatican has to approve two miracles to declare someone a saint.
Cardinal Newman is said to have cured a man's spinal disease and saved a woman and her unborn child from internal bleeding.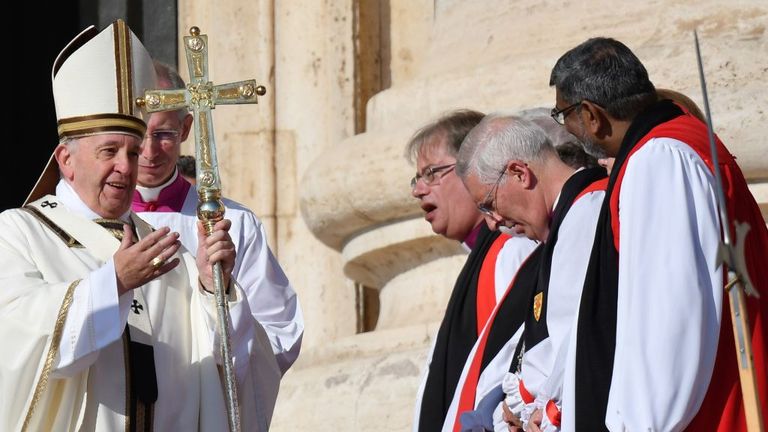 In 2000 Jack Sullivan, from Boston, Massachusetts, was suffering severe back pain so prayed to Cardinal Newman to help him walk so he could attend classes to become ordained as a deacon, one level below priesthood.
He said he woke up the next morning with the pain gone, meaning he could complete his third year of classes, before it returned on the final day of the academic year.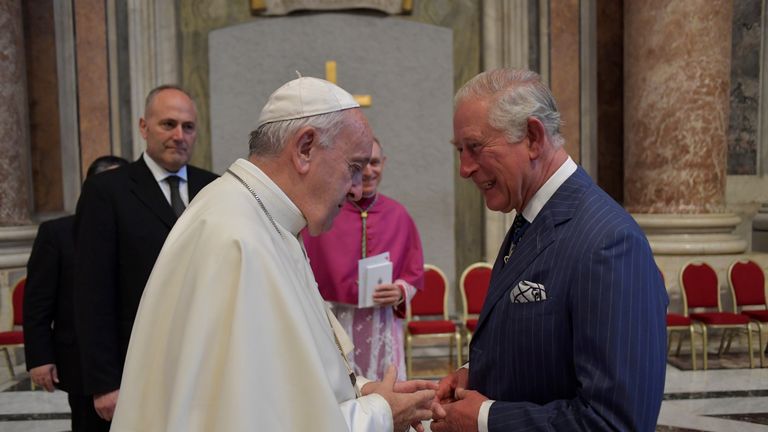 In 2013, Melissa Villalobos' placenta tore, causing unstoppable bleeding that threatened the life of her unborn child.
She prayed to Cardinal Newman and asked him to stop the bleeding, which she said happened immediately.
Pope Francis called on all Christians to adopt Cardinal Newman's definition of someone of faith, which he described as being "kindly lights".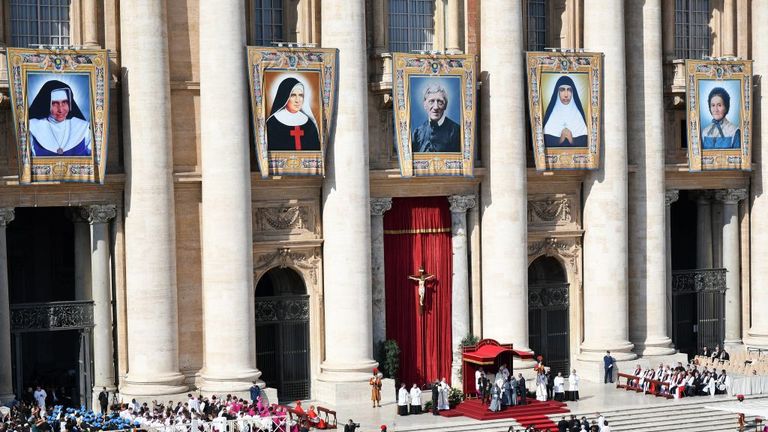 The cardinal is the first Englishman born since the 1600s to be canonised and the first British person to be made a saint in 43 years after 17th century Scottish martyr, John Ogilvie, was canonised in 1976.
Prince Charles, who will become head of the Church of England when he becomes king, said Cardinal Newman's new status is "a cause of celebration not merely in the United Kingdom, and not merely for Catholics, but for all who cherish the values by which he was inspired".
The cardinal, who studied at Oxford University, was famed for his intellect and shocked Victorian society when he converted to Catholicism after becoming an Anglican priest eight years before.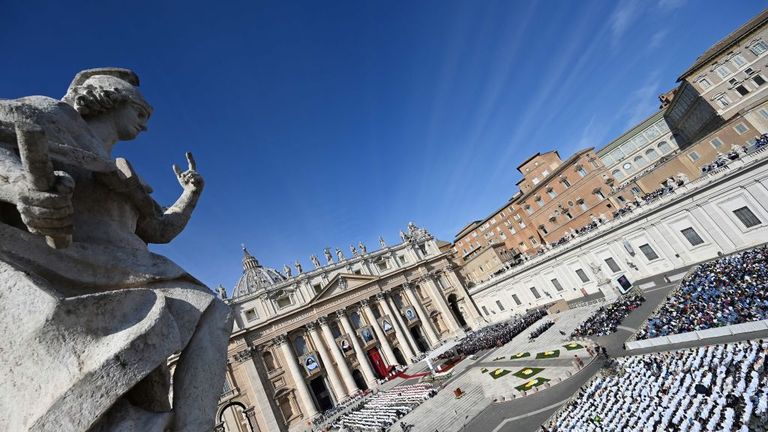 He is credited with helping change attitudes towards the Catholic Church, raising its standing in British society.
The cardinal has become one of the most influential Christian figures of modern times, helping launch the Oxford Movement which aimed to return the Church of England, which split with Rome in 1534, to the teachings and rituals of early Christianity.
His poetry, hymns and theology have had a great influence on modern Christian spirituality, with his autobiography, Apologia Pro Vita Sua, written in 1864, still in print and widely read today.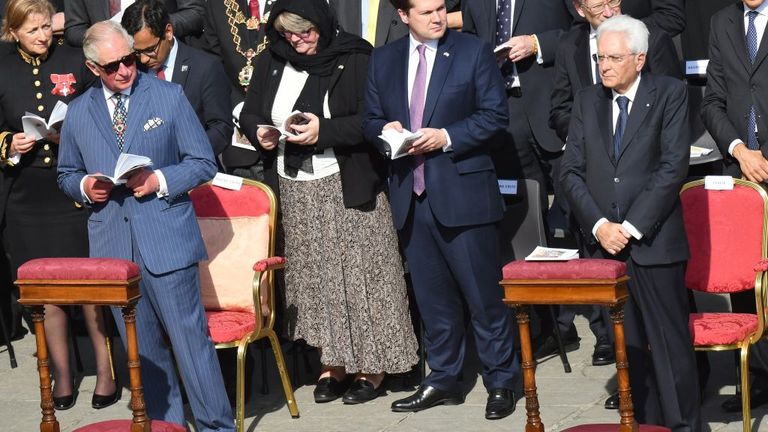 Pope Francis also canonised Indian mystic and founder of a religious order, Mother Martiam Thresia, Italian nun Mother Giuseppina Vannini and Brazilian Sister Dulce Lopes, who set up a foundation which is now one of the largest charitable organisations in Brazil.
Swiss seamstress Marguerite Bays, who dedicated her life to her community, was the only layperson to be made a saint after she was cured of bowel cancer without any treatment and a girl in 1998 was saved from a potentially fatal tractor accident after her grandfather prayed to Ms Bays.
Coronavirus: Cyber criminals threaten to hold hospitals to ransom – Interpol | Science & Tech News
As hospitals around the world struggle to handle the influx of COVID-19 patients, cyber criminals are threatening to exploit the crisis and hold them to ransom, according to an Interpol warning.
The agency has issued a global alert to healthcare organisations about ransomware attacks, in which criminals lock organisations out of their own computer systems until a ransom is paid.
It follows a rare warning from one of the UK's intelligence agencies about criminals using the coronavirus outbreak to launch online attacks.
This week NHS Digital issued guidance for healthcare providers warning about malicious COVID-19 related cyber activity.
It advised them on how to spot potential attempts by hackers to dupe staff into following links to malicious websites, or open attachments which would allow the criminals into their computer systems.
Interpol's cybercrime threat response team said it has detected a "significant increase" in these kinds of attacks, noting a rise in the number of attempted ransomware attacks against key organisations around the world.
It has alerted all 194 of its member countries and is working with the cybersecurity industry to gather information about the attacks as well as assisting national police forces.
Jurgen Stock, Interpol's secretary, has warned that the attacks could be deadly if they were to strike as resources are stretched to the maximum during the outbreak.
"As hospitals and medical organisations around the world are working non-stop to preserve the well-being of individuals stricken with the coronavirus, they have become targets for ruthless cybercriminals who are looking to make a profit at the expense of sick patients," he said.
"Locking hospitals out of their critical systems will not only delay the swift medical response required during these unprecedented times, it could directly lead to deaths."
In a statement sent to Sky News, NHS Digital said: "This is a time of unprecedented stress on the NHS, not least for the cyber security and IT teams who are continuing to work hard in all NHS organisations to keep patient data and systems secure, to continue to deliver safe patient care.
"NHS organisations ultimately are responsible for their own cyber security risk, however we work together to face and tackle the challenges around cyber security.
"We are advising organisations to remain vigilant to any suspicious emails from people they do not know, to follow our guidance on reporting them, and to ensure virus definitions are updated and security vulnerabilities are patched."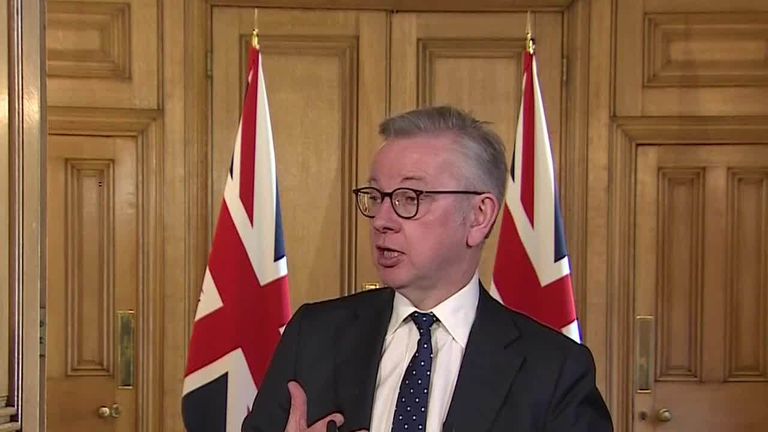 In March, Sky News saw a copy of a scam email sent to a number of healthcare organisations that pretends to be from each firm's internal IT team.
The email – which has the subject "ALL STAFF: CORONA VIRUS AWARENESS" – tells employees that "the institution is currently organising a seminar for all staff to talk about this deadly virus", asking them to click on a link to register.
The link takes anyone clicking on it to a third-party website disguised as an Outlook web app. Anyone who fills in that form ends up giving their details to the hackers.
So far, there has never been a cyber attack in the UK which has directly led to the loss of life. However, the National Cyber Security Centre has said it is only a matter of time before a so-called Category One incident occurs.
There have been 34 Category Two incidents which have required high level involvement among government departments and agencies – including the WannaCry ransomware attack which hit the NHS in 2017.
It was largest ever cyber attack on the health service and it left staff locked out of hundreds of NHS computers, leading to thousands of appointments being cancelled and some A&E departments having to turn away ambulances.
An assessment by western intelligence agencies laid the blame for the attack at the feet of a North Korean hacking organisation known by researchers as the Lazarus Group.
An investigation by US authorities managed to identify a North Korean man who was part of this group in an indictment charging him and alleged co-conspirators with the cyber extortion attack.
Britain's NCSC obtained critical evidence which was able to link the NHS attack to others already being investigated in the US.
Coronavirus: Putin seeks political point-scoring in COVID-19 world crisis | World News
Why doesn't Vladimir Putin stop sending medical aid abroad and start worrying about his own health workers?
Hardly a week goes by without another Russian dispatch of medical supplies to a country in need.
Serbia is the latest recipient. On Saturday they welcomed eleven military cargo planes loaded with supplies and medical staff.
Last month, it was Italy. China and Iran before that. "From Russia with love" is now the slogan for the Kremlin's apparent munificence.
Beyond promising Russians a week's paid leave, and then extending it to the whole of April, Vladimir Putin has shown little sign of rising to the challenge COVID-19 poses his country.
He seems more interested in political point-scoring than he does the public health implications of the virus's spread through almost every Russian region, with community transmission in half of those.
He has delegated responsibility to regional governors, granting them more autonomy in their decision-making on how to fight COVID-19. That leaves him to focus on what is more within his comfort zone, Russia on the world stage.
Imagine the delight then inside the Kremlin as ventilators made by a subsidiary of Russian state defence giant Rostec were unloaded onto the tarmac at New York's JFK airport this week.
They were part of a 60 ton delivery of medical supplies – masks and ventilators – to the United States.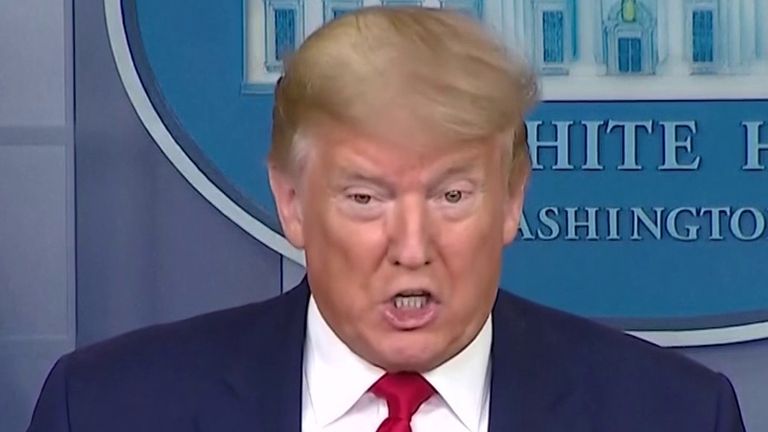 Rostec is on the US sanctions list. Any US purchase of Rostec's products is a breach of Washington's own sanctions.
There must be a delicious irony for President Putin that sanctioned Russian products can serve as a temporary salve to a US in crisis. A tweet from the Russian Embassy in the US sums it up perhaps best. "Goodnight America" it says over a photo of a city subsumed by water. Kremlin trolling par excellence.
"The Russians had excess supplies," the US president said. "This was a very nice gesture." Was he worried about Russian propaganda? "No, not even a little bit."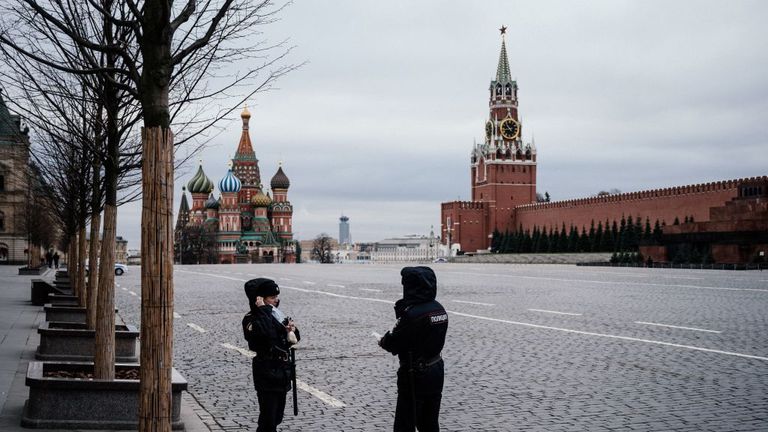 Speak to Russian healthcare workers though and they'll tell you there is no excess of medical supplies.
Anastasia Vasilyeva from the Alliance of Doctors union has consistently and publicly called the Kremlin out for allegedly downplaying the number of cases in Russia. On Thursday, she was arrested as she tried to deliver masks and PPE to hospitals in the Novgorod region.
"The medicine in the country is terrible. We don't have hospitals, we don't have the staff, we don't have a medical industry," she told Sky News two weeks ago.
"Of course it's not good for the government to say we have coronavirus and these are the real numbers of deaths. It will just prove the fact that they, the government, President Putin, caused all this to happen.
"We'll have a death toll a few times higher than in developed countries because medicine here is so bad."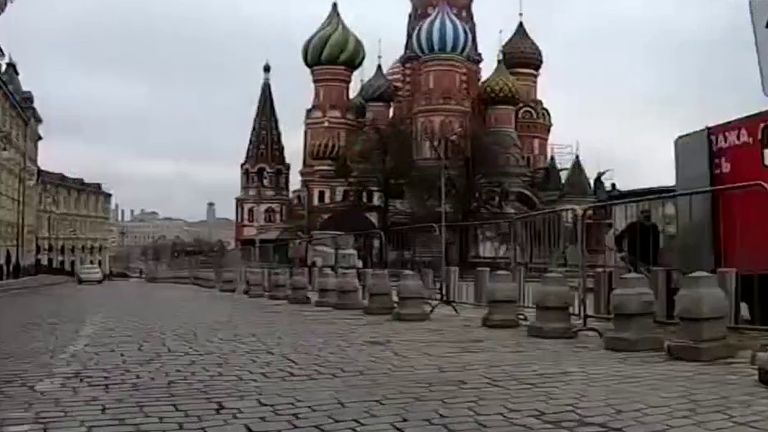 In the city of Syktyvkar in Russia's Komi Republic, 53 people, patients and medical staff, caught the virus inside one hospital. The patient zero was reportedly one of the doctors. Two have died, one of them a nurse.
Vasily Shtabnitsky, a Moscow based pulmonologist, says infection control is a huge problem.
"I do think that Russian doctors have expertise in managing severe pneumonia or Acute Respiratory Distress Syndrome (ARDS). I think the main challenge is infection control and lack of nurses and other staff.
"There are not enough nurses in ICU and in general care, usually we need a nurse to patient ratio of one to one and I do not know many hospitals with that.
"Many doctors and nurses are in their 50s or 60s, which means they are extremely vulnerable to COVID-19," Dr Shtabnitsky added.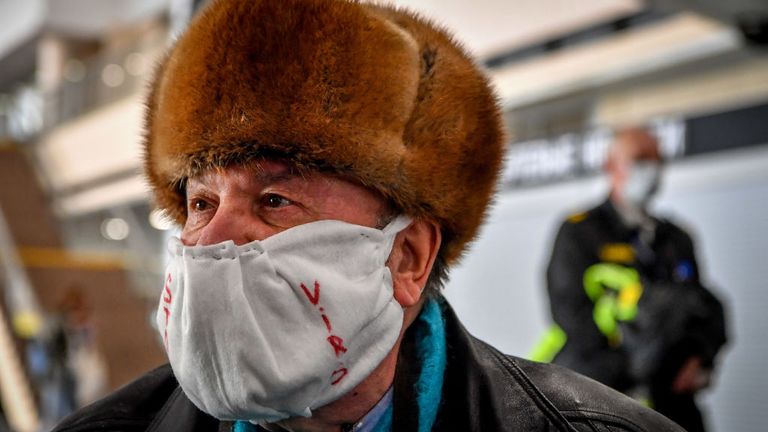 On Friday a group of medical staff at one of St Petersburg's top hospitals posted an online video message begging for more PPE so that they can treat patients with COVID-19.
As President Putin mulls his next international aid delivery, he would do well to listen to the growing alarm of his own healthcare workers and make sure they are catered for first.
Coronavirus: Light lamps to dispel the 'darkness', Indian PM tells citizens | World News
Indian Prime Minister Narendra Modi has urged citizens to switch off the lights in their homes and light candles and oil lamps instead on Sunday night to dispel the "darkness" of the coronavirus epidemic and look forward with hope.
In a video message, he thanked the country's 1.3 billion people for contributing to the success of a nationwide coronavirus lockdown.
He said: "On the 5th of April at 9pm, turn off all the lights in your homes, stand at your doors or in your balconies, and light candles or diyas (oil lamps), torches or use your mobile flashlights for nine minutes.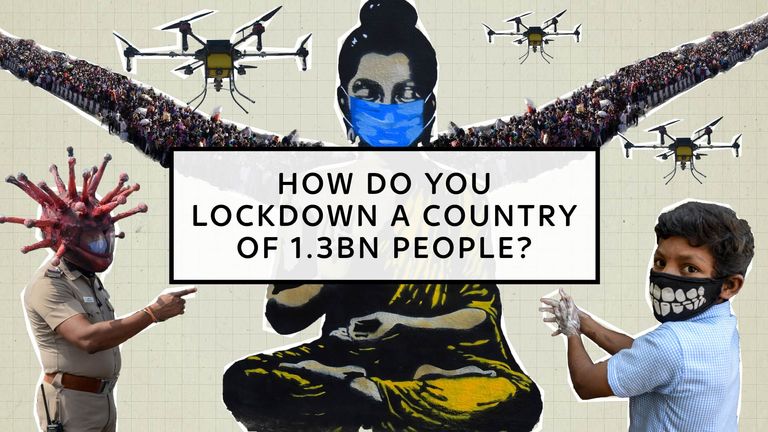 "We will experience the superpower of light, clearly illuminating the common purpose we are all fighting for. In that light, in that lustre, in that radiance, let us resolve in our minds that we are not alone, that no one is alone."
Mr Modi also appealed for people to stay at home and continue to adhere to the social distancing restrictions currently in place.
An earlier appeal to applaud those on the frontline of the COVID-19 battle was widely criticised after scores of people came out on the streets and celebrated the event.
In a video news conference, Pawan Khera, a spokesman of the opposition Congress party, responded to Mr Modi's fresh appeal: "The country was expecting answers from the prime minister on the issues of shortage of personal protection equipment and on helping the poor and migrant labourers who were without food and money."
In a direct message to the PM, he added: "The country was dejected today, people did not get any information they were expecting from you on critical questions."
There have been more than 3,000 confirmed cases of coronavirus across the country, as well as 86 deaths.
The cases have been largely driven by a congregation of members of the Tablighi Jammat, a Muslim missionary group in Delhi.
In violation of the government restrictions this 2,500-strong group which included about 1,000 foreign nationals from Malaysia, Indonesia, Bangladesh, the US and Kyrgyzstan among others had gathered at a complex located in a crowded area of Nizammudin in the city.
At least 647 among these so-called "superspreaders" have tested positive in 14 states.
Officials are still trying to find more people associated with the event.
The group's leader, Maulana Saad Kandhalvi, and six others involved are believed to be in hiding and the government has launched a manhunt.
Their base has been sealed off and health workers have been disinfecting the dozens of rooms and quarters of the building.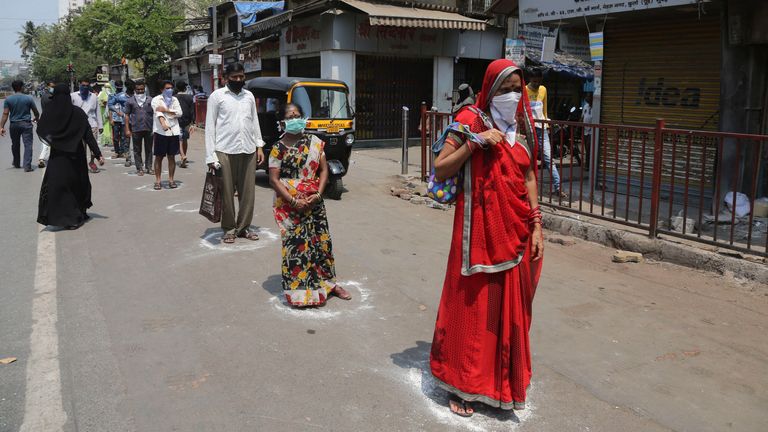 It comes as officials recorded the first coronavirus-related death in India's largest slum, Dharavi, in the financial capital of Mumbai.
The 56-year-old's death has been linked to the Delhi group. Ten of its members had stayed at a house belonging to the victim.
A 35-year-old doctor who treated the man has also tested positive for COVID-19.
Dharavi, a slum with almost a million people living and working in a 2.2 square kilometre area, is one of the most densely populated parts of India. A spread of the virus there would put medical facilities under a massive strain.
India is midway through its 21-day nationwide lockdown. Only key workers are allowed to leave their homes. The rest of the population can only venture out to buy food and medicines.
The government failed to factor the very large migrant population comprising daily wage earners and contract workers. This informal sector forms almost 81% of India's working population.
After Mr Modi announced the measure, tens of thousands of migrant workers crammed into buses or walked for days to get back to their native villages.
The government was severely criticised for an ill-judged policy towards migrant labour.
In a radio address Mr Modi apologised for the trouble caused, but said the lockdown was necessary to stop the spread of the virus and save lives.