Cardinal Newman: Catholic convert made a saint at Vatican ceremony | UK News
A leading 19th century Anglican who controversially converted to Catholicism has become the first English saint of the modern era.
Cardinal John Henry Newman, born in London in 1801, was one of five people to be canonised, including three nuns and a Swiss seamstress who was said to have the stigmata, the five wounds of the crucified Jesus.
Tens of thousands of people, including Prince Charles, watched Pope Francis as he elevated them to sainthood in the Vatican's St Peter's Square.
The Vatican has to approve two miracles to declare someone a saint.
Cardinal Newman is said to have cured a man's spinal disease and saved a woman and her unborn child from internal bleeding.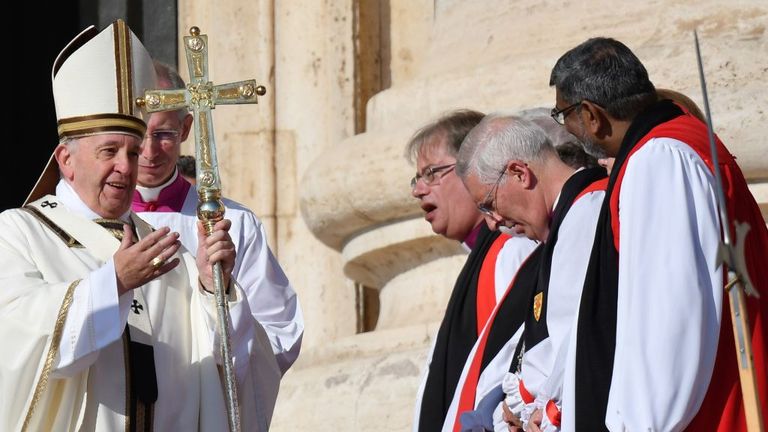 In 2000 Jack Sullivan, from Boston, Massachusetts, was suffering severe back pain so prayed to Cardinal Newman to help him walk so he could attend classes to become ordained as a deacon, one level below priesthood.
He said he woke up the next morning with the pain gone, meaning he could complete his third year of classes, before it returned on the final day of the academic year.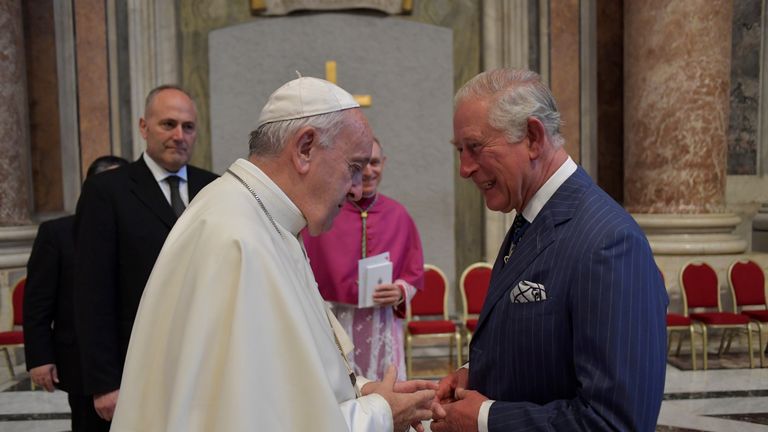 In 2013, Melissa Villalobos' placenta tore, causing unstoppable bleeding that threatened the life of her unborn child.
She prayed to Cardinal Newman and asked him to stop the bleeding, which she said happened immediately.
Pope Francis called on all Christians to adopt Cardinal Newman's definition of someone of faith, which he described as being "kindly lights".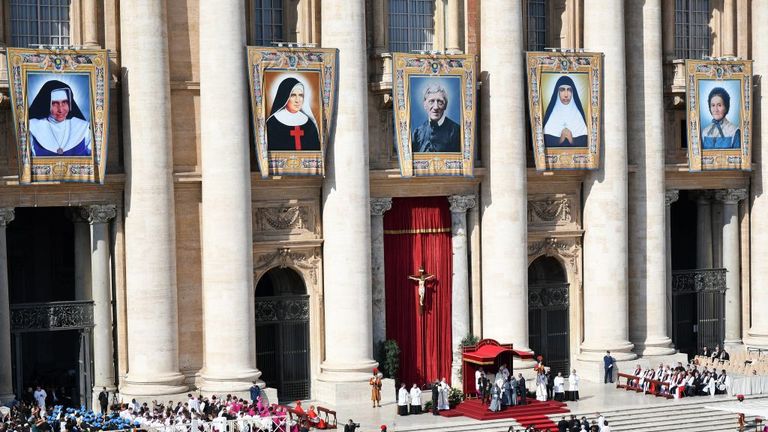 The cardinal is the first Englishman born since the 1600s to be canonised and the first British person to be made a saint in 43 years after 17th century Scottish martyr, John Ogilvie, was canonised in 1976.
Prince Charles, who will become head of the Church of England when he becomes king, said Cardinal Newman's new status is "a cause of celebration not merely in the United Kingdom, and not merely for Catholics, but for all who cherish the values by which he was inspired".
The cardinal, who studied at Oxford University, was famed for his intellect and shocked Victorian society when he converted to Catholicism after becoming an Anglican priest eight years before.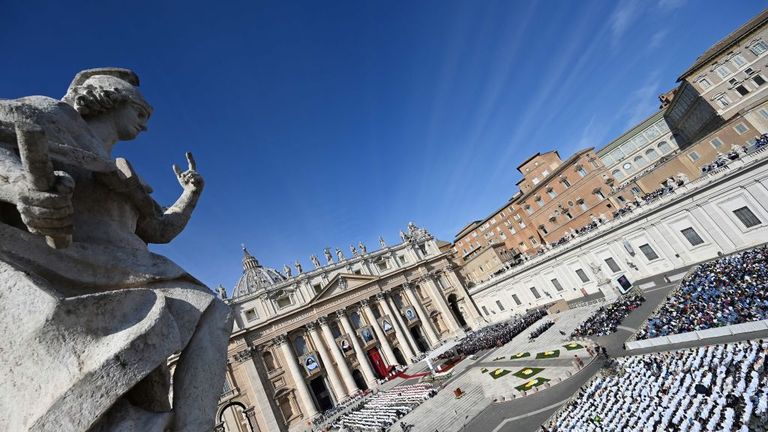 He is credited with helping change attitudes towards the Catholic Church, raising its standing in British society.
The cardinal has become one of the most influential Christian figures of modern times, helping launch the Oxford Movement which aimed to return the Church of England, which split with Rome in 1534, to the teachings and rituals of early Christianity.
His poetry, hymns and theology have had a great influence on modern Christian spirituality, with his autobiography, Apologia Pro Vita Sua, written in 1864, still in print and widely read today.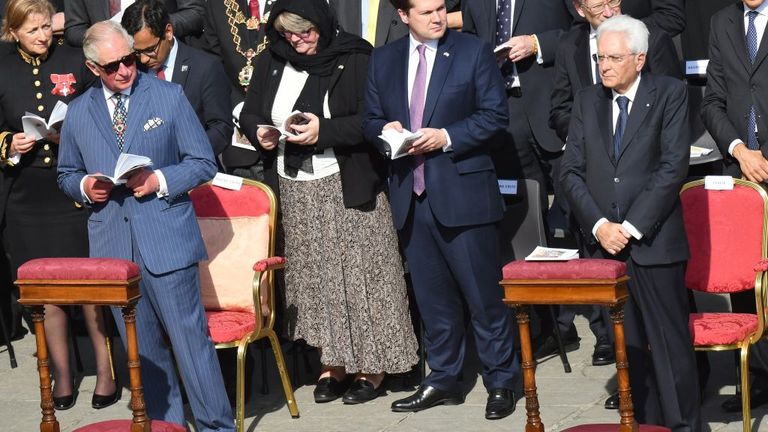 Pope Francis also canonised Indian mystic and founder of a religious order, Mother Martiam Thresia, Italian nun Mother Giuseppina Vannini and Brazilian Sister Dulce Lopes, who set up a foundation which is now one of the largest charitable organisations in Brazil.
Swiss seamstress Marguerite Bays, who dedicated her life to her community, was the only layperson to be made a saint after she was cured of bowel cancer without any treatment and a girl in 1998 was saved from a potentially fatal tractor accident after her grandfather prayed to Ms Bays.
Elton John ends New Zealand show early after walking pneumonia diagnosis | Ents & Arts News
Veteran performer Elton John has apologised to fans after cutting a gig short in New Zealand, after being diagnosed with walking pneumonia.
Sir Elton was performing at the Mount Smart Stadium in Auckland on Sunday evening as part of his global farewell tour when he lost his voice and began crying on stage.
Footage online shows the 72-year-old being escorted from the stage while thousands of fans in the stadium give him a standing ovation.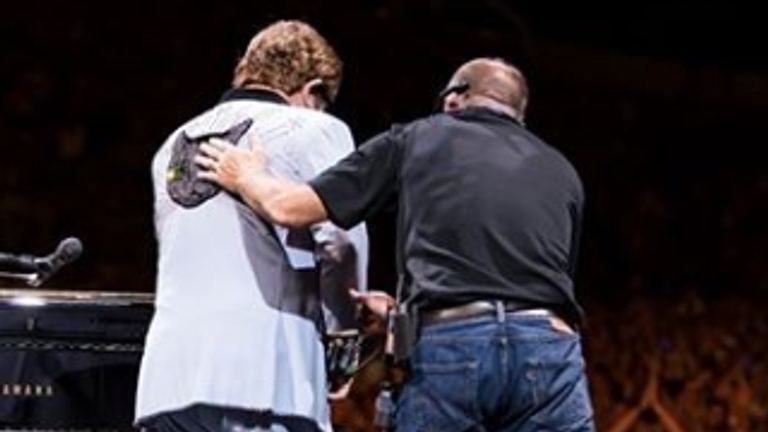 Posting on Instagram shortly after leaving the stage, Sir Elton wrote: "I want to thank everyone who attended tonight's gig in Auckland.
"I was diagnosed with walking pneumonia earlier today, but I was determined to give you the best show humanly possible.
"I played and sang my heart out, until my voice could sing no more.
"I'm disappointed, deeply upset and sorry. I gave it all I had.
"Thank you so much for your extraordinary support and all the love you showed me during tonight's performance. I am eternally grateful. Love, Elton xx."
The message was posted alongside an image of him being helped off the stage by a member of the crew.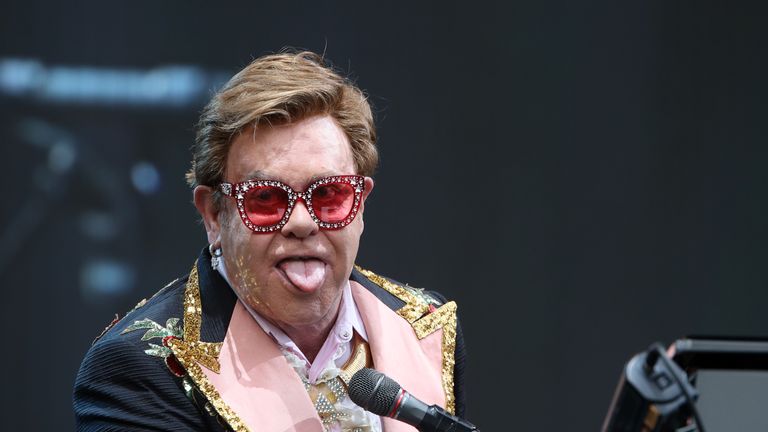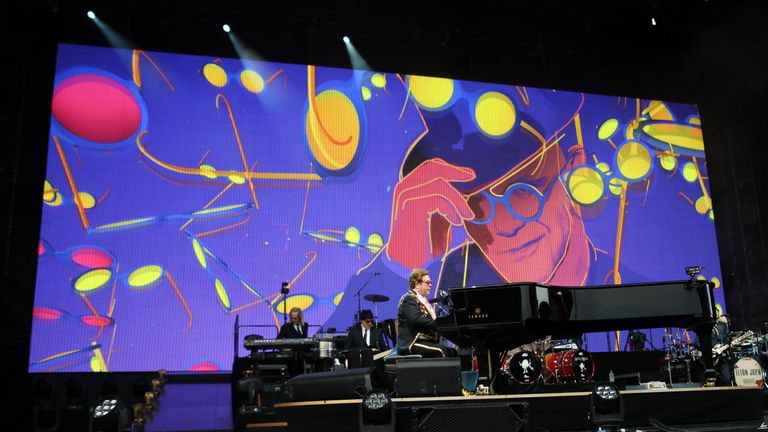 He was seen by a medic for a few minutes early in his set, and continued to play until he was forced to stop completely.
Sir Elton has apparently told concert-goers that his voice had "completely gone" early in the show, and apologised to the crowd, according to reports on social media.
:: Listen to the Backstage podcast on Apple Podcasts, Google Podcasts, Spotify, Spreaker
He is scheduled to perform two more shows in the New Zealand city later this week, and tickets are still on sale for those shows.
Walking pneumonia is a medical term that describes a mild case of the illness, according to the American Lung Association.
It is caused by bacteria and viruses and its symptoms include fever, chest pain, a cough and chest pain – similar to a cold, but sufferers are often able to continue every day activities.
Coronavirus: China reports drop in new cases for third straight day | World News
China has reported a drop in new coronavirus cases for the third day in a row, as it became clear the country's leadership was aware of the outbreak's potential before the dangers were made public.
There were 2,009 new cases in mainland China on Saturday, bringing its total to 68,500, according to the country's National Health Commission.
The fatality rate remained stable at 142 deaths.
The figures have emerged after a 80-year-old Chinese tourist in Paris became the first person to die from the virus in Europe.
The number of dead in mainland China from COVID-19, the medical name for the acute respiratory disease caused by the virus, stands at 1,665.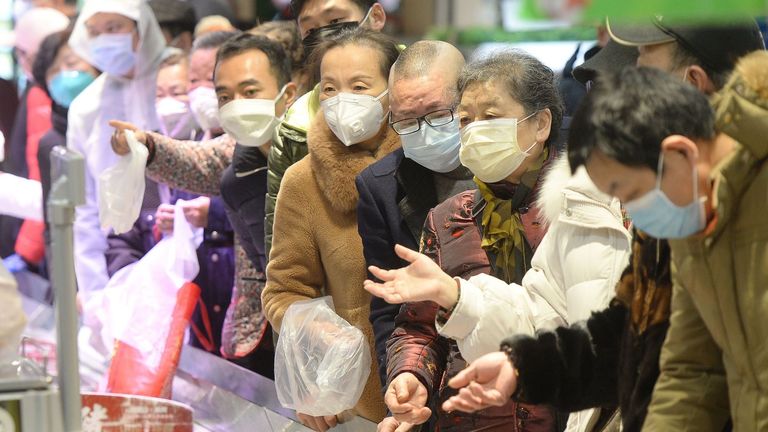 China's fall in new cases follows a spike of more than 15,000 on Thursday, when the central province of Hubei adopted a new diagnostic method that includes clinical diagnoses in its official account.
Chinese President Xi Jinping had played a muted role in the early days of the epidemic, which has been one of the biggest political challenges of his tenure.
But state media published a speech on Saturday which Mr Xi delivered on 3 February, during which the Chinese president said he gave instructions on the fighting the virus as early as 7 January.
The disclosure indicates top leaders knew about the outbreak's potential severity weeks before such dangers were made known to the public.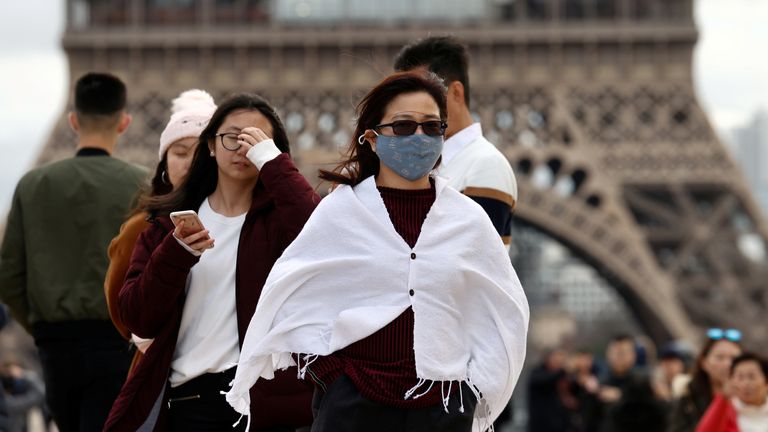 It was not until late January that officials said the virus can spread between humans and public alarm began to rise.
In his speech, the Chinese president also revealed that he ordered a lockdown of the virus epicentre of Wuhan in the Hubei province: "On January 22, in light of the epidemic's rapid spread and the challenges of prevention and control, I made a clear request that Hubei province implement comprehensive and stringent controls over the outflow of people."
French Health Minister Agnes Buzyn confirmed the confirmed the first fatality from the infection in Europe on Saturday.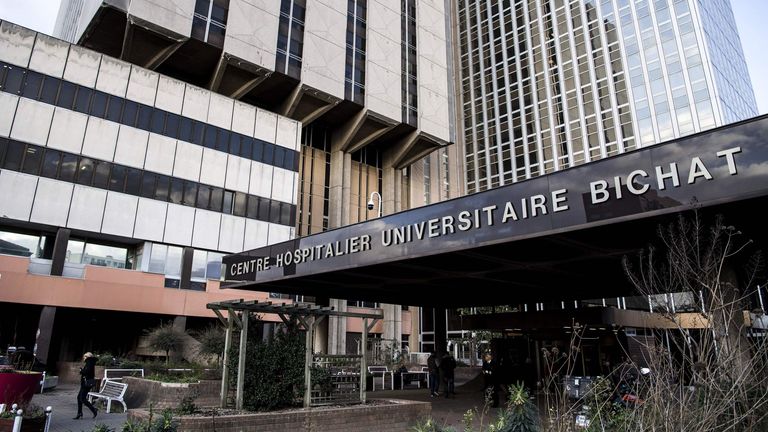 The man, who was from the Chinese province of Hubei, had been receiving treatment in a French hospital since 25 January.
He had been kept in isolation while receiving treatment, but his condition is said to have deteriorated rapidly.
He had arrived in France on 16 January.
His daughter was also treated for coronavirus in the same hospital, but has now recovered according to authorities.
His case is one of 12 French cases of COVID-19.
Six of those cases are British nationals who caught the virus from "superspreader" Steve Walsh after coming into contact with him in the French Alps during a skiing holiday.
Ms Buzyn warned: "Our health system must be prepared to face a possible virus spreading across the country."
She says she will be meeting with medical authorities on Tuesday to discuss the issue.
The man was the fourth death to be reported outside mainland China. The virus has so far spread to more than two dozen countries.
The World Health Organisation ha sent a team of 24 health experts to China to investigate how the virus is spreading and its severity.
Meanwhile, in Japan, preparations are under way to evacuate American citizens from the Diamond Princess, the cruise ship that has been quarantined off Japan.
Around 400 American passengers have been told to decide by Sunday morning whether they will stay or take chartered aircraft arranged by the US government to fly them home. The flights are expected on Sunday evening local time.
Those taking the chartered planes will be taken to Travis Air Force Base in California, with some continuing to Lackland Air Force Base in Texas, where they will have to undergo another 14-day quarantine.
So far, 285 people from the ship have tested positive for the virus after 67 new cases were found Saturday. Those with symptoms such as fever and cough will not be allowed to board the evacuation flights.
The news comes as:
A total of 1,669 people have died from COVID-19, the disease caused by the virus, according to the Johns Hopkins Center for Systems Science and Engineering.
Most of the deaths have been in mainland China but there has been one each in Hong Kong, the Philippines, Japan and France
69,186 cases have been confirmed since the virus started in mid-December in Wuhan,
according to the Johns Hopkins Center for Systems Science and Engineering.
:: Listen to the Daily podcast on Apple Podcasts, Google Podcasts, Spotify, Spreaker
Temporary hospitals have been set up in gymnasiums and public buildings across the Hubei province of China to facilitate early testing and treatment.
Meanwhile 285 cases of the virus have been confirmed on a quarantined cruise ship in Japan.
The Diamond Princess in Yokohama, near Tokyo, has around 3,700 passengers in total, including tourists from Britain, America and Australia.
Coronavirus: Britons in quarantine on cruise ship criticise government over 'inaction' | UK News
A British couple in quarantine on board a cruise ship in Japan have begged British authorities to get them home, as coronavirus cases on board the Diamond Princess rise.
David Abel has been documenting his experience on board the ship, which has been docked off the coast of Yokohama in Japan for around three weeks.
According to Johns Hopkins University, which is mapping the outbreak, there have been 355 confirmed cases of COVID-19, the disease caused by coronavirus, on board the ship – the highest amount outside China.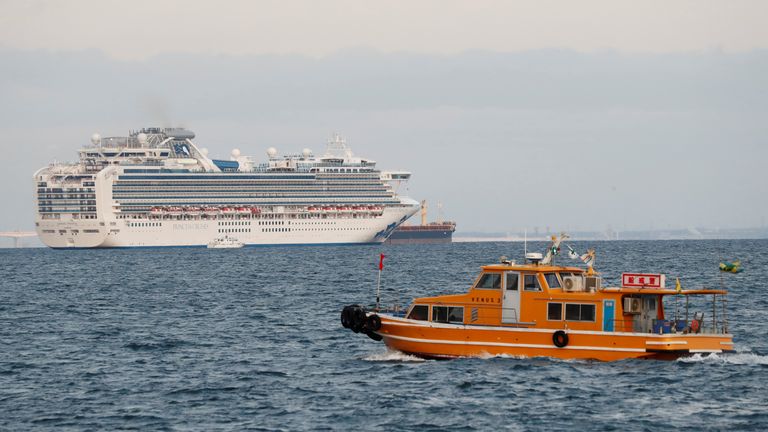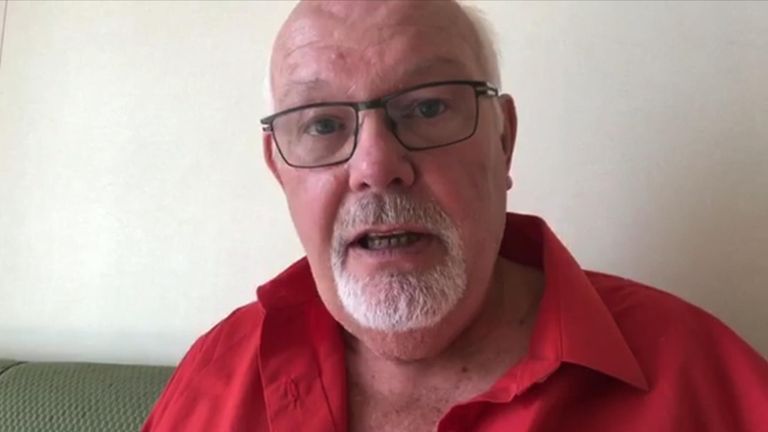 Speaking in a YouTube live stream on Sunday morning from the ship, he said he had not heard "anything" from the UK government.
He said: "All we've got is a message about an hour ago from the… embassy based in Tokyo, to say they've acknowledged the Americans are taking their folk home today. Canadians are going to be following soon. The Australians are probably going to be soon after.
"The UK government, through the ambassador here in Tokyo, has said the World Health Organization acknowledges all of this action taking place but with regard to the United Kingdom… it's not likely we will be repatriated."
US officials announced on Saturday that its citizens will be airlifted back to the country amid the rising number of people being tested positive for COVID-19.
Canadians and those living in Hong Kong have also been told they will be leaving the ship.
Mr Abel adds: "It leaves us feeling like we are not wanted back in the UK – border control have put the barriers up and are saying 'no'."
He has previously hit out at Prime Minister Boris Johnson, saying he had "no confidence" in him, despite being a "staunch Tory".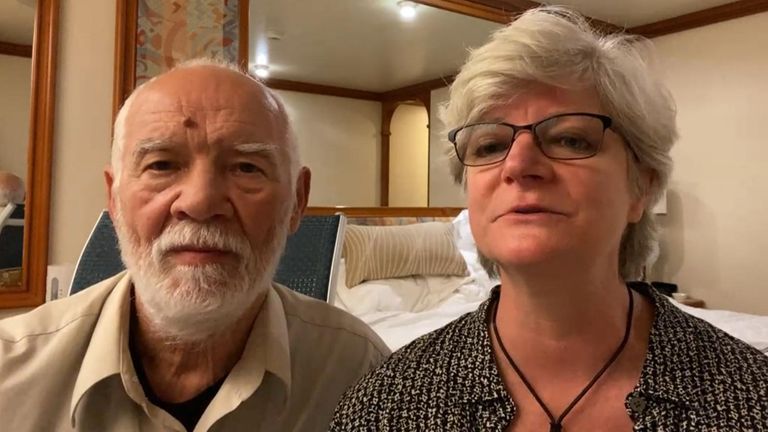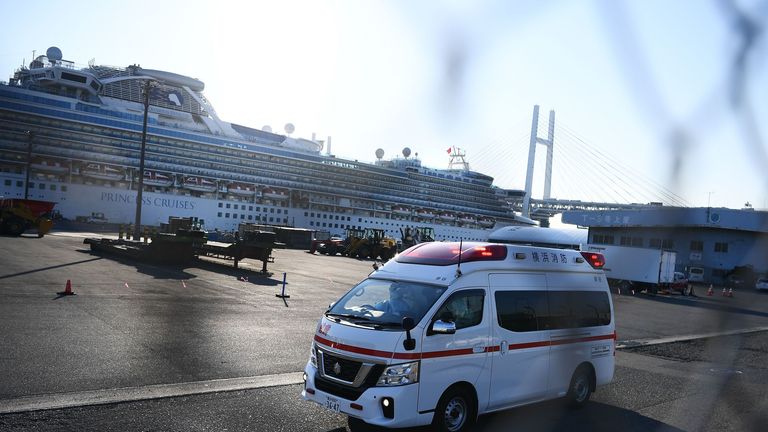 Mr Abel has also begged billionaire Richard Branson for help, asking him how much it would cost to charter a Virgin plane to fly the UK citizens on board to Brize Norton to allow them to undertake their quarantine back home.
"Whatever the cost, we will somehow find a way of paying for that plane.
"Don't know how but we wouldn't want you to be out of pocket on that.
"But this is just how damned desperate some of the passengers are becoming."
According to Johns Hopkins University, 1,655 people have died as a result of contracting COVID-19, most of whom are in China.
On Saturday, a man died in France from the illness, marking the first death in Europe.
In the UK, all but one of those who had been hospitalised for the virus have been discharged.