Black woman killed by white officer in her own home while babysitting nephew | US News
The family of a black woman killed in her own home by a white police officer have accused the officer of murder.
Atatiana Jefferson, 28, was killed in her home in Fort Worth, Texas, while looking after her eight-year-old nephew.
A neighbour had called police on a non-emergency line when they saw her front door was open. Police responded at about 2.25am.
Fort Worth Police said officers saw someone near a window and one of them drew his duty weapon after "perceiving a threat".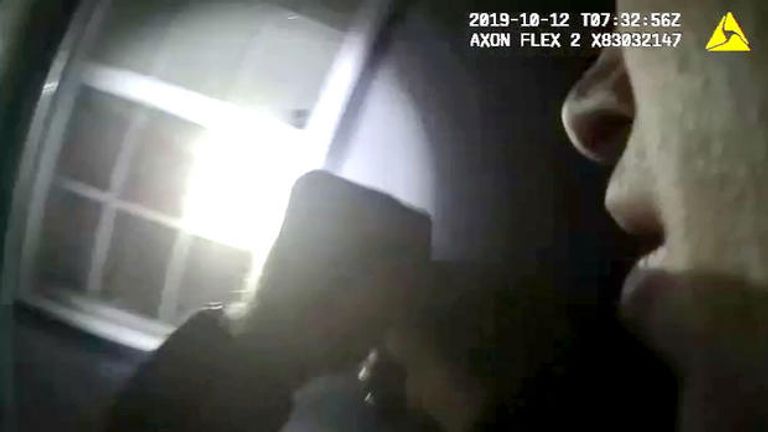 Lee Merritt, an attorney for the family, said the bodycam footage showed the officer would not have had time to perceive a threat from Ms Jefferson.
He said: "You didn't hear the officer shout, 'Gun, gun, gun.'
"He didn't have time to perceive a threat. That's murder."
The video released by Fort Worth Police shows two officers searching the home from the outside with torches, before one shouts: "Put your hands up, show me your hands."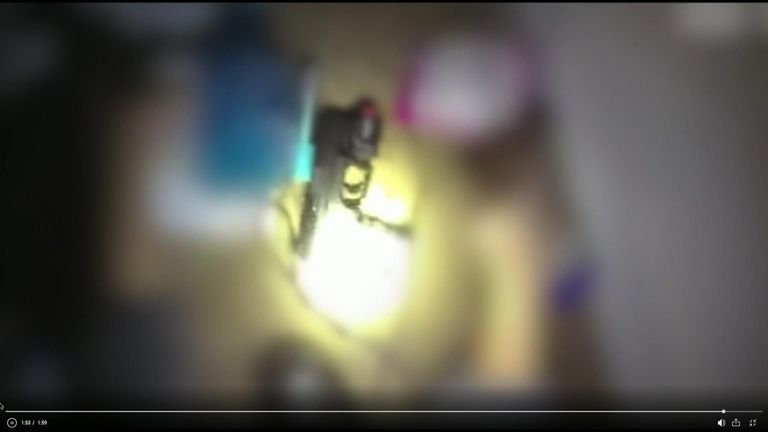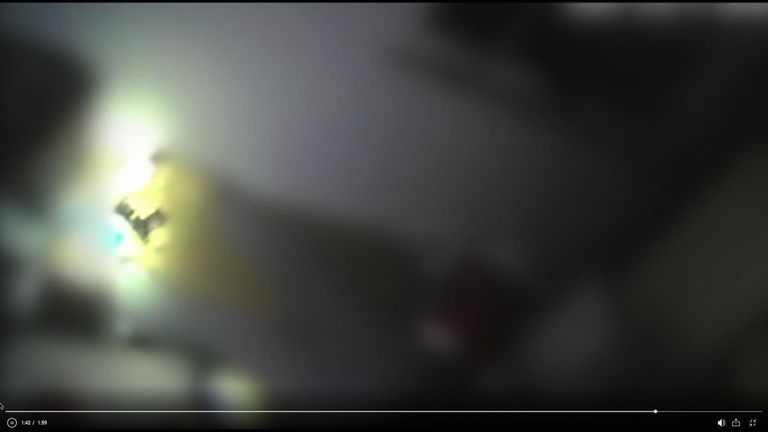 One shot is then fired. The officer does not identify himself as police.
Ms Jefferson died of her injuries in her home.
Amber Carr, Ms Jefferson's sister, said: "It's another one of those situations where the people that are supposed to protect us are actually not here to protect us.
"You know, you want to see justice, but justice don't bring my sister back."
One of her aunts, Venitta Body, said: "It's like from the moment we got the call, it's been more and more inconceivable and more confusing. And there has nothing been done in order to take away that confusion."
Fort Worth Police said the officer, who has been with the force since April 2018, is on administrative leave pending the outcome of the investigation.
His name has not been released.
The neighbour who called police about the door, James Smith, said he feels "it's partly my fault".
He said: "If I had never dialled the police department, she'd still be alive.
"It makes you not want to call the police department."
Ms Jefferson's nephew usually lives with an older woman, who has been in hospital.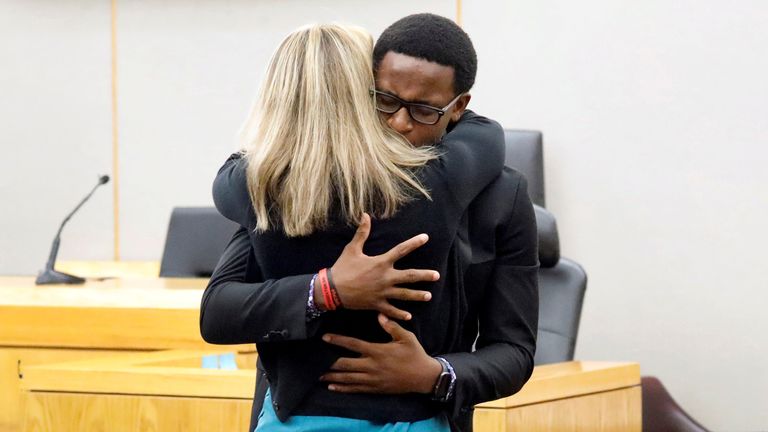 Fort Worth Mayor Betsy Price released a statement on Saturday which said: "Writing a statement like this is tragic and something that should never be necessary. A young woman has lost her life, leaving her family in unbelievable grief. All of Fort Worth must surround Atatiana Jefferson's family with prayers, love and support.
"Chief Kraus and his command staff are acting with immediacy and transparency to conduct a complete and thorough investigation. More details are forthcoming and the Tarrant County District Attorney Law Enforcement Incident Team office will ultimately receive this case."
Mr Merritt said the family of the victim expects "a thorough and expedient investigation".
Fort Worth Police Department said it released the bodycam footage from outside the home to show its transparency, but cannot release the video from inside the home because of state law.
The shooting comes two weeks after Amber Guyger, a former Dallas police officer, was sentenced to 10 years in prison for killing Botham Jean in his own apartment.
She shot him with her service weapon when she went into his home by mistake, thinking it was her own.
Mr Merritt is also the Jeans' family lawyer.
Grace Millane's former partner: She asked me to choke her during sex | World News
British backpacker Grace Millane belonged to BDSM dating sites and allowed a former partner to choke her during sex, a court has heard.
An ex-boyfriend of the university graduate from Essex said they had used a system of safe words and signals to make sure she was never in danger.
A statement from the man, whose identity is protected, was read to the jury at the trial of a 27-year-old New Zealander accused of strangling Grace to death at the end of a Tinder date.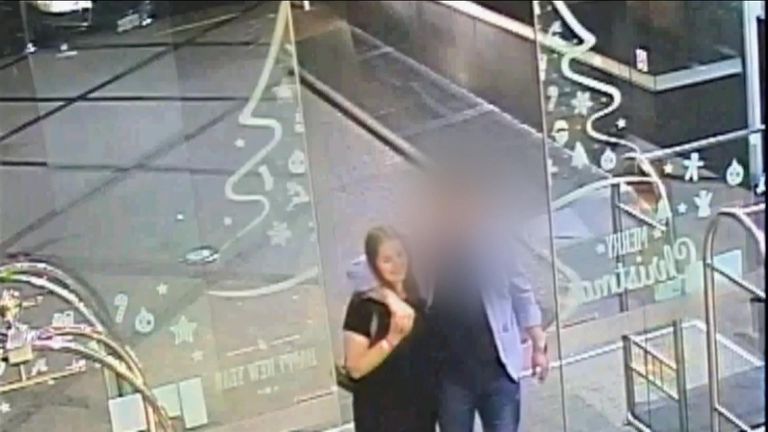 The defendant, who also cannot be named for legal reasons, says Miss Millane died accidentally during consensual sex at his apartment in Auckland last December after she asked him to put his hands on her neck during rough sex.
Miss Millane's former partner said in a statement read to Auckland High Court: "When we researched it we knew the word was asphyxiation.
"Grace and I discussed keeping hands wide and on the side of the neck, never on the front.
"Grace and I would have a safe word most of the time which we had discussed, something like "turtle" or something ridiculous. Grace and I used a tapping practice too. If Grace tapped me three times then it would stop.
"Grace would tap out maybe one in four times.
"Grace would be sure to do this and I trusted that anytime it was too much for Grace she would do this. Grace and I were careful to discuss not only the physical but the psychological aspects to practising BDSM."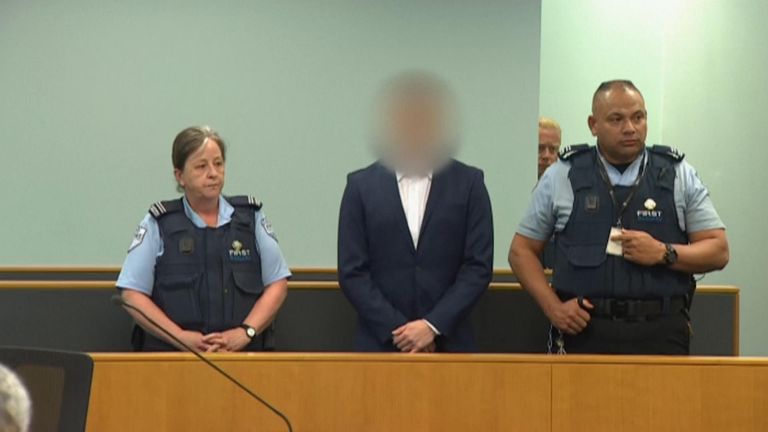 Statements from police revealed that Miss Millane had been active on BDSM dating site Whiplr an hour before meeting the defendant outside a central city casino.
Defence barrister Ron Mansfield told the jury: "All the evidence shows that Miss Millane was a loving, bright, intelligent young woman and she was.
"That is her reputation and that should be her reputation and her memory at the start of this trial and at the conclusion if it.
"The fact that we need to discuss with you what she liked to do in the bedroom should have no impact on he reputation at all."
But, he said: "It's important that we are fully informed. It's not the time for embarrassment or immaturity.
"If this couple engaged in consensual sexual activity which included pressure being applied to her neck with her consent and that went wrong, that is not murder.
"Death through this mechanism may thankfully be rare but it does happen and sadly it happened here."
Mr Mansfield said the defendant admits Grace died from pressure he placed on her neck but said expert evidence was consistent with his account that it was consensual, not violent.
In a police interview, the trial heard last week, he said he only realised Grace was dead when he found her lying on the floor but admits then cramming her body into a suitcase which he buried in a shallow grave in the woods.
Mr Mansfield said his failure to call for help, disposal of Grace's body and lies to police were due to panic.
"He may have thought he wouldn't be believed," Mr Mansfield told the jury, "but don't prove him right."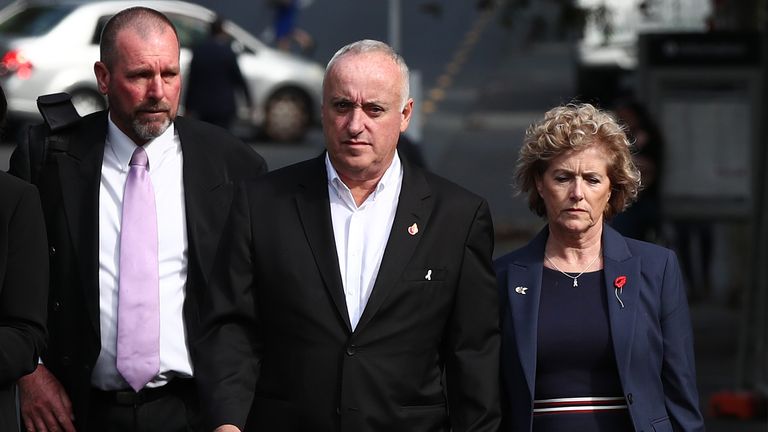 The court also heard that Miss Millane had drunk so much that night that her heart may have gone into a "terminal tailspin" when she was choked during sex.
Pathologist Dr Fintan Garavan, appearing as a defence witness, told the jury a combination of obstruction of the blood flow, pressure on her nervous system and being drunk meant she might have died quickly.
There were no signs of her having struggled and her plight "would not be obvious to a person nearby unless you know what you are looking for," he said.
Defence barrister Ian Brookie said Miss Millane had drunk four mango cocktails, one tequila shot, two whisky cocktails herself and shared three half litre jugs of margheritas and sangria with her alleged killer during their night out.
Dr Garavan said the alcohol, in conjunction with the choking, was "an iceberg making its way into the shipping lane".
"It very likely has become an important indirect player in causing death," he said, explaining that being drunk could turn off a "safety valve" which would normally trigger someone to fight for breath.
Dr Garavan, who examined hundreds of photographs of Grace's body, agreed the primary cause of death was asphyxiation, which he said would have required just one kilogram of pressure.
But he said the absence of deeper haemorrhages in the neck muscles, fractures or scratches to the skin "would favour consensual" choking.
The trial continues.
Protesters in Iran warned of 'decisive' action if unrest continues | World News
Iran's Revolutionary Guards have warned of "decisive" action if protests in the country continue.
At least five people have been killed in the unrest, which began on Friday after the announcement of fuel rationing and a 50% hike in the price of petrol.
At least 100 banks, buildings and cars were torched, according to state media.
Iranian authorities shut down the internet on Saturday but videos shared online before then contained sounds of gunfire and images of badly injured people.
In a statement, the country's main security force said: "If necessary we will take decisive and revolutionary action against any continued moves to disturb the people's peace and security."
Fars, a semi-official news agency in Iran, said there had been more than 87,000 protesters across the country and that around 1,000 had been arrested.
The streets were reportedly calmer on Monday and General Gholamreza Soleimani, head of the Basij, Iran's paramilitary Revolutionary Guard, insisted security forces had acted with "restraint and patience".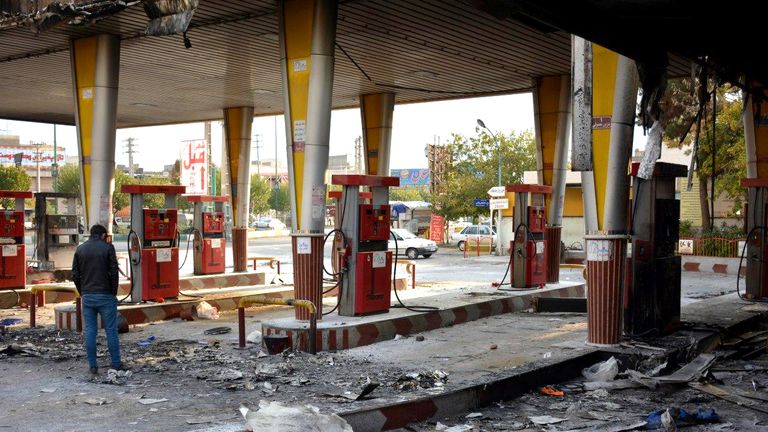 Iran is home to the world's fourth-largest crude oil reserves and cheap oil is almost seen as a birthright but even this has not saved the economy from difficulty.
Since US President Donald Trump withdrew his country from the 2015 nuclear deal last year and imposed sanctions instead, jobs have become scarce and the currency has collapsed.
When the nuclear deal was put on ice, Iran's rial was trading at 32,000 to $1 but this has worsened to more than 123,000 to $1.
Sky News diplomatic editor Dominic Waghorn said: "Iran's government had claimed US sanctions were uniting the people behind them but these scenes [of the protests] suggest a different story."
Parliamentary elections are due in February and the unrest, the worst since 2017, will be another challenge for President Hassan Rouhani.
Mr Rouhani had said the petrol price rises would help raise money for handouts to 18 million families struggling families, which begin this week.
US Secretary Of State Mike Pompeo said he was monitoring the protests and was deeply concerned by reports of fatalities.
But Iran's foreign minister Mohammad Javad Zarif hit back with: "A regime that impedes food and medicine to ordinary people, including the elderly and the sick, by economic terrorism can never get away with the obscene claim of supporting the Iranian people."
Trump administration announces softer US stance on Israeli settlements in West Bank | UK News
Mike Pompeo has said the US is softening its position on Israeli settlements in the occupied West Bank – the latest move from the Trump administration to anger Palestinians.
The US Secretary of State rebutted a 1978 State Department legal opinion that held that civilian settlements in the occupied territories are "inconsistent with international law".
The move weakens Palestinian claims to statehood and puts the US at odds with other nations working to end the conflict.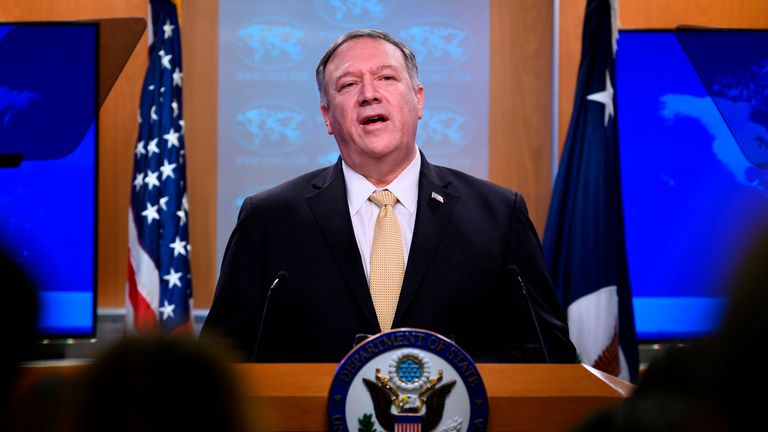 However the latest US backing of Israel came as a victory for Israeli prime minister Benjamin Netanyahu, who is struggling to remain in power after two inconclusive elections this year.
Mr Pompeo said US statements regarding the settlements – which Israel captured during a 1967 war – had been inconsistent.
He said Democrat President Jimmy Carter found they were not consistent in 1978, and that Republican President Ronald Reagan said he did not view them as inherently illegal in 1981.
Mr Pompeo said that legal questions about the issue should be addressed by Israeli courts.
He added: "Calling the establishment of civilian settlements inconsistent with international law has not advanced the cause of peace.
"The hard truth is that there will never be a judicial resolution to the conflict and arguments about who is right and who is wrong as a matter of international law will not bring peace."
His announcement was praised by Mr Netanyahu but condemned by Palestinian officials.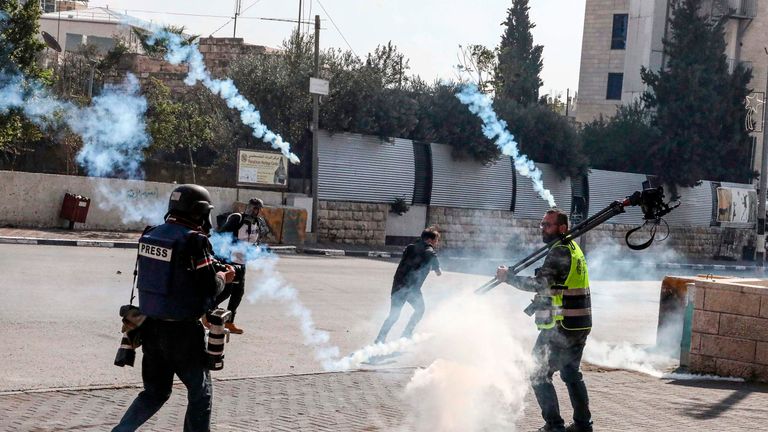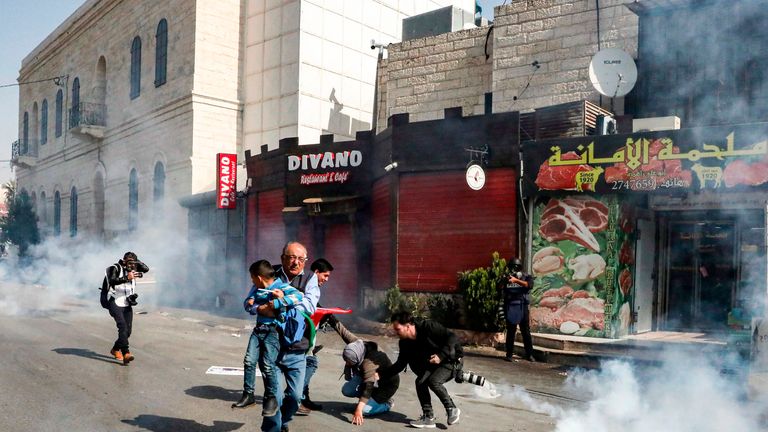 The US also issued a warning to Americans in the region to exercise greater vigilance because those opposing the move "may target US government facilities, US private interests and US citizens".
Mr Netanyahu said the US decision "rights a historical wrong" and called on other countries to take a similar stance.
A statement from Mr Netanyahu's office said: "Israel is deeply grateful to President Trump, Secretary Pompeo and the entire US administration for their steadfast position supporting truth and justice, and calls upon all responsible countries who hope to advance peace to adopt a similar position."
Meanwhile Palestinians voiced outrage.
A spokesman for Palestinian president Mahmoud Abbas condemned Mr Pompeo's announcement, claiming settlements are illegal under international law.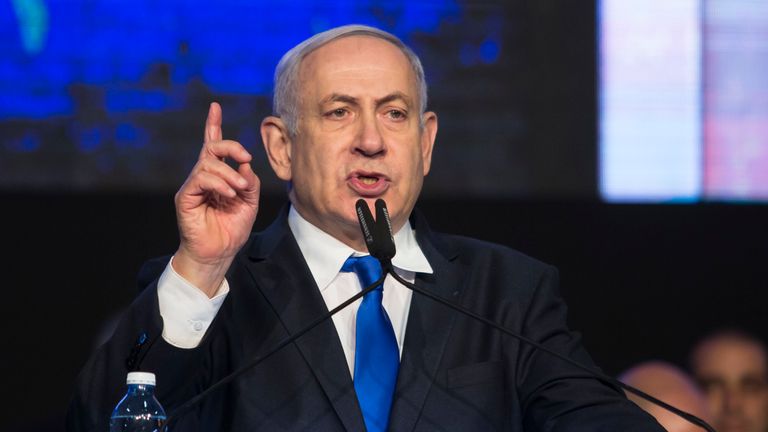 "The US administration has lost its credibility to play any future role in the peace process," spokesman Nabil Abu Rdeneh said.
Chief Palestinian negotiator Saeb Erekat said the Trump administration was threatening "to replace international law with the 'law of the jungle'".
Ayman Safadi, Jordan's foreign minister, said the US policy change would have "dangerous consequences" for the prospects of reviving peace talks. He called settlements "a blatant violation of international law and United Nations Security Council resolutions."
Past Trump administration pro-Israeli moves include President Donald Trump's decision to recognise Jerusalem as Israel's capital, as well as the movement of the US Embassy to Jerusalem and the closure of the Palestinian diplomatic office in Washington.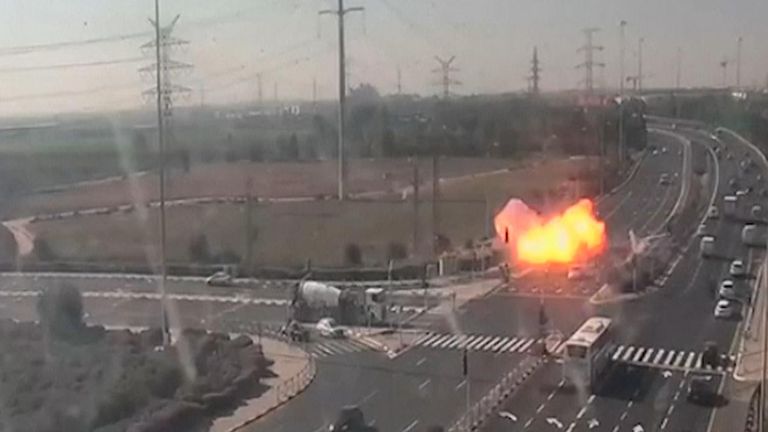 Mr Pompeo said the move was not intended to prejudge the status of the West Bank, which the Palestinians hope will become part of an eventual Palestinian state in a wider resolution of the Israeli-Palestinian conflict.
"This is for the Israelis and the Palestinians to negotiate," he said, adding that the US decision was not meant "to compel a particular outcome nor create any legal obstacle to a negotiated resolution".
Mr Pompeo's announcement is likely to please evangelical Christians – an important part of Mr Trump's political base – which he is relying on to help him win re-election in 2020.