Half of Antarctica's emperor penguins could be wiped out due to melting ice | World News
More than half of Antarctica's emperor penguins could be wiped out over the next 80 years due to melting ice, scientists have warned.
Researchers from British Antarctic Survey said that rising temperatures and changing wind patterns from global warming will negatively affect the sea ice on which emperor penguins breed.
After reviewing more than 150 studies on the species, scientists indicated that emperor populations will decrease by more than 50% by 2100.
In a new paper published in the journal Biological Conservation, they concluded that improvements in climate change forecasting in relation to impacts on Antarctic wildlife may help the penguins' chances of survival.
The researchers also recommended that emperor penguins should be listed as a specially protected species, warning that more than half of the birds – at least 300,000 – would die as sea ice melts due to rising temperatures.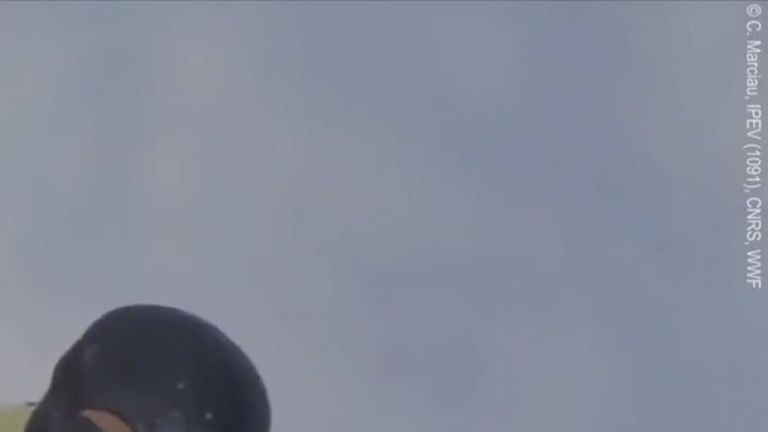 The emperor penguin – which is the tallest and heaviest of all living penguin species – is the only penguin species that breeds during the Antarctic winter and breed on seasonal sea ice.
The species is considered to be highly sensitive to climatic changes. In the 1970s, population declines of 50% in the Terre Adelie region were observed during an abnormally prolonged warm period which resulted in reduced sea-ice coverage.
Other primary causes for an increased risk of species endangerment are declining food availability and industrial fisheries on the crustacean and fish populations.
Lead author Dr Philip Trathan, head of conservation biology at the British Antarctic Survey (BAS), said: "The current rate of warming in parts of the Antarctic is greater than anything in the recent glaciological record.
"Though emperor penguins have experienced periods of warming and cooling over their evolutionary history, the current rates of warming are unprecedented."
He added: "Currently, we have no idea how the emperors will adjust to the loss of their primary breeding habitat – sea ice. They are not agile and climbing ashore across steep coastal land forms will be difficult."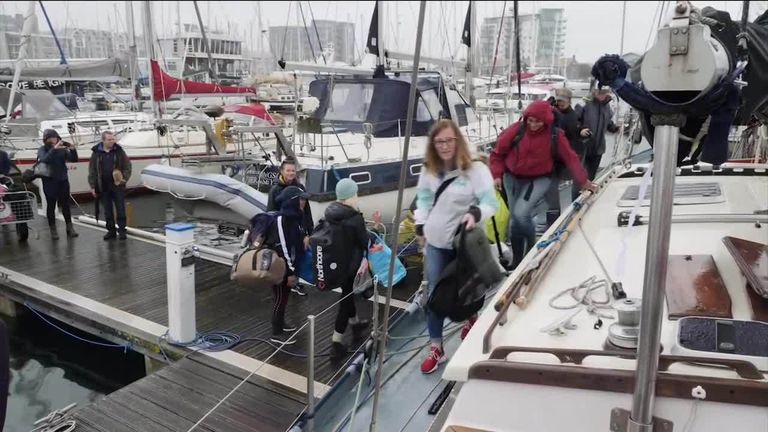 Dr Peter Fretwell, remote sensing specialist at BAS and co-author of the paper, said: "Some colonies of emperor penguins may not survive the coming decades, so we must work to give as much protection as we can to the species to give them the best chance."
Rod Downie, chief polar adviser at the World Wildlife Fund, which funded the study, said: "Emperor penguins are perfectly adapted to survive in the most remote and extreme frontier of our planet.
"But even they cannot hide from the global climate crisis as they lose the sea ice from beneath their feet.
"We need to take urgent action to protect this incredible species through the creation of vast marine protected areas and rapid and deep cuts to greenhouse gas emissions."
Beirut protests turn violent as economic crisis engulfs Lebanon | World News
Dozens of people have been injured in running battles between security forces and anti-government protesters in Lebanon.
Riot police fired rubber bullets and tear gas after being pelted with stones and firecrackers by demonstrators on the streets of the capital Beirut.
Snatch squads beat and detained protesters as the two sides engaged in cat-and-mouse clashes.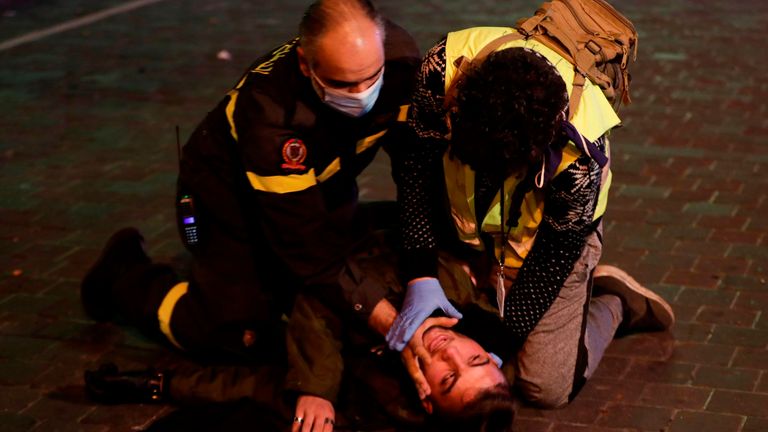 The violent unrest was the worst seen since demonstrations began two months ago, amid public fury at the economic crisis engulfing the country.
Medical teams said they had treated 54 people for injuries, with more than half being taken to hospital.
The security forces said at least 20 officers were wounded.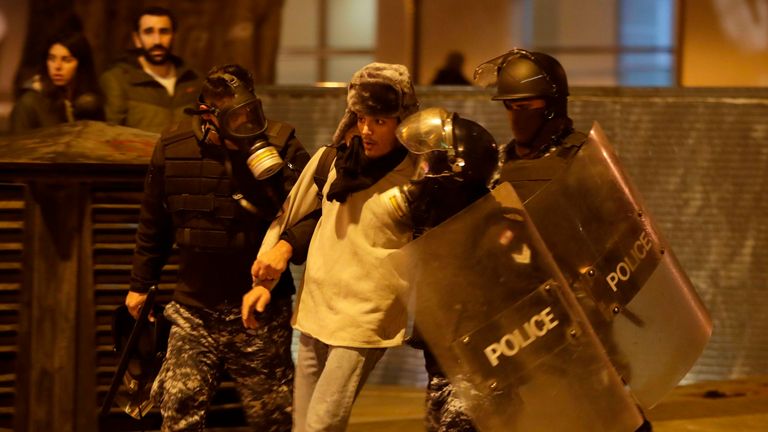 The trouble flared just days before the president meets with parliamentary groups in a bid to name a prime minister after the protests forced the incumbent Saad al Hariri from office.
Previous efforts had stalled after rival political factions failed to agree on a new head of government.
An administration is urgently needed to tackle the crisis gripping the country, with foreign donors holding back financial support until there is a cabinet in place to carry out reforms.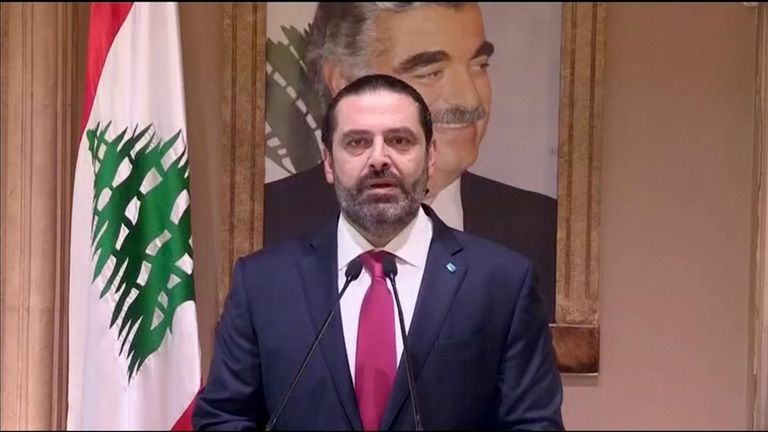 The unrest erupted in October fuelled by anger at the rising cost of living, new tax plans and the political establishment, which is accused of exploiting the state for their own benefit.
Qantas flight evacuated using slides as cabin starts to fill up with smoke | World News

Passengers on a Qantas flight from Sydney to Perth evacuated using slides after the Airbus A330 was forced to return as the cabin filled with smoke.
The airline said Flight 575 returned to Sydney shortly after take-off because of a hydraulic problem.
In a statement, Qantas said: "Once back at the gate, the captain made the decision to evacuate the aircraft as a precaution and three emergency slides were deployed.
"Passengers were evacuated through both the slides and normal exits."
One passenger, Ally Kemp, said on Twitter that the experience was "terrifying", adding: "Just had to evacuate my flight to Perth after engineering issues. Everyone had to exit the plane via slide onto Sydney tarmac after the cabin filled with smoke and the captain screamed evacuate."
Another passenger Niamh Champion, describing the moment everyone realised something was wrong, said: "They came and got us to the gate and everything was fine. And next thing he (pilot) goes, evacuate, evacuate, evacuate, like in a calm but firm, loud voice.
"And so instantly everyone jumps off and they're thinking, Oh my God. I thought there was smoke, or a fire or, you know, something was happening, and I was relatively close to the back of the plane.
"The hostess opened the door, bang, the chute comes down and everyone starts rushing into the aisle."
Ms Champion said she had to jump out before her two young children followed her.
Debbie Slade, the Qantas fleet safety captain, said that once the plane was on the ground, it was towed to the gate.
She added: "And once they're at the gate, I believe there was some indications of a mist inside the cabin. So the crew took the conservative option and agreed to evacuate the aircraft."
New York: Mum whose baby was ripped from her arms by police wins $625k settlement | US News
A woman whose one-year-old child was wrenched from her arms by officers in New York City is to receive a cash settlement from the city.
A video showing Ms Headley lying on the floor as officers attempt to wrestle the child from her arms went viral in December 2018, prompting a police investigation.
Jazmine Headley is set to receive £470,000 ($625,000) after filing a lawsuit in federal court in August over the incident last year, according to TV station WNBC.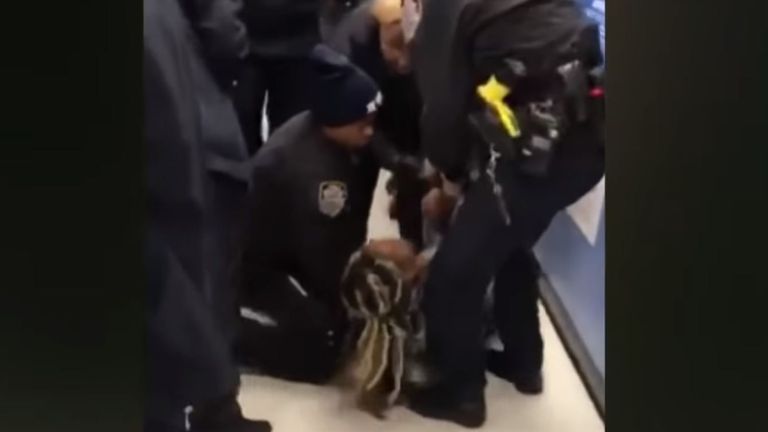 Ms Headley was holding her child while at a social services office in Brooklyn on 7 December last year, while inquiring about her child care benefits, her lawsuit says.
She was sitting on the floor in a crowded waiting room, the suit says, when officers at the agency demanded she leave. She responded that she wanted to see a supervisor.
Video of the incident taken by a bystander and posted on social media shows Ms Headley on the floor on her back with several officers surrounding her as one tried to rip her child from her arms.
She can be heard saying: "They're hurting my son! They're hurting my son."
The scene quickly escalated as bystanders surrounded the chaos and shouted over each other. One person is heard saying, "Oh my God! Look what they're doing to her."
At one point, an officer pulls out a yellow stun gun and points it at people in the angry crowd.
Officers for the city's social services agency were the first to respond to Ms Headley, the New York Police Department said shortly after the incident. NYPD officers acted in support.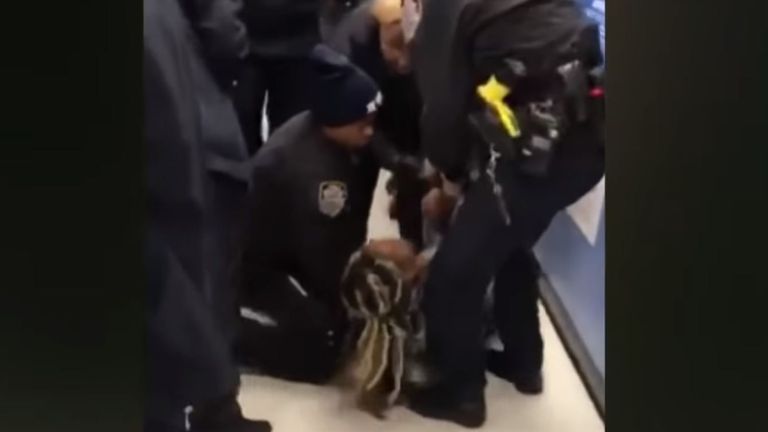 Immediately after the altercation, Ms Headley faced possible charges for resisting arrest, acting in a manner injurious to a child, obstructing governmental administration and criminal trespass – but all charges were eventually dropped.
"Headley had been humiliated, assaulted, physically injured, threatened with a Taser, brutally separated from her son, handcuffed, arrested, and jailed-all by employees of the City of New York," her lawsuit claims.
Her son, who was still breastfeeding at the time, "had been brutally wrenched from his mother's arms, taken by strangers to a police precinct, and released to spend the night without his mother for the first time in his life", according to the lawsuit.
Days after the incident, Mayor Bill de Blasio apologised to her publicly.
De Blasio's spokeswoman, Olivia Lapeyrolerie, said in a statement on Friday that the city failed to treat Ms Headley with dignity and respect, WNBC reported.
"While this injustice should have never happened, it forced a reckoning with how we treat our most vulnerable," Lapeyrolerie said.