Half of Antarctica's emperor penguins could be wiped out due to melting ice | World News
More than half of Antarctica's emperor penguins could be wiped out over the next 80 years due to melting ice, scientists have warned.
Researchers from British Antarctic Survey said that rising temperatures and changing wind patterns from global warming will negatively affect the sea ice on which emperor penguins breed.
After reviewing more than 150 studies on the species, scientists indicated that emperor populations will decrease by more than 50% by 2100.
In a new paper published in the journal Biological Conservation, they concluded that improvements in climate change forecasting in relation to impacts on Antarctic wildlife may help the penguins' chances of survival.
The researchers also recommended that emperor penguins should be listed as a specially protected species, warning that more than half of the birds – at least 300,000 – would die as sea ice melts due to rising temperatures.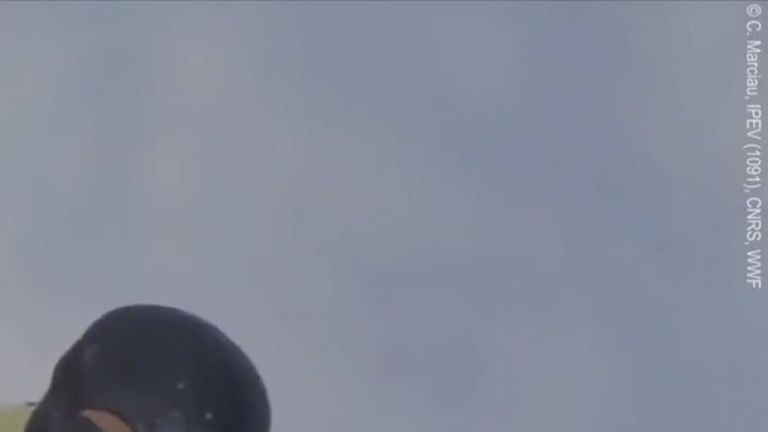 The emperor penguin – which is the tallest and heaviest of all living penguin species – is the only penguin species that breeds during the Antarctic winter and breed on seasonal sea ice.
The species is considered to be highly sensitive to climatic changes. In the 1970s, population declines of 50% in the Terre Adelie region were observed during an abnormally prolonged warm period which resulted in reduced sea-ice coverage.
Other primary causes for an increased risk of species endangerment are declining food availability and industrial fisheries on the crustacean and fish populations.
Lead author Dr Philip Trathan, head of conservation biology at the British Antarctic Survey (BAS), said: "The current rate of warming in parts of the Antarctic is greater than anything in the recent glaciological record.
"Though emperor penguins have experienced periods of warming and cooling over their evolutionary history, the current rates of warming are unprecedented."
He added: "Currently, we have no idea how the emperors will adjust to the loss of their primary breeding habitat – sea ice. They are not agile and climbing ashore across steep coastal land forms will be difficult."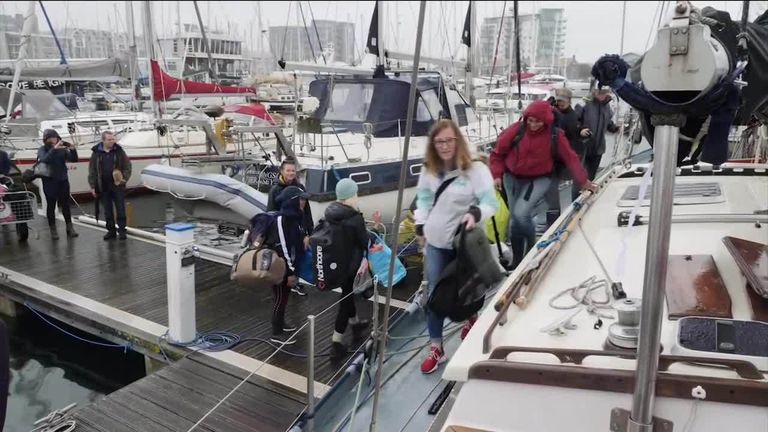 Dr Peter Fretwell, remote sensing specialist at BAS and co-author of the paper, said: "Some colonies of emperor penguins may not survive the coming decades, so we must work to give as much protection as we can to the species to give them the best chance."
Rod Downie, chief polar adviser at the World Wildlife Fund, which funded the study, said: "Emperor penguins are perfectly adapted to survive in the most remote and extreme frontier of our planet.
"But even they cannot hide from the global climate crisis as they lose the sea ice from beneath their feet.
"We need to take urgent action to protect this incredible species through the creation of vast marine protected areas and rapid and deep cuts to greenhouse gas emissions."
Black woman killed by white officer in her own home while babysitting nephew | US News
The family of a black woman killed in her own home by a white police officer have accused the officer of murder.
Atatiana Jefferson, 28, was killed in her home in Fort Worth, Texas, while looking after her eight-year-old nephew.
A neighbour had called police on a non-emergency line when they saw her front door was open. Police responded at about 2.25am.
Fort Worth Police said officers saw someone near a window and one of them drew his duty weapon after "perceiving a threat".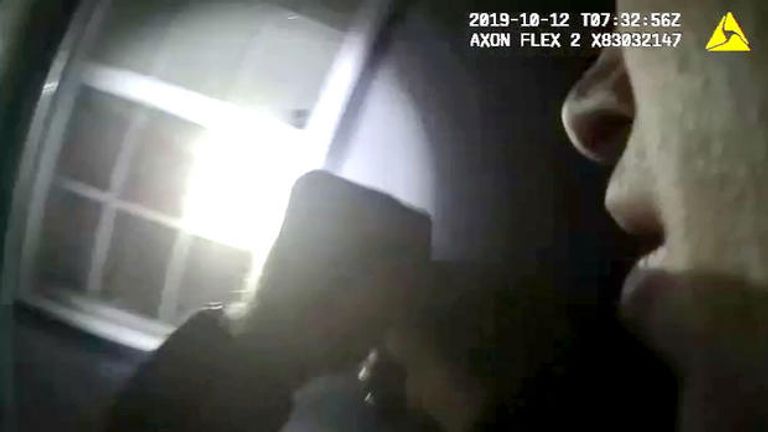 Lee Merritt, an attorney for the family, said the bodycam footage showed the officer would not have had time to perceive a threat from Ms Jefferson.
He said: "You didn't hear the officer shout, 'Gun, gun, gun.'
"He didn't have time to perceive a threat. That's murder."
The video released by Fort Worth Police shows two officers searching the home from the outside with torches, before one shouts: "Put your hands up, show me your hands."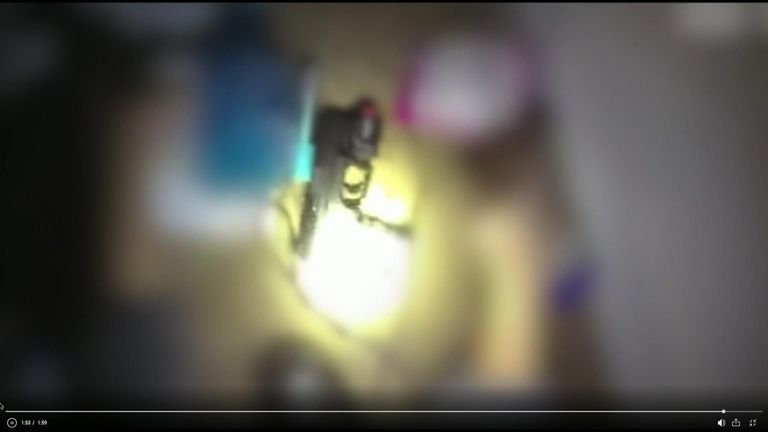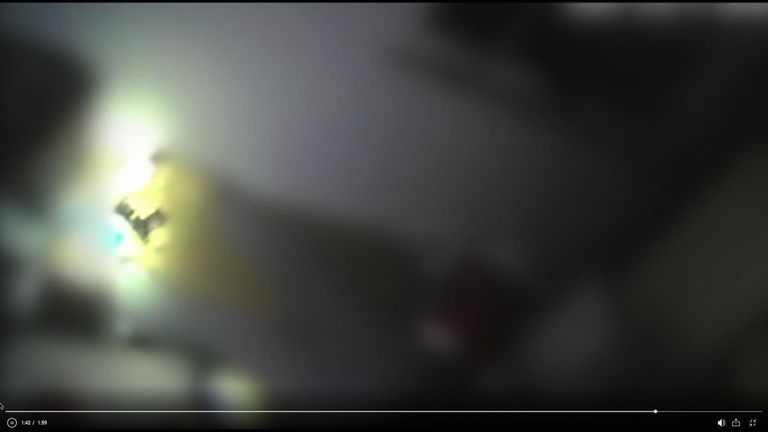 One shot is then fired. The officer does not identify himself as police.
Ms Jefferson died of her injuries in her home.
Amber Carr, Ms Jefferson's sister, said: "It's another one of those situations where the people that are supposed to protect us are actually not here to protect us.
"You know, you want to see justice, but justice don't bring my sister back."
One of her aunts, Venitta Body, said: "It's like from the moment we got the call, it's been more and more inconceivable and more confusing. And there has nothing been done in order to take away that confusion."
Fort Worth Police said the officer, who has been with the force since April 2018, is on administrative leave pending the outcome of the investigation.
His name has not been released.
The neighbour who called police about the door, James Smith, said he feels "it's partly my fault".
He said: "If I had never dialled the police department, she'd still be alive.
"It makes you not want to call the police department."
Ms Jefferson's nephew usually lives with an older woman, who has been in hospital.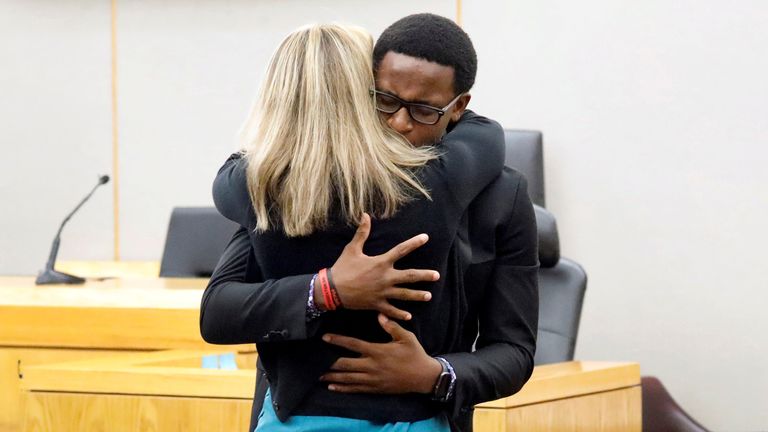 Fort Worth Mayor Betsy Price released a statement on Saturday which said: "Writing a statement like this is tragic and something that should never be necessary. A young woman has lost her life, leaving her family in unbelievable grief. All of Fort Worth must surround Atatiana Jefferson's family with prayers, love and support.
"Chief Kraus and his command staff are acting with immediacy and transparency to conduct a complete and thorough investigation. More details are forthcoming and the Tarrant County District Attorney Law Enforcement Incident Team office will ultimately receive this case."
Mr Merritt said the family of the victim expects "a thorough and expedient investigation".
Fort Worth Police Department said it released the bodycam footage from outside the home to show its transparency, but cannot release the video from inside the home because of state law.
The shooting comes two weeks after Amber Guyger, a former Dallas police officer, was sentenced to 10 years in prison for killing Botham Jean in his own apartment.
She shot him with her service weapon when she went into his home by mistake, thinking it was her own.
Mr Merritt is also the Jeans' family lawyer.
Marilyn Hartman: 'Serial stowaway' caught trying to sneak on flight again | US News
A "serial stowaway" has been caught trying to get through airport security again – despite getting an 18-month sentence ordering her to stay away from terminals.
Marilyn Hartman was spotted as she tried to sneak through security in Chicago's O'Hare airport on Friday night and officers realised she did not have a ticket or identification.
According to an NBC report, police said she was "moving dividers in an attempt to circumvent security".
It comes after she was arrested last year for sneaking on to a flight from O'Hare to London.
The 67-year-old has been sneaking onto flights for about 10 years.
She ultimately pleaded guilty to criminal trespassing and was sentenced in March to 18 months' probation after agreeing to stay away from Chicago's two commercial airports.
According to NBC Chicago, Hartman has long struggled with homelessness and mental health, and has had multiple encounters with officials at airports throughout the US.
In 2016, Hartman was ordered to be held in jail without bond after she walked away multiple times from a Chicago mental health facility where she was receiving treatment.
She was set to appear at bond court at 9am local time on Sunday.
Simone Biles vaults into record books after 25th medal at world championships | US News
Simone Biles has become the most decorated gymnast in the world championship history after clinching her 25th medal.
The 22-year-old overtook the 23 medals won by Belarusian men's gymnast Vitaly Scherbo by winning the balance beam in Stuttgart, Germany, on Sunday.
The US gymnast added her 25th medal by winning the floor exercise less than two hours later.
Biles delivered a polished routine on the beam before executing a full-twisting double-tuck dismount for a score of 15.066.
When her score was announced, guaranteeing the medal record, Biles jumped up from her seat with a broad smile and punched the air.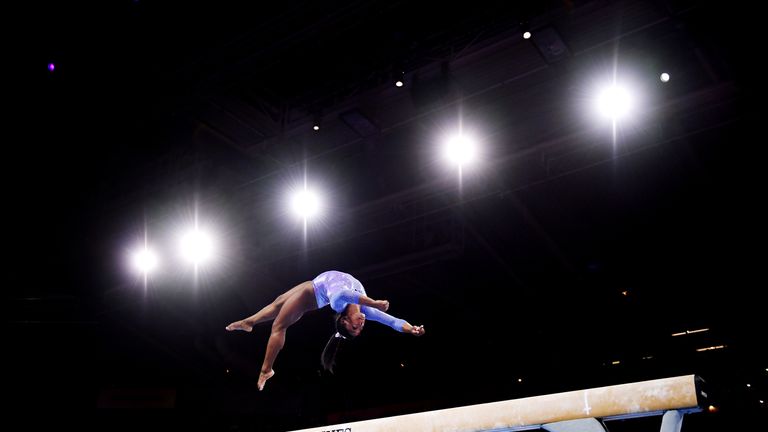 Liu Tingting of China, last year's winner, took silver with 14.433, and her teammate Li Shijia won the bronze.
Biles won the floor exercise by a full point, scoring 15.133 despite a step out of bounds on one pass, and blew kisses to the audience after finishing her routine.
Her US teammate Sunisa Lee took silver, her third medal of the championships, while Angelina Melnikova took bronze for Russia.
Biles' winning routine came after a long wait when Brazilian gymnast Flavia Saraiva requested an inquiry into her score.
The US gymnast has won five events at these world championships after winning team gold on Tuesday, individual all-around gold on Thursday, and vault gold on Saturday.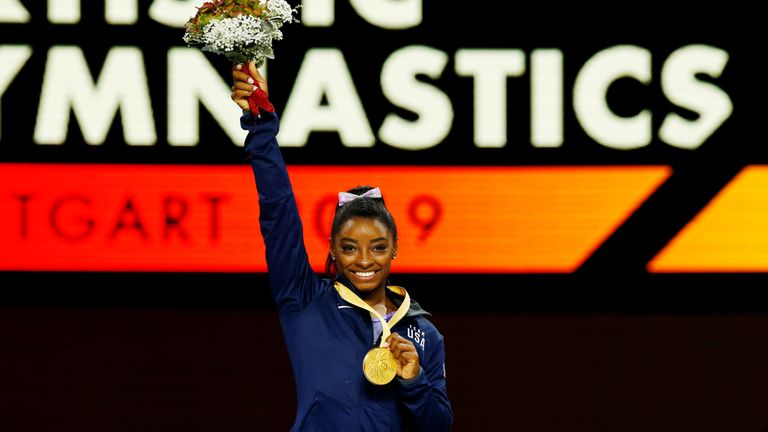 A fifth place on uneven bars on Saturday ended Biles' chances of winning a medal in all six events, which she did last year in her comeback world championships after a sabbatical in 2017.
Four-time Olympic champion Biles now holds 18 gold medals across four championships against 12 for Scherbo, who competed in five world events between 1991 and 1996.
Biles hasn't confirmed whether she will continue to compete after next year's Olympics, so this could be her last world championships.
Max Whitlock won Britain's first gold medal of the championships on the pommel horse on Saturday.
Britain won its second gold of the championships when Joe Fraser scored 15 points to win on parallel bars.
Biles' record came before Kenyan runner Brigid Kosgei set the women's marathon record with a time of two hours and 14 minutes.
She beat British runner Paula Radcliffe's record of two hours and 15 minutes.